...love won out and The Supreme Court decreed that marriages were equal in the eyes of the law. Washington State had already legalized same-sex marriage by then, so I was already attending weddings, designing invitations, and celebrating with friends who had wanted to get married, but couldn't because they were told they had the wrong body parts. But now Washington marriages would be recognized in all 50 states, and it was a happy day for everyone.
Except for random people who still aren't happy unless they are shitting on somebody else's happiness. Never mind that two other people getting married doesn't fucking affect them, they don't like the idea of people with matching genitalia getting hitched, so they think they (or their religion) should get to dictate how other people get to live their lives in a country which was founded on personal choice and freedom of/from religion. And now there's talk of marriage equality being overturned by The Supreme Court, which is ludicrous, but not surprising. Next up? Overturning Loving vs. Virginia, which legalized marriage between two races. And why stop there? Next up? Making it so only Christians can get married and only in a church ceremony. After that? Only people with money are allowed to marry. Then only people with money get to have children. Then only people with money get to vote and own property. And why not bring back slavery? This country was built on it, after all.
This lapse in logical thinking is bizarre and makes no sense, but bigotry never does. Oh well. Keep hating, if that's your thing. Meanwhile, everybody else will be moving on...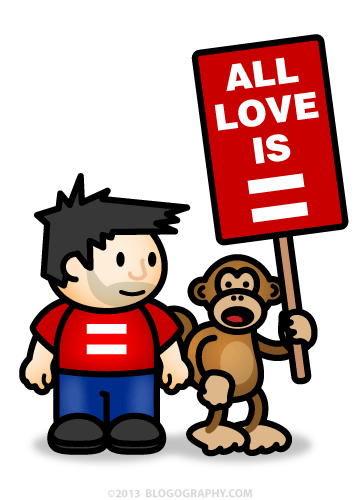 Or rather, I should say continue moving on, because same-sex marriage is hardly a new concept and has been around as long as history has been around. But bringing logic into the argument never seems to do any good with haters, so I'm going to go make dinner now.