I was hoping that this homophobic crap would be laughed off of Washington's ballot... but it looks as though the protections we have for same-sex couples and their families here in the Evergreen State is going to be challenged come November. And this isn't even a "marriage" issue... it's just for their domestic partnership rights! Apparently opponents of equality managed to find 120,577 people who are so insecure in their beliefs that the very thought of somebody being allowed to have different beliefs was scary enough to sign a petition.
Riiiiiight.
The divorce rate is rapidly approaching 50% in the USA, yet we need to pass laws to protect the sanctity of this institution from the "gay agenda."
Riiiiiight.
Two atheists can get married in a non-religious ceremony so long as they have opposing genitalia, and yet making laws to define marriage by one group's interpretation of their religious views is not at all discriminatory towards homosexuals.
Riiiiiight.
Forcing somebody to live by your standards and stripping them of their rights when they don't is not hating on them.
Riiiiiight.
This would all be laughable if it weren't so very sad. I find it positively absurd that two consenting adults living in the United States of America in 2009 have to fight to have the same rights afforded to everybody else because of who they choose to love. Apparently, some people haven't done the math...
Well, whatever.
I refuse to buy into such blatant discrimination. I am of the opinion that people are people and should be treated equally. I believe that love is love. I feel that there is enough room in society for consenting adults to decide for themselves if they want to marry. I know that devaluing somebody in the eyes of the law because of their sexuality is wrong. I say NO H8...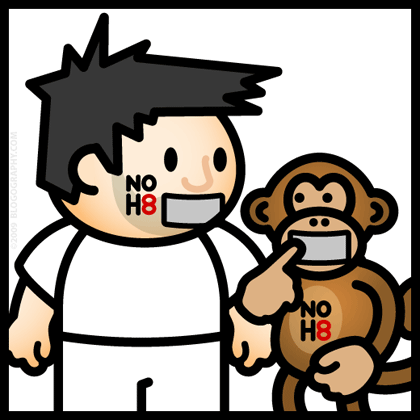 I hope that one day people are going to wake up and start taking responsibility for their own lives rather than making others responsible for their problems. In the meanwhile, we have to deal with bullshit like this when there are far greater issues we should be focusing on.
Like squirrels ruining our photos...
We really should be doing something about that.