Posted on December 12th, 2018

I've taken a break from Hallmark Christmas movies to watch other Christmas films I like. Though, technically, most of them aren't "Christmas films" they just take place around the holiday.
But they totally count!
Here's a list of the movies I'm making my way through...
Die Hard (1988) with Bruce Willis.
The Long Kiss Goodnight (1996) with Geena Davis and Samuel L. Jackson.
Lethal Weapon (1987) with Mel Gibson and Danny Glover.
Ghostbusters (1984) with Bill Murray, Dan Aykroyd, and Harold Ramis.
Iron Man 3 (2013) with Robert Downey Jr.
About a Boy (2002) with Hugh Grant and Toni Collette.
Scrooged (1988) with Bill Murray.
Kiss Kiss Bang Bang (2005) with Robert Downey Jr.
The Last Boy Scout (1991) with Bruce Willis and Damon Wayans.
Elf (2003) with Will Ferrell.
The Nice Guys (2016) with Russell Crowe and Ryan Gosling.
The Thin Man (1934) with William Powell and Myrna Loy.
Millions (2004) by Danny Boyle.
Trading Places (1983) with Eddie Murphy and Dan Aykroyd.
Gremlins (1984) with Phoebe Cates.
Love Actually (2003) with everybody.
Over the years I've removed movies like Batman Returns that haven't held up well enough for me to want to bother. But the rest of them? Every year. Especially movies like The Long Kiss Goodnight which totally hold up.
Ho Ho Ho.
Posted on November 6th, 2018

Washington State is 100% vote-by-mail, so I already voted last week.
When it comes to local races here, two of the biggest are too close to call. We won't know the outcome until the remaining mail-in votes are tallied on Friday. Frustrating, but it's a small price to pay for a system which allows you to vote in the privacy of your own home without standing in line. And now that we have automated voter registration for all of our eligible citizens, Washington State has one of the highest voter participation rates in the nation...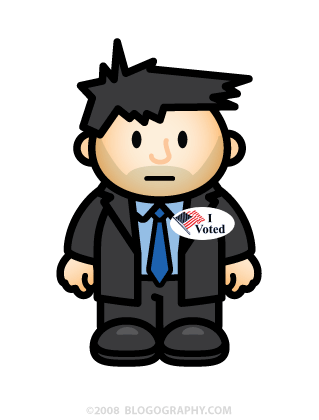 Now that Halloween has passed, the country is already preparing for Christmas.
Back when I had work in Orlando two and three times a year, I'd fly in for my conference then fly home the next day. I'd rarely go to Disney World (even though work would pay for it) because it got to be more of a chore than fun. I just can't handle the lines and crowds of people.
In December of 2007 I was working in Orlando when some work friends and I decided to go to Epcot for dinner in "Italy." After that we took the bus to Disney Studios to goof off for a bit. While I was there, my mom called to tell me something. "What's all that noise?" she asked.
"Oh, that's The Osborne Family Spectacle of Dancing Lights," I replied.
"What's that?"
"It's a show at Disney World where they have a bunch of Christmas lights flashing to music. I'll send you a picture..."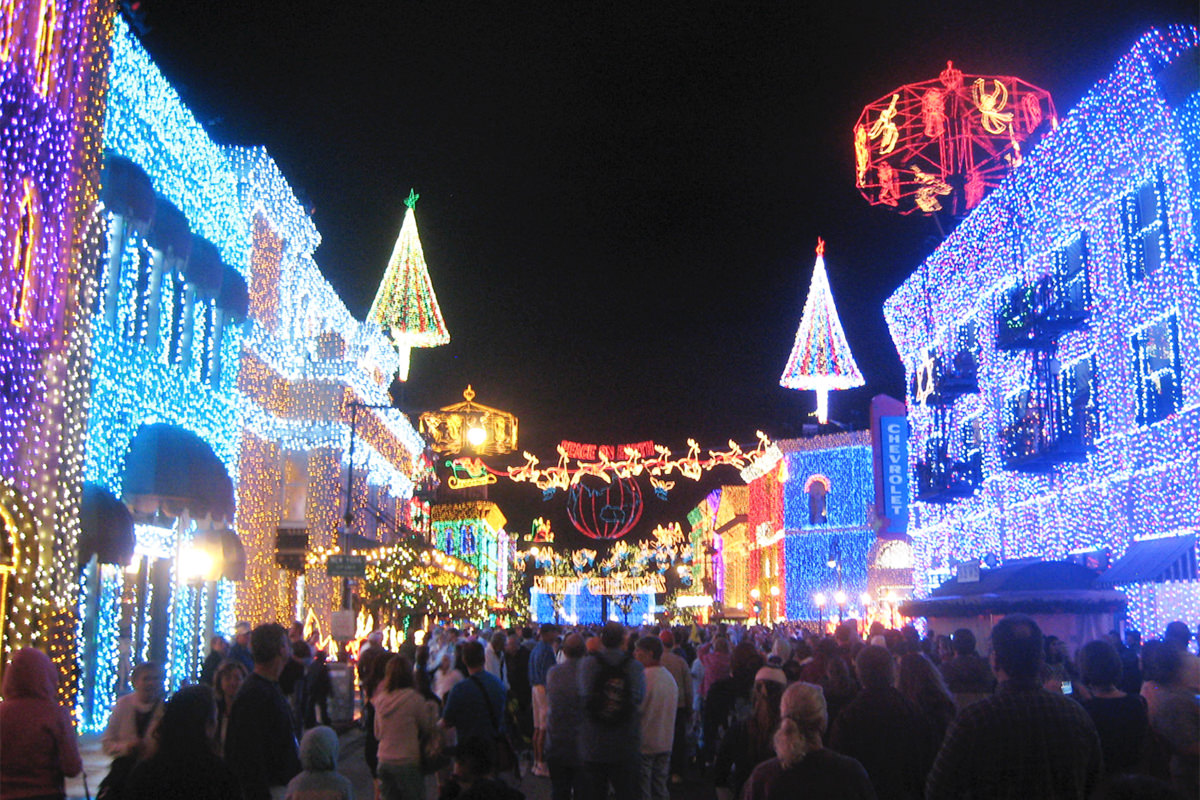 "That's pretty! I want to go to Disney World!"
"I've taken you to Disney World lots of times!"
"But not at Christmas! I want to go at Christmas!"
"Okay. Next year I'll bring you along then."
One year later I kept my promise, and here she is...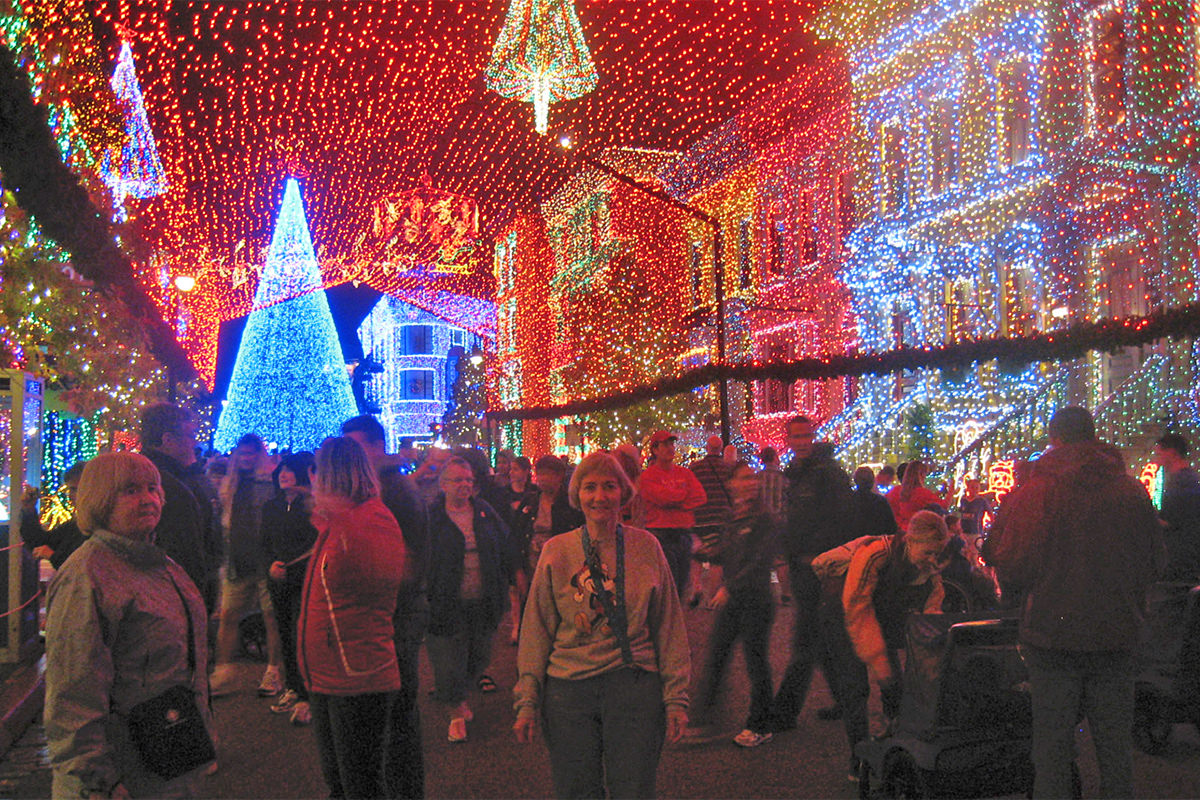 It immediately became her favorite thing. She loved it so much that I ended up taking her a couple more times. The last time was in 2012, I think, since that was the last year I had work in Orlando. They closed down The Osborne Family Spectacle of Dancing Lights in 2015.
This morning I was flipping through my newsfeed while waiting for work to start and saw this terrific video from Disney World showing how they transform The Magic Kingdom Park for the holidays with Christmas decorations...
Pretty cool!
A part of me is glad that I don't have work in Orlando any more. Especially over the holidays. It would be really tough to go there knowing what it meant to my mother. Perhaps it will be easier over time. But right now? I just can't fathom it.
It's that way for a lot of things though.
I miss my mom.
Posted on November 1st, 2018

Hooray! It's November 1st!
This is the day where I switch my television from defaulting to Home & Garden TV to defaulting to The Hallmark Channel. Now, for those of you not in the know, The Hallmark Channel is home to more crappy original Christmas romance movies than any other network. Period. Which is why their annual "Countdown to Christmas" marathon is one of the best things ever. This year they produced thirty-seven new holiday movies. THIRTY-SEVEN! That's up from 33 in 2017, 28 in 2016, and 21 in 2015.
The films are always the same story.
Pretty Man/Woman (usually Pretty Woman) is in a bad relationship.
Pretty Man/Woman (usually Pretty Woman) meets a pretty Woman/Man (usually Pretty Man) while working through the holidays or returning home for Christmas or something like that. They hate each other instantly.
After begrudgingly spending a few days with each other, the pretty people fall in love and the Pretty Man/Woman breaks off their bad relationship.
Christmas is here! Everybody lives happily ever after!
Well, maybe they're not always exactly like that... but they are all a lot like that. And you have well over a hundred to watch each season.
And I am totally addicted to them. Mostly because I can have them running while I'm working. They're so brainless that you don't have to pay much attention to them to know what's going on. And it's not like you can miss anything, because the story is all the same. I mean, just look at this shit...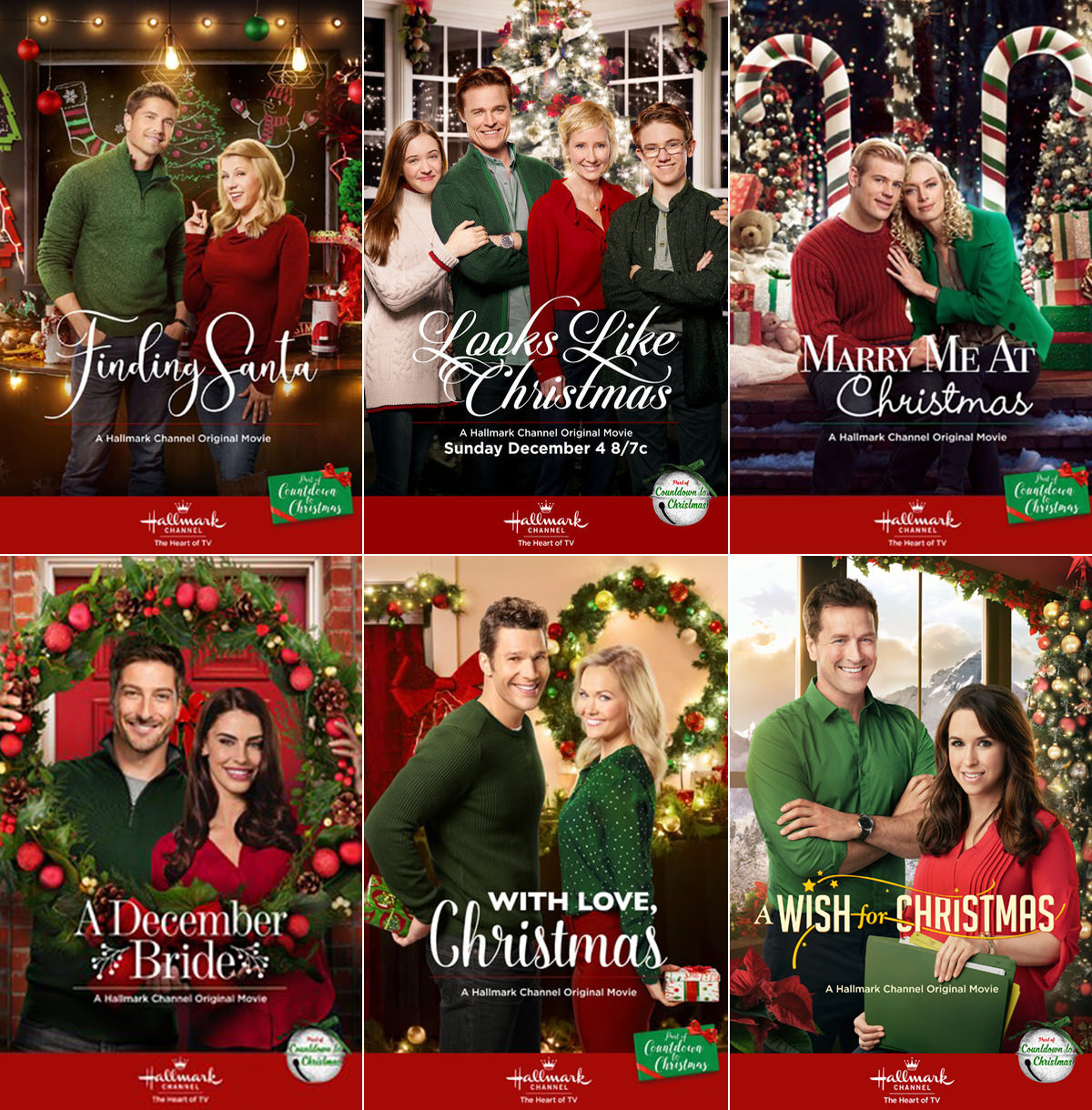 Can you tell them apart? I've seen all of them and I can't!
If you don't get The Hallmark Channel... or you live outside the USA, you might still be in luck. Netflix has seen what a raging money-maker Hallmark has on their hands, and has invested a huge chunk of money in producing their own slate of Christmas movies.
Last year they had a phenomenon with A Christmas Prince, but my favorite of theirs is The Spirit of Christmas...
As is typical, the guys they find to act in these movies are so brutally hot that they have me questioning my sexuality. Daniel the Ghost makes my ovaries explode...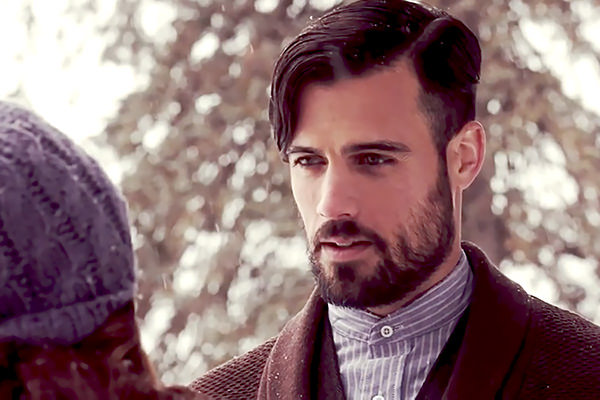 And now, if you'll excuse me, The Hallmark Channel Countdown to Christmas is in full swing and I have to make sure my DVR is set to record everything.
Posted on December 25th, 2017

To everybody who celebrates the holiday... wishing you a very Merry Christmas!
Which, apparently I can do now that President Trump has taken back this beautiful phrase from the relentless eight-year war on Christmas that happened under President Obama's watch...

Oh... wait a second... like so many things that come out of Dear Leader's Twitter feed, he's completely full of shit...
No surprise that our lying asshole of a president has bought into the false narrative that there's ever been a "War on Christmas"... despite the fact that you can walk into a United States Post Office and buy stamps with Jesus on them for Christmas (as you've been able to do for decades). Here's the selections for this year...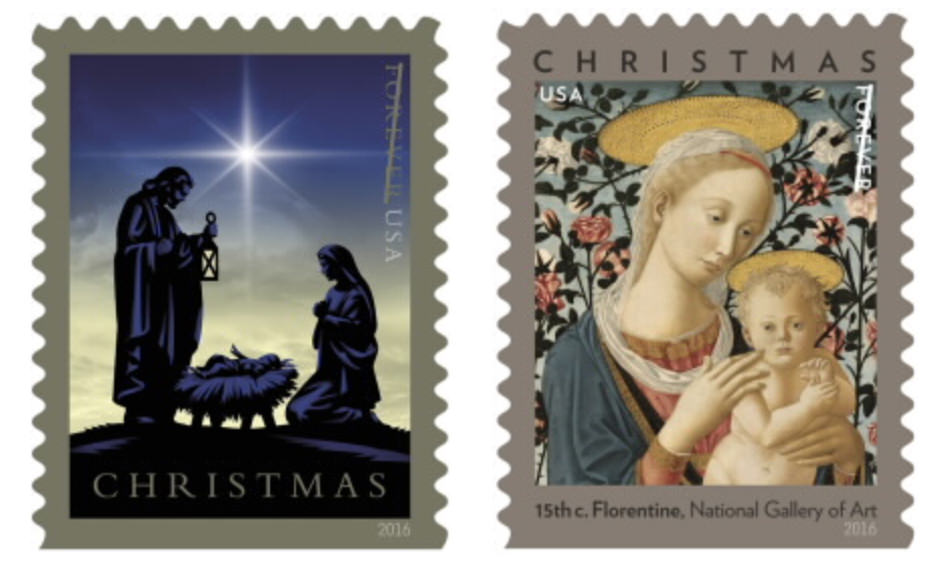 Meanwhile, seven years ago...

Uh huh.
Posted on December 7th, 2016

How's Maine? Maine is cold.
I didn't have a car until noon, so I skipped breakfast at the hotel and decided to have pizza at Otto in downtown Portland. They make a Butternut Squash and Cranberry pie that is one of my favorite things. And it totally delivered...
While eating I got to watch a woman let her baby stab the wood table repeatedly with a fork. When she noticed me watching, she took the fork away.
Then gave the baby a knife to stab the table with.
I don't know that it was an improvement, but okay.
On my way back to my car I saw two pumpkins on the sidewalk, assumably waiting to be tossed in the trash...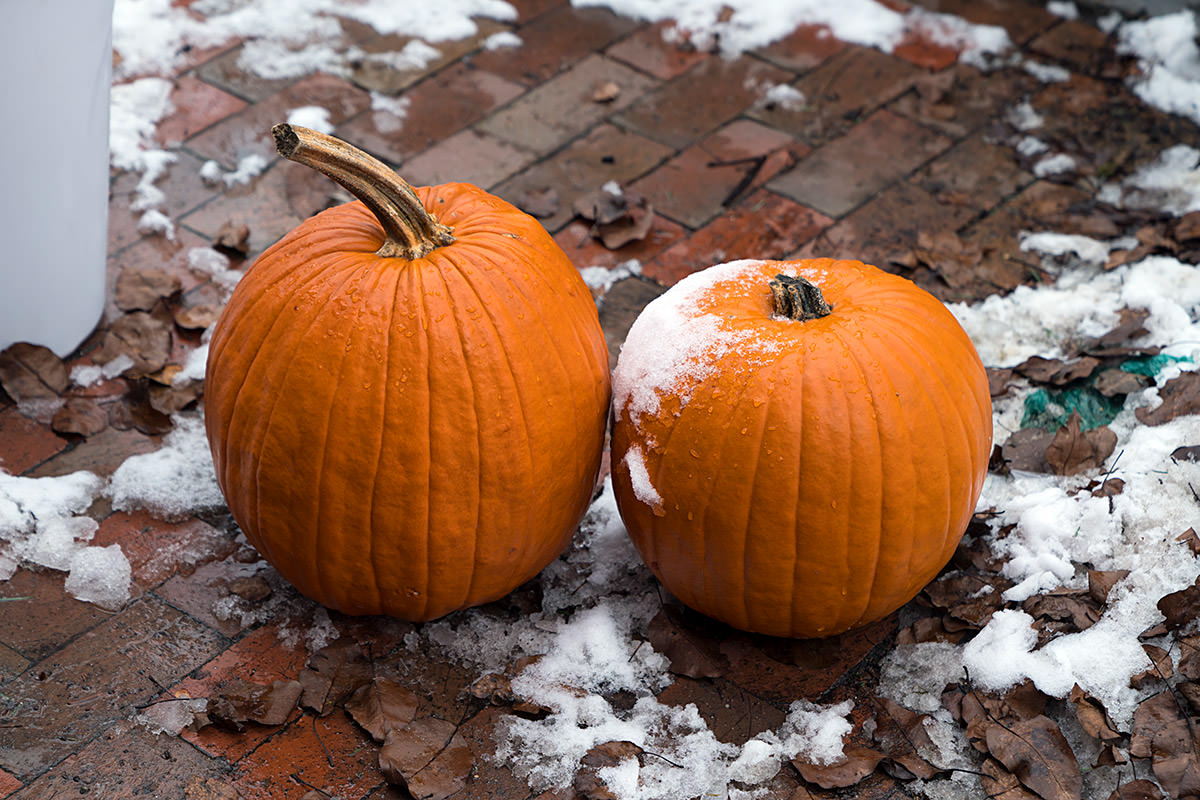 I guess the magic of pumpkin spice has passed. They look to be in great shape, so somebody should totally save them and make pie.
The hour trip north was boring, which is the best you can hope for when driving in Maine during winter. After checking into my hotel, I look out to see that the Androscoggin River has once again closed down for the season.
Here was my view from last year, around this time...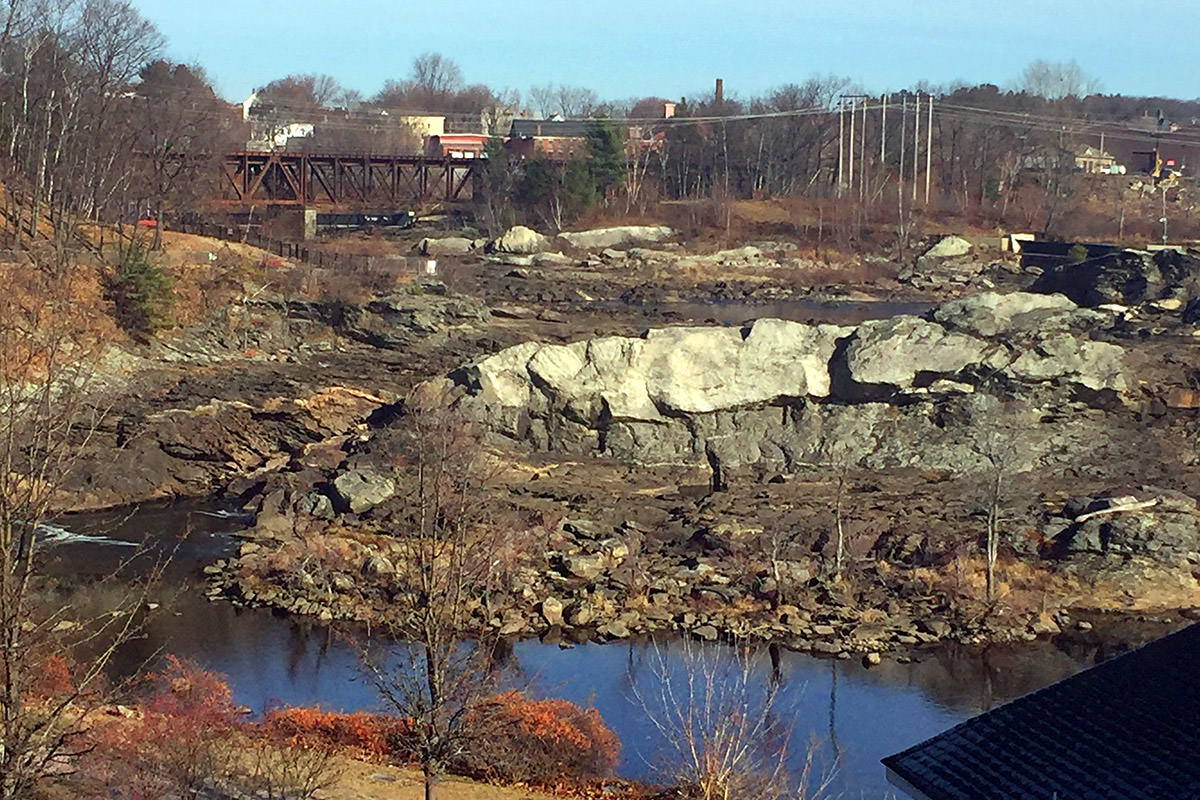 And here we are now...
Exciting, I know.
Since there's not much to do while I wait for my job to start, I've been getting some work done and catching up on Facebook. It was while looking through the latter that I ran across a video of Christmas tree shearing. It's fascinating to watch. Relaxing even. Very zen...
Depending on size, these guys can shape 2,000-2,500 trees per day! They don't say how many ninjas they could slash their way through. Oh well.
As exhausted as I am, I suppose I should take a nap before starting work at midnight.
Or search YouTube for more Christmas tree shearing videos.
One of those two things.
Posted on December 24th, 2015

It's all I want.

Posted on December 9th, 2015

It's so easy to come down on how monetized and commercialized Christmas has become. The holiday is a major money-maker for retailers and they never seem to let you forget it. But, every once in a while, you come across something that makes you loathe the season just a little bit less.
This is some real Christmas magic right here...
That's one Santa who has earned his sleigh-bells.
Posted on December 25th, 2014

To all those who celebrate...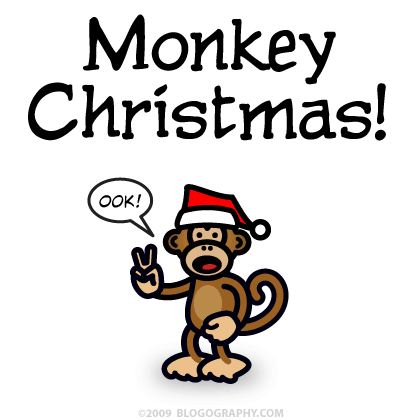 Time for two of my annual Christmas traditions!
First... breaking my Little Drummer Boy Challenge fast with Grace Jones...
And then... checking to make sure Alex Honnold is still alive (he is).
Posted on December 25th, 2013

If you celebrate the holiday, I hope you have a Merry Christmas!
If not, have a great December 25th!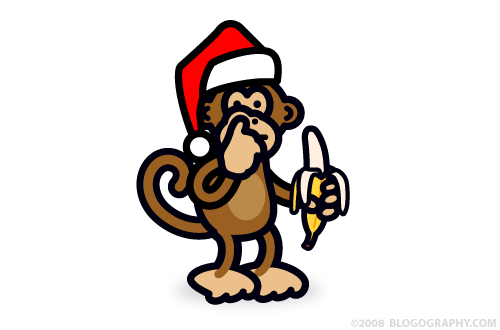 And no matter what holiday you call your own this season, thanks for dropping by!
Posted on December 25th, 2012

This morning I got a ride to the airport not knowing if my flight would be canceled or not. Freezing fog back home limited visibility to a quarter-mile, which is well under what's required to land. Add that to the fact that last night's flight was cancelled, and you can see how sitting at SeaTac was a somber affair for me. At least the airport was relatively calm thanks to it being Christmas and all.
But, by the time my flight was to leave, the fog had lifted, so we took off under a "weather advisory" which means the plane would return to Seattle if it couldn't land. Lucky for me the visibility was over ten miles, which was plenty, and we were on the ground before I knew it.
It's a Christmas Miracle, I suppose.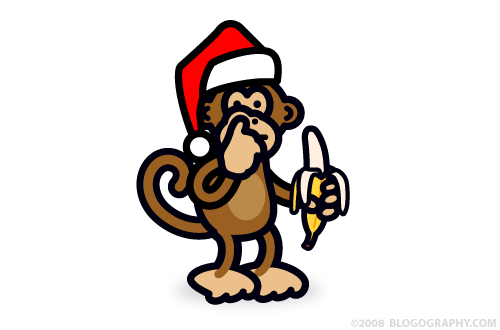 Despite the high price of a last-minute ticket, I ended up being very glad I flew instead of drove. The mountain passes have been all kinds of messed up since I left, and the route I would have driven over Stevens Pass ended up having some fatalities due to heavy snowfall (and is currently closed).
And here is where I settle down for a long winter's nap.
At least I hope so.
If I can just get a decent amount of rest... a mere six hours of sleep, perhaps... that would truly be my Christmas Miracle.
Hope your holiday was a happy one!