Posted on February 21st, 2022

On February 19, 2022, I was sitting in my home watching the final two installments of "The Wedding Veil Trilogy" on Hallmark Channel. In the second film, they end up in Burano, Italy, a small island near Venice which is known for fine lace and colorful houses. As I do every time a place I've been to appears in a movie, I take a quick look at my travel photos from my visits and try to remember details of my trip.
Turns out I remembered quite a lot. But one thing I couldn't remember is how far it was from Venice to Burano. All I could recall was that it was the vaporetto stop after the cemetery island and the island of Murano. A quick look at Google Maps, and I saw that Burano was quite a bit further away than I was thinking it was...

Map © Google
Because the movie wasn't very good, I found myself wandering around Venice using Google Maps "Street View"... tracing my way around the places I had been in my two trips to visit.
Eventually I got around to this...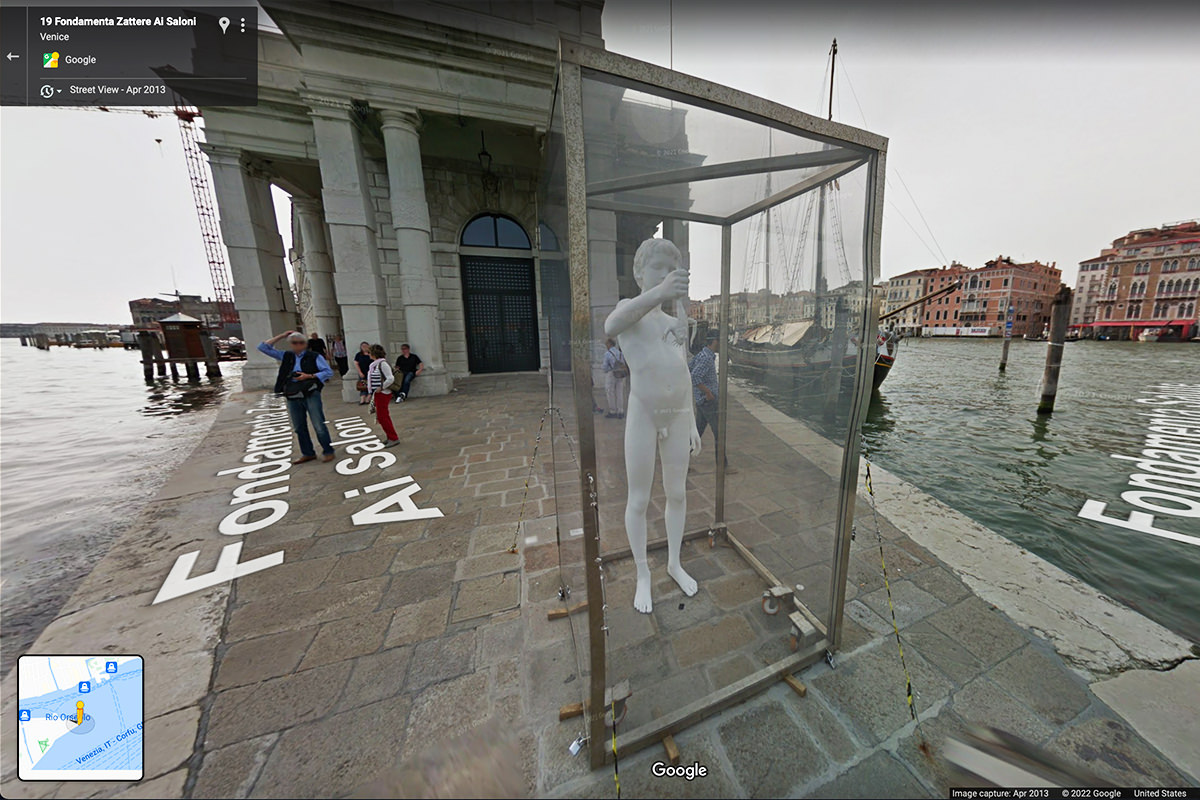 Map © Google
Now that's weird... what's that glass cage doing there?
On March 20, 2011, I was in Venice, Italy. While there I posted a photo of a giant statue of a small boy holding a frog at the Punta della Dogana...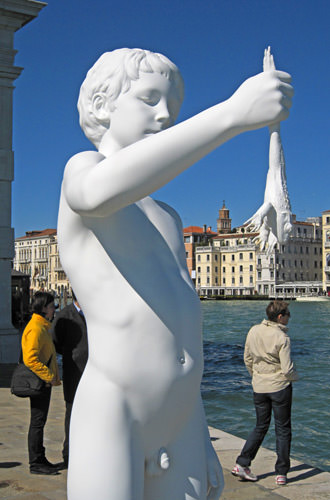 On August 16th, 2015, I was in Los Angeles, California. While there I posted a photo of a giant statue of a small boy holding a frog at The Getty Center...
At the time I remarked that it was weird how there were duplicate statues half a world away from each other.
So tonight I decided to Google for more information on the statues to see why there were two of them...
In 2008 artist Charles Ray used 3D computer modeling to create models of a photo that had been taken. The work, entitled Boy with Frog, was then super-sized and built out of fiberglass over a steel frame for a commission by François Pinault to stand outside of a museum he was building to house his art collection in Venice.
The Punta della Dogana museum opened in June 2009. Boy with Frog was installed for the opening, sitting on land owned by the City of Venice. The lease to house the sculpture was renewed with the city four times a year.
Sometime in 2011 the fiberglass sculpture in Venice was replaced with a painted stainless steel version.
On July 26, 2011 the fiberglass version made its way to The Getty Center in L.A. where it was put on temporary display until January of 2012.
In May of 2013 the stainless steel version was removed from the Punta della Dogana and replaced with a reproduction of a lamp post.
Apparently the Google Maps Street View image I saw was snapped prior to May of 2013. Furthermore, the statue had a police guard during the day, but had the glass cage locked around it at night to protect it from vandalism.
Now I am going a little bit crazy, because I have some questions about what I've read...
Which version did I see in Venice in March of 2011? Had the fiberglass version been removed and I saw the painted stainless steel version? Or was the fiberglass version still on display at that time?
If the temporary installation of the fiberglass version was to be removed from The Getty Center in January of 2012, then how did I see it there in August of 2015? Perhaps it wasn't removed after all? Was it removed and brought back for a while? Where is it now?
It seems absurd that such an important and beloved work has so little concrete information available about it. The good news is that I think I saw both the fiberglass and the painted stainless steel versions. And, if it turns out I haven't, a trip to Philadelphia can solve that (or New York City, if I can get there before June 5th).
Posted on February 28th, 2017

And so here I am back in California for another quick work trip. Though, unlike my previous trip to San Diego which was a breezy nine hours, I'm sticking around Los Angeles for a couple extra days to decompress a bit. I haven't had a vacation in over a year, so it's the least I can do.
The good news is that the weather is supposed to be beautiful for the length of my stay. Given the flood of rains that have been pelting SoCal, that's a pleasant surprise.
The bad news is that I couldn't fly out yesterday, so I had to take an early morning flight to make my meeting...
"Alexa? Set an alarm for 3:30am."
"I've set an alarm for 3:30am."
"Alexa? Kill me now."
I don't sleep very well these days, but I do like laying around in bed. Even if I'm working in bed. Having to drag my sorry ass out of bed at such a heinous hour makes me stabby.
Just ask my cats.
Not that they're happy about it either.
Jenny brings me toys every morning as some kind of tribute. I think that she thinks she has to bring me stuff so I'll get up and feed her. Some mornings she brings one toy... other times she'll bring a half-dozen. The hungrier she is, the more she seems to bring.
This morning when I got up at 3:30 to take a shower, Jenny flew into a panic and ran downstairs to start dragging toys up to me. Since I wasn't in my bedroom, she was confused as to what she should do, so she started making a pile in the upstairs hallway...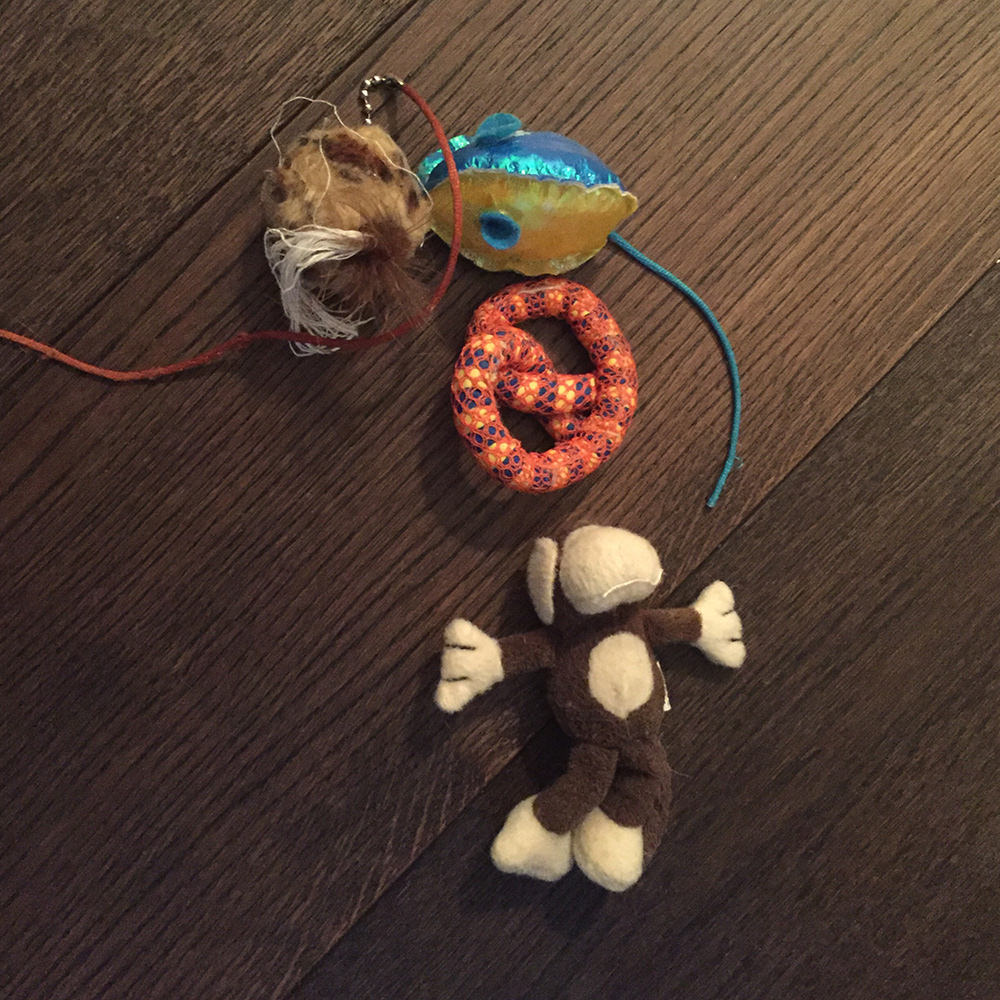 Poor thing probably thinks she overslept!
Though my cats definitely have a better sense of time than I do, so who knows what goes through her fuzzy little head.
Anyway...
After having made sure that the Litter-Robot was emptied, the Feed-And-Go was filled, the television was turned on with the brightness lowered, and the extra litter boxes were set out, I was off to the airport.
Two flights later, and I was back in L.A.
A city for which I have mixed feelings.
Way back in the day, I worked on a project here over seven months. It was nice money, but having to fly back and forth every other week was tough. Even tougher was having to deal with the business behind showbusiness, which was awful to a mentally-debilitating extreme. Turns out I just wasn't cut out for the Hollywood lifestyle... nice as it was to live it for a little while.
But hey... after work I get to go to Disneyland, so there's that.
Posted on August 17th, 2015

Originally I had two business meet-ups and a dinner meeting peppered throughout my trip to Los Angeles... plus a birthday party (happy 95th, grandpa!). After landing I ended up with another meeting, which meant I'd be working every day I'm in the city. This was a major bummer, so I arranged to push all my work to Monday (today!) so I could enjoy time with family and friends over the weekend.
Which was a fantastic idea.
Until I woke up this morning and realized I would be dragging my ass from one end of L.A. to the other. Which pretty much means an entire day stuck in traffic between meetings.
But there were bright spots along the way.
I had time to stop at Pink's for a Patt Morrison Baja Vegan Dog, one of my favorite things...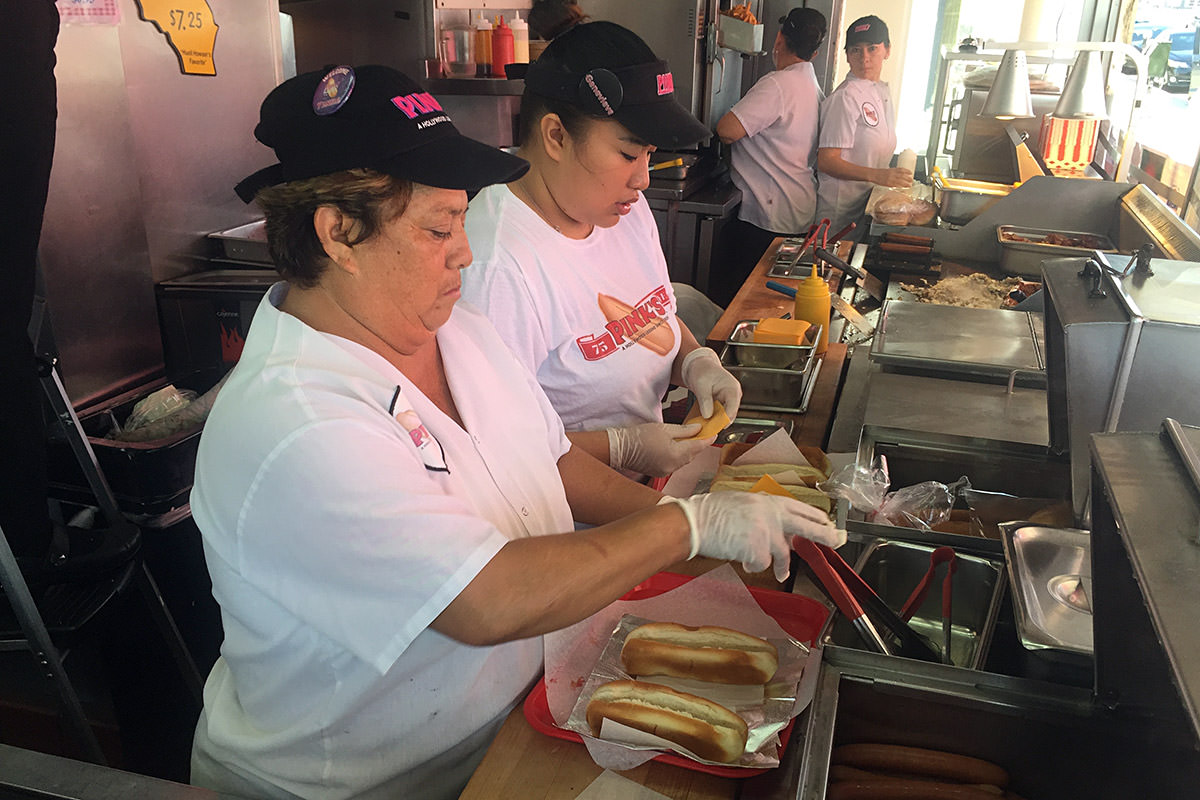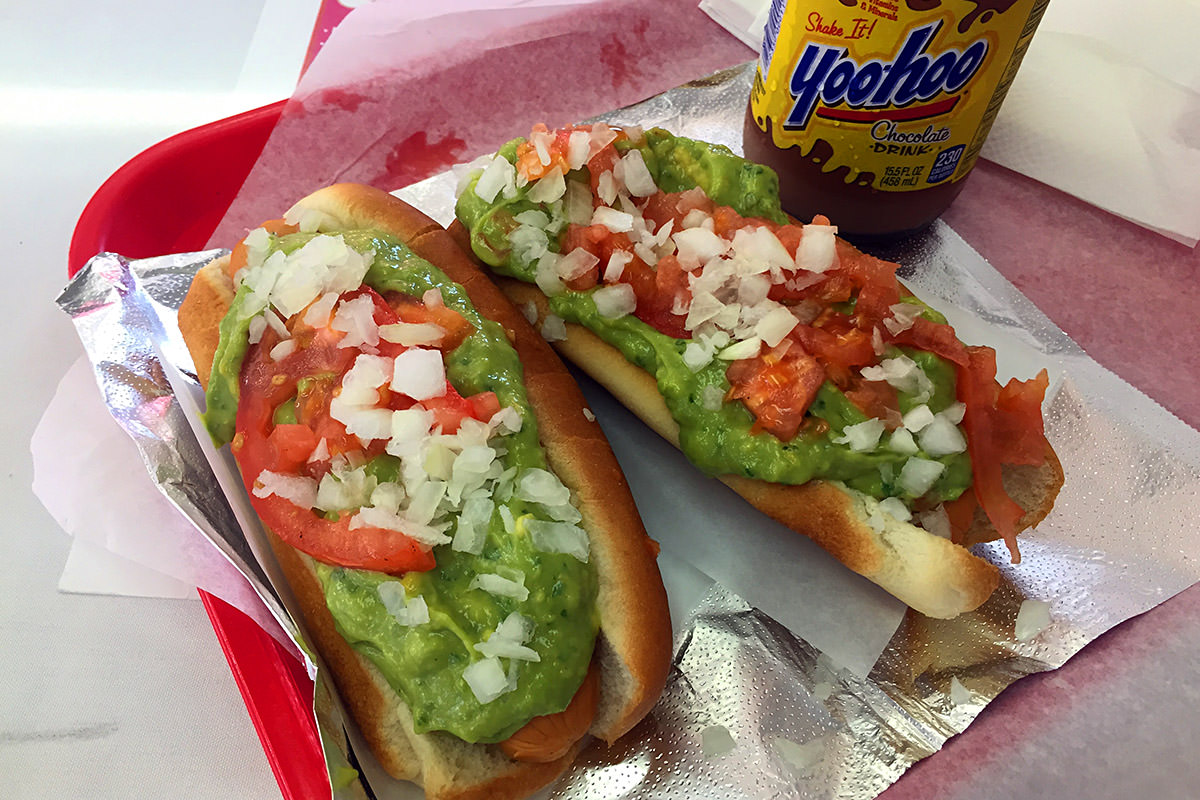 Amazing.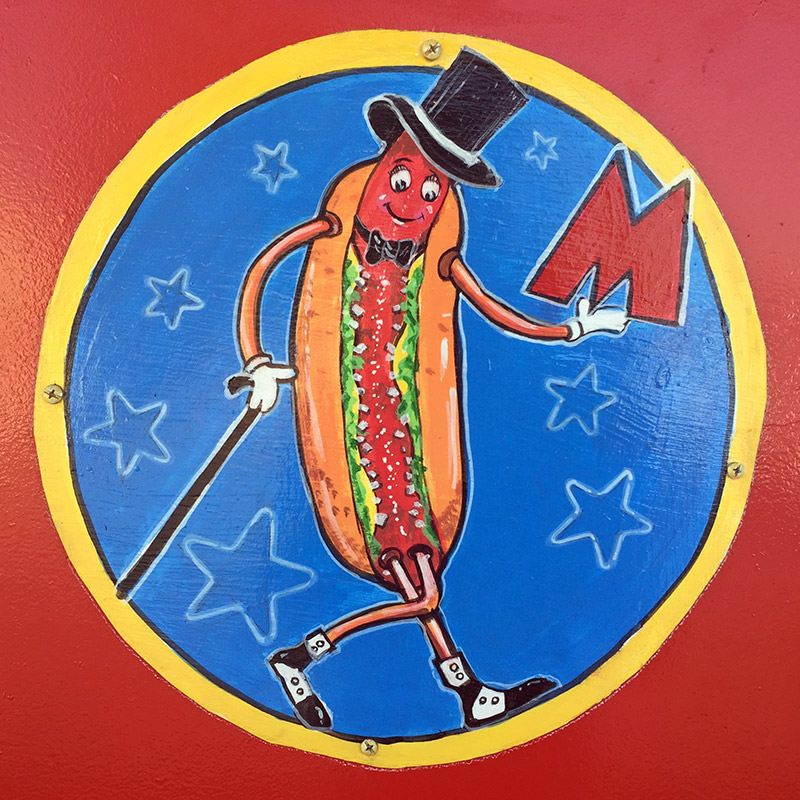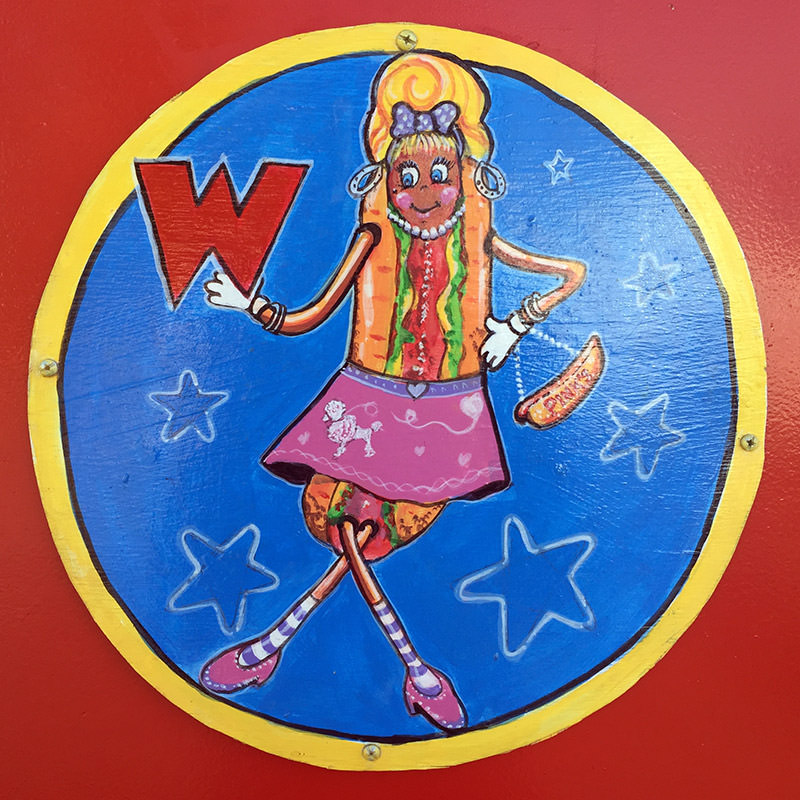 After an unexpected side-quest back to my hotel, I was off to Anaheim for one last meeting and a business dinner.
It was at my final meeting that something amazing happened.
We were discussing our impending dinner when somebody said "I'm surprised we're not going to eat at Earl of Sandwich since Dave's in town." I laughed and then broke the news that I don't eat at Earl of Sandwich anymore because they discontinued their veggie sandwich. A colleague then piped up with "Really? I just had one at Disneyland a couple weeks ago."
Uhhhh... come again?
So I look at their online menu and, sure enough, their veggie sandwich is listed. Thinking it surely has to be an outdated menu, I am nevertheless intrigued. This is my favorite sandwich on earth. For years I obsessed over Earl or Sandwich and moved heaven and earth to eat at their restaurants.
With no choice in the matter, I hop in my car and rush to Downtown Disney so I can check it out. As I walk up to the restaurant, I'm starting to hyperventilate...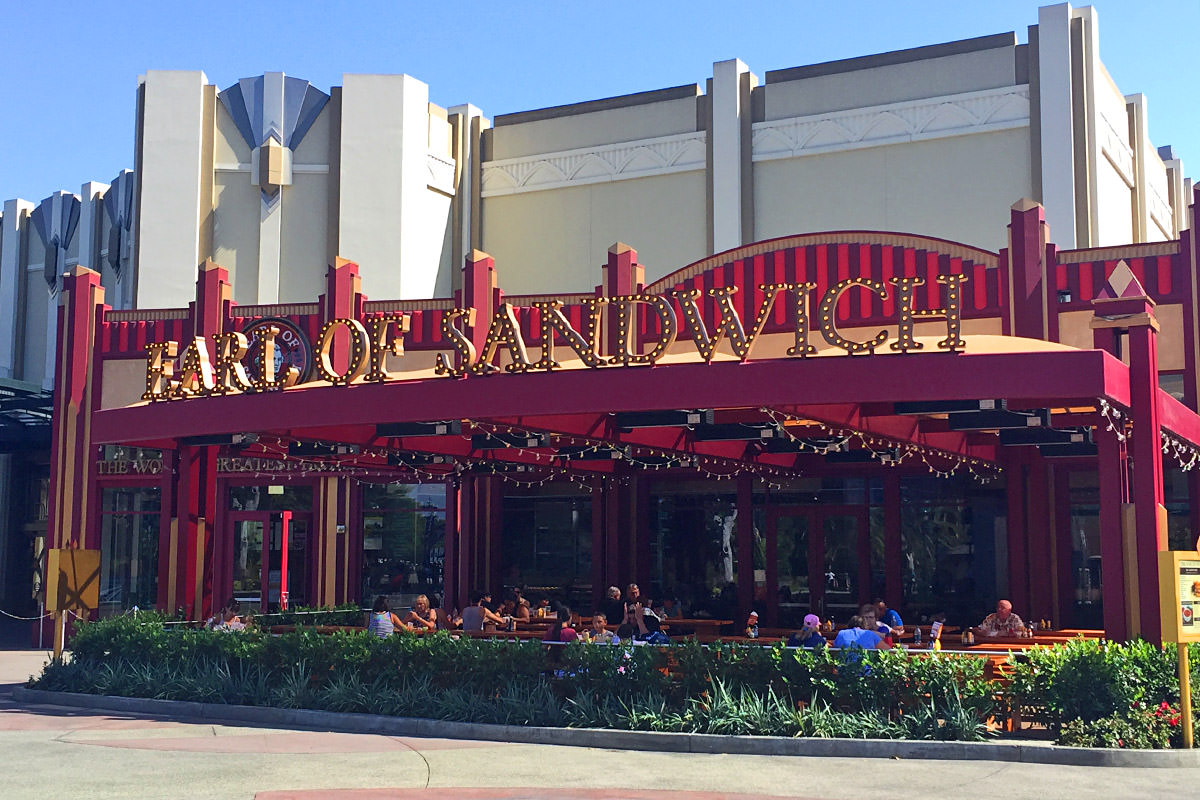 Sure enough, their veggie sandwich IS back...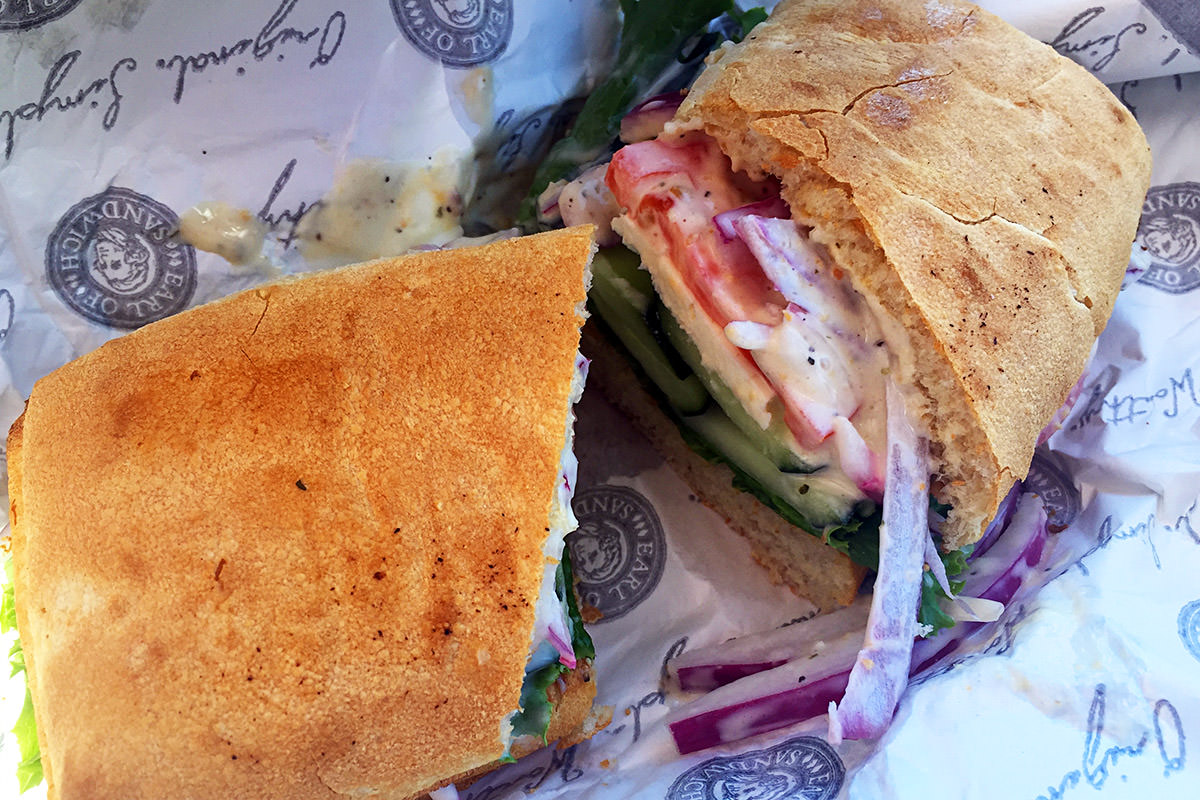 And it is just a glorious as it ever was.
So, even though it spoiled my dinner, a tremendous THANK YOU to Earl of Sandwich for bringing back one of my most favorite things to eat. Amazing. Delicious.
Since I was at Downtown Disney, I decided to use a Disney Dream Dollars gift card that's about to expire. I ended up getting a Disney 60th Anniversary pin and lithograph, which is pretty cool. Also cool? Now that Disney owns Star Wars, they are doing a super-sweet job of integrating their new property into the Disney parks...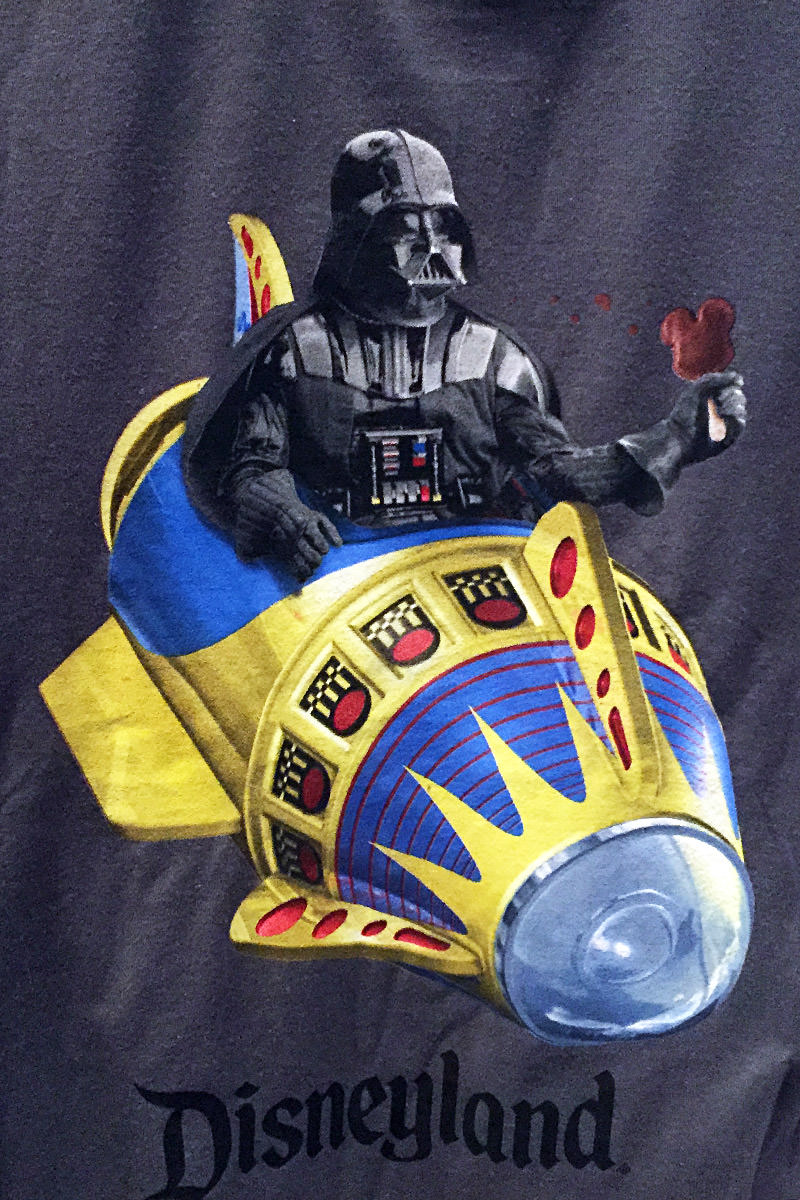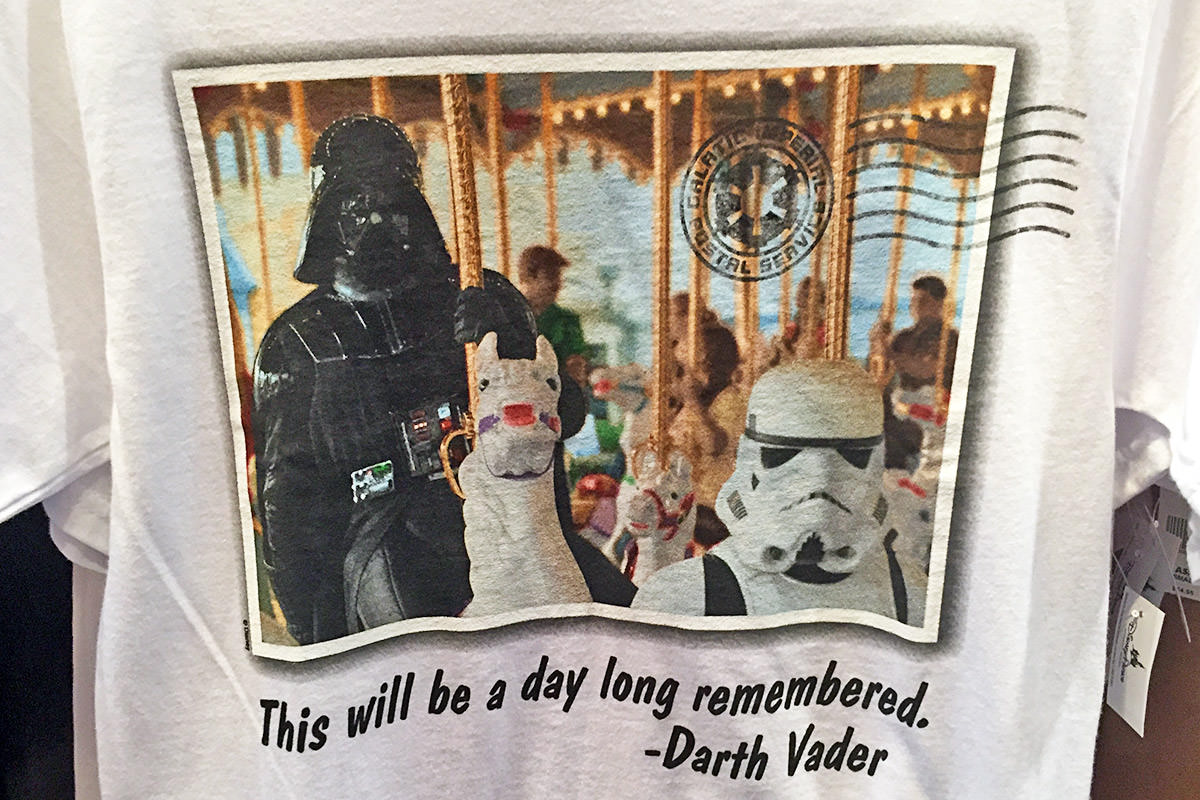 BWAH HA HA HA!
The dinner meeting was short & sweet, and I was on my way back to my hotel at 7:00... arriving by 7:30... in bed at 8:00. Not a bad end to a pretty great day... especially food-wise.
Posted on August 16th, 2015

Time for a very special Los Angeles bullets edition... because Bullet Sunday starts... now...

• Getty. If forced to pick my favorite place in Los Angeles, it would probably be Disneyland. Outside of Disneyland the contenders get murky and I'm not entirely sure what my next pick would be. But The Getty Center would be near the top of the list. It's a gorgeous location above L.A. that's populated with beautiful galleries that are filled with amazing art. And it's all free for the viewing (though parking is $15, if you're driving up)...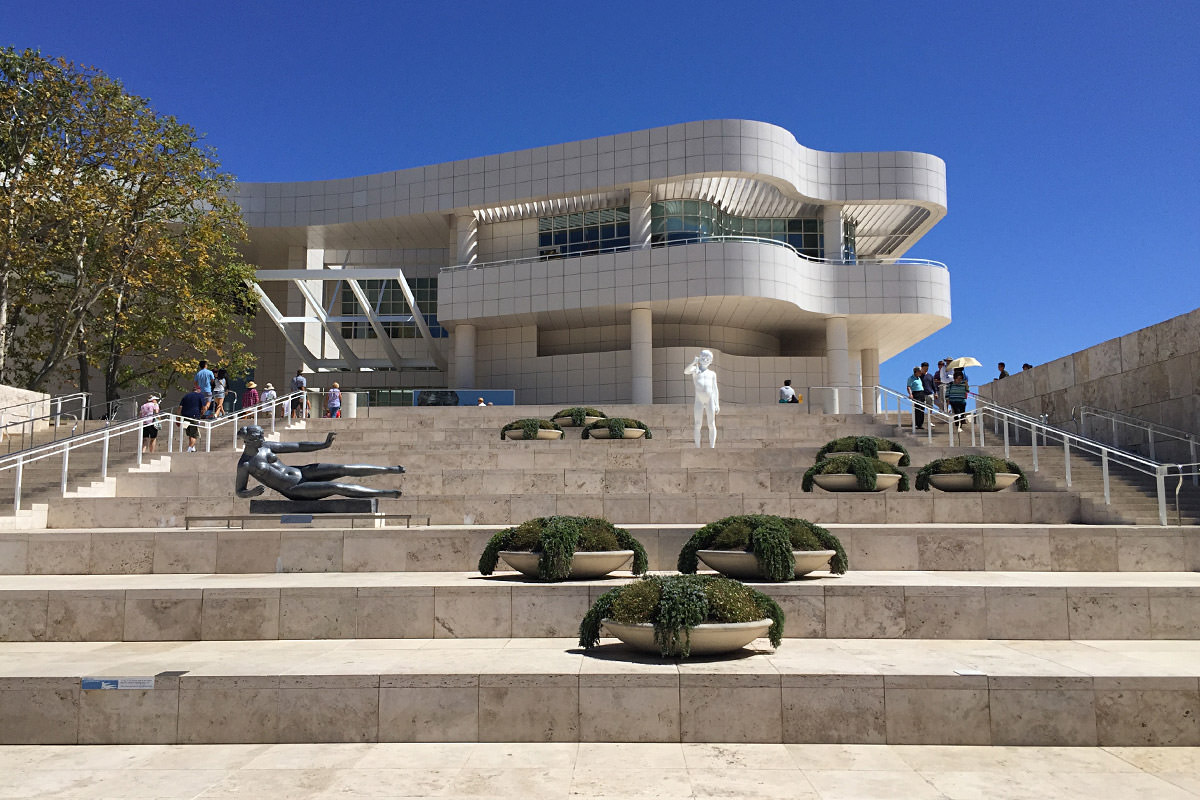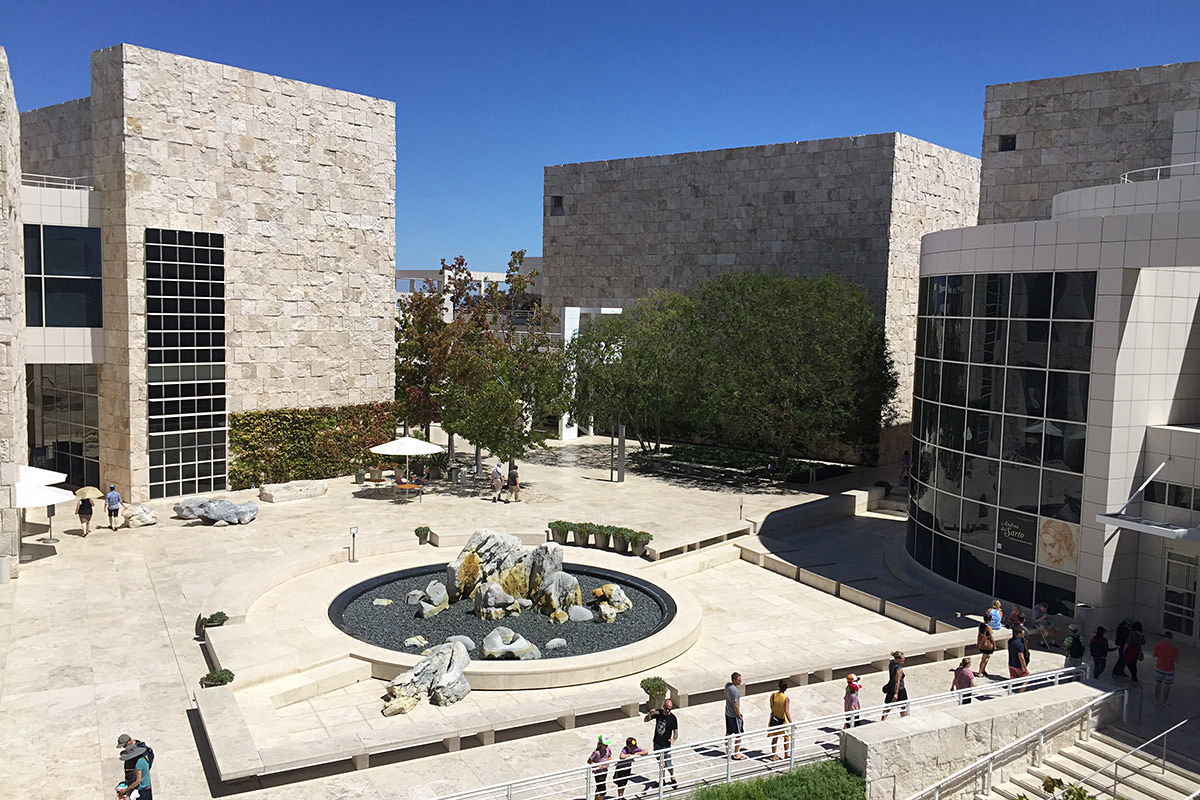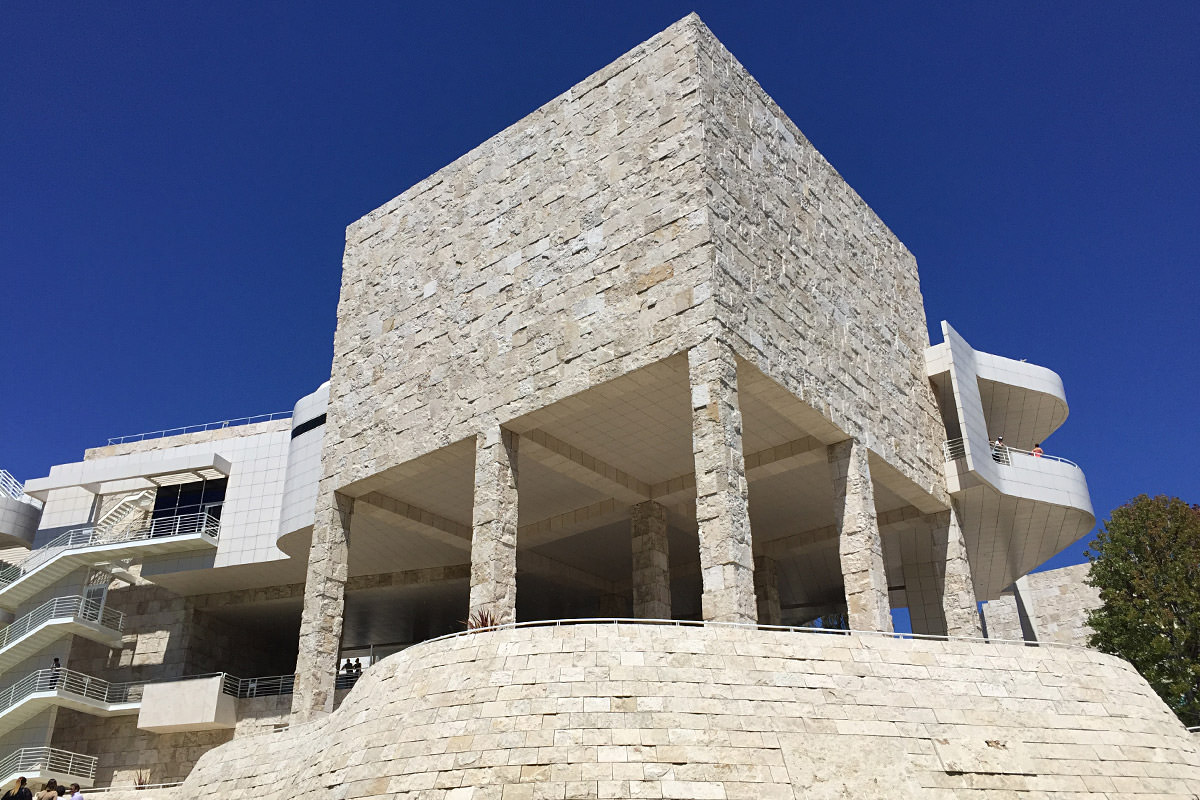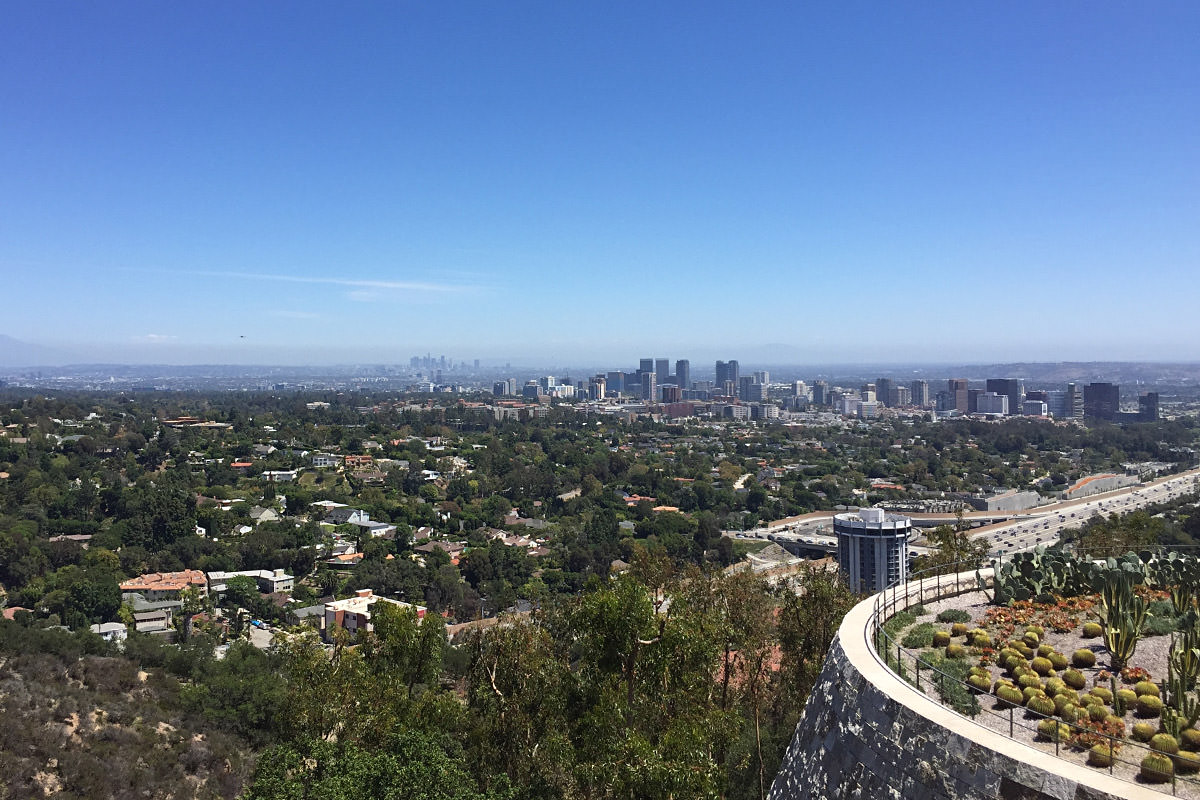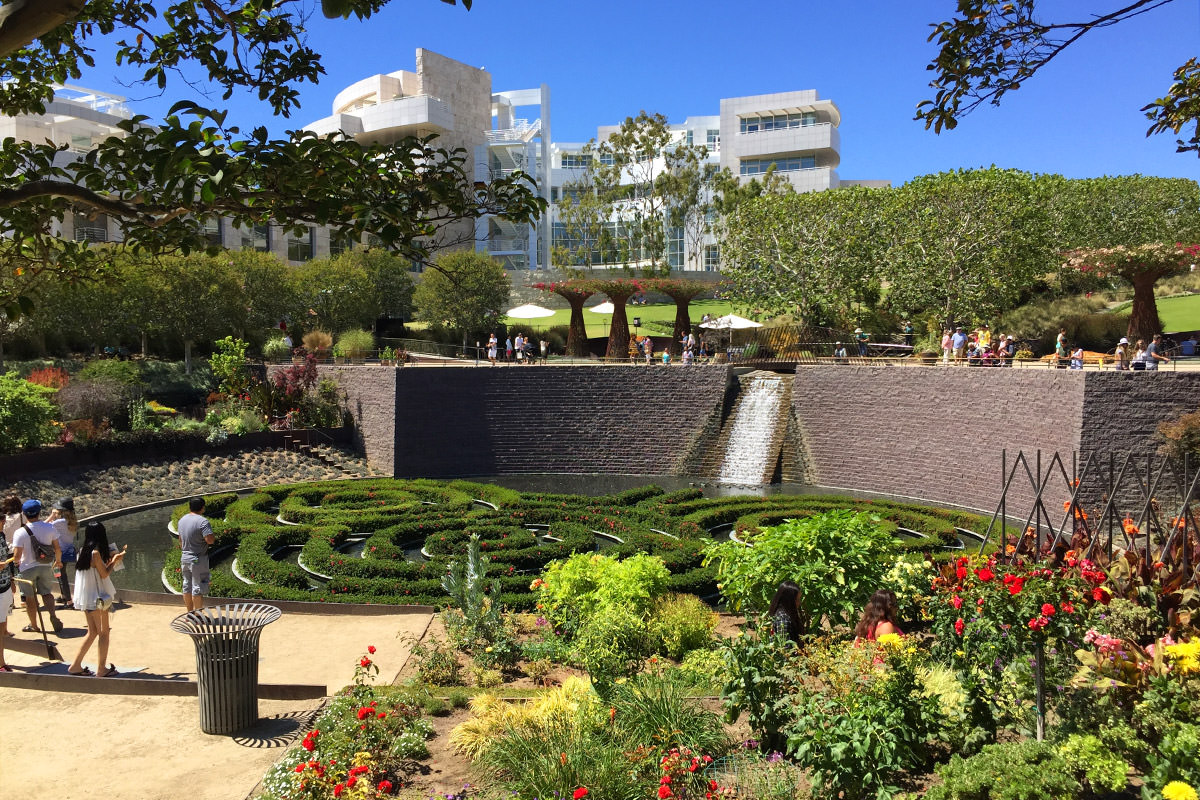 • Frog. If you look closely in the first photo above, a work called "Boy with Frog" (by Charles Ray) is near the top of the steps...
This surprised me, because a version is also at the tip of the Punta della Dogana in Venice, Italy...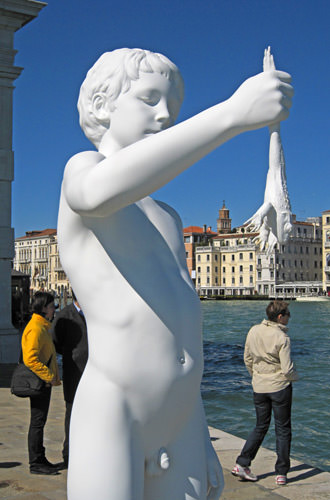 Not sure what that's all about, but it was kinda cool.

• Art! As a huge Monet fan, I usually thrill to see new works... but those at The Getty are versions of a theme that I've already seen many times. Still great though...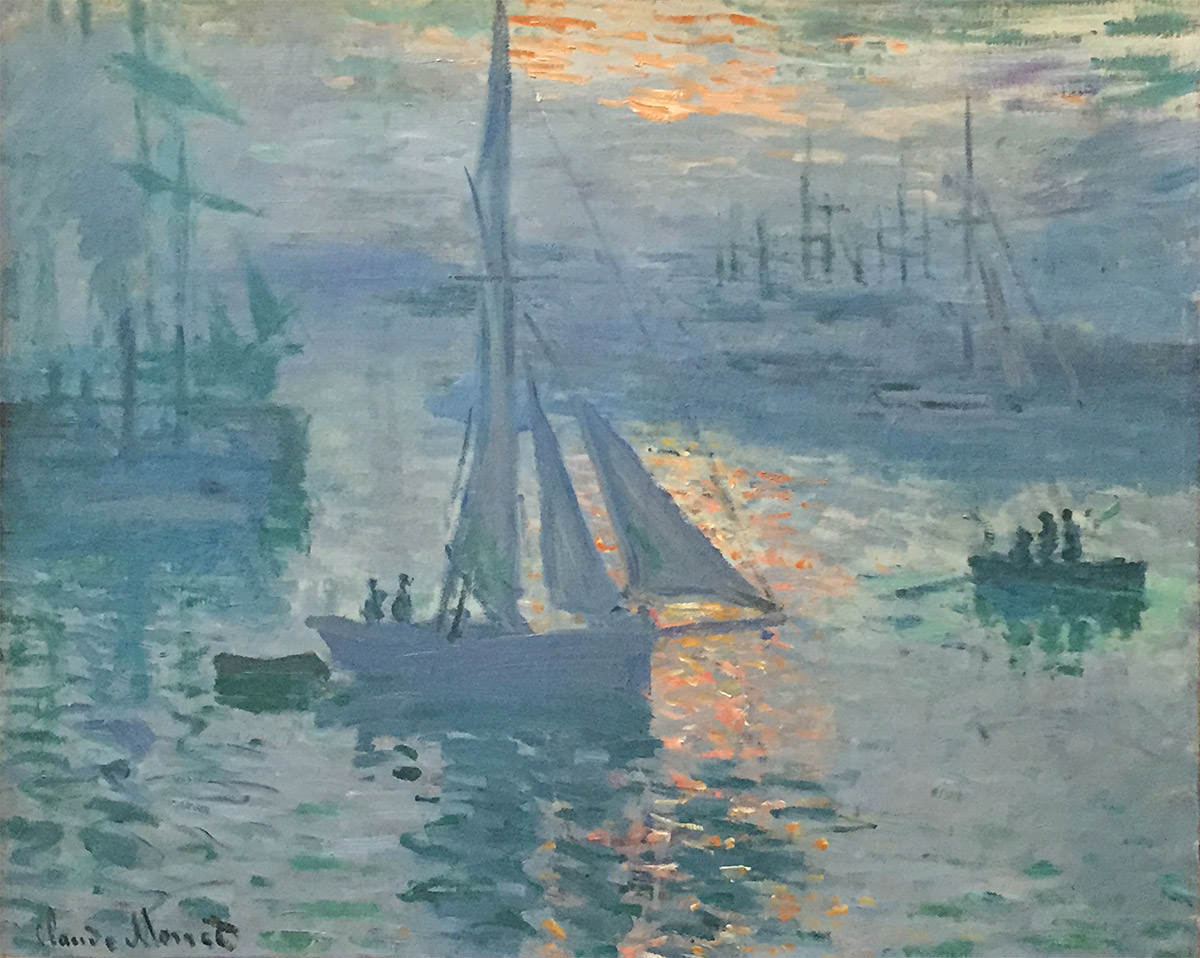 The most popular painting at the museum is a nice irises pieces by Van Gogh...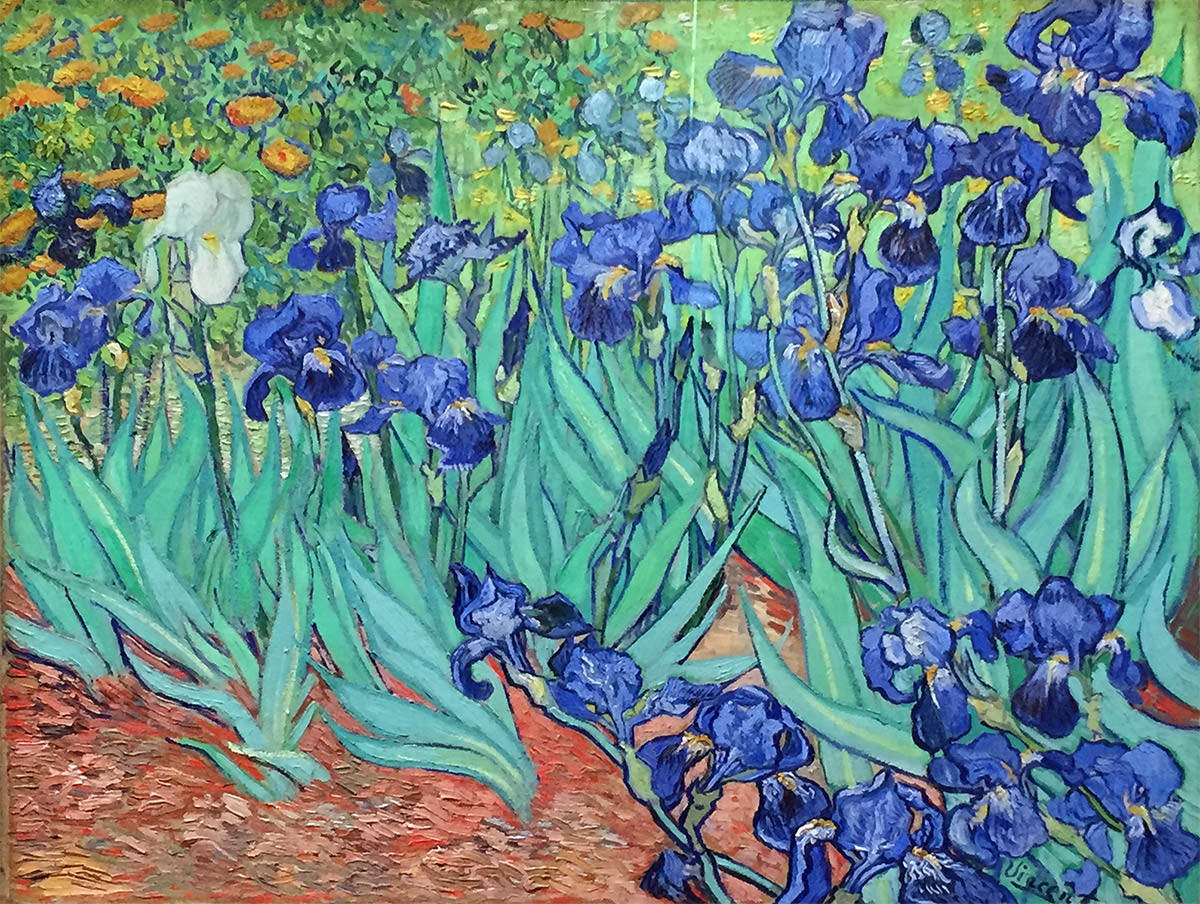 Probably my favorite piece is one that has Baby Jesus loving GOLD, but... SUSPICIOUSLY...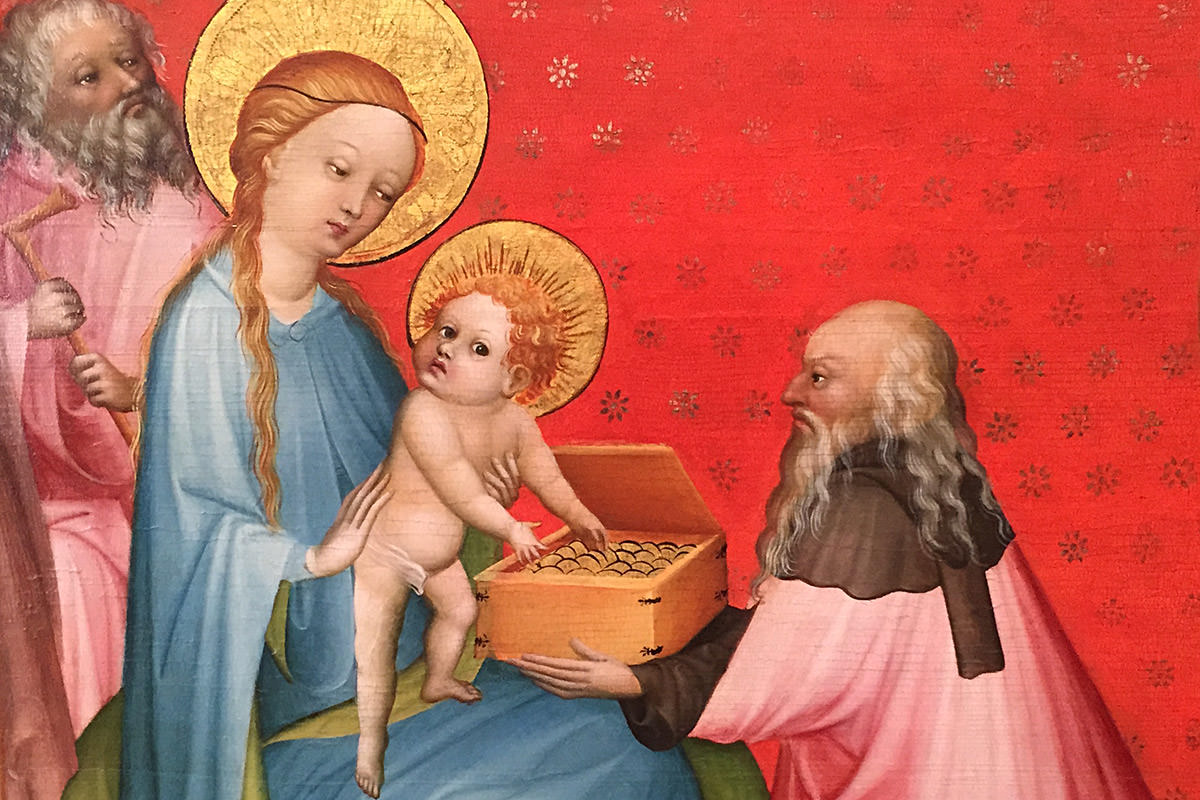 And, of course, RICK JAMES, BITCH...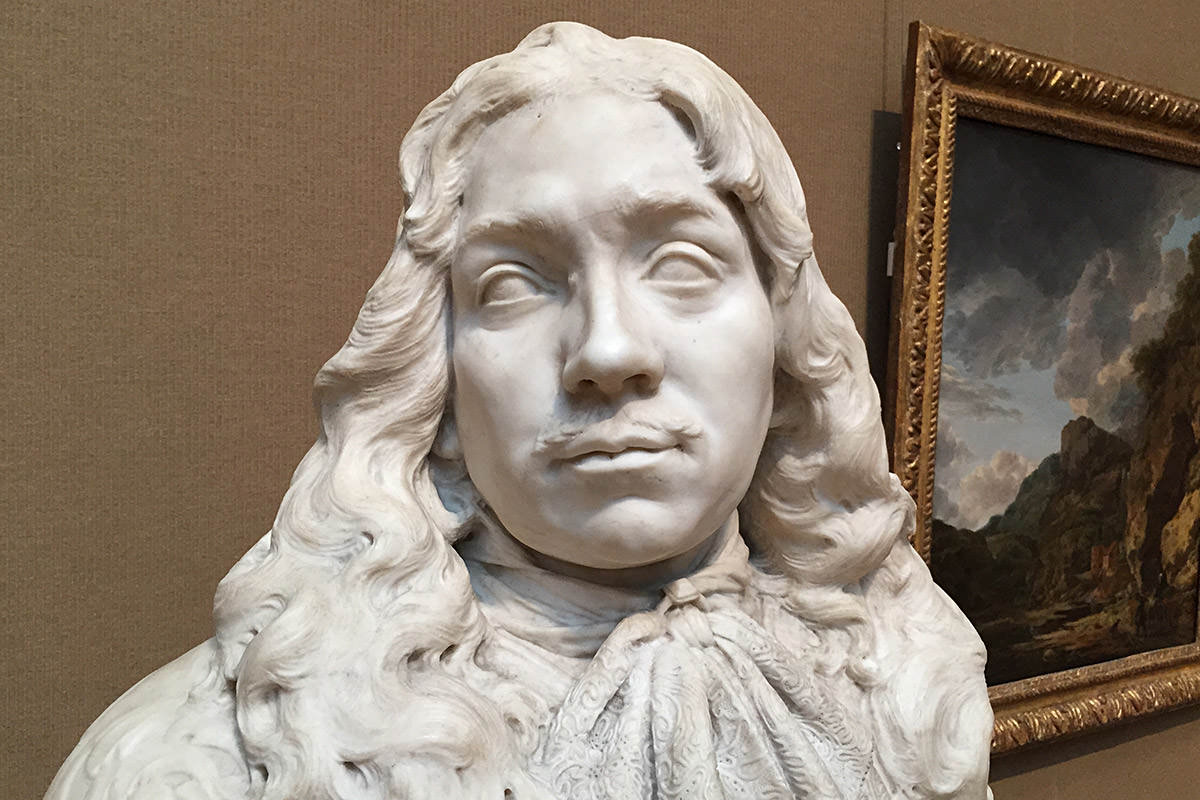 • Rude! Los Angeles is a weird city where lots of weird stuff happens. Like the public hanging of a Teddy Bear...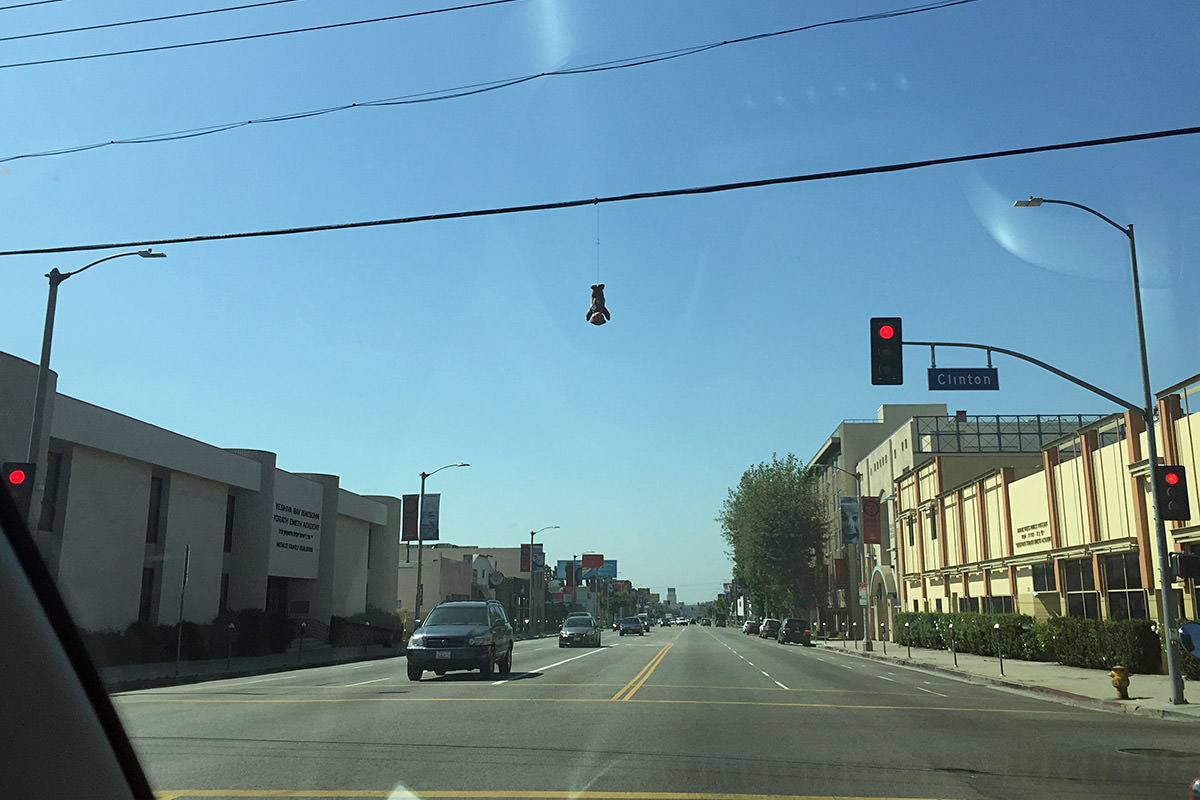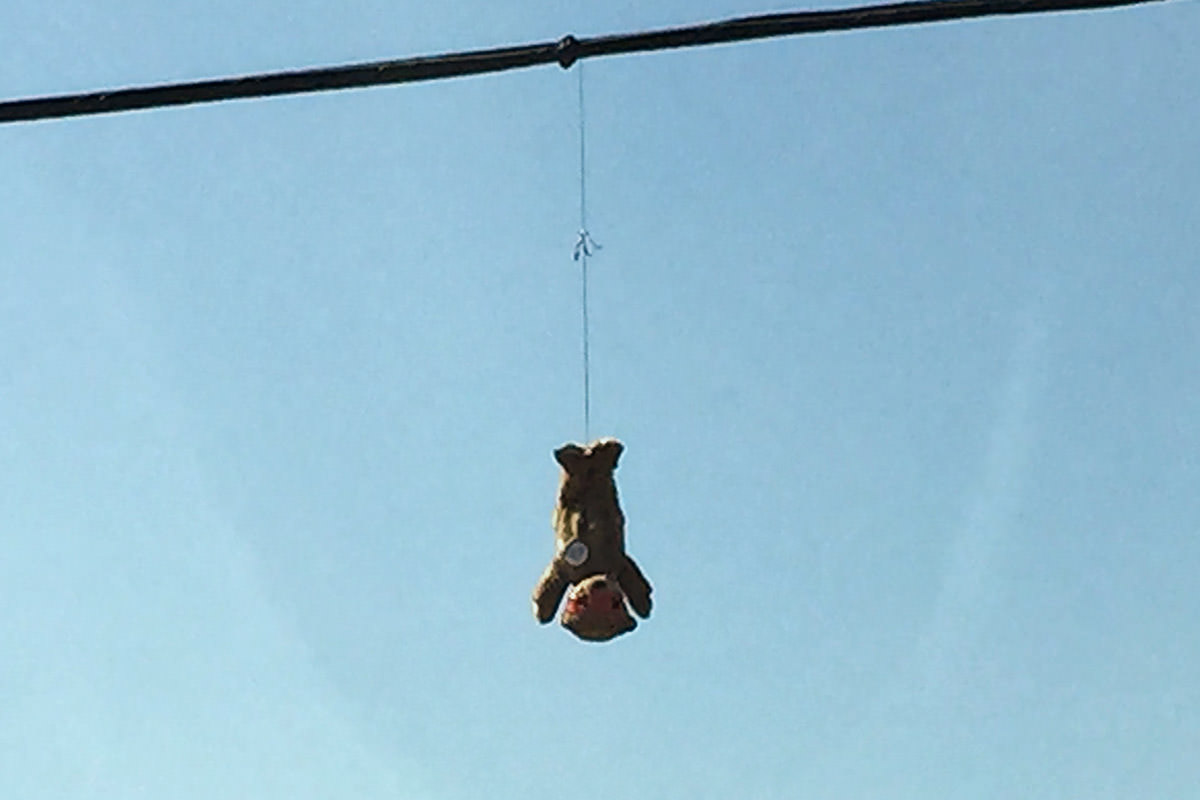 In all seriousness, WTF is wrong with people?!?

• Traffic? Something I had not seen on the most excellent navigation app, Waze, before is a traffic jam gauge. It tells you how long the current jam will last...
Interestingly enough, it was pretty darn accurate! Sweet! Modern technology at work.

• Traffic! You see the oddest things in L.A. traffic (my favorite being DOMO-KUN!), and today did not disappoint. The first thing I noticed was an abundance of handyman vans that seem to be in competition for most interesting paint job. Two I managed to photograph...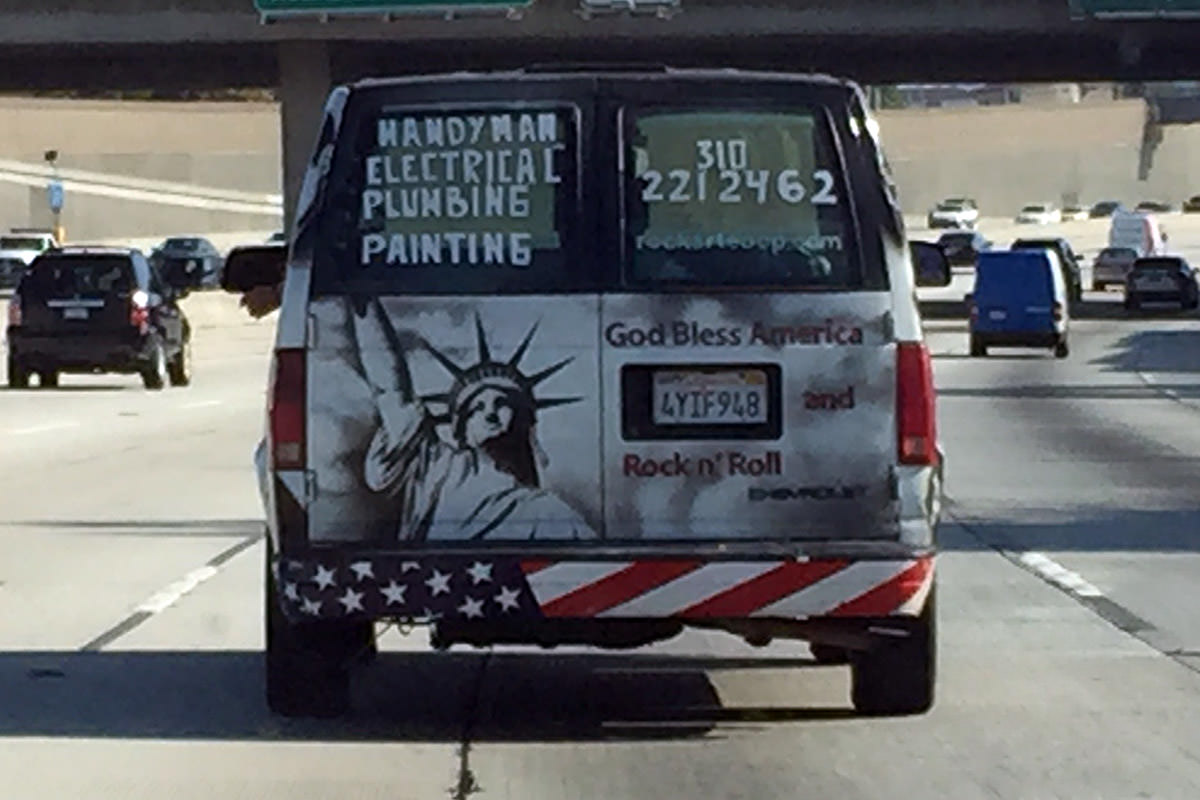 Rock n' Roll indeed... he had the heads of dozens of rock legends painted on the sides!

Truly... Stitt does happen!
Though L.A. traffic was best represented by somebody proclaiming their love of traffic...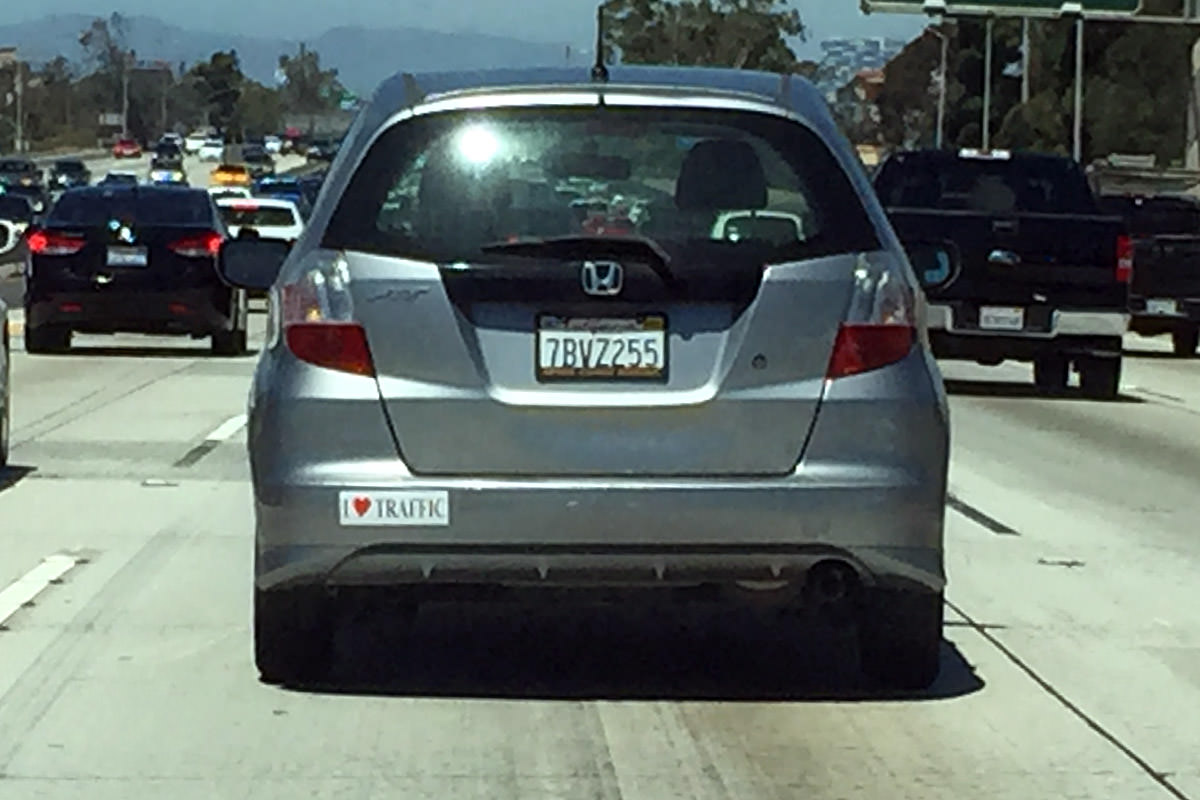 So long leisure bullets... tomorrow it's time to get to work.
Posted on August 15th, 2015

Los Angeles is a city of extremes to me. I both love and hate it, all the while acknowledging that there's nowhere on earth even remotely like it... even though I don't know if that's a good thing or a bad thing. Which means it's probably a little of both.
Every time I come back, I try to focus on the many, many positive experiences I've had here... but the soul-crushing negatives are always in the back of my head. For that reason, I can never just come to L.A. for relaxation and having fun. There's too many things haunting me to make that possible. But I do always manage to enjoy myself... assuming I don't think about the insane amount of time I spend in traffic too much.
Which would be easy if it weren't for all the time I spend in traffic.
Posted on March 30th, 2011

Last night I saw an amazing show by Orchestral Manoeuvres in the Dark at The Music Box L.A.
All the expense and trouble of getting here melted away as the band slammed through a sensational set list of their incredible music. And, because I had bought a "VIP Package," I got to attend a soundcheck and meet the band before the show even started. This was an incredible experience, and made a great thing even better...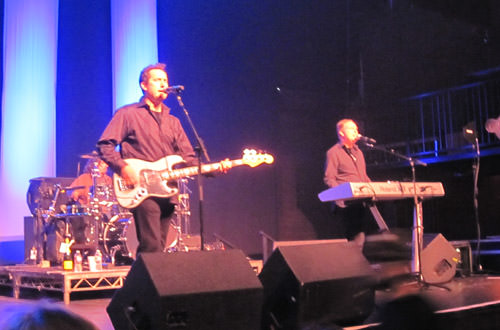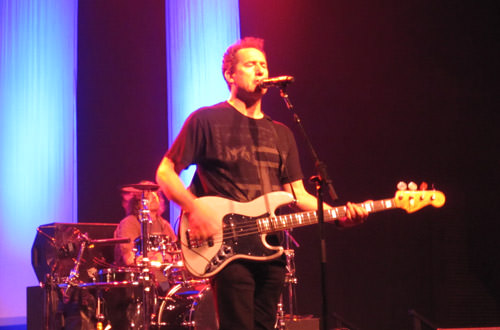 The soundcheck ended up being fantastic, but the concert itself was amazing. One of my favorite new bands, Mackintosh Braun, opened up for them, which was like extra frosting on your cake.
I thought it would be impossible for any band to even get close to the energy from the Matt & Kim show I attended last week in London, but Andy, Paul, and Co. played their guts out for an enthusiastic crowd that absolutely loved their performance...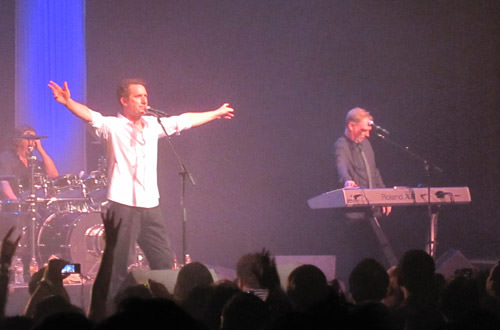 When I met the band, I gave them crap for not playing Seattle. They said that they had been asked to tour the States again, and Seattle would definitely be included next time. Which is like chocolate pudding on top of your extra frosting on top of your cake. I can hardly wait!
Since this was the final show on their tour, Andy took a minute to send out some thank you's. One of them was to their record label, Bright Antenna, for sponsoring this tour in the first place. Apparently no concert promoter would back OMD because they didn't think people would show up. Of course, the band went on to not only sell-out every single show, but they even added an extra one. Which also sold out...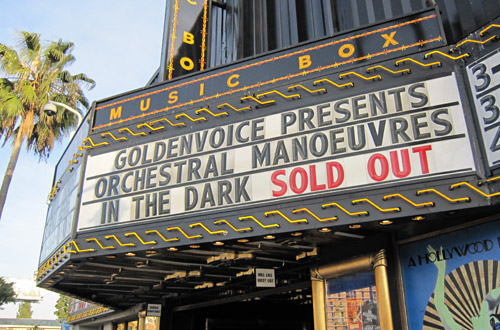 Congrats to Andy, Paul, Martin, and Malcolm on a great album, a great tour, and for having such great fans.

And now it's time for how I got here...
Along with Depeche Mode and the Thompson Twins, the holy trinity of my favorite 80's bands is completed by Orchestral Manoeuvres in the Dark (more often known as "OMD"). Other bands like a-ha, Pet Shop Boys, and Duran Duran came along to snag my attention, but my DM, TT, and OMD came first.
As a massively huge fan of their work, I was thrilled when OMD released a new album last year, History of Modern, that was as good as anything they've ever done. It ended up being my pick for "Album of the Year," so you can imagine my delight when I found out that they were touring the USA in March.
Except there was no stop in Seattle, and I was gone for a big chunk of the shows because I was in London and Venice. A part of me was gutted that I'd miss the tour, but a part of me was also relieved because I'd be flat-broke when I got back from Europe.
And then they added an extra Los Angeles date six days after I returned from London.
I was sorely tempted but, the cost of the flight, hotel, food, and tickets was more than I could spend, and I've already seen OMD live several times.
But then Mackintosh Braun announced they would be the opening act.
Keep in mind, THIS is what my favorite albums list looks like for 2010...

History of Modern by OMD.
Sidewalks by Matt & Kim.
Foot of the Mountain by a-ha.
Where We Are by Mackintosh Braun.
All You Need is Now by Duran Duran.
With Mackintosh Braun added to the ticket, there was no way I could miss this show. I had just seen Matt & Kim. I had flown to New York for a-ha's farewell tour. The chance to see tracks from four out of five of my favorite albums of 2010 performed live was too much.
And so I decided to throw responsibility to the wind, spend a chunk of money I don't have, and fly to L.A. for one night only for an opportunity to listen to some great music. And since I was already going for broke, I went ahead and got the VIP deal. In for a penny, in for a pound, I guess.
What was especially cool was that Ian and Ben (Mackintock Braun) hung around in the lobby after the show so I could tell them that they were the reason I flew to the show. They were genuinely grateful, and a couple of really nice guys. If you haven't listened to their stuff, I highly recommend it.
And so now I fly home. Poor, but happy.
Which is as it really should be, I suppose.
Posted on March 29th, 2011

And... here I am in L.A. for one day only.
Though the city has not-so-pleasant memories from when I was working here, I do still love it quite a lot. Probably because it's one of those places I've been to so many times that I've long-since worn out all the "touristy crap" and can just relax and do the things I like to do.
The trip got off to an ominous start. After the cabin door had been closed on the small aircraft, some guy yelled for the flight attendant because he wanted off the plane. He claims the reason was a text message from his lawyer. But the pilot was new to the job, and those of us at the front of the plane could hear every word of her pre-flight conversation with the co-pilot. Phrases like "You know what I'm doing, right?" and "How do I fly out of here?" don't exactly inspire confidence.
And so we were delayed while the guy got off the plane, which was too bad for him because the take-off was unlike any I've ever had from our small airport. Rather than doing a high-banking turn as usual, she did a lovely, lazy spiral. This afforded us an amazing view of the valley that I have never seen in my 25 years of flying out of here...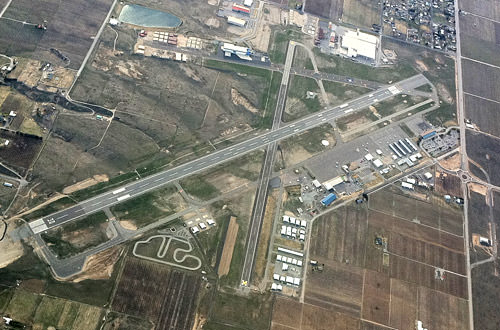 After a transfer at SeaTac (Seattle) I was off to the City of Angels. After working all morning in my hotel room, I knew exactly where I wanted to go for lunch... PINK'S HOT DOGS!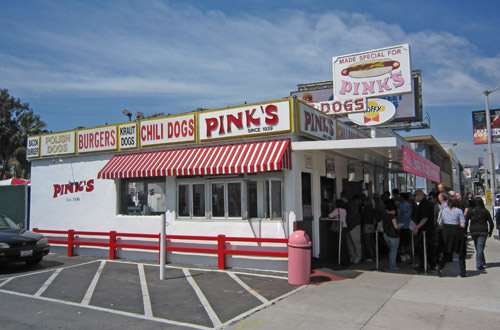 After all, it comes Betty White recommended...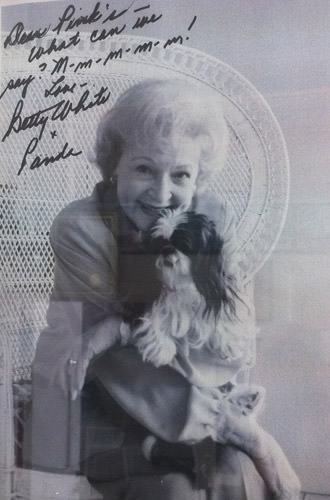 And their "Patt Morrison Baja Veggie Dog" smothered in fresh guacamole, onions, and tomatoes is worth the effort to get here. The veggie dog itself is better at America's Dog in Chicago, but the fresh California toppings at Pink's are fantastic...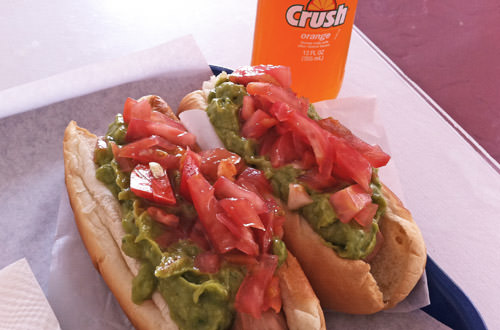 The reason I came to L.A. was located in Hollywood, so I passed the time walking the Walk of Fame. A couple times ago when I was here, Michael Jackson had died. This time, it was Elizabeth Taylor's star that was covered in flowers...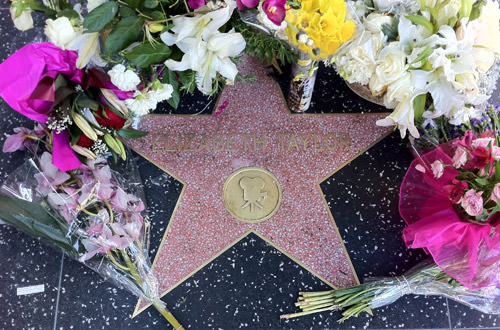 The weather was flawless. A cool breeze with flawless blue skies...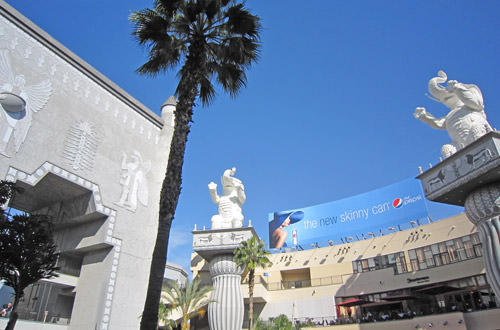 Right up until nighttime, when the sunset was pretty amazing on Hollywood Boulevard...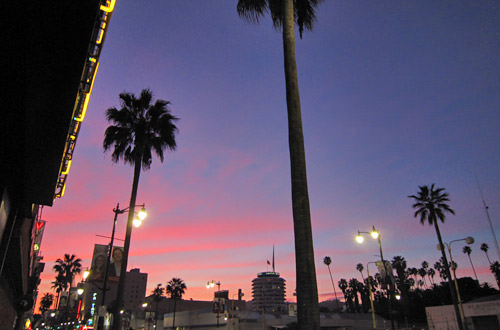 But the real awesomeness was yet to come...
To be continued...
Posted on July 28th, 2009

Imagine that there's somebody whose work you so admire that they inspire you every day. Imagine that what this artist creates fills you with such joy that your life is better because of it. Imagine that this visionary is one of your greatest personal heroes and you obsess over everything they've released.
Now imagine that this person has decided to make a rare public appearance to discuss these works which have been an inspiration to you for your entire adult life... and you have an opportunity to see them do so live and in person.
That's exactly what happened to me when I found out that animation legend Hayao Miyazaki would be speaking in Los Angeles today.
Needless to say, I jumped at the chance. You just don't pass up an opportunity to attend a lecture with the man responsible for My Neighbor Totoro...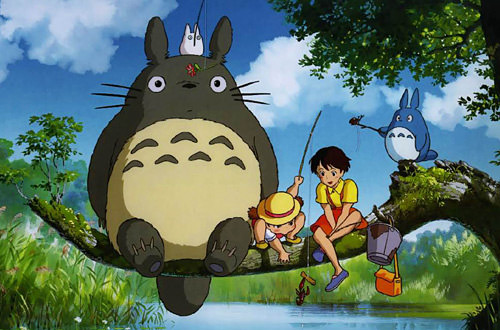 Blogging buddy Howard (from the Web Pen Blog) and I attended the event, and it was an amazing, incredible, wonderful night.
Too many times the best days of our lives go by unnoticed and are only realized upon reflection.
I know this was one of the best days of my life.
To read more about Hayao Miyazaki, here's a Wikipedia entry.
But to really understand him, just go watch his films.