And so here I am back in California for another quick work trip. Though, unlike my previous trip to San Diego which was a breezy nine hours, I'm sticking around Los Angeles for a couple extra days to decompress a bit. I haven't had a vacation in over a year, so it's the least I can do.
The good news is that the weather is supposed to be beautiful for the length of my stay. Given the flood of rains that have been pelting SoCal, that's a pleasant surprise.
The bad news is that I couldn't fly out yesterday, so I had to take an early morning flight to make my meeting...
"Alexa? Set an alarm for 3:30am."
"I've set an alarm for 3:30am."
"Alexa? Kill me now."
I don't sleep very well these days, but I do like laying around in bed. Even if I'm working in bed. Having to drag my sorry ass out of bed at such a heinous hour makes me stabby.
Just ask my cats.
Not that they're happy about it either.
Jenny brings me toys every morning as some kind of tribute. I think that she thinks she has to bring me stuff so I'll get up and feed her. Some mornings she brings one toy... other times she'll bring a half-dozen. The hungrier she is, the more she seems to bring.
This morning when I got up at 3:30 to take a shower, Jenny flew into a panic and ran downstairs to start dragging toys up to me. Since I wasn't in my bedroom, she was confused as to what she should do, so she started making a pile in the upstairs hallway...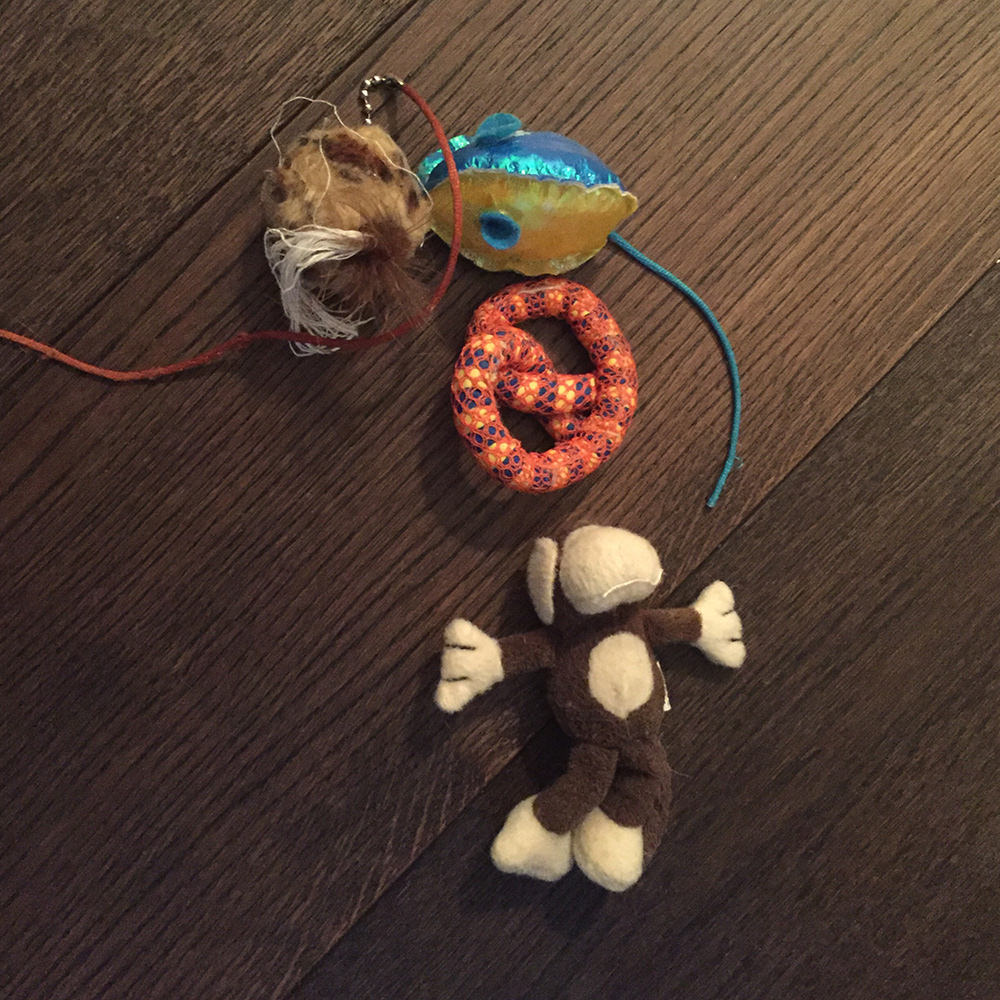 Poor thing probably thinks she overslept!
Though my cats definitely have a better sense of time than I do, so who knows what goes through her fuzzy little head.
Anyway...
After having made sure that the Litter-Robot was emptied, the Feed-And-Go was filled, the television was turned on with the brightness lowered, and the extra litter boxes were set out, I was off to the airport.
Two flights later, and I was back in L.A.
A city for which I have mixed feelings.
Way back in the day, I worked on a project here over seven months. It was nice money, but having to fly back and forth every other week was tough. Even tougher was having to deal with the business behind showbusiness, which was awful to a mentally-debilitating extreme. Turns out I just wasn't cut out for the Hollywood lifestyle... nice as it was to live it for a little while.
But hey... after work I get to go to Disneyland, so there's that.