Posted on October 19th, 2014

Put down that pumpkin spice latte, you coffee house hipster... because Bullet Sunday starts... now...

• Bureaucracy. If watching this video doesn't make you want to execute every bureaucrat asshole in Washington D.C. responsible for dreaming up this bullshit, then you're not watching it correctly...
Wouldn't it be great if our politicians got off their worthless asses and actually fixed stupid shit like this? Well, don't hold your breath, they're too busy getting reelected to do anything actually useful.

• LEGO. As a lover of all things LEGO, I have to say that even imaginary LEGO makes me happy when it's as well done as this...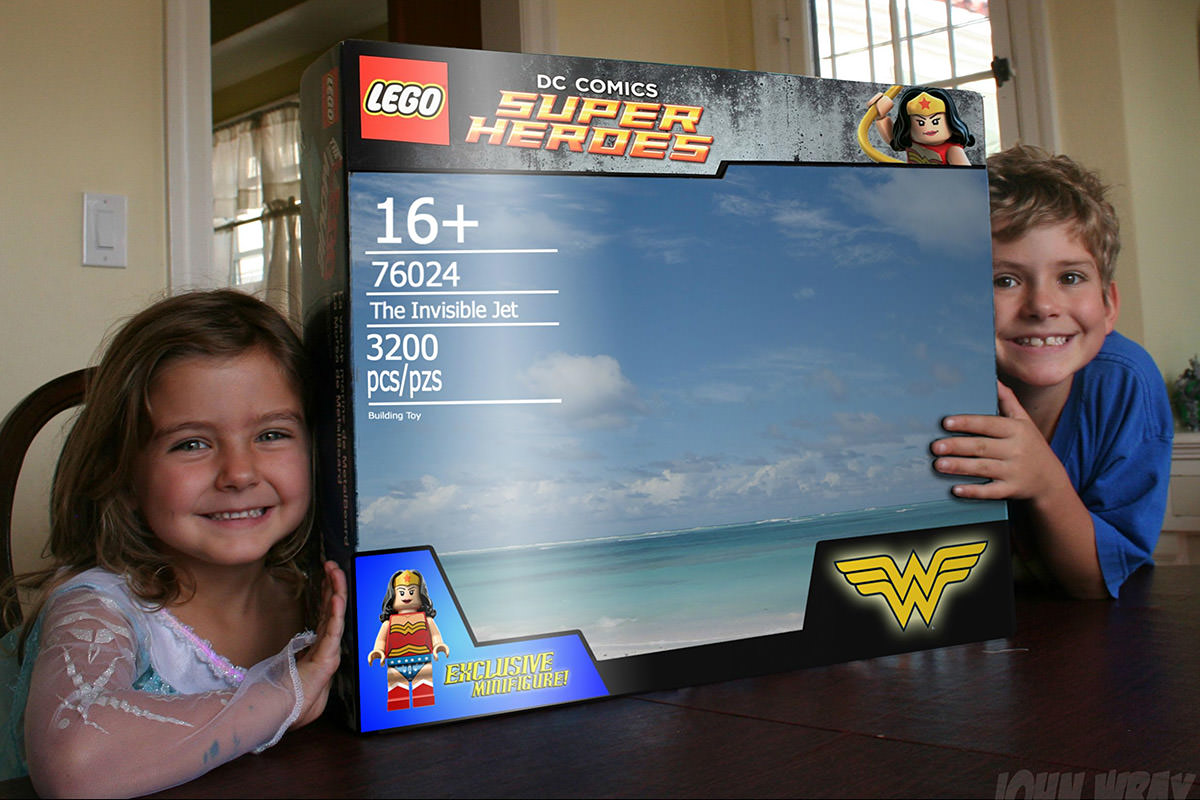 Images by JimmyLegs50
You really gotta see the whole thing to appreciate this level of genius.

• Dora. I had a little crush on Dora from I Married Dora. I had more than a little crush on Mirage from The Incredibles...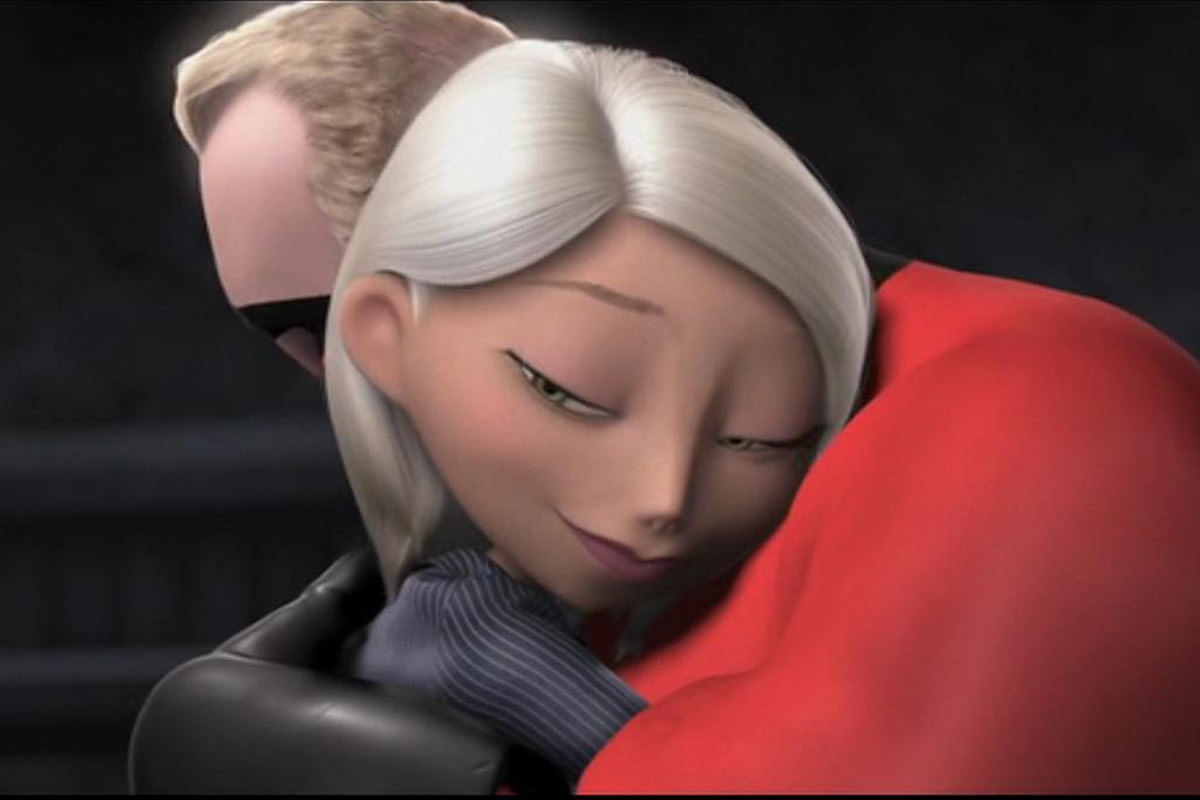 I was very sad to learn that the amazing actress responsible for both those characters, Elizabeth Peña, passed away earlier this week. She will definitely be missed.

• Hooks. As if losing Elizabeth Peña wasn't tragic enough... sublimely talented SNL veteran Jan Hooks also passed away this past week...
A terrible loss for her many fans... including me.

• Reverse. One of my favorite bands, Mackintosh Braun released an EP titled The City Below in anticipation of their new album Arcadia, due in 2015. My favorite track off the EP was posted to SoundCloud and is worth a listen...
You can pick up The City Below at the iTunes Music store.

• Equality. Progress sometimes happens...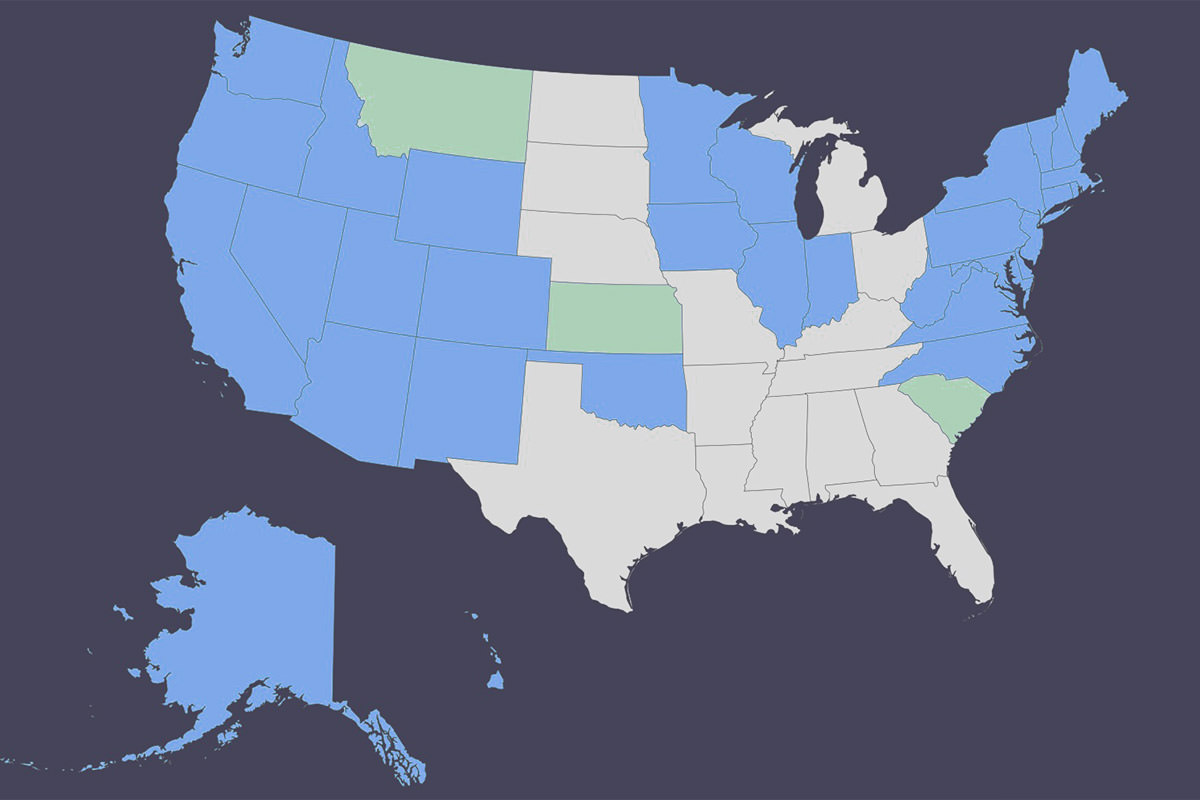 And that's a wrap. Kinda nice to have Bullet Sunday actually land on a Sunday for once.
Posted on March 30th, 2011

Last night I saw an amazing show by Orchestral Manoeuvres in the Dark at The Music Box L.A.
All the expense and trouble of getting here melted away as the band slammed through a sensational set list of their incredible music. And, because I had bought a "VIP Package," I got to attend a soundcheck and meet the band before the show even started. This was an incredible experience, and made a great thing even better...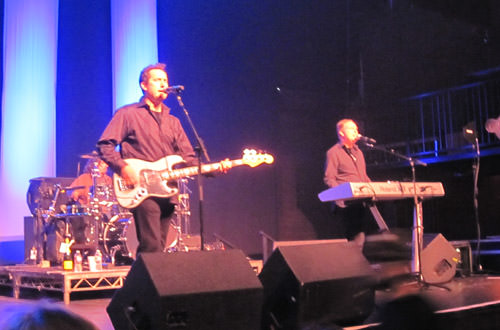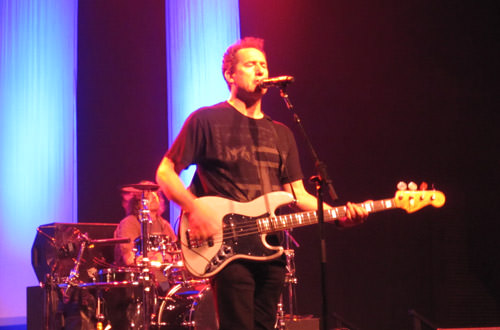 The soundcheck ended up being fantastic, but the concert itself was amazing. One of my favorite new bands, Mackintosh Braun, opened up for them, which was like extra frosting on your cake.
I thought it would be impossible for any band to even get close to the energy from the Matt & Kim show I attended last week in London, but Andy, Paul, and Co. played their guts out for an enthusiastic crowd that absolutely loved their performance...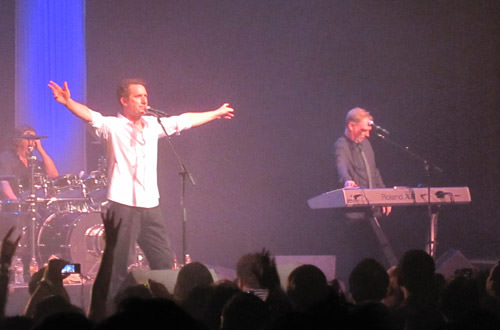 When I met the band, I gave them crap for not playing Seattle. They said that they had been asked to tour the States again, and Seattle would definitely be included next time. Which is like chocolate pudding on top of your extra frosting on top of your cake. I can hardly wait!
Since this was the final show on their tour, Andy took a minute to send out some thank you's. One of them was to their record label, Bright Antenna, for sponsoring this tour in the first place. Apparently no concert promoter would back OMD because they didn't think people would show up. Of course, the band went on to not only sell-out every single show, but they even added an extra one. Which also sold out...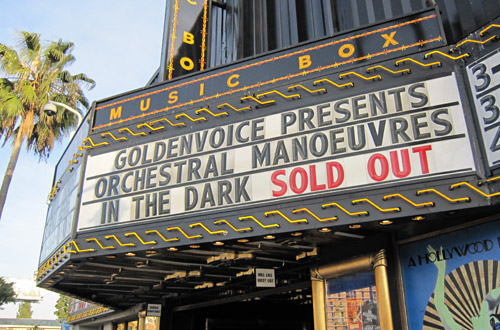 Congrats to Andy, Paul, Martin, and Malcolm on a great album, a great tour, and for having such great fans.

And now it's time for how I got here...
Along with Depeche Mode and the Thompson Twins, the holy trinity of my favorite 80's bands is completed by Orchestral Manoeuvres in the Dark (more often known as "OMD"). Other bands like a-ha, Pet Shop Boys, and Duran Duran came along to snag my attention, but my DM, TT, and OMD came first.
As a massively huge fan of their work, I was thrilled when OMD released a new album last year, History of Modern, that was as good as anything they've ever done. It ended up being my pick for "Album of the Year," so you can imagine my delight when I found out that they were touring the USA in March.
Except there was no stop in Seattle, and I was gone for a big chunk of the shows because I was in London and Venice. A part of me was gutted that I'd miss the tour, but a part of me was also relieved because I'd be flat-broke when I got back from Europe.
And then they added an extra Los Angeles date six days after I returned from London.
I was sorely tempted but, the cost of the flight, hotel, food, and tickets was more than I could spend, and I've already seen OMD live several times.
But then Mackintosh Braun announced they would be the opening act.
Keep in mind, THIS is what my favorite albums list looks like for 2010...

History of Modern by OMD.
Sidewalks by Matt & Kim.
Foot of the Mountain by a-ha.
Where We Are by Mackintosh Braun.
All You Need is Now by Duran Duran.
With Mackintosh Braun added to the ticket, there was no way I could miss this show. I had just seen Matt & Kim. I had flown to New York for a-ha's farewell tour. The chance to see tracks from four out of five of my favorite albums of 2010 performed live was too much.
And so I decided to throw responsibility to the wind, spend a chunk of money I don't have, and fly to L.A. for one night only for an opportunity to listen to some great music. And since I was already going for broke, I went ahead and got the VIP deal. In for a penny, in for a pound, I guess.
What was especially cool was that Ian and Ben (Mackintock Braun) hung around in the lobby after the show so I could tell them that they were the reason I flew to the show. They were genuinely grateful, and a couple of really nice guys. If you haven't listened to their stuff, I highly recommend it.
And so now I fly home. Poor, but happy.
Which is as it really should be, I suppose.
Posted on March 29th, 2011

And... here I am in L.A. for one day only.
Though the city has not-so-pleasant memories from when I was working here, I do still love it quite a lot. Probably because it's one of those places I've been to so many times that I've long-since worn out all the "touristy crap" and can just relax and do the things I like to do.
The trip got off to an ominous start. After the cabin door had been closed on the small aircraft, some guy yelled for the flight attendant because he wanted off the plane. He claims the reason was a text message from his lawyer. But the pilot was new to the job, and those of us at the front of the plane could hear every word of her pre-flight conversation with the co-pilot. Phrases like "You know what I'm doing, right?" and "How do I fly out of here?" don't exactly inspire confidence.
And so we were delayed while the guy got off the plane, which was too bad for him because the take-off was unlike any I've ever had from our small airport. Rather than doing a high-banking turn as usual, she did a lovely, lazy spiral. This afforded us an amazing view of the valley that I have never seen in my 25 years of flying out of here...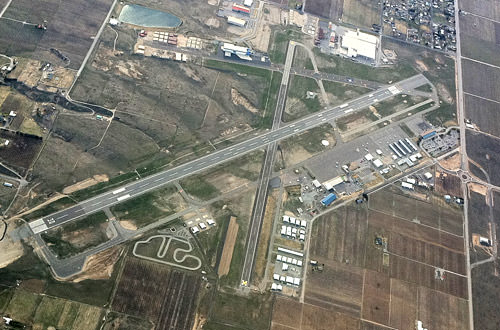 After a transfer at SeaTac (Seattle) I was off to the City of Angels. After working all morning in my hotel room, I knew exactly where I wanted to go for lunch... PINK'S HOT DOGS!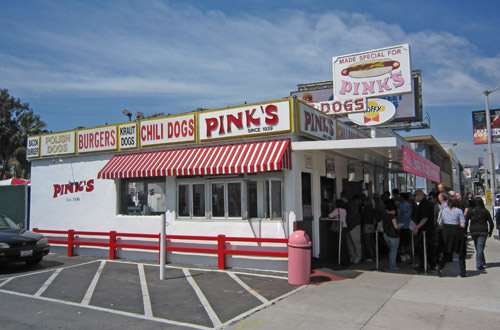 After all, it comes Betty White recommended...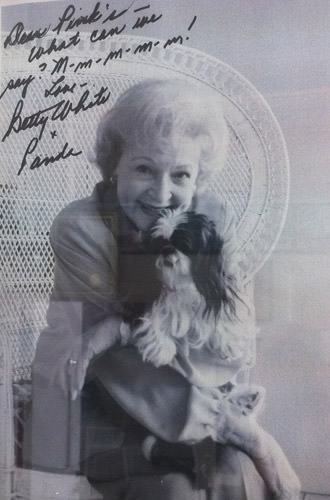 And their "Patt Morrison Baja Veggie Dog" smothered in fresh guacamole, onions, and tomatoes is worth the effort to get here. The veggie dog itself is better at America's Dog in Chicago, but the fresh California toppings at Pink's are fantastic...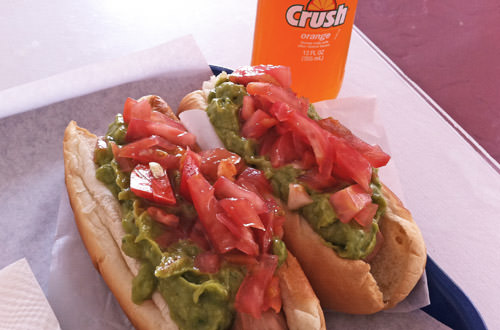 The reason I came to L.A. was located in Hollywood, so I passed the time walking the Walk of Fame. A couple times ago when I was here, Michael Jackson had died. This time, it was Elizabeth Taylor's star that was covered in flowers...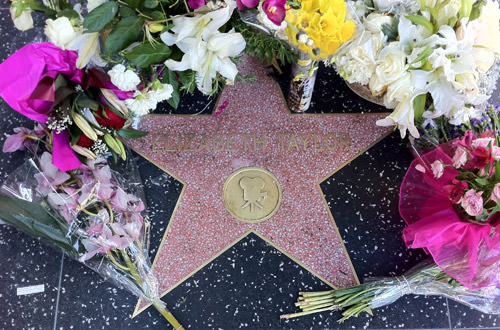 The weather was flawless. A cool breeze with flawless blue skies...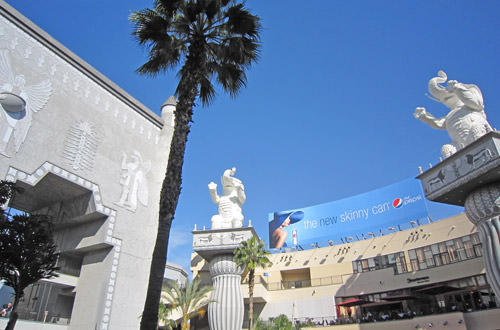 Right up until nighttime, when the sunset was pretty amazing on Hollywood Boulevard...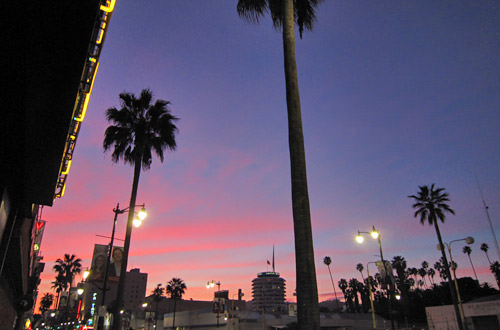 But the real awesomeness was yet to come...
To be continued...
Posted on December 29th, 2010

2010 -> AUDIO -> VIDEO -> DAVE
All things considered, 2010 was a bitchin' year for 80's music whores like myself because OMD, a-ha, and Duran Duran all came out with awesome new albums. Then 80's throwback Goldfrapp dropped an album straight out of Xanadu. Two of my indie favorites, The Weepies and Matt & Kim came out with some great new stuff. And I discovered an amazing band (new to me!), Mackintosh Braun, thanks to Grey's Anatomy (of all places). As if that wasn't enough, Daft Punk managed to put out a soundtrack for TRON that didn't suck. It all added up to a lot of music purchases for me this year.
Here is a list of my favorite albums from 2010: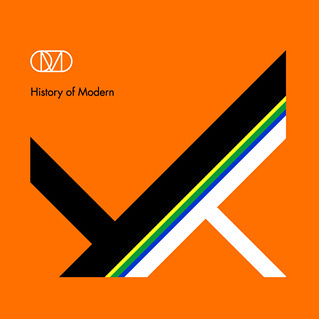 #1 History of Modern by Orchestral Manoeuvres in the Dark.
As a long-time fan of OMD who was overwhelmingly underwhelmed by their "last" album back in 1996 (titled Universal), I was almost dreading the announcement that a new album was coming out. The last thing I wanted after 14 years was another disappointment. But a part of me was hopeful, and that hope was rewarded in spades with History of Modern. Easily one of their best albums, it's a return to glorious form for original members Andy McCluskey and Paul Humphreys. Each song feels like a love-letter to their fans and serves as a reminder as to just how good OMD's music is. I love every track save one (the badly misplaced New Holy Ground) and would be hard-pressed to pick a favorite, as it changes with each listen. Right now I'm in love with Green and History of Modern, Pt. 2, both complex and haunting tracks that stick in your head. Last week it was Sometimes and Sister Marie Says. All I can do is hope that they tour the USA and bless us with an equally-awesome follow-up album in 2012.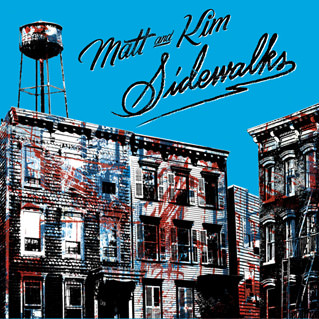 #2 Sidewalks by Matt and Kim.
When I first heard Matt and Kim's debut album, I remarked that it was if I had discovered music again for the first time. Then they broke into mainstream with their brilliant follow-up, Grand, and my love for Matt and Kim was sealed. They have a... joy... for music that you just can't find anywhere else. When I heard they were coming out with something new, Sidewalks, I was prepared to be blown away once again. Oddly enough, that didn't happen. The once raw and unrefined sound that made Matt and Kim be Matt and Kim had been replaced with something more polished which had worn away all the rough edges I came to love in their sound. Kim's wildly unapologetic brashness when banging on those drums had been subdued to levels so small that it was almost as if her kit had been put on half-mute or something. And so I spent the first week being mildly disappointed. But I never stopped listening. I played it again and again and again. And fell in love with Matt and Kim all over again. From the minute I hear the opening bars of Block After Block, I'm hooked. This is an amazing album in its own right, even if it deviates from the Matt and Kim sound I had grown accustomed to. For their next effort, I'm hoping they take a half-step backwards while they're moving forward.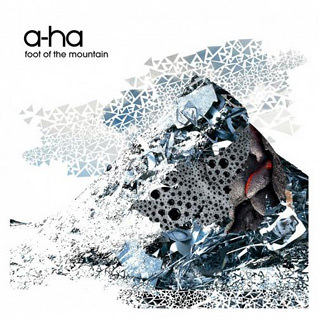 #3 Foot of the Mountain by a-ha.
For reasons I cannot understand, a-ha is relegated to one-hit-wonder status here in the USA (they're the Take On Me guys!), even though they went on to create some of the most amazing music I've ever heard. So when the boys announced they'd be breaking up after their Foot of the Mountain album and tour, I was more than a little upset. The first thing I did was get my hands on the CD as an import since a-ha doesn't get their stuff released here in the US. The next thing I did was buy a flight to New York and tickets to their farewell show. All I can say is that if the band simply had to retire, they couldn't have picked a better album or tour to go out on. Much like OMD's effort, Foot of the Mountain is a true return to the sound that made everybody fall in love with a-ha. With the exception of the mind-bogglingly bad final song Start the Simulator (WTF?!?), every track is gold. My favorite song is Mother Nature Go to Heaven which has the band firing on all cylinders... Morten Harket's haunting vocals being lovingly tempered with Magne Furuholmen's keyboards and Pål Waaktaar's guitar and lyrics. It's everything I love about the band summed up in 4 minutes, 9 seconds. Add the beautiful title track and seven other amazing songs and you're left with my third favorite album of 2010, but it's probably the one I'll remember the most since it's their last.
#4 Where We Are by Mackintosh Braun.
This album came out of nowhere from a band I had never heard of. I was watching an episode of Grey's Anatomy and, not for the first time, found myself Googling to find out what the awesome song was that was playing. Turns out it was Could it Be by Mackintosh Braun. A quick trip to the iTunes Store and I was running through the tracks like mad, floored by the dreamy sound that was oozing out of my speakers. I bought the album without hesitation, and it's been in heavy rotation ever since. The following week, Grey's featured another track Made For Us, which is yet another winner. Hell, every track is a winner. My favorite is Familiar which is not only plays like something out of a dream, but has a stunning musical progression that builds and falls like waves cresting in your mind. I kept hoping that I'd get tired of Where We Are so I'd be moved to purchase their debut album The Sound from 2007. Mostly because I wanted to appreciate each work separately. But I never got tired of it, and ended up buying The Sound anyway. It's a less mature album (and surprisingly simple in parts), but still an enchanting listen. Where We Are one-ups it, and I expect great things from the band in the future.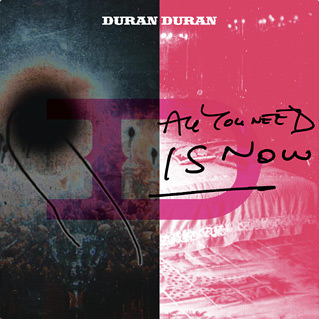 #5 All You Need is Now by Duran Duran
Back in 1985 Arcadia dropped "the best album Duran Duran never made" with So Red the Rose... 25 years later, Duran Duran is back, and managed to come up with a last-minute 2010 miracle: All You Need is Now... easily their best effort in 17 years. With this release Duran Duran is back in full-form, giving us a great title track plus gems like Leave the Light On and Being Followed. It's no Rio or Seven and the Ragged Tiger, but it made this fan very happy that it wasn't another Liberty or Thank You either.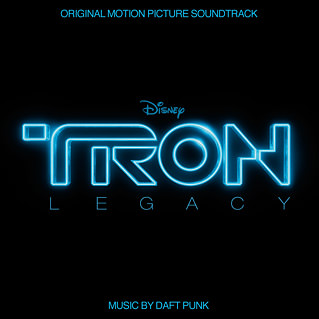 (Honorable Mention) Tron: Legacy (Soundtrack) by Daft Punk.
While electronica house music has never been a favorite genre, it would be hard to ignore the works of the French duo Daft Punk. They're crossover success on YouTube with Harder, Better, Faster, Stronger made them an overnight sensation back in 2007. Even so, I had serious reservations about them doing the soundtrack for Tron: Legacy. The last thing I wanted was some house dance music fucking up an otherwise amazing film. Turns out I had nothing to worry about. From the moment the first track Derezzed was leaked, I knew in my gut that Daft Punk was a truly inspired choice to score the movie. Turns out that was only the tip of the iceberg, and the entire album was filled with mind-bending electronica that listens like nuclear-infused ear candy. While I may not listen to it often, Tron: Legacy makes my "honorable mention" for having the good sense not to fuck up the movie it supports (any problems that movie had were not due to the soundtrack).
It's not over yet! Albums 6-10 are in an extended entry...
→ Click here to continue reading this entry...