On February 19, 2022, I was sitting in my home watching the final two installments of "The Wedding Veil Trilogy" on Hallmark Channel. In the second film, they end up in Burano, Italy, a small island near Venice which is known for fine lace and colorful houses. As I do every time a place I've been to appears in a movie, I take a quick look at my travel photos from my visits and try to remember details of my trip.
Turns out I remembered quite a lot. But one thing I couldn't remember is how far it was from Venice to Burano. All I could recall was that it was the vaporetto stop after the cemetery island and the island of Murano. A quick look at Google Maps, and I saw that Burano was quite a bit further away than I was thinking it was...

Map © Google
Because the movie wasn't very good, I found myself wandering around Venice using Google Maps "Street View"... tracing my way around the places I had been in my two trips to visit.
Eventually I got around to this...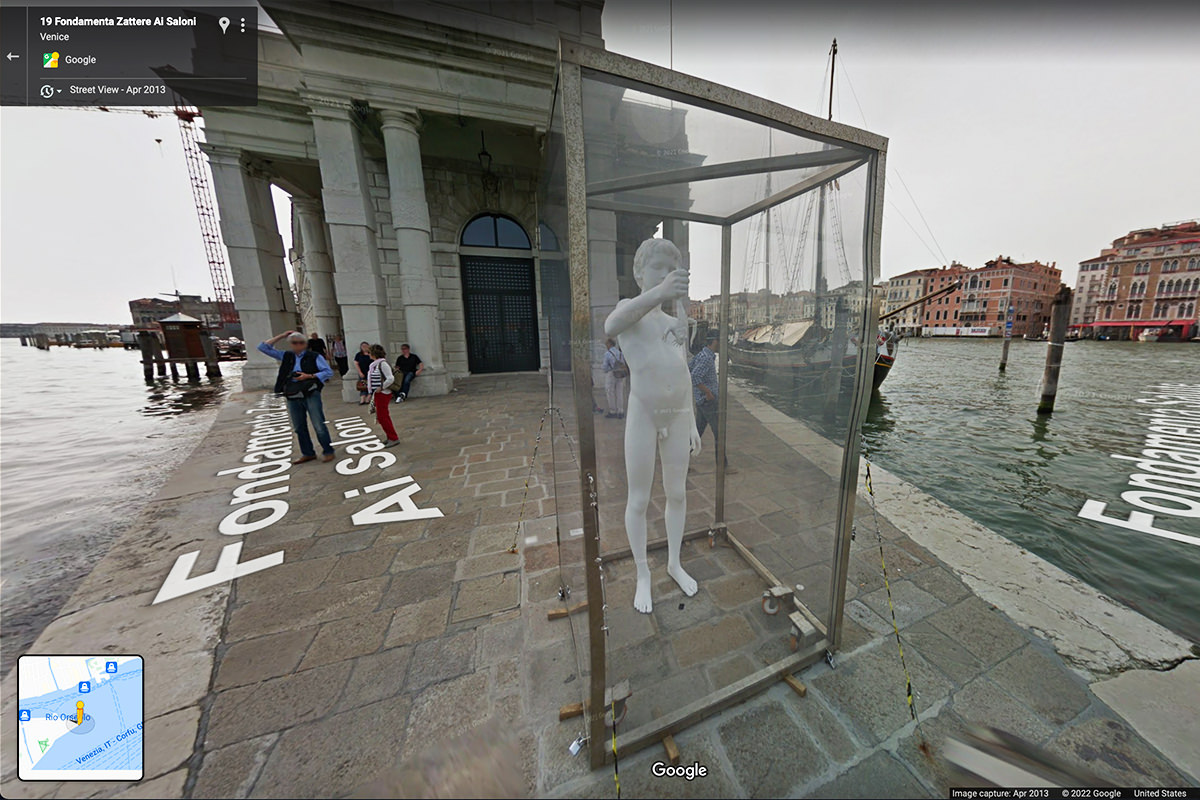 Map © Google
Now that's weird... what's that glass cage doing there?
On March 20, 2011, I was in Venice, Italy. While there I posted a photo of a giant statue of a small boy holding a frog at the Punta della Dogana...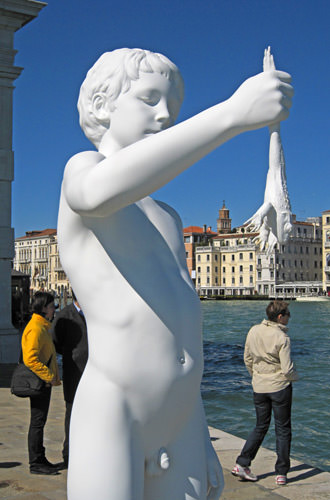 On August 16th, 2015, I was in Los Angeles, California. While there I posted a photo of a giant statue of a small boy holding a frog at The Getty Center...
At the time I remarked that it was weird how there were duplicate statues half a world away from each other.
So tonight I decided to Google for more information on the statues to see why there were two of them...
In 2008 artist Charles Ray used 3D computer modeling to create models of a photo that had been taken. The work, entitled Boy with Frog, was then super-sized and built out of fiberglass over a steel frame for a commission by François Pinault to stand outside of a museum he was building to house his art collection in Venice.
The Punta della Dogana museum opened in June 2009. Boy with Frog was installed for the opening, sitting on land owned by the City of Venice. The lease to house the sculpture was renewed with the city four times a year.
Sometime in 2011 the fiberglass sculpture in Venice was replaced with a painted stainless steel version.
On July 26, 2011 the fiberglass version made its way to The Getty Center in L.A. where it was put on temporary display until January of 2012.
In May of 2013 the stainless steel version was removed from the Punta della Dogana and replaced with a reproduction of a lamp post.
Apparently the Google Maps Street View image I saw was snapped prior to May of 2013. Furthermore, the statue had a police guard during the day, but had the glass cage locked around it at night to protect it from vandalism.
Now I am going a little bit crazy, because I have some questions about what I've read...
Which version did I see in Venice in March of 2011? Had the fiberglass version been removed and I saw the painted stainless steel version? Or was the fiberglass version still on display at that time?
If the temporary installation of the fiberglass version was to be removed from The Getty Center in January of 2012, then how did I see it there in August of 2015? Perhaps it wasn't removed after all? Was it removed and brought back for a while? Where is it now?
It seems absurd that such an important and beloved work has so little concrete information available about it. The good news is that I think I saw both the fiberglass and the painted stainless steel versions. And, if it turns out I haven't, a trip to Philadelphia can solve that (or New York City, if I can get there before June 5th).