Finally.
At long last.
The news I've been waiting over 25 years to hear has just been released by Disney...

BURBANK, Calif. (January 15, 2010) - Principal photography is underway in London for Walt Disney Pictures' "JOHN CARTER OF MARS." Academy Award-winning filmmaker Andrew Stanton brings this captivating hero to the big screen in a stunning adventure epic set on the wounded planet of Mars, a world inhabited by warrior tribes and exotic desert beings. Based on the first of Edgar Rice Burroughs' "Barsoom Series," the film chronicles the journey of Civil-War veteran John Carter, who finds himself battling a new and mysterious war amidst a host of strange Martian inhabitants.
After I had watched Star Wars in 1977, my 11-year-old mind was ensnared by science fiction and I was desperate for more. I had read a few teen sci-fi books here and there, but the genre never really caught hold. It wasn't until Star Wars that an obsession was born. I quickly became bored with the "kids" version of science fiction and decided to see what awaited me in the adult section of the library. That's when I found A Princess of Mars by Edgar Rice Burroughs...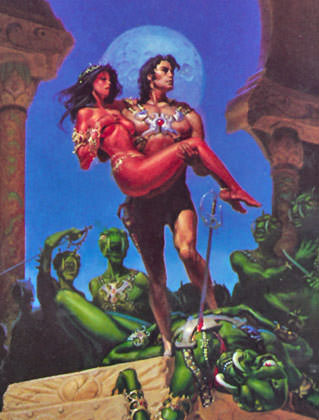 I devoured all of the Burroughs "Barsoom" books, and used it as a spring-board to the worlds of Asimov, Bradbury, Heinlein, Herbert, and other science fiction giants.
But it was the John Carter of Mars books that remained my favorite (so much so that I even "became" Edgar Rice Burroughs when joining in on Kapgar's "The Lost Blogs" contest).
Sure they are relatively flimsy stories filled with outrageous coincidences and tacky dialogue, but the bizarre creatures and fantastic places that are a hallmark of the stories more than compensated. It was those things that had me dying to see John Carter movies on the big screen.
And, after numerous false starts, that day has finally come.
Here's hoping Andrew Stanton doesn't fuck up a childhood dream...