Posted on May 3rd, 2022

I haven't been all that impressed with Moon Knight. Mostly because the show has barely had any Moon Knight in it. And it's perfectly understandable. They tapped an actor of Oscar Isaac's caliber, so covering him up in a mask for six episodes simply wasn't in the cards. No, the reason they needed Oscar Isaac was to have an actor with the chops to portray a character with dissociative identity disorder, which he delivered. As expected.
And now we've reached the end of the road. The final episode aired tonight.
And while it doesn't entirely make up for the fact that they dragged out this show for far, far too long... I have to admit that the payoff was pretty sweet. I just wish that this sixth episode had occurred at the half-way point, because now I really want to see what they do next...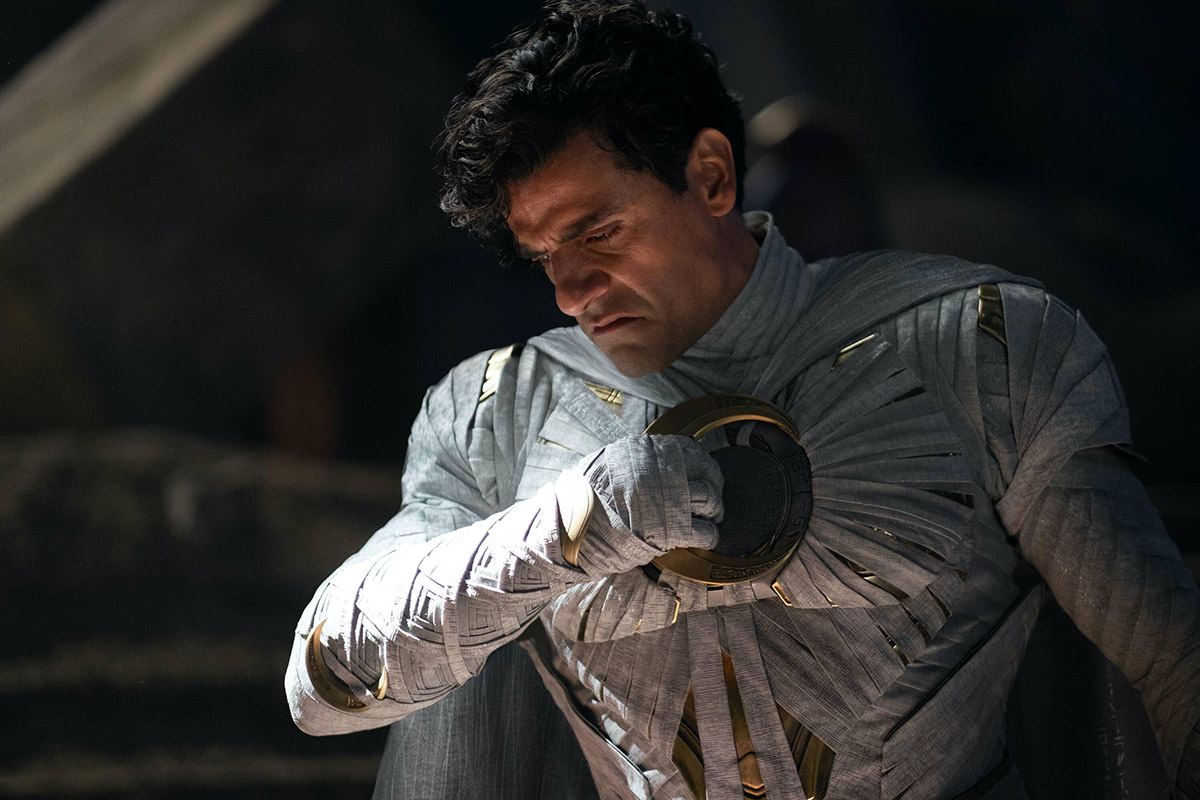 I'm not going to post any major spoilers (though if you're a fan of the comic books, it's not anything entirely unexpected), but I am going to hint at one: part-way through, a little Egyptian girl says in awe "Are you an Egyptian super-hero?!? and it hits pretty hard. Because representation matters. I hope that Marvel stays on this course, because super-heroes are getting played out, and anything new and different is welcome.
Posted on April 12th, 2022

Welp, we're three episodes into Moon Knight from Marvel Studios on Disney+ and I am most decidedly not impressed. Usually by the half-way point you'd expect an escalation of the story so you can race to the finish line. Well, that ain't happening.
Good Lord is this series awful. How could Marvel Studios take such a cool character... amazing acting talent... fantastic locations... and come up with something THIS boring? It's all talk talk talk talk that ultimately goes nowhere interesting.
And Mr. Knight has gone from badass in the comics to tedious in the television series...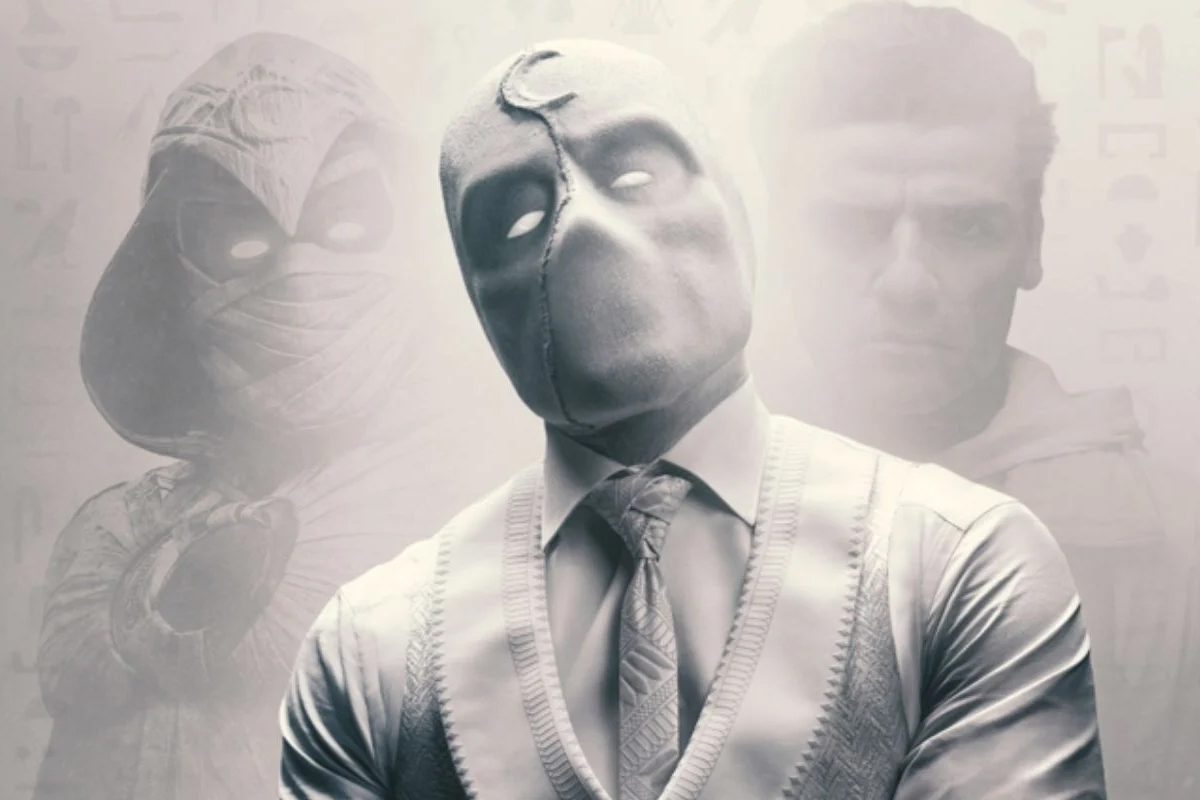 I sure hope that they manage to do something interesting in the back-end three episodes, but given how the latest episode ends, I'm guessing that we've got at least one more episode of Moon Knight without Moon Knight.
What a wasted opportunity. They aimed for Raiders of the Lost Ark but fell way, way short.
There is such a wealth of comic book source material to mine from... but we get this hot mess? I would have rather we got a two hour movie that was tightly tuned instead of six drawn-out episodes of whatever this is.
Comic book shows shouldn't be boring. This is show is boring and sad.
Posted on March 30th, 2022

Last night Disney+ unleashed the first episode of Marvel Studio's Moon Knight at midnight. And of course I stayed up to watch it, not getting to bed until after 1am.
I had some pretty high expectations, because the previews all looked so darn good. Plus I'm a fan of the original comic book character upon which the show is based...
The first episode has precious little actual Moon Knight in it (he appears at the very end). The entire episode (the first of six) is focusing on Steven Grant, a nervous worker from a museum gift shop who is hearing voices and having a tough time discerning dreams from reality. When he starts losing time and waking up in inexplicable locations in the middle of events he doesn't remember... well... it's all going to come crashing down on the guy eventually.
Marvel Studios is going for kinda a horror vibe this time, and it's darn cool. Thankfully they put in the money to get a talent like Oscar Isaac to carry the series, because the show would have crumbled if they just plopped in any ol' actor. I sincerely hope that they will have Moon Knight appearing in other Marvel shows and movies. The character would bring a very different mood anywhere he appears.
Worth tuning into for sure.
Posted on March 20th, 2022

Spring has sprung and I'm motivated for nothing but being lazy, yet do not fear... because an all new Bullet Sunday starts... now...

• Saavik! I put off watching "How I Met Your Father" for the longest time because I still feel burned by the horrible way that "How I Met Your Mother" ended. I'm not too familiar with Hillary Duff... but I'm fans of Chris Lowell and Suraj Sharma, so I decided to give it a try. I had no idea that Kim Cattrall was playing Future Hillary Duff! She's great!
This was definitely a better move than dredging up Samantha Jones for the awful Sex And The City revival (And Just Like That...). Wise move on her part.

• Windu! PLEASE! PLEASE PLEASE PLEASE!!! Disney+ needs to make this happen!

• Moon Knight! This show just keeps looking better and better...
Ten more days...

• National Treasure! Dolly Parton respectfully requested to be removed herself from consideration to be inducted into the Rock and Roll Hall of Fame because she hasn't made a rock & roll album... but hopes they will consider her in the future if she does make one (something she's always wanted to do).
First of all... ZOMG! A ROCK AND ROLL ALBUM FROM Dolly Parton?!? GIMME GIMME GIMMEEEEEEE! Can you just imagine?!? Second of all... I think Dolly severely underestimates her contribution to rock & roll. It's not just the music you release, but the influence you have on other musicians and the industry as a whole that should be considered. And she's got that all over. Third of all... you don't "nominate" Dolly Parton for anything. You just give it to her. I find it a little embarrassing for The Rock and Roll Hall of Fame that they would even put her in this position. And they really need to stop. I mean, Quincy Jones wasn't inducted until 2013, and that was a grotesque oversight waiting that long. Can you imagine having to vote for Quincy Jones to be inducted? Ridiculous. Just give it to him. Then there's Nile Rodgers, who wasn't inducted until 2017. TWO THOUSAND SEVENTEEN!!! Nile Rodgers!!! It's like... what are you even doing?
And then they denied her request.

• The Flight Attendant! The first season was such a pleasant surprise. This looks great!
More television to look forward to!

• Harassment. Trevor breaking it down as only he can. This is a must-watch video (here's a link in caseTikTok is being a dick)...

• Jeez! What. The fuck. Jane Campion stepped in shit and that smell ain't EVER going to leave her. Serena and Venus Williams are INARGUABLY two of the greatest athletes to ever walk this earth, and to try to diminish that by saying they're only great because they don't have to play against the men like you do?p> — =clicks tongue in amazement= —
Yeah. Good luck with that. I try to imagine the majority of male tennis players going up against Serena Williams and very nearly wet myself laughing.
Do not try to take the shine off of somebody else's greatness to make yourself look better... because you only end up tarnishing yourself. I mean, Campion wrote and directed In the Cut, a total turd of a film, after all. Man or woman, a steaming pile is a steaming pile. This is SO unbelievable. Is Campion going to try the Rosanne Bar Defense and blame Ambien or whatever for her being a dumbass? I guess we'll find out.

Enjoy your week! Hope you're not lazy like me.
Posted on February 13th, 2022

I may not care about football, but that doesn't mean today is lost on me... because an all new Trailer Edition of Bullet Sunday starts... now...

• Strange! The latest trailer for Doctor Strange in the Multiverse of Madness dropped today, and I am 100% here for all of it...
Kudos to Marvel Studios for dipping their toe into the horror movie genre with this film. Obviously it's not going to be a full-on horror flick... there's no room for that in the Marvel Cinematic Universe as of yet. But it does look like they are trying to lean into the "madness" aspect of the name to try and do something different with the movie. That's a good thing, because it would be all too easy for them to stretch the whole super-hero thing too thin with all these films. Endeavoring to make them all have a different tone is what makes them work so well. And one last thing... ws that... Professor X? saying "We should tell him the truth?"

• NOPE! Jordan Peele has become a major force in movie horror, and it looks like he's pushing boundaries even further with Nope, his next film coming this Summer...
It's pretty crazy how all I know about the film is that Daniel Kaluuya, Steven Yeun, Donna Mills, and Keke Palmer are in it... and the trailer doesn't really even tell you anything... yet I'm dying to see it anyway. Not too many directors able to pull that off!

• Moon! I am still riding a high from the last Disney+ series, Hawkeye (having just watched it again yesterday), and have to admit that I'm skeptical that Moon Knight will end up as good. But the latest trailer does look pretty killer...
Kevin Feige has made it clear that they are not shying away from violence in the series. I know they aren't going to make it into a blood bath, but it definitely looks like that are going to make it hit harder than they have with other series.

• Baby Me! Is it just me, or does the GM Doctor Evil commercial just make me want to see another Austin Powers movie?
The individual ads are all good, but the capper ad is what makes a new film feel like such a good idea...
It kinda seems like a no-brainer, if not for another movie a streaming series, but here we are left waiting.

• DC! The DC Cinematic Universe has been a complete shit-show from the very beginning. In looking at the combo-trailer for The Batman, Black Adam, The Flash, and Aquaman 2, I can't say I'm exactly blown away...
The only one that looks remotely interesting to me is Black Adam, and that's only because we've got Dr. Fate, Hackman, and The Atom happening. I'm guessing this is because Black Adam is going to be fighting the Justice Society, but it doesn't look like Black Adam is going to be an actual villain like in the comics since the trailer title is "The World Needs Heroes."

• Rings! YouTube is full of videos saying that Amazon Prime Video's Lord of the Rings prequel is being "destroyed" by "woke culture" because it has Black characters in it. And I'm like... whatever. I can believe that elves and dwarves are Black just as easily as I can believe that elves and dwarves are white, so I'll be just fine...
What I'm worried about is being bored with the damn thing. I thought The Wheel of Time fantasy series (also at Amazon Prime Video) was less than stellar, and didn't get past two episodes. Granted, I'm more familiar with the Tolkien material than the Robert Jordan material, but I'm no more attached to it. I'll give the show a shot though, and that's about all I can do.

• Adam! Netflix released their Super Bowl trailer a few days ago, and it's a tantalizing teaser of upcoming movies...
Knives Out 2 and Enola Holmes 2 are easily the two projects with the most pull... but the one I am most looking forward to is the latest Ryan Reynolds flick. His movies don't disappoint, and this one looks like it's going to be another winner.

Guess I'll go back to not watching the Super Bowl now.
Posted on January 19th, 2022

The only two heroes in Marvel Comics that I was invested in was Doctor Strange and Black Panther because DC Comics had nothing like them. As time went on and DC kept making bizarre creative choices, I slowly migrated some of my reading to Marvel, which had some very interesting things going on.
Enter Moon Knight.
The first I remember seeing him was in some reprint comic of a Spider-Man story (most likely Peter Parker The Spectacular Spider-Man #22). Or maybe it wasn't a reprint? I dunno. In any event, I bought the comic specifically because it had a very cool cover with Moon Knight on it. But I didn't become a true fan of the character until a series of backup stories by Bill Sienkiewicz. At the time I was a major fan of his art, and would buy absolutely anything he did. This series essentially turned Moon Knight into Batman (my favorite DC Comics super-hero), and I was definitely here for it.
The success of these stories led directly to Moon Knight getting his own title in 1980...
They attempted to differentiate Marc Spector and Moon Knight from Bruce Wayne and Batman by giving him multiple identities. It wasn't much of a change because Bruce Wayne adopted all kinds of identities over the years.
But then it happened.
Moon Knight was canceled and revived in a mini-series called Fist of Khonshu in 1985 (Khonshu being the Egyptian moon god that gave Marc his powers). Now Marc Spector didn't just adopt multiple identities, he literally had dissociative iodentity disorder (AKA "Multiple Personalities"). His power also grew or waned with the phases of the moon and were steeped in Khonshu mythology). With this one series, Marc Spector finally became more than "Marvel Comics Batman"... even if the way some of the material was handled ended up being a bit cringe by modern standards.
Eventually I kinda lost track of Moon Knight. He would pop up in team books I'd buy, but they last I remember buying a Moon Knight book was in the late 90's when yet another mini-series was getting some traction.
Fast-forward to today, and we're getting an Oscar Isaac Moon Knight TV series that looks to be leaning heavily into the dissociative identity disorder angle from the comics...
But boy is that "English accent" a show-stopper! Somebody on the internet compared it to Dick VanDyke's hilarious accent in Mary Poppins and now that's all I can hear!
I do very much like the way that his costume appears and wraps him like a mummy. Very apropriate, and something I don't recall seeing in the comics. But the moon symbol on the hood is weird and unnecessary given that it's huge on his chest. These kind of odd and distracting details are usually avoided by Marvel Studios (and embraced by the shittier DC Comics movies), so this is puzzling to me.
All I can say is that I am really, really looking forward to this series. It looks like a much more violent and unique take on the super-hero genre for Marvel Studios, which is probably why they moved forward with it. They try to make all the characters unique, which is quite a challenge given that they're all super-heroes from comic books. And, if nothing else, getting Oscar Issac to play Marc Spector is an interesting and talented choice.
So long as that "English accent" is used sparingly.
Really, really sparingly.