Picking up from where I left off in my last entry where I started talking about Stephen Colbert...
Yesterday morning I went to the Colbert Nation website so I could take another look at a particularly outrageous video showing just how huge a piece of shit Rush Limbaugh is. The footage hadn't been posted yet, but I did find something equally interesting. All of the heroes who donated money to the Colbert Super PAC could type in their name and see a video clip where Stephen Colbert thanked them on his show. Sweet! Here's me...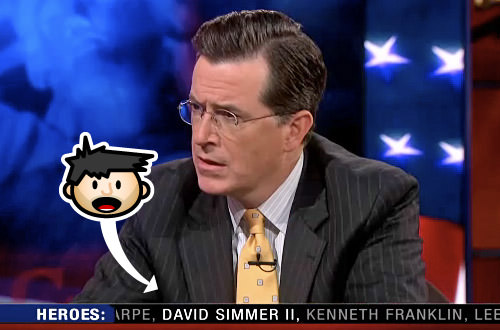 Oh... and last night I checked again and the video I wanted to watch again had been posted...
Yes! Such is the irrefutable integrity of FOX "News" and Rush Limbaugh. And do you think they'll even consider issuing a retraction? Or even a clarification? I suppose it depends on how big of a fallout there is from a fucking COMEDY NETWORK SHOW fact-checking the Conservative agenda at FOX. As I've said a dozen times, I don't give a shit where anybody chooses to get their news. But be honest about it. Anybody watching FOX "News" (or any network, really) who believes that they're getting a "Fair and Balanced" look at politics and current events is hopelessly deluded. Go sell that bullshit somewhere else.
In any event... I, for one, am thrilled to see that my tax dollars are actually going to a good cause for once...

Trick-or-Treat! — Official White House Photo by Pete Souza
Ever since we first had a White House, our presidents have held extravagant events for all kinds of reasons. President Reagan once held a massively pricey State Dinner for Princess Diana (and invited John Travolta for heavens sake). But because this is President Obama we're talking about, first he gets eviscerated for throwing some military families a Halloween party, then gets accused with lies of having covered it up?
Seriously?
Spending crazy amounts of money on a visiting princess from a foreign country doesn't register outrage, but spending money to treat American heroes who have sacrificed so much for our country... well... they're just not worth it.
But regardless, you'd think that Fox "News" would have brought up some of the expensive White House events from the past in the interest of being "Fair and Balanced"... but no. And it's not like anybody would expect that sack of shit Rush Limbaugh to ever utter a single fucking word that wasn't in some way attacking this country's president. His listeners would probably have an embolism if he were to tell them that Ronald Reagan also threw expensive parties at the White House during a time of economic crisis. Even if he didn't relate LIES that the government then covered it up. Because you can make up whatever outrageous crap you want about President Obama, but don't you dare say anything even remotely disparaging about President Reagan! He was a Founding Father of this great nation and a True Christian... not some kind of Secret Muslim Socialist like Obama!
I swear, sometimes the dumbfuckery of the gullible American public is so overwhelming I have to sit back and marvel at the fact that half the populace has the brain power to even breath... let alone think for themselves. And why should they do that? There's a bloated asshole on the radio manipulating them with bullshit and lies they're too fucking stupid to ever question. Because thinking is hard.
GAH! It's enough to drive you crazy.
I really need to start drinking more.