Posted on August 4th, 2011

After a week, I can't say that I'm a big fan of Apple's new "Lion" OS.
At least not yet.
So far for me it's been a buggy, slow, crash-prone pile of crap. But so many people are raving about it that I'm sure it's just some legacy stuff from four years ago that's lurking on my hard drive and causing problems. Doing a clean install tomorrow should fix things right up.
At least it had better.
Because I am sick to death of having to reboot a minimum of twice a day... and if I get one more "Application Not Responding" freeze I'm going to go all homicidal...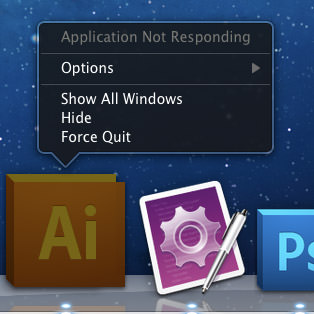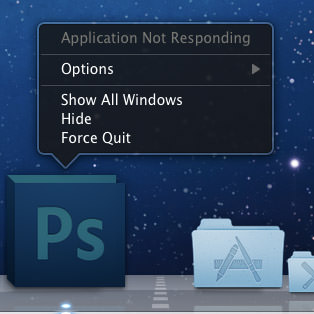 In the meanwhile I've got one last task left to do tonight before I wipe my hard drive. After that? Say good night, Gracie.
And now, if you'll excuse me, I have to get back to a Very Special Episode of...
...
...
... nah, that would be telling!

UPDATE! Wheee! In the 35 minutes it took me to complete my project, my MacBook froze twice, had to be rebooted once, and started sporting really odd behavior in the Finder with files popping up which could not be deleted unless I restarted it...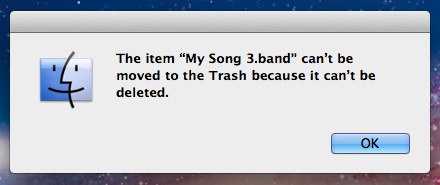 WHY THE #@$% NOT?!? IT'S NOT BEING USED... HELL, IT DOESN'T EVEN REALLY EXIST!!
I hope everything goes well tomorrow so I don't have to set my laptop on fire.
Posted on August 2nd, 2011

I didn't get to bed until around 2:30am this morning, so I had it in my head that I would attempt to sleep-in until at least 7:00am. This plan was foiled when iPhone decided to beep with a text message at 6:30am. It was Bad Robert saying "Ever have to poop but not want to get out of bed? This is America. We should have a solution for that."
This lead to a texting debate as to whether it would be cheaper to develop the "Bed Toilet" or simply hire a maid to clean up after you each morning. I was firmly in the "Bed Toilet" camp because I can't fathom paying somebody to clean my poop from the sheets. Bad Robert says he'd wear diapers to avoid embarrassment, which speaks volumes for his mindset on such matters.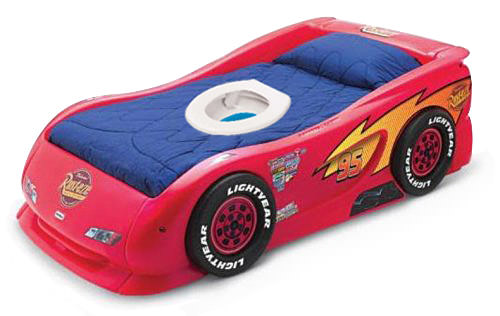 This is my dream bed, obviously.

Now, you would think that coming up with the toilet bed would be the highlight of my day.
But this afternoon I got an email with photos from a friend-of-a-friend's wedding in New York. One of the images was of the groom and groom holding up the wedding invitations I designed for them. They looked incredibly happy. And the fact that I was a tiny part of making that happen had me walking on air.
For about ten minutes.
Then I was looking through my news feed and ran across presidential candidate Rick Santorum being a complete and total asshole. Again...
"States do not have the right to destroy the American family. It is your business," Santorum said. "It is not fine with me that New York has destroyed marriage. It is not fine with me that New York is setting a template that will cause great division in this country."
Then I look back at a photograph of two guys on their wedding day with smiles as big as the world on their faces.
They're not "destroying" anything.
They're not the ones "causing a great division" anywhere.
They're just living the American dream by pursuing happiness. And they're doing it without hurting anybody. It's piece-of-shit Rick Santorum that's causing a great division in this country. He's the one destroying marriage by thinking so little of it that gay matrimony could possibly have any effect on it.
The only person "destroying the American family" here is Rick Santorum.
Which, of course, means that he loves cock.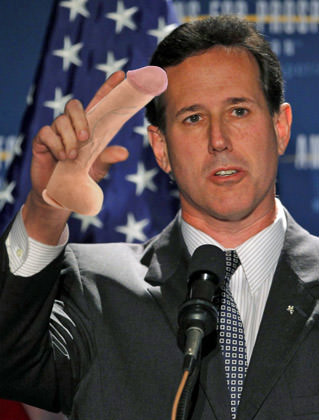 "YOU MUST BE THIS BIG TO RIDE"
Why else would he so vehemently attack the gays if not to distract people from the fact that he's craving a big ol' cock sandwich? As history has shown us again and again and again, those who lash out the hardest against homosexuality are those people who end up being homosexuals.
But whatever.
Because two guys in New York who love each other very much are starting a new life together.
To them, Rick Santorum's self-loathing hater idiocy doesn't mean shit.
Posted on June 5th, 2010

Nobody can see every movie ever released, so when they declare a film to be "the worst movie ever," what they are actually saying is that it's "the worst movie I've ever seen." Still, given the number of movies out there, this is still a pretty bold statement.
To me, the worst movie ever used to be a Renny Harlin flick called Born American. The tagline on the posters was "Freedom is just a word...until you lose it." It was a Reagan-era flag-waver about three college students vacationing in Finland who decide to cross the Russian border as a joke. Unfortunately for them, they are spotted by the Russian army. They then get captured and tortured as suspected spies... something they consider unjust because they're Americans, dammit! Eventually they escape and, in the process, kill people and destroy a Russian town. The movie was utter shit and made no sense. It was meant to portray Soviet Russia as a nation of monsters, but the only monsters in the film were the Americans. Can you imagine if the situation were reversed and it was the Russians who were caught on American soil blowing up towns and killing people circa 1986? But movie audiences are stupid, so it was easy to cover massive gaps of logic with patriotic "Russia is evil" rhetoric. Born Americans was so bad it made me embarrassed to be American.
But that was then.
Now a new movie has taken its place... Rolland Emmerich's 2012.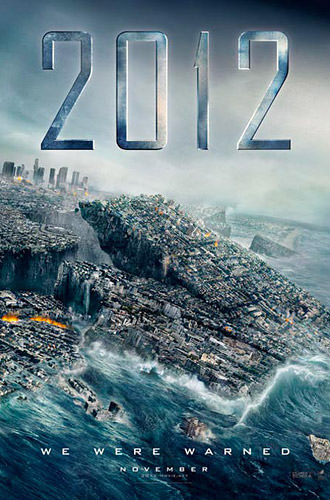 Worst. Movie. Ever. Truly excrement on just about every level. First of all, it's a film made for idiots. This is not necessarily a bad thing, because even intelligent people can have great fun turning off their brain and enjoying a stupid flick. Heck, there are a lot of stupid movies I really like. But 2012 goes so far beneath stupid that it's fucking insane.
Heaven only knows I wasn't expecting much, but I was hopeful. Sure Emmerich unleashed such turds as 10,000 BC and Universal Soldier and The Day After Tomorrow and that shitty Godzilla remake. But he also did Stargate, which I liked quite a lot.
And yet nothing could prepare me for just how awful this film could be.
Yes, the special effects were stunning in places... breathtaking even... but the story and events were positively asinine. Oh noes! The earth's core is heating up and the world is going to end! Let's pile up catastrophic spectacles and wild-ass coincidences and see if anybody notices that it's all window dressing bullshit!
What's truly perplexing is that 2012 managed to attract some real talent... actors like John Cusack, Chiwetel Ejiofor, Amanda Peet, Thandie Newton, Oliver Platt, Danny Glover, and even Dr. Phlox(!). But it doesn't matter. Even the best actors on earth couldn't save this steamer. Events are so contrived and manipulative, that it feels like you're being force-fed a load of bullshit. And while I could give a dozen examples to illustrate this, the most offensive is the cracks that open up as the earth goes into spasm. They always... always crack across that "perfect spot." Like EXACTLY BETWEEN the fingers of God and Adam in Michelangelo's famous painting in the Sistine Chapel ..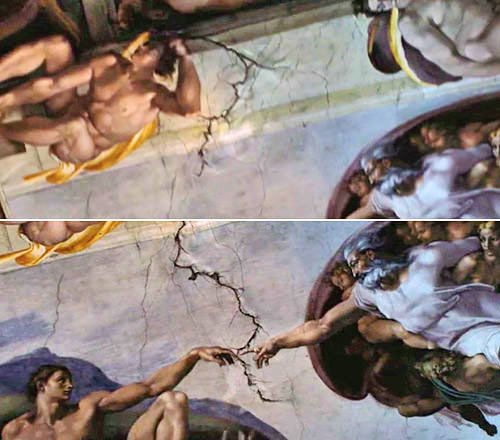 In some films, this might be interpreted in a number of ways. The original painting has God giving life to man. So maybe this is symbolic of man's abandonment of God, creating a rift between them. Or maybe it's meant to be ironic... the painting depicts God giving life to man, now all mankind is facing extinction. Or perhaps it's allegory for religion in general, illustrating that even God can't help you when the world ends. Etc. Etc.
But attributing such deep thought to anything in 2012 would be absurd.
I know this because earlier in the film, Amanda Peet is shopping with her boyfriend when he says something cheesy and ridiculous like "I don't know honey... I feel like there's something pulling us apart..." just before a crack opens up directly between them...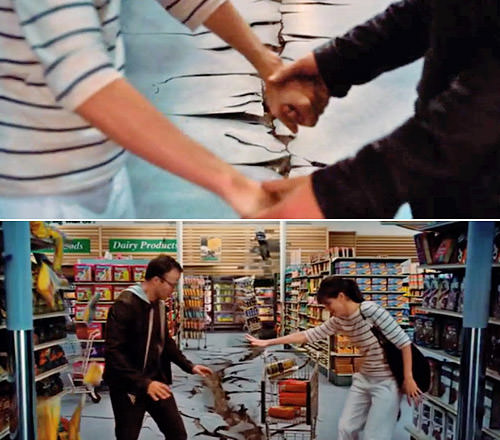 Yes. This movie is that fucking stupid.
But even that's not the reason I loathe the film so vehemently.
As I said, this film was made for idiots. And because idiots don't have the intelligence to think for themselves or figure things out on their own, filmmakers like Roland Emmerich have to design their films to appeal to the lowest common denominator. They insert obvious clues in order to tell the audience how they should think, feel, and react. More often than not, these clues come in the form of a character. Somebody in the film whose only purpose is to help an audience of idiots know when to laugh, cry, get mad, or be scared. A douchebag moron to spell it all out.
In the case of 2012, we get this piece of shit...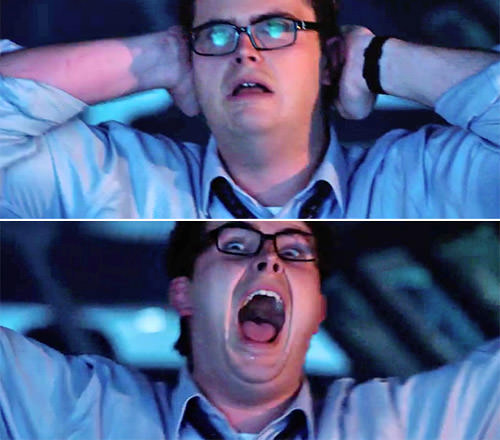 First it's the "Oh no, we're doomed!" look. Then the "Hooray, we're saved!" elation. It's so pathetic and absurd that seeing it makes me want to punch somebody in the face. Starting with this asshole...
I hate characters like this. Fucking HATE THEM!
And yet they're becoming more and more common in movies... and more and more blatant in their manipulations. It's getting so bad that pretty soon movie directors will just add subtitles which say things like "THIS IS SAD SO YOU SHOULD CRY NOW" and "THIS SCENE IS WHERE YOU GET ANGRY" and "THIS CHARACTER IS A BAD GUY."
Which is pretty much what 2012 is all about. Telegraphing audience instructions with blatant eye candy and shameless manipulation for no practical purpose... including entertainment.
The Blogography Movie Rating System...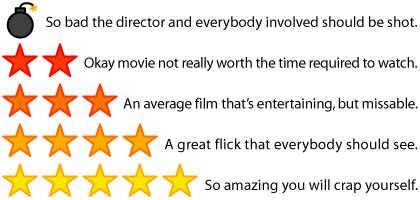 Which brings us to...
Dave2 rating for 2012 (2009) —







Posted on January 18th, 2010

There are people who get Martin Luther King Jr. Day off work. I am not one of those people. But I did go in an hour late to do my part. I also stopped by the mini-mart so I could pick up a bag of cheese-popcorn and a bottle of Coke.
As I was heading up to the cash register to pay for my breakfast, some guy came in and announced "HAPPY BROWN BROTHER DAY!" To which somebody else said "Maybe one day we'll get a white guy day." After nearly tripping on my own feet in disbelief as I approached the counter, I was compelled to say "EVERY DAY IS WHITE GUY DAY! Especially in this redneck town."
I guess I should stop being surprised when I hear stuff like this, but it never fails.
Probably because I'm too hopeful.
Though I wasn't jumped in the parking lot afterwards, and I didn't get the crap beat out of me for being a smart-ass, so I guess that's something.

"Darkness cannot drive out darkness... only light can do that.
Hate cannot drive out hate... only love can do that."
— Martin Luther King Jr.

Posted on November 9th, 2009

Fellow bloggers have influenced me in more ways than I'll ever admit.
Most times.
Other times, like now when I have nothing else to blog about, I'm happy to admit anything.
Back in mid-October, Josh of ("Josh is Trashy" fame) ran across an old Richard Scarry book from his childhood called Cars and Trucks and Things That Go. His entry brought back all kinds of memories for me because I loved Richard Scarry books when I was a kid. They never displaced Curious George as my all-time favorite, but I spent a lot of time reading them because they were a lot of fun.
Anyway, Josh took a second look at the book and found out that some of the illustrations were actually pretty messed up when viewed from a more adult perspective. He added his own dialogue and hilarity ensued...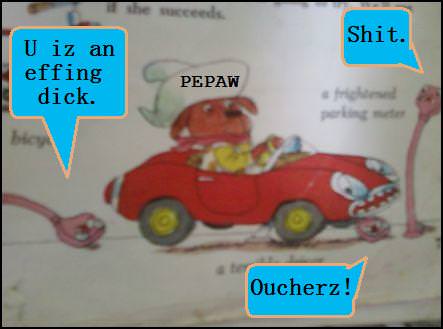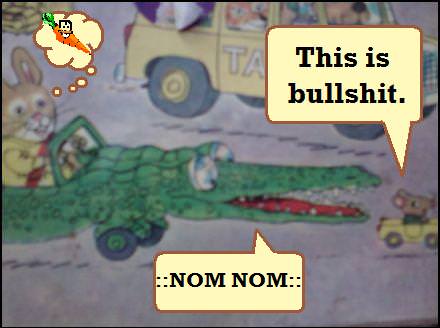 Genius!
It's the second illustration that changed my life. I loved it so much that I recreated it as my desktop picture...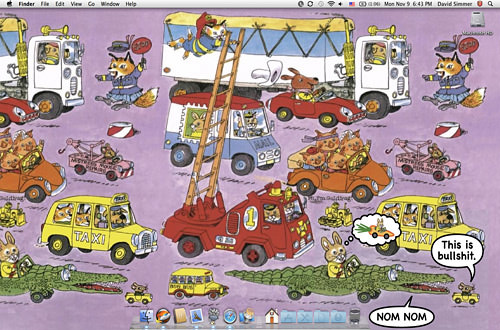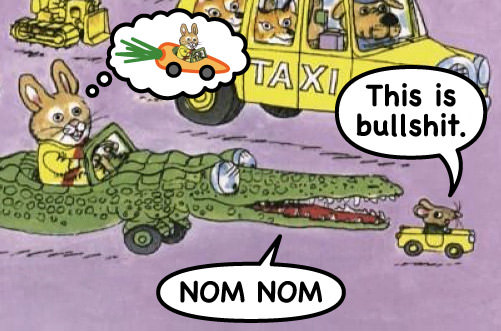 Which is probably a bad thing, because it's been influencing my behavior. Whenever something crappy comes my way now, I stop everything and say "This is bullshit!"... All day long... Every day since...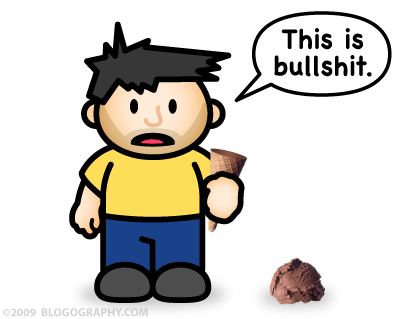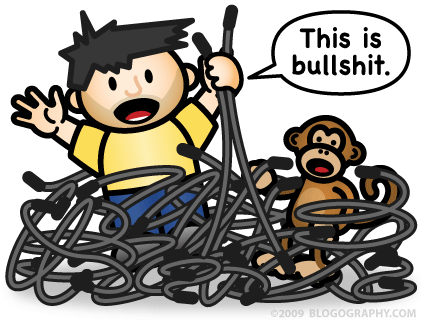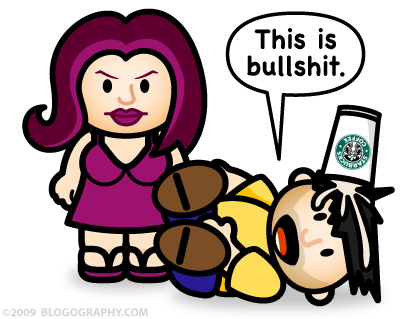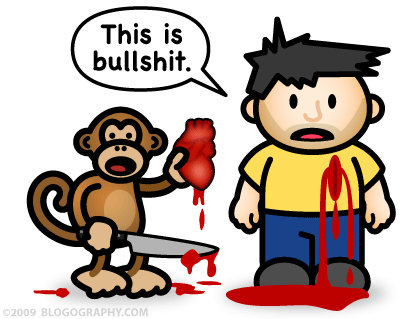 It's kind of amusing when I'm alone.
But a different story entirely when I'm in the middle of a business meeting and suddenly feel compelled to say "This is bullshit!" to a client or co-worker sitting at the table. It's even worse when you say it in the check-out line at the grocery store because the bitch ahead of you has 14 items in the "10 Items or Less" lane.
I can't help it. It works in just about every situatuon. Including other Richard Scarry illustrations...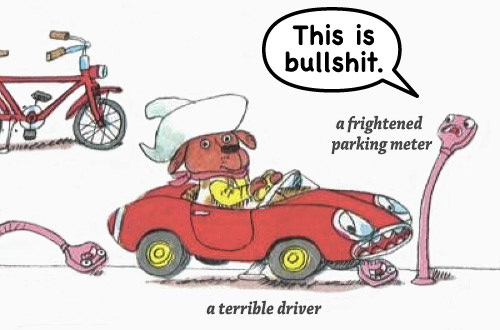 If you want your life to be ruined too (thanks, Josh!) you should check out his original entry.
Posted on June 15th, 2009

It was just another one of those days of trying to contain a bunch of shit before it hits the carpet...