Stop what you're doing, because an all-new Bullet Sunday starts... now...

• Phone Home? Are you an American who travels internationally? Or a foreigner visiting the USA? Then here's an article for you: I'll never bring my phone on an international flight again. Neither should you. We're quickly coming to a point where personal privacy and freedom is being tossed right out the window. It's only going to get worse.

• This Guy. Thank heavens John Oliver has returned from hiatus to save our sanity...
And just when you think things can't get worse...

• Sorry. It would seem an apology to Sweden is in order...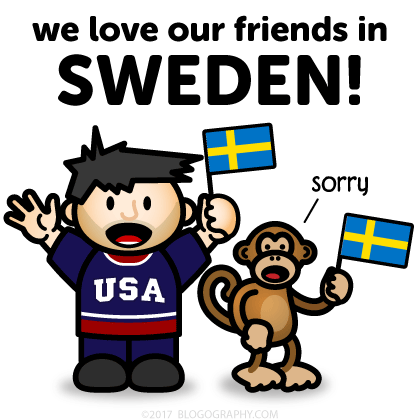 Guess I'm going to have to make apology graphics for all the countries of the world. I'm confident President Trump will get around to saying stupid shit about all of them eventually...
And I thought George W. Bush was a fucking embarrassment.

• Merry Marvel. The little promos that Marvel is releasing in anticipation of the upcoming Thor: Ragnarok have been really funny. This past week they released Team Thor: Part 2...
The surprising thing is that the next Thor movie isn't here until NOVEMBER! Before that we've got Guardians of the Galaxy Vol. 2 on May 5 and Spider-Man: Homecoming on July 7. If you haven't seen it yet, Team Thor: Part 1 can be found on YouTube.

• Gerrymandering. Yes. It's time to stop this fucking bullshit...
We get the government politicians buy for us. Time to start giving a shit.

• PAY! PAY! PAY! As I mentioned a while back, LEGO addressed complaints about having to buy additional toys to complete a mission by adding "Hire a Hero" where you can have temporary access to the toy you need... for a price. A price that gets more expensive the more often you need it. But... hey... beats having to buy a LEGO set you don't want, right?
Not really.
As I found out by playing the LEGO Dimensions Knight Rider fun pack, you need the LEGO Dimensions Mission: Impossible level pack because the 30 seconds you get for "Hire a Hero" Ethan Hunt isn't long enough to solve one of the puzzles. And now I find that I can't really completely LEGO Dimensions A-Team fun pack without the LEGO Dimensions Adventure Time level pack because the 30 seconds you get for "Hire a Hero" Finn the Human isn't long enough to solve one of the puzzles.

I PITY THE FOOL WHO MAKES ME BUY MORE SETS TO COMPLETE THE SET I JUST BOUGHT!
Needless to say, this is pretty shitty. When you "Hire a Hero" you should get to keep that hero until the puzzle has been solved. Anything less is just going right back to a massive paywall that's incredibly unfair. But... there's money to be made, so whatever. Guess buying one toy will never be enough.

AND I AM DONE WITH BULLETS FOR THE WEEK!