Posted on July 15th, 2015

I have been a lot of places on this planet.
I have eaten a lot of pizza everywhere I go.
My favorite pizza on earth (so far) is the Da Vinci from David's Pizza in Spokane, Washington. It's red sauce, mozzarella, and feta with a swirl of pesto sauce that's topped with fresh tomatoes after baking. It is sublime. The sauce at David's has a rich and robust taste that doesn't rely on toppings to give their pizza it's flavor. The mix of feta and pesto is insanely good. It just doesn't get any better.
Which is why you can understand my utter devastation when I rolled up to David's Pizza to get a slice and was greeted by this...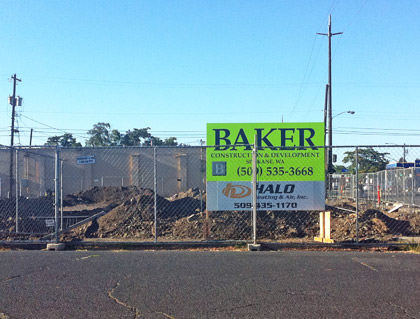 The greatest pizza I have ever known was gone.
Sure David's Pizza kinda lived on inside of a bar called "Famous Ed's"... but it was never the same.
Fast forward four long years... and David's is back at a new location, and it's very nice...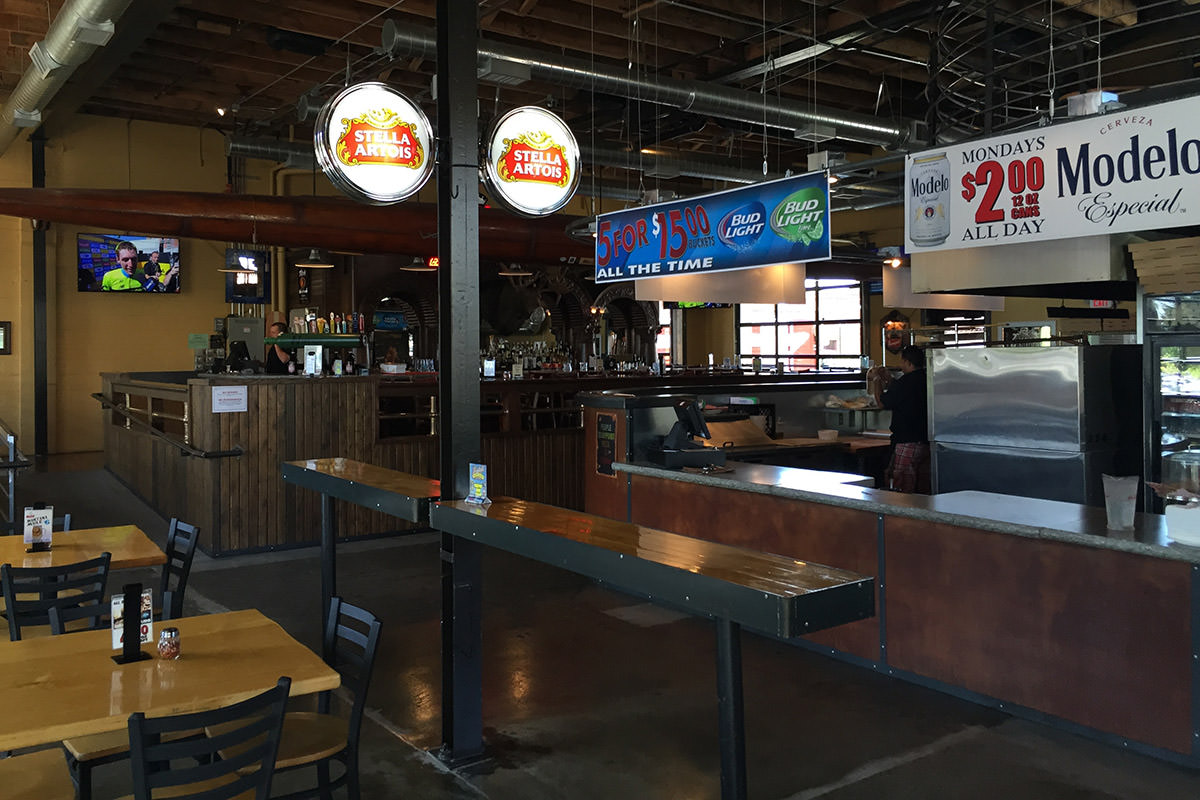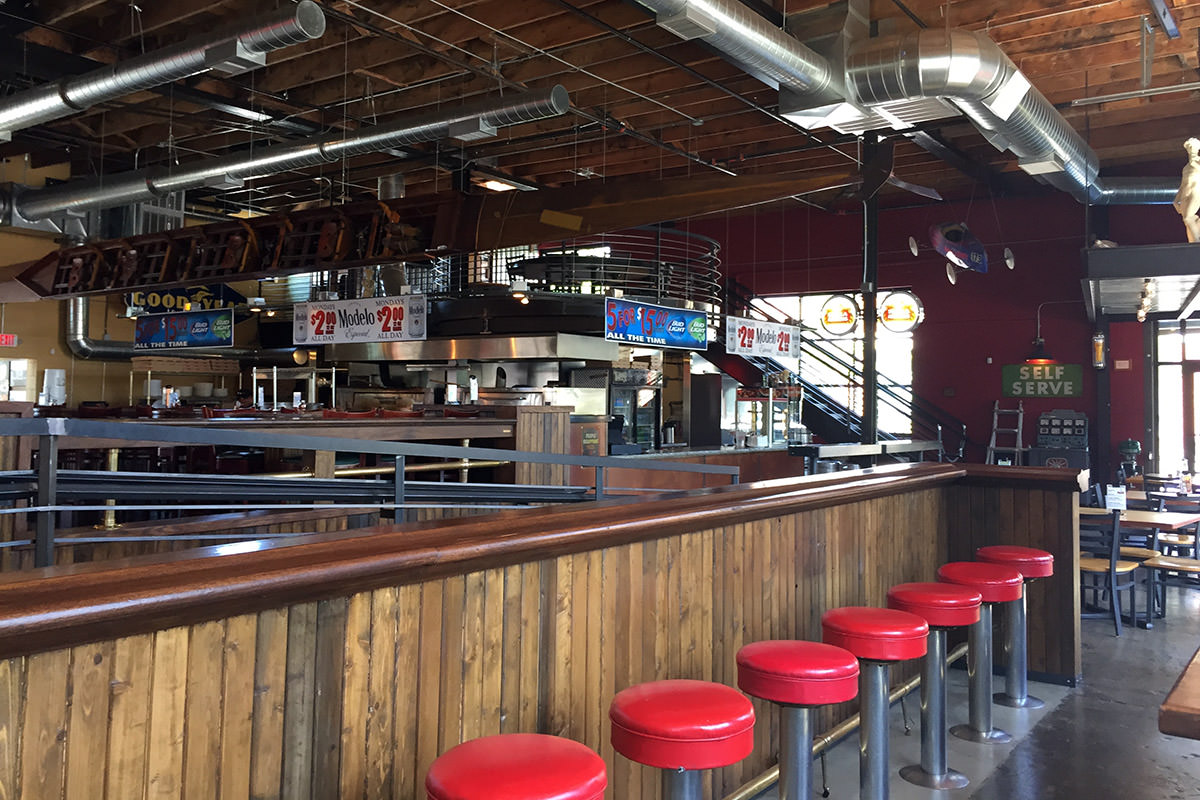 The pizza profile seems closer to the original for me... but the crust is more "Famous Ed's" than "Original David's Pizza" in that it's missing a bit of the "snap" it used to have. It's slightly more chewy instead. Not necessarily a bad thing... just not as I remember it...
Still probably the best pizza on earth.
Believe it or not, the second best pizza I've ever had is 20 minutes away from me in Wenatchee at a place called "Third Generation Pizza N More." The sauce is so flavorful that just a plain cheese pizza packs plenty of delicious flavor, and their amazing crust is my favorite.
After that my pizza favorites get a bit murky. Maybe Pizano's Pizza in Chicago... could be Roberta's or Totonno's or Grimaldi's in Brooklyn... could even be Tony's in San Francisco... the list goes on and on. And it's not limited to the US either... I may not care for Italian pizza, but I've had some pretty great pizza in several places in Europe... and even a couple spots in Japan!
Great pizza's all, but David's is on the top of my list. And I am oh so happy they're back in Spokane again.
The trip home was pretty awful, despite having a nice day for a drive...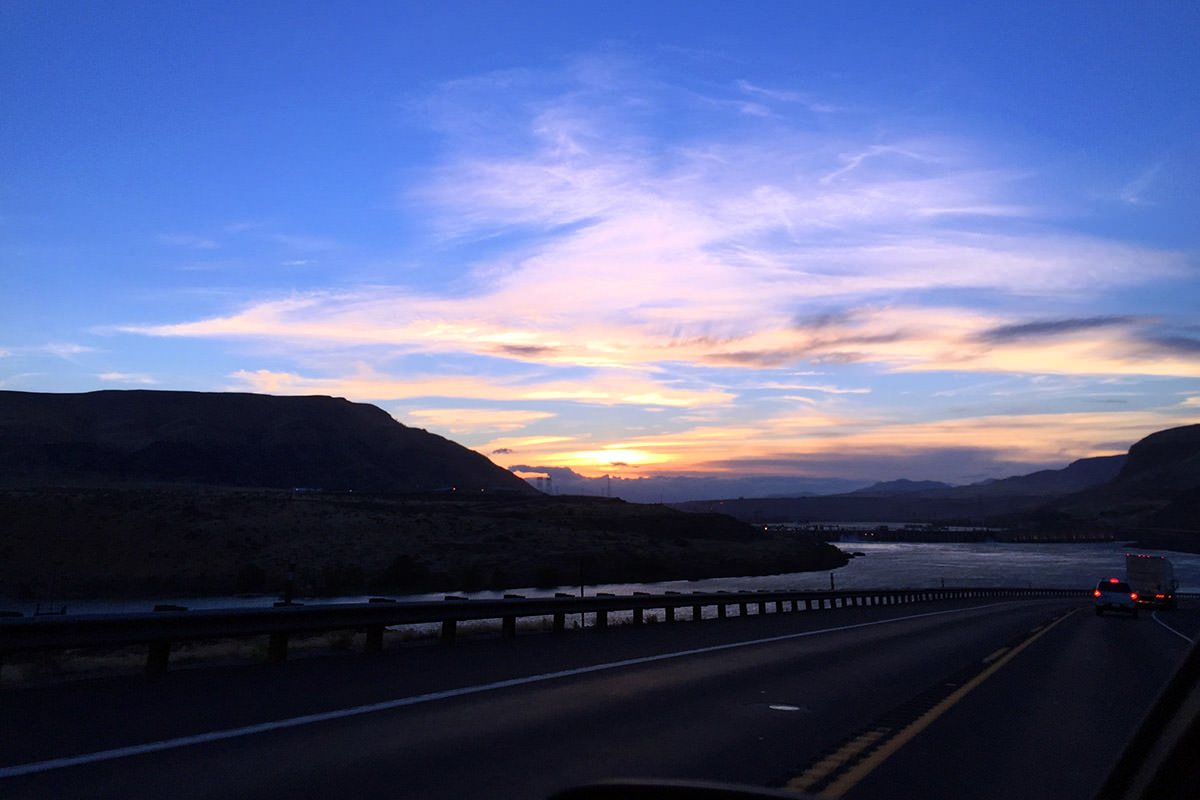 The problem was that I was so tired by the time I got home that my brain was numb. Thanks again to Amtrak for their five hour delay that resulted in my having to make the drive in the first place.
And now... my last two slices of leftover Da Vinci are calling...
Posted on July 14th, 2015

Unlike in many other countries, train service in the USA is mostly crap. Partly because people here just loooooove their cars, but mostly because this country is just so big and connecting everything isn't really practical. Sure there are pockets of decent train service... the Northeast Corridor is pretty well-connected and has decent schedules. And, yeah, there are places that have pretty good local/regional train service (like the Chicagoland area). But, for the most part, trains can't be taken seriously.
Take for instance here in my neck of Redneckistan.
To get from Wenatchee to Spokane, there's exactly one train each day. At 8:42pm, arriving 12:45am. Coming back? Again, one train which leaves Spokane at 2:15am, getting back to Wenatchee at 5:25am.
So... pretty useless. Which is why I always end up driving it, high gas prices be damned.
But every once in a while... when the stars align and the conditions are right... that wacky schedule actually works for me.
Like today.
I have been swamped with work. I haven't gotten a good night's sleep in a week. I can't afford to waste six hour on the road to Spokane and back. If I take the train, I can get a sleeper compartment, work until I fall asleep, then wake up in Spokane with time for a few hours more sleep. Perfect. And it's safer than being on the road in my sleep-deprived condition.
Which, of course means that my train is delayed by FIVE HOURS. Thanks, Amtrak!
Which means I'm driving over anyway.
So bring on the Five-Hour-Energy drinks and Coca-Cola, which was the only way I was able to survive the 3-hour drive over.
Which brings us to my hotel, which I originally booked thusly...
DAVE: I need to book a room for the 14th even though I won't be arriving until early on the 15th. So please don't think I'm a no-show and give away my room!

RESERVATIONS: We wouldn't do that!

DAVE: That's nice. You'd be surprised how often that happens to me. It's no fun looking for a hotel in the early morning. So... assuming I don't get raped and stabbed on the walk from the train station, I'll see you tomorrow at 1:00am.

RESERVATIONS: Oh goodness! You won't get raped or stabbed walking from the train station! You should be fine! You might get robbed or something, but you won't be raped and stabbed!

DAVE: Ah. Good to know. See you tomorrow.
But then I ended up driving, so no walking from the train station after all.
Except the parking lot was full at my hotel, so I had to risk getting robbed walking two blocks from the overflow parking.
And then risk getting harassed and shoved around as I made my way through Hipster Central on my way to the legendary Spokane institution... the Satellite Lounge. Which serves up deliciously greasy fare at a good price in a strip club atmosphere. But, alas, without the strippers.
Which is a pity, because I really could have done with something nice to look at after staring at the nothingness that is the Columbia Basin at night for three hours.
Posted on August 5th, 2014

Cannot. Seem. To. Catch. Up. On. Sleep.
No matter how tired I am, I lay down to try and get some rest only to have my brain explode all over the place with every thought imaginable racing through my head. You'd think at some point my mind would give up and pass out but, alas, no.
And so I drove across the state for work... three hours of pretty much this...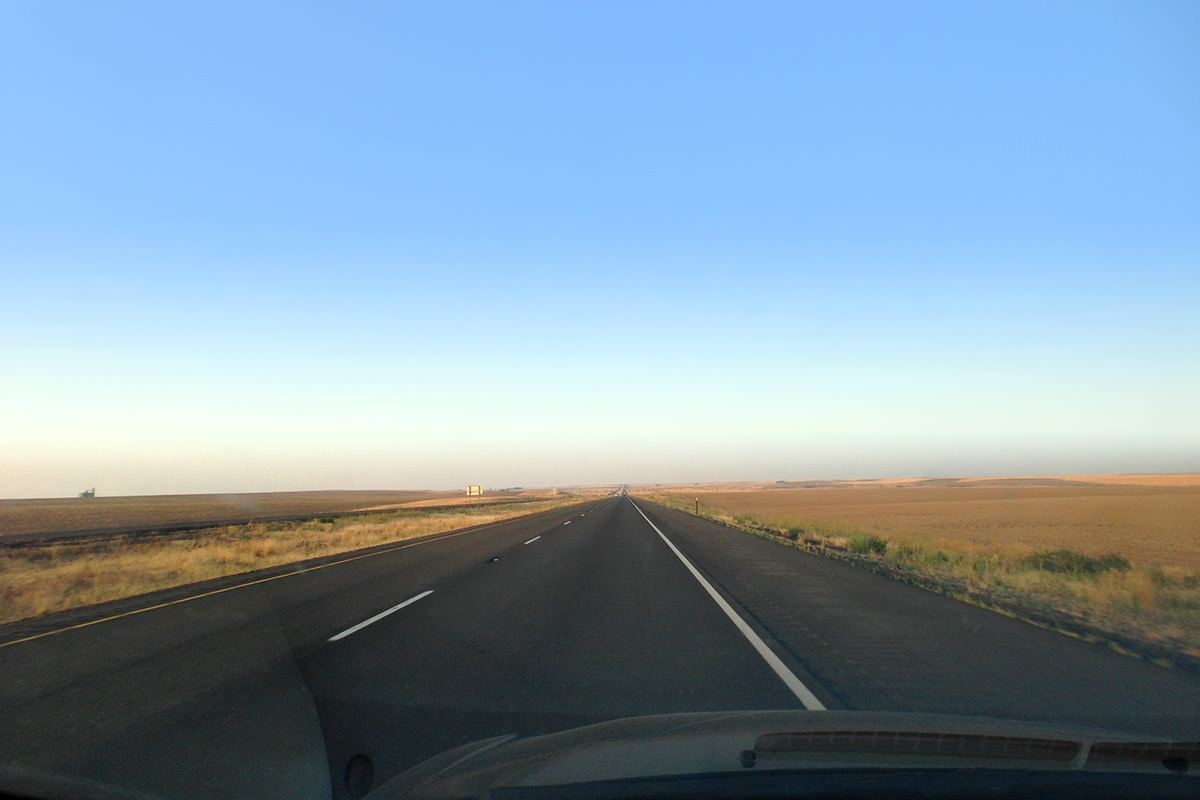 All while fighting nausea and exhaustion. Thank heavens for Coke and Slayer.
After arriving in Spokane, I dropped by Pita Pit to get my falafel on...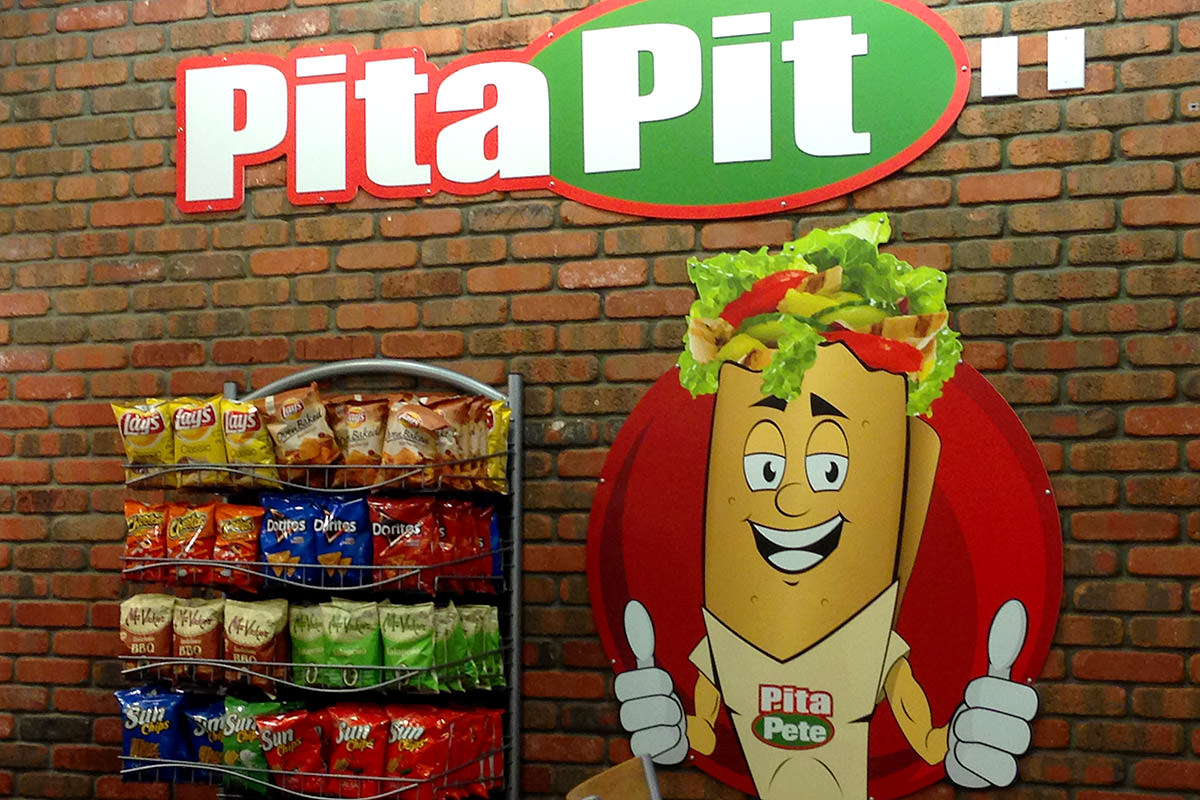 I love you, Pita Pete!
Well, that's kind of a lie... I actually checked into my hotel before heading to The Pit. Which was not exactly the experience I had hoped for.
As always, I Pricelined hotels when looking for a place to stay. After searching "Express Deals" for a property downtown, there was a 3-star for $105 and, much to my delight, a 4-star available for $120. Normally I'd just take the 3-star, which would have been perfectly fine... but there's only one 4-star hotel in all of Spokane, and it's well worth the $15 extra per night... The Davenport.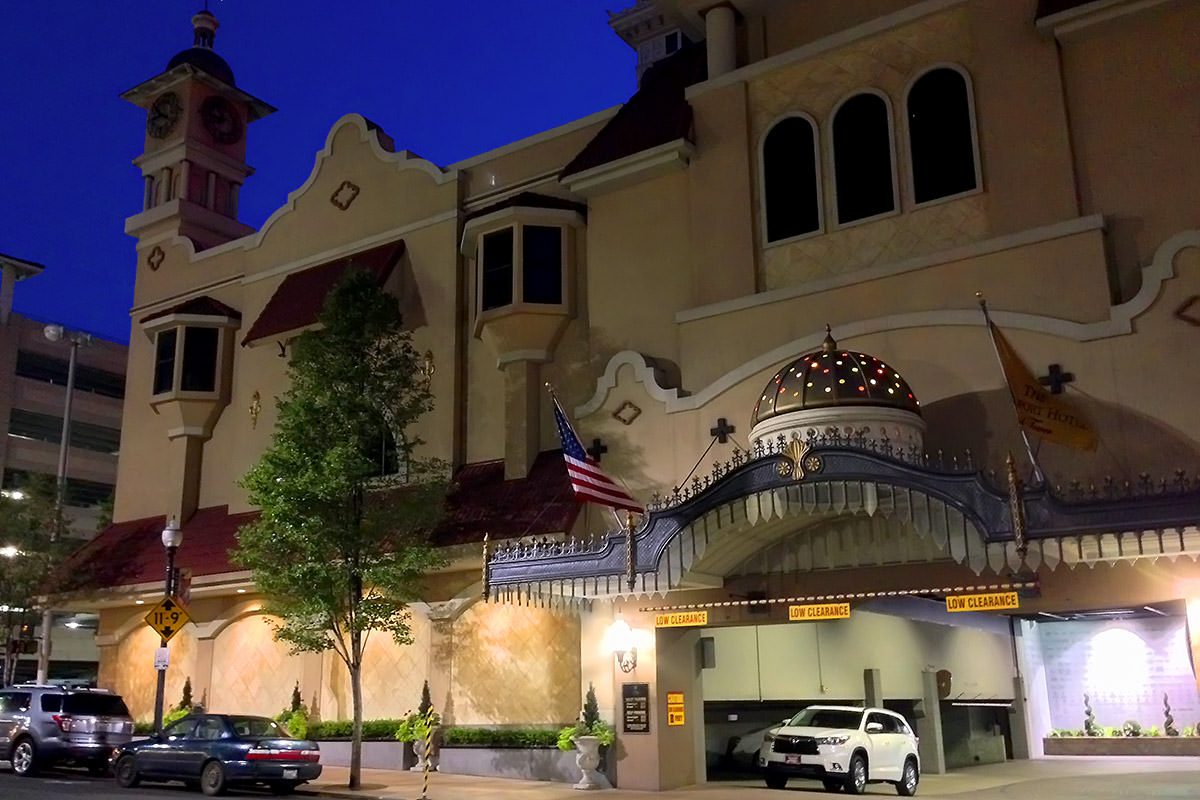 It's a hotel with a history. And it's absolutely beautiful. Truly a grand dame of an old hotel that was pretty much condemned back in 1985... but eventually sold, rennovated, and re-opened in 2000.
So I accepted the $120 price, got my reservation at The Davenport, and drove to Spokane happy.
Three hours later, there I was waltzing up to the receiption desk when I am told that my room is not in The Davenport... but instead in The Davenport Tower, which is an entirely different building across the street. Apparently riffraff who arrive via Priceline are not allowed in the "real" hotel, but are instead shunted off-property. This pissed me off more than a little bit, because it's akin to a bait-and-switch operation. They lump two different hotels together, trade off the 4-star reputation of the original, then send you to a different hotel when you get there. Don't get me wrong... the Davenport Tower is a very nice hotel and well-worth the $120 price I paid... it's just not THE Davenport. Had I known this would happen, I would have taken the 3-star option and saved the $30 (total).
I really don't understand how travel sites allow this. These are TWO SEPARATE HOTELS, and should be treated that way.
Anyway, I loaded my luggage back into my car, drove around four blocks of one-way confusion, then checked into Davenport Tower... which has a bizarre kind of "safari" theme throughout.
I guess this shows that anytime something is "too good to be true," it probably is.
Now, if you'll excuse me, I'm going to attempt to fall asleep while paintings of zebras and leopards stare down at me.
Posted on August 1st, 2013

Instead of returning across the Columbia Basin yesterday afternoon as planned, I checked back into my hotel for another day (and night) of work in Spokane.
Not a big deal... I packed extra clothes just in case... but I really, really need to get home. The amount of crap piling up that has to get done is reaching epic proportions, and I only have until next Thursday to get it all done. With every minute I stay in the Lilac City, it feels like I'm drowning in a lake that's 180 miles away from me.
My old room was occupied, so they gave me the room next door... where this was waiting for me...

I'm assuming it's for the United States of America... not the United States of Indonesia or something.
And that's lodging in Redneckistan for you! A Bible in every nightstand, The Constitution on every desk! All that was missing was an application form to join the Tea Party and a complimentary IMPEACH OBAMA! bumper sticker. I dunno... maybe they give you those at the front desk check-out. I went with Express Check-Out so I guess I missed it.
After a long, long night followed by an even longer day at work, I finally got to head home at 6:00pm this evening.
Do not have dinner. Do not collect $200. Go directly to home.
Other than an asshole in a gasoline truck pulling in front of me so I had to slam on the brakes and run off the road, it was an uneventful trip.
But oh so tiring.
I can't feel my brain.
So I'm going to stop blogging and start trying to get some sleep.
Assuming I can stop thinking about all the stuff piled on my desk at the office.
= sigh =
Posted on July 30th, 2013

Yesterday was not a great day.
Today wasn't much better.
Partly because once things start to go wrong, they always seem to continue to go wrong... but mostly because I had an exhausting 3-1/2 hour drive awaiting me at the end of my work day. As I have written many times before, the journey to Spokane is long, boring, and filled with mostly nothing. Which is not to say that I have anything against Spokane itself... it's actually a pleasant and interesting city... it's just not so frickin' mind-blowing that I want to spend 3-1/2 hours driving here.
But... work... and all that.
Anyway...
About 2/3 of the way to Spokane is an exit for the city of Washtucna, Washington. I have never been there. But every time I drive by the exit sign, I find myself saying "Washtucna" out loud over and over again in an attempt to find the proper pronunciation, all the while wondering what the city might be like. Today was no different...
Wash-tuck-NAH!
WARSH-took-neh!
Wash-TUCK-naaaaaah!
When all of a sudden...
BLAM!
RATTLE! RATTLE! RATTLE! RATTLE!
Apparently my muffler and/or exhaust pipe has now come loose from the frame of my car.
As I said, once things start to go wrong, they always seem to continue to go wrong, because I had already been having problems with my piece-of-shit automobile. And now I have new ones.
So... as you can see by this map, I was not exaggerating about the vast expanse of nothing going on in the Central Washington Columbia Basin...
There was nowhere I could pull off I-90 and travel to where I could be assured of there being an auto repair shop... certainly not one that would be open at 6:00pm. All I could really do was keep going and hope my car didn't fall apart before I got to Spokane. And all the while I was having to listen to...
RATTLE! RATTLE! RATTLE! RATTLE!
Luckily for me, my car held together.
Like the Millenium Falcon, but not really.
And so I did what any normal person would do after driving 3-1/2 hours with a car that's falling apart. PIZZA!!!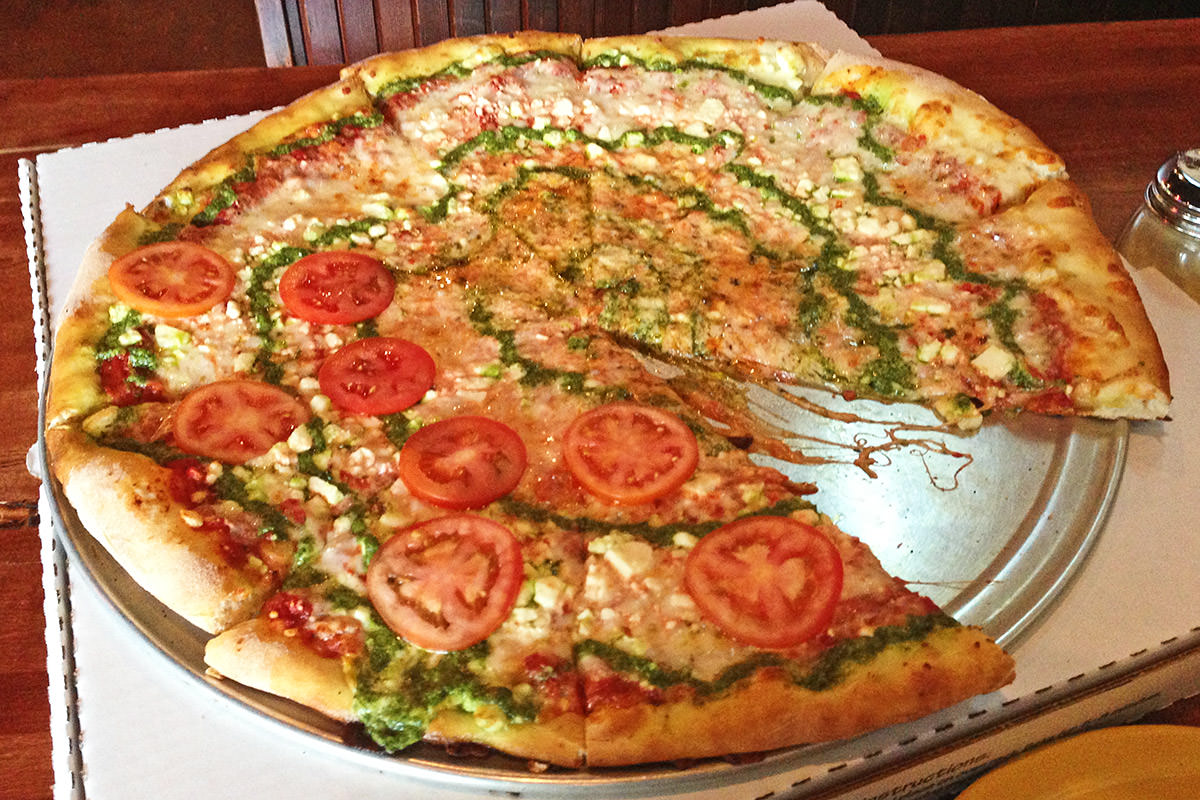 Car repairs can wait until tomorrow.
Probably.
Wash-TUCK-naaaaaah!
Posted on January 16th, 2013

Picking up from yesterday's unexpected journey...
The 3-1/2 hour drive to Spokane is not one of those awe-filled journeys that you look forward to. It's pretty much 30 minutes of civilized nothing followed by three more hours of nothing nothing. The Columbia Basin is vast, flat, and uneventful, with only a few farms and a lot of road to distract you from the tedium. Not to say that there can't be some pretty moments in the summer when the crops are out... I've seen some amazing sunsets, for example... but mostly? Not a lot to look at.
And now it's the middle of winter, which means there's even less to look at than usual...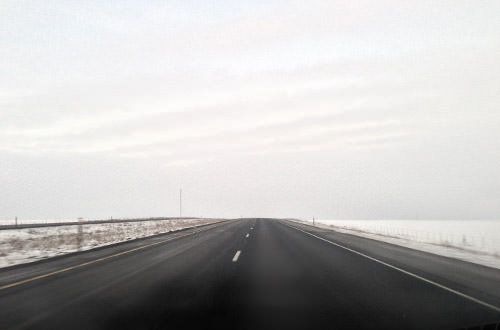 The truth is that I never minded the drive that much, because there was always the best pizza on earth waiting for me when I arrived in Spokane at David's Pizza. But then this happened...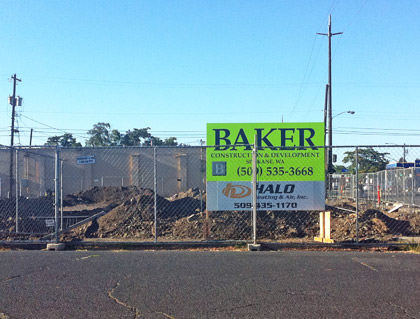 Needless to say, my trips to Spokane are not quite what they used to be. The owner of what was once David's Pizza is co-owner of a bar/restaurant called Famous Ed's where they claim to serve the same pizza... but not so much. The crust at David's was crispy with a nice snap to it when you took a bite. The Famous Ed's crust is tough like shoe leather and has to be torn off the slice. There's also something different about the sauce, but I can't put my finger on it. David's just had a better flavor profile somehow (though I'm sure it's the same recipe). The biggest problem is that Famous Ed's is always changing the toppings for "The Da Vinci"... last time they added clove garlic and salt... this time they added green peppers (which totally overpowered the feta and pesto notes that make this pizza so amazing). Oh well. They were running a special where you could get a large for the price of a small, so at least I'll have something for breakfast tomorrow...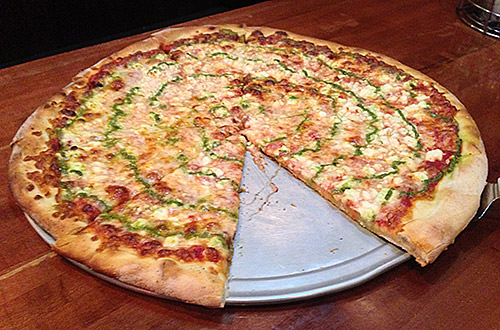 For those who have never been here, Spokane is an interesting place. It's more like a humongous town than a big city. It stretches for absolute miles, but it never seems densely populated because it's so spread out. Even the downtown area, which is fairly cosmopolitan, never really seems like you're in a modern metropolis. The end result is actually kinda nice... you have most of the stores and services of a big city, but without the massive crowds and craziness.
Meaning "Children of the Sun" in the Native American Salishan language, Spokane (the second-largest city in Washington State), has a few claims to fame that I know of. It was the site of the 1974 World's Fair Expo. It was the setting for the Johnny Depp movie Benny & Joon and the Madonna-soundtrack-fueled film Vision Quest. It's the city where future Ted Mosby (from How I Met Your Mother) designs his first skyscraper (though, honestly, the idea of a skyscraper in Spokane is ludicrous, as I had previously talked about). Spokane is also home to the Lilac Festival in mid-May, which is kind of a notable event. At least it is here in the Pacific Northwest. And then there's the Bloomsday Run, which claims to be the largest timed race in the USA. And, of course, Bing Crosby grew up here and this is the city where Father's Day was invented.
Most important of all, Spokane is home of Gonzaga University Basketball, which is all kinds of famous. Oddly enough, some out-of-staters have asked me where the "City of Gonzaga" is, not realizing that the college is named for a Jesuit saint and not a city (the university itself having been founded by the Roman Catholic "Society of Jesus").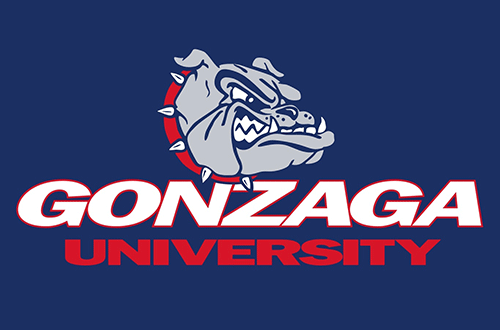 The geography of Spokane is also worth mentioning, because that massive blob on a map of Eastern Washington is not really all Spokane. It's divided into two parts... Spokane and Spokane Valley...
The city of Spokane Valley picks up at the eastern edge of Spokane proper and extends almost to Idaho. If you ever question which city you're in, all you have to do is look at north-south streets. In Spokane, they're labeled as "streets" but in Spokane Valley they're labeled as "roads." The distinction between the two cities is kind of important, and some Spokane Valley locals will be offended if you say they're from "Spokane" (just as a Spokane resident might be offended if you were to say they live in the "Spokane Valley," which has a specific meaning in this part of the state). It's not quite so contentious now, but decades ago it was kind of a "West Side Story Jets and Sharks" situation where Spokane kids and Valley kids did not mix. Even today, both cities have separate ecosystems for living, shopping, and eating... they're just not so isolated as they once were.
And that, as they say, is that.
Probably more about Spokane than you wanted to know, but that's what you're paying me for.
Posted on February 15th, 2012

Yesterday afternoon I had to make an emergency trip up to Chelan which, for the uninitiated, is pronounced "sha-lann" (but is spoken by locals more like "shell-ann")... and means Deep Water in the Salish Native American dialect (from the words "tsi-laan").
The city is named after Central Washington's premiere summertime attraction, Lake Chelan, which is indeed some deep, deep water. Like 1400 feet deep, making it the third-deepest lake in the USA, 24th deepest lake in the world. It's also very long... as in 55 miles long.
When I was a kid, I spent many summer days up at "The Lake," and have some great memories from my time there. In high school I spent many summer weekends up at "The Lake," but for entirely different reasons. All my memories from those times are fragmented and hazy.
Anyway... I haven't been here in a while and, despite making the trip for a very sad occasion, there is no denying that waking up to this view is anything but unpleasant...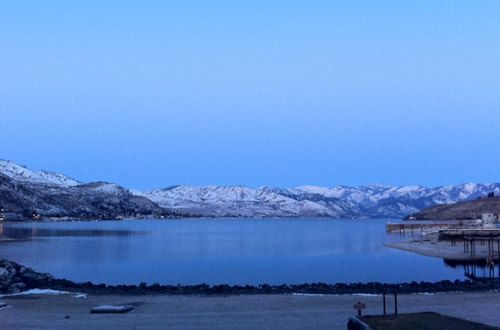 From Chelan this morning, I drove back to work. Then drove three hours to Spokane this evening...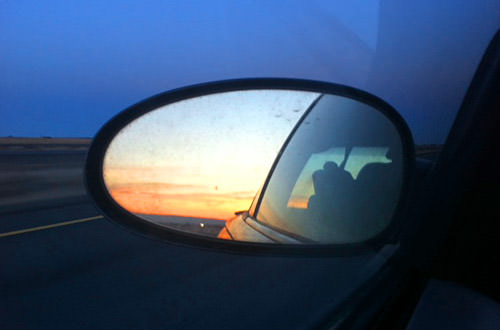 Where my first stop was Famous Ed's so I could enjoy some David's Pizza (now that David's Pizza has been destroyed)...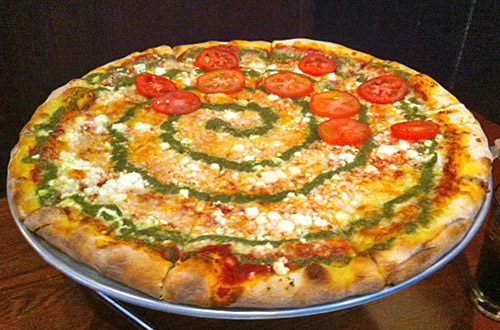 Still not authentic David's Da Vinci pizza, but it's a step above what I had last time. I just wish they could get the crust the way David's used to. This crust is kind of tough and chewy... not the wonderfully crusty crispy crust I loved on the original. Oh well. I remain hopeful that they'll eventually open a new David's and make the best pizza I've ever tasted once again.
=sigh=
And now I'm comfy in my hotel bed watching the latest episode of Happy Endings
I want cake.
Posted on July 26th, 2009

I keep hearing loud explosions... like fireworks... except when I look out my hotel room window I don't see anything. It's very disconcerting. It would be just my luck that Spokane is experiencing a terrorist attack or something.
That would be a Bullet Sunday first.
• Past. For those who didn't believe me during Blogathon, yes, I did have long hair at one time (and this wasn't even the longest it ever got, because it was well past my shoulders at one point)...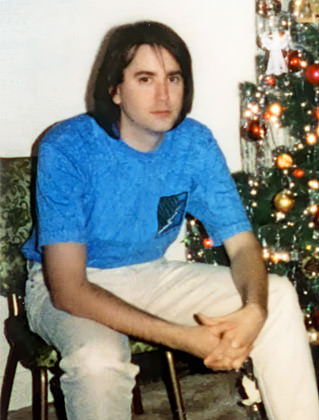 • Present. With your help, we Blogathoners over at Therapy in the Making raised $585 for Doctors Without Borders! Thanks so much to all of you who supported us and cheered us on! We even got a shout-out on the front page of the Blogathon site because Colin and I were wearing ridiculous things on our head to get people to donate! Who's the pretty pretty princess blogger now...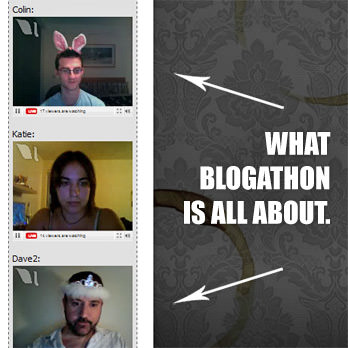 • Future. And here are the next three months of my life...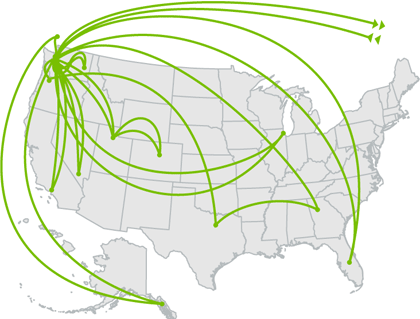 And though I have a lot of other bullets I could add, I have to finish up some work before getting up very, very early in the morning. Hopefully I can get a couple hours sleep in-between.
UPDATE: It was fireworks after all. After Googling That Shit, I found out it was the "Royal Fireworks Concert" at the Lilac Bowl. I had a pretty good view from my hotel balcony...