Greetings from the Bat Cave.
There are so many of the little guys hanging around my neighborhood lately that it kind of feels like a Bat Cave. Every evening I crack my window open for some cool air and can hear them flapping around outside. I thought that bats were inaudible to humans, but I'm definitely hearing some kind of squeaking going on as well (I'm assuming it's not birds, because it's so dark out).
I love bats. In addition to being cute as hell, they eat insets by the bajillions... even a small bat can consume hundreds of mosquitos an hour. As if that wasn't enough, bats were the inspiration for one of the greatest super-heroes of all time: The Batman!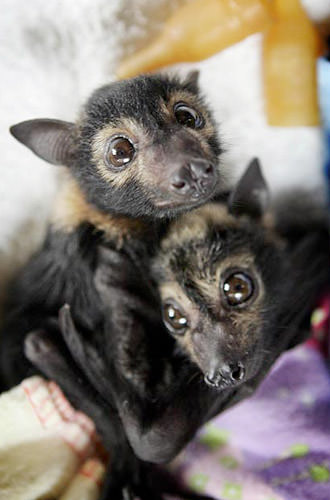 Cute baby fruit bats photo taken from a story at The Daily Mail
I mostly feel sorry for bats since they have an unwarranted reputation for spreading disease and sucking people's blood and stuff. Because of this, people try to kill bats and destroy their homes. That's really too bad, because bats are actually pretty harmless to humans. On the contrary, bats are so beneficial to have around that the Organization for Bat Conservation actually encourages people to purchase nifty bat houses.
Awww... it's kind of nice that they put a bat symbol on the outside so that bats know they're welcome to go inside and make themselves at home...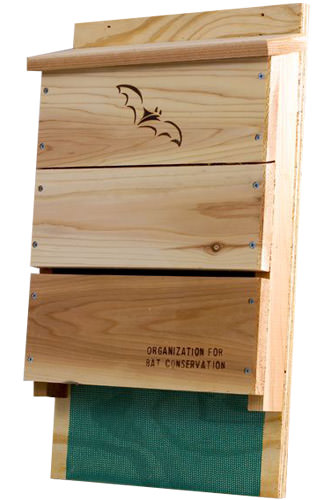 Bat-Jacuzzi is sadly not included
Sadly, many bats are in danger of becoming an endangered species because the places they live are being polluted or destroyed. As an important part of our ecosystem, this is bad news for both bats and humans.
But there's a way you can help! Become a member of Bat Conservation International. When you join up, you'll get a free subscription to BATS Magazine, a quarterly publication filled with cool photos and articles about our fuzzy, guano-producing friends.