Katy Perry has a catchy catalog of hits which she supports with a variety of excellent music videos. She's an artist of talent and vision, and I've always respected her for the visual "world" she creates, even though I've not always been a fan of her music.
Her latest video for Chained to the Rhythm has just been released, and my estimation of her has ticked up a notch.
Yes, it's unnecessarily complex in spots for a pop song, but I do like it... and the video is amazing. On the surface it's all clever eye candy... but there's some depth there.
And a message...
Good luck getting that hook out of your head. It's been stuck in mine all day.
You're welcome.
UPDATE: KAty performed the song at The Brits and it was pretty spectacular...
A lot of work went into that performance!

As if Wrabel wasn't a big enough gift, Jester has turned me onto another musical obsession... MUNA. A three-girl band out of Los Angeles.
The song Winterbreak is effortlessly haunting and beautiful, and is everything I love about the band wrapped up in a single song...
If you've heard a song by MUNA, it's probably I Know a Place which is poppy perfection...
And their latest bit of lyrical wonderment is called Around U...
Needless to say, this is an easy bet for one of my favorite albums of 2017

I was discussing those "songs that other people like, but you hate" lists and found out that no matter what a person's taste in music... there's inevitably some overlap on the "hate list." I find it to be strangely comforting.
When it comes to my personal list, it would be easy to populate it with popular artists I don't care for... like Nicki Minaj, Bob Dylan, or Lou Reed... but the least I can do is put some thought into it.
So here we go. Twenty Songs Other People Seem to Like But I Hate. It's an incomplete list, because I can only grab those songs that pop into my head... and songs I hate get buried and forgotten... but it should give you a pretty good idea of what I don't like in a song.

Mr. Roboto by Styx.
There are no words to describe my raging hatred of this idiotic song. Whether it's Dennis DeYoung's awful, awful voice and delivery... the inane, insipid, and painfully bad lyrics... or the fact that this is the cornerstone of one of the worst albums of all time, the "rock opera opus" Kilroy Was Here, it all adds up. Hate, hate, hate everything about this "music" and the fact that it was so popular back in the day.

Whip My Hair by Willow Smith.
I scream every time I hear this musical travesty. Repetitive garbage. Nobody gives a shit.

Your Love by The Outfield.
The whiny, horrific, screeching delivery of every word in the lyrics is enough to make me want to kill myself.

Take Me to Church by Hozier.
I do not get it. I cannot for the life of me understand how people like this song. I furthermore do not understand why everybody and their dog wants to cover this song.

Zombie by The Cranberries.
I was never a huge fan of The Cranberries, but I didn't hate them either. Songs like Linger were actually nice. But this... THIS piece of repetitive, unbearable screaming is not music. It's noise.

Beds are Burning by Midnight Oil.
THE LEAD SINGER CAN'T FUCKING SING! GAAAAHHHHH! And while I appreciate the Aboriginal people advocacy that this song strives for... the lyrics are just shit.

Cotton Eye Joe by Rednex.
No. Just no.

You're Beautiful by James Blunt.
This song is the very definition of "painfully awful," and yet it was a massive hit. Bad for me, because massive hits get a lot of airplay. The lyrics are grotesquely insipid and are delivered in a kind of wavering falsetto that drives people to kill.

Somebody That I Used To Know by Gotye.
Boring as fuck with no redeeming qualities to make it worth listening to, this torturous pile of shit was posted to everybody's Facebook wall for weeks.

My Humps by The Black Eyed Peas.
Why, Lord? WHYYYYYYYYYYY?!?

Tall Cool One by Robert Plant.
If you love hearing "Lighten up baby, I'm in love with you" repeated over and over and over and over and over and over and over and over and over and over and over and over and over and over and over and over until you want to die... this might be the song for you!

Uptown Funk by Mark Ronson & Bruno Mars.
A song so fucking popular that it was impossible to escape... which is all kinds of horrible when it's as bad as this is.

Hey, Soul Sister by Train.
It's not just me. Everybody thought this song was just plain awful.

The Leader of the Band by Dan Fogelberg.
Having to listen to whiny crap like this is what I envision hell to be like.

Thrift Shop by Macklemore and Ryan Lewis.
How the hell anything by Macklemore gets airplay is something I will never understand. Thrift Shop is the most inexplicable of all. Its lame lyrics punctuated by swear words that are wildly out of place and seem to be added solely for effect. Making a lame song even worse.

Hey Jude by The Beatles.
Proving that even one of the greatest bands in the history of the world makes mistakes, Hey Jude and it's endless refrain of "na na na na" is as bad as it gets.

What's Up? by 4 Non-Blondes.
Linda Perry and her stupid-ass hat belting out this screech-fest of a song is enough to drive anybody suicidal. Which is a shame, because Linda Perry herself (AKA Mrs. Sarah Gilbert) seems like she's that effortless kind of cool that most people strive for but never reach.

Achy Breaky Heart by Billy Ray Cyrus
I would hope that I don't have to explain this one.

The Final Countdown by Europe
The song itself isn't quite so bad... it's just the way that Europe sings it like it's this massive epic that's crushing every other song ever made that has me hating on it.

Baby by Justin Bieber
To be honest, I loathe every single Bieber song I've ever heard. Which hasn't been many, because I avoid his "music" like the plague. The worst offender to me is Baby which is just lame-ass boy-band lyrics on repeat.

And there you have it! Hope I haven't destroyed your will to live.

I'll visit San Francisco at the drop of a hat for any reason at all. It's just an hour-and-a-half flight out of Seattle, which means I can get there from Redneckistan in around four hours. Wrabel has a show at the Rickshaw Stop? Sign me up!
One of the many nice things about San Francisco is that I never have to worry about playing tourist when I'm in town. I've been here so many times that I'm over it. Another nice thing is that there's a lot of vegetarian fare to be had in the city.
I've been wanting to try this Singapore-based burger chain called "Vegan Burg" but never wanted to venture out to The Haight to actually do it. Today was finally the day for a Cracked Pepper Mayo Vegan Burg. It's a beautiful presentation and a decent alternative to other veggie burgers, but I'd have rather have gotten my regular Johnny Rockets Streamliner (no grilled onions). The Vegan Burg is kind of boring. The only thing notable about it is the crispy texture... which I'm not sure I liked. Bun is decent. Seaweed fries were okay. The mango lemonade, however was weak. Oh well. Nothing ventured, nothing gained.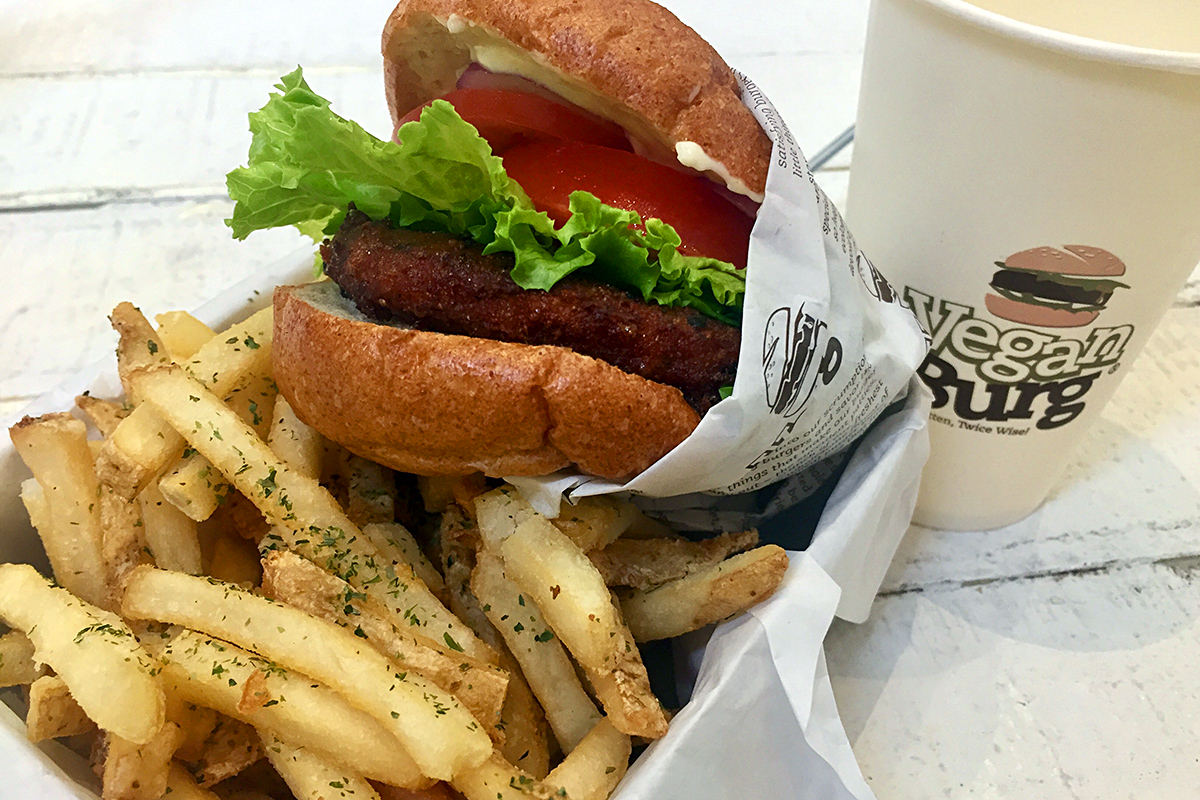 Then it was time to meet up with Jester and friends for the show...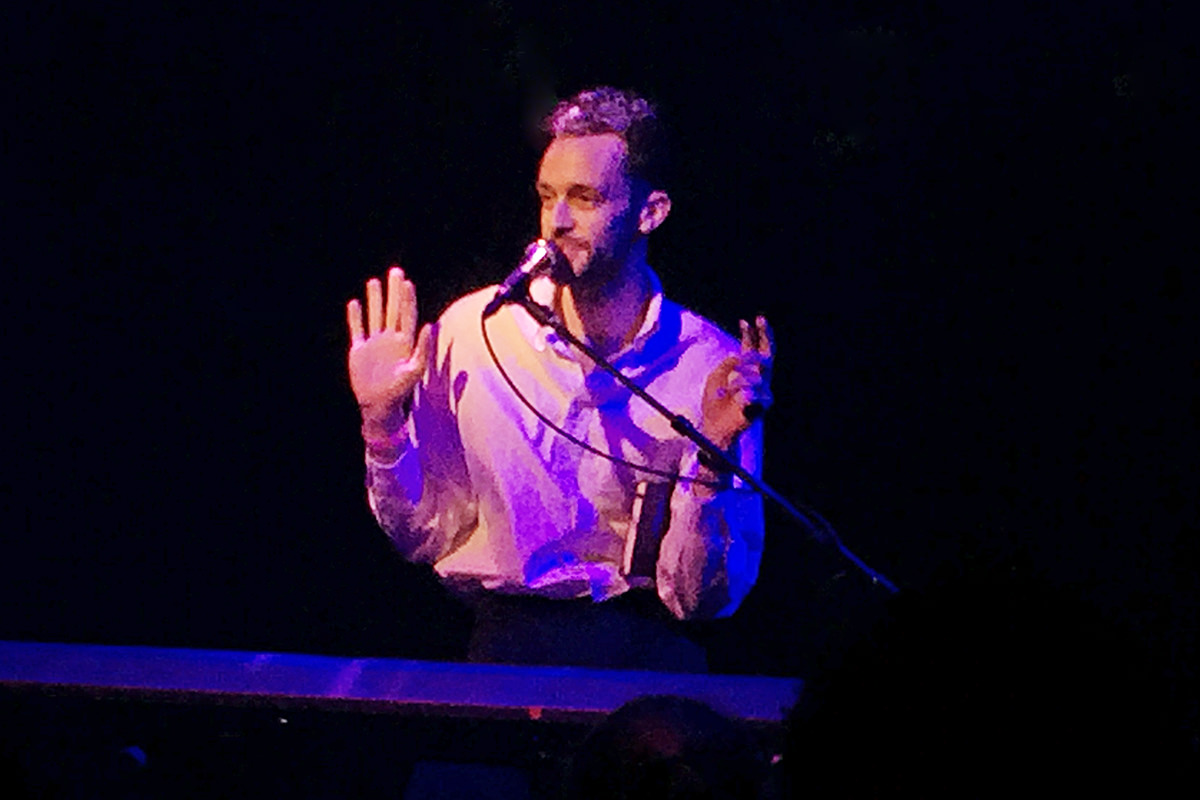 Which absolutely did not disappoint.
If Wrabel shows up in your neighborhood, go. Just go.
In addition to being a brilliant songwriter/musician, Wrabel is massively entertaining. He tells stories. He interacts with the audience. It's just non-stop wonderful from beginning to end...
He says he's working on an album. Hopefully to be released later this year.