Posted on May 21st, 2017

We're going to need some more coffee, because a very special Twin Peaks edition of Bullet Sunday starts... now...

• Twin Peaks! "She's dead, wrapped in plastic."You had to be there. Because no words I can write could ever encapsulate just how jaw-dropping amazing it was to be alive when Twin Peaks was first unloading onto an unsuspecting world...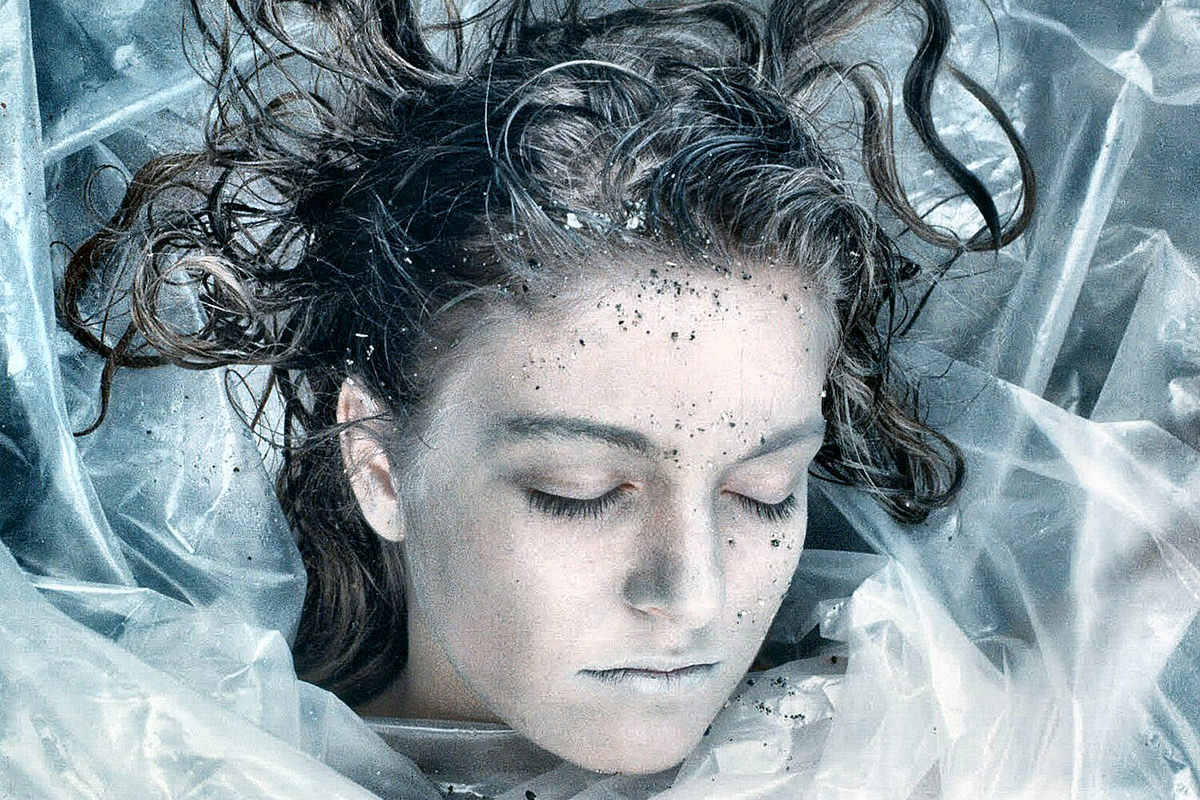 Nothing like it had ever aired before... and, though many attempts have been made to imitate it, nothing has since. The mystery of who killed Laura Palmer is still lighting a fire in the imaginations of people around the globe even today. Though the second season faltered without the guidance of David Lynch, I still love every episodes and have viewed them numerous times.

• Made in Washington! "That gum you like is going to come back in style." While the fictitious city of "Twin Peaks" is located in Eastern Washington near the Canadian border, many of the real exterior locations were filmed in my home state as well. After I fell in love with the show, I made an effort to visit many of them...
A list of places I've sought out...
The Salish Lodge, Snoqualmie (The Great Northern Hotel).
Reinig Bridge, Snoqualmie (Ronnette's Bridge).
The Roadhouse Bar (Bang Bang Bar), Fall City (The Roadhouse Bar).
Kiana Lodge, Poulsbo (Blue Pine Lodge & Dead Laura Beach).
Mar-T Cafe (Twede's Cafe), North Bend (The Double R Diner).
Filming for the new series took place in Washington again... it will be interesting to see if they came up with any new locations for me to visit.

• The Secret History of Twin Peaks! "The owls are not what they seem." In anticipation of the new episodes dropping today, Twin Peaks co-creator Mark Frost released a book tie-in last summer detailing the "secret history" of the town of Twin Peaks...
If you are a hardcore Twin Peaks fan, I don't need to tell you that this book is essential reading. Not only does it provide an expectedly bizarre history of the region (seriously, Frost tosses in Lewis & Clark, Sasquatch, aliens, and everything else you can imagine... along with some things you can't), but the book also fills in a few details of what happened after the original series ended. Much of the information is superfluous to the story... and it's a tough read if you are not familiar with the show... but I enjoyed it as a tasty side-dish to the main course, and am looking forward to the second volume, Twin Peaks: The Final Dossier, releasing October 31st.

• Twin Peaks: The Return! "I'll see you in 25 years." When it comes to doing weird shit on film, art house cinema has been doing it since the dawn of cinema. Some of it goes mainstream from time to time but, for the most part, it's a niche product that doesn't go anywhere. What made Twin Peaks so different and revolutionary is that the series managed to blend the weird shit of an art house film with an actual story that everyday people could find entertaining. Sure it digressed from time to time... but, overall, things were always moving. Interesting stuff was always happening on-screen to drive the story forward.
Now, a quarter-century later, Twin Peaks returns...
Something I've been waiting half my life to see.
SPOILERS AHEAD!
But here's the problem... David Lynch and Mark Frost have gone full-on arthouse and, if the first four episodes are anything to judge the series by, it's a steaming pile of shit. An absolute disaster that's weird just to be weird. And, unlike the original series, there's precious little else. Absolutely everything is weird shit. And it drags on and on and on. Take the third episode for example. The entire first half of the show is Agent Cooper trying to escape from The Black Lodge where he's been stuck since the end of the final episode. It's all complete nonsense, boring as shit, and does nothing to support what's come before. As for the second half of the episode? Dale Cooper meandering around South Dakota acting weird and doing weird shit. Only in the final five minutes does the story lurch forward again.
If there's a bright spot to be had, it's appearances by the original cast and a continuation of the original story... as scattered and slow as it may be. And I'm beyond thankful that Miguel Ferrer (FBI Agent Albert Rosenfield) and Catherine Coulson (Margaret, The Log Lady) managed to film scenes before their deaths. Unfortunately, it's all for naught, because Twin Peaks and everything that made it so amazing is barely here. And, unless things get radically better in the remaining episodes, I'm sorry they brought it back.

• The Sound of Twin Peaks! Twin Peaks would not be Twin Peaks without the music of Angelo Badalamenti. He created one of the most recognizable theme songs ever to grace television, and his Lauara's Theme added atmosphere to many moments in the show...
Another artist, Julee Cruise, became a household name from her performances on the show. David Lynch is continuing this tradition by ending the episodes with musical performances. My favorite from the new series is The Chromatics, singing a beautiful song called Shadow...
How very Twin Peaks!

And that's a wrap! "When you see me again, it won't be me..."
Posted on October 4th, 2015

The weekend may be ending, but the fun is just beginning because Bullet Sunday starts... now...

• Bond? Oh Lord. Worst. Bond. Theme. Ever. Seriously... who saddles James Bond with this whiny shit? I cannot believe that the same director who used Adele's amazingly powerful masterpiece Skyfall in his previous film would follow it up with this crap... AND I DON'T EVEN LIKE ADELE!
My expectations are running very high for Spectre, but listening to this mind-numbing drivel has me seriously questioning why. Hell, if Mendes wanted a song called Writing's On The Wall for his movie, I'm sure OK Go would have been happy to re-work their vastly superior song...
Ugh. Just ugh.

• JELL-O! Leave it to The Slo-Mo Guys to crank out yet another entertaining video...
Everything really IS better in slo-mo!

• Restless. Absolutely gutted that Catherine Coulson, "The Log Lady," has passed away just as they were finally getting around to filming new Twin Peaks...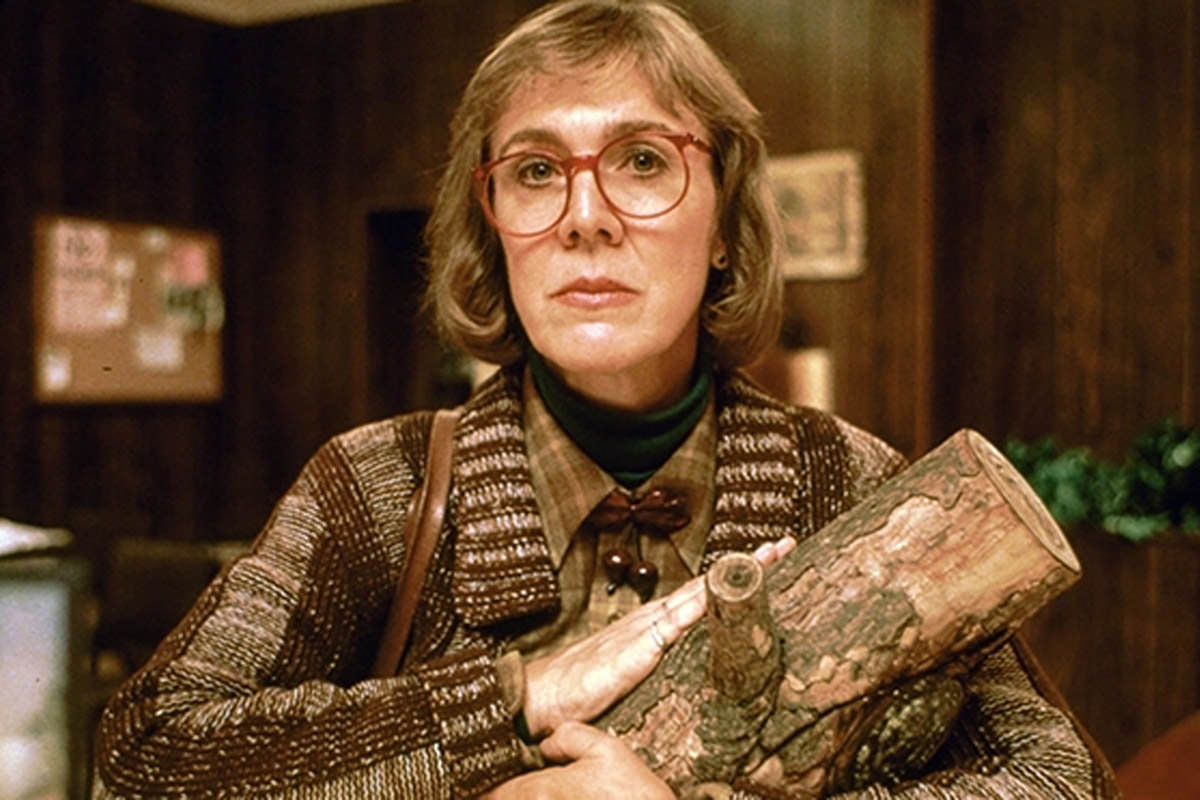 She has one of my favorite character introductions of all time...
You will be so very missed in the upcoming Twin Peaks revival. Rest in peace, ma'am, the owls are quiet at last.

• Water! Liquid love on Mars? Thompson Twins called it...

• Derp! Pretty much...
It burrrrrrns.

• Family! This photo of a father making sure his daughter's step-father was a part of her wedding was the best thing I saw all week...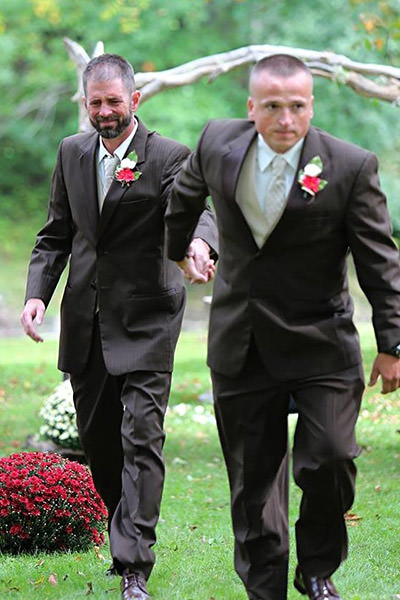 © 2015 Delia D Blackburn Photography, and thanks for sharing such a fantastic moment.
The story here is just great, and proves that people don't have to be horrible to each other all the time. If you want to see an interview with the fathers in question, here's your link.

Until next week... buh bye.
Posted on October 6th, 2014

That gum you like is going to come back in style!
And it's about time.
Posted on April 14th, 2014

"Diane, I'm holding in my hand a small box of chocolate bunnies..."
— Agent DaleCooper
I started re-watching Twin Peaks last Tuesday on the 24th anniversary of its 1990 debut (Netflix has it available for streaming, which is easier than pulling my DVDs off the shelf). After finishing the final episode of the first season while working tonight, I was surprised to see how well the show holds up. Yeah, it has some outrageous and over-the-top moments... but they were outrageous and over-the-top when they first aired in 1990.
Back when the whole world was asking "Who killed Laura Palmer?"
It remains one of my all-time favorite series.
Shows so rarely get this... interesting... any more. Or beautiful to look at.
Yes, it completely tanked in Season Two, but that hasn't made me want a follow-up series any less. Twin Peaks ended with the mother of all cliffhangers.
I think the world is ready.
Posted on February 12th, 2011

It's the twentieth anniversary of Twin Peaks! And it's being celebrated with an art show today in Los Angeles. Oh how I wish I could be there.
One of my favorite shows ever, David Lynch's epic story of secrets and murder in a small Pacific Northwest community was about the most fascinating, bizarre, beautiful, and altogether brilliant programs to ever air on television. While there have been a few shows that have tried to emulate its quirky genius over the years, there will likely never be anything quite like the strange saga of Laura Palmer ever again.
"She's dead... Wrapped in plastic..."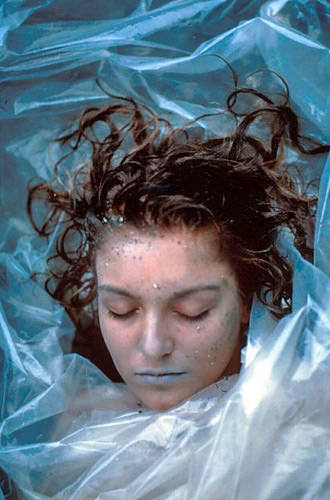 Even if the show wasn't spectacularly entertaining, I probably would have still been interested in watching it. Most of the exterior locations used in the series are about an hour-and-a-half from my home. David Lynch wanted to create a series that took a glimpse into the shady underside of small town living, and what he came up with was so convincing that I often felt that I could be living in Twin Peaks.
"My log does not judge..."
The tragedy of Twin Peaks is that it was canceled right in the middle of a massive cliffhanger at the end of its second season. David Lynch eventually released a movie called Fire Walk With Me which was eagerly anticipated by fans, but it ended up being more of a prequel than a sequel, and fared poorly at the box office. Even worse, it did very little to address all the lingering questions from the series.
"There is also a legend of a place called the Black Lodge..."
I haven't watched the full series in sequence since I revisited the first season five years ago, so I suppose it's time. The problem is that I'll just end up getting all sucked into the world of Twin Peaks again, knowing that it's going to be chopped off in middle of the story. I suppose it's futile, but a part of me still hopes that Lynch will get together the cast and wrap up what he started. Sure you run the risk of being disappointed, but at least you get closure.
"I'll see you again in 25 years. Meanwhile…"
Will we see another Twin Peaks project in 2015/2016 just as Laura Palmer promised? Who knows. That would certainly be awesome.
In the meanwhile... there's Fringe which is about the most messed-up show on television right now. Last night's episode approached a near Twin-Peaks-level of freakiness, which is no easy feat. It's so odd to me that J.J. Abrams shit-pile of a mess, Lost, got so much attention and blockbuster ratings when the real interesting stuff is happening over at his other series, Fringe.
Oh well.
Time for some cherry pie and a damn fine cup of coffee at the Double-R Diner.
"Through the darkness of futures past, the magician longs to see. One chants out between two worlds... fire, walk with me."