The seventh season of Game of Thrones is over... but all is not lost, because an all new Bullet Sunday starts... now...

• Thrones! Welp... that was a riveting finale. At the very end, I mean. Despite having some great moments (I LOVE YOU ARYA!), it was actually kind of slow until that point.
I was disappointed we didn't get more Beric in this episode. He is my favorite character on Game of Thrones by a wide margin, and it was this scene that made it thus...
The fact that he can ignite a sword in flames with his blood is just icing on the cake...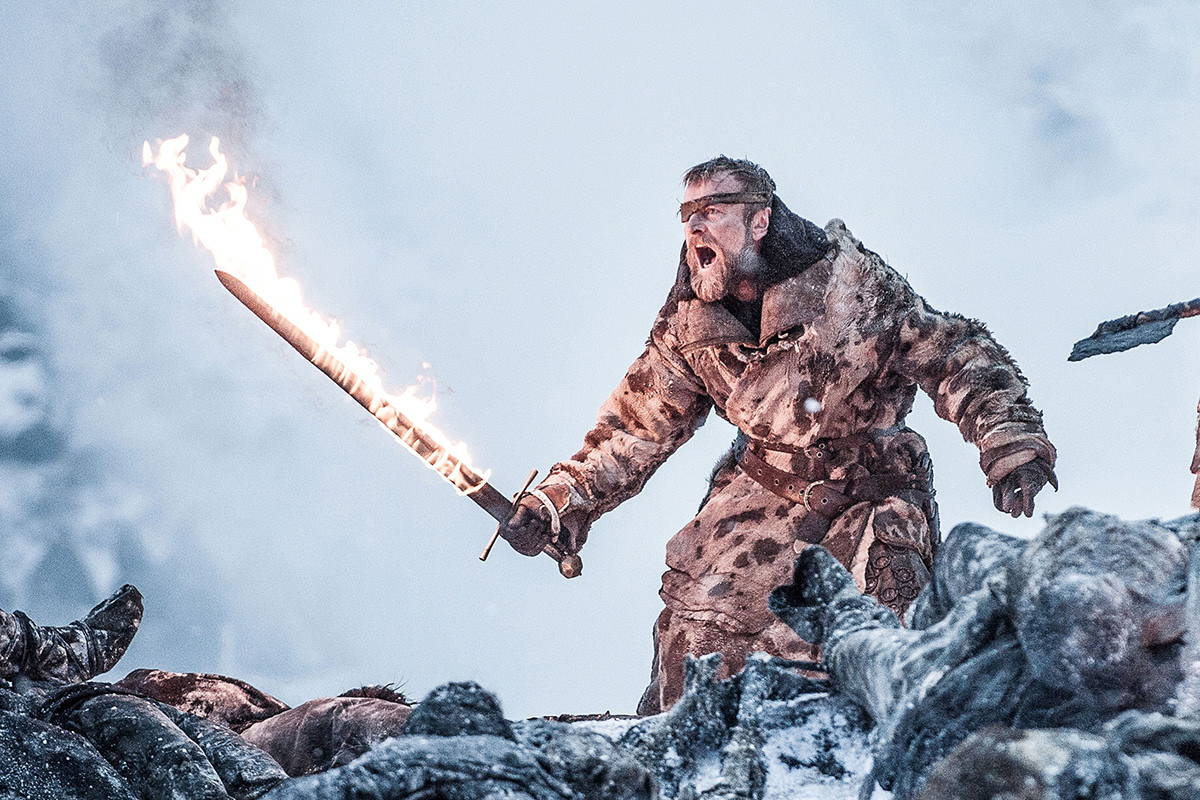 Here's hoping he somehow manages to survive the show. Because...
Holy crap!

• Grrrace! I never watched "Will & Grace" when it was on TV because Deborah Messing plays characters that are neurotic messes, and this looked to be more of the same. Then I saw the Election Special, liked it, and decided to buy the first three seasons when they went on sale at iTunes to prepare me for the return this Fall. Karen Walker is one of the best comedic characters to ever appear on television. Without Karen and Jack, this show would have been a total bomb.
I despise Will and Grace, finding them selfish and uncaring... yet seemingly unaware of how horrible they behave. They think themselves to be better people than they are. Karen and Jack are selfish and uncaring too, but have no illusion about it. Hard not to respect that. Especially when Karen is so damn funny.

• Never Gonna Give You Up! Probably the best thing I've seen all week...
As if I didn't have enough reason to already love The Foo Fighters.

• Assholery! If I don't know somebody's gender or how they identify, I use "they" and "their" and "them." It's not hard, it's not a big deal, and I'd rather be unspecific than be wrong. If your way of referring to people in this situation is to use "he-she" then you're an asshole. What do you get out of being an asshole to people you don't even know? Seriously, I'm dying to know. People are just trying to get through life as best they can with the cards they were dealt. They don't need your bullshit assholery heaped on them too.

• Rich and Powerful! HEADLINE: A Federal Judge Put Hundreds of Immigrants Behind Bars While Her Husband Invested in Private Prisons. This should surprise absolutely nobody. This is the way our corrupt system works. Wealthy, powerful people continue to exploit their privilege and position at the expense of everybody else. Just as they've bought our government, they're buying our freedoms, our liberty, and our justice. Because if we actually HAD justice, this judge would be FUCKING EXECUTED and her husband IMPRISONED FOR LIFE. But, by all means... continue to buy into the system that gives ZERO SHITS for you and allows people like this to prosper. This hasn't been a country "of the people, by the people, for the people" for a long time now. It perished from the earth the minute money became more important to us than ideals.

• Still More Assholery. Even if you are willing to put aside his many, many atrocities against people... Joe Arpaio is still a fucking inhuman piece of shit that deserves a hell of a lot worse than jail.
And here's Trump pardoning him from a mere six months of jail time. HE WON'T EVEN DO SIX FUCKING MONTHS.

• Violence! I really do try not to advocate violence... but sometimes you need to take out the fucking trash, know what I'm sayin'? "A racist lady made some disparaging comments about black people and Colleen, who has a biracial child, decided to beat the brakes off her..."
Garbage is as garbage does.

And enough of that mess. See you next week!