Posted on February 26th, 2017
Don't panic just yet, because an all-new Bullet Sunday starts... now...

• A Simple Difference. I love advertising that really makes you think, and this ad from Australia is absolutely brilliant in getting its point across. Before watching, it may be helpful to know that Aussies use BBQ sauce the way Americans use ketchup. And Aussie tomato sauce is much like ketchup except not...
For an equivalent American context, the guy telling his dad he likes tomato sauce is the equivalent to going to Chicago and telling the hotdog vendor that you want ketchup on your dog.

• Dyer for Govorner! Now THIS is transparency on a candidate website! Not really anybody's business but his, but I get why he's written it. I think most people would hemorrhage if they were to have this kind of insight into the people they've elected. Well, except for President Trump. Apparently he can do whatever the fuck he wants... no matter how heinous... and it doesn't matter to his supporters. Even though those same supporters have condemned the same activities in others.

• Dimensions Now that Disney Infinity has died, I am really, really hopeful that LEGO Star Wars and LEGO Marvel Super-Heroes will end up in LEGO Dimensions. The epicness of such a fusion would almost be too much for me to handle. Darth Vader driving the Batmobile? Spider-Man slinging through Adventure Time world? Catwoman meeting Black Panther? The possibilities... the possibilities...
Big fun awaits... if Disney will play ball.

• HeLa Can. Not. Wait. The book, The Immortal Life of Henrietta Lacks, was excellent. And while I've never liked Oprah as a talk show host, I've always loved her as an actor...
If you haven't read the book, it's worth a look.

• Ross! Be yourself. Unapologetically. Be like Ross and let the haters hate on... it's all they have...
Ross has got to be one of the nicest guys in Hollywood. Milo Yiannopoulos has got to be one of the biggest assholes on the planet. There is no contest here. None.

• ALARM! Why is the iPhone alarm system so shitty? Can't skip an alarm without turning it off. The alarm plays... FOREVER... instead of turning off after a few minutes. The snooze feature is absolute garbage because it's so inflexible. The list goes on and on. If you use your iPhone as a clock like I do, this is a daily frustration that drives me bonkers, especially on the weekends. Apple... you have BILLIONS of dollars. Why not take a fraction of that money and fix your shit?

And... aren't we all glad that's over?
Posted on November 22nd, 2016
I guess we're doomed to make the same mistakes over and over again.
Even in The Land of Couldn't Happen Here...
Good luck this time around, citizens of planet earth.
Posted on November 5th, 2016
I was tempted to resume blogging after Election Day so I wouldn't have to comment on the dumpster fire that is the United States presidential race... but here we are.
I would like to say that my feelings towards the candidates are nuanced, complex, and well-formed, but that's not the case. I loathe all the candidates... I especially loathe the Republican and Democrat candidates... and knowing that either Donald Trump or Hillary Clinton is going to be my president makes me want to vomit until I die.
My disdain of Hillary Clinton has nothing to do with all the idiotic rhetoric over current or past scandals, or her moronic email missteps, or her husband's indiscretions (?), or even Benghazi (of which a Republican-lead committee found no wrongdoing by Clinton). The simple truth is that Republicans have spent millions upon millions of dollars trying to hang her with something, but nothing ever sticks. Probably because Hillary Clinton is no more or less guilty of the crap that usually goes on with our corrupt politicians. So whatevs.
No no... my problems with Clinton have to do with actual stuff she's done as opposed to all the crazy accusations that plague her. And while there's a lot of examples I could provide, I'm going to limit myself to the two that boggle my mind most because they are almost never brought up.
War on Violent Video Games. You think Donald Trump can become unhinged? Turn the clock back to 2005 and the absurd level of hysteria that Hillary Clinton came up with in her quest to ban violent video games (which I'm guessing was an effort pander to Right-leaning voters). At first blush, it was an admirable effort to protect kids from mature material they were too young to process and give parents the tools they need to determine if the games they buy for their kids contained this material. Except her "Family Entertainment Protection Act" was more like a full-out, unconstitutional assault on artistic expression. Instead of ESRB ratings being a guide, they would be retooled to become law, and severe penalties would be levied against anyone who defied them. So, basically, you have a government entity dictating what they deem to be "age-acceptable" material to a private entity, whose findings would then be used by a government entity to enforce the law. What could possibly go wrong? Ultimately everything was so draconian and vague that developers would be discouraged from making "violent" video games just as retailers would be discouraged from selling them. The fact that Clinton is willing to drift into this level of anti-freedom censorship and make it become law (as a pandering measure!) is a deal-breaker for me.
Destabilizing the Middle East. If you consider my concern over video game censorship to be "petty" or even "alarmist" then there's something much bigger on my radar. Hillary Clinton is a total warhawk. Her actions as Secretary of State are reprehensible in this regard... particularly when it comes to Libya, a country her policy has decimated. Rather than retread on an area that was written about better than I could ever do, here's an article I highly recommend: Even critics understate how catastrophically bad the Hillary Clinton-led NATO bombing of Libya was. If you consider my condemnation of this kind of horrific "leadership" to be petty and alarmist, then there's absolutely nothing I can say to caution you against a Hillary Clinton presidency. Cast your vote with confidence.
And then there's this fucking asshole...

Photo credited to Newsweek/Photographer unknown
If the prospect of a Clinton 2.0 presidency is something that makes my stomach churn... the prospect of a Trump presidency has me borderline-suicidal.
Forget that he is a horrible businessman who regularly cheats hard-working people out of their livelihood to make a buck. Forget that he is a notorious liar whose dishonesty is so massive in scope and count that he makes Hillary Clinton look like a choirboy. Forget that he a vile excuse for a human being who gets off on demeaning others. Forget that he changes his mind on major issues at the drop of a hat and has no real plan for anything he promises (much of which is impractically impossible). Donald Trump is a racist, homophobic, misogynistic, foreigner-bashing, non-Christian-hating, ignorant, unstable, narcissistic, intolerant, bigoted piece of shit. And electing Trump is the equivalent of hanging a giant banner outside the country advertising the fact that we're a nation of racist, homophobic, misogynistic, foreigner-bashing, non-Christian-hating, ignorant, unstable, narcissistic, intolerant, bigoted pieces of shit. And that doesn't even address the embarrassment factor of having this ridiculous buffoon representing Americans on the global stage. You think we were the laughing stock of the planet during the Bush years? Try 1400+ days of Toxic Cheeto Jesus.
"President Trump" is the stuff of nightmares and goes against everything this country was built to be. So when I cast my vote for Hillary Clinton, a person I pretty much despise, it's not because I am "voting for the lesser of two evils"... it's because I am voting against the Ultimate Evil.
The United States of America cannot survive Donald Trump as leader of the free world.
But it may have to. For we are a nation not of the people, but of the Electoral College...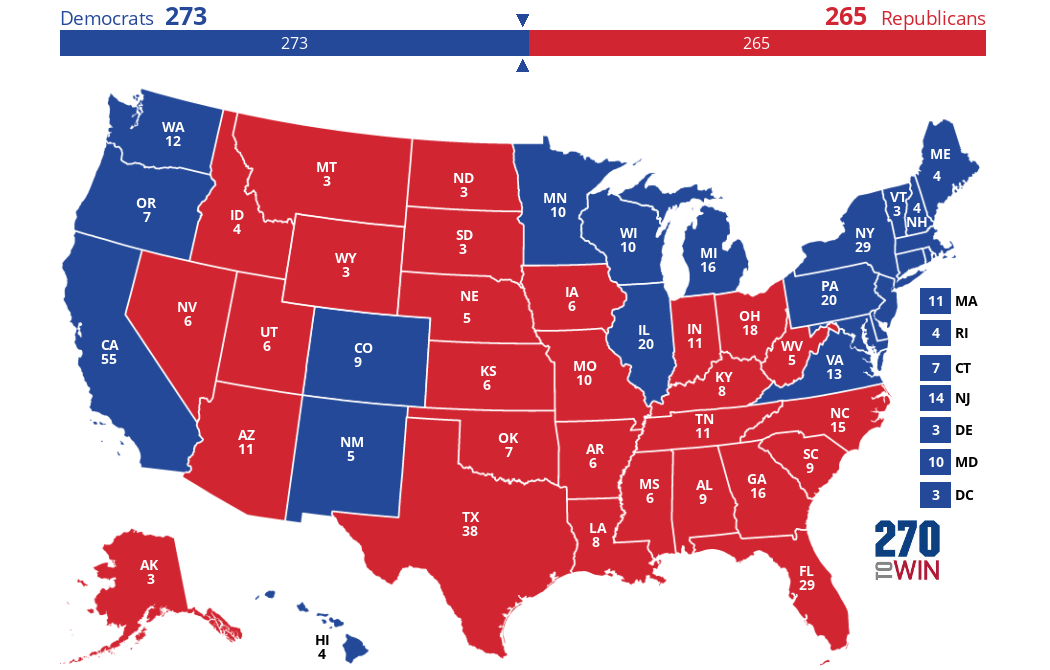 Click the map to create your own at
270toWin.com
This map is an average of projections showing how each state is expected to vote. Blue States are for Hillary Clinton, Red States are for Fuckface von Clownstick. Note that any flip from blue to red of 5 electoral votes or more spells Trumpageddon. That's not a lot of wiggle-room. New Mexico decides they want fascist America, and that's what we are. One nation under Drumpf.
And so...
Brace yourself. I am of the opinion that no matter who wins, we all lose.
It's just a matter of how big.
Posted on May 1st, 2016
Don't despair over your impending march to Monday, because Bullet Sunday starts... now...

• HASTURD! What happens when a complete piece of shit holds political power?
Apparently they get away with being child-raping garbage. God bless America.

• Jack! And so it looks like John Krasinski has been cast as Jack Ryan in a new Amazon series based on John Clancy's books. In all honesty, I think he may end up being the best Jack Ryan yet. Baldwin wasn't physical enough. Ford was too old. Affleck not cerebral enough. Pine was just (surprisingly) plain bad. They all lacked something essential to the character. Krasinski, on the other hand, is the whole package. If they get the story right, I think he'll knock it out of the park. And if he can get his wife to make a guest appearance, so much the better! The only thing that gives me pause is that Carlton Cuse and Graham Richard are developing the series. Given the way they took an amazing concept and flushed it down the toilet with Lost, my confidence in them delivering with Jack Ryan is very low. Fingers crossed though.

• English! If you're into linguistics, here's a video for you...
Of course, there are dialects within dialects on both sides of the pond, but this is a pretty great encapsulation of the differences.

• Shame. This is the America we're building...
PEOPLE. JUST. WANT. TO. FUCKING. PEE! As they've been doing in bathrooms for centuries! And yet, here we are... people being terrified by asshole politicians taking a non-problem and blowing it up so as to distract from what's really going on...
Again, the people most responsible for doing heinous shit in public bathrooms... ARE ASSHOLE POLITICIANS, ASSHOLE RELIGIOUS NUTS, AND ASSHOLE CRIMINALS... not transgender persons! And if you buy into the lies, guess what, you're the problem!

• Pop! Amazing how I'm still discovering excellent 80's pop music that I somehow missed in the actual 80's. This time? A Good Heart by Feargal Sharkey...
And, just to show that I'm not above missing out on current pop music, I recently heard Cake by the Ocean by DNCE, which is awesome...
And, yes, that's a Jonas Brother on the mic there.

Alrighty then... the time has come to say goodbye to another edition of Bullet Sunday. Until next week...
Posted on April 19th, 2016
Despite complaining about bad drivers like... ALL THE TIME... and getting angry a lot at people who choose to focus on texting or eating or video games or anything except driving when on the road... I'm usually able to let it go.
Not today, baby...
So there I was waiting to turn onto the street where my office is at. An old man was making his way across and I was waiting until he got all the way to the sidewalk so as not to scare him. And also... because it's the law! Any guesses as to what happened in this scenario?

The fact that I used the "c-word" when I absolutely abhor the "c-word" should be your first clue...
Got your guess?
THAT'S RIGHT! The asshole decided to not wait until the old man reached the sidewalk... hell, she barely waited for him to clear the lane... instead she gunned it so she could cut in front of me (WHEN I HAVE THE RIGHT OF WAY, MIND YOU!), cutting me off and scaring the shit out of the old man.
What a fucking cuntwaffle.
Things like this? Impossible for me to let go.
If I had a gun and didn't believe in non-violence as a precept, I would have run her down and shot her in the face.
IN THE FACE!
And so, yeah... road rage. I get that. And, in this case, totally justifiable on my part, I think.
On a side-note... anybody have any guesses as to why the old man crossed the road?
Posted on March 15th, 2016
re: YESTERDAY.
See what I mean. It's Godwin's Law in action...

So much for America.
Posted on March 1st, 2016
Double your Bullet Sunday, double your fun! Because a Very Special SHOPPING Make-Up Edition of Bullet Sunday starts... now...

• SUNDAY? I wasn't able to get a Bullet Sunday together for the 21st, so that had to be made up yesterday. Then this last Sunday got bumped to today. At which point I think I'm caught up with Bullet Sundays again. At least so far as I can be given how far behind I am getting my entries posted. My internet situation at home is dire, with the cable-based service dropping constantly while I wait to see if I can get fiber installed. I may just bag it and stick with shitty cable... assuming they can ever get it to work consistently.

• FREE? I no think that word means what you think it means...
It's not that their free shipping and handling cost me $45... it's that it's so "free" that they actually said "free" twice! Maybe they're hoping to say "free" so much that you won't bother looking at the actual cost? I dunno. But this is probably the best attempt at bad marketing I've seen in quite a while.

• BARGAIN? And then there's Amazon, who should really know better given how massive they are, but still makes goofy marketing blunders all the time. Like this twofer price structure which is pretty much genius... if you're looking at the fact that you get "free" Prime shipping for $13.75?
Sign me up! If I buy three does the price go up again?

• LOBBYIST! The problem with living in the wilds of Redneckistan is that your shopping options are limited. Most of the time this problem is solved via Amazon and their Prime 2-Day shipping, but what if I don't have two days? What if even ONE day is too late? That means making a lot of phone calls to a lot of stores and running around from one end of the valley to the other trying to track down what you MUST HAVE IMMEDIATELY. In my case, that was plain silver foil wrapping paper. Nobody had it. Nobody. Not any drug stores. Not any card & gift stores. Not the party store. Not Shopko. Not Target. Not the art store. Not the craft store. Nobody. Except, of course, Hobby Lobby.
The fucking assholes whom I swore I would never give a single dime of my money.
But what else can I do? Drive three hours to Seattle then three hours back for my emergency project that's due right now?
Nope. I bit the bullet and shopped at the only option I had after exhausting every other possibility. Knowing full well that my money would be used to further their heinous agenda of forcing their religious beliefs on their employees, choosing allowed methods of birth control for their insurance coverage, supporting bigotry, and being overall assholes towards anybody who doesn't hold the same beliefs as they do.
Luckily a Facebook Friend came to my rescue when I was lamenting about having to shop at Hobby Lobby... they suggested I make a donation in Hobby Lobby's name to Planned Parenthood in the amount of what I had to purchased. Genius!

I don't feel any better about giving money to Hobby Lobby, but I sure feel a lot better about (hopefully) offsetting some of the damage that comes from shopping there.

• PETCO! Since adopting two kittens, I spend a lot of time shopping for kitty food, kitty toys, kitty litter, and everything else kitty-related. My favorite store to shop at? Peptic! I love the selection. The prices are decent. And the staff is generally cool. But they're nearly a half-hour away, and I don't have time to make the trip as often as I need to. So the solution is easy, right? Just shop at Petco online! Except... no. Their website is complete shit. I tried to shop on Valentine's Day because they had a coupon code that could save me some money... except when it came time to check out, EVERY ONE OF THE EIGHT ITEMS I HAD IN MY CART were conveniently "out of stock" and they wouldn't let me place an order. Haven't they ever heard of a backorder? And, of course, everything was back in stock the next day when the coupon expired. But that's not even the worst of it. Every time I try to shop at Petco.com, I always have all the items in my cart disappear at least once. Sometimes when I've tried, I've had my cart turn up empty so often I just give up. How in the hell do they expect people to shop with Petco when their online shopping experience is bordering on useless? It's hard to fathom how a company this big could afford to piss people off like this in a day and age where most stuff they buy is online, but here you have it. Guess I'd better work an hour into my schedule to drive to the local shop in person. Again.

And that's more than enough shopping for this week. See you next Sunday.