Posted on April 3rd, 2011

It's a Vegas-infused edition of Bullet Sunday!

• Classy. The most interesting aspect of Vegas is the people who show up here. People-watching is so good that could almost be a full-time activity. Hang around long enough, and you'll see it all. Drunks walking out into traffic. People puking in trash cans. Women walking through the casino in a bikini. A pickup full of cats that says "Pussy Wagon"... it's all going on in Vegas. But the best thing I saw this trip was a woman walking down The Strip in leopard print pants, a halter-top, hooker-high heels, and makeup so thick it was probably put on with a spatula. This alone wasn't unusual because half the women here look like that. But throw in the fact that she was nursing a newborn baby, and it doesn't get any classier!

• Cups. I swear, every time I come to Vegas, the drinking cups are bigger. First there was the "Big Gulp" cup. Then there was the long-neck cup. Then there was the "Yard Glass" cup. Now there's the 100-oz. Cup which is SO long (over 4-feet) that it comes with a neck-strap. I suppose next time I come to Vegas, there will be 200-oz. cups that come with a pull-cart to lug it up and down The Strip...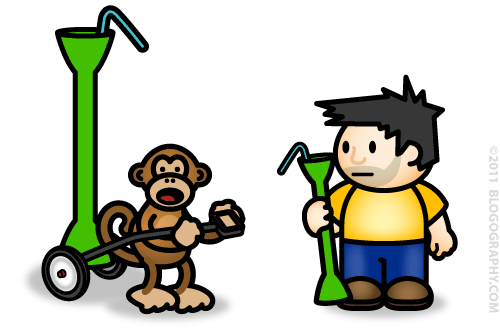 What I love is the little "Always Drink Responsibly" signs displayed where you buy these things. How could you possibly drink anything this massive responsibly? The entire purpose of buying one is to be irresponsible.

• Gambler. I'm usually pretty lucky when it comes to gambling (even though I don't believe in luck). But not this trip. I won a grand total of $17. On an "investment" of $200. I am officially poor now.

• Fremont. I'm always surprised when somebody comes back from Las Vegas, I ask if they visited Fremont Street in the "old town" and they say "no." It's such a shame, because it's such a fun experience. A lot to see and do in a rather small area...
And, of course, there's the giant-screen ceiling of the covered-walkway that spans a big chunk of the area. This time we got to rock out to Queen and Kiss, which was very cool because the sound system is great. If you ever end up in Las Vegas, don't miss a chance to visit. It's worth the $20 cab ride...

• Stargate! They will make just about anything into a slots game. TV Shows like Survivor and Sex In The City are popular, and this time I saw one I hadn't seen before based on Stargate SG-1...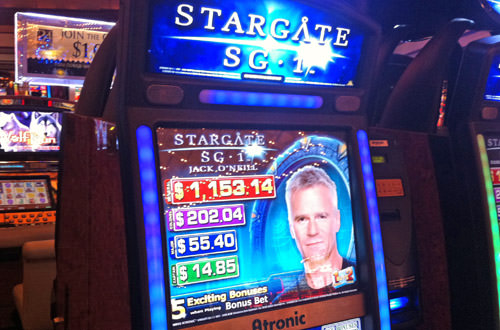 Seems a little sci-fi geek esoteric for Vegas, but it ended up being a good game (even though I didn't win any money)! There really needs to be a slots game based on Top Chef or Project Runway!

• Bloody! The perfect Bloody Mary is a difficult beast to track down. Usually because so many place make such bad ones. Imagine my surprise when it was suggested to go to Rainforest Cafe if you want a good Bloody Mary... and they were absolutely right! It's a good mix that's not too spicy and not all watery. AND it comes with potato chips on top! Genius!

• Eat! The best place to eat in Las Vegas? EARL OF SANDWICH at the Miracle Mile Shops in the Planet Hollywood Resort! The franchises are hard to find unless you live in Texas or Florida, and the shop in Las Vegas is the only location in the Western USA. Probably the best sandwich I've ever had. So good I went both days...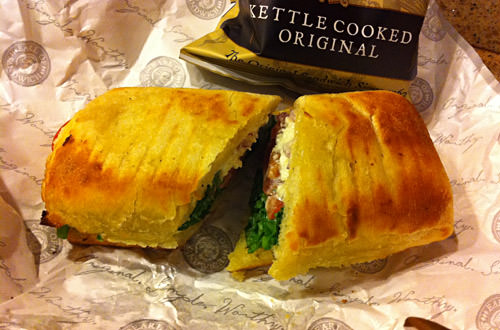 Right next door is Pink's, which is funny since I just went there when I was in Los Angeles this past week...

Annnnnd... that's a Vegas weekend in bullets. Well, the parts I can talk about anyway. Because what happens in Vegas...
Posted on April 2nd, 2011

It's all a blur so far.
Except when I stopped drinking long enough to go to a show.
For years I've managed to avoid the horrors of Cirquel Jerque de Soleil. Circuses and clowns and crap are not even remotely entertaining to me, and mixing them with acrobats only makes things worse. But, alas, free tickets were included in our travel package, and so tonight was the night. We went to The Beatles' Love because I figured that even if I hated it, I'd at least be able to enjoy the music...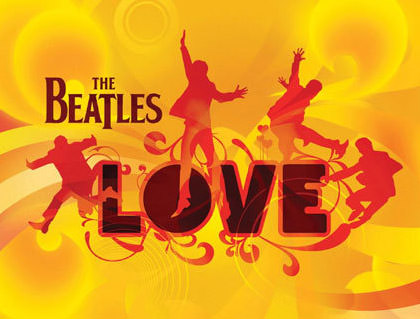 As expected, I thought the entire show was boring as hell.
I simply don't "get" Cirque de Soleil. A song will start and a bunch of different people will come out and start doing inexplicable crap. Somebody's pulling a cart across the stage. Somebody else is jumping on a bed. Somebody's smashing a wall. Somebody is yelling. Policemen go by on roller skates. A woman in a window frame floats down from the ceiling. Eventually the Ku Klux Klan shows up (no joke). It's just a bunch of random shit going on while Beatles music plays, none of it making much sense... even when the connection to the music was obvious.
Sure, the technical side of the show is amazing. The stage changes and moves in a wide variety of different configurations. There's a part of the show where parachute silk flows out over the audience like billowing waves. Some of the set-pieces are very cool. But none of this was entertaining enough to keep my interest.
I guess I should have kept drinking. Maybe then it would have all made sense.
One more day left in paradise...
Posted on April 1st, 2011

It seems like only yesterday I was on my way to Vegas for the TequilaCon 2010 Planning Posse Event. But time, she flies. That was September, 2009. Seventeen months ago.
Alas, Vegas is calling once again...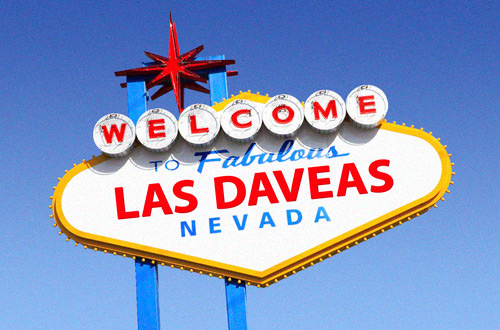 I can't even guess what kind of crazy crap will be posted here while I'm in Sin City (if anything) because I plan on drinking 96% of the time. The other 4% will be spent sleeping. Or puking. Or both (hopefully not at the same).
That leaves only 2% of my days for blogging and 8% of my time for trying to figure out where I just went wrong with the math there.
Running at 110%, that's me.
Posted on December 31st, 2009

It's the easiest blog post of the year, when I get to re-visit all my entries for the past 365 days and see just how pointless and futile my life really is! Much like last year, a lot of my time was spent traveling. I racked up 164,000 air miles on seven airlines. Unlike last year, I had only minimal flight delays and cancellations, which was a pleasant surprise.
And now the traditional random Blogography snippets of crap from the year that was 2009...
---
JANUARY
• Admitted I have a Twitter addiction.
• Goofed around at SeaWorld with mah Hilly-Sue in San Diego, where we rode the Buckets of Death, learned to BELIEVE, and joined the cult of Shamu the whale...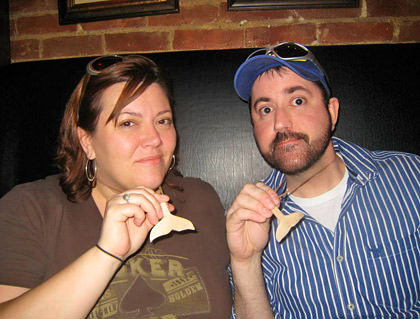 Seriously, how cute are we in this photo?
• Was traumatized when Ms. Sizzle and I were sexually assaulted by Etta James at her Seattle concert.
---
FEBRUARY
• Was nearly brought to tears at the Nazi Documentation Museum in Cologne, Germany.
• Traveled to the beautiful island of Mallorca in Spain to visit the new Hard Rock Cafe there and see the sights...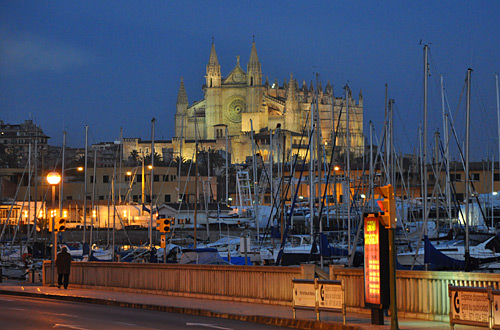 • Revealed ten honest things about me.
• Suffered from my drug abuse.
• Said goodbye to a friend and learned what is really important...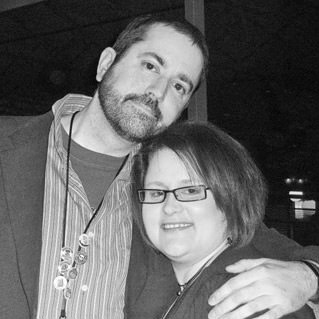 ---
MARCH
• Disapproved of First Lady Michelle Obama's wardrobe choices...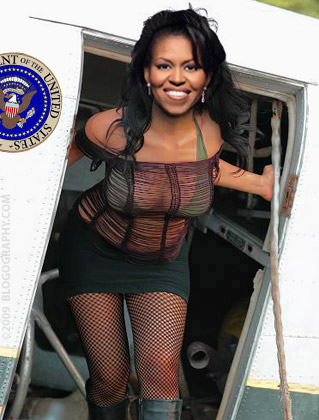 • Spent a weekend goofing off in Seattle with my BFF Vahid.
• Re-lived my life as one of the Spice Girls...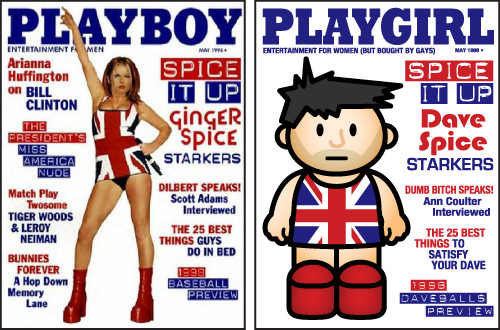 • Had an absolute blast meeting up with friends in Davedon...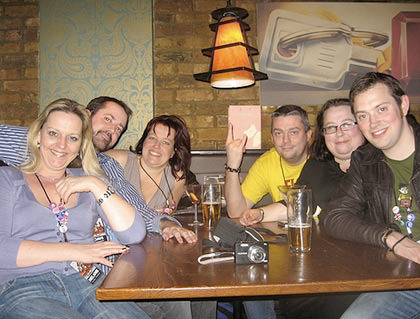 • Experienced the "magic" of Stonehenge...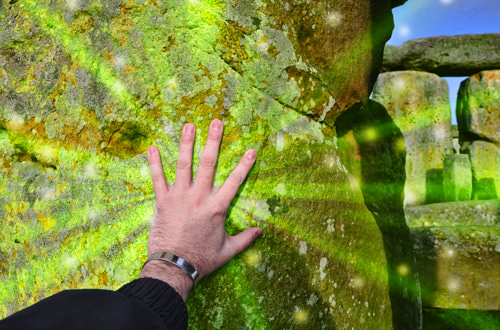 • Back to my favorite city on earth... Davenburgh!
• Had the worst airport layover in the history of airport layovers.
---
APRIL
• More blogger meet awesomeness at Dave York...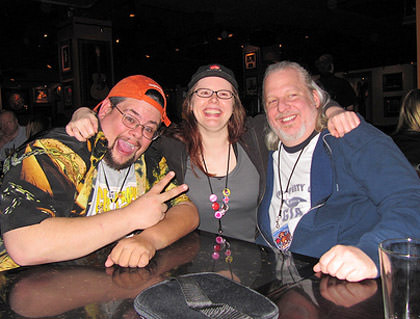 Dawg and Poppy with B.E. Earl.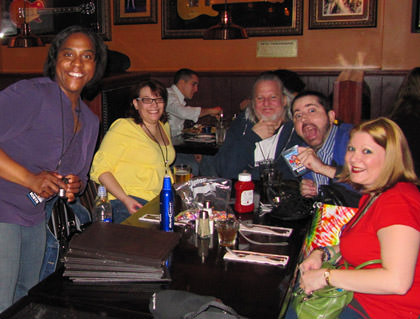 Robin, Libragirl, B.E. Earl, Me, and Cissa!
• Tried my hand at some inappropriate Broadway reviews.
• Reveled in the glory that is TequilaCon Santa Fe...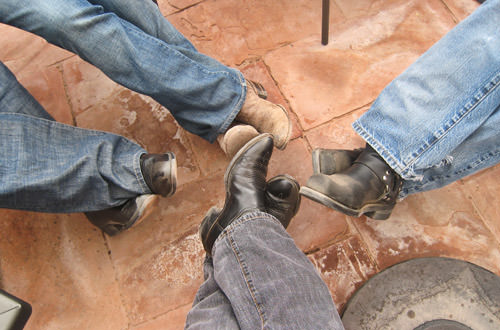 ---
MAY
• Expressed my disappointment with the current state of Cracker Jack prizes.
• Explained a problem with my MASSIVE NOZZLE.
• Gave a behind-the-scenes look at the Blogography Show when Whall was a guest...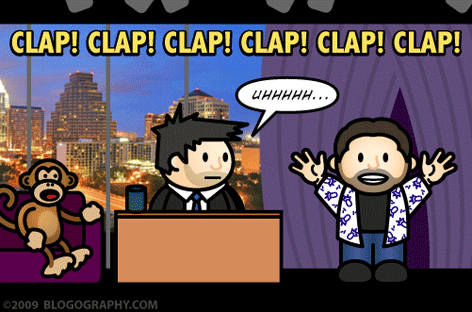 • Took a trip to Savannah, Georgia and visited the magnificent Bonaventure Cemetery.
• Released the most important iPhone app ever...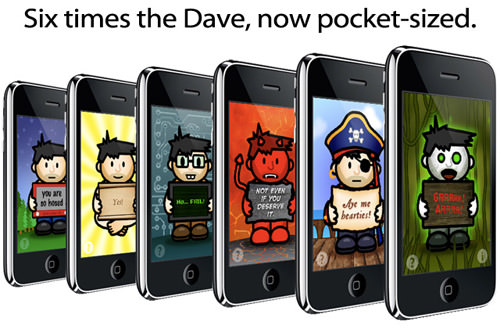 • Visited mah Hilly-Sue in her new home of Orlando where we got to be pirates and then go see Jesus at The Holy Land Experience.
• Started up the Lil' Dave and Lil' Wayne MAC VS. PC cartoons...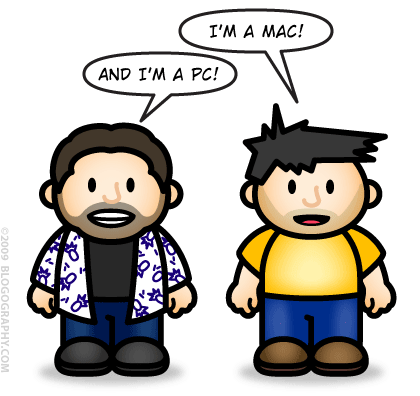 • Told ignorant asshole Paul Marx of the Baltimore Sun to go fuck himself.
---
JUNE
• Attended the spectacular ConFab blogger event in Lexington, Kentucky.
• Debuted Baby Dave and Naughty Monkey for a guest-post on Anissa's blog...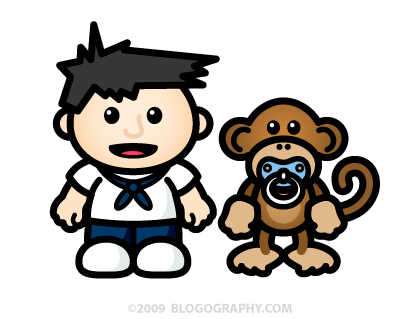 ---
JULY
• Finally saw Duran Duran in concert with my sister.
• Took a look at my wild-and-crazy days of youth...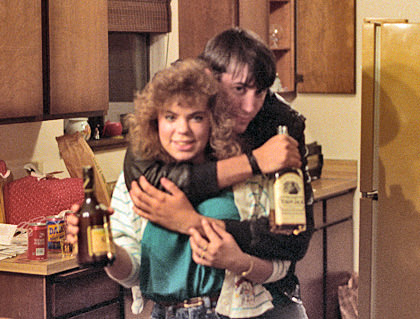 • Revealed the secret of How to Blog the Blogography Way.
• Joined in on Blogathon 2009 where I live-blogged new DaveToons every half-hour to benefit Doctors Without Borders.
• Had the opportunity of a lifetime when I went to see Hayao Miyazaki speak in L.A. with blogging buddy Howard from The Web Pen Blog.
---
AUGUST
• Ah, the wonder of exploring the biggest rock in the world and the joy of attending Davelanta3...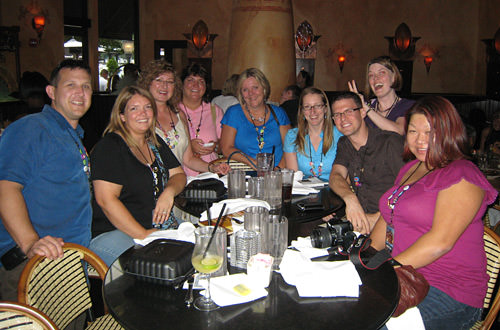 • Explained the Love Equality Formula and said NOH8 the best way I know how...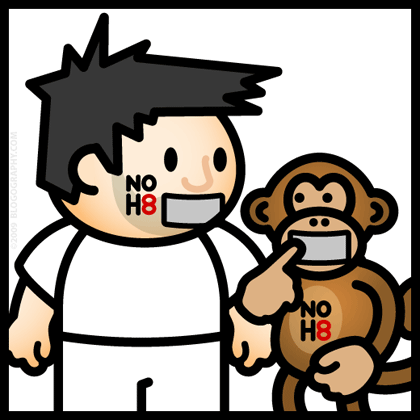 • Had the adventure of a lifetime when I guest-posted at Puntabulous...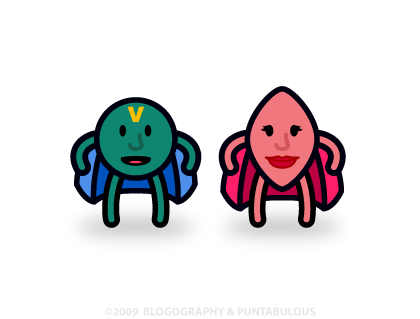 • Gave evidence as to why I was the most adorable baby ever.
• Another fantastic blogger meet, this time at Daveorado...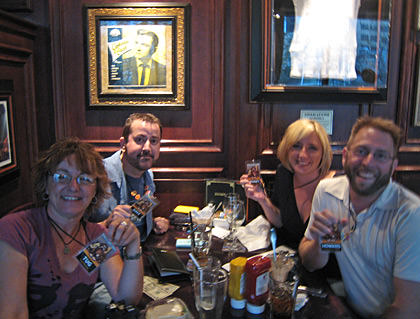 • Got to see my favorite band ever, Depeche Mode, in Salt Lake City with WarpedGirl 16 and Marty from Banal Leakage!
---
SEPTEMBER
• Hit Las Vegas with the TequilaCon Planning Posse for event planning, debauchery, and ELVIS...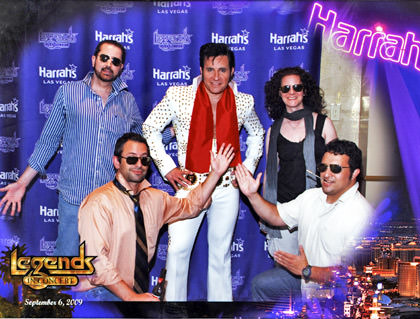 • Took an amazing cruise to Alaska where I walked on a glacier, then went rafting with eagles, and ended up hiking with bears...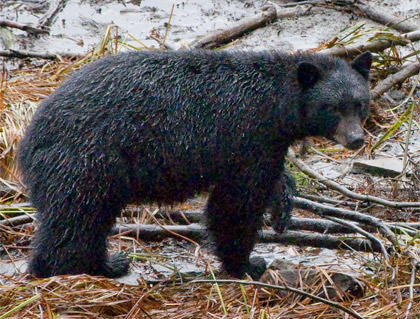 • Got to see one of my favorite bands, the Pet Shop Boys, at their Seattle concert.
• Explored my virtual career path...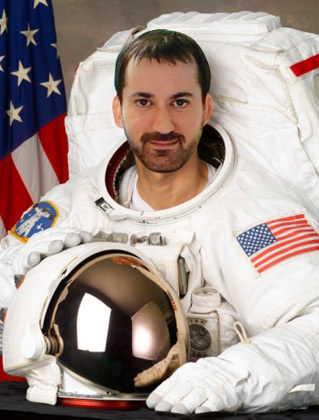 ---
OCTOBER
•Just one word: pooferflargen.
• And then there was the life-altering experience of attending Bitchsterdam...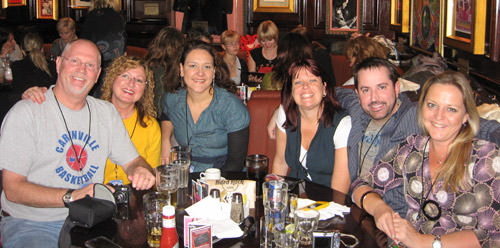 • Finally got to see the adorable spawn of The Bombshell and The Ninja in SoCal.
• Could there possibly be anything better than three days at Disney World with mah Hilly-Sue?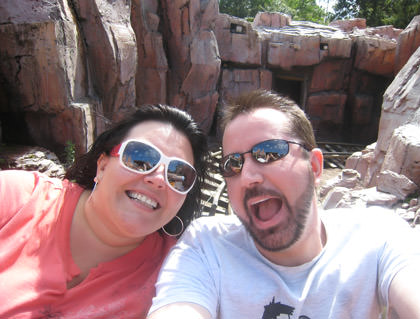 • I dunno. But swimming with dolphins with Robyn and Rachel comes close...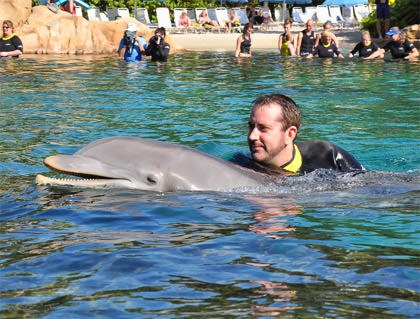 • And so does a wild night at Avitaween and non-stop pussy...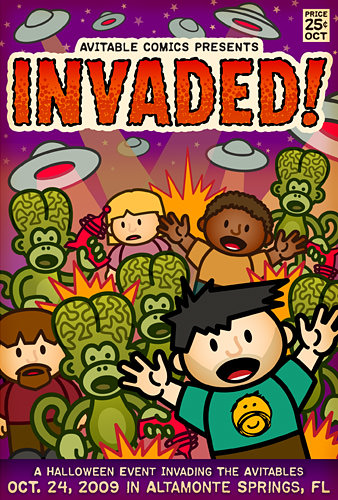 • Went Hard Rock Cafe hopping in Washington DC and Baltimore.
---
NOVEMBER
• Learned the Tao of Bullshit with Josherz...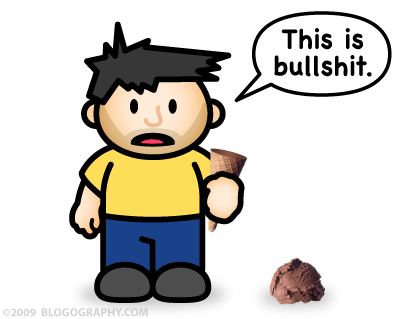 • Made some tentative plans for 2012...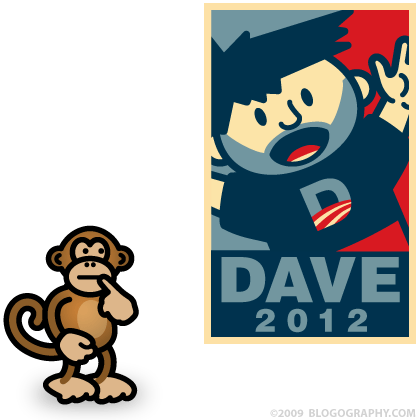 • Back to Atlanta for time with friends and Freestylin' Coke.
---
DECEMBER
• Not a lot, really. I did write this massive blog entry though.
---

And that was 2009. Everybody have a safe and happy New Year as we head into 2010, and thanks for reading!
Tags:
2010
,
Alaska
,
Ask Dave!
,
Avitaween
,
Blogging
,
Davetoons
,
Discovery Cove
,
Hard Rock Cafe
,
iPhone
,
Las Vegas
,
Mallorca
,
New York
,
Sea World
,
Shamu
,
Stonehenge
,
TequilaCon
Categories:
Blogging 2009
,
DaveLife 2009
,
DaveToons 2009
,
Travel 2009
—
Click To It:
Permalink
—
15 Comments: Click To Add Yours!
Posted on September 7th, 2009

Over the next couple days I'm having my blog templates upgraded, so there may be some problems pop up while things get sorted out. I was going to do a redesign at the same time, but I kind of like my blog the way it is.

A couple people asked me "how I did" in Vegas. Since I made it home alive, I'd say I did okay, but I don't think that's what they are talking about... they want to know how much money I won or lost. The truth is that I am not much of a gambler, even though I seem to be luckier than average.
Which is to say that I lose less money than average, because at the end of the day, the casino almost always ends up the winner. Given the addictive nature of gambling, it helps to have a plan. To make sure I don't go broke, I set myself a daily budget based on the total amount of loose change I've managed to collect over the last year or so... $264. This spread out to $64 for the first half-day, and $100 for Saturday and Sunday. My luck played out something like this...
Accidentally won on slots when I was using the machine to break a fifty dollar bill. I wasn't even paying attention to what was happening because I was Twittering. When the bell went off I thought I had won the $120,000 shown the "progressive pot" display because the bell didn't stop. An attendant came up and did something to the machine, then congratulated my on my $200 win. Which would be great if I weren't expecting $120,000. Who knew winning $200 could be so depressing? The win cost me a whole $6, and I decided to call it a day... SCORE! WIN/LOSS AS OF FRIDAY: Up $194
Usually I keep my winnings entirely separate so I don't blow it all after my budget is gone. But Jenny and I wanted to learn how to play craps, which was a $100 educational loss (does this mean I can write it off on my taxes?). Still, I did pretty good on the slots and managed to win $33 by the end of the day. WIN/LOSS AS OF SATURDAY: Up $127
Not content to let my new-found skills go to waste, I blew through my $100 budget in an hour at the craps table (if only I had stopped when I was up $80!). Since this brutal blow to my ego happened first-thing in the morning, the rest of the day would have been pretty boring if I stopped gambling... so I rolled my $127 into big fun on the Vegas Strip. And ended up losing all of it... along with an additional $81. So much for following my own rules. WIN/LOSS AS OF SUNDAY: Down $181
So I lost $181. Which isn't bad when you consider it gave me three days' worth of entertainment AND was under my budgeted amount of $264. This would be great if I hadn't burned through the remaining $83 at the new Hard Rock Cafe an The Vegas Strip buying Grand Opening collector's pins. Oh well.
And now I'm home again... collecting my pocket change for the next time.
Posted on September 6th, 2009

Tonight it's a very special Las Vegas edition of Bullet Sunday!
It's special since there's only one bullet. And that's because it's such an incredibly awesome bullet that you would totally forget any other bullets that might appear afterwards.
• ELVIS! The Official Planning Meeting for TequilaCon 2010 ended with a bang when the entire committee decided to attend the Legends show at Harrah's. The acts performing tonight were Britney Spears, James Brown, David Bowie, The Temptations, and (of course) ELVIS!
Here's photos of Jenny collecting an autograph (and some sweat off of Elvis's chest!)...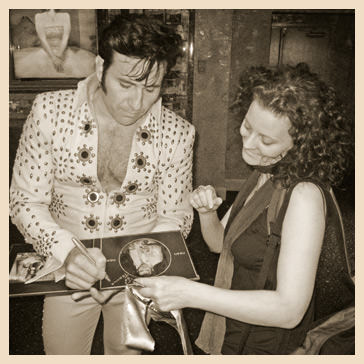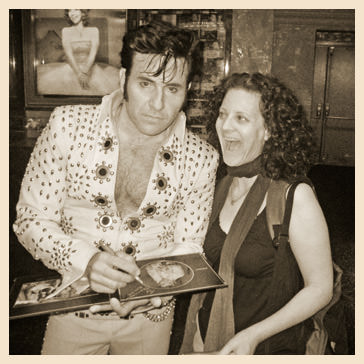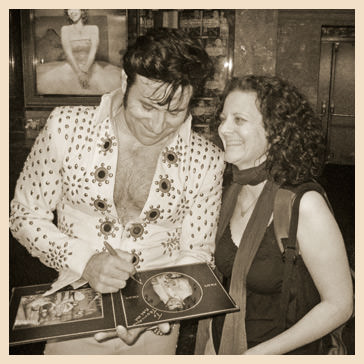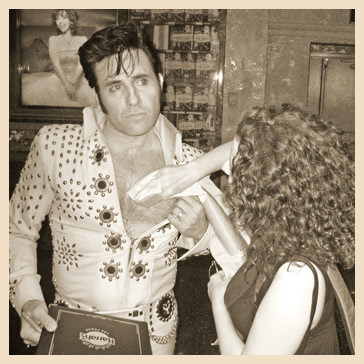 Such shameless flirting! I think she's totally found herself a new boyfriend.
And here's a crummy picture I took of our photo with my pocket camera...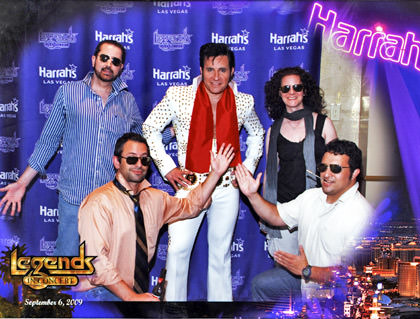 IMPORTANT NOTE: Just to be clear, that is the cuff of Brandon's shirt... NOT Elvis's penis popping out of his pants. Such genius that you'd almost swear that Brandon planned it that way. Which he probably did.
Elivis signed it "To TequilaCon Forever"...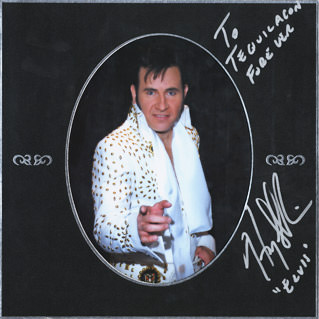 And thus ends what is probably the most perfect Bullet Sunday in the history of Bullet Sunday.
Posted on September 5th, 2009

Today was filled with surprises, and all in a good way... for once.
I started out kind of early, because I wanted to head back down the strip and see my friends off before they left to the airport. As we were wrapping things up, they asked me if I was going to the Grand Opening of the Hard Rock Cafe, Las Vegas Strip Edition. I had read that the opening was being postponed, again, so this kind of caught me off guard. So after everybody was bundled up in a taxi, I walked down The Strip and confirmed that the new property was indeed opening up this morning at 11:00.
Score!
After waiting around for 35 minutes, I was the first one "officially" up the escalator to the new venue where I found...
Disappointment.
This is an absolutely beautiful restaurant. Unfortunately, it's a pretty shitty Hard Rock Cafe. And let me tell you why... it's the memorabilia. Or lack of memorabilia, to be more accurate.
From the very moment that Eric Clapton hung his guitar on the wall of the original Hard Rock in London, rock memorabilia has been an integral part of the Hard Rock "experience" for its visitors. When you walk through those doors and see the expanse of one-of-a-kind items, it's like a rock-n-roll museum you'd find in your dreams. For music-lovers, its perfect.
But not here. Not this time.
The memorabilia is so anemic that the place barely feels like a "Hard Rock" at all. It's sad, actually. As an example, here's the bar area. How much memorabilia do you see?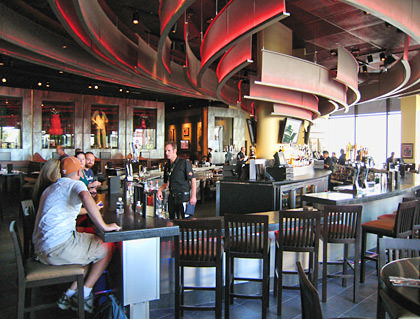 Uhhh... yeah... there's a few mannequins in the background. And what about here in the main dining room...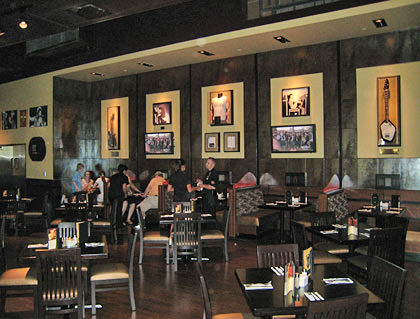 What is that... like SEVEN whole pieces and two televisions? Compare that to but one small corner of the Hard Rock Cafe in Biloxi's hotel and casino property...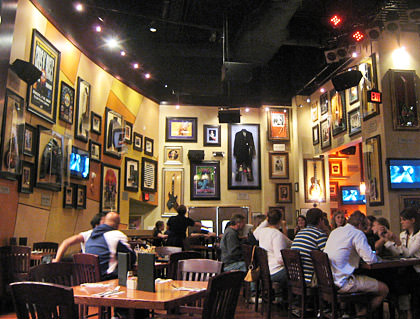 Or Lisbon, Portugal...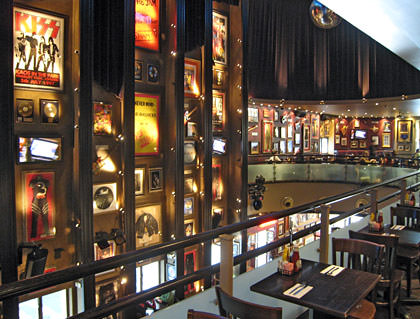 Or Foxwoods, Connecticut...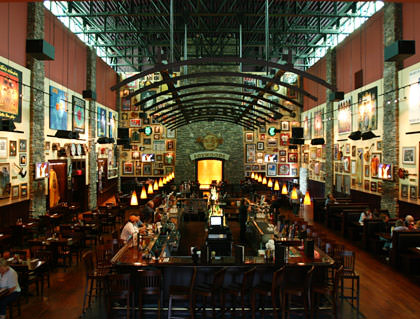 Or Memphis, Tennessee...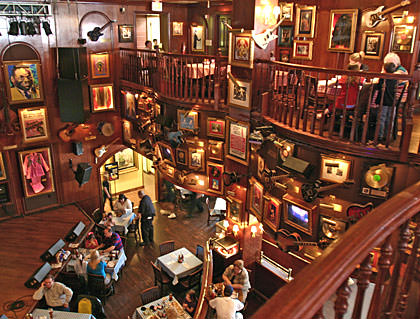 Or even the cafe they just closed in Salt Lake City...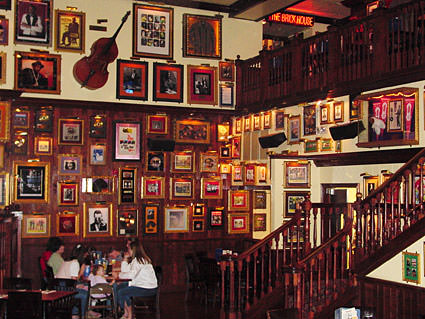 ... Just to name a few. Now those... those are Hard Rock Cafes!! The memorabilia is so thick you're swimming in it. You have to visit again and again just to see it all. THAT'S WHAT A HARD ROCK CAFE IS ALL ABOUT!!
But this new cafe on The Vegas Strip? Almost nothing. In fact, there are entire sections of the restaurant which are practically devoted to nothing. Here's the upstairs bar...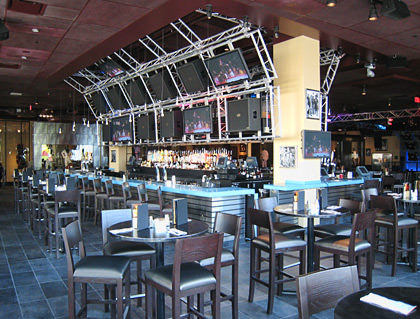 And the mini "Hard Rock Live" stage...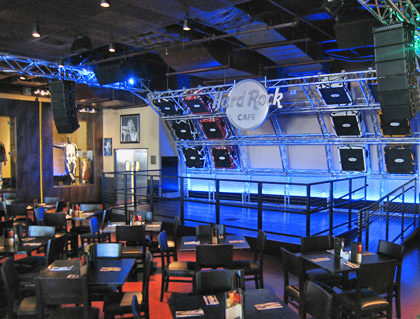 And some kind of small VIP room also upstairs...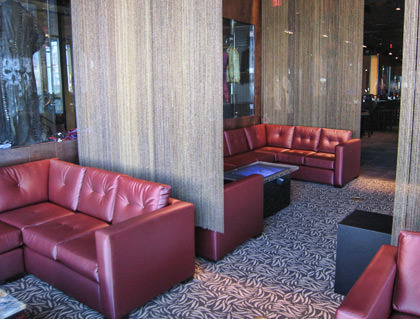 Occasional random pieces hidden away, but really nothing. NOTHING!! This is supposed to be a Hard Rock?!? The only thing that keeps the place from being a total failure is the staff, which is terrific. And also the sweet "Microsoft Surface" touch tables they've got scattered around the joint (like the one behind the curtain above). You sit down, and it's like a giant iPhone on steroids with its awesome multi-touch interface. Here I am looking at pins from various cafes...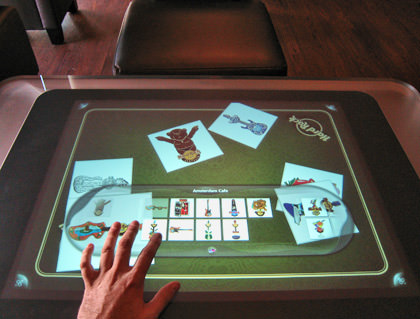 You can toss them around, rotate them, move them in and out, stack them... or even pinch and pull them to zoom in for a much, much closer look...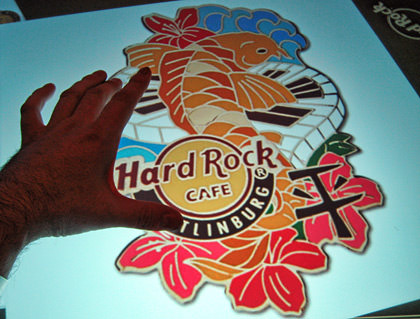 Other toys include a memorabilia viewer for cafes around the globe which you pick out from an actual spinning globe. This is cool, because it's not like this cafe has much memorabilia to look at here...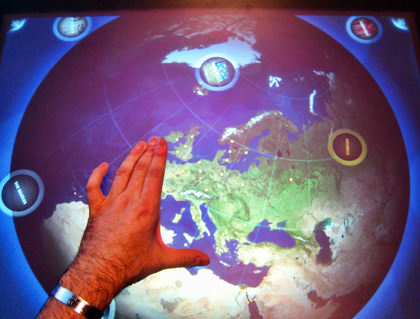 They even have distractions like puzzles, videos, and even a piano...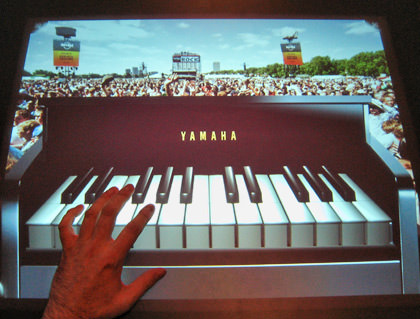 Alas, it's by Microsoft, so you have to brace yourself for all the crashes and failures...

Knowing what this cafe COULD HAVE BEEN almost makes me cry. All that wonderful space that COULD have been crammed with awesome memorabilia from the Hard Rock's extensive collection... wasted. I have no idea who is designing this shit, but somebody needs to stop them. Take the Hard Rock back to what it is at its core. Take it back to what makes it special. Take it back to what people want to see. Take it back to what makes me want to travel the globe and see them all. Take. It. Back.
Sigh.
After goofing around at the Hard Rock for a bit, I headed back to the hotel to meet up with the Official TequilaCon 2010 Planning Committee... Jenny, Vahid, and Brandon. The day kind of went like this...
Drinks. Accusations. Threats. Apologies. Sunglasses. Cigarette holders. News. Drinks. Slots. Slots. Drinks. Craps. Slots. Video Poker. Drinks. Drinks. Drinks. Drinks. Drinks. Slots. Dinner. OFFICIAL TEQUILACON BUSINESS...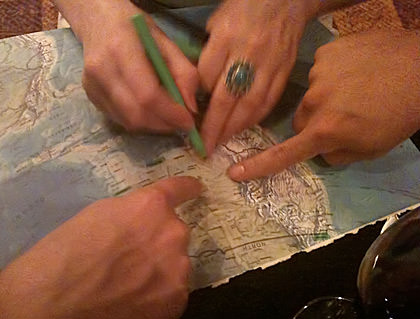 Then Walking. Goodnight Brandon. Slots. Drinks. Video Poker. Slots. Walgreens. And lastly, the Fremont Street Experience...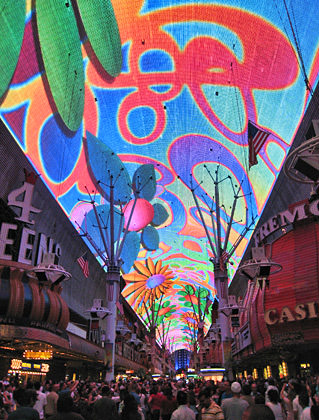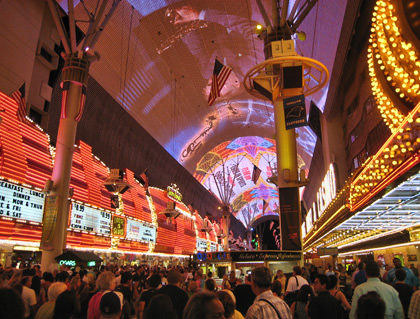 And there you have it. Just another boring day in Las Vegas, Nevada.

UPDATE: I had a long email conversation with somebody who basically asked "who are you to define what is or isn't a Hard Rock?" Which I thought was odd, because they're pretty much self-defining (as the photos I posted above will attest). But even setting that aside, just look at a description of the HRC Hurghada from the Hard Rock Cafe's own web site...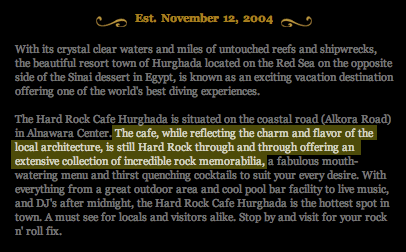 So, even at the Hard Rock Cafe corporate offices, the abundance of memorabilia is looked upon as a defining trait of a good cafe. If I'm seen as "defining" a cafe, I'm only doing so from the definition provided by the organization themselves.
Posted on September 4th, 2009

And so here I am in Sin City. I've been a lot of bizarre and strange places, but all of it pretty much pales in comparison to the bizarre and strange stuff you see in Las Vegas. Limos with hot tubs in the back... people puking on the street... half-naked partiers on the sidewalk... gamblers sobbing inconsolably... drunks EVERYWHERE... it goes on and on. Some might say this parade of non-stop debauchery is the ultimate expression of humanity's downfall. I just think it adds to Las Vegas's already considerable charm.
My day began very, very early as I drove to the airport at 4:00am for my 6:00am plane ride. From there I had three quick back-to-back flights which deposited me in Vegas around 11:00am. I packed light to avoid Horizon Airline's STUPID FUCKING $15 LUGGAGE FEE, which allowed me to skip baggage claim and head directly to my hotel.
After checking in, I played the slots for 15 minutes before winnings $200. Yay me! This money got pocketed, leaving me $62 of my original $100 daily gambling budget (which I would eventually lose, netting me out at +$100 for the day).
I'm guessing that was all the luck I'm gonna get this trip. But you never know.
I cashed out my winnings and headed out to have some drinks with a good friend and his wife whom I haven't seen in nearly seven years. That's when the magic began, as we headed out into the wilds of The Vegas Strip. We started out at The Excalibur where I decided to go out and people-watch while my friends played the tables...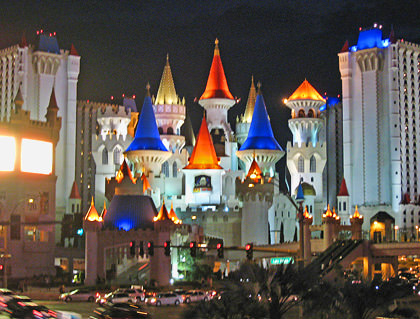 In wandering around the South end for a while, I came to the inescapable conclusion that a lot of people...
a lot
of people... come to Vegas to fight. Every 50-feet I ran into people yelling about something. One drunk woman was causing a major scene as she screamed for her boyfriend/husband to "GIVE ME SOME MONEY!!" over and over and over again. Next I'd see two people yelling over who's turn it was to buy cigarettes. More than a couple of times I overheard people fighting over where they wanted to go next. A particularly nasty brawl erupted in front of the MGM Grand Casino because, from what I could gather, one guy slept with his friend's girlfriend and was freaking out because the guy who got cheated on was threatening to tell the guy's mother on him. This might have been funny, except I'm guessing the guys were in their late 30's or early 40's.
In an attempt to get caught up on the USA Hard Rock properties I haven't visited yet, I dropped by the new cafe on The Strip (leaving only the new Hotel & Casino in Tulsa, Oklahoma remaining)...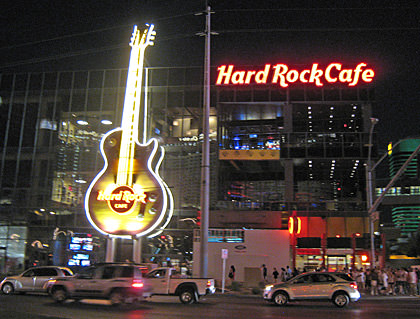 After joining back up with my friends and losing $50 at blackjack, the three of us decided to eat a late dinner at the original Hard Rock Cafe Las Vegas, located in front of the Hard Rock Hotel...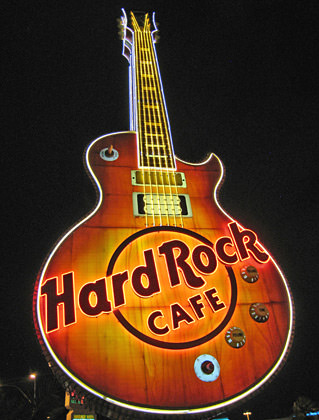 The hotel's casino is where I decided to blow my last $12 in nickel slots before we started doing Jäger shots at the bar. Oddly enough, it took well over an hour to lose my remaining money... even at MAX BET. They really know how to drag things out in Vegas... but it doesn't really matter, because the house always seems to win in the end. At least they're patient about it.
My friends were staying at Paris Las Vegas, so we decided to take the shuttle back to the MGM Grand and walk back to their hotel. I didn't have any gambling money left, but my $100 in winnings was quickly consumed in alcohol-related expenses along the way...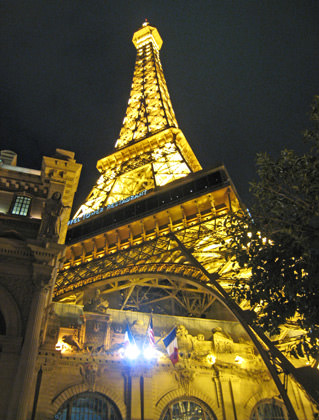 After saying goodnight to my friends around midnight, I walked north along The Strip to catch The Deuce Bus back to my hotel, when I saw something interesting at the Flamingo...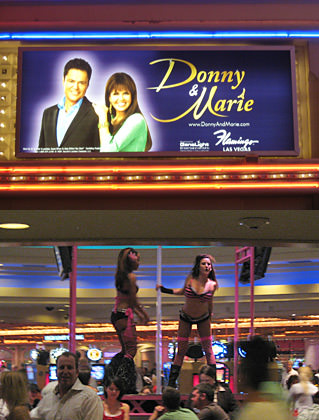 Yes, that's right... it's Mr. Morality Himself, Donny Osmond. I find it oddly satisfying that this self-righteous ass is more than happy to tell people how to live their lives according to his beliefs with his lobbying against gay marriage... and yet here he is, right next to his twice-divorced sister advertising at a venue where pole dancers are shaking their ass to beckon people inside the casino to smoke, drink, and gamble (all three of which I'd imagine are also against his beliefs). I guess Donny's moral superiority can be yours... IF the price is right.
But I'd imagine that would hold true for a lot of people in Las Vegas.
Me included!*
*My morals can be rented for very favorable hourly rates. Long-term leases also welcome!
If you're not afraid of bugs, there's more to today's post in an extended entry...
→ Click here to continue reading this entry...
Posted on September 3rd, 2009

It will be a weekend to remember.
Or possibly to forget, depending on how much I have to drink.