It's a Vegas-infused edition of Bullet Sunday!

• Classy. The most interesting aspect of Vegas is the people who show up here. People-watching is so good that could almost be a full-time activity. Hang around long enough, and you'll see it all. Drunks walking out into traffic. People puking in trash cans. Women walking through the casino in a bikini. A pickup full of cats that says "Pussy Wagon"... it's all going on in Vegas. But the best thing I saw this trip was a woman walking down The Strip in leopard print pants, a halter-top, hooker-high heels, and makeup so thick it was probably put on with a spatula. This alone wasn't unusual because half the women here look like that. But throw in the fact that she was nursing a newborn baby, and it doesn't get any classier!

• Cups. I swear, every time I come to Vegas, the drinking cups are bigger. First there was the "Big Gulp" cup. Then there was the long-neck cup. Then there was the "Yard Glass" cup. Now there's the 100-oz. Cup which is SO long (over 4-feet) that it comes with a neck-strap. I suppose next time I come to Vegas, there will be 200-oz. cups that come with a pull-cart to lug it up and down The Strip...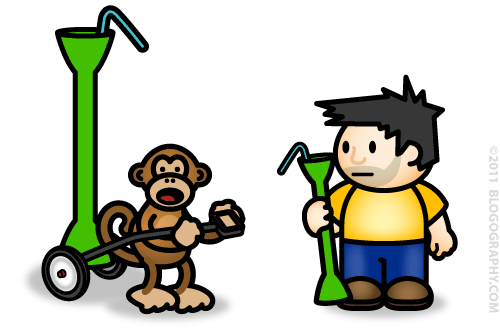 What I love is the little "Always Drink Responsibly" signs displayed where you buy these things. How could you possibly drink anything this massive responsibly? The entire purpose of buying one is to be irresponsible.

• Gambler. I'm usually pretty lucky when it comes to gambling (even though I don't believe in luck). But not this trip. I won a grand total of $17. On an "investment" of $200. I am officially poor now.

• Fremont. I'm always surprised when somebody comes back from Las Vegas, I ask if they visited Fremont Street in the "old town" and they say "no." It's such a shame, because it's such a fun experience. A lot to see and do in a rather small area...
And, of course, there's the giant-screen ceiling of the covered-walkway that spans a big chunk of the area. This time we got to rock out to Queen and Kiss, which was very cool because the sound system is great. If you ever end up in Las Vegas, don't miss a chance to visit. It's worth the $20 cab ride...

• Stargate! They will make just about anything into a slots game. TV Shows like Survivor and Sex In The City are popular, and this time I saw one I hadn't seen before based on Stargate SG-1...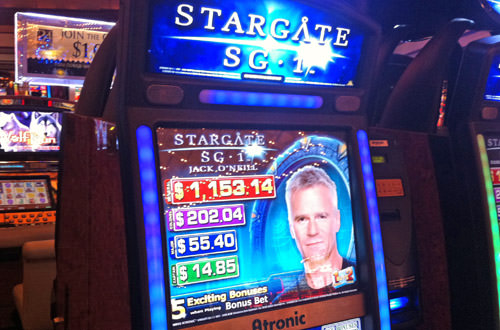 Seems a little sci-fi geek esoteric for Vegas, but it ended up being a good game (even though I didn't win any money)! There really needs to be a slots game based on Top Chef or Project Runway!

• Bloody! The perfect Bloody Mary is a difficult beast to track down. Usually because so many place make such bad ones. Imagine my surprise when it was suggested to go to Rainforest Cafe if you want a good Bloody Mary... and they were absolutely right! It's a good mix that's not too spicy and not all watery. AND it comes with potato chips on top! Genius!

• Eat! The best place to eat in Las Vegas? EARL OF SANDWICH at the Miracle Mile Shops in the Planet Hollywood Resort! The franchises are hard to find unless you live in Texas or Florida, and the shop in Las Vegas is the only location in the Western USA. Probably the best sandwich I've ever had. So good I went both days...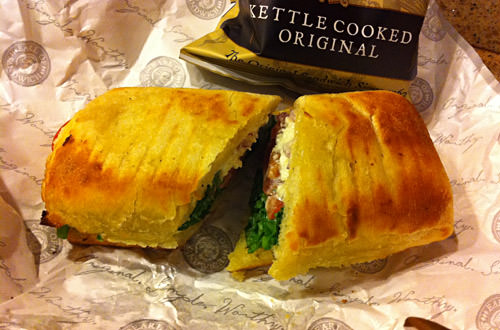 Right next door is Pink's, which is funny since I just went there when I was in Los Angeles this past week...

Annnnnd... that's a Vegas weekend in bullets. Well, the parts I can talk about anyway. Because what happens in Vegas...