Posted on March 7th, 2011

I live on a rural road with no sidewalks. It's not very pedestrian-friendly, but its home.
Tonight as I was heading home from work, a jogger was running towards me on my side of the road. Since there was a car coming in the other direction, I had two options... 1) Run over the jogger. 2) Slow down until the other car passed and I had room to get around the jogger.
Foolishly, I chose option two.
Foolishly, because as I slowed down the jogger ran by and spit on my car.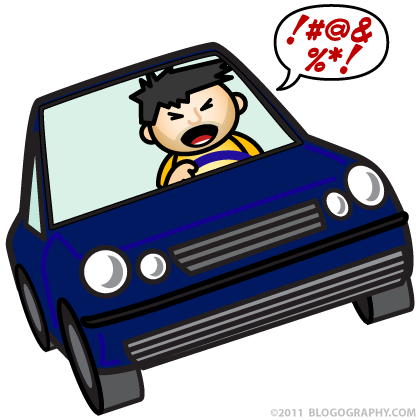 Clearly, I am doing this angry driver thing all wrong.
Posted on July 21st, 2010

The drive over to SeaTac was excruciating. It always is any more. I spend most of the trip screaming my head off because too many stupid people are doing too many stupid things and my rage goes into overload. Morons driving ten miles under the speed limit. Idiots wandering all over the road (probably texting). Dumbasses cutting in front of me. It goes on and on.
But the biggest offense, by far is fucktards driving in the passing lane, as I've mentioned a couple times before...
Exactly how difficult is it for dumbass motorists to comprehend signs like these...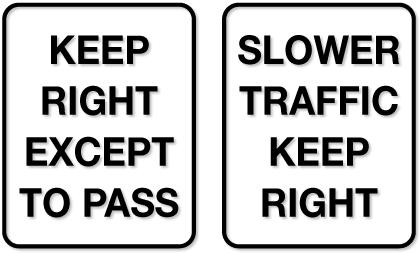 I mean, it's pretty self-explanatory. If you are not passing anybody, DON'T FUCKING DRIVE IN THE LEFT-HAND PASSING LANE!! And yet every damn time I have to drive to Seattle, I inevitable run into idiots who either can't comprehend this, or just don't care. I am of the serious opinion that if you have to pass one of these fuckers on the right-hand side, you should be allowed to follow them home, firebomb their car, and then impale them... by shoving the sign pole up their stupid ass...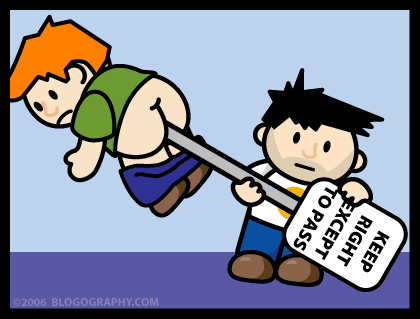 Seriously. If you won't obey the law and learn how to drive properly, then get the hell off the road.
And my travels have only just begun...
If this is only Day One and I'm this uptight, I can't imagine what I'm going to be like when I finally return home.
Probably homicidal. Certainly insane. And there's a 50-50 chance of an armageddon-level event along the way, I'm sure.
Posted on June 8th, 2010

I was having such a good day at work today. Until I made the mistake of driving back to my hotel at the end of the day.
Seattle is kind of a unique for a major city (so far as traffic goes) because it is surrounded by water on three sides. To alleviate traffic jams, most cities expand outward and build a ring road or something... but that's an option Seattle just doesn't have. For better or worse, the city is pretty much stuck with what they've got. Sure it presents some challenges and frustrations, but it is what it is, and locals pretty much deal with it the best they can...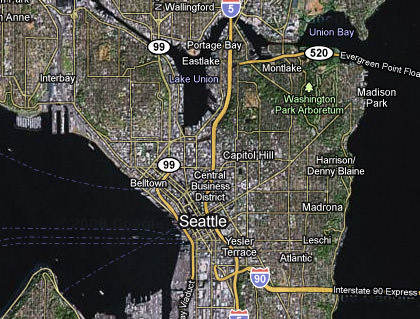 Puget Sound (Elliott Bay) to the West. Lake Washington to the East. Lake Union to the North.
A key part of the Seattle transportation system is the Alaskan Way Viaduct. It runs along Elliott Bay (of Puget Sound) at the Western edge of the city. It's a double-decker affair with southbound traffic on the lower level, and northbound on the upper deck. You can see it on the map above... it's the yellow line to the left of where it says "Seattle."
Driving the viaduct can be tricky business because the lanes are quite narrow. This means drivers are always on high alert since you just never know when a truck is going to come barreling by and drift into your lane.
When you are heading north into the city you exit off a ramp that runs into Seneca Street...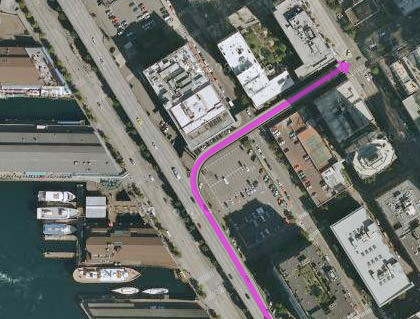 At the end of the ramp you have the option of turning left onto 1st Avenue, which is exactly what I wanted to do because that's how I get to my hotel. Today when I exited there was a big Chevy Suburban SUV ahead of me. Because somebody was crossing the street, they had to wait in the intersection. Not wanting to block traffic if the light turned red, I hung back just a little bit so I could wait my turn...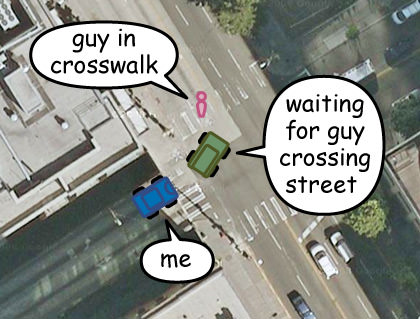 So far so good.
But then some random asshole comes screaming up behind me and IMMEDIATELY starts laying on his horn...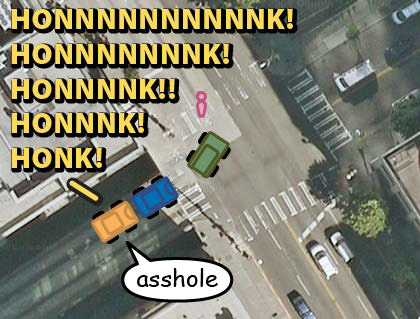 WHAT THE FUCK?!?
It's not like he couldn't see the fucking huge-ass Suburban blocking me... he HAD to have seen it. With that in mind, what the hell was his reasoning to honk at us? Even if he didn't see the pedestrian in the sidewalk, he should have at least expected that we were waiting for SOMETHING! It's not like we were just sitting there for the fun of it. Besides, WHERE IN THE HELL AM I SUPPOSED TO GO? Am I just supposed to run over a Suburban AND a pedestrian to make this prick happy?
I can only guess that this particular asshole is one of those people who automatically lays on the horn the minute he runs across something blocking his path... whether it's deserved or not.
I fucking HATE these idiots.
In the interest in maintaining a civil society, it should be legal to pull out a gun and just unload on their rude, stupid asses. They have no place... NO PLACE... living amongst sane, rational, well-mannered people... let alone driving amongst us.
And now my day has been ruined.
To make myself feel better, I am going to go drink beer now.
Posted on March 15th, 2010

One of these days, I'm going to mount a video camera on my dashboard so I can have evidence of just how insane my 5-minute commute home can get. Today I added stops at the post office and the bank, which just tripled the crazy-ass shit I had to deal with. Being cut-off twice, nearly hit three times, and fuming over the SEVEN CARS coming from the opposite direction that DIDN'T stop while I waited to let a young boy cross the street... it's no wonder I'm near-homicidal by the time I get home. ARRRRRRRRRGH!
But anyway...
Peter Graves died over the weekend, which was some really sad news for me. As a mega-huge fan of both his Mission: Impossible television series and the Airplane movies, Graves has been a permanent fixture in my memory as both a brilliant source of suspense and comedy, which is a rare thing for an actor. My respect for him only grew when he turned down what was certainly a nice chunk of money to reprise his Jim Phelps role in the Mission: Impossible movie. The film totally betrayed the character, and Peter Graves would have none of it, which is really cool.
I always held out hope for another Airplane movie, but any attempt to do so now without Captain Oveur in at least a cameo would be a huge mistake. Most of the best scenes in Airplane are his...

"Joey, do you like movies about gladiators?"
Oveur and out.
Speaking of scenes...
There's a very cool article over at The Guardian where their film critics pick their favorite movie scenes. That got me to thinking about what my favorite scenes might be, so I decided to take a stab at listing them over the next several weeks for MOVIE SCENE MONDAYS! The first scene I look at is from Katheryn Bigelow's Strange Days released in 1995. There be SPOILERS below, and the film is well-worth watching if you haven't seen it, so don't click through unless you have!
→ Click here to continue reading this entry...
Posted on February 22nd, 2010

After an unexpected extra day in Seattle, I'm back home again.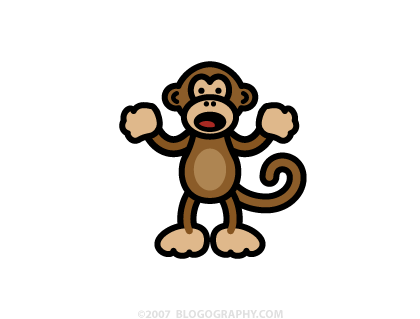 Other than nearly getting run off the road by a car from the opposite direction driving in my lane, that's about it.
Posted on July 21st, 2009

Today I paid $6.49 for a bag filled with two cups of slivered almonds. The shock still hasn't worn off, because that's nearly $16 per pound. By shopping online, I could get the exact same thing for $6 per pound. This sounds like an incredible bargain, except shipping and handling charges end up being about $10 which means I'm right back where I started. Things like this drive me insane when I think about it, so I am very careful to turn off my brain when I go to the grocery store. Apparently everybody else is doing the same thing, which is why everybody is wandering around in a zombie-like haze.
This is a good plan, assuming you turn your brain back ON when you get to the parking lot.
Today I found out that most people do not do this, resulting in zombie drivers...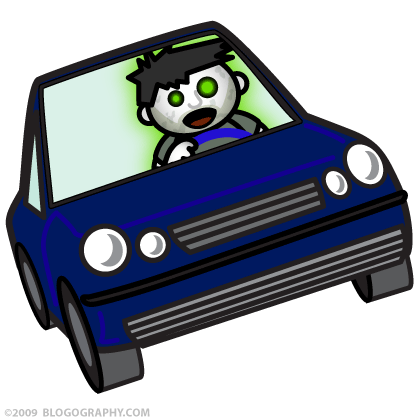 This was made clear to me as I watched two cars gunning towards the exit at the same time... each completely ignoring the lanes painted on the pavement. It was quite distressing because I was in the proper lane to exit the parking lot, which meant I had cars coming at me from both sides.
The first car arrived on my right. The driver was apparently very impatient, because they honked their horn at me while I was looking to make sure no traffic was coming. This caused me to become instantly enraged for two reasons... 1) It was unnecessary and rude. 2) I WASN'T THE ONE WHO WAS IGNORING THE TRAFFIC LANES!
I reached for my gun, but then remembered that I subscribe to Buddhist precepts which forbid me from owning one, so there was no gun to be found.
So instead I ignored the asshole and exited the parking lot. Which was just as the second car arrived on my left. This caused another round of honking as two cars... both ignoring the traffic lanes... attempted to exit at the same time. To make matters worse, a car arrived wanting to enter the parking lot, but couldn't get in because the two cars were blocking her. I didn't stick around to see how it all worked out. For all I know, they are all still there honking at each other.
It is getting to the point where I hate... hate... to drive anywhere because it's wall-to-wall dumbasses everywhere you go. Everybody seems to have their brain turned off, and so it's just not fun (or even safe) anymore.
So you can imagine how thrilled I am to be making the three-hour drive to Spokane tomorrow.