The drive over to SeaTac was excruciating. It always is any more. I spend most of the trip screaming my head off because too many stupid people are doing too many stupid things and my rage goes into overload. Morons driving ten miles under the speed limit. Idiots wandering all over the road (probably texting). Dumbasses cutting in front of me. It goes on and on.
But the biggest offense, by far is fucktards driving in the passing lane, as I've mentioned a couple times before...
Exactly how difficult is it for dumbass motorists to comprehend signs like these...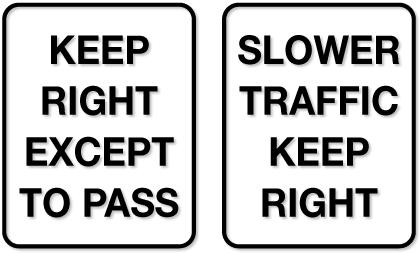 I mean, it's pretty self-explanatory. If you are not passing anybody, DON'T FUCKING DRIVE IN THE LEFT-HAND PASSING LANE!! And yet every damn time I have to drive to Seattle, I inevitable run into idiots who either can't comprehend this, or just don't care. I am of the serious opinion that if you have to pass one of these fuckers on the right-hand side, you should be allowed to follow them home, firebomb their car, and then impale them... by shoving the sign pole up their stupid ass...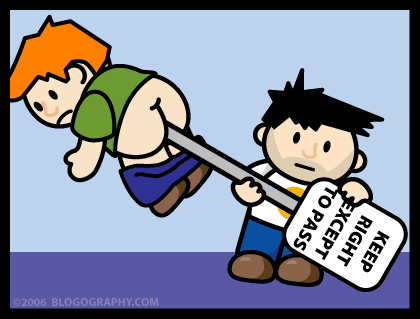 Seriously. If you won't obey the law and learn how to drive properly, then get the hell off the road.
And my travels have only just begun...
If this is only Day One and I'm this uptight, I can't imagine what I'm going to be like when I finally return home.
Probably homicidal. Certainly insane. And there's a 50-50 chance of an armageddon-level event along the way, I'm sure.