We were hit by a deluge this afternoon, with the rain falling so hard that leaves were being ripped from the trees. This made it really difficult to drive on the highway because the water was piling up faster than it could run off the road. Some cars started hydroplaning and losing control, so everybody slowed down to a more appropriate speed and everything was fine.
Until some dumbass came ripping down the highway at top speed, skidding through the water while weaving in and out of traffic. As he attempted to pass me, he slid so close to my car that I thought I would lose my side-mirror, but I managed to turn and brake quickly enough that I didn't get hit. That I nearly ended up in the ditch didn't mean anything to the asshole, and he sped off to even more dangerous encounters as horns were blaring around him.
The hospital was in the opposite direction, so I have no idea why he was in such a hurry, but I wouldn't be surprised if he eventually ended up killing somebody.
Oh, excuse me, murdering somebody.
Because driving like a psychopath in such bad weather conditions is an intentional bid to kill someone... there would be no "accident" here. And yet, even such a reckless regard for safety (including his own) didn't seem to register as he was skidding all over the road.
Which makes me think about the old "If you could go back in time and kill Hitler, would you do it?" question. No, this asshole driver probably isn't going to end up responsible for killing millions of people... but do the numbers really matter when murdering even one person is a tragedy? Everybody is important to somebody.
And so there I am behind the wheel watching in horror as some dumbass is skidding all over the place while other drivers try their best to avoid him. And it occurs to me that I don't have to go back in time to kill this asshole and save lives... I could follow him home and kill him right now!
Not that I would actually do it, of course. But what about the person that would? Like me, they come to the whole "kill Hitler" quandary and then, unlike me, decide to do society a favor and eliminate the bastard driver. What about them?
So drive safe everybody. It's not just an accident that can kill you.
And speaking of something that can kill you...
Pizza Hut in the Middle East has introduced "Crown Crust Carnival Pizza" where cheeseburgers or chicken nuggets are baked into the crust!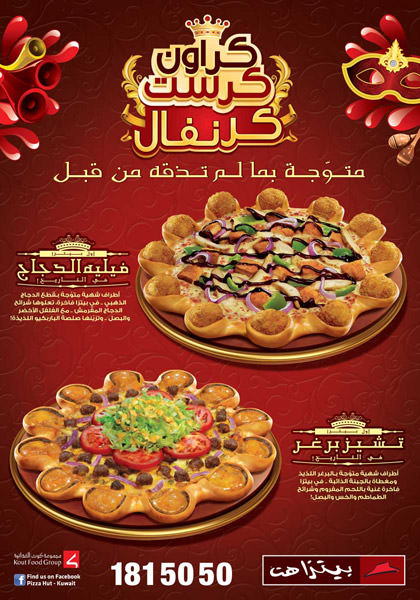 GENIUS! It almost makes me wish I wasn't a vegetarian. And I lived in Kuwait. And I had a deathwish.
It's only a matter of time before they start putting chocolate cake in the crust so you can have pizza and dessert at the same time. I can't tell you how happy I am to be alive during an era of such magical culinary innovation. But it's pretty happy.