I was having such a good day at work today. Until I made the mistake of driving back to my hotel at the end of the day.
Seattle is kind of a unique for a major city (so far as traffic goes) because it is surrounded by water on three sides. To alleviate traffic jams, most cities expand outward and build a ring road or something... but that's an option Seattle just doesn't have. For better or worse, the city is pretty much stuck with what they've got. Sure it presents some challenges and frustrations, but it is what it is, and locals pretty much deal with it the best they can...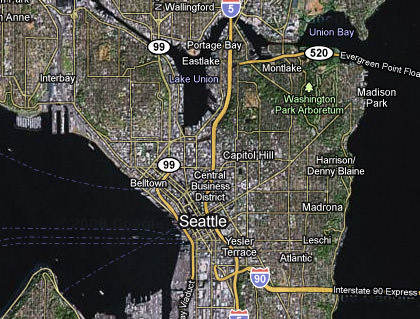 Puget Sound (Elliott Bay) to the West. Lake Washington to the East. Lake Union to the North.
A key part of the Seattle transportation system is the Alaskan Way Viaduct. It runs along Elliott Bay (of Puget Sound) at the Western edge of the city. It's a double-decker affair with southbound traffic on the lower level, and northbound on the upper deck. You can see it on the map above... it's the yellow line to the left of where it says "Seattle."
Driving the viaduct can be tricky business because the lanes are quite narrow. This means drivers are always on high alert since you just never know when a truck is going to come barreling by and drift into your lane.
When you are heading north into the city you exit off a ramp that runs into Seneca Street...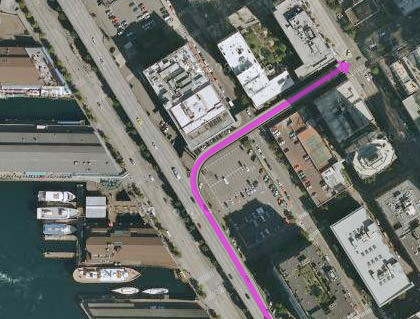 At the end of the ramp you have the option of turning left onto 1st Avenue, which is exactly what I wanted to do because that's how I get to my hotel. Today when I exited there was a big Chevy Suburban SUV ahead of me. Because somebody was crossing the street, they had to wait in the intersection. Not wanting to block traffic if the light turned red, I hung back just a little bit so I could wait my turn...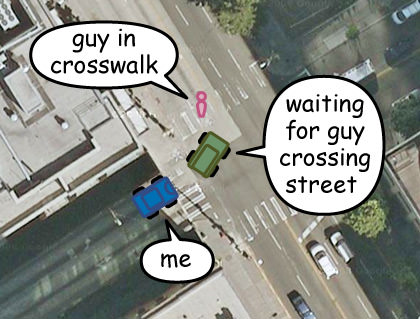 So far so good.
But then some random asshole comes screaming up behind me and IMMEDIATELY starts laying on his horn...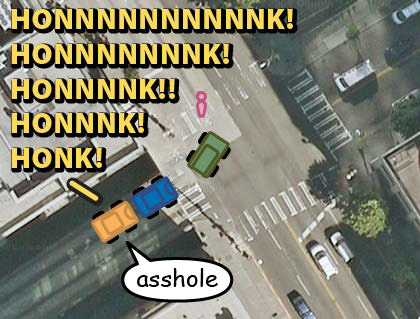 WHAT THE FUCK?!?
It's not like he couldn't see the fucking huge-ass Suburban blocking me... he HAD to have seen it. With that in mind, what the hell was his reasoning to honk at us? Even if he didn't see the pedestrian in the sidewalk, he should have at least expected that we were waiting for SOMETHING! It's not like we were just sitting there for the fun of it. Besides, WHERE IN THE HELL AM I SUPPOSED TO GO? Am I just supposed to run over a Suburban AND a pedestrian to make this prick happy?
I can only guess that this particular asshole is one of those people who automatically lays on the horn the minute he runs across something blocking his path... whether it's deserved or not.
I fucking HATE these idiots.
In the interest in maintaining a civil society, it should be legal to pull out a gun and just unload on their rude, stupid asses. They have no place... NO PLACE... living amongst sane, rational, well-mannered people... let alone driving amongst us.
And now my day has been ruined.
To make myself feel better, I am going to go drink beer now.