Posted on April 15th, 2021

This morning I finally managed to keep my Honey-Nut Cheerios down. A little nausea after, but nothing terrible. I managed to hang in at the office for three hours, so that was new. By the time I got home I was exhausted but my appetite had come back. Starting small, I had a slice of dry toast. Then a couple shortbread cookies for lunch. No nausea. I'M CURED!
So what's going to be mysterious first real meal since Saturday? What I really, really wanted was a good salad. An awesome salad.
Yes, I was shocked too. I was sure it would be pizza.
Butter Lettuce. White Cheddar Shreds. Italian Croutons. Slivered Almonds. Dried Cranberries. Freshly-Ground Black Pepper. And a good pour of Olive Garden Parmesan Ranch Dressing...
Maybe it was having gone (mostly) without food for 4-1/2 days, but it was a phenomenal dinner. As was the Crystal Light Concord Grape Drink I had with it.
Somehow my amazing meal got my mind running through my favorite green salads, which I will list here before signing off because I have nothing better to do...
Italian. The salad itself at Olive Garden is nothing groundbreaking... iceberg lettuce, Roma tomatoes, purple onion, olives, Italian croutons, pepperoncini peppers, parmesan cheese, and fresh-ground black pepper. No, it's the Olive Garden House Italian Dressing that makes it so fantastic. Thankfully, it's available in stores, which means I can easily make my favorite Italian salad at home any time I want.
Chopped. The Hard Rock Cafe got me hooked on putting dried cranberries on my salads. Over the years I've stolen ideas from many other restaurants to create the perfect chopped salad. Butter lettuce, cherry tomatoes, thawed frozen peas, dried cranberries, thinly-sliced green onion, pumpkin seeds, medium cheddar shreds, croutons, hard-boiled egg, and freshly-ground black pepper. The topper is either a very good ranch dressing (Olive Garden's Parmesan Ranch is incredible) or a creamy French, depending on my mood.
Vegetarian Cobb. This is a close cousin to my chopped salad... but using chopped romaine lettuce, faux bacon pieces, avocado dices, hard-boiled egg, chopped hot-house tomatoes, either blue cheese or feta, and thawed frozen corn (in place of the chicken that's on a classic Cobb salad). I usually go for a nice honey-mustard dressing on this one.
Greek. Yeah, it's the feta that makes this a favorite. Chopped Roma tomatoes, diced cucumber, diced avocado, red onion, chickpeas or cous cous, chopped red bell pepper, black olives, feta cheese, pita chips, and freshly-ground black pepper. Sometimes I'll toss in iceberg lettuce to make it more of a meal. The dressing is a toss-up depending on my mood. Sometimes I like a creamy Greek yogurt dressing... other times a classic red wine vinaigrette.
Taco. Always a treat... especially on a hot summer's day with a cold Pacifico beer. Iceberg lettuce, black beans, diced tomato, diced avocado, thawed frozen corn, Beyond Meat Fiesty Crumbles (or cooked quinoa), Mexican cheese blend, diced green onion, and taco chips. Top with a blend of three parts Thousand Islands dressing to one part sour cream and a spinkling of chopped cilantro.
Pear. It's really tough to beat a pear salad during that short window where Bartlett pears are fresh off the tree. Summer salad greens, dried cherries, candied walnuts, and parmesan. Top it off with a good balsamic and you're golden.
Summer Berry. This is almost more of a dessert than a salad, which is okay by me! Summer salad greens, strawberries, raspberries, blackberries or blueberries, toasted walnuts or almonds, thinly-sliced/baked beets, diced shallot, crumbled feta, and sunflower seeds. Best topped with a sweet honey and berry vinaigrette.
Apple. An awesome salad for Fall harvest days. Mixed greens, dried cranberries, candied slivered almonds, mild gorgonzola cheese, diced mild onion, and a sprinkling of bread crumbs. Top with an apple cider vinaigrette.
Watermelon. Not really green-salad apropriate, I'm still tossing this in here because it's such an amazing salad. Sweet ripe watermelon, scored baby cucumber slices, diced fresh basil, crumbled feta, and a few grinds of black pepper. For a dash of added flavor, I usually drizzle with a mix of light oil, rice wine, and lime zest.
Posted on April 14th, 2021

Today I managed to keep down a half a plain bagel for lunch and a small bag of Rold Gold Tiny Twists pretzels for dinner. My salvation, however, has been ginger ale. I haven't even been able to keep down water since Sunday, but ginger ale will stay down if I don't do anything too stressful... like get up and walk while drinking it. Without ginger ale, I'd likely become dehydrated and die or something.
In related news... half-bagels aside, I'm wasting away.
I've always said I'm one stomach flu away from my goal weight, and it's really happening, people! I was 185 lbs. just last week... now I'm at 177. If things keep going like this I'll be at 165 in no time!
I'm going to have to start wearing a belt because my jeans are so loose that they are falling off of me...
Interesting to note that in September of 2019 I was at 170. Thanks to quarantine I got up to 193, which is the heaviest I've ever been. 23 pounds from where I'm usually at! It has taken a LOT of effort to get the weight back down, which tends to happen as you get older, it would seem. I suppose it's just more incentive to take it off and keep it off while I still can?
Seven pounds to go, I guess. Twelve if I'm ambitious.
Which, let's face it, I'm probably not.
We're still in quarantine, after all. My ambition has left the building.
Posted on April 13th, 2021

Oh no, I'm sick!
Some kind of stomach bug got me on Sunday and I have been struggling ever since. Yesterday was horrific, I'm not going to lie. I have never in my entire life vomited THAT badly. And I used to drink tequila! It felt like I was being turned inside-out.
I took it easy the rest of the day and was feeling much better this morning. Not wanting to push myself too hard since I wasn't feeling 100%, I had a small handful of dry Honey-Nut Cheerios before heading to work.
I lasted about 15 minutes.
Barely made it home in time to unleash instant breakfast in my toilet bowl. Then went directly to bed to sleep off whatever this is. Which is not easy because I could not get comfortable. Everything hurt. Especially my neck, which meant I couldn't lie down or sit up. Eventually I took sleeping pills and passed out.
And here I am. Half-laying, half-sitting-up, and all miserable. But at least I have TikTok, amiright? I swear... THIS is my new television. The creativity and brilliance in these tiny video snippets are just incredibly good. This one nabbed me immediately, and I spent way too much time going through all the rest of Josh's TikToks...
Fingers crossed I can eat my Cheerios in the morning... because it's the little things, you know?
Posted on April 12th, 2021

Well... this has been... a day. I guess. Stupid Monday.
If I had a better weekend, I would probably have been in better shape to deal with it all but, alas, here we are.
It's kinda sad that I haven't developed better adversity coping skills after all these years, but I guess it's just not where my skillset landed. Which reminded me of this TikTok, which is an excellent metaphor to be had...
The original video is equally dead-on hilarious...
I mean... holy crap!
This past Saturday as I was trying to distract myself from feeling sick all day, I watched a bunch of television, starting with the Doctor Strange movie. This took me through a Benedict Cumberbatch run that included some episodes of Sherlock and Star Trek Into Darkness...
When this movie first debuted I was... disappointed?... I guess is the word I'm searching for?
On one hand, the visuals and special effects were jaw-droppingly beautiful and the action intense. The cast, as with the first movie, was flawless. But the film was also a needless remake of the best Star Trek flick of all time: Star Trek II: The Wrath of Khan. It was like... why?!? There were hundreds of new directions the franchise could head, but they decided to put a new spin on already-great material just because they could. And then there was the worst-kept secret of 2013... Benedict Cumberbatch was playing Khan Noonien Singh, originally played brilliantly by Ricardo Montalbán.
But on a fresh viewing where I know what to expect and can separate the remake from the original, I was able to appreciate it better. Mostly because it's just so dang stunning to look at. Plus it had a cameo by Leonard Nimoy. Still hate the disaster porn ending... Lord is that a tired trope... but, overall, not the huge disappointment I remembered.
I wonder how many other films would change my mind if watched anew?
And now we return to my butt-puckering day, currently in progress.
Posted on April 8th, 2021

There's a meme going around TikTok asking people to show a scar they have and then tell the story behind it. What's surprising is how many people have scars. I would have thought that this would be a rare event, but everybody seems to have a story.
I have a small scar on my ankle from when I was riding my bike barefoot. But the more interesting scar is on my left thumb...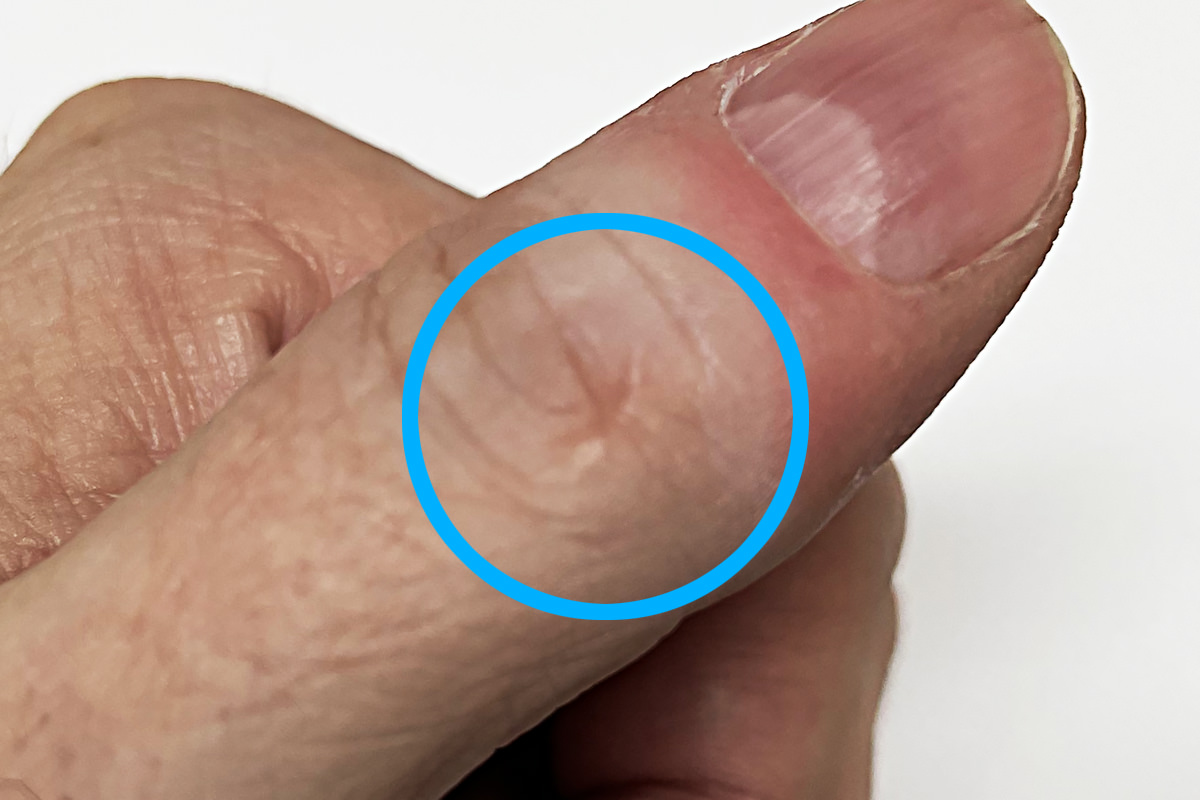 When I was young I got frostbite in my fingers and never totally recovered. I don't even remember how it happened. Probably just playing outside or something. It got a little better as I grew up, but kinda "stuck" in my twenties. I have a good sense of touch, but my pain receptors are messed up. As an example, I feel heat enough to know when something is "hot" but not enough to know when it's boiling my fingers off.
This can be a problem.
Like when I'm using a hacksaw to cut through a pipe.
Sometime in my teens I was sawing with my right hand and holding the pipe in my left hand. As I got to the end I noticed red on the hacksaw blade. Turns out what I thought was vibrations on my thumb from sawing was actually me slicing through my thumb.
It didn't hurt, but it was an awful mess.
I ran to the bathroom and slowly poured a bottle of hydrogen peroxide on it to clean things out... then taped it together with Band-Aids and wrapped it. It continued to bleed for days and I probably should have gotten stitches, but it all turned out okay in the end.
And I got a cool scar to remind me that I have to be extra careful with my hands in life or else I'll end up with missing digits.
I also got a story for my blog on a slow news day.
Posted on April 6th, 2021

Well that was a day.
The plan was to work just a half-day since I worked on Good Friday, which was supposed to be a holiday. That way I could tear apart my living room to deep clean all the stuff that's been neglected during the pandemic. Now that I've been half-vaccinated I'm starting to think about the day that people will be able to visit me again, and that's inspired me to clean house. Finally. Which is very Mary Sunshine of me given that COVID infection rates are on the rise again. The vaccine rollout has lured everybody into a false sense of security, so people are doing some crazy-ass shit. Even those who haven't been vaccinated. Especially those who haven't been vaccinated (and are proud to announce it).
Yesterday the Texas Rangers hosted a baseball game with 38,238 in attendance. A lot of them unmasked, of course. Doesn't seem especially smart given that the UK variant is now the dominant strain in the USA. It spreads more easily and has a higher mortality rate than "original COVID." Even worse, now there's "Post COVID Syndrome" where healthy people who recover from COVID end up with serious long-term effects. And the statistics are staggering. 30% of people who had COVID continued to have symptoms up to 9 months later. And that's just the tip of the iceberg. We don't have enough data to know what can happen after that 9 month period. Doctors worry about everything from immune system deficiency to long-term permanent brain damage.
As if COVID killing young healthy people wasn't bad enough?
But anyway... I ended up working a full day (and then some) after which I was too exhausted to clean. Instead I made tacos for Taco Tuesday then plopped on the couch and watched movies for the rest of the night... The Birdcage (81% on Rotten Tomatoes), Kingsman (74% on Rotten Tomatoes), and The Secret Life of Walter Mitty (51% on Rotten Tomatoes). AKA "Those movies I love and never get tired of watching even though I've seen them a million times." It's the last one that has always puzzled me when it comes to the reviews...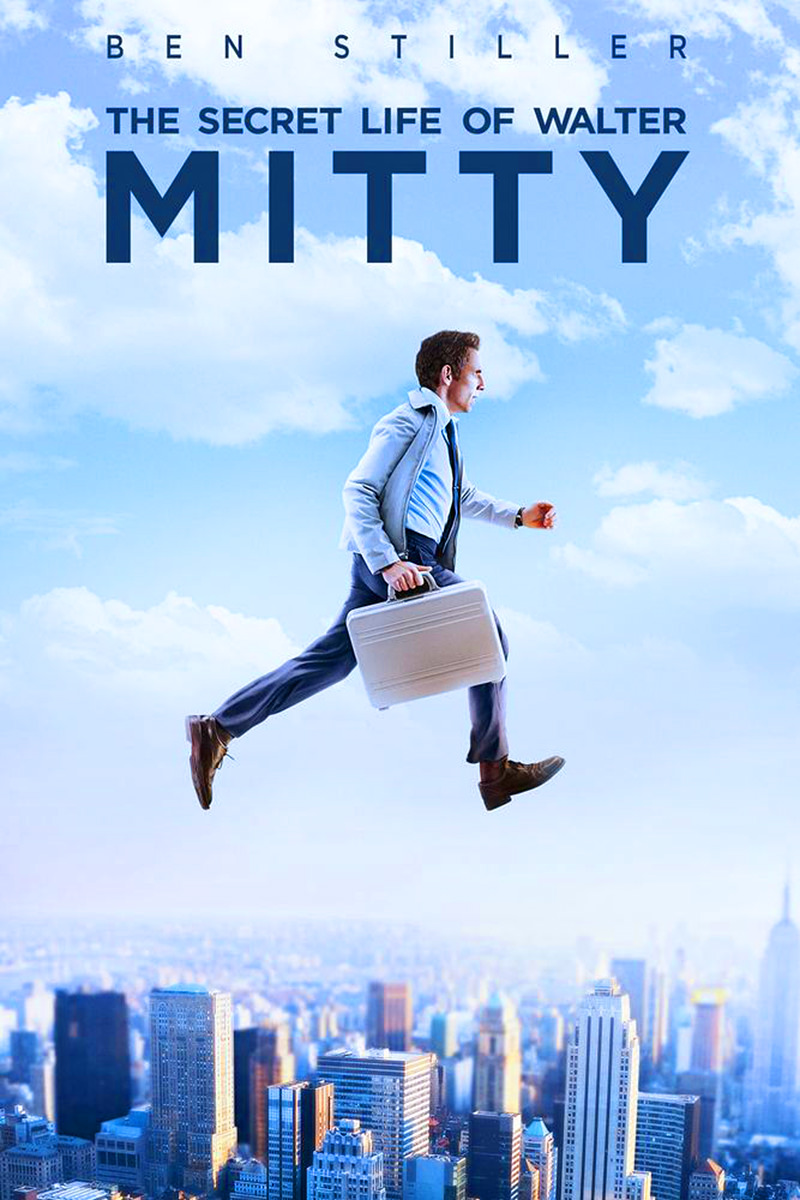 Despite not being the biggest Ben Stiller fan, I love this movie. Really love it. And for oh-so-many reasons right now, I find myself relating to it more than ever. Yet it got mediocre to negative reviews and I honestly don't get it. I found it to be refreshing escapist fun that shows what happens when you start living the life you've always dreamed about. Stiller is incredible in it, which is all the more remarkable when you consider that he directed the film as well. And just look at the supprting cast! Kristen Wiig, Shirley MacLaine, Kathryn Hahn, Adam Scott, and Sean Penn... does it get much better than that?
Oh well. Everybody's entitled to their opinion. It's just a shame that the critical consensus likely kept people from seeing it. But I guess I've watched it enough times for ten people, so there's that.
Say... does anybody remember The Secret Lives of Waldo Kitty?
What a great series! I think along with Top Cat this was one of my all-time favorite cartoons as a kid. They don't make 'em like that any more!
And since it's close to midnight now, I guess I'll clean house tomorrow. Maybe.
Posted on April 4th, 2021

You may be tempted to go hunting for eggs, but hold onto that basket a minute... because an all new Bullet Sunday starts... now...

• Bunny! Easter was kinda a big deal for my mom. She was 100% all-in on the Easter baskets, decorations, hiding eggs, candy, Easter Bunny, and the whole bit. Because of it, I have a lot of fond Easter memories...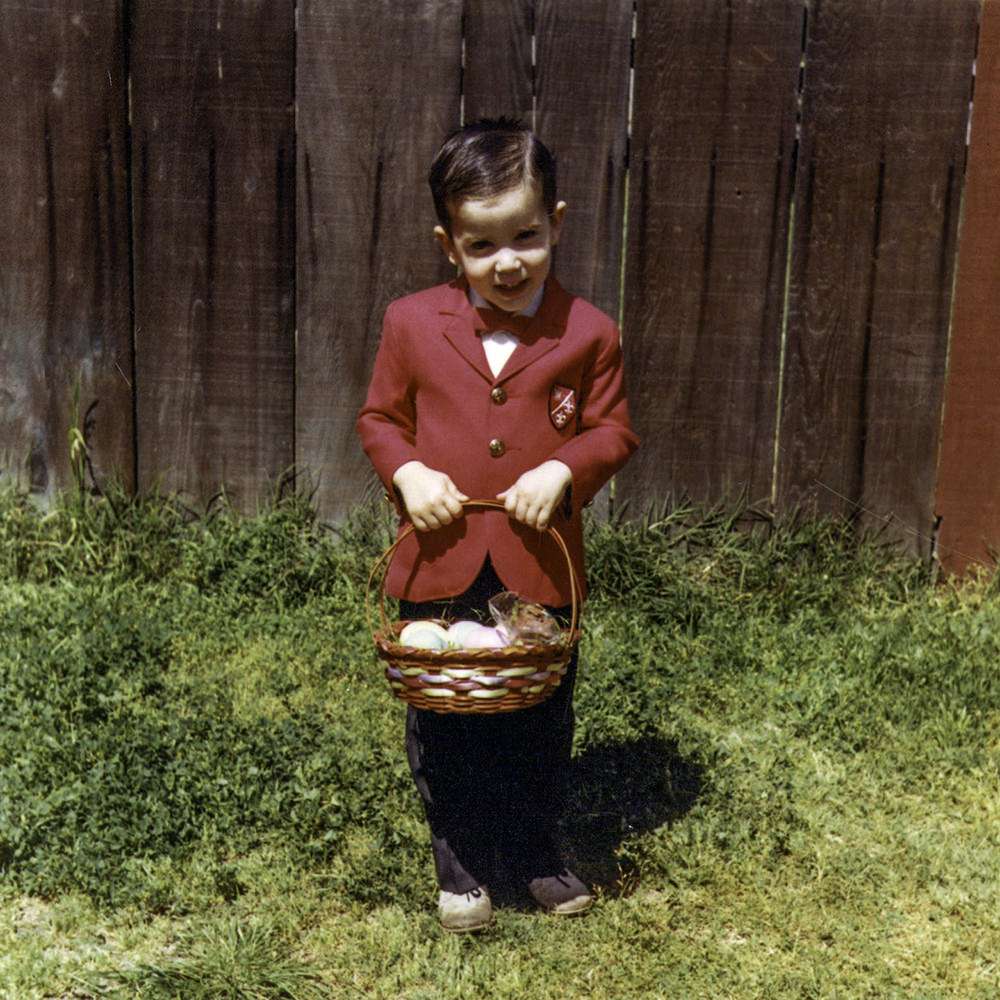 Meanwhile I celebrated the holiday by giving myself a terrible haircut, cleaning a little bit of my horrifically filthy house, and washing my sheets. Now I am eating Chili Cheese Fritos and drinking a Coke Zero (I think Chili-Cheese is my favorite Frito because they contain more MSG than any other snack chip). Jake and Jenny are celebrating by taking a nap. And now I think I'll call it a day. It's 10am, and I'm done. Happy Easter!

• To The Louvre! I did not know that The Louvre had put so much of their collection online. This is amazing. I wish all museums would do this...

Image © Musée du Louvre Paris

Image © Musée du Louvre Paris

Image © Musée du Louvre Paris
You can even download low-res images to make your own personal collection! Nice! Even more interesting... they are offering virtual tours since the museum itself is closed because of the pandemic. I really hope they keep this all going when we get back to "normal." Some people will never get to visit The Louvre any other way, and it's not like it will take the place of an actual visit for those who can visit in person. But anyway... you can find it all on their website.

• RICK! Oh thank heavens...
Seriously some of the smartest stuff on television. Cannot wait.

• The Poverty! I think I laughed for five solid minutes after watching this...
Soooo... guess it's a good thing that I got the Pfiezer vaccine! I now have luxury running through my veins!

• Unreal! And speaking of vaccines... I am so fucking sick and tired of stupid...
Nobody gives a shit about reality any more. They just create whatever idiotic bullshit they want to fit their narrative. And people are happy to keep listening to them even when their crap is completely debunked.

• Engineering! If you've ever had one of those paper-box beverage containers, the way they open is rather cool. As you open the lid, it cuts the seal on the container inside. I've always wondered about how it works, but never bothered to cut one open to find out. Now I don't have to...
Pretty nifty stuff!

• Paper! The U.S. measurement standards are SO stupid. Bypassing the metric system is about as idiotic as it gets. This very, very cool video explains just one of the reasons why...
One of these days I'm going to rewatch all of CGP Grey's videos from start to finish. That would be a day well-spent.

And that's all she wrote.
Tags:
Art
,
Bullet Sunday
,
CGP Grey
,
COVID-19
,
DaveLife
,
Easter
,
Pandemic
,
Rick and Morty
,
Television
,
Vaccination
,
Videos
Categories:
Bullet Sunday 2021
,
DaveLife 2021
,
Movies 2021
,
Television 2021
—
Click To It:
Permalink
—
0 Comments: Click To Add Yours!
Posted on April 1st, 2021

I am glad to see that the number of April Fools jokes online have plummeted. This is just not the time. I wish people would drop it completely, because it's never really the time for me. But I'm no fun like that.
This morning I found some of my old MAD magazines and books when I was looking for a certificate I needed. Boy did that take me back.
One day when I was in Middle School on my way to class, a friend returned a MAD book that they had borrowed. I didn't think anything of it and threw it on top of the books I had under my arm. After taking my seat, the science teacher saw the book and snatched it off the table. I wasn't looking at it... it was just sitting there. Apparently that was offensive enough to him that he was compelled to take it. After class I asked him for it back and he turned all red-faced and said "NO!"
He was always a bit of an asshole, but taking my personal property for no reason? Fuck him.
A month-and-a-half later it was the last day of school. I didn't want to risk asking for my book back and having him refuse, so I had my mom write me a note asking him to return my property. After class was over, I handed it to him. He threw it on his desk and ignored it.
So I asked him to read it now.
And he did.
At which time he was consumed with rage.
"I THOUGHT IT WAS A NICE NOTE THANKING ME FOR BEING A GOOD TEACHER OR SOMETHING... BUT INSTEAD YOU WANT YOUR BOOK BACK?!?" He then pulled open a big drawer on his desk that was filled with confiscated crap. "IS THIS THE BOOK?!?" It wasn't. "WELL HOW ABOUT THIS ONE?!?" Yes. That's my book.
He threw it at my face. I was THIS close to telling him to go fuck himself and the last thing I would do is write a note praising him when he was a bargain-basement teacher at best, but instead I said "Thanks so much! Have a great summer!" because I knew that would piss him off more. And what did I care? I was off to high school.
It was at that moment I wondered if he would fail me or lower my grade. He didn't... probably because he knew I would call him on his bullshit... but I am fairly certain that he wanted to quite badly.
And speaking of people getting mad about nothing...
The beautifully-crafted Lil' Nas X music video for Montero (Call Me By Your Name) is causing quite the uproar. Probably because Lil' Nas X takes a stripper pole down to hell in his Calvin Klein underwear and gives the devil a lap dance...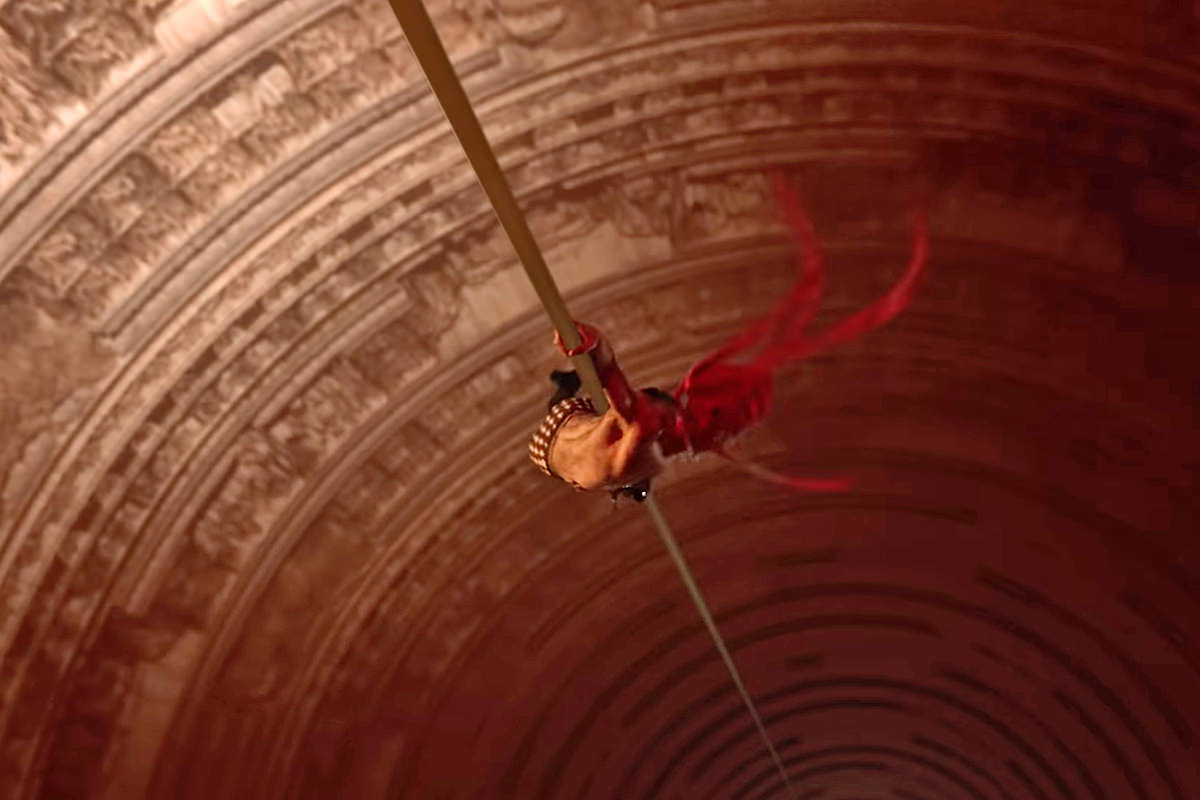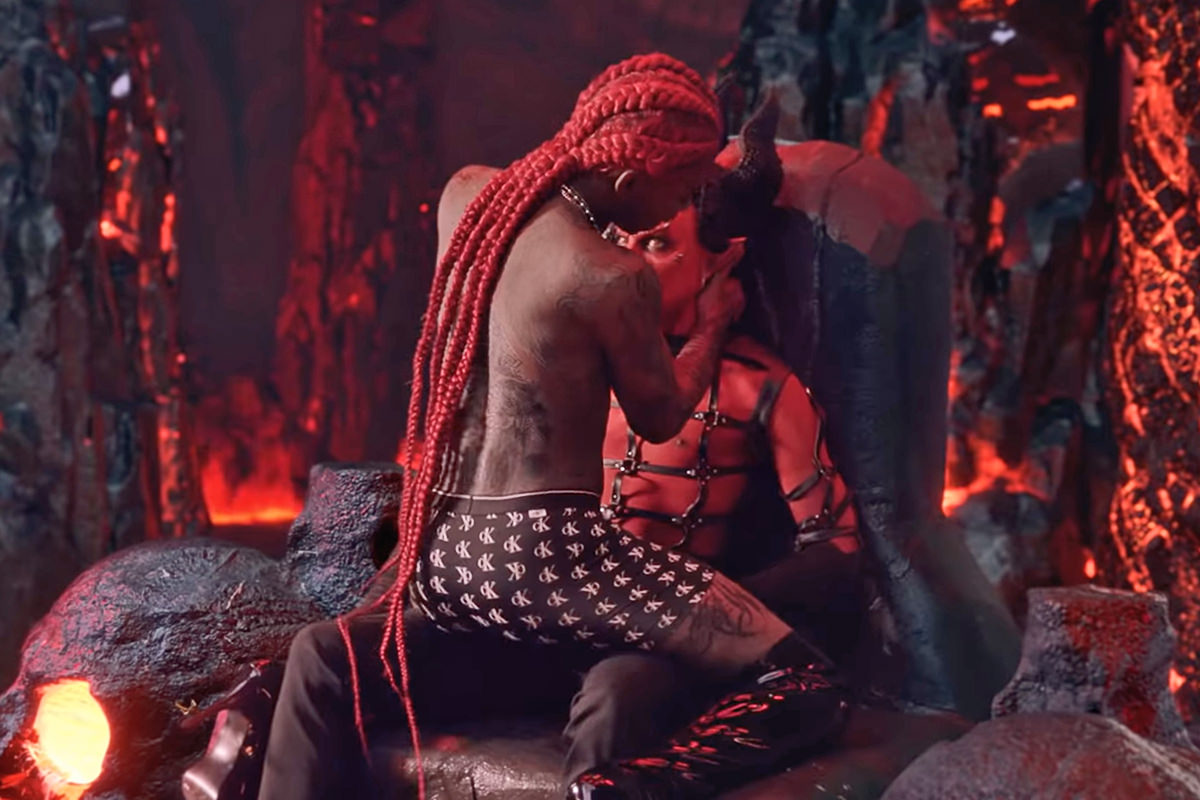 While I was eating lunch I logged on to Facebook where people are talking about it. One of the posts said "What do you think about all this?" to which I commented "I think that if 'well-meaning Christians' hadn't constantly told Lil' Nas X he was going to hell for being gay, he wouldn't have been compelled to make a video throwing it back in their faces."
From there it went to the inevitable "But this is harmful to children seeing it!" to which I replied "I dunno. I've listened to metal since I was a kid, which can be far more satanic than this, and I turned out okay." I was half-way expecting somebody to reply with "BUT DID YOU THOUGH?!?" except nobody took the bait. Oh well.
It's always something, isn't it?
When I was a kid it was Metallica, Anthrax, Megadeath, Slayer, Venom, Ozzy Osbourne, Alice Cooper, Motley Crüe, and the rest. Today it's Lil' Nas X which, if I'm being honest, is relatively tame by comparison. He gives the devil a lapdance. Whoop-de-doo.
The song is a banger though. Reeeeeally catchy.
But if it offends you, I guess you could always move to North Korea where they censor everything. Pretty sure you won't find Lil' Nas X playing there. For one thing, I don't think the long red braids he wears to hell is one of the 28 approved haircuts you're allowed to have.
Posted on March 31st, 2021

On this day of Trans Visibility, I think of my good friend who is stronger in who she is than many of us will ever be.
It seems inordinately cruel that yesterday Arkansas became the first state to ban healthcare for trans youth. And, to be quite honest, I have to wonder if lawmakers did any research whatsoever before doing something so horrific. They think of being transgender as some kind of "fad" that kids will grow out of... meanwhile trans kids can end up living a miserable existence, even going so far as to take their own lives. Not only that, but if people would take 5 minutes to read how young kids can just be given puberty blockers that merely delay the effects of puberty until they are older and can make an adult decision, they'd understand that even it it was just a fad, they can stop taking the puberty blockers at any time and go right back to their previous puberty progression.
How much of an absolute monster do you have to be to deny a kid something that may keep them from harming themselves? Regardless of what you believe, it doesn't have to do with you. Believe whatever you want to believe. But your beliefs don't get to dictate how other people live their lives. I'd rather see a happy kid living their best life at no cost to me than to want them damaged or even dead.
In other news...
Washington State opened up my vaccination tier today. I hopped on the computer this morning to make an appointment and couldn't get through, so I was thinking "Yikes, I'll probably be lucky to get an appointment weeks from now." But when I tried later on in the morning, appointments were wide open... including today. Weird.
I booked an appointment for the mass vaccination site in The Big City. It was amazingly well-run. I thought the line would be a mile long, but I drove through the Disneyland-like queue maze with nobody ahead of me. Got right up to the check-in station. Then drove over to the vaccination site. Had two cars before me. I was sure to ask for a vaccine with extra lizard DNA and 5G. Then, before I even realized anything had happened, I had my first dose of Pfeizer vaccine. Didn't even realize it had happened. Didn't feel it. Thought maybe something had gone wrong. But, nope. That was it. A 15-minute wait later and I was on my way. Still don't feel anything. This is nothing compared to the flu shot that had my arm aching for days. So I guess it's the second shot that gets you.
Now I'm wondering if I start turning into a lizard person immediately... or if I have to wait for my second dose? I'm happy to know that Bill Gates can track my location to find out when I take a shit. That's just a bonus right there! This deuce is for unleashing Windows on us, ya bastard!
Because, yes, my life IS so interesting that Bill Gates wants to know where I'm at at all times.
Posted on March 24th, 2021

And so today I turn 55 years old.
In some ways it seems impossible to be this ancient. In many other ways it seems as though much more time has gone by. I mean seriously... how many times have I thought that I forgot a bunch of birthdays and surely I must be 80 years old if I'm a day?
A lot. I just feel so... done.
But I've got cats to take care of, so I guess I'll be sticking it out for years yet.
Speaking of which...
IN CAT YEARS I AM 236 YEARS OLD! Which seems a more accurate reflection of my mood. Until I realize that Jake and Jenny are 36 Human Years old, which makes me think that time is blowing by way too fast.
They were just babies a few minutes ago...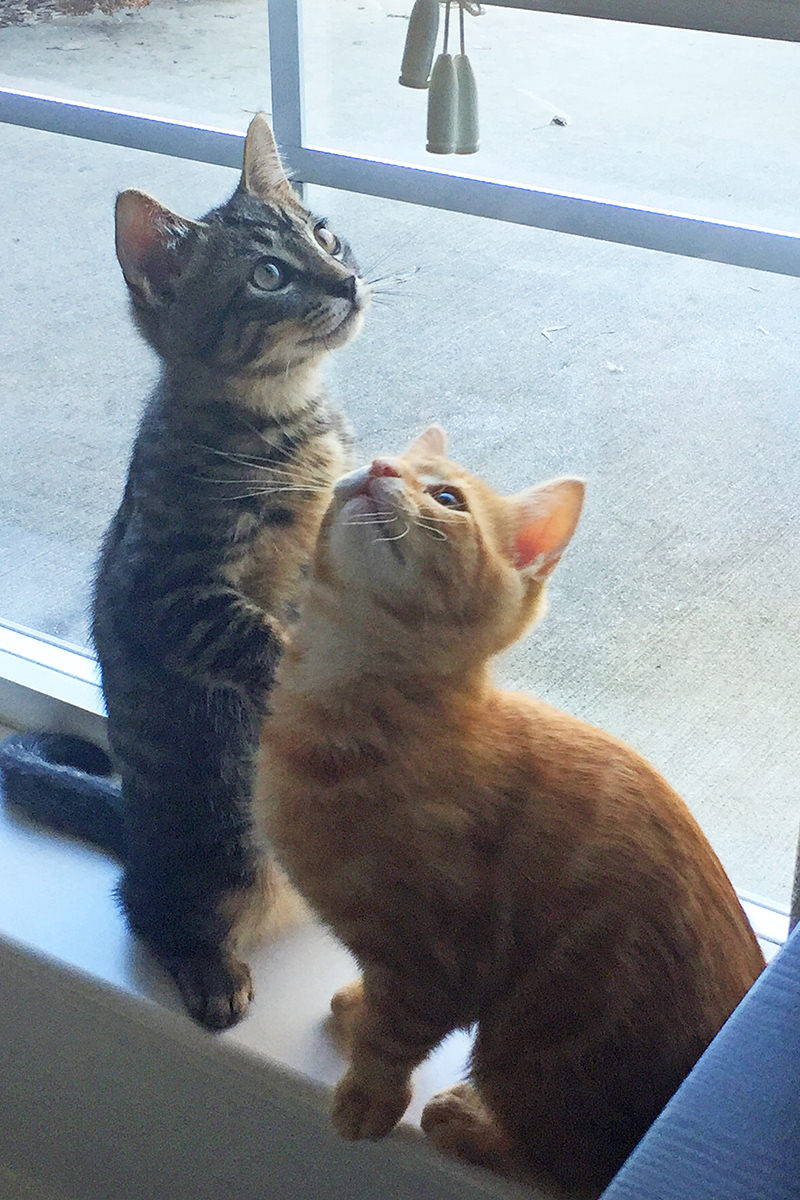 I say that, but since they were about 2 months old in this photo, that's 2 YEARS in Human Years. Sheesh.
Welp. I guess it's back to DaveLife, already in progress, for me.
Or whatever you can say about DaveLife in lockdown.