Posted on May 25th, 2020

It may be a holiday Monday, but it's still a Monday.
I worked a little bit today, but not much. Even worse, I didn't get to the dozen chores I've been meaning to get to. Considering that in pre-COVID-19 days I would have been hanging out with friends all weekend and getting nothing done, I shouldn't beat myself up over it.
The one thing that hasn't changed is taking a moment to honor and remember those who made the ultimate sacrifice for the freedoms we enjoy. Freedom isn't free, but it is something we take for granted. Maybe more-so this year than others.
Posted on May 22nd, 2020

My house is a total disaster. Which leads me to believe that the only reason I've been keeping everything obsessively clean all these years is because I had people dropping by and regular houseguests staying with me. Now that there's nobody here but me and the cats, I just don't bother. And it's getting completely out of hand.
This morning I noticed a smell coming from the dishes piled in the sink and finally decided to (begrudgingly) do something about it. Then I looked over at my pile of dirty clothes and decided to do something about that too. But that's as far as I managed to get before running out of motivation. Again.
It's all psychological of course, and that's something I've been trying to get sorted. Mostly it comes down to acknowledging that I took a great many things in life for granted.
I never really thought of myself as a social person, but apparently I'm far more social than I realized. Now that I can't just hop in my car and go visit my friends. It makes my world feel very, very small. Which is ironic considering the entire world is literally at my fingertips every time I open my computer.
That's not the same though, is it?
I've decided to keep my grocery store visits to once a month. I live in an area where masks are considered "a violation of American freedom" and people are overtly assholish towards you when you wear one. Never mind that it's for their protection in case I've been exposed... I still catch crap for looking out for others. And the fact that they can't extend the same courtesy to me is disheartening, to say the least. Apparently they've bought into all the idiotic nonsense about "masks cause carbon dioxide build-up that will kill you" and "Bill Gates wants to insert microchips in everybody" and whatever else wing-nut anti-science propaganda bullshit is out there being force-fed into social media. Guess it's more fun to believe the stupid shit than the simple reality of it all.
Not that I wouldn't rather skip out on reality, mind you.
I try to do exactly that every chance I get.
This month it's by watching movies from Central and South America that have been piling up on my watchlist. One of the better ones I've seen is a movie from Venezuela called Azul y no tan rosa (which translates to My Straight Son)...
I very nearly stopped watching because there's a horrific violent scene in the beginning that I really didn't need right now. The world is depressing enough. But man am I happy I kept watching. What a fantastic movie. Highest possible recommendation if you're looking for a sweet film to hunker down with over your Quarantine Memorial Day Weekend.
When I needed a break from subtitles, I happened upon an interesting art-house sci-fi film run amok called Infinity Chamber...
I avoided it for the longest time because there were some bad reviews and people were saying that the acting was amateur. This was bizarre to me because I thought Christopher Soren Kelly, upon whose talents the entire movie hinges, was fantastic. Sure the movie went on too long and the ending was a bit meh, but I liked it well enough.
Beats cleaning my house, that's for sure.
Posted on May 20th, 2020

The latest meme making its way around social media is people sharing photos from their "last day of normal." I don't even know what that means, but I do know the last day that I did something normal with my friends before lockdown was when we all got memorial tattoos on February 28th.
But things in my life were far from normal, even back then.
My volunteer work had been shut down 11 days earlier. Usually by late May I'd have already taken anywhere from four to six trips for that. This year I haven't been anywhere. The last time I traveled was December 26th. I have no idea when I'll travel next.
Given I have no idea when my normalcy went away, I try to create it by slipping into comfort meals I like. Up near the top of that list is heating up a bag of Uncle Ben's Ready Rice Whole Grain Medley, toss in a handful of almonds, and call it dinner. When I was at the store last month, I was sure to grab a couple bags.
Then tonight when I finally cooked it I noticed that it looked funny. It smelled funny. It tasted funny.
I dug the garbage to see if I purchased expired rice only to find that it wasn't what I usually buy... my local grocer replaced the "Whole Grain Medley" I get (which was apparently subtitled "Brown and Wild") with a new blend that's "Quinoa & Brown with Garlic." I didn't notice because the packaging had been changed...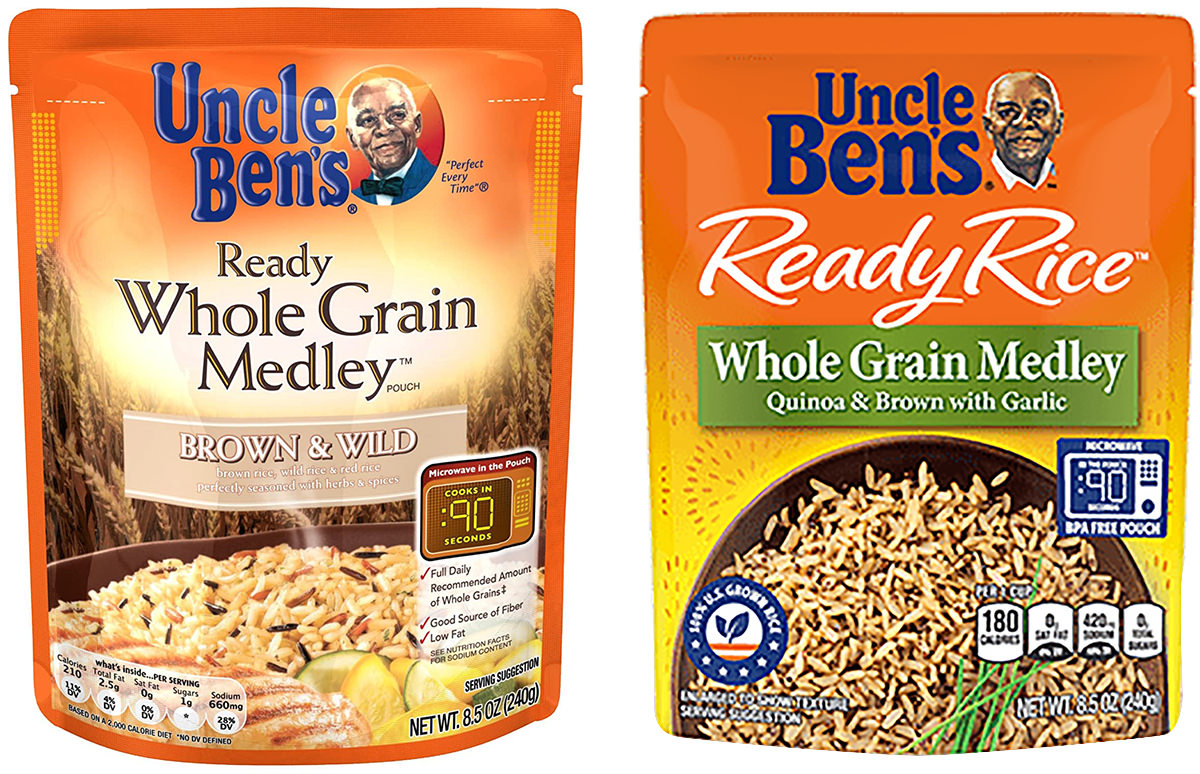 Well, fuck.
So much for my comfort food. This is not comforting at all. QUINOA ISN'T EVEN A FUCKING RICE!
AND ON CARB APPRECIATION DAY, NO LESS!
I might have been able to overlook gross quinoa if it actually had garlic as advertised, but the garlic was barely there. Uncle Ben's? More like Uncle Bullshit! They even got rid of the guy's awesome bow tie on the package!
Just one more sign that things will never go back to normal again.
Posted on May 19th, 2020

This morning I had to stay home from work so the pest control guy could do his annual spraying around the condos... and so a delivery could be made... and so friends could drop off a chair they had borrowed back in February. And I mean literally drop off, because they waved and drove away after leaving it in my driveway so we could maintain proper social distancing.
They would have returned it much earlier but... well... you know... pandemic and all that.
Usually I would have invited them in for a chat.
Then again, usually they would not be returning furniture on a Tuesday morning because they would be at their respective jobs.
Then again-again, usually I would have invited them over for beers and dinner when they returned the chair after work or on a weekend.
Usually.
But we are living in unusual times in an unusual situation, so I spent my morning cleaning my kitchen and talking to my cats while I waited.
As usual.
Or at least what passes for "usual" now-a-days.
Posted on May 13th, 2020

Every year I do a little more to make my home my own. I figure I might as well because, more likely than not, it won't be my home forever.
Most of the things I do are on the inside. That's where I live. That's what I see the most. That's where my experience is. I didn't have to do much on the outside because the woman who lived here before me did a really lovely job so I left as much of it alone as I could. The only thing I really had to do... and do most reluctantly... was tear things out. Because of my travel schedule, I am not always home to water and weed and take care of the things that require that kind of time and attention.
The first thing to go were the flowers out front, most of which were in planters that had to be manually watered. I wasn't here to do it and so they died. When I planned out what would replace them, I had two things in mind...
I had to use the drip-line that was already in place for automated watering.
Nothing would grow too close to the house (spiders) or too close to the lawn (maintenance).
And so I wanted two flower beds. A large one where most of the drip-lines were, and a second smaller bed on the corner where there was less water available.
The large flower bed I created back in 2018...
My mom died twenty days after I completed it. I couldn't find the motivation to care about flowers after that.
Nearly two years later, and I finally decided to finish what I started...
It's hard work for an old guy like me... shoveling rock and digging up dirt! Especially when my job is to sit at a computer all day.
It turned out okay though...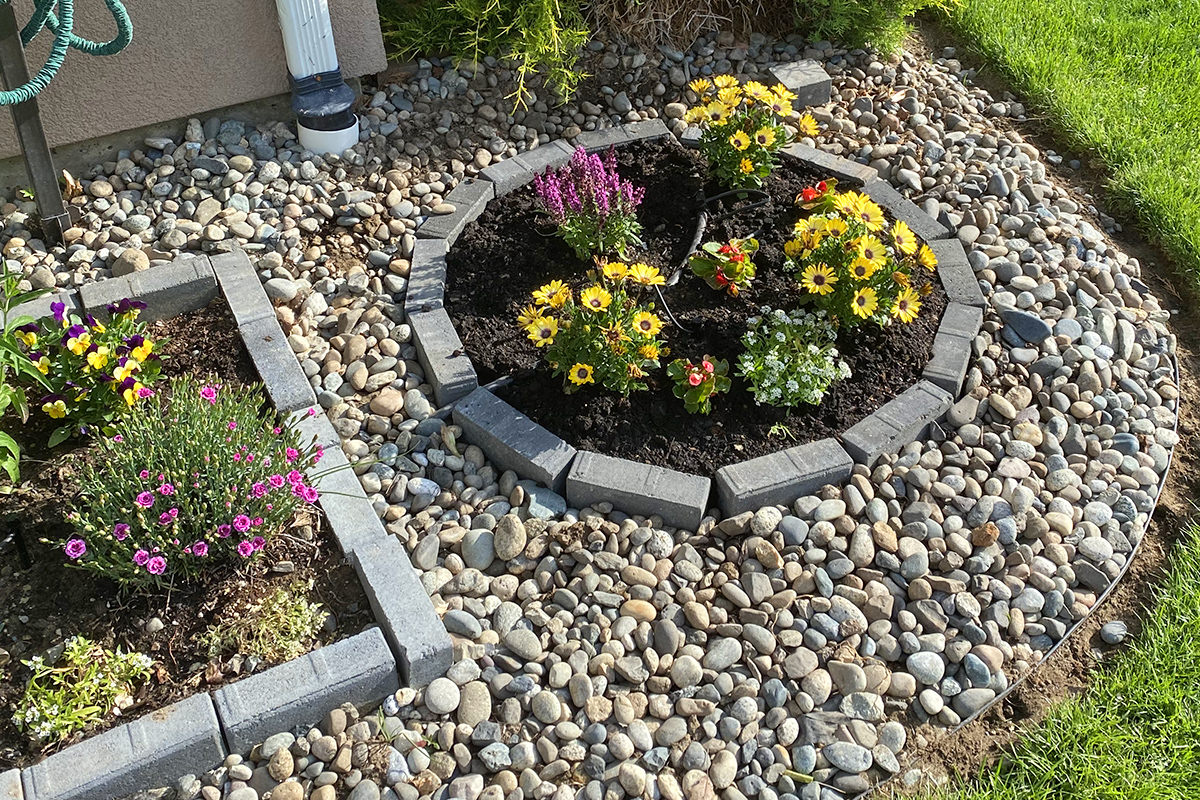 It will take a week or two of watering before I can tap the border bricks level and get them positioned correctly.
The purple thing in the back is supposed to get three feet tall, and so I tried to give it a little more space to grow. You can't tell from this photo because the lens is distorting things, but the rock border is equal in the front and the sides.
And so... I am done with flowers for the year.
Well, mostly done with flowers for the year. There are two of the plants that don't look to be surviving their relocation, so I'll probably have to replace them.
And then...
One of my favorite tech vloggers is Marques Brownlee. He has a clarity of focus and some really good insights which he presents flawlessly. In a time where there is just so much video out there, I regularly make the time to watch Brownlee's videos twice. Like this video on Apple's $700 wheels, which I just watched again before adding it here...
The more I delve into theories as to how Apple works, the more I can't help but appreciate how genius they are. Look at all the press and exposure they're getting... OVER WHEELS!
Serious genius.
Posted on May 8th, 2020

I'm not "running out of things to watch," but I am getting bored with the massive amount of stuff that's available to watch. Binging Plan Coeur (The Hook Up Plan) yesterday really made me want to revisit some of my favorite French films, but it's tough to work and read subtitles at the same time, and I can't afford to lose the hours like I did yesterday. I thought that I would instead put on some of my favorite Japanese anime since I was once fairly fluent in the language and "it's just cartoons," but that didn't work out at all. My Japanese comprehension is so out of practice now that I have to stop and think about what's being said, which is actually more distracting than reading subtitles.
I was lamenting the idea of starting in on another Netflix series when a friend in a Zoom meeting mentioned that they've been watching a lot of YouTube videos. This seemed like an excellent idea, because that's somewhere below mindless entertainment, and the YouTube app for my AppleTV will just keep playing them one-after-the-other all night long!
When I asked for suggestions, the first one out of their mouth was Mr. Beast. I was going to take a pass because the only thing I had ever heard about the guy was that he drops a lot of homophobic slurs, but my friend said "He's done so many good things," and I was intrigued.
At first I was just going to start at his first video and run through them all, but he's been doing this for six years(!) and most of his earliest videos are just him playing video games and stuff. He then made a slew of videos speculating on the wealth of other YouTubers and making fun of other YouTubers. Then he went through a phase of counting to really high numbers... reading the entire dictionary... and doing other time-consuming and inane stunts.
Yeah. No thanks.
But then things started getting interesting about two years ago.
Mr. Beast started giving away hundreds of thousands of dollars (which he gets from sponsorship and branding deals). He'd give somebody $10,000 for winning a video game challenge. He'd tip a server $20,000. He'd give random subscribers to his channel huge amounts of cash. And he also started doing crazy stuff like trashing his friend's car then give them a new car... buying every billboard in his city... spending 24 hours in prison... and having his friends do random challenges for huge cash prizes.
I began to see his appeal. His stunts are genuinely interesting.
My favorite stunt he pulled was buying a house then ordering a pizza from Dominos. He offered the pizza delivery guy $2,000 if he would help them go shopping for stuff to move into the house "for a friend," then he gave the fully furnished house to the delivery guy after they were done. Watch the video. It's pretty great...
Title screen obviously shot after the video was made... I hope.
After a while you start really getting invested in the lives of his friends. Poor Cameron kept losing challenge after challenge and never won anything. You really started to feel sorry for the guy because he was constantly made fun of. Then, finally, he won one and I was far more happy for him than I had a right to be...
Yeah, this is not highbrow entertainment, but it is entertaining. I've certainly seen worse uses of time and money on YouTube.
After my Mr. Beast marathon, I started catching up on all the YouTubers I follow but have neglected over the past several months. Like Unbox Therapy, who unboxed Apple's SEVEN HUNDRED DOLLAR WHEELS for their MacPro computer so you don't have to. It looks to be an oddly unsatisfying experience...
Don't worry. Eventually he made a skateboard out of the wheels.
Yahtzee at Escapist's Zero Punctuation took a look at Animal Crossing: New Horizons and it's oddly comforting in its raw predictability...
John Kirkwood made cheese & onion pasties... something I am dying to make and will attempt soon, because it's like a gorgeous blend of some of my favorite things...
Ryan at ScreenRant unleashed another hilarious pitch meeting...
Two amazing thinkers (who just happen to be brilliant comedians) discuss atheism and other deep topics in a fascinating conversation...
And lastly there's Johnny Harris, who actually spent his valuable time looking into flerfers (insert eye-roll)...
After all that, I was ready to start watching regular ol' television again, and started in on Ryan Murphy's latest... Hollywood... which is currently airing on Netflix. Not exactly sure this is going to be my thing, but it sure looks like it was expensive to make.
Posted on May 7th, 2020

YOU YIELD TO TRAFFIC IN THE CIRCLE. It's that simple. That's the only rule. It doesn't take a rocket scientist to understand it. If there's a car already in the traffic circle, you wait until it's passed before entering. And yet...
25% of the time... at least 25% of the time... I run into somebody who doesn't yield.
Like yesterday when I was driving home. And of course the guy is pissed at me even though he was 100% in the wrong for cutting in front of me instead of yielding like he should have. And I honestly don't get the mentality. I'm supposed to just slam on the brakes in the middle of the traffic circle and back up traffic to let people in? That's the complete opposite of how it's supposed to work.
=le sigh=
I continue to wade my way through the massive list of movies and shows I've flagged to watch so I can see if there's anything good on TV. My latest obsession is Plan Coeur (aka The Hook Up Plan) on Netflix. It's a French romcom that has its fill of stupid moments, but is otherwise fantastic. The characters are all beautifully realized and you want to care about them even when they aren't at their best.
Because it's French, I have to watch with English subtitles, which adds another level of amusement to the show...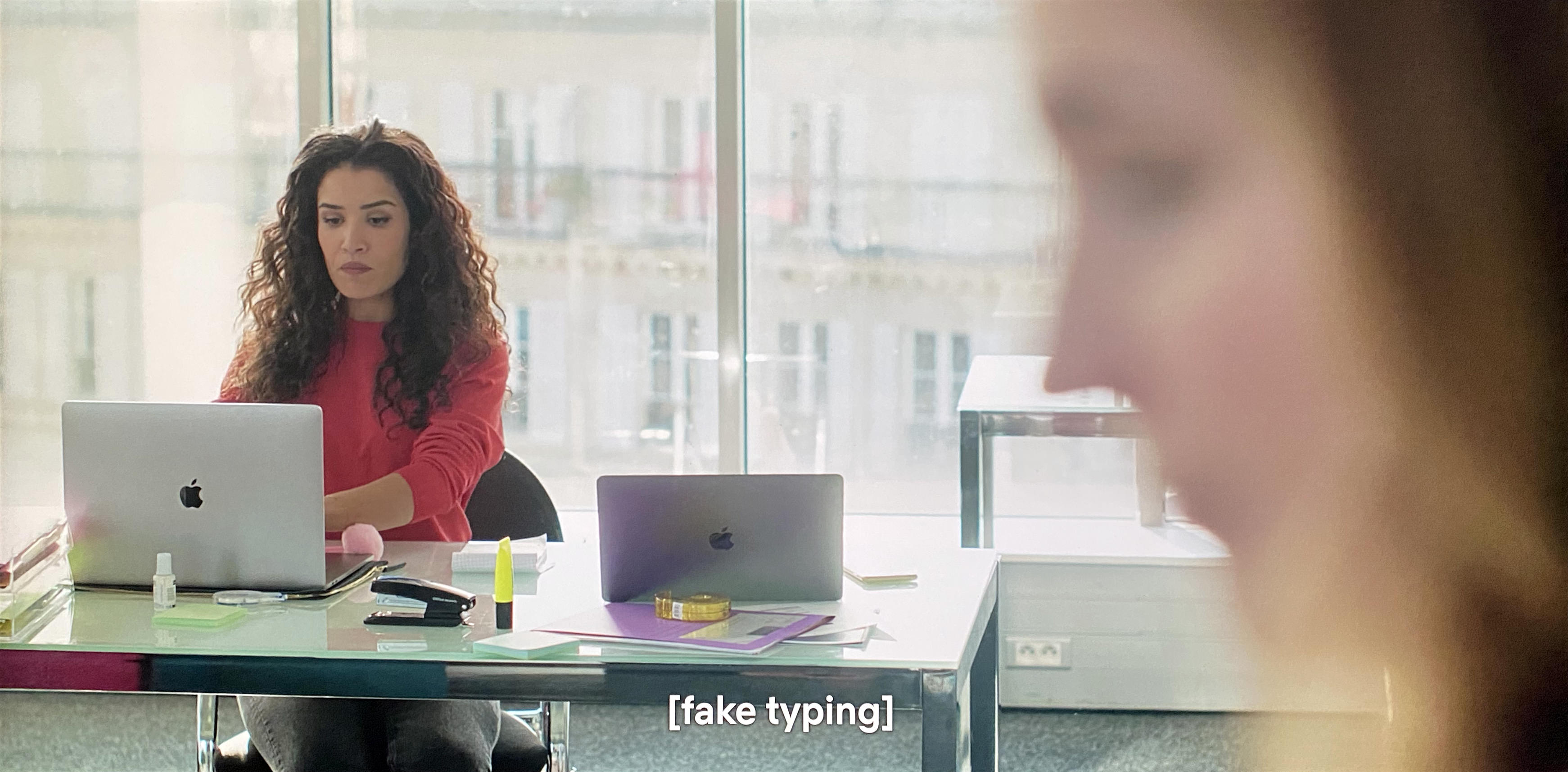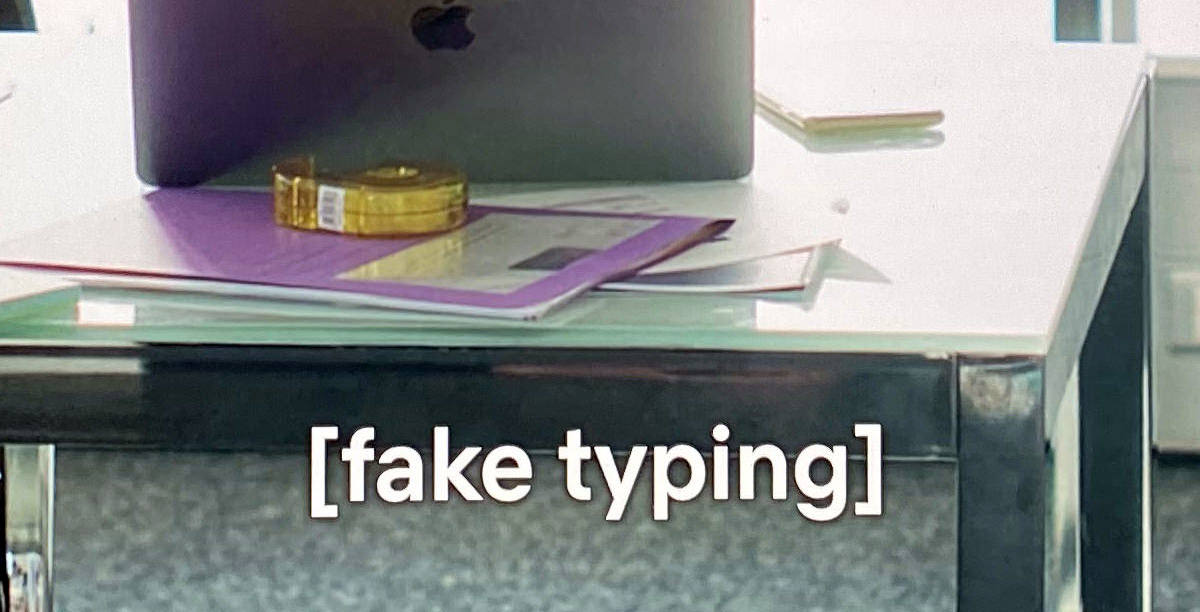 Most of the time, the show is smartly written and has clever one-off lines throughout to bring the funny...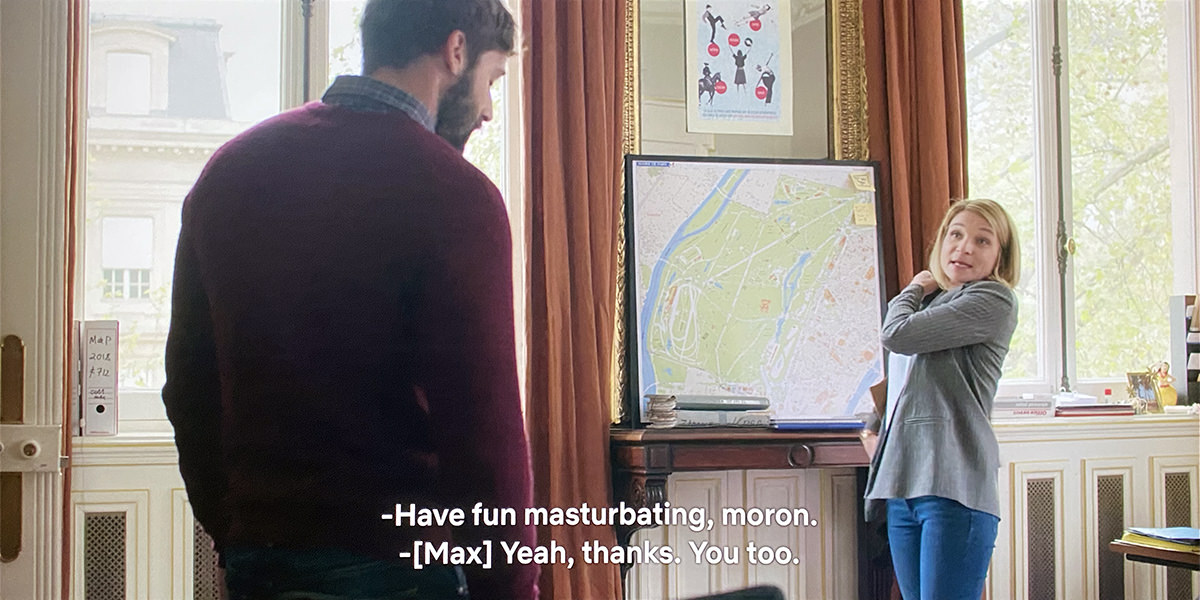 And, of course, it's French, so the romantic moments are flawlessly orchestrated...
What really took me by surprise is the music, which is haunting and beautiful. It's practically another character in the series and makes even mundane moments something to be savored...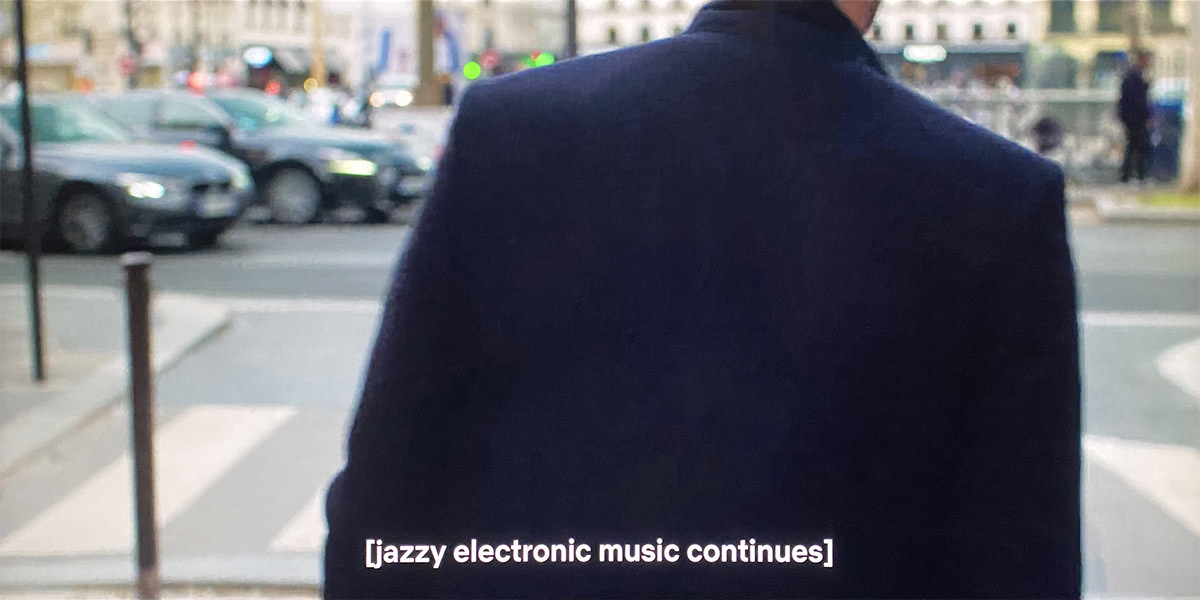 I was compelled to track down the composer, which is Frédéric Magnon, and became an instant fan. When Elsa shows her sister her new apartment, I had to rewind the scene and play it over and over because it's just that good...
The entire soundtrack is fantastic and worth hunting down (Amazon Prime Unlimited has it).
So... if you're looking for a show to binge while you're stuck at home, I highly recommend giving The Hook Up Plan a try. Both series of the show are available on Netflix...
As much as I loved the show and want to see a third series, I almost think I'd rather they left things where they were at in the finale. It was the perfect way to end things even though you'll definitely be wanting to know what happens next.
Which is what makes great television, isn't it?
Posted on May 6th, 2020

I cannot catch a break this week.
Between murder hornets invading my state and suffering revenge of the killer flowers, I was ready for my hump-day to be a change of fortune for me.
I should have known better.
This morning my long-time blogging friend, Jester, posted this to my Facebook wall...
After failing to find an apropriate amount of barf emojis for both the concept of adding raisins to potato salad AND the fact that people think a "French tuck" doesn't look like ten bags of stupid (I WILL NEVER FORGIVE YOU FOR THIS MR. TAN FRANCE!)... the first thing to pop into my head was "Say, don't I have some leftover potato salad in the refrigerator?"
I had forgotten about that! Turns out that, yes, indeed I did.
Breakfast is served.
Except it tasted funny, at which point I remembered it's been there for a week and was probably overrun with bacteria or whatever. And so... I set it next to the bathroom sink so I could take a shower before headed down to the kitchen to toss it.
Likely no surprise to anybody what ensued...
"Jake. What are you doing?"
"Jake. Please don't eat that."
"Jaaaaake. Staaahhhhp."
At which point I had to get out of the shower soaking wet and put the bad potato salad on top of the bathroom cabinet.
What happened next will shock you...
"Jake. What are you doing?"
"Jake. Please don't climb up there."
"Jaaaaake. Staaahhhhp."
I know better than to think tomorrow will be much better.
It's all raisin-filled potato salad for the foreseeable future.
Posted on May 5th, 2020

I've been spending a couple hours each day puttering around my flower beds. A neighbor was kind enough to pick out some new plants for me, so I've been working hard to create a home for them.
One of the things I've been meaning to do for years is pull out the irises in the front of my house. I've never understood these flowers. They're pretty for a few days, sure...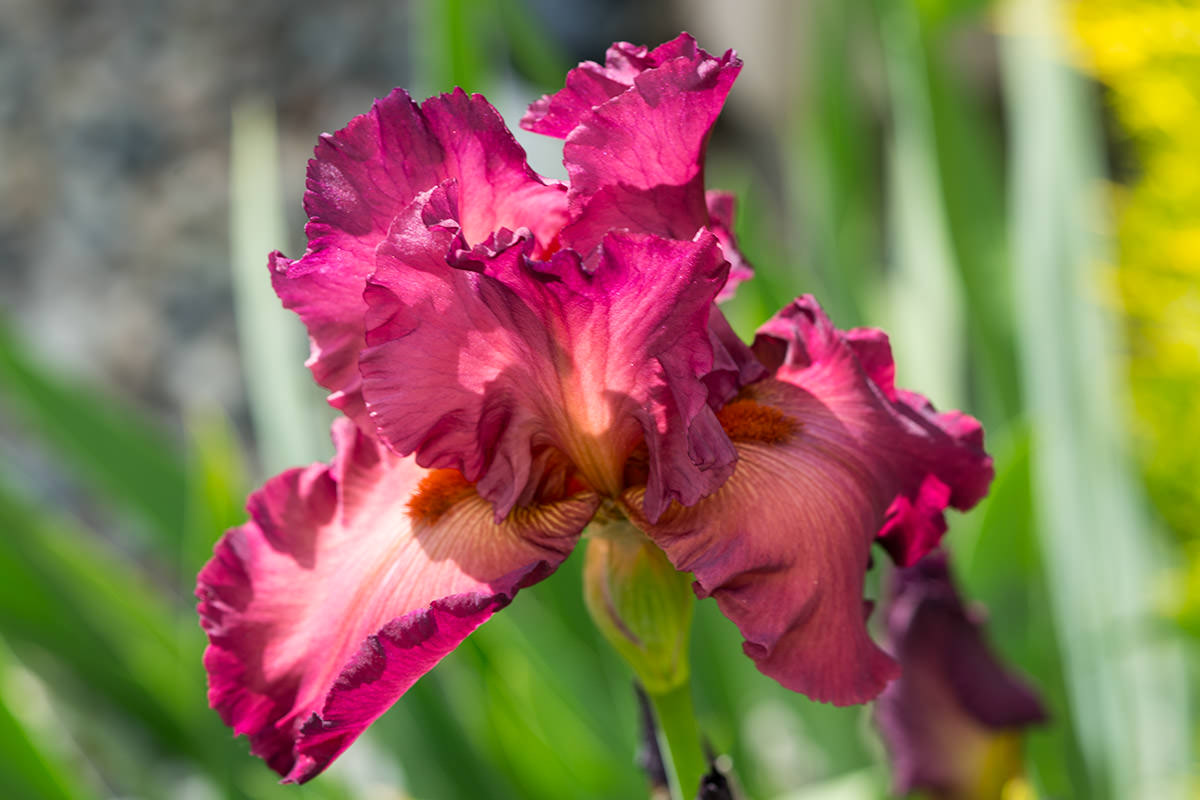 But they are top-heavy and fall over... many times before they even bloom, which means they bloom on the ground. Then the yard care team runs over them with the mower and they look horrible until they finally die. Then it all repeats next year. I try to move them off the lawn so they at least don't get torn up by the mower, but they still look pretty bad and have to go...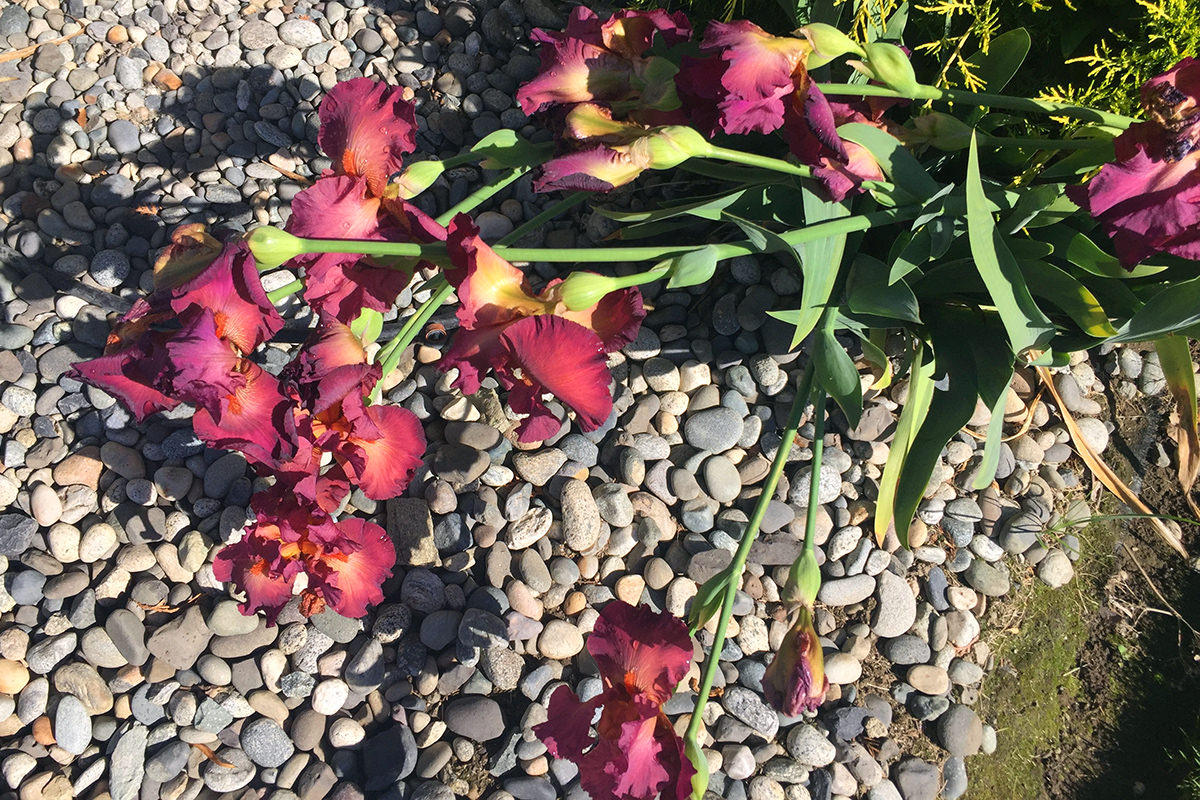 And yesterday was the day. I ripped out the two plants in the front of my home. But those flowers got their revenge, let me tell you.
The pollen got all over me and I had an allergy attack unlike any I've had in years. It was so bad that I had to take a big dose of Benadryl, then have a nap.
When I woke up an hour later, I was covered in blood.
I ended up with a nosebleed that would not stop, though it did slow to a trickle when I finally fell asleep around 3:00am. I was expecting to wake up and have to slog to the clinic to get it cauterized, but it had miraculously stopped overnight.
The irises on the side of my house can stay right where they are. I'm afraid of these flowers. I missed a half-day of work because I had to catch up on sleep because of these flowers.
Today I tried to take it easy and definitely not sneeze or blow my nose. Instead I laid on the couch and watched television, including a clever movie called The Great Seduction which is not some period romance bullshit as you would expect from the title...
I love it when I happen across a movie I've never heard of and actually end up enjoying it!
Kinda a nice way to end a day that started out so badly.
Posted on May 1st, 2020

Sucks.
It just sucks. It sucks so hard.