Posted on August 21st, 2012

I finally made it to Taco Bell to try their new "Cantina Bell" menu... which is supposed to be a "gourmet" selection of Mexican dishes.
My expectations were understandably low. This is, after all, Taco Bell.
I ordered the Veggie Cantina Salad with a side of guacamole and chips. The salad consisted of a bed of warm cilantro rice topped with black beans, lettuce, guacamole, roasted corn & pepper salsa, pico de gallo, and a cilantro dressing.
All I can say is bravo, Taco Bell... bravo...
The salad was excellent. All the ingredients were tasty, fresh, and of good quality. The guacamole was creamy and had good flavor. I loved the roasted corn & pepper salsa. The beans and cilantro rice were cooked to perfection. The dressing had a nice "tang" to it and tied everything together nicely. I would have liked to have had a little cheese sprinkled on top, but it wasn't a deal-breaker.
I can't wait to try the Cantina Veggie Burrito, which takes all the salad ingredients and wraps them in a flour tortilla that looks to be toasted. I'm betting it's even better than the salad...

This photo (taken from Cantina Bell) shows dead chicken in the burrito, which I'd skip.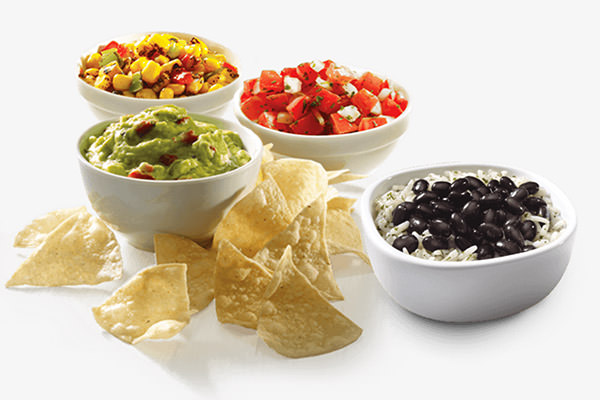 Any one of the three sides (guac, salsa, pico de gallo) with chips and a Pepsi can be added for just $2!

The recipes for all this great stuff are courtesy of Lorena Garcia. Not only is she a famous chef who comes up with good recipes... she's totally hot and is a contestant on the current season of Top Chef Masters as well...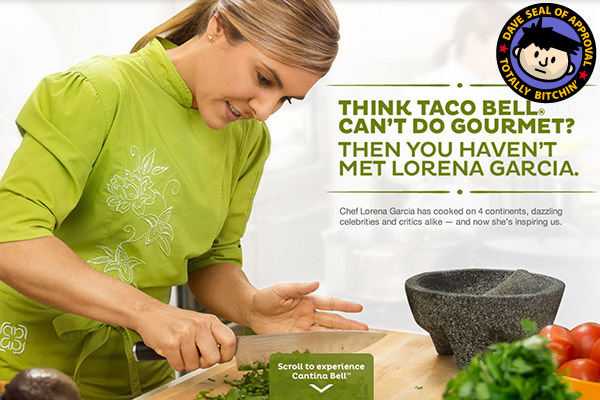 I can honestly say that my Cantina Bell meal at Taco Bell... YES, TACO BELL!... was as good as I've had at some finer Mexican restaurants, even though you're eating it with a plastic spork from a crappy plastic bowl. I will absolutely be eating at "Cantina Bell" again, and hope that the menu sticks around for a while.
Or forever.
If you need a quick meal and feel like some pretty good Mexican fare, give it a shot!
Posted on May 27th, 2012

Put down that barbecue fork, because Bullet Sunday starts... now...

• Fresh. Three Bullet Sundays ago I was lamenting how crappy it is that the bagged lettuce I buy goes bad after just one day. Abigail then left a comment telling me about the "Salad in a Jar Method" of keeping salad fresh (using a hand-food-vacuum). It looked like a good plan, so I ordered me a FrashSaver handheld Vacuum. And, since it comes with a deli container, I didn't even have to buy a jar topper. It arrived a couple weeks ago and I've been trying it out not just with salad, but Oreos, crackers, cheese, and all kids of stuff. Miracles of miracles, the thing actually works...
It worked so well that I ended up buying more deli containers! Two complaints though... 1) The deli containers are kind of tough to close... and 2) You have to use an attachment to turn the round vacuum head into an oval vacuum head in order for the unit to be able to suck the air out of the deli containers, which is fucking stupid. Why not just make the valve on the deli containers round? With the attachment on, you can't fit the unit into the charger, and I can see the stupid thing getting lost eventually. Stupid, stupid, STUPID.

• Innocence. Back in April the New York blogosphere was blowing up because the police tracked down the "well-dressed guy" who was groping women on the subway...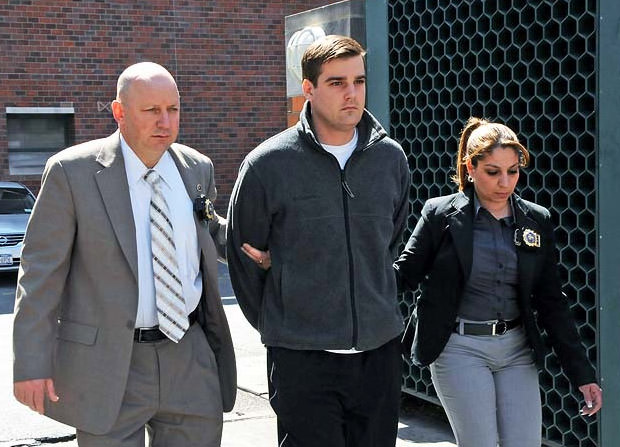 Except they didn't.
The guy was completely innocent. Karl Vanderwoude had alibis for when gropings were taking place. Which means the vague resemblance he had to some security footage as well as being picked out of a lineup didn't meant shit. An innocent man was hauled off in handcuffs.
But that wasn't even the worst part. The worst part would be having his photo plastered all over the internet with headlines like "Finance creep arrested for groping women in Manhattan!" and "Cops Say Finance Worker Karl Vanderwoude Is 'Well-Dressed' Groper!" And, naturally, those stories aren't updated or revised or amended to explain he was totally innocent... nope, they will live on forever and haunt him until the day he dies. Somebody years in the future could Google his name, click on an outdated story, and easily be led to believe he was the perpetrator. EXCEPT HE WASN'T!
This is equal parts horrifying and disgusting. The first thought that runs through my head is "Holy crap, could I be next?" followed by "How in the hell could this happen?"
He had alibis, for heaven sakes! But nobody gave a shit until his attorney bothered to ask the guy where he was when the incidents took place! I'm no police detective... but should that be JOB ONE before you fucking arrest somebody? Especially knowing that arresting an innocent man WILL RUIN HIS LIFE?
I feel so horribly bad for this poor guy that my mind can't even grasp what he went through. Surely I can't be the only one? Surely all the people who wrote the headlines that crucified Karl Vanderwoude on the internet feel bad for him too?
Apparently not. None of these "journalists" seem to be rushing to update their original stories... they just print a new story and forget about the old one. But the internet never forgets, those old stories are still there. Innocent Karl Vanderwoude may be, but in all those online archives he's guilty for eternity. He deserves better than that... we all do.

• Prohibition? Thanks to Marty for letting me know that my home town was in the New York Times today! Washington State is in the process of switching from government-regulated alcohol distribution to private company distribution, and this has created a booze shortage throughout the State as government shops try to clear out their inventory. Not a popular situation with Memorial Day Weekend partiers. And apparently my small city was the perfect way to dramatize this point to NYT readers. Heh.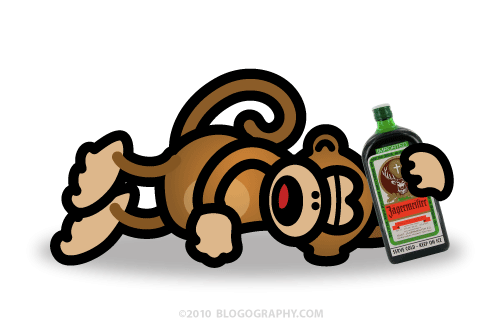 Oh well. If there's one thing we love here in Redneckistan, it's our alcohol, so it's not like I can get upset about it.


And... it's been a long day. I suppose I should at least try to get some rest before an even tougher day hits in the morning. I'd tell y'all to be good and obey the law during the holiday tomorrow, but Karl Vanderwoude has shown us that this doesn't necessarily guarantee a clean criminal record now-a-days, so I don't know what to say now.
Except "good night."
Posted on February 29th, 2012

Work started early and ended early, so I was left with four-and-a-half hours of free time to explore Kansas City. And since there's probably only ten minutes worth of crap to see here, that would be plenty of time, wouldn't it?
Ummmm... no. Not by a long-shot.
I had been here a couple times before, but assumed there wasn't much going on, so I never really made an effort to see what KC had to offer. Now I know this was a huge, huge, mistake.
And I found this out pretty much by accident.
On a previous trip, I had been to the Kemper Museum of Contemporary Art. This time I wanted to go to the The Nelson-Atkins Museum of Art, which is kind of famous for the three giant shuttlecocks planted in front...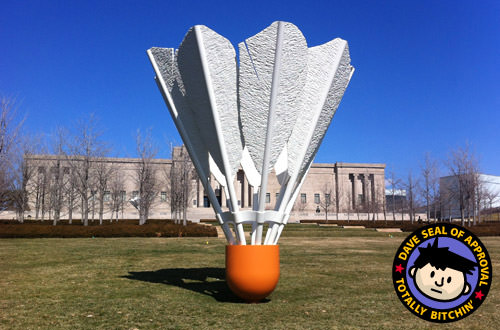 Inside, there is an impressive and varied collection from many different genres. I was particularly impressed with their European works, which has a terrific impressionist room. HIGHLY RECOMMENDED!
---

As I was driving to an art supply store, I saw a sign for the Negro Leagues Baseball Museum. I like baseball, so I thought it might be worth a stop. I did keep my enthusiasm in check, however, because how great could it be? Probably just a bunch of glass cases filled with old stuff, right?
Ummmm... no. Not by a long-shot.
This has to be one of the most impressive shrines to the great sport of baseball that I have ever seen. And I have seen a lot of them. I was completely and utterly blown away by the amazing story they tell, and the incredible way they tell it. It's a beautiful, important, and wholly wonderful museum that manages to do a lot within a little space...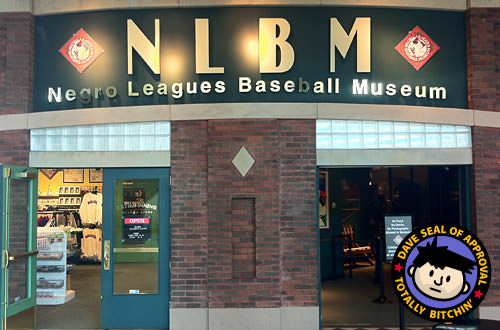 I expected to spend 20 minutes here. I ended up spending an hour. I could have stayed for another. The only down-sides are 1) They don't allow photos and, 2) THEY DON'T HAVE A MUSEUM BOOK YOU CAN TAKE HOME!! This was devastating, because if any museum is crying out for a book, it's this one. I'd have even settled for a book of the quotes that are posted all over the place. Like this utterly messed-up and mind-blowing one made in response to the idea of integrating the Negro Leagues players with the Major League...
"If colored clubs were admitted there would be in all probability some division of feeling, whereas, by excluding them no injury could result to anyone."
— Raymond J. Burr, Philadelphia Pythians Representative
That's right... no injury for anyone! EXCEPT THE BLACK PLAYERS YOU RACIST IDIOT! I swear, a good chunk of the museum is very, very difficult to explore. You get to learn all about the things that these sportsmen went through just to play. Like going without food on road games because there was no place to stop that would serve "coloreds." But lest you think that the experience of being a player in the Negro Leagues overshadows the game of baseball here... it doesn't. There's loads of amazing baseball artifacts, trivia, and stories. Like I said, one of the best baseball museums you'll find anywhere. Best $8 I've ever spent. HIGHEST POSSIBLE RECOMMENDATION!
---

As if having The Negro Leagues Baseball Museum wasn't enough... the same building houses The American Jazz Museum! I enjoy some jazz, but am not the biggest fan of the genre. But... the ticket was only $2 extra when bought with an NLBM ticket, so I went for it. I expected to spend 5 or ten minutes here. I ended up spending a half-hour, and could have easily stayed longer. The place is amazing. Just amazing. It's beautifully constructed with vibrant, exciting interactive displays and plenty of awesome memorabilia. All the greats are here from Ella Fitzgerald and Louis Armstrong to Duke Ellington and Charlie Parker and everyone in-between. Wish I could have taken photos to share, because it's that well done. HIGHLY RECOMMENDED!
---

Looking for something else to do, I spotted a pamphlet for the Kansas City Federal Reserve Bank. They have a visitor center with a massive presidential coin collection plus you get to look inside the vault to see the people working with the money there! SOLD!
Except I took a wrong turn and ended up at something called "The National World War I Museum." Oops. But since I'm here, I might as well take a look. Probably just a bunch of old junk sitting on shelves or something, right?
Ummmm... no. Not by a long-shot.
I have been to a lot of museums around the world. Seriously, a LOT of them. I can tell you right now that this mind-bogglingly amazing museum can stand shoulder-to-shoulder with the very best of them. It is frickin' incredible. AND I HAVE NEVER HEARD OF IT BEFORE IN MY LIFE! I am sick at the thought that the only reason I came here was because of a wrong turn...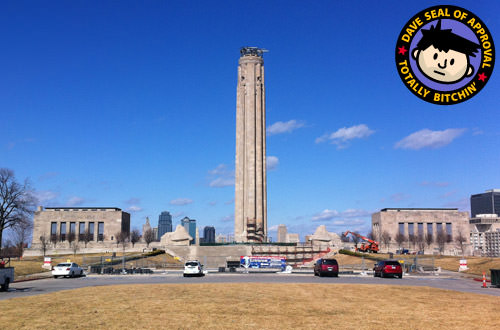 I spent two hours here. I could have spent two days. This museum is the very definition of "destination-worthy experience." You will not only learn a lot about The First Great World War, but you will see a lot of amazing stuff from that era. I first went to "The Main Hall" which is actually underneath that tower you see there. The displays are nothing short of jaw-dropping, both for how beautiful they are and how informative they are...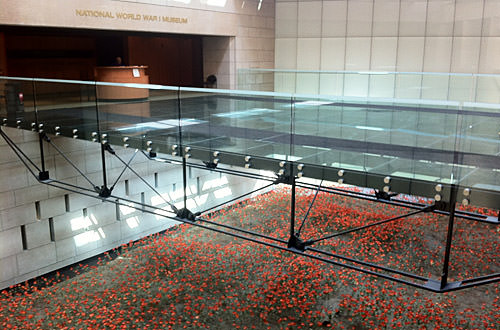 You enter the museum by walking across a glass bridge over a field of poppies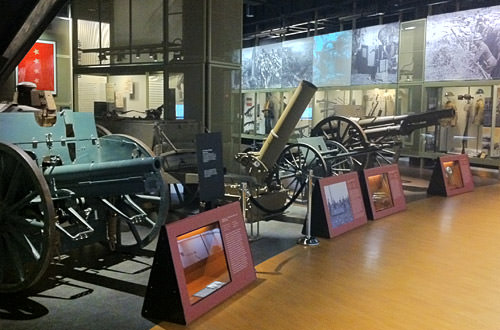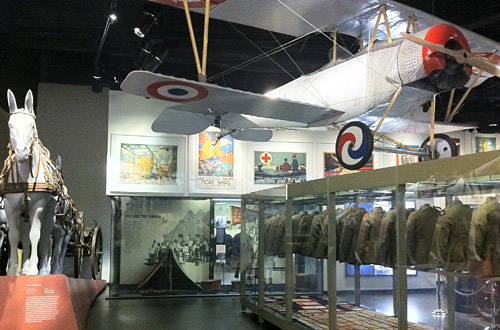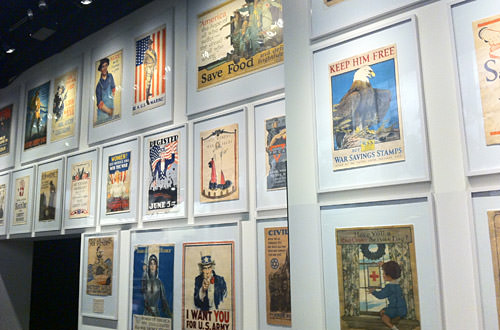 From there I went up "Liberty Tower" to get a view of the city...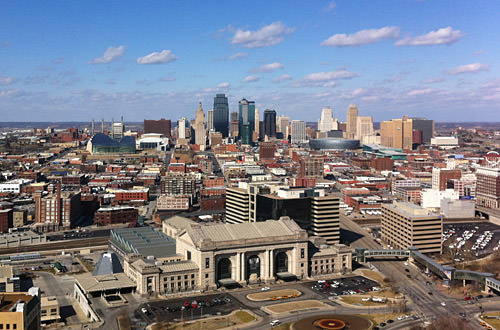 And then I went to the "Memory Hall" exhibits (that's the building to the left of the tower in my first photo)...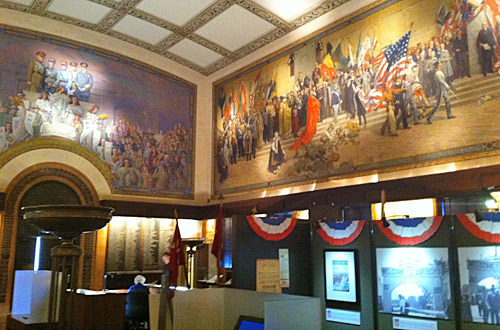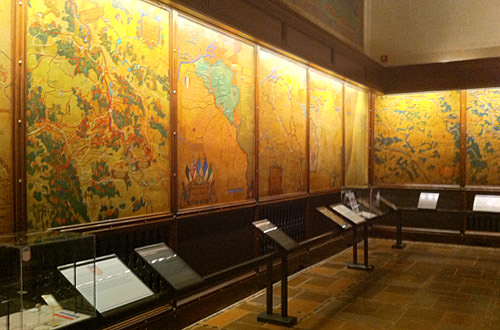 Then I went to the "Exhibit Hall" exhibits (that's the building to the right of the tower in my first photo)...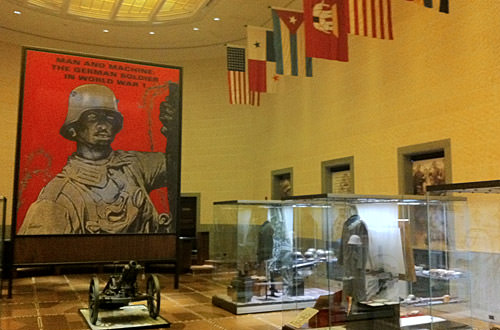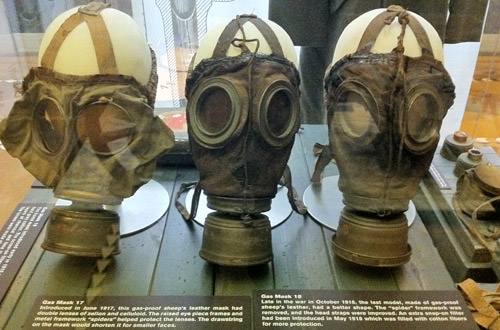 The sheer depth and breadth of the story they tell here still has me reeling. It's truly a world-class museum right here in Kansas City... and you get to see all of it for a bargain-basement price of $6. YES, YOU READ THAT RIGHT, SIX DOLLARS! Just go. Book your plane ticket and go. HIGHEST POSSIBLE RECOMMENDATION.
---

After forcibly tearing myself away from the National World War I Museum, I made my way to my original destination... the Kansas City Federal Reserve Bank Money Museum. It's a small museum, but impressive and fun. The only place you can't take pictures is in The Vault (which is a shame, because the money robots are cool!)...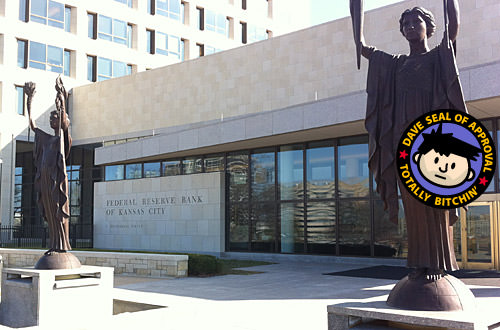 After getting screened at security and going through a metal detector and such, you can walk through the exhibits and see the Presidential Coin Collection... featuring all the coins issued during the terms of all our presidents...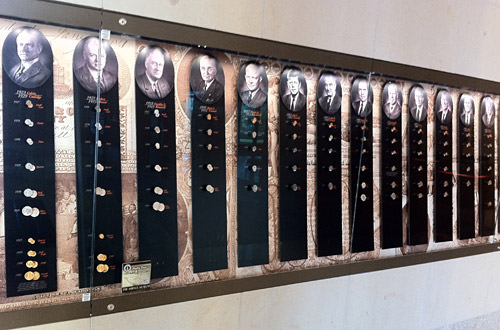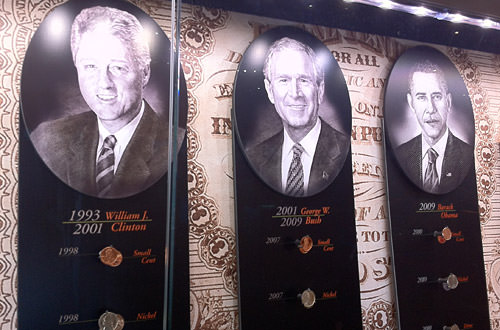 Coins from President Washington all the way to President Obama!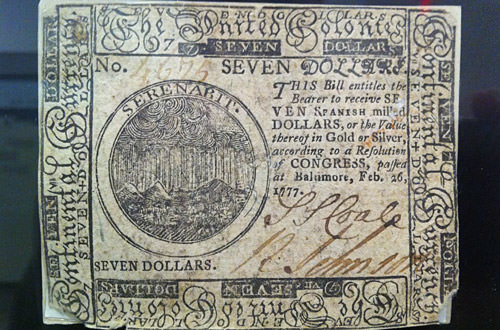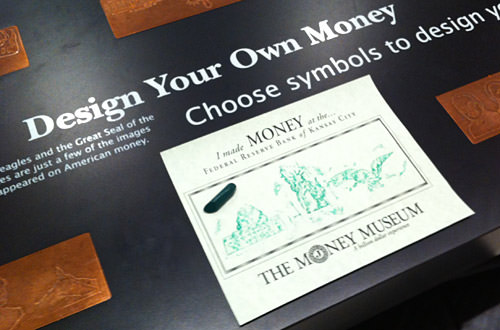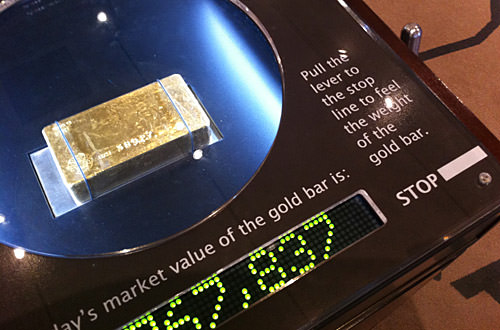 As if all that wasn't enough, they've got a really nice hard-bound souvenir book for just $16 plus a bag of FREE MONEY! Yep! Everybody who visits the museum gets their own bag full of money...
...which has been shredded into the tiniest possible pieces.
But still, pretty cool. And well-worth a visit. HIGHLY RECOMMENDED!
---

After getting caught up with work, I decided to hit one more museum... The Hallmark Cards Visitor Center!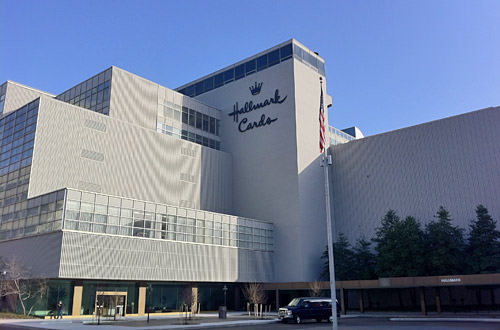 It's not very comprehensive, but gives a decent overview of the company and the stuff they make... from cards and bows to Keepsake Ornaments and gifts...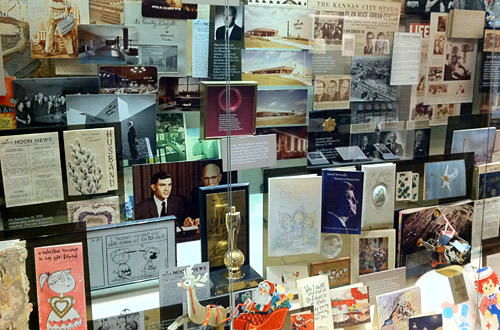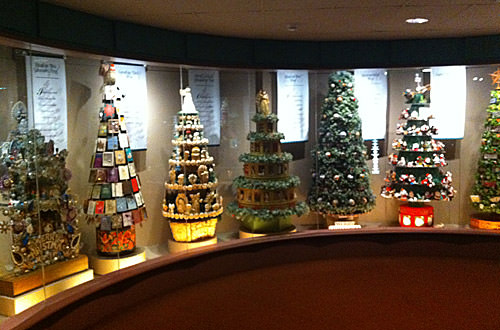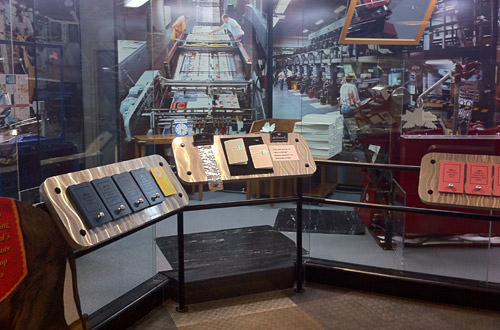 Though my favorite part was the bow-making machine which creates a souvenir you get to keep!
Overall a fun diversion... but not a critical one. I almost wish I would have gone back to the National World War I Museum.
---

And I'm sure I'm just scratching the surface of what Kansas City has to offer the wayward tourist. For example, I know there's a Harley Davidson Museum north of here (though it looks similar to the ones I've already been to in Wisconsin and Pennsylvania).
If only I had more time to see it all.
Anyway... I've got to get back to work now. Hopefully I've done my part to encourage you to take a trip to KC now that you know of some of the really cool stuff that's here waiting for you.
Posted on January 22nd, 2012

THE SNOWPOCALYPSE IS UPON US! SNOWMAGEDDON IS HERE! Grab that special someone and bundle up tight, because Bullet Sunday starts now...

• Depp! People can say what they like, but nobody in cinema amazes me like Johnny Depp. The guy is absolutely talented... absolutely fearless... and absolutely brilliant. He can disappear into a role unlike anybody else, and owns any character he takes on. And this time it's yet another Tim Burton collaboration where he will be playing Barnabas Collins in the movie adaptation of Dark Shadows. This one image that's been released is enough to make me want to see this movie...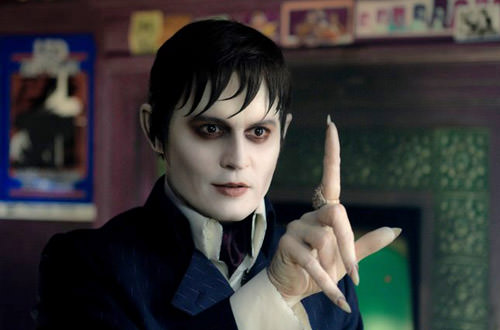 Just like it only took one image for me to want to see these movies...
I'll be the first to admit that not every film Johnny Depp signs onto ends up being great. But his performances are always interesting. It's hard to ask for anything more than that, so I'm always looking forward to his next performance.

• Sniffle! I tend to look at everything as a learning experience. Even having a cold. This time around I learned about a new tissue... COOL TOUCH KLEENEX...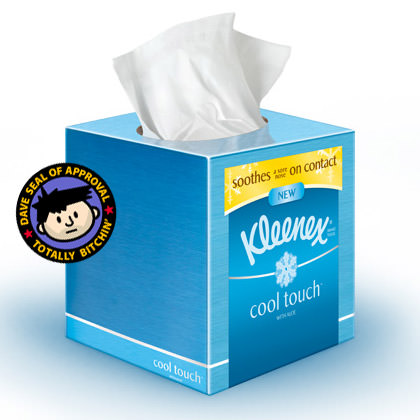 It is awesome on a sore nose because it is, in fact, cool to the touch. And it feels great on your nose. I think it must be some kind of scent-free menthol-like substance that is body-heat activated. Or not. But however they make it happen, it's a pretty sweet advance in tissue technology, and the only tissue I'll be buying from now on.

• Must-See TV! I have to say, I am loving the new FOX television series The Finder, and that was totally unexpected given that it's a spin-off of Bones, which is a show I can't stand...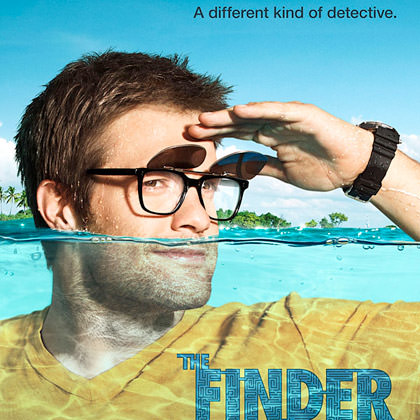 I could tell you what a terrific, quirky character Walter "The Finder" Sherman is (played by Geoff Stults) and how entertaining the stories are, but all I really need to say is that it has Michael Clarke Duncan in it. If you're looking for something a little different to watch this winter, this show may be worth a look. You can catch the last couple episodes streaming on the official FOX site.

• Netflix Streaming Movie of the Month! Lately I've been on a foreign movie binge and discovering some real gems. The latest is a wonderful French film called The Grocer's Son now streaming on Netflix...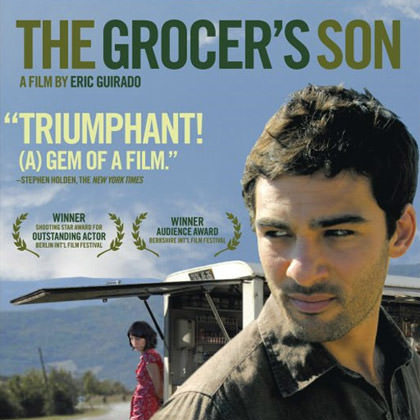 After his father has a heart attack, a guy living in Paris returns to his family home in the countryside to help his mother with their store. His job is to drive a grocery van to small villages and remote homes so that the elderly people there can buy foodstuffs. After a while he begins to form a bond with his customers and his outlook on life starts to change. If you're looking for some "comfort cinema" this sweet story is worth watching.

• Netflix Streaming TV Series of the Month! The contemporary re-imagining of Sherlock Holmes by Steven Moffat and the BBC is currently streaming on Netflix. It is beyond brilliant, and I highly recommend giving it a look if you haven't already...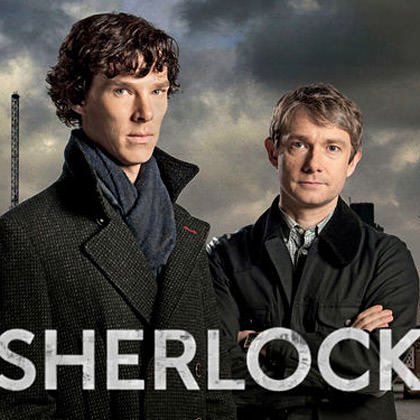 Like most shows from across the pond, Sherlock has stories, acting, and production values that are leagues above what typically passes for American television. Probably because each series only has three episodes. They put all their good ideas into small number of shows rather than trying to stretch everything out over 22 episodes like they do here.

• Cinematic Anticipation! There's been a movie hovering on the horizon that has me pretty excited. Now Robot and Frank has been unleashed at Sundance and the reviews have been pretty great...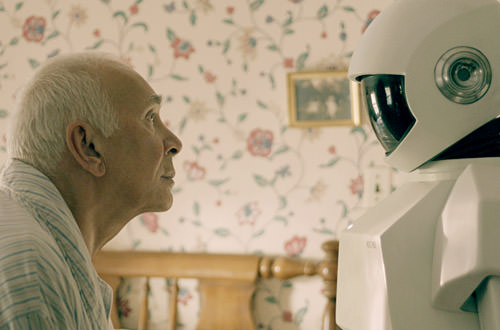 I mean, come on, it's got Frank Langella playing a retired cat burglar who is given a robot to help around the house. But Frank discovers a much more interesting use for his robot pal... crime. As a premise, it doesn't get much better than that!

Annnnnd... scene. I need toast and jam.
Posted on November 9th, 2010

Today was a heaping bowl of suck.
Then it started snowing, and my bowl of suck was suddenly topped with shit sprinkles. But that's okay, because I'm kind of getting used to it. Lately it seems as thought most everything in life comes with shit sprinkles on it. I think it all started when I noticed that the waistbands in my three-month-old Jockey boxers has already started to give out. Meanwhile, I've still got pairs of Joe Boxers that are three years old and still going strong. Nothing to get too depressed over, but it seems as though nothing is built to last any more. Nothing. And I can't help but be sad about that.
So I've decided to take a couple sleeping pills, go to bed, and not think about it.

If you're not into music synthesizers, you'll want to skip the rest of this entry.
Otherwise...
...there's a frickin' AMAZING app that just dropped for the iPad. It's the KORG iMS-20 emulator! Here's a description from the iTunes product page...
iMS-20 is a complete music production app for iPad, consisting of a complete recreation of the legendary Korg MS-20 analog synth with patching capability, a 16-step analog sequencer based on Korg's SQ-10, a six-part drum machine with dedicated pads, and a seven-channel mixer with 14 types of effects.
It's about the coolest thing I've seen on the iPad yet...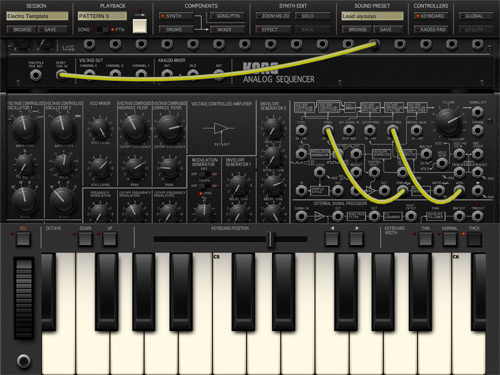 It's all here, and you can zoom in on a section and swipe between them as you mix...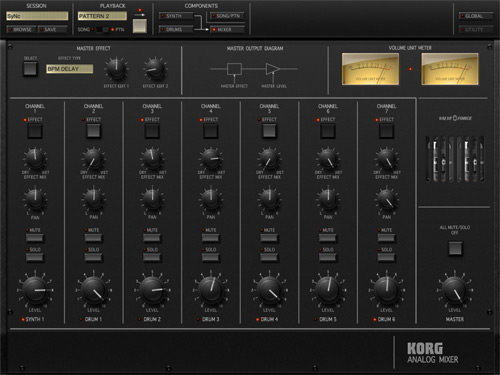 This video shows the Korg iMS-20 for iPad in action...
You can, of course, export your creations as high-quality .WAV files by "bouncing" them through iTunes. You can also share your creations via "SoundCloud," which makes collaborating with other iMS-20 users a snap. The sound seems like it would be good enough to incorporate into a live performance, and if they update the app to use Apple's forthcoming "AirPlay" technology, you would even be able to do so wirelessly! I don't know why, but being able to play in a band while sitting in the audience seems pretty funny to me.
Using the Korg app is fairly straightforward if you have any previous experience with synths. I was composing loops after goofing around for just 30 minutes. The only area that was a little rough for me was tapping out notes on the keyboard. The iPad's multi-touch screen makes chords possible, but I just can't get the hang of playing without actual keys. Zooming in helps, but it's going to be a while before I'm comfortable (or competent) enough to play actual music with it. There's an alternative, however, in the form of "Dual Kaoss Pads" where you can play the instrument by running your finger across them. It's kind of fun for free-form creation, but gimmicky if you've got a specific composition in mind. I'll just keep hoping somebody makes an iPad MIDI adapter so I can plug in a cheap physical keyboard.
The Korg iMS-20 app for iPad is so complete... so brilliant... so utterly killer... that it has me seriously wondering if there's anything you can't you do with an iPad given the right software. If you have any interest in composing on a synthesizer, buying this app is a no-brainer. The half-price sale price of just $15.99 is the icing on the cake (good until the end of the year). Highest possible recommendation. Click here to see it at the iTunes Store.

UPDATE: Holy crap. It just keeps getting better. ReBirth has just been released for iPad!
Amazing. Just amazing.
Posted on June 4th, 2010

When I was visiting my sister for a (very) belated birthday celebration this past weekend, I somehow left my car's passenger window part-way down (I don't remember ever lowering it, but whatever). Of course it then decided to rain all night long. By the time I was told about my error the next morning, the floor was all squishy with water. I soaked up as much as I could, then drove back home where the warmer weather managed to dry things out nicely.
Until this morning, when a bottle of Coke got knocked on the passenger floor, which meant I had to once again flood everything with water in an effort to get the syrupy mess out of the carpet.
Can't. Catch. A. Break.
Tonight I'm going to try to get more than four hours sleep and see if that can prevent any further Coke-related accidents in my car. If I have to soak the floor one more time, the carpet is probably going to disintegrate.
Much like the little boy in this statue I photographed in Brooklyn a few weeks ago...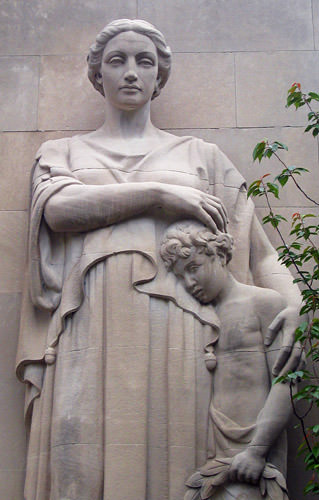 I know. I know. The artist intended to show the kid nuzzled into the folds of the woman's tunic... but unless she's got a gaping hole in her torso AND is missing a good chunk along the left side of her body... OR the kid had half his face and body burned off in a nuclear accident... well... the boy is occupying the same space as the woman here. This means either they are merged like some kind of impossible Siamese twins... or they got fused in some freak teleporter accident like Jeff Goldblum did in The Fly.
No matter what the explanation, I am really creeped out by this statue. I mean, GAH!! THEY ARE TOTALLY MELTED TOGETHER OR SOMETHING!! AM I THE ONLY ONE WHO NOTICES STUFF LIKE THIS?!?
Urgh. Must go to bed and try not to have nightmares of giant freaky mutant melty people.

But before I go...
Normally I would save something like this for Bullet Sunday, but I have no idea how long the half-price offer will last, so I'm compelled to add it today.
A really nice strategy game called "Carcassonne" has been converted to the iPhone and released today. The object of the game is to build a board out of tiles, and use your "Meeples" to claim castles, roads, fields, or cloisters. The strategy comes in when you try to figure out the best way to maximize points while keeping your opponents from doing the same. The original game looks like this...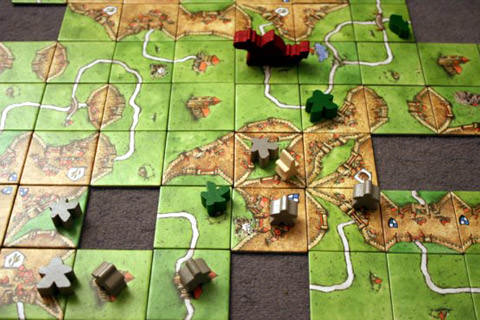 Photo by Elentin and taken from Wikipedia.
The iPhone version (created by TheCodingMonkeys) is just stunning, and looks like this...
Not only does it look gorgeous and fully-faithful to the original, but the developers went for broke by adding multiplayer via your choice of pass-and-play OR Bluetooth OR Wi-Fi OR email OR internet (with push notifications when it's your turn!). Don't have the number of players you like? Select one of the eight computer AI opponents of various skill levels! Not enough? They added a unique "Solitaire" mode with all-new game-play! Don't know how to play? There's a full manual PLUS a great tutorial complete with voice-over acting! STILL not enough? Carcassonne for iPhone also has in-game chat for network games, online and offline rankings, and a "Solitaire Game of the Week" with a best score competition!
In short, this is one of the best apps I've ever seen on my iPhone. Some people I know don't like Carcassonne, but most people seem to love it. If you love it or even think you'll love it, now is the time to act... it's currently on sale for $4.99! So get it now before they released the FREE iPad compatible version and jack the price up to $9.99! From what I've read, TheCodingMonkeys are planning on keeping the game fresh by adding some of the Carcassonne expansion sets for in-app purchase. You can't ask for more than that...
If you'd like to see more, I've added more screen captures with my comments in an extended entry...
→ Click here to continue reading this entry...