Welcome to the third installment of Things I Bought Week, showcasing stuff that I recently purchased and what I think of what I got for my hard earned money!
What did I buy this time? Energy 5.1 Take Classic Home Theater System Speakers.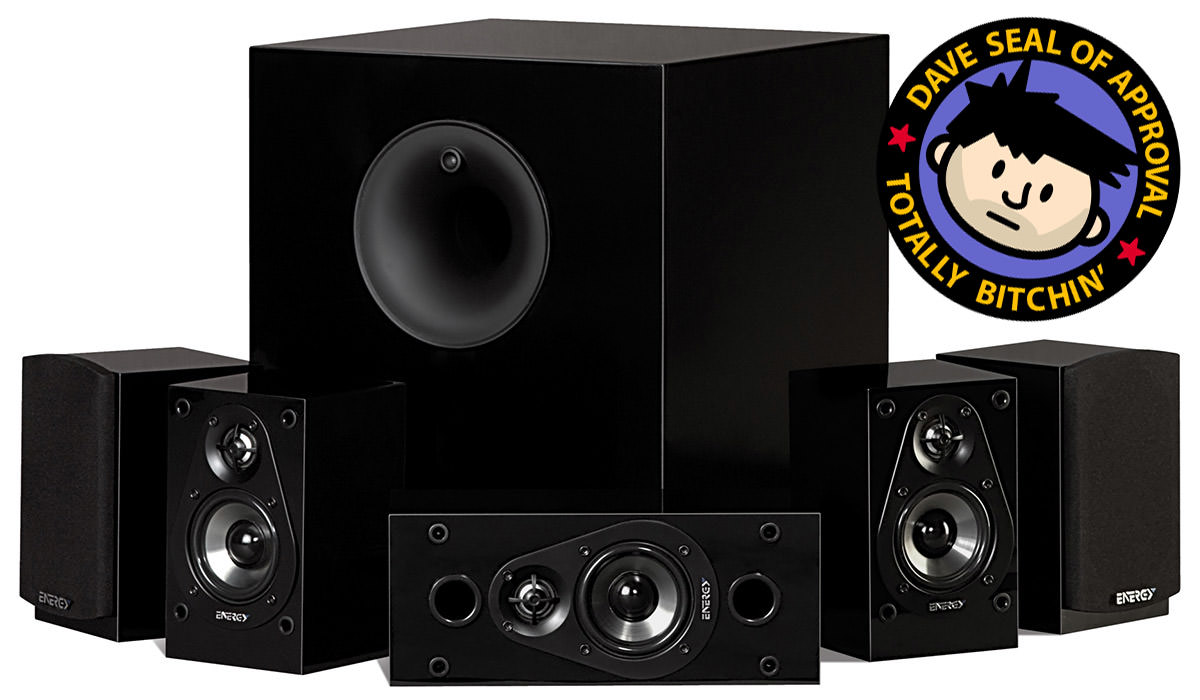 When watching movies at home, there's really no substitute for a good set of surround sound speakers. Without them, everything is forced into two channels (left and right) which means all the dialogue, audio effects, ambient noise, and other sounds are fighting each other as they travel to your ears. This results in you having to turn the volume up and down and up and down as you try to hear what people are saying in quiet moments, but don't want to have the volume blow you out of your chair the minute something loud happens.
As that weren't bad enough, when you have only two speakers... whether they be in your television or outside of it... the sound is blasting towards you in one direction rather than being the immersive experience it was designed to be.
Enter surround sound.
A typical 5.1 Surround Sound speaker setup works like this...
CENTER CHANNEL: This is where all the main spoken dialogue comes from. Sound engineers separate out people talking because (in most cases) it's the most critical audio in the film, and they want to be sure it's not trampled over by other sounds in the scene. It's critical that the center speaker be put as close to your television as possible so that voices seem to be coming from the mouths of the people speaking it.
LEFT & RIGHT FRONT CHANNEL: Most everything happening in the camera that's not dialogue (plus all sounds recorded to the sides of the camera's view) comes from these speakers. If you watch a car zoom past the screen from left to right, the sound should start in the left speaker, then travel to the right speaker.
LEFT & RIGHT REAR CHANNEL:
These are the speakers that provide sound for what's going on
behind
the camera, and are critical for an immersive audio experience. When you're watching
Star Wars
and a TIE fighter screams into the scene, you hear it coming from
behind
you before you see it, then the sound moves to the front channels as it becomes visible.
SUBWOOFER: That deep, rumbling bass that accompanies sounds from explosions, thunder, and other massive-volume audio is supposed to be something you feel when you hear it. A subwoofer is built to do just that. And since low frequencies like this are non-directional, you can put the subwoofer anywhere you like... though placement next to objects can affect the sound, so it's always good to experiment when choosing a spot.
There's also 7.1 Surround Sound, which adds two additional channels to the rear of the room to further distinguish audio cues that are placed behind you. It's nice if you've got the space for it, but not essential if you don't. Other sound setups which add additional channels for high sounds and side sounds are also out there, but you need a pretty high-end room with space to spare in order to best make use of them.
As if all that weren't enough, companies have developed even more sophisticated sound technologies (such as Dolby Atmos) which do away with the channel model altogether and have the ability to create spatial sounds within a matrix of specially-designed speakers in a 5.1.4 or 7.1.4 configuration (definitely a topic for another time).
Anyway...
This surround sound stuff is all well and good... but if you have a smaller room (like I do), where are you going to fit all those speakers? Using typical stereo speakers would not only be overkill in my 11-1/2' square living room... but they would take up a considerable chunk of space. Smaller speakers that are worth a crap tend to be very, very expensive... so what to do?
Enter Energy 5.1 Take Classic Home Theater System Speakers. Small speakers engineered to have big sound for smaller spaces at a great price.
And boy howdy are they nice.
After I took the time to get everything balanced and optimized the levels on my amp, I'm getting pretty remarkable sound out of these babies. All five speakers are the same size (despite the center channel having a different enclosure) and provide clear, crisp sound that's perfect for a terrific surround experience. The subwoofer has really good low-frequency response and pushes bass you can feel with minimal distortion.
Surprisingly powerful for their size, the Energy speakers have no problem filling my small room, and can even fill my entire home at higher volumes. I bought this set to replace my faithful Pioneer speakers that I've had for decades after I decided they were just too big for the space available. Even though they are a tiny fraction of the size, I honestly don't feel I've sacrificed anything. If anything, I've gained quality by going from stereo to 5.1 surround.
The speakers come with a screw-hook mount to hang them against a wall, but it's really recommended that you buy speaker stands so they can breath a bit (I like the Atlantic Satellite stands). The plugs are nice enough... don't know that they're gold at this price, but they do have pop-outs if you use banana plugs like I do. I wish they weren't angled weird and were a little more spaced apart so my stand brackets weren't so tight between them, but these aren't deal-breakers.
If I have a complaint it wouldn't be anything related to the sound... but the look. The speakers are enclosed in high-gloss black cases that attract dust like a magnet and show every smudge and fingerprint. It's really tough to keep them looking their best, and I really wish there was a textured matte option for people who don't want to dust their speakers every day.
Overall, a good set of speakers for a home theater system that will also do a decent job with music if space is at a premium. Fairly priced too.
RATING: B+ • DAVE APPROVED • Currently selling for $316 at Amazon.