Welcome to the fifth installment of Things I Bought Week, showcasing stuff that I recently purchased and what I think of what I got for my hard earned money!
What did I buy this time? The Denon AVR-S910W Dolby 7.2 Channel 4K Receiver.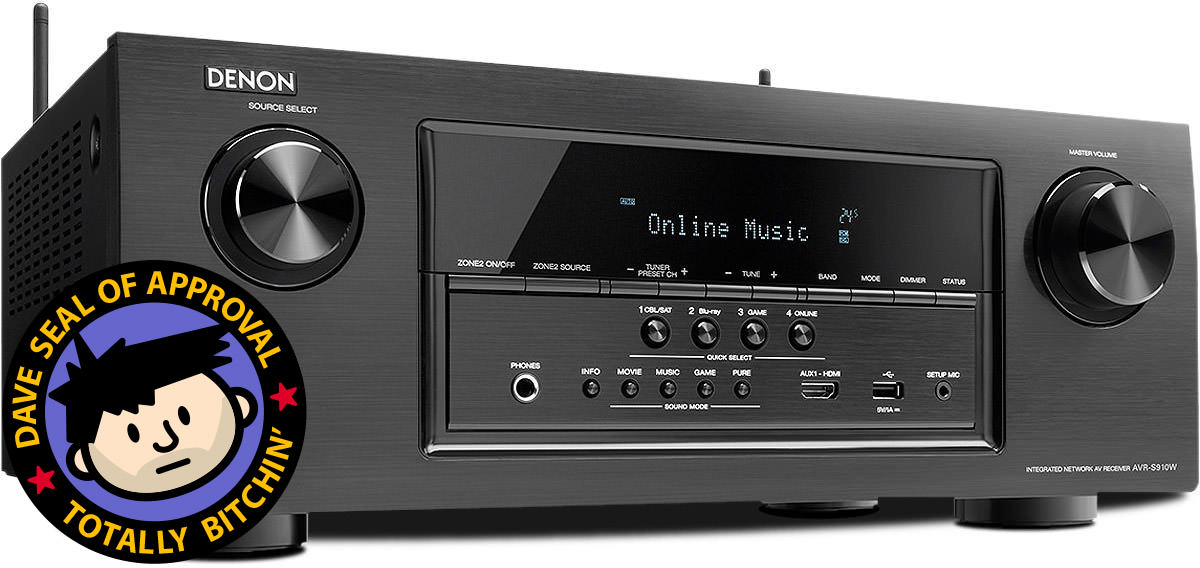 I loathe having to buy new stereo equipment.
But receivers are handling a heck of a lot more than just audio now-a-days... receivers are the hub for both audio and video. So whenever video standards change, your equipment has to change with it. When we went from RCA jack video to composite video and optical sound? New receiver. When we got S-Video? New receiver. When we went to HDMI? New receiver. And now that HDMI has been improved with a new version 2 at 4K and shitty fucking copy protection has been unimproved with HDCP 2.2? New receiver.
I mean, sure, you can always use old inputs on an old receiver... I've been doing that for years and living with the lower quality picture... but it's time to upgrade.
I've been a huge fan of Pioneer equipment over the years, but they don't seem to be pushing the envelope now-a-days. My next favorite brand is Sony, but it was a more expensive option for what I wanted. So I spent days researching which receivers were getting good marks now-a-days and settled on Denon. The have a number of different models, but the AVR-S910W was on sale for a great price and did more than I needed, so here we are.
Aesthetically, the unit could easily be confused with dozens of other receivers since they're all looking the same now-a-days... though this line seems to be a bit more minimalistic, which I like. It has a fraction of the buttons of the old Pioneer it's replacing. Since most HDMI electronics can talk to each other via CEC (Consumer Electronic Control), you rarely need to press anything anyway. Turn on your AppleTV and CEC switches the receiver for you. It's mostly automatic and entirely awesome. What's crazy, however, is that the buttons you most need for non-HDMI devices (because they can't be automatically controlled) ARE MISSING. Want to switch the audio source to Bluetooth so you can play music off your iPhone? Hope you have the remote handy, because there's no button for that on the receiver itself.
And speaking of the remote... it's yet another button nightmare where you have to go hunting for what you want. Which sucks to be sure (why is it only Apple can minimize crap on remotes?) but it is fairly well organized, so there's that.
In addition to the afore-mentioned HDMI 2.0a and HDCP 2.2 compliance on all 8 of its HDMI ports (nice!), the 910 can also handle the forthcoming HDR picture spec and upscale signal from your old video equipment to full 4K. It's this last feature that sold me on the 910 over the cheaper 710, as I have old 8mm decks that will benefit from the upscaling technology. Since the 910 has an $80 instant rebate in effect, the price difference was $0, which is money well-spent.
For gamers out there worried about video processing lag, I couldn't detect any. But, then again, I'm playing everything on a Wii U now-a-days, which isn't quite so demanding compared to next-gen consoles by Sony and Microsoft. I'm assuming it won't be a problem, as the 910 has plenty of processing power to get the job done.
But enough about the video... what's going on with the audio?
Since I prefer to listen to music in headphones, the primary function of my new Denon receiver will be for home theater surround sound. Support for 7.1 surround is a given, but the unit can also handle new 3D spatial sound technology like Dolby Atmos and DTS:X... which seems a cool idea, but there's nothing really available in the consumer space encoded with those technologies yet and it requires adding more speakers than I want in my small living room. Still... nice for future-proofing the unit, I suppose. Surprisingly, you can run two subwoofers off this receiver, which I didn't even know was a thing. Since low frequencies are non-directional, I thought this was a one-and-done, but apparently two subwoofers provide a richer bass experience.
The sound itself seems very good. I'm no audiophile, but everything I've listened to is well-defined and separated out perfectly on my speaker system. Since my setup is small and fairly undemanding, the 910 is massive overkill in the power department, but it's nice to know I've got the ability to run some serious speakers at 185w per channel if I ever need to.
Denon has its own proprietary system for wireless speakers called "HEOS" which is meant to be direct competition with SONOS. If I could afford a wireless speaker system, I'd bypass HEOS because it has to share your WiFi network instead of creating a separate mesh network like SONOS does. This is a serious deal breaker, because most WiFi networks are close to saturated given all the crap we keep connected to the internet in these modern times. So while HEOS support is nice, I supposed, I have a feeling most people won't bother with it.
If you sacrifice 2 channels from a 7.1 system and can live with a 5.1 surround setup, you can repurpose those two channels as a different speaker "zone" which can be placed in another room and play from a completely different audio source. I honestly think this is kind of silly, but I guess there are some scenarios where it might be useful.
Like most receivers today, the Denon has built-in Bluetooth and WiFi for live streaming. It has support for Pandora, Spotify and Sirius XM on-deck, and can also interface with Apple Airplay-enabled devices like iPhones, iPads, and Macs. There's also support for internet radio, but the "stations" are kind of clubky to access, so I probably wouldn't. Thanks to Denon's apps for mobile devices, you can control the receiver with your iOS and Android devices. It seem capable, but also overly complex and cluttered. Still, it does easily allow you to control functions and tie into media servers as sources fairly easily, so worth the free-fitty-free pricetag.
When it comes to set-up, the AVR-S910W is dead-simple. You can use your iPhone to grab all the WiFi settings via Airplay which is super-sweet (no WiFi? Ethernet is also available). Then it's just a matter of following the on-screen instructions displayed on your TV to match your speaker setup. Thanks to the Audyssey Bronze calibration system being built-in, you can optimize your levels with ease. Just place the included microphone on a tripod in the middle of the room and the 910 will play tones to measure your speakers. The system them creates a custom profile based on room acoustics to give you optimal sound at every volume level. I know this reeks of silly gadgetry that usually ends up being useless... but can honestly say I noticed an immediate quality improvement after running through the Audyssey program. Pretty cool.
The on-screen user interface is serviceable enough, but kind of pathetic by today's standards. Mostly a bunch of text staring at you, it looks badly dated. Why Denon would invest money in all the latest bells and whistles only to choose to saddle it with a 1990's wrapper is more than a little inexplicable.
Something I've never seen before is Denon's "Eco Mode" which attempts to save electricity by restricting power to each channel based on the volume you've set. I notice no difference on my tiny speakers with Eco Mode on, so I've just left it there.
If there's a flaw to be found with the AVR-S910W, it's this... THERE IS NO SWITCHED POWER OUTLET ON THE BACK! Which means your subwoofer gets to be powered on all the time unless you want to get up, walk across the room, and manually cycle the power off when you aren't using it. Which begs the question... WHO FUCKING DOES THIS?!? Seriously, what idiotic excuse could they have for leaving off a switched outlet for your subwoofer from the feature list? Every fucking receiver I've ever owned has had a switched power outlet until now. It's senseless bullshit like this that takes great products and sabotages them utterly. This is such a moronic oversight that I am compelled to drop a grade from my score even though the unit is otherwise perfect. I just naturally assumed I'd have my outlet and was dumbfounded when I went to plug in my subwoofer and saw there wasn't one. Somebody at Denon needs to pull their head out of their ass on this one, because it makes the company look like complete idiots. Had I known about this inexcusable flaw, I don't know if I would have purchased it. But probably. There's just so many great things about it compared to the competition in this price range.
RATING: B • RELUCTANTLY DAVE APPROVED • Currently selling for $479 at Amazon.