I finally made it to Taco Bell to try their new "Cantina Bell" menu... which is supposed to be a "gourmet" selection of Mexican dishes.
My expectations were understandably low. This is, after all, Taco Bell.
I ordered the Veggie Cantina Salad with a side of guacamole and chips. The salad consisted of a bed of warm cilantro rice topped with black beans, lettuce, guacamole, roasted corn & pepper salsa, pico de gallo, and a cilantro dressing.
All I can say is bravo, Taco Bell... bravo...
The salad was excellent. All the ingredients were tasty, fresh, and of good quality. The guacamole was creamy and had good flavor. I loved the roasted corn & pepper salsa. The beans and cilantro rice were cooked to perfection. The dressing had a nice "tang" to it and tied everything together nicely. I would have liked to have had a little cheese sprinkled on top, but it wasn't a deal-breaker.
I can't wait to try the Cantina Veggie Burrito, which takes all the salad ingredients and wraps them in a flour tortilla that looks to be toasted. I'm betting it's even better than the salad...

This photo (taken from Cantina Bell) shows dead chicken in the burrito, which I'd skip.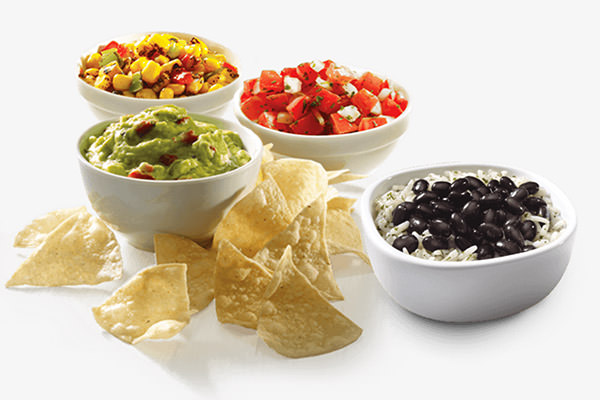 Any one of the three sides (guac, salsa, pico de gallo) with chips and a Pepsi can be added for just $2!

The recipes for all this great stuff are courtesy of Lorena Garcia. Not only is she a famous chef who comes up with good recipes... she's totally hot and is a contestant on the current season of Top Chef Masters as well...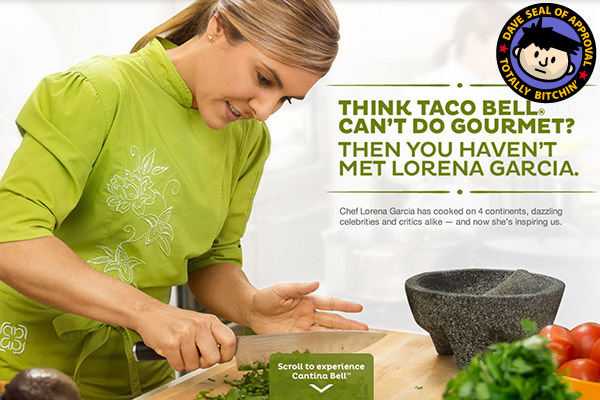 I can honestly say that my Cantina Bell meal at Taco Bell... YES, TACO BELL!... was as good as I've had at some finer Mexican restaurants, even though you're eating it with a plastic spork from a crappy plastic bowl. I will absolutely be eating at "Cantina Bell" again, and hope that the menu sticks around for a while.
Or forever.
If you need a quick meal and feel like some pretty good Mexican fare, give it a shot!