When I was visiting my sister for a (very) belated birthday celebration this past weekend, I somehow left my car's passenger window part-way down (I don't remember ever lowering it, but whatever). Of course it then decided to rain all night long. By the time I was told about my error the next morning, the floor was all squishy with water. I soaked up as much as I could, then drove back home where the warmer weather managed to dry things out nicely.
Until this morning, when a bottle of Coke got knocked on the passenger floor, which meant I had to once again flood everything with water in an effort to get the syrupy mess out of the carpet.
Can't. Catch. A. Break.
Tonight I'm going to try to get more than four hours sleep and see if that can prevent any further Coke-related accidents in my car. If I have to soak the floor one more time, the carpet is probably going to disintegrate.
Much like the little boy in this statue I photographed in Brooklyn a few weeks ago...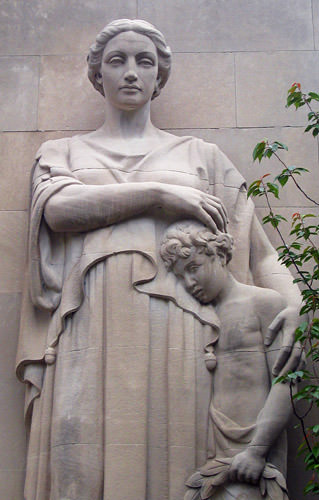 I know. I know. The artist intended to show the kid nuzzled into the folds of the woman's tunic... but unless she's got a gaping hole in her torso AND is missing a good chunk along the left side of her body... OR the kid had half his face and body burned off in a nuclear accident... well... the boy is occupying the same space as the woman here. This means either they are merged like some kind of impossible Siamese twins... or they got fused in some freak teleporter accident like Jeff Goldblum did in The Fly.
No matter what the explanation, I am really creeped out by this statue. I mean, GAH!! THEY ARE TOTALLY MELTED TOGETHER OR SOMETHING!! AM I THE ONLY ONE WHO NOTICES STUFF LIKE THIS?!?
Urgh. Must go to bed and try not to have nightmares of giant freaky mutant melty people.

But before I go...
Normally I would save something like this for Bullet Sunday, but I have no idea how long the half-price offer will last, so I'm compelled to add it today.
A really nice strategy game called "Carcassonne" has been converted to the iPhone and released today. The object of the game is to build a board out of tiles, and use your "Meeples" to claim castles, roads, fields, or cloisters. The strategy comes in when you try to figure out the best way to maximize points while keeping your opponents from doing the same. The original game looks like this...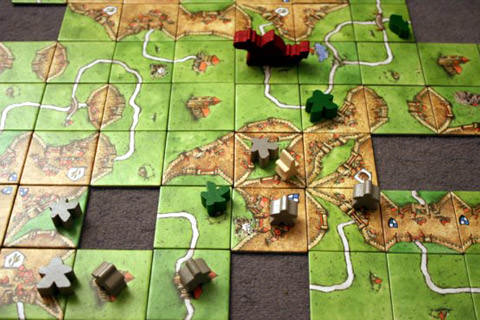 Photo by Elentin and taken from Wikipedia.
The iPhone version (created by TheCodingMonkeys) is just stunning, and looks like this...
Not only does it look gorgeous and fully-faithful to the original, but the developers went for broke by adding multiplayer via your choice of pass-and-play OR Bluetooth OR Wi-Fi OR email OR internet (with push notifications when it's your turn!). Don't have the number of players you like? Select one of the eight computer AI opponents of various skill levels! Not enough? They added a unique "Solitaire" mode with all-new game-play! Don't know how to play? There's a full manual PLUS a great tutorial complete with voice-over acting! STILL not enough? Carcassonne for iPhone also has in-game chat for network games, online and offline rankings, and a "Solitaire Game of the Week" with a best score competition!
In short, this is one of the best apps I've ever seen on my iPhone. Some people I know don't like Carcassonne, but most people seem to love it. If you love it or even think you'll love it, now is the time to act... it's currently on sale for $4.99! So get it now before they released the FREE iPad compatible version and jack the price up to $9.99! From what I've read, TheCodingMonkeys are planning on keeping the game fresh by adding some of the Carcassonne expansion sets for in-app purchase. You can't ask for more than that...
If you'd like to see more, I've added more screen captures with my comments in an extended entry...
You can swipe around the play area, pinching and zooming as desired to see the board as needed...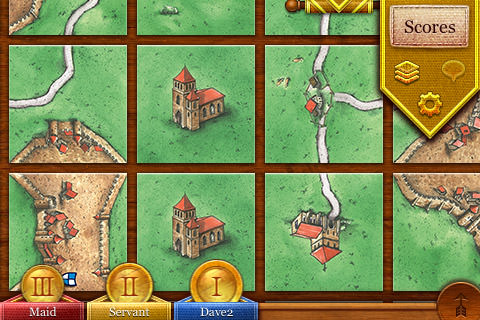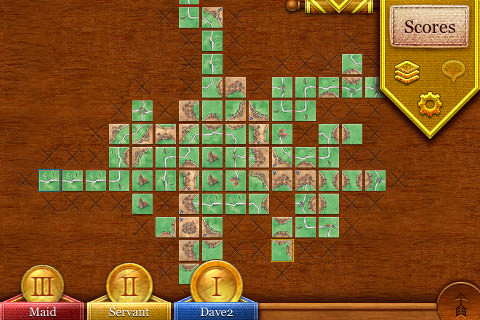 Create a FREE account to play online or offline...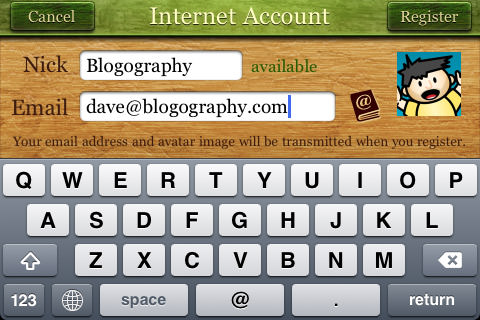 Choose from Computer AI Players to build the game you want to play...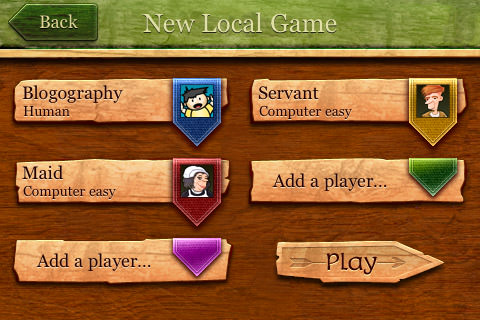 Get your ranking adjustment and stats at the end of each game...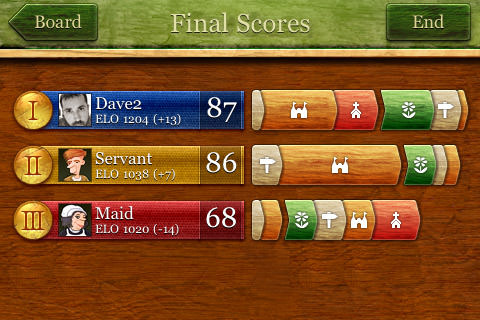 Invite others to play via email...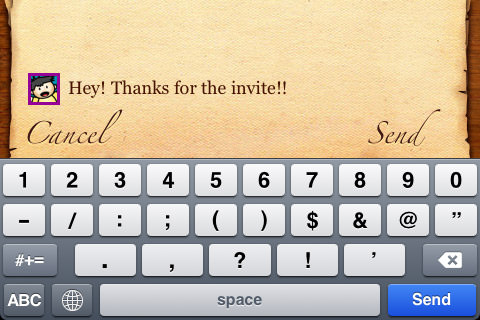 Easily manage multiple ongoing games and invitations...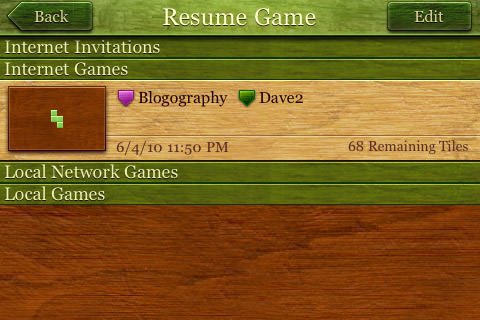 In-game chat and real-time play over the internet...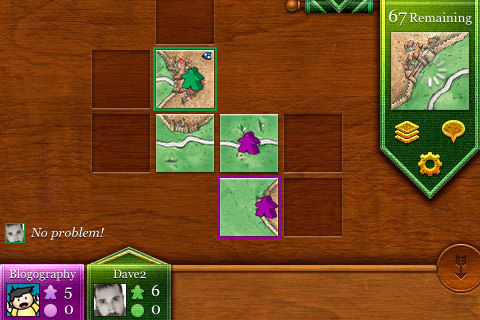 Look... I'm playing with myself!
Carcassonne can receive push notifications if you allow it. WARNING! You can never really be prepared for that first time your iPhone squawks "IT'S YOUR MOVE!" in the scariest raspy voice possible.
Don't have any friends available to play with, but want a human opponent? Carcassonne can find you one!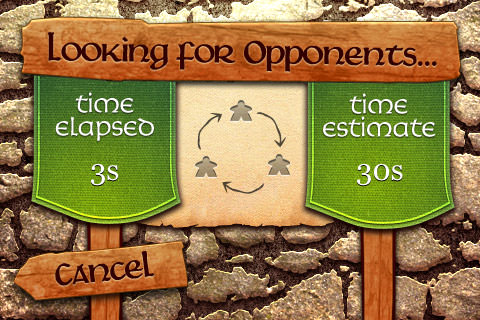 Play unique new "Solitaire Mode" and compete against others with the "Solitaire Game of the Week"...
Absolutely beautiful game. I can only hope that more classic board games are converted for iPhone/iTouch/iPad that are of this high quality and playability!