Posted on April 11th, 2021

Alien hordes about to overwhelm your position? You situation seems hopeless? Not on my watch! So stop your grinnin' and drop your linen... because Bullet Sunday starts... now...

• Matterhorn! HAVE YOU SEEN THIS?!??
Dude. I'm just... wow. Would I love to experience something beyond amazing like this? Certainly. Would I be crapping my pants, hugging the mountain, and crying for my mommy? Lord, yes.

• Adopted? I have watched this entirely too many times and laugh my fool head off each time...
I swear, I'd rather watch TikToks than television now-a-days. All the most clener and original content is happening there.

• Volcano! I saw these videos of a drone flying over lava and into a crater that's erupting in Iceland but keep forgetting to share them...
Now this is what drones were made for!

• GOAT! GAAAAH! THE CUTENESS!!!
My ambition in life is to have an experience so good that, if I had a tail, it would be wagging like that. A good start is watching all the Goat Daddy's TikToks.

• Avatarland. I used to visit Orlando twice a year for the charity I worked with. It was always a fun time because I have friends in the area and often times my mom would want to go with me because she absolutely loved Walt Disney World. Because of this, it was tough for me when my work in Orlando ended... mostly because they are adding cool new stuff all the time and haven't seen any of it. Star Wars Galaxy's Edge? Nope. Pandora: The World of Avatar? Nope. I'll undoubtedly make it back one of these days but, in the meanwhile, there's YouTuber Jenny Nicholson. She's goes deep, deep into "Pandora" so you can visit without actually visiting...
Interesting stuff. Now I want to return more than ever.

• Oh Shit! As much as I love the idea of living in Australia, there are reasons that will never happen. Like this...
Yeah. Nooooooo thank you.

• Classmates. And let's end this on a feel-good story you need on a Sunday...
And here's the original story...
Best of luck to him.

Alrighty then. Guess it's time to clean my mess of a kitchen so I can start off my week without stressing over the disaster I've got going on there.
Tags:
Australia
,
Avatar
,
Bullet Sunday
,
Cuteness
,
Disney World
,
Drones
,
Goats
,
Iceland
,
Orlando
,
TikTok
,
Videos
Categories:
Bullet Sunday 2021
—
Click To It:
Permalink
—
2 Comments: Click To Add Yours!
Posted on March 12th, 2021

Last night I took a double Benadryl cocktail at 9:30 and went to bed at 10:00 in the hopes that I could get some rest after battling my allergies all day long. I started to read more of a book I started last month (the excellent Four Hundred Souls: A Community History of African America, 1619-2019)... except, according to my Apple Watch... I passed out 15 minutes later.
I slept a total of 7 hours and 56 minutes.
That's a massive amount of sleep for me. And once I saw the sleep report, I was thinking that today would be the best day ever since I was so well-rested. Except... the lingering effects of Benadryl has meant that I spent my morning being mostly drowsy. Oh well. I tried.
In non-drug-induced-slumber-news...
When I went to Amazon to look into more replacement filters for my air purifiers, the very first "recommended item" was leggings. For women. And I'm like... "Dude. The last thing I bought was a frickin' vegetable peeler and a case of Cheetos. How in the hell did the leap from Cheetos to leggings happen?" — YOUR ALGORITHM IS DRUNK, AMAZON... GO HOME!
Although...
...there are certainly worse things to have show up on your Amazon recommendations.
Even though pink isn't really my color. And no amount of Cheetos will ever make my ass look that good.
And in other, other news. I've discovered Goat TikTok...
And just when you thought your Friday couldn't get any better. You're Welcome!
Posted on February 23rd, 2014

My plans for yesterday were simple.
Work. Lunch. Shop. Memorial. Work. Fun.
Alas, everything came to a screeching halt after "Lunch" because my trip to Olive Garden resulted in gastrointestinal distress so bad that I would have been relieved if an alien were to burst out of my intestines...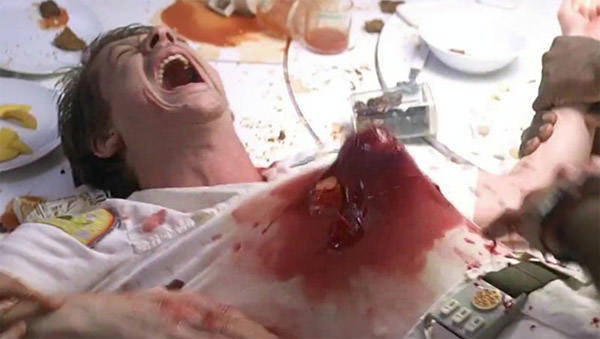 Not an actual representation of my afternoon... but darn close.
Then things got a little depressing for me, because nobody wants their plans foiled by a plate of Fettuccine Alfredo.
Especially when the Fettuccine Alfredo isn't even real Fettuccine Alfredo, and is made with a cream base.
But then I saw a video of French goats playing on a "flexible steel ribbon," and everything was fine again...
Silly goats.