This will be an entry in two parts.
This is Part One.
On my way back to the Cincinnati Northern Kentucky International Airport yesterday, I stopped off at The Creation Museum. For those not in the know, this museum was built to explain the origins of life on earth as interpreted by a literal reading of the Book of Genesis in The Bible, which contains this pertinent bit...
And God said, "Let the land produce living creatures according to their kinds: the livestock, the creatures that move along the ground, and the wild animals, each according to its kind." And it was so.

God made the wild animals according to their kinds, the livestock according to their kinds, and all the creatures that move along the ground according to their kinds. And God saw that it was good.

Then God said, "Let us make mankind in our image, in our likeness, so that they may rule over the fish in the sea and the birds in the sky, over the livestock and all the wild animals, and over all the creatures that move along the ground."

So God created mankind in his own image, in the image of God he created them; male and female he created them.

God blessed them and said to them, "Be fruitful and increase in number; fill the earth and subdue it. Rule over the fish in the sea and the birds in the sky and over every living creature that moves on the ground.

Then God said, "I give you every seed-bearing plant on the face of the whole earth and every tree that has fruit with seed in it. They will be yours for food.

And to all the beasts of the earth and all the birds in the sky and all the creatures that move along the ground—everything that has the breath of life in it—I give every green plant for food." And it was so.

God saw all that he had made, and it was very good. And there was evening, and there was morning... the sixth day.
So... all living creatures were created by God on the sixth day. Including man.
And dinosaurs, of course...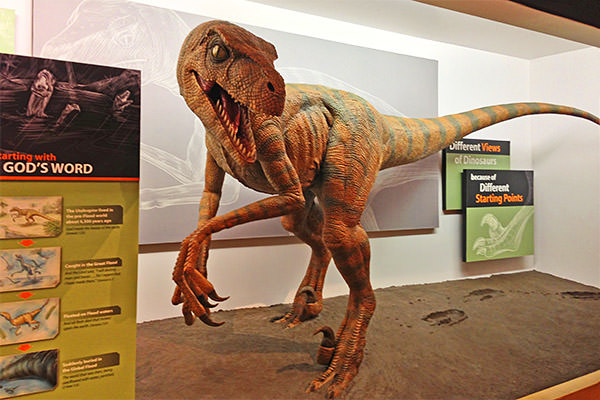 This may sound crazy given that science clearly shows that dinosaurs actually existed millions of years ago and became extinct long before man even entered the picture... but... if you believe in a literal reading of The Bible, well... science is clearly wrong. God's own Word tells us that all living creatures were created by Him on the sixth day mere thousands (not millions) of years ago, and there's nothing more to be said...
Now, before I go any further, let me be perfectly clear... this is not the belief of all Christians. There are many, many Christians who have different belief structures based on different interpretations of The Bible. One belief, for example, says that what God considers a "day" could be very different from what man considers a "day" to be. Perhaps a "day" for God consists of millions of years. This would mean that our flawed perception of time and our "science" doesn't necessarily negate God's Word.
And it goes on and on. There are as many ways to look at Creation from a Christian perspective as there are Christians on earth.
When I was in the middle of my initial Christian studies, I came up with a kind of sliding scale that had a "Sample Christian" loosely defined at each of five points. It was not meant to define people directly, but an attempt to understand how a single group called "Christians" could be composed of such vastly diverse perspectives... even amongst the different branches...

5. I Believe That The Bible is the ONLY Word of God. It is without flaw or error, and its every passage is to be followed exactly without any deviation from what is literally written. All events in The Bible transpired precisely as recorded and are historical fact. Its authors were directly controlled by God to transcribe His exact thoughts, and no part of it can be contradicted or ignored. Every word is of God, so everything within must be given equal weight and no part or parcel of it is to be given precedence over any other. The Bible is perfect and complete, thus there is nothing more for God to say on matters... all answers can be found within. Any translations to different languages were likewise directly controlled by God, so they are also without flaw or error. Any variant of The Bible which is different from the version/translation that I have accepted as God's truth is a false document. Any interpretation of The Bible which is different from mine is not of God and must be dismissed utterly as non-Christian. Anyone not accepting Jesus as their Lord and Savior is damned in the eyes of God and doomed for all eternity.
4. I Believe That The Bible is the LITERAL Word of God. As above, everything written in The Bible is correct and true and must be taken exactly as presented. It is historically accurate and there can be no deviation from the texts since they are recorded facts. However, as God is a Living God who still speaks to our hearts even today, He directs us to those parts of The Bible which are most applicable to our lives. God continues to inspire people to explain and teach The Bible in new ways so that it can more easily apply to the modern world. While The Bible is the ultimate authority on all things, God's grace and gift of free will means that His truth will reach people in different ways... thus there will be a variety of versions/translations/interpretations of The Bible. But, despite our different approaches to God's Word, we are all one under Him. I embrace anyone who has accepted Jesus to be their Lord and Savior as a fellow Christian, even though the way they believe in The Bible may differ from mine. We are all following different roads to the same destination and that's God's plan. Those who have not yet given their lives over to Christ are potential Christians who must open their hearts to Him to be saved.
3. I Believe That The Bible is the INTERPRETED Word of God. While everything in The Bible is correct and true, the contents have been interpreted by man and are thus imperfect. Yes, events recorded in The Bible actually happened... but they've been colored by the writers of the day to fit into the world as they understood it. Because of this, people living in the modern world can't take things presented in The Bible literally. It is more a tool to know God and learn about the life and teachings of our Savior Jesus Christ rather than an exacting historical account with rules to be followed implicitly. Non-Christians who accept Jesus as their Lord and Savior... even if it's after their death... are saved in the eyes of God.
2. I Believe That The Bible is the INSPIRED Will of God. While the overall message of The Bible is correct and true, it was written by man, thus cannot be considered the literal "Word of God." It is more "parable and allegory" to learn from rather than exacting truth, and it is up to individuals to decide how to best use The Bible to define their faith. I believe that Jesus is the Son of God and his teachings are the way to salvation, but those teachings are not first-hand accounts and open to re-interpretation. It's my belief in Jesus that defines me as a Christian... not a blind acceptance of everything recorded in The Bible. God judges people based on their good deeds, which is following the example of Christ... not an adherence to somebody's interpretation of words inspired by, but not directly of, God.
1. I Believe That The Bible is a Book About God. I don't actually believe everything in it to be true, but The Bible contains some things that resonate with me spirituality. In this respect, The Bible is merely one of many tools that a person can use to help them better know whomever or whatever God may be. I call myself a "Christian" because that's what people who believe in God are called, and Jesus as the Son of God sounds like he is a wonderful person I'd like to emulate.

Now, one would assume that The Creation Museum is gunning for "Sample Christians" from groups 5 and 4 whose world view coincides with their literal read of The Bible. But then you see their motto... Prepare to Believe... and you get the feeling that they're reaching deeper.
Then you step foot into their beautiful museum, and you're certain of it.

To Be Comcluded!