Posted on March 31st, 2012

Today I got in a conversation with somebody where I mentioned that Canada is killing off their penny. They bristled at the idea. I said that not only do I wish we'd kill off our penny... I wish that we'd do away with cash altogether. In addition to saving us bajillions in production costs, we'd also do away with counterfeiters, hamper drug dealers, and reduce who-knows what other problems plaguing society. Money truly is the root of all evil, ya know. The person I was talking to admitted that they had never thought of it that way, and could see my point.
That's when I had to drop the bombshell that it's never going to happen in the US in our lifetimes because the Christians would revolt.
"Huh? Wha-? I'm a Christian, why would we revolt?!?"
"Well, a lot of you guys believe that the advent of a cashless society is a sign of the impending Apocalypse and the End of Days."
"Wha-? No we don't!"
"Some of you do. Among the freaky imagery in Revelation 13 is the idea that the Anti-Christ will do away with cash and you'll need the Mark of the Beast to buy stuff."
"Mark? Like a tattoo? That's in the Book of Revelations? "
"Err... Book of RevelaTION, yeah. I guess it could be a tattoo... like a barcode. Or maybe a brand. Or a computer chip or something... sure. Could even be a credit card... The Bible isn't always literal about things."
"Weird. Guess I don't remember Revelations much."
"Perhaps if you started by remembering the title correctly the rest would come easier..."
"Huh-?"
And then I had to wonder for the millionth time how it is that I, a non-Christian, have put in more time studying The Bible than most Christians I meet. And then I had to wonder for the billionth time how it is that somebody can choose to live their life and base their faith on a book (The Book) that they don't know much about and don't really understand. Maybe going to church and listening to somebody else tell them what they should think about their most sacred texts is enough. It wouldn't be for me. But to each their own I guess.
Anyway...
It snowed last night and was cold and rainy all day, so I was looking for something warm to eat for dinner. But after having worked all day, I didn't want to cook. So I decided to make a salad and see how that goes...
My dinner salad recipe for tonight (all measures approximate)
It was delicious. Though I do wish tomatoes were in season. With an additional vegetable (or a fruit masquerading as a vegetable), it might actually be considered a "salad" instead of an excuse to eat loads of dressing and cheese. I suppose I could have tossed some frozen peas in there or something.
But then I had Eggo waffles for dessert, so I guess it doesn't really matter how many vegetables I dump on my bowl of dressing and cheese.
Now I wish I had some ice cream.
Oh man... how awesome would ice cream be on Eggo waffles?
Posted on May 21st, 2011

Sometimes my many years of theological studies can be more a burden than a blessing. I'll see some person proclaiming to be of a certain faith in one breath... then turn around and say or do something that violates that faith in the next. And though they don't realize their hypocrisy, I do.
And it burns.
I see this crap and my brain feels like its on fire.
As I mentioned in a previous entry, The Bible is quite clear that nobody but God knows when the end of the world is coming. Furthermore, it is my interpretation that by claiming to know for dead-certain a Rapture date, Harold Camping was declaring himself a prophet. Because if he claims to know a date that God's Word specifically states only God knows, then he is claiming to have divine knowledge... thus making him a prophet.
And now that his prophesying is obviously not true, not correct, and not divinely given by God... well, I'm afraid the future doesn't look very happy for Harold Camping...
"But a prophet who presumes to speak in my name anything I have not commanded, or a prophet who speaks in the name of other gods, is to be put to death.

Deuteronomy 18:20 (New International Version)
Since God Himself has set the punishment for being a false prophet to death, Harold Camping's followers will have to kill him now won't they? At least I guess that's how it goes. I don't really know how they will reconcile that with the whole "Thou Shalt Not Kill" thing. As with everything in The Bible, that's open to interpretation.
Or I suppose I should say selective interpretation.
Because how many times have we seen people use a fragment of their holy text to justify their actions... all while violating another fragment mere passages away? They pick-and-choose what they want to believe and act upon while ignoring others because they don't really want to live according to their doctrine. They just want to live however they want to live and use pieces of doctrine to justify it.
Which is the very height of hypocrisy.
And it burns.
But suffering for other people's faith is an unavoidable consequence of humanity. And it doesn't take a prophet to see that this isn't going to change any time soon.
Posted on May 20th, 2011

THE END IS NIGH?
The Rapture isn't one of those things I believe in, per se. I mean, I believe that it's something that many people believe in, but that's as far as it goes. Which means that I'm going to be one of the people left behind if it ends up being the real deal, I guess.
And it all happens tomorrow, if you believe the wacky secret Bible code that Harold Camping claims to have uncovered. There are different interpretations of what actually happens in The Rapture, but I'd like to believe it involves Blondie, a big party, and plenty of champagne...
Though none of those things appear in Scripture when it comes to what is supposed to happen.
THAT is something entirely different. Though just how different is difficult to interpret, even for people like me who spent years studying The Bible. The most common belief is that millions of Christ's followers will disappear from the face of the earth, then a timeline starts which has oceans turning to blood, mountains burning, the Antichrist popping up, the ultimate return of Jesus to rule for 1000 years, followed by the eventual end of everything we know... replaced by a new heaven and a new earth.
Presumably an earth that's nowhere near as messed-up as the one we have now.
Of course there are other Christian scholars who have an entirely different opinion as to what happens. Some believe that nobody literally disappears during The Rapture. Others believe that The Rapture is just a teaching tool, and not an actual event that happens in real life. Still others believe that The Rapture has already happened. Harold Camping believes that after The Rapture happens tomorrow, the earth will be destroyed five months later on October 21st. He doesn't specify a time zone (that I know of) so I have no idea when we're supposed to start drinking...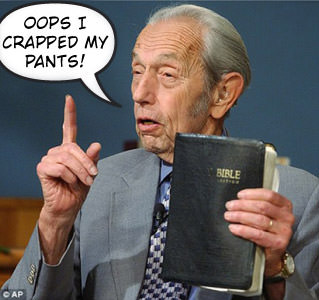 In the end, nobody has a definitive answer, just something they believe is correct.
Personally, my studies lead me to believe that The Rapture can't take place until after Oprah airs her final show on the 25th. After that, it's anybody's guess.
Anybody except Harold Camping. This will be the second time he screwed-up when picking a date (September of 1994 was the first)... so he can just go fuck off and die now. NO RAPTURE FOR YOU!
Posted on February 9th, 2011

When I was visiting Tunisia last year, our tour stopped at a parking lot in Carthage where our guide had us exit the bus and look in one direction... towards a Islamic mosque. Then he had us look the opposite direction... towards a Christian church. He proudly told us that while Tunisia was predominantly Muslim, other faiths were welcome to worship there, and everybody gets along with their neighbors just fine even though they may worship in different ways. He then went on to say how Tunisians welcome and even encourages those of the Jewish faith to make an annual pilgrimage to their island of Djerba, where there's a famous synagogue housing one of the oldest handwritten copies of the Torah in existence. He was intent on getting across that Jews and Muslims aren't always enemies, and mutual respect goes a long ways towards a peaceful coexistence between faiths in Tunisia...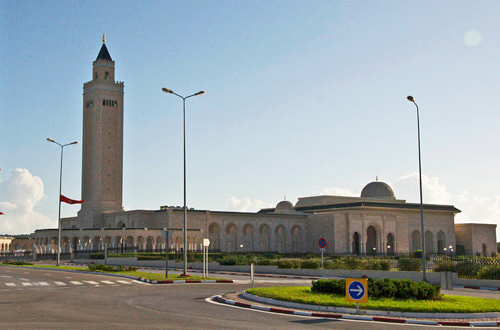 Looking one way... El Abidine Mosque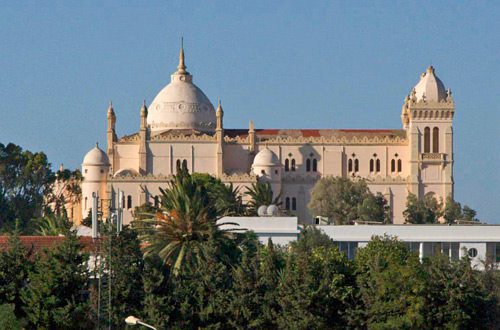 Looking the other... La cathédrale Saint-Louis de Carthage
It reminded me of when I was visiting Istanbul (in Turkey, a predominantly Muslim country) and the guide there remarked that it was not uncommon to have a mosque, church, and synagogue all within a short walking distance, with people of different faiths all living together peacefully in the same neighborhood.
Which in turn reminded me of when I was in Bali (in Indonesia, another predominantly Muslim country) and noted that a mosque, church, synagogue, and even a Buddhist temple could literally be built side-by-side with nobody thinking anything odd about it at all. The Balinese people may worship differently, but they can work, live, and play together just the same.
Not to say that some hateful morons don't occasionally come along and try to fuck up the peace for everybody. It seems there's always sad news about religious violence happening somewhere. Whether it be radical gangs torching a synagogue... or a mosque getting burned down by religious extremists... or a government committing violent acts in the name of a religion and a people they don't truly represent... or some other tragic event that undermines peaceful coexistence. But this is an unfortunate element that's present in all societies, and is contrary to the vast majority of people who simply want to live and worship in peace, regardless of what religion they adhere to.
Turns out that people are people wherever you go and, despite fundamental differences in our beliefs, it's an underlying desire to coexist in peace which unites us as humans...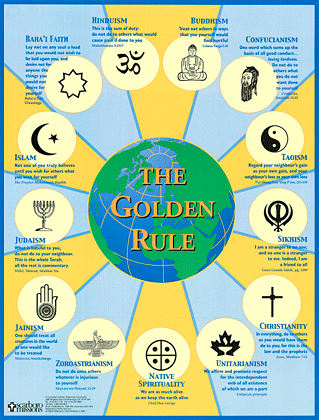 Click to embiggen Scarboro Missions' excellent Golden Rule poster.
And that just reminded me of how Egyptian Muslims formed a human shield so Egyptian Coptic Christians could worship in peace at Christmas Mass after a recent bombing... just as Egyptian Christians formed a human shield so Egyptian Muslim protestors could perform their daily prayers without fear of attack during the recent uprising. In the end, these people have decided that they are all Egyptians, and banding together in unity despite their differences was their strength...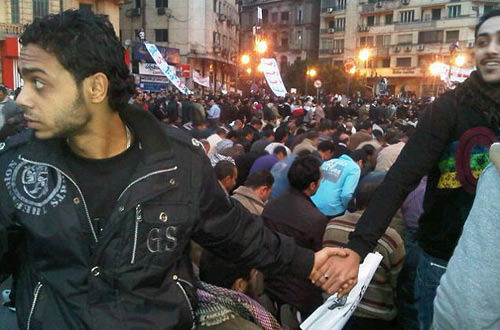 Christians form a human shield in Egypt... photo copyright Nevine Zaki
Which brings me to the entire point of this blog entry and how it relates to my country.
Kind of.
Because I find it alternately amusing and disgusting that the same people who feel that the USA is a "Christian Nation" and should be governed by "Christian principles" are completely losing their shit over the idea that "Islamic Nations" like Tunisia and Egypt may form new governments where "Islamic principles" play a part. As if freedom is only freedom and democracy is only democracy if they are governed by "Christian beliefs" at their core.
Personally, I think governments should be free of religious dogma and let religion function as an independent entity of personal choice (sound familiar?) but the hypocrisy of some Conservatives in the USA dictating that groups like The Muslim Brotherhood should have no voice in the government of Islamic nations is laughable. It's like if Muslims in Turkey suddenly dictated that Christian Conservatives should have no voice in the US government. Americans would lose their minds. Rush Limbaugh would fucking explode. And then he'd probably say we have to eat chicken at Thanksgiving because Turkey is anti-American or some stupid shit like that (you laugh... but remember Freedom Fries?).
And people wonder why The Middle East is so unstable. I don't want to get overly-political or analytical here, but from what I've seen with my own eyes, experienced in my own travels, and have confirmed by making Muslim friends both around the world and here at home... Islam having a voice in politics is not the problem. Forcing a country to adopt a system of leadership and government that is not representative of its peoples or serving their best interests, however, is a very big problem.
So let these countries find their own way. Encourage them to find their own way.
Because that's real democracy in action. Because that's what's going to produce a stable, prosperous country. Because that's what's going to make an ally not only for the United States of America, but for the world. People, at their heart, just want to worship as they choose and live in peace. Let this be the guiding force that rebuilds these countries. It worked pretty well for the USA.
At least in the beginning.
Yes, this may result in a government which is not in step with America's interests. Yes, there's no way of knowing where it will lead. Yes, there's a risk that some radical group might commandeer the revolutions in Egypt and Tunisia and get their peoples into a bigger mess than they are already in... but give the people a chance. Trust that in their heart they just want to worship as they choose and live in peace.
Just like most everybody else on this planet.
Posted on December 8th, 2010

If I wasn't so enamored with one-word blog entry titles* this post would probably be called something like "Give Peace a Chance" or "WAR IS OVER if you want it" or some other John-Lennon-inspired genius to set the stage for my upcoming rant.
If I really wanted to get descriptive, I suppose I could have gone with something like... "A wish to be included in holiday festivities on my part doesn't constitute a war on your part." Though, since this is me we're talking about, it could have just as easily been "Take your stupid war and go fuck yourself with it."
Which sounds like something John Lennon would have totally said if he was a creative person like me. Alas...

But before we mix it up, here's a calendar for December...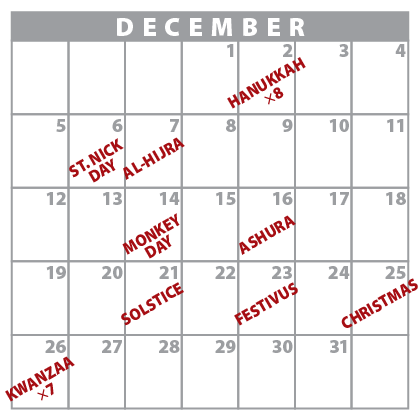 From a holiday standpoint, it's a pretty packed schedule as you can see. And I'm sure there's a bunch more holidays that belong on there that I don't know about.
But since this is the United States of America... AKA The Land of The Free... AKA The Melting Pot... where people of all ages, races, creeds, colors, sexes, sexual orientations, gender identities, national origins, and religions come together as one, it's not a big deal. Because while we may celebrate separate holidays, we can certainly come together to celebrate each other's happiness during the season! This is the USA, after all.
Right?
RIGHT?
Errr... apparently not.
Apparently there's a "War on Christmas" of which I was previously unaware. Apparently, some people feel that all of December belongs exclusively to the Christian holiday of Christmas, and the mere existence of other holidays is some kind of attack. Apparently communities wanting to have public festivals which are inclusive of all faiths by calling them "Holiday Celebrations" instead of "Christmas Celebrations" have declared war. Apparently any time anybody wants to do anything for the holidays that's not Christmas-specific, they're ruining Christmas. Apparently.
It is, of course, a complete load of horse shit.
This is nothing more than a scheme by hateful people who benefit financially by keeping everybody divided and miserable. THEY create a war, then sit back and laugh while other people fight in it. How very Christian of them.
I remain dumbfounded that there are people who actually buy into this crap. Is their faith really so weak that it takes the threat of imaginary war for them to feel anything for their beliefs? Is their faith really so shaky that they think Christianity will disappear if they don't go into meltdown when somebody puts up a stupid billboard that questions it? Really? Because that's just sad. I question whether you can even call it "faith" when it's more like lack of faith. Because anybody who is strong in their beliefs and confident in their God wouldn't be the least bit threatened just because a parade was renamed so everybody could come together and celebrate their holidays... including their Christmas.
Oh well. I'm not a Christian. I don't celebrate Christmas. I do enjoy celebrating the holidays with my friends and family of ALL faiths during the season though. I haven't declared war on anybody. So, seriously, from the bottom of my heart... "Take your stupid war and go fuck yourself with it."
It's what John Lennon would have wanted.
*I didn't used to have one-word titles for my blog posts. It's just that one day I had an entry where one word was all I needed. The next morning I woke up and got an email telling me that I was "stupid" for not using more descriptive titles on my blog entries so that they would be better indexed by Google and improve my search engine ranking. Obviously, I needed their web consulting services because I was too big an idiot to figure this stuff out on my own. Since I don't give a crap about my "search engine ranking" I thought this was pretty funny. And very, very rude. So I wrote back and told them to blow me.
I've been using single-word blog entry titles ever since. I'm stupid that way.
Posted on March 30th, 2010

"My little children, let us not love in word, neither in tongue; but in deed and in truth."
— 1 John 3:18, King James Bible
I do not often speak of my religious and philosophical beliefs because they are deeply personal to me, and not open for debate on this blog (as most everything I write here ends up being). Suffice to say that I try to lead my life according to Buddhist precepts of doing no harm but don't actually consider myself a Buddhist because I do not follow these precepts as completely as a "true" Buddhist would. That being said, I have studied several different religions in an effort to understand my fellow humans better. Needless to say this includes the many flavors of Christianity.
In my pursuit of comprehending Christians, I have studied The Bible (both Old and New Testament) from several different approaches... including the placement of the Holy Texts in their historical context. From this respect, I am probably better-informed as to their faith than most self-professed Christians are. Especially those who would take some random piece of Scripture... put it in a 20th century context based on modern-day vernacular, customs, and thinking... and then use said Scripture to attack or persecute people. That always drives me nuts because of the sublime ignorance it takes to use the Word of their God as a weapon when, more often than not, the people doing so have no clue as to what that passage actually means. Instead they are using their personal interpretation of a translation of an accounting of texts taken out of context to promote a personal agenda, often in ways that would have originally been impossible... either due to the mores of the time period, or the constructs of the original Hebrew, Aramaic, or Koine Greek language in which The Bible was written.
I can best explain this by using an example: "Awful" originally meant "full of awe" and was used to describe something spectacular instead of something horrible. And that's a relatively RECENT AND UNTRANSLATED example, which was still showing up in English texts under the original meaning just two hundred years ago. Can you imagine how the meaning of words could have changed with translation to another language over the span of two thousand years or more?
In defense of Christians, however, I believe that many of them understand that The Bible is not something that can be taken literally all the time. The ideals within The Bible are immutable to their faith, but certain allowances have to be made for the era in which the Holy Texts were written, and the creative allegory which the authors used to illustrate concepts of Christianity to the people living during those times. Certainly directives such as "Thou Shalt Not Kill" are as true in meaning now as they were back then... but you simply cannot say the same for everything that's in The Bible, or else modern-day Christians would have some very messed-up ways of practicing their faith.
Not to say that there aren't some Christians out there who are doing their best to prove me wrong.
And though the remainder of this entry will be in response to actions of the Westboro Baptist Church, I want to be very clear that I do not consider them unique in their ability to use The Word of their God to do things I consider to be reprehensible. Obviously, the world is replete with examples of peoples of all faiths doing exactly that. It just so happens that this time it's the Westboro Baptist Church who are the ones that caught my attention.
But before I start my little tirade, I should also mention that I fully support members of the Westboro Baptist Church exercising their right to free speech in a manner that complies with the freedoms allowed by that right. I may not agree with the things they say, but I'm sure there are people out there who would say the same thing about me, so more power to them. From their perspective, they are actually trying to help people by raising awareness of their particular interpretation of The Bible, and since they are not using guns or explosives to do it, well... this is The United States of America. If you can't take people expressing themselves and their beliefs, then you really need to find a different country.
Except...
There has to be limits.
There has to be limits because a healthy democratic society not only allows for personal freedoms, but also allows for protection from harm and cruelty that might arise from such freedoms. As an example, your personal freedom of speech does not allow you to scream "HEY! THERE'S A FIRE!" in the middle of a crowded building. Doing so could result in people getting hurt, not to mention being a really mean thing to do. Likewise, you can't sacrifice a virgin to Zuul in the middle of Central Park and cry "freedom of religion" because you've just grossly violated the rights and freedoms of the virgin you just killed... even if they were a willing participant (especially if they were a willing participant). Some would say that freedom with limits is not really freedom at all, but "freedom" is a pretty open-ended word and could easily be perverted to allow persecution of people whose own freedom would be violated in the process of enacting it. Thus, limits.
So, while I support the Westboro Baptist Church for their hate-speech fueled picketing of whatever their latest target might be (as well as those awesome people who picket in response) I also support the idea that their actions should be limited.
Because it's one thing to say "homosexuality is wrong" in the most disgusting way possible... but it's another thing entirely to cause serious emotional cruelty with intent to harm, such as when they picket a funeral. And though I consider the death of a soldier no more tragic than the death of any person, I have to say that picketing the funeral of a fallen soldier who died in service of this country is particularly heinous considering it was soldiers who died for their right to have free speech in the first place...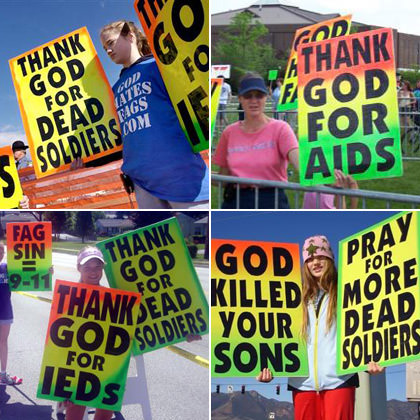 The Bible is relatively quiet about funerals and how Christians should treat the dead. Probably because the core concept of Christianity is the idea of eternal life. To Christians death is just a beginning, so whatever ceremony people want to have for those departed (not to mention the method they use for disposing of the remains) is up to them and whatever traditions they hold.
And so even though the Westboro Baptist Church can toss out whatever context-deprived and misrepresented snippets of The Bible they wish to support their actions, their ruthless persecution of people who are grieving over the death of friends or family is a truly indefensible position to take. Because while The Bible is not so explicit with how one should treat the dead, it is overflowing with passages as to how you should treat the living. Thus, to say that the Westboro Baptist Church violates the very ideals of The Bible they profess to live by, truly is an understatement of biblical proportions.
Which is why I am understandably outraged when I read that Al Snyder, the father of a Marine whose funeral was picketed by the Westboro Baptist Church, has been ordered to pay them $16,000 as compensation for their court costs. The father had (rightfully) won an earlier judgement on the grounds that privacy and religious rights were violated by the church's protest but, since the church won on appeal to the Fourth Circuit, a grieving father gets screwed... again... this time financially.
And now I sit here dumbfounded, trying to figure out exactly how our Founding Fathers could have possibly anticipated such a grotesque application of The Bill of Rights as they were writing them.
Probably because there is no way they could have anticipated something as wholly fucked up as this when The First Amendment was drafted.
I find it sickening on every possible level that we have a legal system which not only actively supports people's "right" to inflict such reprehensible cruelty, but also dictates that victims of such cruelty are responsible for paying for their own deplorable treatment at the hands of the law. THIS is justice? How? There is no justice for the father who was ruthlessly abused in a time of sorrow. There sure as hell is no justice for a dead Marine who is unable to speak out against the abuse of friends and loved-ones at HIS funeral. By the courts saying that there are no limits to the freedoms of the Westboro Baptist Church to persecute people, how can the rest of us be free?
Exploiting the tragedy of somebody's death for glorification of their church and self-promotion of their hate makes members of the Westboro Baptist Church about the least "Christian" people on earth. It also makes them fucking assholes. I honestly believe that a time is coming when citizens of the United States of America are going to put aside their petty political bitching and focus on the big-picture items upon which all of us should be able to agree. Very high on that list is not allowing fucking assholes to picket a funeral and deprive a grieving father HIS freedom to mourn in peace.
Mutual respect for your fellow humans is the only way this whole "freedom" thing is ever going to work out. Those who have no respect, don't deserve the freedom.
If you want to show your support for Al Snyder, you can join the Facebook group he made to support his son and legal battles.
You can also help by donating money to Mr. Snyder to pay the court-mandated fees associated with Westboro Baptist Church's appeal. Any monies collected in excess of the costs will be donated to scholarship funds for returning veterans.