Yesterday I returned home only to find that the air conditioner stopped working while I was in Portland. A day later and it's still not working. Which means I'm typing this in 94° heat. Which wouldn't bother me so much if I were lounging by a pool or getting ready to swim in the ocean... but at home? Teh suck.
So continue at your own risk, because I may be suffering from heatstroke and unable to form coherent sentences. Guess that's as good excuse as any to talk about politics.
And so this happened...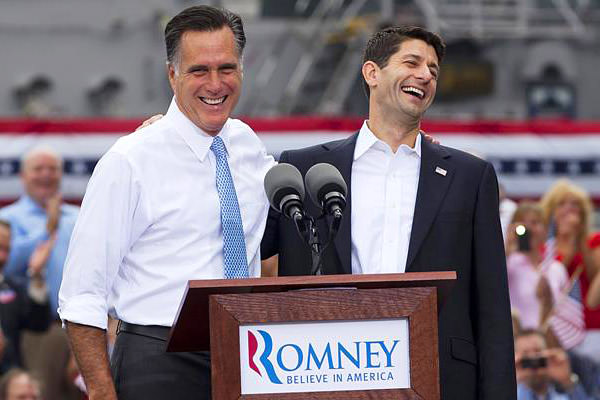 Bwah! Ha! Ha! We're rich and white... how can we lose? — Photo by Photo by Jim Lo Scalzo - EPA/Landov

If you're into the news, Mitt Romney choosing Paul Ryan as his running mate is being hailed as a "bold choice."
Which could be true, if all you're wanting to do is make a bold statement. But, if you are actually wanting to win the presidency, I'd be more likely to hail it as a "crazy choice." But wait wait wait... before anybody starts stepping up to defend Ryan and call me nasty names... I am talking about perception here. I fully admit that I don't know much about Ryan yet (other than he voted for massive government spending under Bush, then changed his mind and now hates government spending under Obama) so I'm not going to comment on what he's about until I actually know what he's about.
Fortunately, internet memes popped up almost immediately after the announcement, so it should be easy to get a handle on Ryan's politics...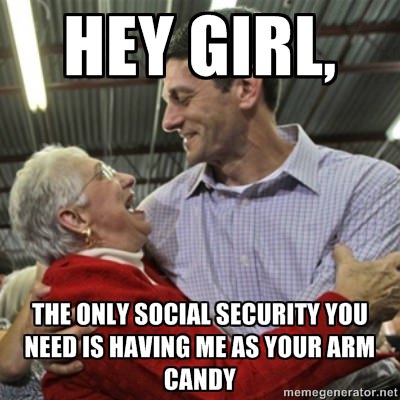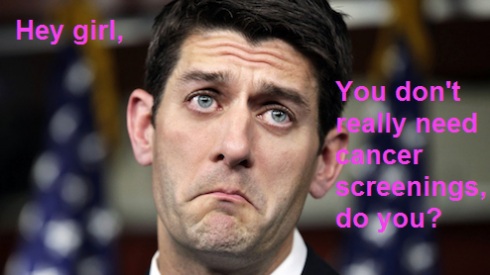 Oh dear.
Yeah, I know that the conservative-leaning crowd have the same kind of thing for President Obama, Joe Biden, Hillary Clinton, et al... but they are usually humorous commentary on known quantities or old gossip (Obama is a secret Muslim!). But this? This is commentary of a different kind. Issues like the economy are a toss-up because they're such a big mess that, deep down, everybody knows there's no magical fix, and it doesn't matter whether the candidate is Republican or Democrat. Politicians are politicians on both sides of the fence, and Americans are used to getting screwed over by politicians. We are conditioned to expect that we will get screwed over by politicians. So whatever, because it's all the same.
But start telling women how Paul Ryan is going to take away their birth control and right to choose? Tell seniors that Paul Ryan is going to take away their medicare and social security? Tell gays that Paul Ryan is going to take away (even more) of their rights? Tell the middle class that Paul Ryan is going to take away affordable health care? Tell the poor that Paul Ryan is going to take away the programs they need to survive so he can give tax breaks to the wealthy? Oog. Nothing mobilizes voters faster than telling them that a politician is going to take something away that matters to them. Just ask the gun lobby when they told everybody that Obama was going to take away their guns.
Ryan's problem (which is now Romney's problem) is that he's quickly emerging as the guy who is going to take away that thing you like. This is going to be exploited by every single political opponent the Republican presidential ticket has, because it's just too easy. This is not some esoteric thing that people can't really wrap their heads around (like the budget)... this is real.
When it comes to politics, perception becoming reality is nothing new.
Now we get to see if Paul Ryan is a strong enough politician to shift the perception people have to create the reality he wants. In the end, that's all that ever seems to matter any more.