I thought I lost my passport, so I'm recovering from a total meltdown right now. I hate it when I misplace important stuff like that.
But enough about me.
And so, to the surprise of absolutely nobody, Mitt Romney won the Florida Primary in a cake-walk. Congratulations, Republicans! You might as well have selected President Obama to be your candidate...

In all seriousness, Hello Kitty would have a better chance of winning against Obama than Romney...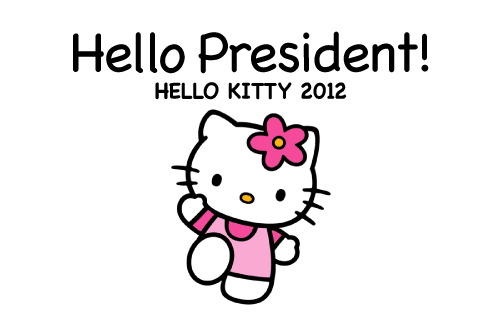 The only way Romney is going to win would be if President Obama punched Betty White in the face while crapping on a bald eagle and then wiping his ass with an American flag during the Super Bowl half-time show as he denounces NASCAR and declares himself an atheist.
And with that mental picture firmly implanted in my brain, I'm off to bed. I probably won't sleep much (as usual), but I've got an incredibly busy day tomorrow, so I might as well pretend to get some rest.
Right after I make sure my passport is still where I think I left it...