Kill me. Kill me now.
To say I am no fan of the Republican candidates for President of the United States is a drastic understatement. Each one of them is either bat-shit insane, a fucking idiot, or both.
Then here comes the Democratic Primary Presidential Debate, and it's painfully clear that the Left isn't faring much better. Sure, it seemed more civilized and adult than what we've seen from the Republicans, but only so far as the pandering to their base supporters isn't laced with bigotry and racism...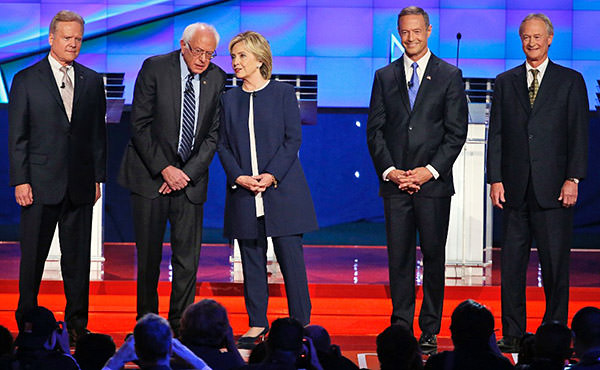 Photo by John Locher / AP
The winner of the debate is a no-contest Hillary Clinton.
It's almost shocking how far ahead of the competition she is. Her nomination is so far in the bag that she could get a blow job from Monica Lewinsky on stage at the next debate and there would still be nobody to touch her.
Speaking as somebody who loathes the idea of a Clinton presidency, I type this with a note of sadness in every keypress, but what can you do? If there's a challenger for the nomination, I didn't see it on stage tonight. Rumors are circulating that Vice President Biden might still drop in the race, but I don't think it would make a difference. Joe Biden probably couldn't get his own family excited enough to turn out to vote, let alone the rest of the nation.
I've stated my objections to Hillary Clinton many, many times. The fact that she is probably going to be running the country next term fills me with a sense of dread that approaches despair. The only more polarizing candidate I can think of would be if President Obama won a third term.
Yes, she had her moments during the debate. But ultimately there was nothing there for me. Her reaction to criticism of her past decisions is absurdly dismissive. Nobody is more tired of the conversation surrounding her damn emails than me, but I still don't think she's adequately addressed it. Clinton advocated jail time for Edward Snowden because of security breaches, but she just gets to sweep her security breaches under the rug because she declares they "weren't classified information at the time?" Bullshit. By nature of her damn job as Secretary of State, everything she emailed has the potential to become classified information (yes, even after the fact) and she fucking knows this. And you can say that there was never a breach of security on your email server AND that you didn't delete any damning emails, but you'll have to forgive me for not counting on a politician to tell the truth. Hillary Clinton does whatever Hillary Clinton wants and doesn't care if you don't approve. Move on. Next question. So much for transparency in government (as if it ever had a chance).
And then there's Bernie Sanders.
If I had to pick a loser from all the rest of the losers in tonight's debate, I'd have to put him at the top of the list. Here was his opportunity to reach past his fan base and secure a chunk of voters for his nomination... and I think he blew it. Socialism, which is perceived as so anti-American that even hard-core Democrats be like "Damn, Bernie!," is such a rallying cry for Sanders that it might as well be a boat anchor tied around his neck. Sure he can tread water for a little while, but ultimately it's going to be the thing that sinks his campaign. Even for people like me who aren't scared by a little socialism intruding on their democracy. Because ultimately socialism is lopsided and unfair no matter how you divvy up the pot. You want my tax dollars to make it so that absolutely everybody gets to go to college for free? Bullshit. Some people are simply not built for college. For whatever reason, they don't have the aptitude for college, and any money shoveled towards a college education for them is money wasted. Not that I'm calling anybody "stupid" here... I'm just saying that different people have different talents in life, and not all of them involve college. But college is going to be free for everybody in BernieWorld, so who cares if you're any good at it? Free-fitty-free is free, so party on.
Sanders also has an almost child-like depth when it comes to foreign policy. You want to give money to Saudi Arabia to fight ISIS? Seriously? Have you been paying any attention whatsoever to what's actually going on over there? Do you have any concept of the history in that region? Even more laughable is Bernie's anti-war rhetoric. Have you been paying attention to your voting record? Dance around it all you want, but the staggering profit that is intrinsic to the massive American War Machine ain't going anywhere. Not with Bernie at the wheel. And sure as fuck not with Clinton.
But all that's incidental when it comes to Sanders' assault on rich people. Do I think the distribution of wealth is grotesquely imbalanced in this country? Of course I do. And we should absolutely be addressing this. You can't have the wealthiest of the wealthiest gaming the system to keep making themselves richer and richer while the rest of us keep getting poorer and poorer. There are companies run by some of the richest people on earth who have an entire workforce supplemented by welfare. They get huge tax benefits and breaks that regular citizens can't even fathom benefiting from. They use their massive wealth to buy our politicians so they can do whatever the fuck they want... including destroying the environment. They are untouchable and influential at the highest possible levels of a government they've bought and paid for. No rules apply.
That being said, I'm tired of the sorry socialist rhetoric that implies wealthy individuals don't pay taxes. Loopholes and all, the wealthy pay massive amounts in taxes... hell, they pay most of the taxes (don't let Leona Helmsley fool you). Percentage-wise it may seem as though they aren't paying their fair share... but dollar-wise they pay more than their fare share. And everybody has opinions on which way you should be measuring it. I'm somewhere in the middle. Tax loopholes that only benefit the wealthy should be closed, because establishing them for the fantasy that is "trickle-down economics" that never work is categorically stupid. But setting out to screw people just because they're rich is also categorically stupid, and that's where Bernie goes off the rails for me. If you want to be fair, let's talk about a flat tax. But you can't include the very poor in a flat tax because they don't have money to pay taxes. And taxing people on welfare is makes no sense. So is it really fair that there are people who pay absolutely no taxes when the rest of us have a chunk taken out of their paycheck in taxes... even as a flat percentage? How is that "fair" for everybody? Well, it's not. But it's the only way the system can work. Poor Americans are still Americans. Even more importantly, poor Americans are still people, and I am sick and tired of the Republican spectrum implying otherwise. A good number of poor people are poor not because they want to be... but because our government failed them. If all your opportunities for a living wage are shipped off to foreign shores because the government makes it so easy for corporations to outsource jobs... and even easier for those corporations to shelter their profits from taxes... who is the bigger leach on society? I'm not pretending I have the answer here (I lean strongly to a straight percentage tax levied on all goods that are not edible) but I will say that neither the system we currently have... nor Bernie Sanders' Socialist Utopia... is a viable option.
I could go on and on. But nobody wants to read that. Suffice to say that while I appreciate the passion Bernie Sanders has for working class Americans and preaching equality for all in a system that's far from equal... I think his brand of socialism is not "America" and has no place in the presidency.
Jim Webb is the Rand Paul of the Democratic ticket. A whiny candidate that has zero chance of staying in the game, but demands that everybody pretend he does anyway. If he spent what debate time he was given in a useful way, maybe Anderson Cooper would have let us hear more from him so he could craft any semblance of a serious presidential candidate. But Webb doesn't feel like he's taking any of this seriously. Or rather, he's impossible for anybody to actually take seriously. From his crazy ramblings about killing a guy (which is a fascinating aside, by the way) to his weird, shifty takes on racial justice, he felt more like a Republican candidate than a Democratic one (Iraq War vote excepted), and has nobody but himself to blame that he got short-changed on time.
Martin O'Malley literally faded away on that stage. Despite having good talking points and a bit of passion for Democratic ideals, I sincerely doubt he made any impression whatsoever on voters. It's kind of a shame, too, as he's a healthy middle ground between Clinton and Sanders. If he could get Democrats even a little excited about his candidacy, he might make a good Vice President. Assuming Bill Clinton passes on the job.
If Martin O'Malley made a weak impression, I'd have to say that Lincoln Chafee made no impression at all. Or, if you want to factor in his absurdly stupid "It was my first day in office!" response, a bad impression. And, let's face it, his excuse for having voted to repeal the Glass-Steagall Act was stupid. What happens if he gets elected? "I didn't mean to launch a nuclear missile at Canada and turn Toronto into a radiation-soaked crater... it was my first day as president, so give me a break!" Of course, this is the guy who thinks he should get the nomination by default because he never had any scandals attached to his name. If there's no better reason he's unelectable, that would be it. If you're a politician not embroiled in scandals, you're not in the game.

Can you believe we have five more of these things to go? Good Lord... just have Hillary Clinton announce her running mate and get on with it all ready. Anything more than that is pointless.
Though wouldn't it be cool if some game-changing event lands on the Democratic ticket to make next month's debate must-see TV? We can always hope.

Well Michelle Obama sure knocked it out of the park with her speech.
How do I vote for her?
Because, unlike her husband, I can actually envision Michelle Obama personally kicking the piece of shit lobbyists out of the fucking White House. Unlike her husband, I can actually picture Michelle Obama demanding that fucked up bullshit like ACTA be hauled out from behind closed doors and be made public and transparent. Unlike her husband, I'd like to think that Michelle Obama would tell people to go fuck themselves before she caves into opposition pressure and moves her address.
Michelle Obama is a woman who doesn't take shit and gets stuff done!
Or so I'd like to imagine...

Photo from the Associated Press

Maybe it's just wishful thinking because I'm not thrilled with the idea of re-electing President Obama... and I'm even less thrilled with the idea of having Mitt Romney in the White House for four years.
Or maybe I'm just tired.
Sick and tired of politics in this country.
But I watched all of the Republican National Convention... so I guess I'll watch the rest of the Democratic National Convention just to be fair.
If nothing else, it gives me an excuse to put off packing my suitcase for a while longer.

I wrote a long political rant over the past 20 minutes, but deleted it because it was just too easy. President Obama and the Democrats are fucking things up at every turn, nobody can get their shit together, and everybody is acting so surprised. Well, almost everybody.
Democrats are surprised because nothing is really changing and they were delirious with hope that it actually would.
Republicans are surprised because nothing is really changing and they were scared shitless that it actually would.
I, on the other hand, am surprised that people are surprised that nothing is really changing. It's politics as usual in our Nation's capitol... only the players have changed. Personal agendas and personal politics still rule. Lobbyists and money still make the decisions. And it's the citizens, as usual, who are worse off because of it.
Sadly, that's just the way our system works. The only difference from one politician to the next is degrees. And since people are more interested in fighting than coming up with solutions, we end up with the government we deserve.
I remain... unsurprised.