Posted on September 24th, 2017

Autumn is here and it's going to be a great, great season, because an all new Bullet Sunday starts... now...

• Cassini! Okay... two things concerning the live broadcast of the NASA-assisted suicide by the Cassini space probe last Sunday...
1) NASA engineers singing as Cassini takes its suicide plunge into Saturn is the sickest fucking thing I've seen in ages...
2) NASA divided an hour-long program into two pieces, so I didn't get to see the ending because my DVR didn't know to record it. Assholes!

• Just a Bill! It looks like the heinous "Graham-Cassidy Healthcare Bill" is likely dead. Which is probably a good thing since NOBODY and, by nobody, I mean "nobody except wealthy old white male politicians who have their lips in a death-grip on insurance lobby cock"... wanted this bill. Except... NOW EVEN INSURANCE COMPANIES ARE WARNING THE BILL IS BULLSHIT?!? WTF? Look, something has to be done as Insurance companies pull out of ACA exchanges thanks to Republicans sabotaging them before having an alternative in place... Something has to be done. But it has to be something actually sensible instead of all the insurance lobby capitulation that ruined "Obamacare" and the same massive insurance lobby capitulation that is fucking up any GOP alternative. Fuck the insurance company profit margins... Congress needs to do their damn jobs and start saving American lives!

• Smooth! Sean Spicer's appearance at the Emmy's was abhorrent. Forget all the people in the audience laughing it up, there was nothing funny about Sean Spicer cashing in on his notorious tenure as White House Press Secretary for award show schtick. He's a fucking liar who misled American citizens every fucking day he took that podium as Trump's mouthpiece. He deserves to disappear, not cash in on such heinous notoriety. And yet... here we are. And Jay Smooth totally called it...
It didn't even take years... it took weeks. The garbage that it America's political system is alive and well in 2017. If anything, it just keeps getting worse.

• Num Noms! If you want to get your kid in the habit of sniffing nail polish, here's a good way to encourage that...
Totally won't lead to kids sniffing ADULT nail polish laying around the house. And it's impossible that will lead to kids sniffing nail polish REMOVER, right?

• Hobby Lobbyist! Let us all recite the American prayer: "You must suckle at the teat of your overlords and thou shalt not have no other teats than theirs. Disobey and you shall be cast out, fined, and imprisoned so as to discourage others from the free thought and action that leads to ruin. Profit be unto our overlords forever and forever, amen."
THIS is fucking politics in the USA... read it and weep: Thanks To Lobbying, It's Illegal To Power Your Home With Solar Panels In Florida
Honest to God, I cannot figure out what is keeping American citizens from initiating open revolt against those who have enslaved us.

And now... that garage is not going to clean itself, and I've got a car that I'm really not wanting to scrape frost off of each morning.
Posted on July 18th, 2015

And now, following up on yesterday's post...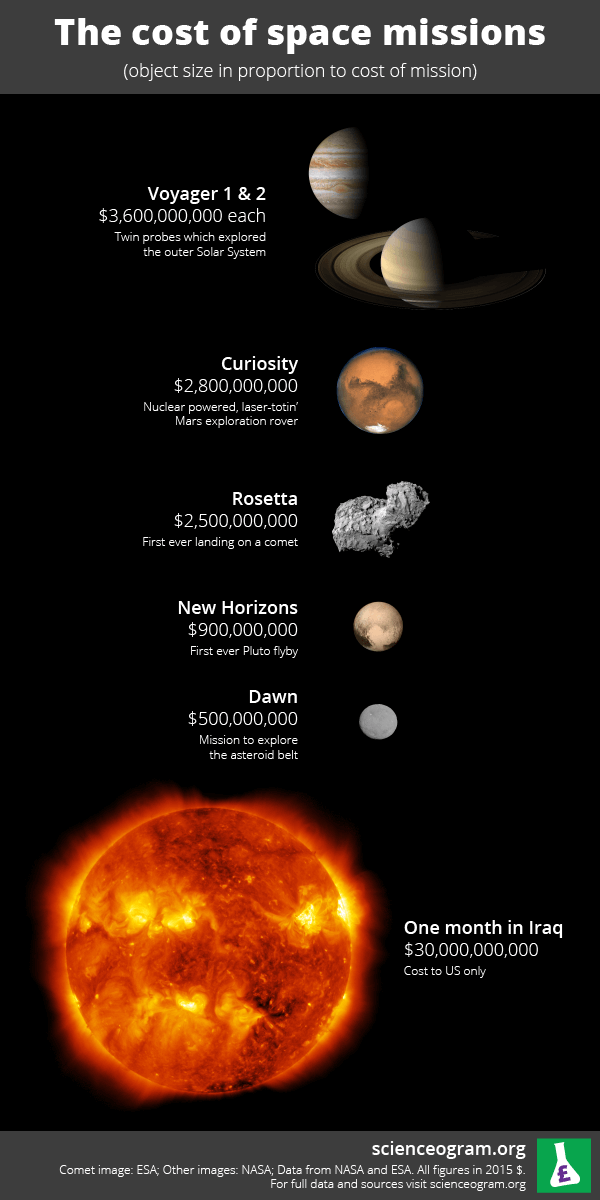 Obviously, our priorities are completely fucked.
Posted on July 17th, 2015

So...
NASA...
Money well-spent, again, I think.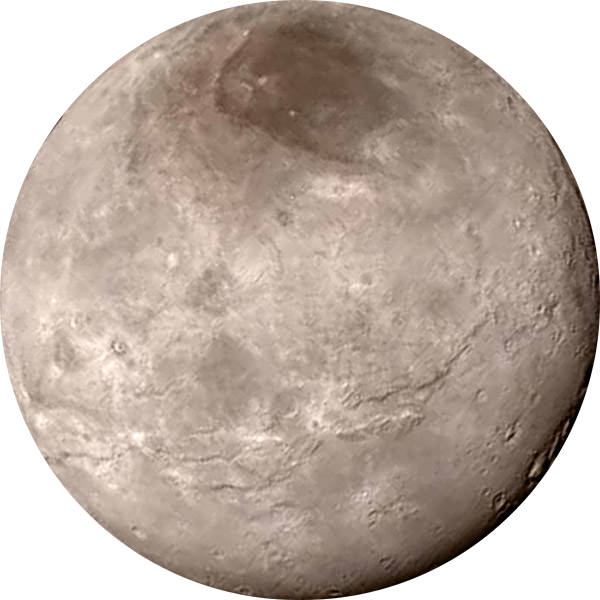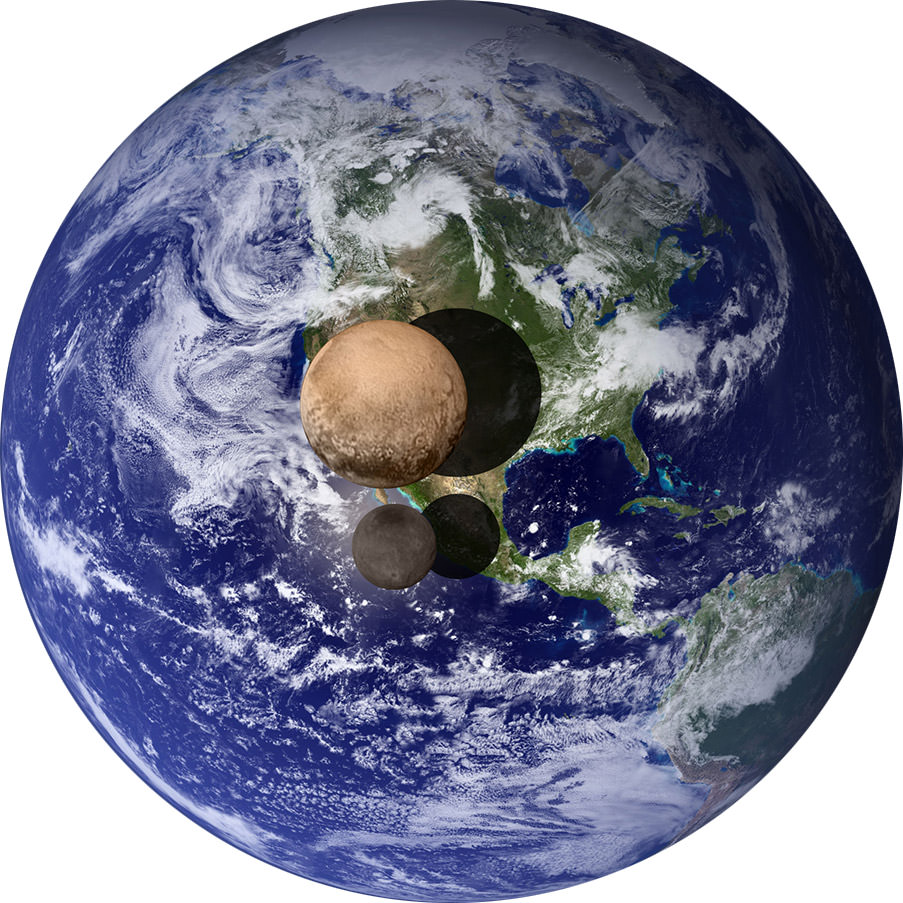 The planet Pluto. Pluto's moon Charon. A size comparison of Pluto and Charon vs. the Earth.
Cool.
And worth every penny...
Instead of cutting their budget even further, we should give NASA billions more dollars and see what cool stuff they come up with to spend it.
Posted on September 2nd, 2012

Turns out that bullet points are not as rare as a blue moon... because yet another Bullet Sunday starts... now...

• Astronomy. Considering how amazing the news, the official NASA press release appeared relatively boring... there are millions of supermassive black holes hiding behind a veil of dust that's mucking up the universe. Other news sources decided to take the NASA news and make it pretty. Forbes ran the story's talking points alongside this photo...

Unsurprisingly, this stunning image is from NASA.
I could look at stuff like this all day. Fortunately, NASA has a site for that...

Again, this stunning image is also from NASA.
I swear... every time the latest Astronomy Picture of the Day hits my web feed reader, it makes me glad I'm not in charge of the US budget. Because, if I were, I'd give NASA more money than they could spend. I'd be rolling up dump trucks full of cash to Jet Propulsion Laboratory and every other division that NASA has. I'd shower them with such massive loads of funding that they'd have to reach into their wildest dreams to find ways to spend it all. I'd probably be branded a traitor and shot for spending public money in such an egregious and irresponsible fashion... but I wouldn't care. As the stunning success with the Curiosity rover has shown, nothing can inspire quite like the USA's forays into space. Alas, reality dictates we have to put the bulk of that money elsewhere, but I can dream. NASA makes it so damn easy.

• Holy Crap. If you're not watching Breaking Bad, you are seriously missing out on one of the most depressingly brilliant shows ever to air on television...
I was a latecomer to the show... I didn't start watching until half-way through season two. But now that the show is on its fifth and final season, I am trying to envision life without it. Especially when I turn the channel and see the utter shit that's splattered across my television. And speaking of amazing television...

• Toby. Even though I just finished making my way through all seven seasons of The West Wing six months ago, I started in again last night (IT'S TOTALLY BLAIR'S FAULT!). I enjoy the show. And, at a time when politics on both side of the spectrum are so dismally disappointing, it makes for better background noise while I work than the news. The only problem is that I HATE HATE HATE HATE the character of Toby Ziegler with the burning passion of a thousand suns...

I know how you feel. I know exactly how you feel. Starting with you.
He was an arrogant asshole from his very first appearance on the show. It seems like creator Aaron Sorkin intended Toby to be some kind of "moral center" he could use to inject his personal politics into a story where they otherwise wouldn't fit. And it was a good idea... except Toby was a total condescending dick most of the time. I don't think actor Richard Schiff is totally to blame, but he certainly didn't infuse much likability into his character that I could ever find. Even when he was being likable. And so now any time I watch an episode, I cannot help but think of how much it would be improved if Toby weren't in it. Or how much fun it would have been to be a writer on The West Wing and kill him off.

• Charlie. On the other hand, with each new viewing of The West Wing, I appreciate the subtle genius that Dulé Hill brings to his role of Charlie Young...
When people talk about how astoundingly well-cast The West Wing was, I think that "Charlie" is often-times overlooked, and this is a shame. The character had a very fine line to walk, and the more I re-watch the show the more I am convinced that Dulé Hill is one of only a handful of actors that could have pulled it off. This is made even more apparent when I see the complete 180 he did when he jumped into the role of Gus on Psych. And while I still like Psych, I admit that I'm very interested to see where he jumps next.

• Eat. I want nothing more right now at this moment to eat a really good pizza. Alas...

And... I should get to bed since I'll be working on Labor Day tomorrow. I guess for me it actually is Labor Day, whereas for most everybody else it's No-Labor Day. Or something like that.
Posted on August 5th, 2012

Stop your melting and embrace the heatwave... because Bullet Sunday starts... now...

• Heat. I wasn't kidding. It was so hot today that the air conditioner couldn't keep up. Which means that even with the unit on MAX COOL and turned to COLDEST it was still like a sauna in my home all day. Even now the temperature is 100° outside... and it's 5:30 at night! Unless you live in the San Francisco Bay area, looks it's going to be another scorcher tomorrow...
Not a good day to be living in the pink.

• Landing. As I have written before, I have a terrible tendency to attribute human qualities to inanimate objects. Especially robots. It's always been a problem but, after watching WALL-E, I'm pretty much a hopeless case for looking a little robots as something more than "just machines." I was a wreck when I heard that the Mars Rover, Spirit was stuck and couldn't move around the Martian landscape any more. All I could picture was a little robot trapped and all alone far from home...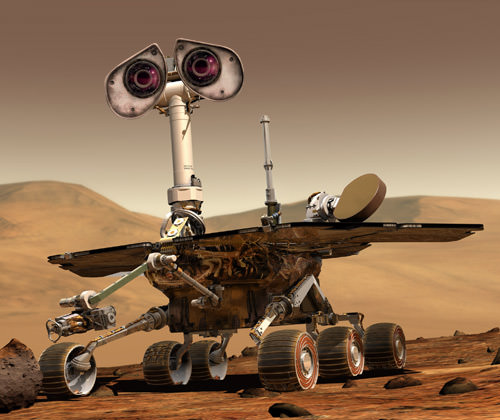 So, as you can well imagine, the impending "drop" of a new Mars Rover named Curiosity is making me pretty nervous. The landing procedure is scary as hell, and I'll be glued to my MacBook tonight to hear if he makes it so I'm not worrying all night...
Damn. Good luck to you, Curiosity!
UDATE: So happy to know he has landed safely and his cameras are operating! Here's hoping everything else is working properly and he can start rolling around Mars soon! WAY TO GO, NASA!

• Fairies. I hate television commercials. Hate them. 99% of the time they are stupid, loud, annoying, and disruptive pieces of crap that make me want to kick in my television screen. Which is why I don't usually watch live television... I record it on my DVR so I can fast-forward through them. But there are rare exceptions. Like Direct TV's series of "Football Fairies" commercials starring Deion Sanders and Eli Manning. Really smart, well-done, and funny as hell...
Genius. If all commercials were this entertaining, I wouldn't want to fast-forward through them. On top of that, this commercial makes me wish I could have Direct TV. I hope the agency that came up with this is getting some serious bank for their efforts.

• Album. The initial reviews for Linkin Park's fifth album, Living Things, weren't very positive, so I held off buying it until I had a chance to give it a listen. I was not a big fan of their previous effort, A Thousand Suns, which made me hesitant to rush out and buy something new...
And then I caught the video for BURN IT DOWN and liked what I heard...
Then I was finally compelled to buy it after previewing the tracks on iTunes Music Store. Turns out I really like it. It's kind of a return to classic Linkin Park via a new kind of 80's-influenced sound direction. If you're an LP fan scared off by the bad reviews, I recommend giving it a listen. Even though every track title is SHOUTING AT YOU IN ALL-CAPS, it's a really good album.

• New New 52. Last year DC Comics cancelled all of their comic books and rebooted their "Universe" to start over from scratch with the "New 52"... so named for the 52 comic titles they released at launch. Overall, I consider it to be a success. I'm still reading 18 of the titles, which is more comics than I've been reading in a long time. Eventually, some of the books were canceled due to low sales (including OMAC, which I loved) and replaced with new books. The two most interesting involve Earth-2, an old "alternate earth" concept that DC abandoned back in 1985...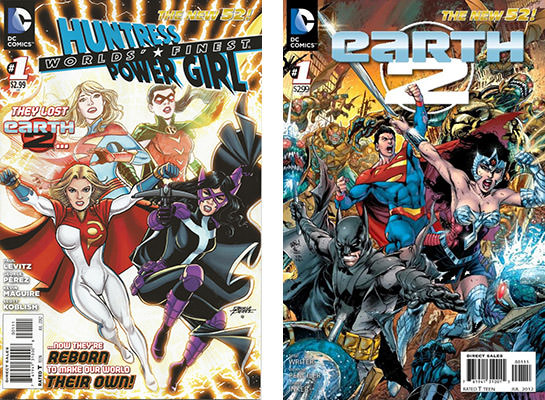 Surprisingly, World's Finest and Earth-2 were immediately put on my "Top 10 Must-Reads" list... and World's Finest (Starring The Huntress and Power Girl) is vying for the #1 spot. It's just great comic book fun! I love the writing (by Paul Levitz), and it features two of my favorite artists, (George Peréz on the "current" story thread, and Kevin Maguire on the "flashback" story thread). If you're a fan of all those great comic team books from the 80's, before everything took a turn towards being all dark and all gritty and all confusing all the time...I highly recommend giving these two titles a look!

Annnnnd... it's 9:30pm and just one hour until Curiosity starts his seven-minute descent. Now I'm wondering if I can bear to listen to the broadcast...
Posted on August 14th, 2011

I threw my back out. Again. This is profoundly disappointing given that I just went through this four months ago. Hope you like your bullets pain-killer-induced.

• Shower? And so the Perseid Meteor Shower peaked this weekend. Despite fairly clear skies, I saw none of it. Needless to say, I'm disappointed. But it's not like an insomniac such as myself has a better way to spend their time than looking for it, so I guess that's how it goes. My failure was somewhat offset by this amazing shot of what it looked like from space...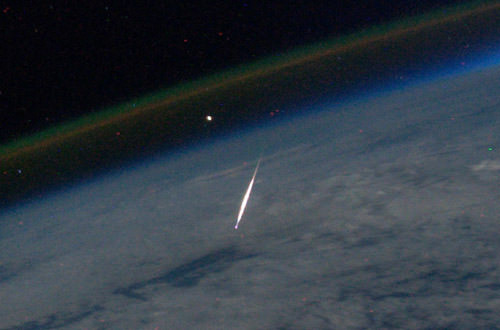 That shot was tweeted by astronaut Ron Garan from the International Space Station. If you're on Twitter, you must follow this guy, because he's always posting cool stuff like this. If you're not on Twitter, he makes it worth checking out.
Also tweeting from space? Astronaut
Clayton Anderson
. And that's just the tip of the Twitter iceberg.
Goddard Space Flight Center
... plus
dozens more cool NASA-related tweeters are waiting for you
.

• Race? Few discussions can become polarizing and nasty quicker than talking about race relations in America. And yet it's a discussion that must be had. Lucky for us Kelly is willing to lead the charge, again, and this time it starts off (oddly enough) with a cake. Essential reading for the human race.

• Really? Yesterday I blogged about the blatant homophobic insanity that seems to be dominating Republican politics, and how a growing majority of Americans are sick and tired of anti-gay policy attacking our friends, family, and neighbors. The worst offender is Rick Santorum, who can't seem to open his mouth without spouting some kind of stupid homophobic crap. Second runner-up on the homophobia bandwagon is Michele Bachmann, who doesn't necessarily want to destroy the gays... she just wants to strip these "barbarians" of all their rights until they have no choice but to enroll in one of her husband's Christian counseling clinics to "pray the gay away."
And now we learn that she won the Ames Straw Pole in Iowa.
If she wins her party's nomination... if she somehow ends up as President of the United States... I can't fathom the ramification for human rights in this country. Hell, I can't fathom the continued existence of our country under her reign of batshit crazy...
At this rate, it looks like I'll be voting for Spongebob Squarepants for president.

• Dead? One of the bigger television surprises for me last season was The Walking Dead. As a loose adaptation of one of my favorite comic book series, it was almost too good to be true. A part of this was because they got the original creator, Robert Kirkman, to be a producer... but the lion's share of the credit could undoubtedly be dropped on the doorstep of Frank Darabont. He was the genius who developed the series for television and became executive producer for the series. Which went on to become a massive hit... with viewers and critics alike. So what does AMC Television do with their new-found pot of gold? Cut the budget and fire Darabont. Which just goes to show... television executives can be enormous douchebag dumbfucks regardless of which network they helm. How this will affect the quality of the second season is anybody's guess.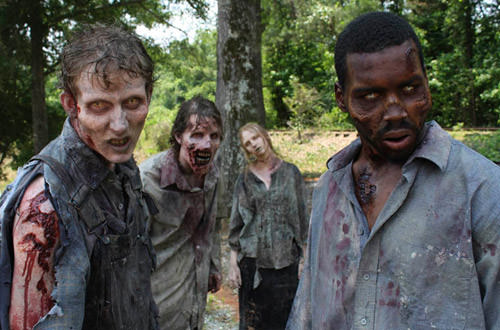 Photo by Greg Nicotero for AMCtv.com © 2011 TWD Productions, LLC

• Eureka? In more sad geek news, the SyFy Channel has cancelled EUReKA! This bizarre turn of events signals an end to original sci-fi programming on a network created for sci-fi programming. The best originals they have to offer now is supernatural drama like the Being Human remake or paranormal fantasy like Warehouse 13. "SyFy" is mostly reality television and pro wrestling now. I guess I shouldn't be surprised... MTV Music Television rarely plays music any more, why should this be any different?

And that's all the bullets for this week. Be sure to tune in next Bullet Sunday for more drug-indiced ramblings.