Stop your melting and embrace the heatwave... because Bullet Sunday starts... now...

• Heat. I wasn't kidding. It was so hot today that the air conditioner couldn't keep up. Which means that even with the unit on MAX COOL and turned to COLDEST it was still like a sauna in my home all day. Even now the temperature is 100° outside... and it's 5:30 at night! Unless you live in the San Francisco Bay area, looks it's going to be another scorcher tomorrow...
Not a good day to be living in the pink.

• Landing. As I have written before, I have a terrible tendency to attribute human qualities to inanimate objects. Especially robots. It's always been a problem but, after watching WALL-E, I'm pretty much a hopeless case for looking a little robots as something more than "just machines." I was a wreck when I heard that the Mars Rover, Spirit was stuck and couldn't move around the Martian landscape any more. All I could picture was a little robot trapped and all alone far from home...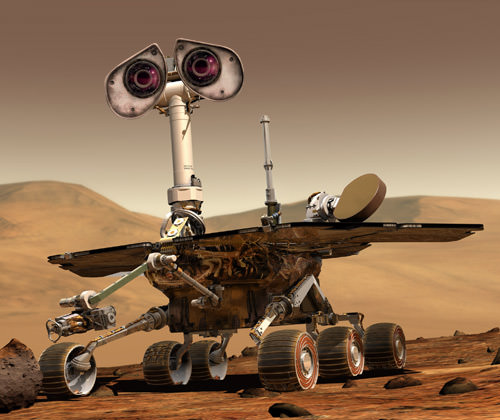 So, as you can well imagine, the impending "drop" of a new Mars Rover named Curiosity is making me pretty nervous. The landing procedure is scary as hell, and I'll be glued to my MacBook tonight to hear if he makes it so I'm not worrying all night...
Damn. Good luck to you, Curiosity!
UDATE: So happy to know he has landed safely and his cameras are operating! Here's hoping everything else is working properly and he can start rolling around Mars soon! WAY TO GO, NASA!

• Fairies. I hate television commercials. Hate them. 99% of the time they are stupid, loud, annoying, and disruptive pieces of crap that make me want to kick in my television screen. Which is why I don't usually watch live television... I record it on my DVR so I can fast-forward through them. But there are rare exceptions. Like Direct TV's series of "Football Fairies" commercials starring Deion Sanders and Eli Manning. Really smart, well-done, and funny as hell...
Genius. If all commercials were this entertaining, I wouldn't want to fast-forward through them. On top of that, this commercial makes me wish I could have Direct TV. I hope the agency that came up with this is getting some serious bank for their efforts.

• Album. The initial reviews for Linkin Park's fifth album, Living Things, weren't very positive, so I held off buying it until I had a chance to give it a listen. I was not a big fan of their previous effort, A Thousand Suns, which made me hesitant to rush out and buy something new...
And then I caught the video for BURN IT DOWN and liked what I heard...
Then I was finally compelled to buy it after previewing the tracks on iTunes Music Store. Turns out I really like it. It's kind of a return to classic Linkin Park via a new kind of 80's-influenced sound direction. If you're an LP fan scared off by the bad reviews, I recommend giving it a listen. Even though every track title is SHOUTING AT YOU IN ALL-CAPS, it's a really good album.

• New New 52. Last year DC Comics cancelled all of their comic books and rebooted their "Universe" to start over from scratch with the "New 52"... so named for the 52 comic titles they released at launch. Overall, I consider it to be a success. I'm still reading 18 of the titles, which is more comics than I've been reading in a long time. Eventually, some of the books were canceled due to low sales (including OMAC, which I loved) and replaced with new books. The two most interesting involve Earth-2, an old "alternate earth" concept that DC abandoned back in 1985...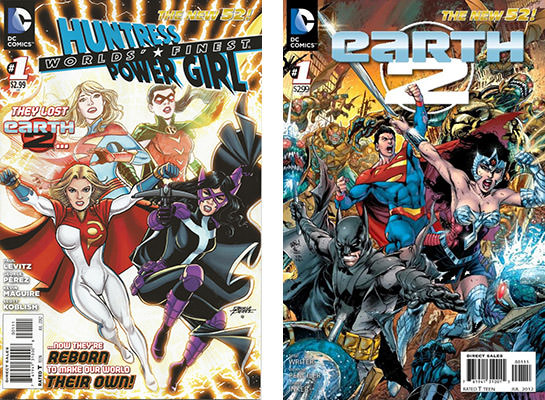 Surprisingly, World's Finest and Earth-2 were immediately put on my "Top 10 Must-Reads" list... and World's Finest (Starring The Huntress and Power Girl) is vying for the #1 spot. It's just great comic book fun! I love the writing (by Paul Levitz), and it features two of my favorite artists, (George Peréz on the "current" story thread, and Kevin Maguire on the "flashback" story thread). If you're a fan of all those great comic team books from the 80's, before everything took a turn towards being all dark and all gritty and all confusing all the time...I highly recommend giving these two titles a look!

Annnnnd... it's 9:30pm and just one hour until Curiosity starts his seven-minute descent. Now I'm wondering if I can bear to listen to the broadcast...