Posted on February 11th, 2022

My SD card at work is corrupt, so I had to grab one from home.
On the card is the last photo ever taken of my mom and I together. It was our last day on Safari before heading to Mosi-oa-Tunya (Victoria Falls to the colonizers). We went to this watering hole to watch the elephants come in for their evening drink. There was absolutely nobody there except us, the elephants, and our guide, which was pretty spectacular...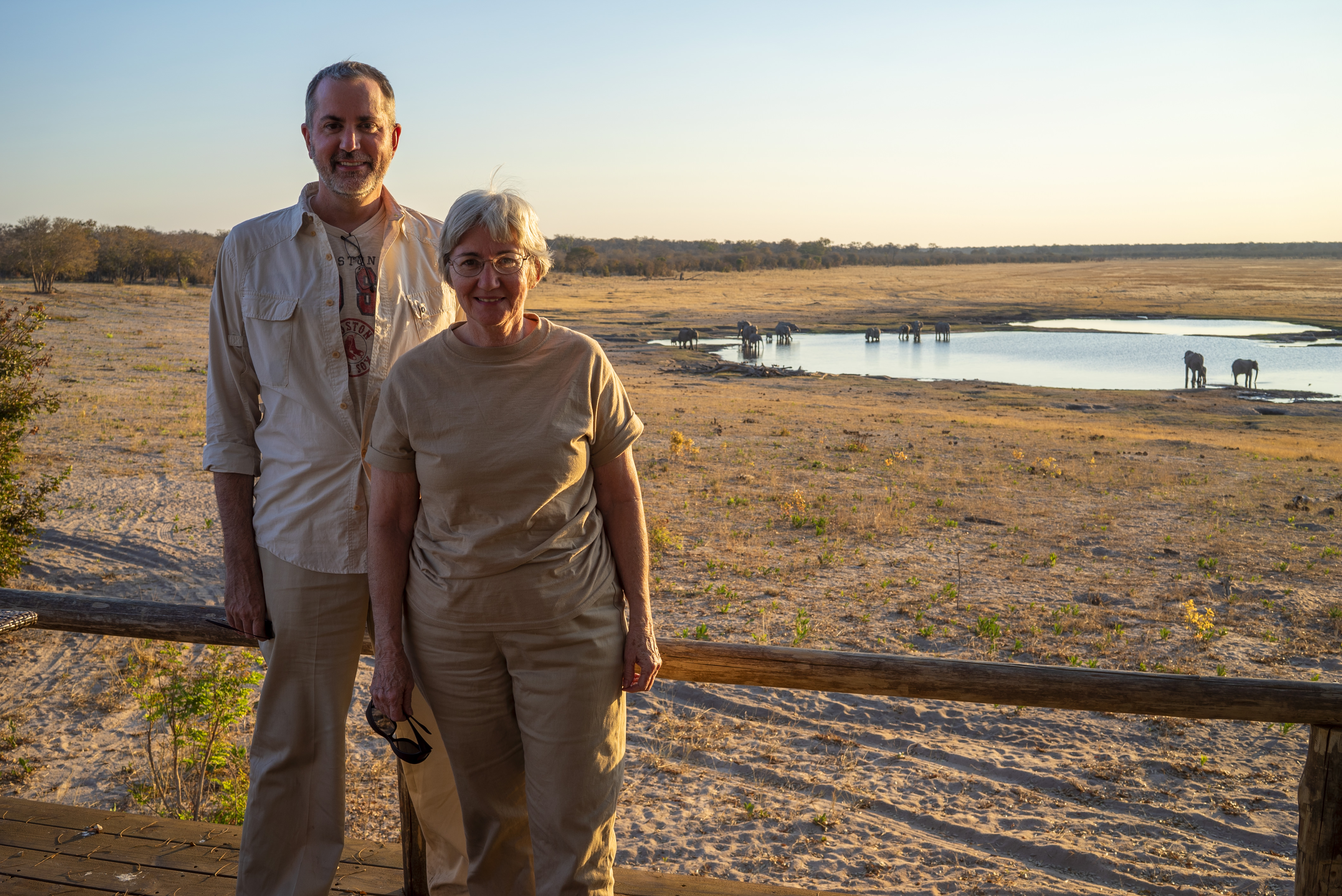 Interesting how I seem to be past the crushing despair that comes from knowing my mom is gone. I honestly didn't think I'd ever get here. Now I'm able to miss her while being so very grateful that we had moments like this to share. Looking at the image, it seems unreal that at no point in the two years after this did I get any more photos taken with her. But perhaps it's for the best? Here she couldn't make any memories, but she was still healthy, happy, and enjoying life.
And that's how I'll always remember her.
Posted on December 18th, 2021

It's amazing how I'm strong as steel through most everything that's thrown at me... yet there's a few things that will send me spiraling like I was made of wet paper towel. This morning I looked at the calendar, saw that tomorrow is my mom's birthday, and was a wreck all day long. It's been three-and-a-half years now since she died. There are days that it seems as though she passed a few days ago. Then there's days I feel like I've been without her for decades. Today it felt like the latter, and I had to do the mental calculation because I can't believe it... 2019... 2020... 2021. Yep, that's only three years.
And for the hundredth time I feel guilty for being so very grateful that she died before COVID got here. I have no idea how she would have dealt with it. Since she couldn't make any memories, maybe it wouldn't have been so terrible for her? But it would have been a living nightmare for me. Having to visit her at the care facility and only getting to look at her through a window. Worrying that she doesn't understand why I can't come in (assuming she would even recognize me). Feeling like it would be better if I didn't try to visit at all. I get anxious just thinking about it. I have absolutely no idea how people going through this during COVID keep their sanity. I would be in a horrific mental state.
Which is not too far off the mark when it comes to my mental state right now.
Posted on September 6th, 2021

My home is kept relatively clean... or, in the case of my kitchen... spotless. The exception has always been my laundry room. I've cleaned it and vacuumed it from time to time, but it hasn't actually been cleaned out since before I moved my mom out in July of 2016.
Over 5 years ago.
My laundry room became a dumping ground for all of my mom's clothes that hadn't been donated to Goodwill... along with other stuff that belonged to her that I've never gone through. I kept waiting, thinking that there would come a time when the thought of it wouldn't be quite so painful... but of course that day never came. I've always dreaded when guests would ask to use my laundry because it was so packed with crap, but oh well. That's something I haven't had to worry about in two years.
This past weekend I was taking a load out of the washer and accidentally backed into it all, and stacks of crap fell over onto the floor. So I finally just sucked it up and decided to clean it out over the past two hours.
And here we are...
A little more heartbroken than I started the day, but a lot less cluttered. My laundry room is finally a laundry room again. It's much nicer to wash clothes in, that's for sure. Here's Jake "helping"...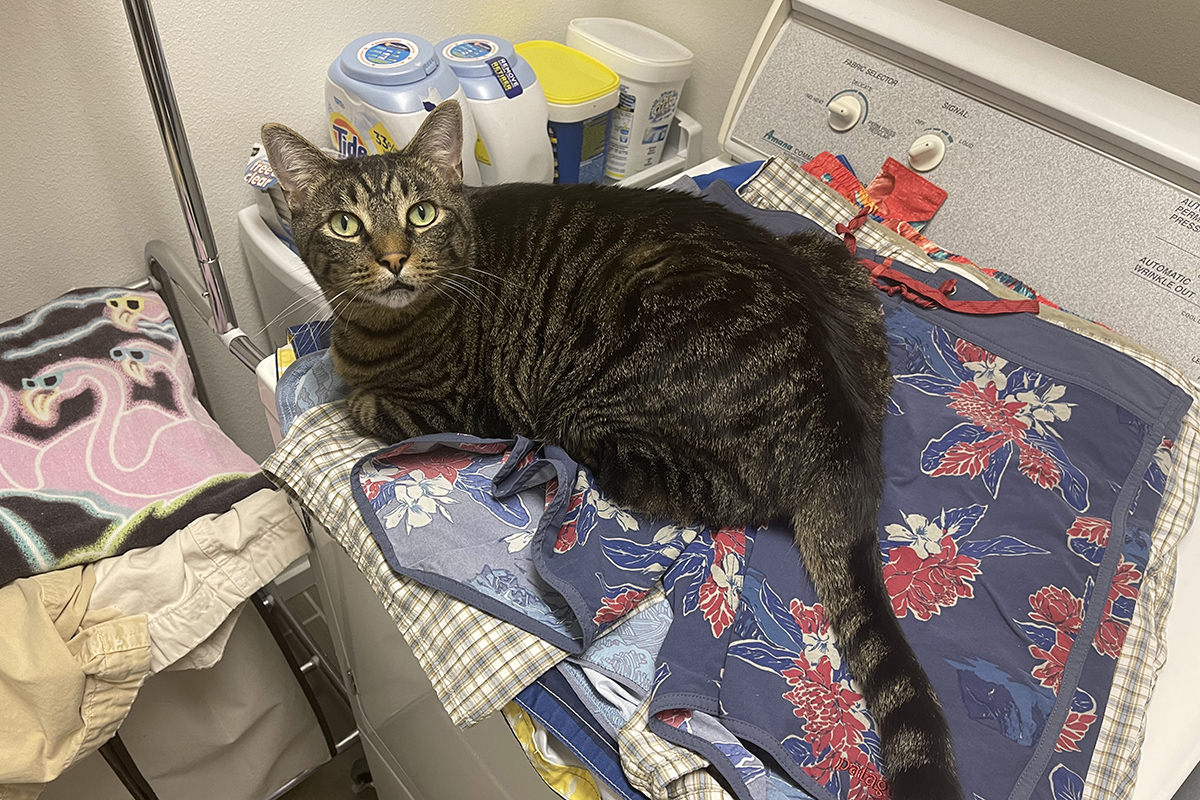 The next morning as I was walking downstairs to feed the cats their breakfast, I noticed that the sky in the photo of my mom riding Daisy the camel in Egypt matches the lovely flat blue of New Lemon...
How cool is that? This is one of my most favorite photos of my mom from our travels because the only thing she cared about when we went to Egypt was that she got to ride a camel at the pyramids. Everything else was gravy to her. So of course I made it happen. And managed to get this amazing shot of everything she dreamed of in one photo. I made this print to hang in her room at the memory care facility (with many others) so she could see it and know she was "home" even if she didn't recognize the place. And it was a godsend. Because even as her memory was fading, I could ask her if she remembered the camel's name... and she would say "That's Daisy." This memory was so special to her that even when other parts of her life were gone, she held onto this one. And I caught it with my camera. And that's why it hangs above my desk. It's been there since I built my desk.
Old Lemon...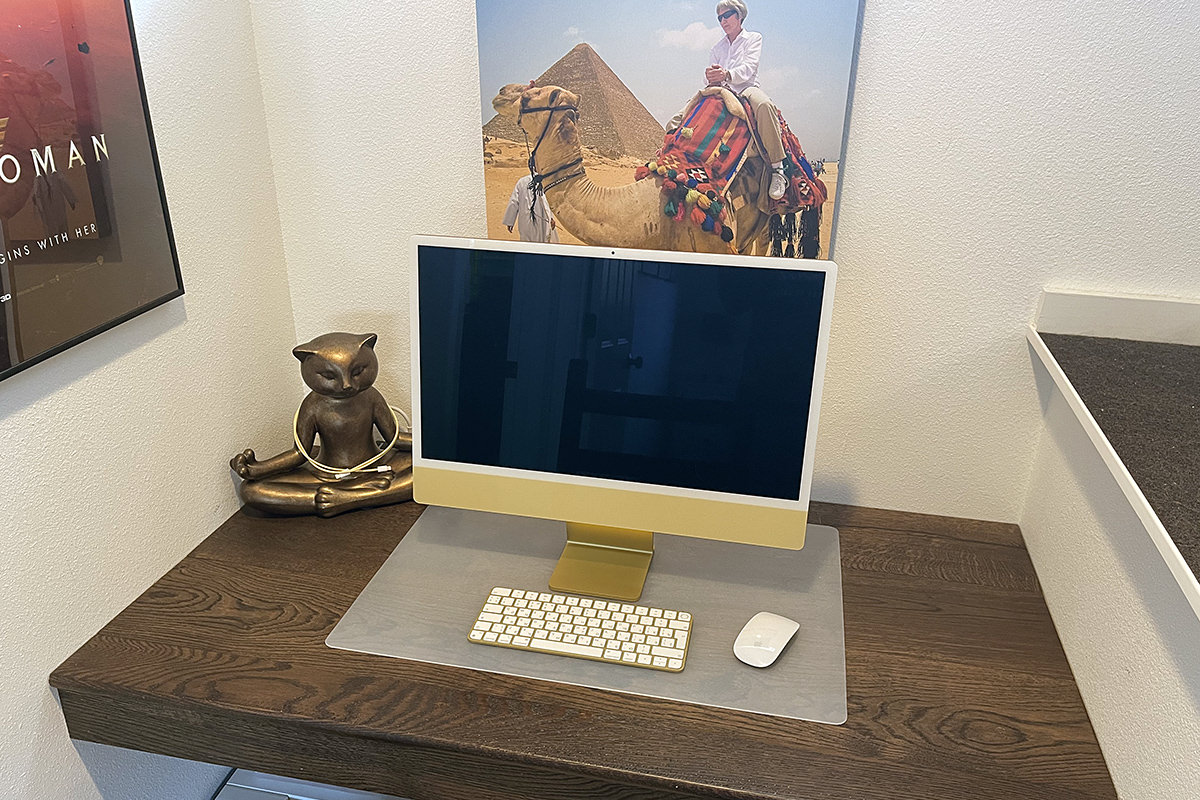 New Lemon...
Now it's back to work and The Great Pottery Throw Down!
Posted on December 19th, 2020

Today would have been my mom's 76th birthday. Despite the fact that I tell myself over and over that this was a long life by a number of metrics... it still seems so short. Technically she died at 73-1/2 years old, but the person she was had been dying for years before then. That's the way dementia works.
It's impossible for me to overlook that the reason I have a Caturday at all today is because I got Jake and Jenny to keep mom company while I was at work. She was confused most of the time, but she seemed far less agitated when she was hanging out with Spanky, an abandoned cat we took in to save it from starving or freezing to death...
Never-before-shared video of mom sharing her popcorn with Spanky, who was such a great cat...
When mom's second-story apartment became too dangerous for her and I had to find a safer home, my intent was always to bring Spanky with us. Alas, he disappeared before I ever had the chance.
And so... a week after moving in, I was off to the Humane Society to adopt two feral rescues that warmed up to mom before they ever warmed up to me...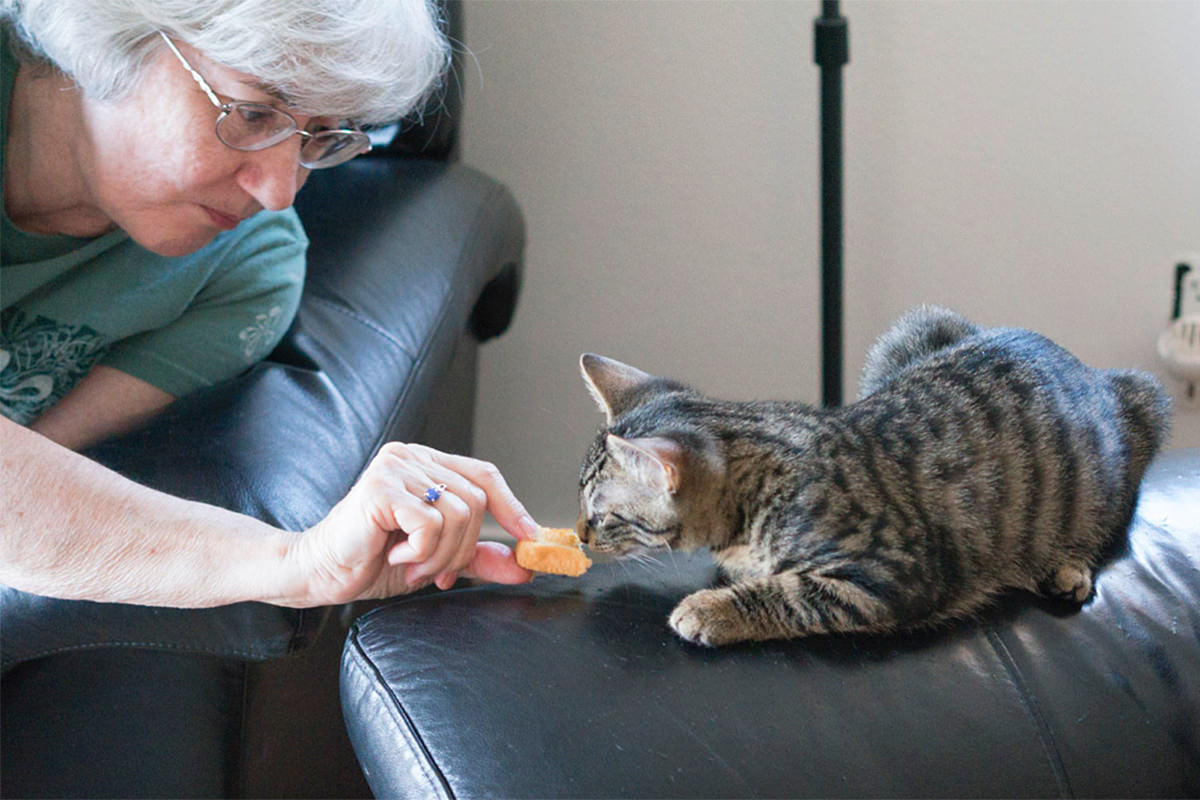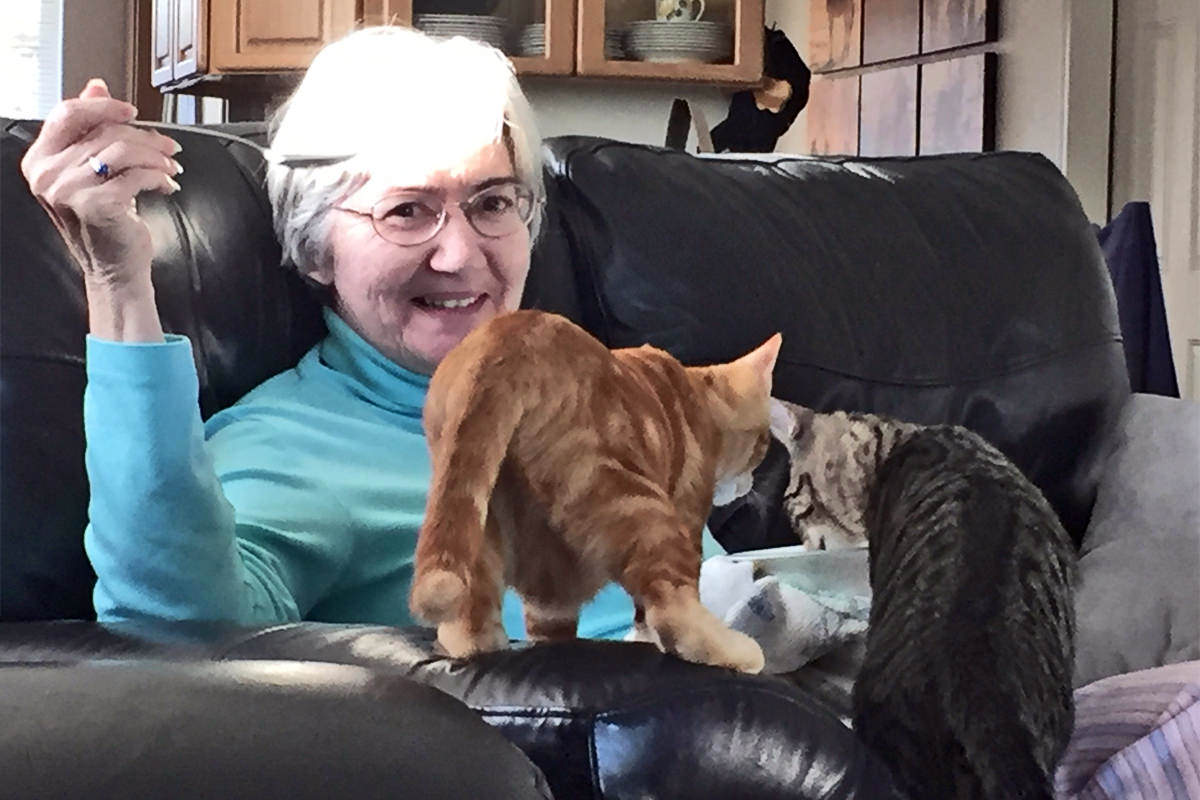 Her life was so much better with constant companions in it. I'd come home to check on her and find her curled up with the cats sleeping, or playing with them, or even just talking to them. They had one job... keep my mom occupied... and they did it perfectly.
After mom left, Jake and Jenny kept me going. And 190 Caturdays later, they're still keeping me going. More or less.
Check in with me tomorrow.
Posted on December 3rd, 2020

"A gentleman always opens the door for a lady." — Grandma Marie
My grandmother worked at a five-and-dime in town. Before each school year she would tell me (and eventually my brother) I that she would buy us a toy OR buy us school supplies. I could be wrong, but I believe I always picked the school supplies. Looking back, I should have taken the toy, because my parents were legally obligated to provide school supplies... but I was responsible at an early age and liked the idea of being able to pick out my own stuff. Posted at the store was a list of supplies required for your grade, and we'd go through the list together until I had everything I needed. Then I'd get to write my name on everything, which was almost like having a toy.
My maternal grandmother was an interesting woman. She was the first of seven sisters (Catholics, amiright?) and had a brother as well. Which meant a significant portion of her life was spent helping to raise her younger siblings. She was there as each of them came into the world... and, remarkably, she would survive long enough to be there as each of them left it. She was loving, kind, honest, hardworking, and made the best apple pie you've ever tasted. I grew very close to her over the course of my time on this earth and was holding her hand when she died. She was one of those people who fills such a huge part of your life that you don't know how to survive without them when they're gone. The gaping wound I suffered after her passing will never heal.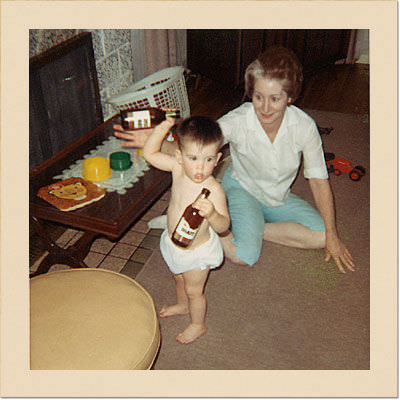 Grandma helping me with my drinking skills during those early years.
When I had sold movie rights for one of the books I had worked on (don't get excited... like most projects in Hollywood, it went absolutely nowhere) I was flying to L.A. once or twice a month to consult on the project. A couple times I took my grandmother with me and flew into San Diego. That way I could drop her at my uncle's house on the way up to L.A. so she could see her other grandkids. On her first trip I rented a convertable because the forecast was amazing in the way that only Southern California summers can be. We had just gotten to the beautiful red machine that would be our ride when I remembered that I had left the paperwork behind. It took me a couple minutes to run and get it, so I was surprised to see that my grandmother was still standing next to it when I got back.
"I'm sorry grandma, I didn't know they had locked it!"
"I don't know if it's locked, I was waiting for you to open the door."
Oops. I had made the grievous error of not opening it for her before leaving. Once I opened the passenger side door and got her settled, I hopped in the driver's seat and said "Do you remember that you were the one who taught me to open a door for a lady?" — "Yes, but apparently I didn't do a very good job!" It was one of those sick burns where she said it as a joke so as not to make her favorite grandchild (=ahem= ME, because I was her first!) feel bad... but she was 100% serious under the surface.
I was fairly young when my grandmother had taught me to always open a door for a lady. In some cases, when the door was heavy, I had to have help. But it was one of those things that became fun for a young child to do, so eventually it stuck. After a while it just got to be habit. A good habit (for once).
It's such a habit that the way that it finally sinks in that a relationship is over is when I go to open the passenger side door for her a couple times... and she's not there.
After a particularly brutal heartbreak I went to the passenger side door as I had a hundred times before... once again remembered that she had broke up with me... and broke down in tears in the JC Penny's parking lot.
But even worse than that, of course, was after my mom had to leave. I went to open the passenger side door after taking her to the hospital and being told she couldn't come home again. I went to open the passenger side door when I would visit her. I went to open the passenger side door after dropping her off at the care facility where she'd live out the rest of her days. I was always opening the door for her in the years I was taking care of her and didn't know how to stop.
Last night I went to open the passenger side door for her after picking up a prescription at the pharmacy. I don't know why. She's been gone for over two years. Any time I had to go out I would take her with me to get her out of the house and we made many, many runs to the pharmacy for her medications. So maybe something in my brain got crossed and I thought the pharmacy run was for her? No idea.
After I moved mom out of my house, my brain kinda broke down. I had been taking care of her for so long that I didn't quite know what I should be doing with myself once she was gone. It's quite possible that I never recovered fully. It's quite probable that I never recovered fully. And so I suppose things like this are going to happen.
Which sucks in some ways... but is kinda profound in others. I am so very lucky to have had the privilege of opening doors for these two amazing ladies in my life.
Posted on June 29th, 2020

I did not sleep last night because I knew better than to try.
I stayed up watching television and working on fundraising to take my mind off of the clock hitting midnight when June 29th would once again drop on me with the weight of a hundred bricks. Two years ago I said goodbye to my mom, and it still hurts the exact same today as it did then.
Just like last year, it has gotten easier to live with, however.
I almost never think of the awful years at the end when the mom I loved was fading away bit by bit. I'm also a lot less angry over having to lose her twice. I don't think I will ever be over mourning her, but now it's gotten to the point where all I have is the love in my heart, which is as it should be, I suppose. Sometimes I feel like I should be angry, but I'm too grateful for what time we had. How lucky am I to have so many happy memories traveling the world and going on adventures together?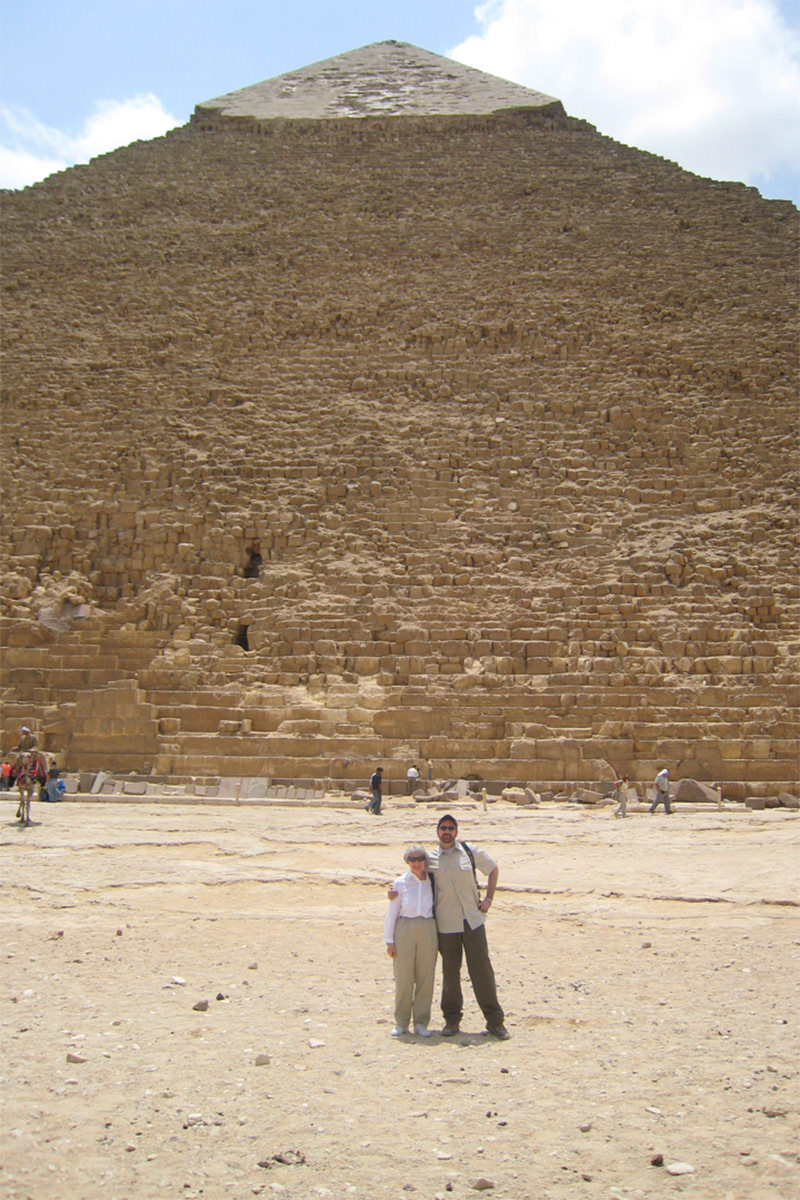 Maybe in another couple of years I will be able to sleep at night on June 28th.
Perhaps in another decade I'll not dread seeing June 29th appear on my calendar.
That would certainly be nice. In the meanwhile I'll just have to get through as best I can and try to keep focused on what's important...
Love and miss you every day, mom.
Posted on March 16th, 2020

My mom never seemed to be a huge fan of cooking. It was just something she did because she had to, and not something that she ever aspired to enjoy or master. She had a set of recipes that she was comfortable with and got good at making out of sheer repetition. Every once in a while something new would enter the mix, but not often.
One of my favorite things she made was Applesauce Bread. She found the recipe in a Spices of the World cookbook by McCormick (the company who sells all those spices). It's a 1964 edition, so I'm guessing she had it from before I was born. There are a dozen recipes in the book that mom would make, but only the Applesauce Bread was made so many times that the book broke in half at the recipe page. Eventually my mom had to rubber-band the thing and keep it in a plastic bag. You can see the recipe here, right under the instructions for Welsh Pork Cake(!)...
She altered the recipe, leaving out the raisins (gross!) and substituting walnuts for pecans. But here's the real thing she did to make this recipe better... she went from one big loaf pan to three small loaf pans. The best thing about this bread was the crust. We would fight over who gets the "ends." The smaller the loaf, the most crust you get. Genius.
One day I came home from work and she had a surprise for me. It was her Applesauce Bread... BUT SHE FOUND A MINI LOAF PAN TRAY TO BAKE THEM IN! NOW WE WILL HAVE CRUST FOR DAYS! WHOOOOOO!!!
It's the only way I make her bread now...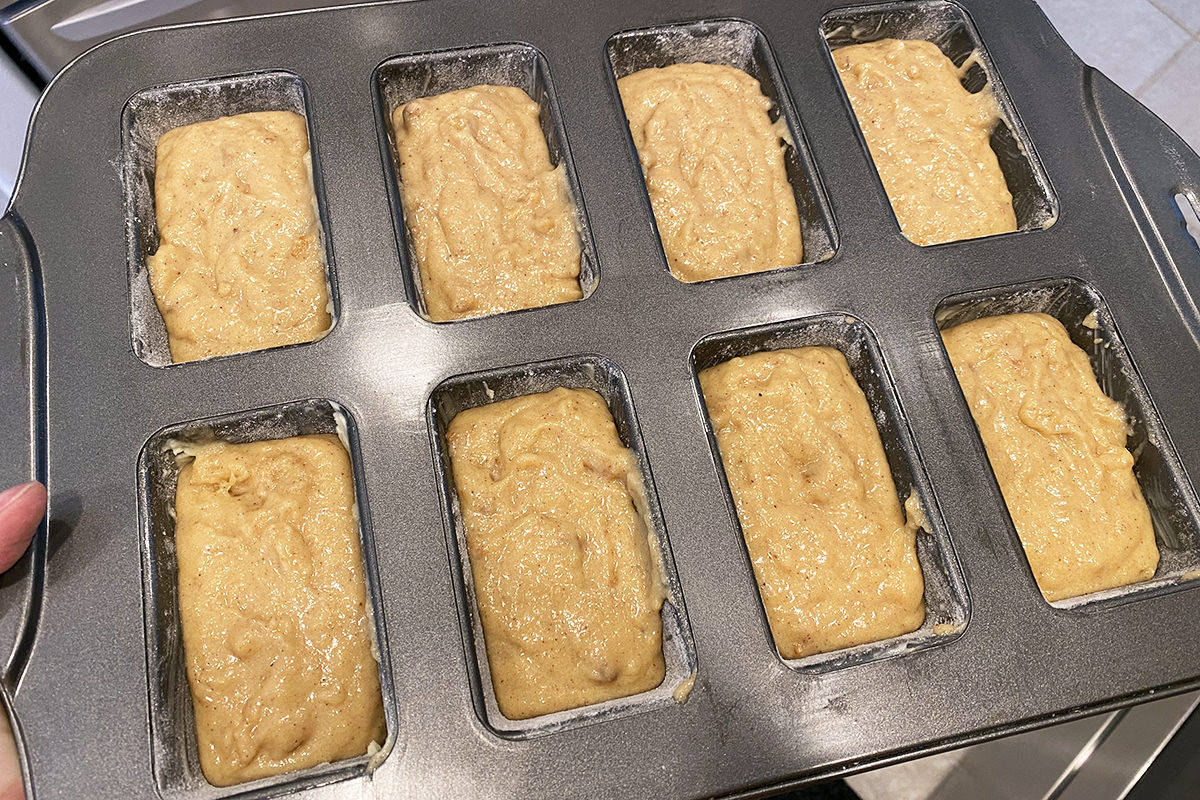 The eight loaves in the pan she found are perfectly sized to accommodate a full batch of the recipe...
You're supposed to let it cool for 20 minutes but I never can wait. It's just too dang delicious out of the oven. Of course you have to eat it with an absurd amount of butter...
Because I love y'all (and the book is out of print), here's the recipe...
1/2 cup Butter (softened to room temperature)
1-1/2 cups Sugar
2 Eggs (beaten well)
2 cups Flour
1 teaspoon Baking Powder
1/2 teaspoon Baking Soda
1/4 teaspoon Salt
1 teaspoon Cinnamon
1/2 teaspoon Nutmeg
1/2 teaspoon Cloves
1 cup Applesauce
1 cup Walnuts (chopped)
Cream the butter and sugar until light and fluffy. Add beaten eggs and mix together well. Sift the flour, measure, then sift again with the baking powder, baking soda, salt, cinnamon, nutmeg, and cloves. Alternate adding flour mixture and applesauce to the egg & sugar batter until it's all thoroughly mixed. Blend in walnuts. Pour batter into well-greased and floured pan(s). You can use one 9-1/4 × 5-1/4 × 2-1/4 large pan, three small loaf pans, or 8 mini loaf pans. Bake at 350° for 40 minutes (mini loaves), 50 minutes (small loaves), or 1 hour (standard loaf). Ovens vary, but tops should be golden brown with brown edges and a toothpick should come out clean. Cool on a rack for 20 minutes.
Notes...
Creaming the butter and sugar until well-mixed is important. If there are chunks of butter then the ingredients won't mix properly. A good electric mixer really helps with this recipe.
Sifting the flour twice is critical. The bread will not rise properly unless the flour is well aerated.
Heavily greasing the pans is no joke because the applesauce makes the batter wet. I wipe the pans with a lot of butter then flour heavily. Anything less is just asking for the loaves to stick to the pan. Also... don't let the loaf sit in the pan too long or it will stick no matter how well you've greased and floured it!
The batter will dry like cement, so don't be all "I deserve a break today!" and go play video games while the bread is baking. Scrub the bowls and utensils you use immediately.
Entirely too yummy.
And now back to our regularly-scheduled coronavirus coverage...
Every day since things started getting COVID-19-serious I've tried to imagine what it would be like if I was still taking care of my mom. If she was here with me, I'd be trying my absolute best to make sure neither of us got sick. Me because I couldn't take care of her while sick. Her because I have no idea how I'd possibly know how to take care of her in that condition. If she was at the care facility, I guess all I could do was hope that the staff could keep her safe while I stayed away. Either way, I'm horrified just thinking about it.
It really makes me feel for those who are actually in this situation right now. If that's you, help is available (link is for the US, if you're outside the US, please Google for assistance near you!).
If it were me, this would probably be what sent me over the edge. Heaven only knows I was already 99% of the way there.
Here in Washington State, which is an epicenter for the virus, our governor has closed down restaurants and bars for dine-in and asks that they continue as takeout or delivery operations until things get under control. Gatherings of 50 or more people is verboten as well. This is a serious problem which demands serious solutions, and it's good to know that our State officials are at least trying to slow down the spread of COVID-19 so that our hospitals are not overrun. Of course, this being Redneckistan, there are local restaurant owners telling the governor to eat shit and they will stay open because it's their God-given right as an American to spread the coronavirus, but that's to be expected here. If it were me personally, I wouldn't want my restaurant to be forever-remembered as ground zero for a highly infectious virus, but I guess that's why I'm not in business.
I mean, we just had a man die from COVID-19 in our local hospital, but I'm sure this is all just a hoax started by the socialist communist godless liberals, right?
I dunno. All I know for certain is that I'll be skipping the Welsh Pork Cake.
Posted on December 19th, 2019

I woke up this morning, grabbed my laptop to start my work day, noticed the date, then had the wind completely knocked out of me. Maybe one day I won't feel completely and utterly crushed on my mom's birthday, but it's not today. The second birthday without her is no easier than the first.
After feeding the cats I thumbed through a few of the travel books I made for her, then felt a little better. I'm so overwhelmingly grateful for the time we had and the many, many amazing memories from our trips together that it seems selfish to stay sad.
And yet...
...it's the little things which happen day-today that keep destroying me.
Running across a note with her handwriting in the glovebox.
Finding small wooden elephant she bought in Laos while looking for a paperclip.
Seeing a potholder she bought from Disney World while baking bread.
Getting a Christmas card addressed to her in my mailbox.
Having somebody ask how she's doing while buying groceries.
The list goes on and on and on. Every day. All the time. In places where I'm least expecting it.
But then...
Happiest of birthdays to you, mom. I love and miss you every day.
Posted on November 8th, 2019

Back when my mother's dementia had robbed her of her ability to make new memories, it was understandably a confusing time for her. Out of necessity I devised all kinds of deceptions to make both our lives easier. One of the most important was a big sign I put on the inside front door which said "David will be back in 15 minutes so we can go out to eat... please wait here." I tried to take my mom with me everywhere I went because it was just easier. If I needed to run to the store or drop off something for a friend, she went too. But for the three years where she had no memory (but was perfectly able to stay home by herself), I couldn't take her to work or out to dinner with my friends. Rather than leaving her confused as to where I was, I put the sign up before I went anywhere. Then checked in on her every ten minute or so with the security cameras.
And it worked great.
Usually television kept her occupied. If she heard the television was on, she'd sit down to watch it for hours. But every once in a while she'd walk around looking for somebody, then try to leave the house when she realized she was alone.
Which would be disastrous.
And so I came up with the sign.
Rather than go outside, she'd see the sign and go get ready to go out to eat. She'd make sure her purse was by the door... comb her hair... change her clothes... whatever she felt she needed to do to be ready and look presentable. Sometimes she would do all that, forget she did all that, go back to the door, then start all over again in a loop. Then eventually she'd hear the television and get absorbed in it again... until the next time.
Yes, I was lying to her, but if the lie meant she wasn't constantly leaving the house in confusion... or experiencing massive anxiety because she didn't know where she was or where anybody was at... and meant I could leave the house to go to work... was it really such a horrible thing?
Before the sign, she was upset constantly and I worried constantly anytime I had to leave. Then one day I put the sign up so she could get ready for dinner while I ran to get gas, realized what a total game changer it would be if I just put it up every time I left, and never stopped using it.
When I was in support forums for dementia caregivers, some people thought it was genius and decided to try it. Some people were already doing something similar. And some people thought I was the most vile, evil person on earth for lying to my poor mother like that.
In every case of the latter I would reply with "And how many people do you have helping you with your mother's care? How many people can you call to help watch her when you have to go out? How many immediate family members will step up to give you a break when you need one? If the answer is greater than zero, then kindly keep your opinions to yourself because I have NOBODY." And I did not give a single fuck what they had to say afterwards. My mother, who was suffering through a horrific problem, was happier and less stressed. I, who was there suffering along with her, was less worried and less stressed. So why would I give a fuck about what you think? Especially if you've got a team of friends and family helping you out?
This is not to say that I can't say these things to myself, of course.
Nobody... and I mean nobody... beat me up over the things I had to do to survive my mother's dementia more than myself. Not even close.
I lost untold hours of sleep wrestling with decisions. Questioning the decisions I had to make. Second-guessing the decisions I had already made (and, all too often, crying myself to sleep because I wasn't sure I made the right decision). Because that's what it all comes down to doesn't it? Decisions?
Some decisions made themselves. If there were three options and you could only afford one of them, that's not a decision that's a reality. But other decisions, sometimes over the stupidest things, can destroy you.
Which care facility do I choose?... now that was a decision. You can see how that would tear me up inside, both before and after making it. To this day I question whether I made the right choice.
Do I sign the papers to enter mom into hospice?... was a decision that seemed so easy ("God, yes... she would have never, ever wanted to live this way!") but it was also an agonizing one to make. How do I sign what is essentially her death warrant?
Which of these pajamas do I pick?... sounds idiotic, I know, but just think about it for a minute. When you have no memory, all you have is the "right now." Spending the only thing you have with pajamas that itch... or pajamas with a design you hate... or pajamas where the color disturbs you... it's tantamount to torture, isn't it? So what do I buy? How will I know if they are uncomfortable or upsetting? Sometimes she wouldn't respond. Sometimes she'd tell her caregivers at the facility if something was wrong and they would pass it along, but most of the times all I could do was wonder if I made the right decision.
Is telling a lie wrong if it helps make life better?... if I'm honest, I still have no idea. And I questioned it every time I put that sign up.
But what was the alternative? I never tried a sign which said "David probably WON'T be back in 15 minutes, but believe it anyway because I have no idea what I'm doing or how to make things better... but I will be back eventually because I love you."
Eh... probably wouldn't have been the best decision I could have made.
Or would it?
I can't decide.
At least now I have that luxury.
Posted on October 15th, 2019

I'm an adult and I get to do adult stuff whenever I want... like having a hamburger for breakfast!
Back when I was very young, my family lived within a short distance to the local A&W hamburger drive-in. We didn't eat out a lot... eating out is expensive... but this just made the burgers all the more special. And boy were this burgers special. Sometimes, especially after we moved to a neighboring town and had to drive there, we'd eat in the car. I vividly remember sitting in the backseat with my brother... waiting for the car-hop to attach that big metal tray with the webbed orange liner to the driver-side window... then waiting for my parents to pass back that magical foil bag which had my burger in it... and a big frosty mug of A&W root beer, of course.
A&W had PapaBurger, MamaBurger, TeenBurger, and BabyBurger... and the foil bags used to have a cartoon printed on the front to tell you what was inside. You can still find them floating around eBay for sale...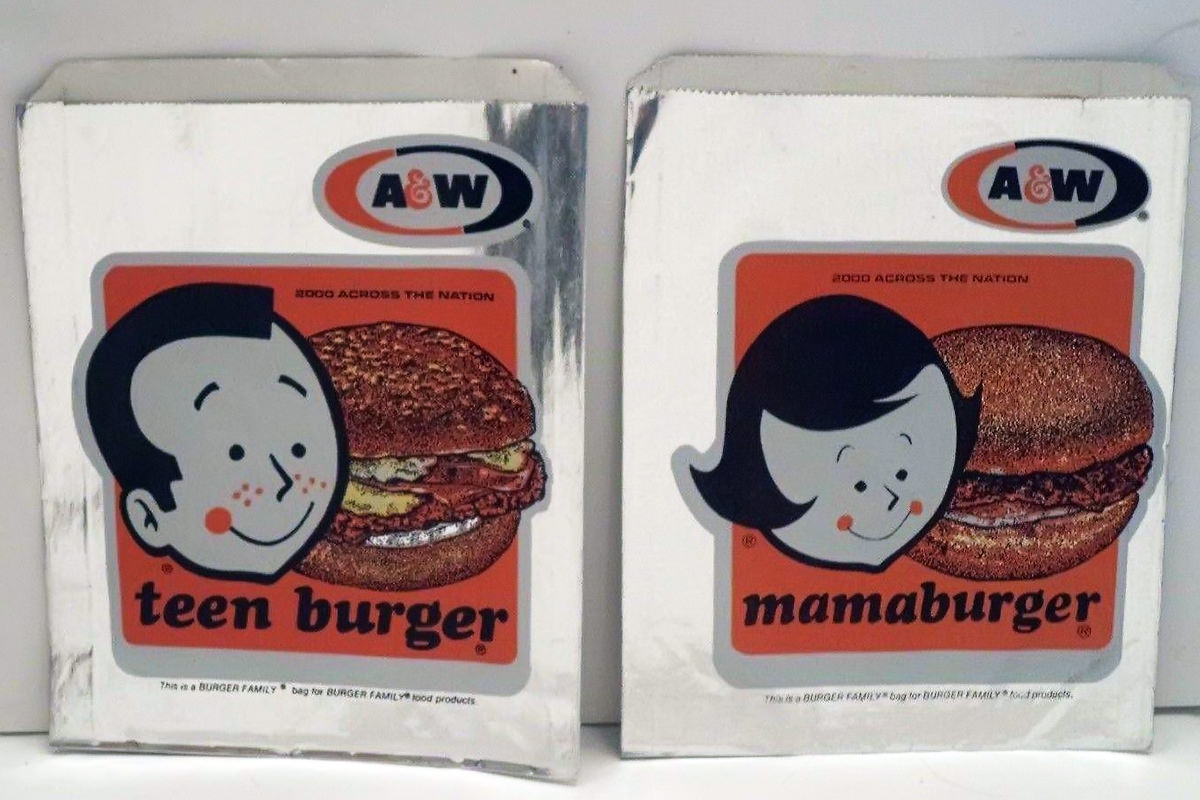 Photo taken from WorthPoint whom I'm guessing took it from eBay?
I started with the BabyBurger, which had a smaller burger patty on it. Then one day I felt I was grown up enough to graduate to the TeenBurger, so I ordered that. It came with cheese and bacon on it and it was the best thing I had ever eaten. And even though I use a veggie burger patty with soy "bacon" now, I still love cheese and bacon on my burger and I owe it all to the A&W.
Sometimes we wouldn't eat in the car... especially when we lived close-by and could walk there. We'd sit inside the restaurant on a big orange booth seat at one of those wooden-looking laminate tables with the metal edges on it. On those occasions when I was still very young, I wouldn't be handed over a magical foil bag... mom would instead take the BabyBurger out of the bag, cut it in half for me, set it on the bag, then slide it across the table.
I don't know why.
If I could handle a whole burger when eating in the backseat of the car, then why couldn't I handle it when dining in the restaurant? Why cut it in half for me then? Just one of many, many things which will remain forever a mystery.
Isn't it terrible how many things you think of to ask somebody after they're gone and you're no longer able to ask?
This morning when I was an adult and having a hamburger for breakfast, I looked at it sitting there on the plate... took out a knife... and cut it in half, almost without thinking about it. Something I don't think I've ever done before in my entire life...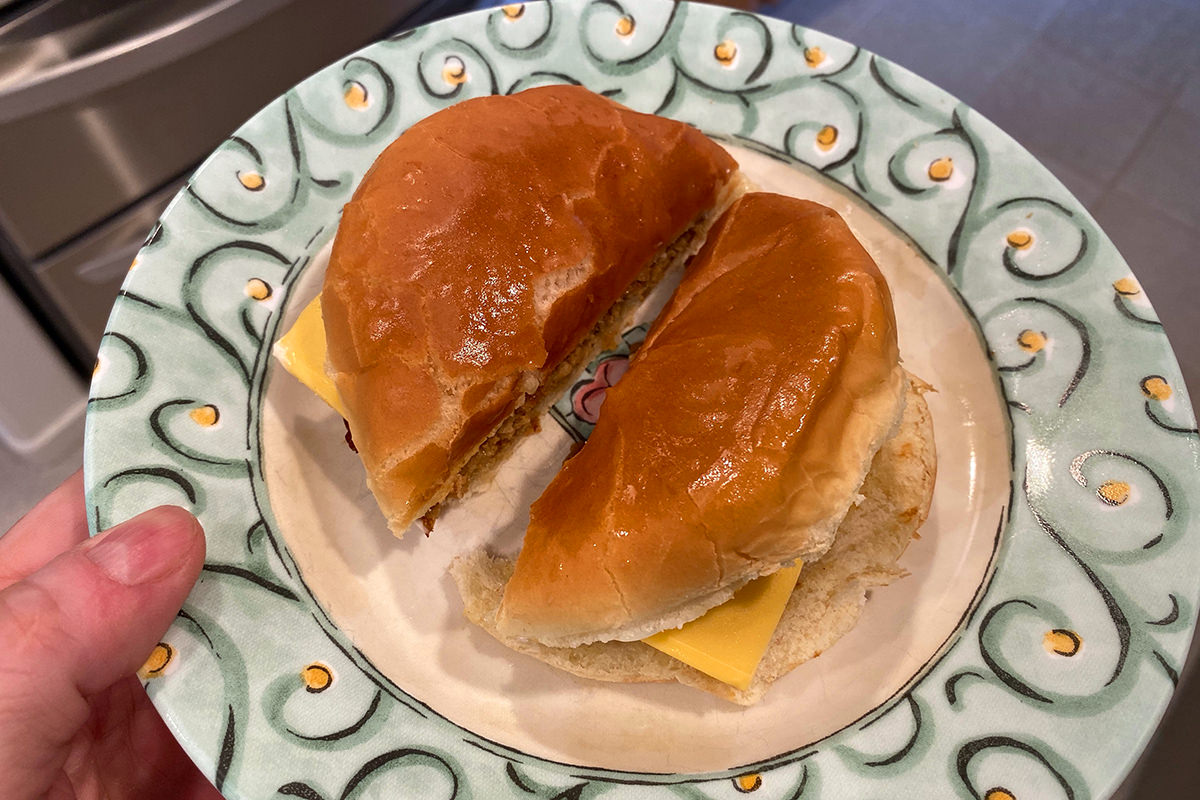 And suddenly I'm not an adult any more.
I'm just a little kid sitting in the A&W restaurant with my burger wanting his mom.

I don't know why some memories are so vivid in my mind where others have faded. I don't know how it is that I am able to remember something that happened when I was so young. I don't know what it is about eating at the A&W that makes it so unforgettable. I guess how our minds choose what to archive is just another mystery.
As is what happened to my old battered A&W mug that was bought for a quarter and sat in my cupboard for... like... forever. Did it break? Did I lose it? Did I throw it out? Did mom throw it out? I dunno. But I do know that A&W has an online merchandise shop where I can probably buy another one.
And, holy crap, did you know that it's their 100th anniversary this year?!?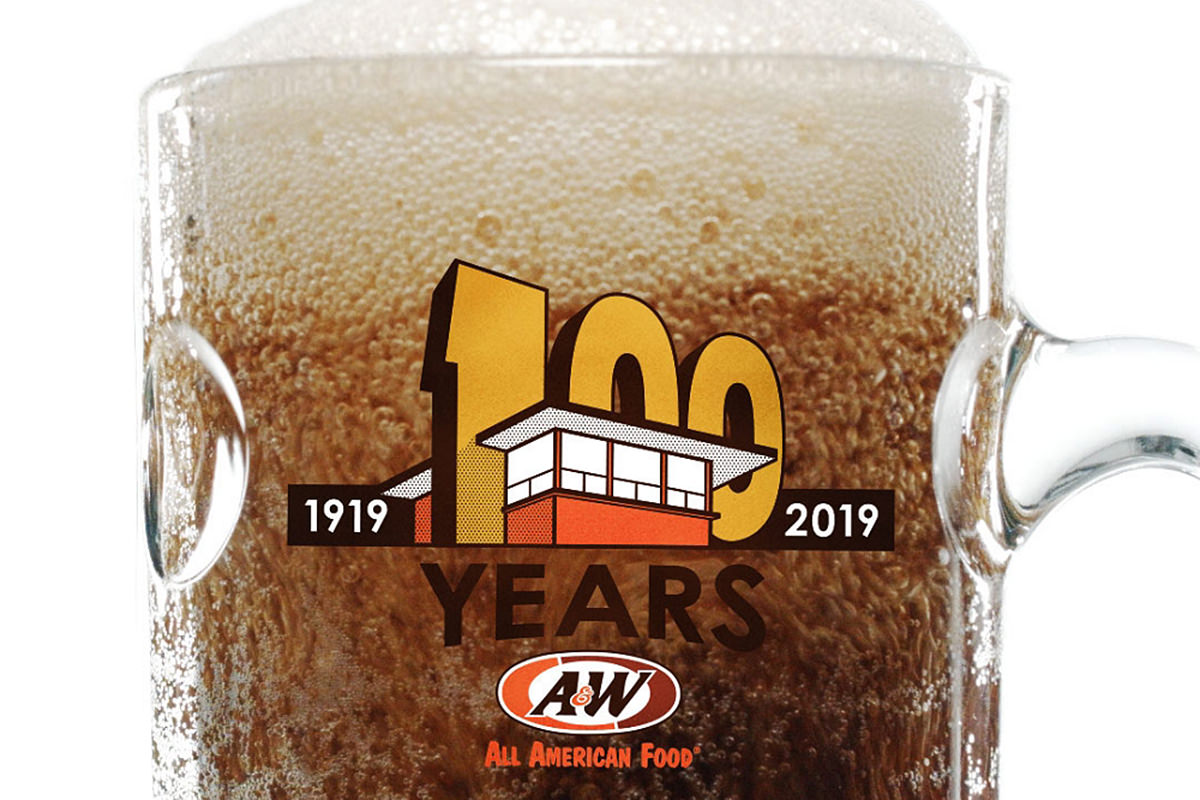 Boy, I could sure go for a frosty mug of A&W root beer right about now.

UPDATE: While I was trying to fall asleep, I Googled for an image of the old A&W that I used to eat at when I was a kid. One photo came up, but it was from an expired Panoramio account and Panoramio has shut down... so I have no idea if this is actually the restaurant, who to credit the photo to, or whom to ask about it. This would be the view looking away from the restaurant towards the drive-in stalls and the parking lot. It certainly looks like it could be my old A&W...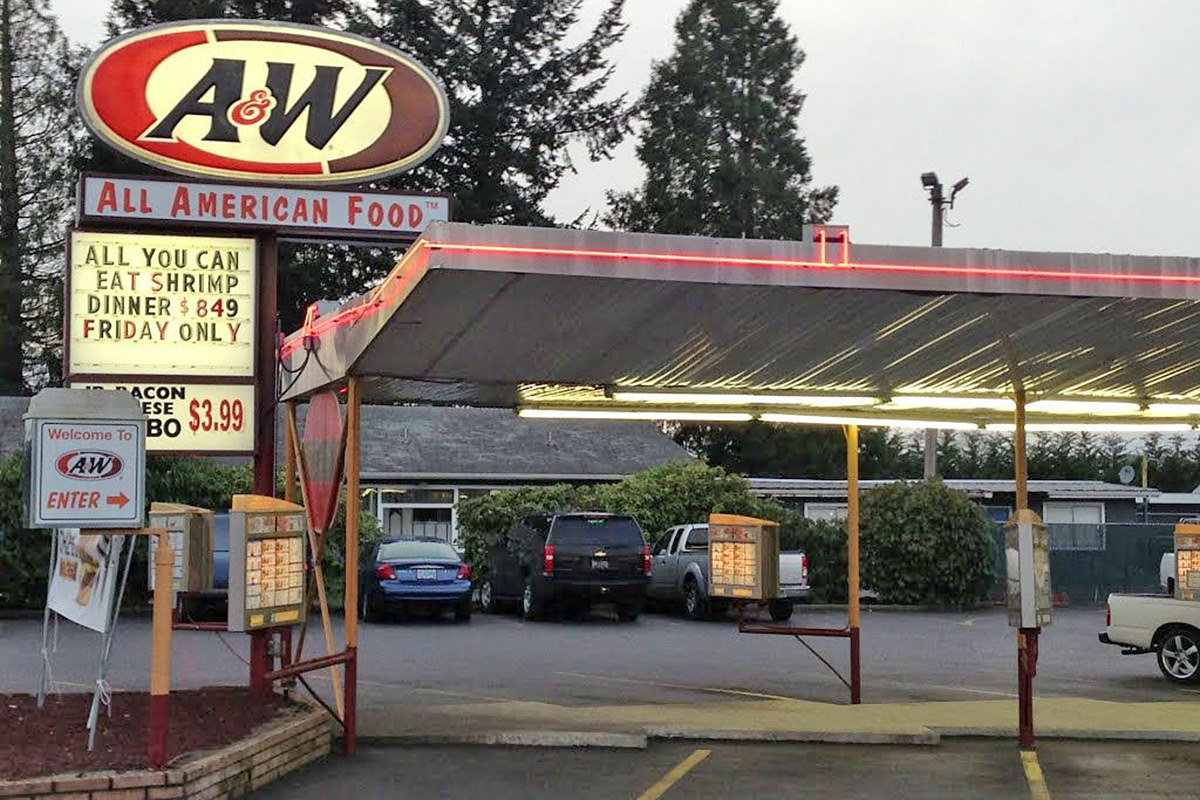 The awning over the stalls... the menu-boards... it all looks much like I remember. What gives me pause is the price on the billboard of $849 (assumably $8.49) for an all you can eat shrimp dinner. That seems high for the era that my A&W existed. The cars also look too modern. I think the local drive-in A&W was torn down before this was taken? Maybe not. Another thing I question is the entrance here... from this direction, I think the entrance would have been on the right side of the photo. And I want to say that our stalls were straight instead of at an angle like this? In any event, this is definitely the kind of experience I so vividly remember, even if it's not the actual restaurant.