My mom never seemed to be a huge fan of cooking. It was just something she did because she had to, and not something that she ever aspired to enjoy or master. She had a set of recipes that she was comfortable with and got good at making out of sheer repetition. Every once in a while something new would enter the mix, but not often.
One of my favorite things she made was Applesauce Bread. She found the recipe in a Spices of the World cookbook by McCormick (the company who sells all those spices). It's a 1964 edition, so I'm guessing she had it from before I was born. There are a dozen recipes in the book that mom would make, but only the Applesauce Bread was made so many times that the book broke in half at the recipe page. Eventually my mom had to rubber-band the thing and keep it in a plastic bag. You can see the recipe here, right under the instructions for Welsh Pork Cake(!)...
She altered the recipe, leaving out the raisins (gross!) and substituting walnuts for pecans. But here's the real thing she did to make this recipe better... she went from one big loaf pan to three small loaf pans. The best thing about this bread was the crust. We would fight over who gets the "ends." The smaller the loaf, the most crust you get. Genius.
One day I came home from work and she had a surprise for me. It was her Applesauce Bread... BUT SHE FOUND A MINI LOAF PAN TRAY TO BAKE THEM IN! NOW WE WILL HAVE CRUST FOR DAYS! WHOOOOOO!!!
It's the only way I make her bread now...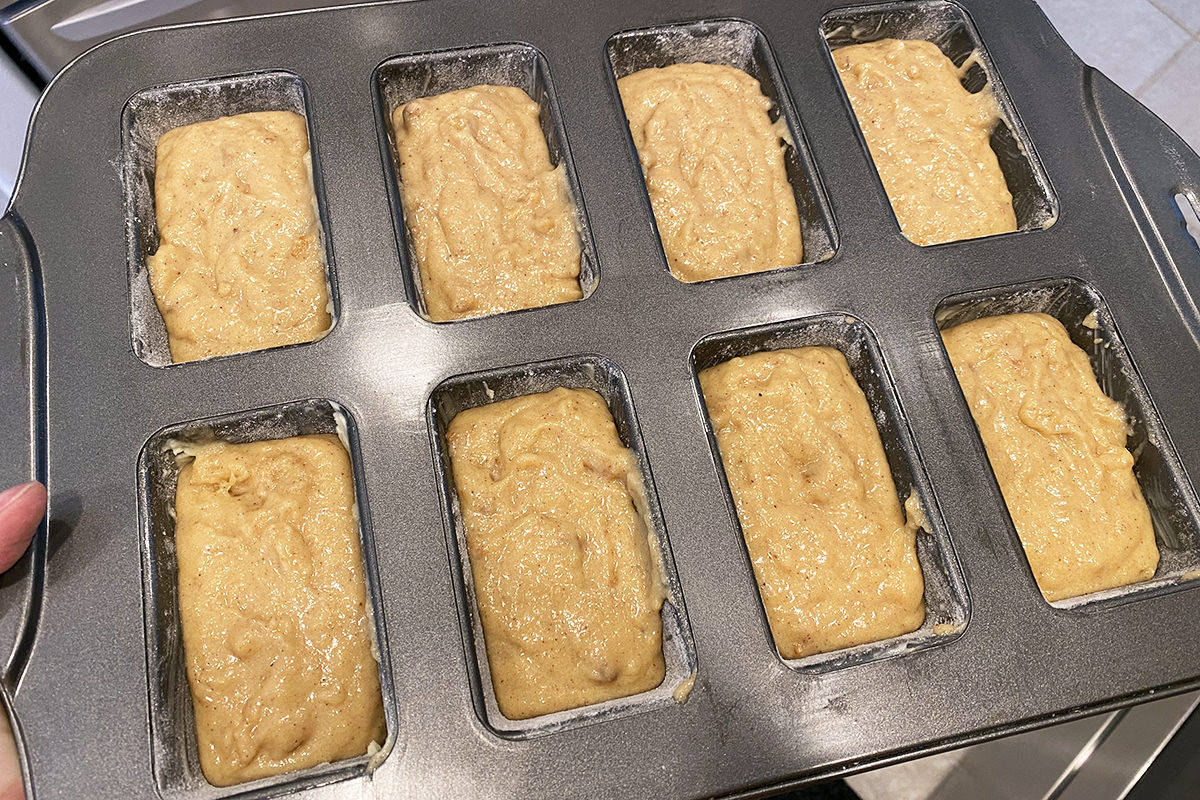 The eight loaves in the pan she found are perfectly sized to accommodate a full batch of the recipe...
You're supposed to let it cool for 20 minutes but I never can wait. It's just too dang delicious out of the oven. Of course you have to eat it with an absurd amount of butter...
Because I love y'all (and the book is out of print), here's the recipe...
1/2 cup Butter (softened to room temperature)
1-1/2 cups Sugar
2 Eggs (beaten well)
2 cups Flour
1 teaspoon Baking Powder
1/2 teaspoon Baking Soda
1/4 teaspoon Salt
1 teaspoon Cinnamon
1/2 teaspoon Nutmeg
1/2 teaspoon Cloves
1 cup Applesauce
1 cup Walnuts (chopped)
Cream the butter and sugar until light and fluffy. Add beaten eggs and mix together well. Sift the flour, measure, then sift again with the baking powder, baking soda, salt, cinnamon, nutmeg, and cloves. Alternate adding flour mixture and applesauce to the egg & sugar batter until it's all thoroughly mixed. Blend in walnuts. Pour batter into well-greased and floured pan(s). You can use one 9-1/4 × 5-1/4 × 2-1/4 large pan, three small loaf pans, or 8 mini loaf pans. Bake at 350° for 40 minutes (mini loaves), 50 minutes (small loaves), or 1 hour (standard loaf). Ovens vary, but tops should be golden brown with brown edges and a toothpick should come out clean. Cool on a rack for 20 minutes.
Notes...
Creaming the butter and sugar until well-mixed is important. If there are chunks of butter then the ingredients won't mix properly. A good electric mixer really helps with this recipe.
Sifting the flour twice is critical. The bread will not rise properly unless the flour is well aerated.
Heavily greasing the pans is no joke because the applesauce makes the batter wet. I wipe the pans with a lot of butter then flour heavily. Anything less is just asking for the loaves to stick to the pan. Also... don't let the loaf sit in the pan too long or it will stick no matter how well you've greased and floured it!
The batter will dry like cement, so don't be all "I deserve a break today!" and go play video games while the bread is baking. Scrub the bowls and utensils you use immediately.
Entirely too yummy.
And now back to our regularly-scheduled coronavirus coverage...
Every day since things started getting COVID-19-serious I've tried to imagine what it would be like if I was still taking care of my mom. If she was here with me, I'd be trying my absolute best to make sure neither of us got sick. Me because I couldn't take care of her while sick. Her because I have no idea how I'd possibly know how to take care of her in that condition. If she was at the care facility, I guess all I could do was hope that the staff could keep her safe while I stayed away. Either way, I'm horrified just thinking about it.
It really makes me feel for those who are actually in this situation right now. If that's you, help is available (link is for the US, if you're outside the US, please Google for assistance near you!).
If it were me, this would probably be what sent me over the edge. Heaven only knows I was already 99% of the way there.
Here in Washington State, which is an epicenter for the virus, our governor has closed down restaurants and bars for dine-in and asks that they continue as takeout or delivery operations until things get under control. Gatherings of 50 or more people is verboten as well. This is a serious problem which demands serious solutions, and it's good to know that our State officials are at least trying to slow down the spread of COVID-19 so that our hospitals are not overrun. Of course, this being Redneckistan, there are local restaurant owners telling the governor to eat shit and they will stay open because it's their God-given right as an American to spread the coronavirus, but that's to be expected here. If it were me personally, I wouldn't want my restaurant to be forever-remembered as ground zero for a highly infectious virus, but I guess that's why I'm not in business.
I mean, we just had a man die from COVID-19 in our local hospital, but I'm sure this is all just a hoax started by the socialist communist godless liberals, right?
I dunno. All I know for certain is that I'll be skipping the Welsh Pork Cake.