I'm an adult and I get to do adult stuff whenever I want... like having a hamburger for breakfast!
Back when I was very young, my family lived within a short distance to the local A&W hamburger drive-in. We didn't eat out a lot... eating out is expensive... but this just made the burgers all the more special. And boy were this burgers special. Sometimes, especially after we moved to a neighboring town and had to drive there, we'd eat in the car. I vividly remember sitting in the backseat with my brother... waiting for the car-hop to attach that big metal tray with the webbed orange liner to the driver-side window... then waiting for my parents to pass back that magical foil bag which had my burger in it... and a big frosty mug of A&W root beer, of course.
A&W had PapaBurger, MamaBurger, TeenBurger, and BabyBurger... and the foil bags used to have a cartoon printed on the front to tell you what was inside. You can still find them floating around eBay for sale...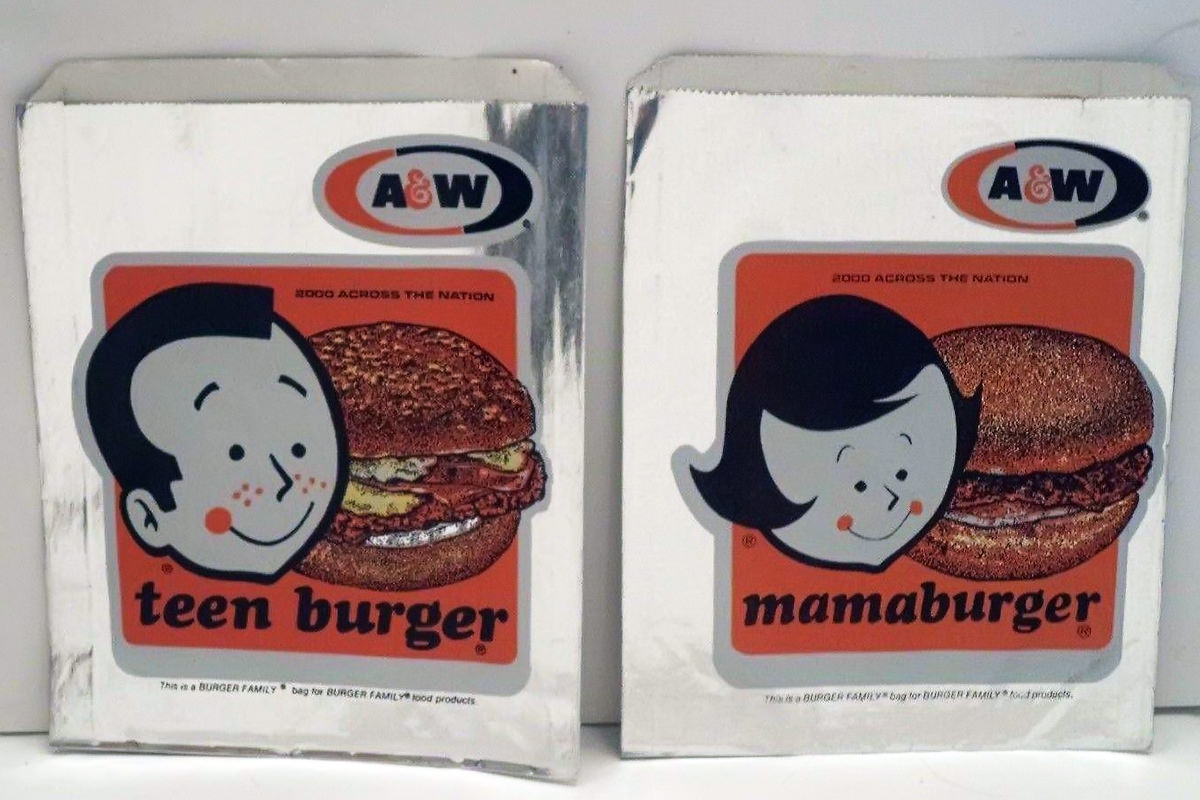 Photo taken from WorthPoint whom I'm guessing took it from eBay?
I started with the BabyBurger, which had a smaller burger patty on it. Then one day I felt I was grown up enough to graduate to the TeenBurger, so I ordered that. It came with cheese and bacon on it and it was the best thing I had ever eaten. And even though I use a veggie burger patty with soy "bacon" now, I still love cheese and bacon on my burger and I owe it all to the A&W.
Sometimes we wouldn't eat in the car... especially when we lived close-by and could walk there. We'd sit inside the restaurant on a big orange booth seat at one of those wooden-looking laminate tables with the metal edges on it. On those occasions when I was still very young, I wouldn't be handed over a magical foil bag... mom would instead take the BabyBurger out of the bag, cut it in half for me, set it on the bag, then slide it across the table.
I don't know why.
If I could handle a whole burger when eating in the backseat of the car, then why couldn't I handle it when dining in the restaurant? Why cut it in half for me then? Just one of many, many things which will remain forever a mystery.
Isn't it terrible how many things you think of to ask somebody after they're gone and you're no longer able to ask?
This morning when I was an adult and having a hamburger for breakfast, I looked at it sitting there on the plate... took out a knife... and cut it in half, almost without thinking about it. Something I don't think I've ever done before in my entire life...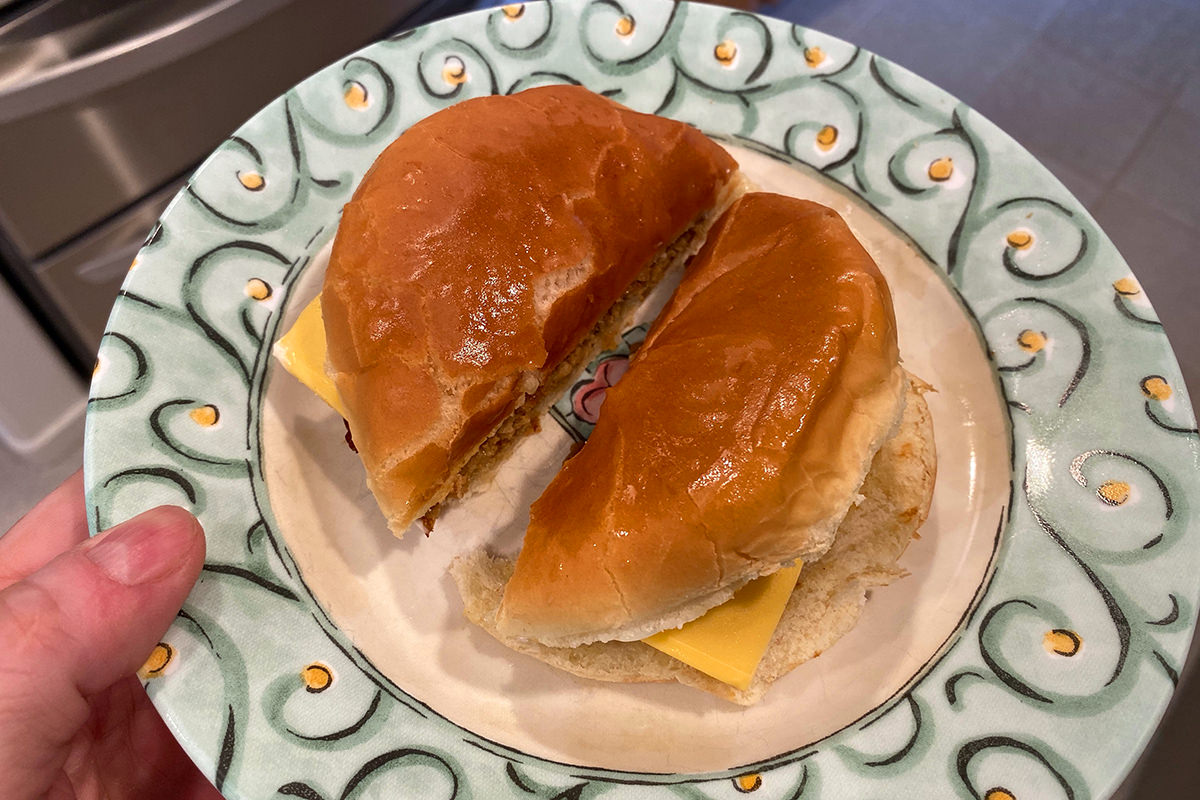 And suddenly I'm not an adult any more.
I'm just a little kid sitting in the A&W restaurant with my burger wanting his mom.

I don't know why some memories are so vivid in my mind where others have faded. I don't know how it is that I am able to remember something that happened when I was so young. I don't know what it is about eating at the A&W that makes it so unforgettable. I guess how our minds choose what to archive is just another mystery.
As is what happened to my old battered A&W mug that was bought for a quarter and sat in my cupboard for... like... forever. Did it break? Did I lose it? Did I throw it out? Did mom throw it out? I dunno. But I do know that A&W has an online merchandise shop where I can probably buy another one.
And, holy crap, did you know that it's their 100th anniversary this year?!?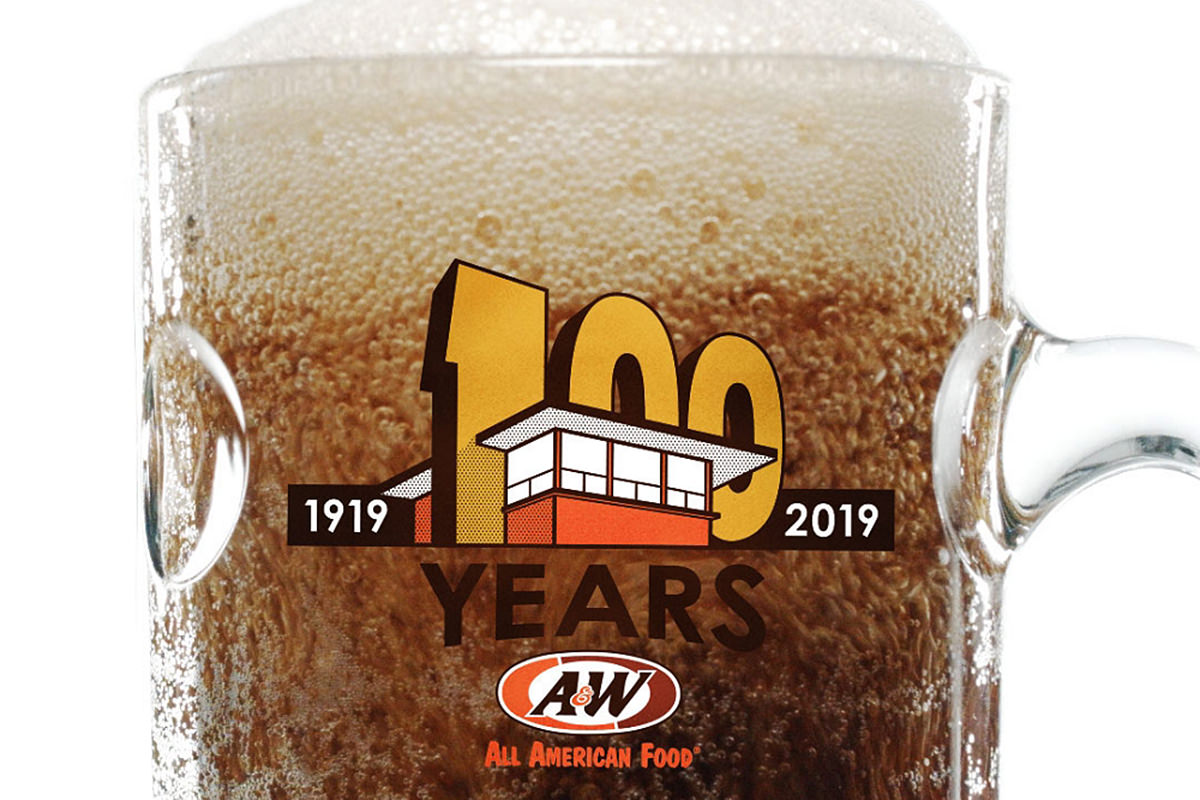 Boy, I could sure go for a frosty mug of A&W root beer right about now.

UPDATE: While I was trying to fall asleep, I Googled for an image of the old A&W that I used to eat at when I was a kid. One photo came up, but it was from an expired Panoramio account and Panoramio has shut down... so I have no idea if this is actually the restaurant, who to credit the photo to, or whom to ask about it. This would be the view looking away from the restaurant towards the drive-in stalls and the parking lot. It certainly looks like it could be my old A&W...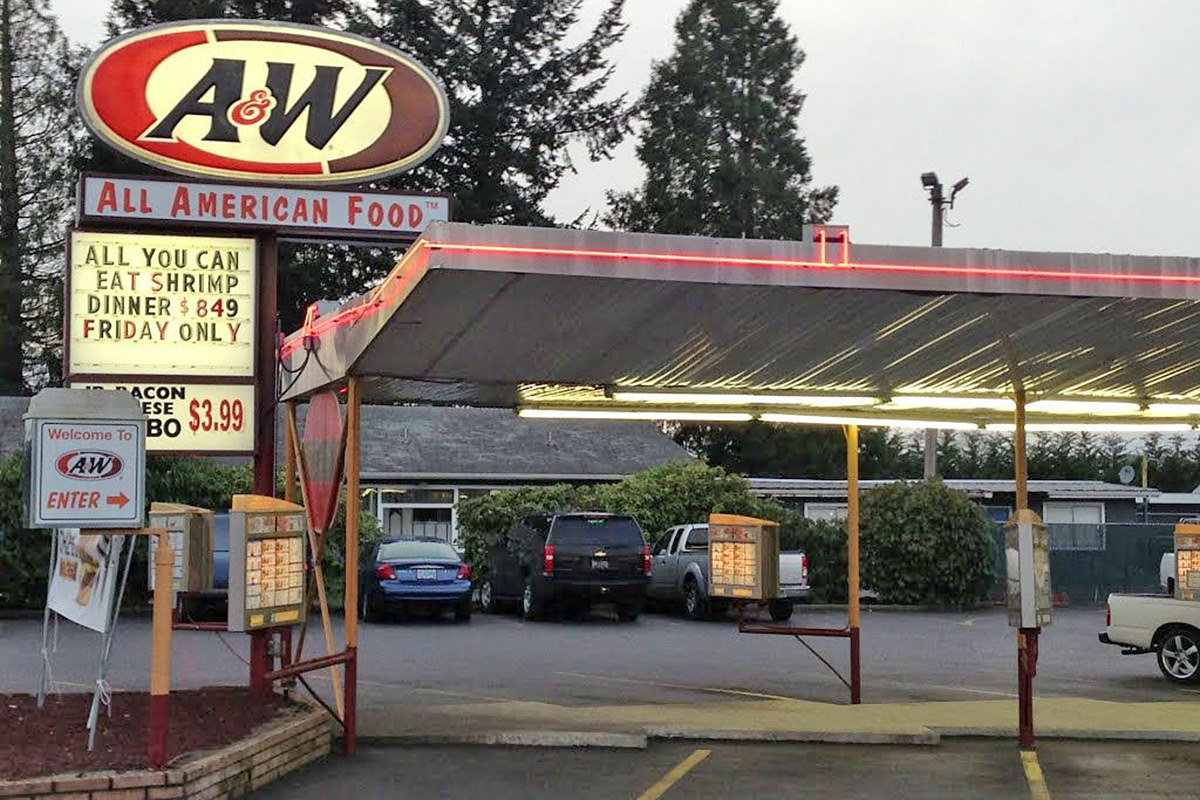 The awning over the stalls... the menu-boards... it all looks much like I remember. What gives me pause is the price on the billboard of $849 (assumably $8.49) for an all you can eat shrimp dinner. That seems high for the era that my A&W existed. The cars also look too modern. I think the local drive-in A&W was torn down before this was taken? Maybe not. Another thing I question is the entrance here... from this direction, I think the entrance would have been on the right side of the photo. And I want to say that our stalls were straight instead of at an angle like this? In any event, this is definitely the kind of experience I so vividly remember, even if it's not the actual restaurant.