I started today the same way I start every Martin Luther King Jr. Day... by listening to his brilliant and beautiful "I have a Dream" speech in its entirety. It never fails to inspire. I actually had the day off from work on this holiday, but chose to get some things done at the office anyway. Somehow, no-pressure work days are always more productive than they have a right to be.
After work I needed bread and milk, so I was off to the grocery store. As I was walking down the aisles, a box of crackers started screaming at me. After investigating, I found out it wasn't actually crackers, it was something stupider than a box of crackers. It was a motion-sensor voice-recording of this asshole...
I always wondered if there could possibly be anything more annoying than Fran Drescher. It turns out there is, and it's "Chef" Guy Fieri. I have no clue what the appeal is here, but he's showing up everywhere. Just look for the ridiculous "I CRAVE ATTENTION" bleached hair and listen for the manic "YOU CAN'T IGNORE ME" screaming.
Tonight was the premiere of SyFy Channel's rip-off remake of one of my favorite shows... the UK's awesome Being Human from the BBC...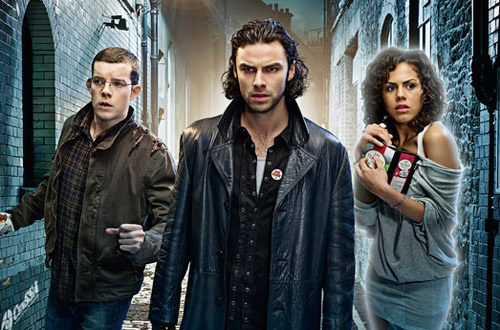 The original is a funny, yet sublimely dark, drama/comedy about a Vampire, a Werewolf, and a Ghost trying to live a normal life under anything but ordinary circumstances. It is surprisingly entertaining despite the schlocky premise. But, for reasons that continue to escape me, SyFy (in collaboration with Canada's Muse Entertainment) feels that they need to cash in on the vampire craze and remake the show for North American audiences instead of just airing the Real Thing or trying to come up with something original.
The resulting Being Human do-over is... interesting...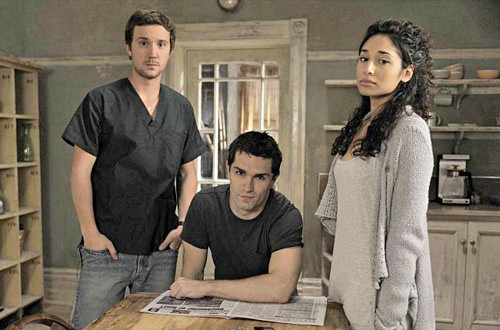 It is in no way a "bad" show. I think the actors do a pretty good job with the material considering they're basically re-treading territory that has already been deftly explored on another continent. And there's the problem. If you've seen the original, this is going to feel like an inferior copy by comparison. Because it is. It's less subtle, less charming, and (surprisingly) less... human(?)... at least from what I've seen so far.
And yet I will be watching next week.
Something tells me that the show holds promise of becoming something more than a copy. If the people involved want it badly enough! Just like The Walking Dead is making some interesting diversions from the comic book source material, Being Human has a chance to grow into a show of its own. And I want to see that show. There's definitely room for me to enjoy both of them if our revision should prove worthy.
Which is exactly opposite of the reason I will not be watching MTV's remake of the shocking BBC program Skins which takes a scary look at what teenagers are doing with their lives. In that case, one show is more than enough.