My favorite foodie treat is a glass of Tropical Punch Kool-Aid and a plate of saltine soda crackers with butter. There are very few things that can top that. Maybe chocolate pudding, but I always think of that as more of a meal than a treat.
Whenever I mention my love of Kool-Aid and crackers, most people immediately label me as uncultured and uncivilized. Once I was even told that it sounded "white trash," which is what I get for mentioning it at a fancy wine and cheese party.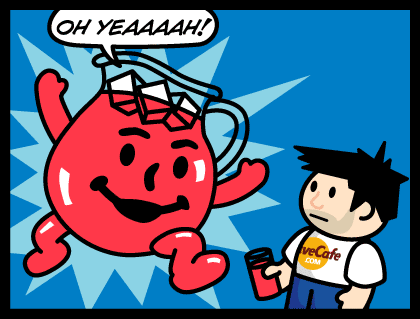 For a while there, I stopped drinking Kool-Aid and eating soda crackers in an attempt to "grow up."
But when I was at the store the other day, I decided that enough was enough and I should eat what I enjoy instead of worrying about what other people think. So now I'm back to being "white trash" again which is fine by me. They're a better class of people anyway. Probably because they don't try to embarrass someone over the food they like. Or the car they drive. Or the job they work. Or the clothes they wear.
And this got me to thinking.
What is it with people who feel the need to crap all over others for something which has no bearing on their lives whatsoever? I can take good-natured ribbing as well as anyone, and that's fine. But when people are just being mean and dismissive I don't understand it. What do they get from humiliating and belittling other people? Does it really make them feel so much better about themselves?
It reminds me of the time I was on a cruise and overheard somebody making fun of a couple who were assigned a cabin on a low deck. Never mind that the cabin might have been all the couple could afford after saving their money for years to take their dream vacation... somebody felt the need to shit all over their happiness for no reason at all. I guess it was too difficult to find common ground and be happy that everyone was on vacation and having a good time. Or at least trying to have a good time.
There are people out there who are just plain mean and hurtful. I don't know why I find it so difficult to accept that.
A part of my doesn't want to know.
Which is fine, because right now I've got a plate of crackers and a glass of Kool-Aid that deserve my complete attention.

There are people who get Martin Luther King Jr. Day off work. I am not one of those people. But I did go in an hour late to do my part. I also stopped by the mini-mart so I could pick up a bag of cheese-popcorn and a bottle of Coke.
As I was heading up to the cash register to pay for my breakfast, some guy came in and announced "HAPPY BROWN BROTHER DAY!" To which somebody else said "Maybe one day we'll get a white guy day." After nearly tripping on my own feet in disbelief as I approached the counter, I was compelled to say "EVERY DAY IS WHITE GUY DAY! Especially in this redneck town."
I guess I should stop being surprised when I hear stuff like this, but it never fails.
Probably because I'm too hopeful.
Though I wasn't jumped in the parking lot afterwards, and I didn't get the crap beat out of me for being a smart-ass, so I guess that's something.

"Darkness cannot drive out darkness... only light can do that.
Hate cannot drive out hate... only love can do that."
— Martin Luther King Jr.