Posted on December 29th, 2021

Much like in 2020 I found myself listening to old favorites rather than seeking out new stuff to enjoy. Comfort food for difficult times and all that. Once again it was 80's pop, classic old-school rap, and 80's metal that dominated my audio consumption. But there were a few bright spots to be had where new music made its way into my rotation, so let's get on with my favorites from this year...
#1 Silver Crane by Fly By Midnight
Here's yet another case of a band that I never knew existed somehow ending up reaching me and I become consumed with their music. Not only did I listen to Silver Crane over and over and over again... I had Alexa playing through their entire catalog for many, many days in 2021. There's few missteps in their body of work and I love most everything they've released. But focusing on my favorite album of 2021 (by a wide, wide margin) for a minute... there's a well-crafted pop sensibility that threads its way through every track, starting with the mellow beauty of Borrow Your Time... working it's way through lush tracks like Be Right There, Tomorrow, and When She's Dancing... then ending with the wonderful North... a dozen fantastic tracks that made my 2021 a little more bearable.
And because, like me, you may never have heard of Fly By Midnight before, here's more tracks that aren't off of Silver Crane, but might encourage you to look at their back-catalog...
And here's the first song I ever heard from Fly By Midnight the day after my birthday in the Year of Our Lord, 2021... originally released back in 2015!

#2 = by Ed Sheeran
It was Overpass Graffiti that got me. Lord what a beautiful song. — I have never been able to get into Ed Sheeran. I like a few tracks here and there, but his albums just don't appeal to me for some reason, even though he builds the kind of music I should like. But then I took a ride on = and ended up digging it. No idea if this is because he's changed... or I've changed... but there's an old-school pop undertone that's gone through a modern filter that hit just right for me in 2021 (and Overpass Graffiti is such an amazing track).

#3 Star Crossed by Kacey Musgraves
And she's back. One of the biggest surprises (to myself) when it comes to these lists was the fact that her previous album Golden Hour ended up being my second favorite album of 2018. I don't know that I like this album more... it's difficult to replace your first love... but it's sure got some beautiful tracks on it. Taking a page out of Taylor Swift's book, Kacey seems to be working through her divorce and taking us along. Or maybe I'm just reading that context into it, but regardless of where it came from, the music here is every bit as lovely as Kacey herself.

#4 Good Things by Dan + Shay
Country pop is not exactly a genre I seek out... but after hearing Dan + Shay provide the incredible Christmastime track Take Me Home for Christmas to the film Dashing in December last year, I've been all over their music... including their latest release, Good Things, which is exactly what the name implies. Track after track of good things. Highly enjoyable hopeful music that is just what 2021 needed.

#5 Times by SG Lewis
Disco is not dead, apparently. And maybe if it stayed as creative as this album, it wouldn't be dead at all? Interesting to note that while SG has been sneaking around for a while... releasing EPs and collaborating with, well, everybody... this is his first full studio album. Once again collaborating with a who's who of music (including Nile Rodgers, Robyn, Lucky Daye, and more!) this welcome release is a total treat from start to finish.

#6 Screen Violence by CHVRCHES
CHVRCHES was the opening act for a couple tours I saw, and it was always a pleasure to listen what they were up to... even if I didn't play their music when I get home. All that changed with Screen Violence. Lauren Mayberry rips through track after track with a sublime dedication to the lyrics that you can feel. The songs are an eclectic mix of pop-rock with a bit of an edge, and listening through the album is a rollercoaster of feels that you don't want to end.

#7 Montero by Lil Nas X
Nothing quite like an entire album of "fuck you" to all the people who made your entire life hell, and nobody did it better in 2021 than Lil Nas X. People told him he was going to hell for being gay? Fine, he'll take you to hell in a banger track with a video to match. People told him he belongs in jail for his subversive music and videos? Find, he'll take you to prison in all the ways they fear. But the album isn't just a kiss my ass dis release, there's some really good songs to be found that stay with you in the best way possible. And to those people mad about his success? GOOD!

#8 Music Of The Spheres by Coldplay
Say what you will about Coldplay, but they know how to construct a song that gets stuck in your head. They also know how to create killer videos that take what you think you know about their music and push it into a different direction entirely. Music Of The Spheres isn't revolutionary... it isn't even evolutionary... for the band, but it's filled with one terrific song after another, including a banger collaboration with South Korean sensation BTS (no idea how in the heck that happened!).

#9 Tasjan! Tasjan! Tasjan! by Aaron Lee Tasjan
Weird. Eclectic. Interesting. It's really hard to come up with a way to describe exactly what this album is. So I won't even try. I'll just say that it's a highly listenable mix of cool tunes that seeped into my playlist many, many times in 2021.

#10 Future Past by Duran Duran
I struggled as to where this should fit on my list... or whether it should even be here at all. On one hand... it's freakin' Duran Duran. But on the other hand? Hardly their best effort. But even a middle-of-the-road album by the band is something I like better than most of what got released in 2021. There's certainly some tracks that work better than others here... Beautiful Lies is a wonderful return to form, for example... but something is lacking when compared to their previous two albums (All You Need is Now and Paper Gods) which were both amazing.

HONORABLE MENTION: Firebird by Natalie Imbruglia
It's interesting how "The Torn Girl" is so much more than that one great track, but she doesn't seem to be able to break free of it. There are worse things, I guess, but she's such an amazing artist that I wish people would give her other music a try. Firebird is a perfectly lovely album that's all the things you love about her best-known song.

HONORABLE MENTION: You Signed Up For This by Maisie Peters
If I were to sum up You Signed Up For This it would have to be something like "eminently listenable pop." Great tracks that are nicely constructed and wonderfully performed that you can just listen to on repeat while working, cleaning the house, or talking to your cats. That probably sounds like a dis, but it's really not. Maisie Peters can effortlessly engrainin herself into your everyday life in a way that it feels like it could be a soundtrack to your existence or something. Even if that doesn't apply to you, this album is well worth your time to explore.

ALSO WORTH A LISTEN: Planet Her by Doja Cat
Welp. If anybody knows how to inject their music into the social consciousness by exploiting social media, it's Doja Cat. She was everywhere, and I was hypnotized into addiction so badly that I was listening to Her even when social media was nowhere to be found. So many fantastic tracks dripping with her delicious voice. And then she put some real money into her videos that were worth a look many times over.

ALSO WORTH A LISTEN: Fast Idol by Black Marble
Gotta love it when an album is released that feels like it was dropped into a black hole in 1986 and has only now emerged! I don't know exactly where Black Marble gets their influences, but it feels like it must be a smorgasbord of 80's synth-pop acts, which is exactly why I love Fast Idol so much.

ALSO WORTH A LISTEN: Human by OneRepublic
One Republic is one of those bands that is nothing if not consistent. They have a formula. It works. And they revisit it with each new album. In many ways, I appreciate that because their formula totally works for me. On the other hand... boy it would be nice if they would push into new territory, because I'm not sure how many more albums of the same thing will keep me interested (see: Imagine Dragons, who also released an album this year). In the meanwhile though? This is another good album by a band I really enjoy.

ALSO WORTH A LISTEN: Voyage by ABBA
I've been a huge ABBA fan for as long as I've been listening to music. And just when it seemed that we would never hear anything new from them as a band ever again, here comes this gem. What I would have loved is an album that burns through a dozen dance tracks that they do so well, but that's not what we got. Sure there are tracks like Don't Shut Me Down that are great, and sweet tracks like When You Danced with Me and No Doubt About It that I played more than a little bit... but Voyage is stuffed with slow, plodding tracks that are a nice listen, but not really what I hoped for. All I CAN hope for is that ABBA isn't done yet and will give us another album so I can combine the best of both for the album I've been waiting for.

FAVORITE MUSIC VIDEO OF 2021: One Right Now by Post Malone and The Weeknd
It came out on November 15th and I still haven't stopped listening to it almost daily. My appreciation for both Post Malone and The Weeknd just keeps growing, and it's because of tracks like this. As if that weren't enough, the video is pretty epic...

FAVORITE SURPRISE SINGLE OF 2021: STAY by Kid LAROI and Justin Bieber
I discover a lot of music on TikTok, and one of the most inescapable in 2021 was a snippet of STAY which, much to my surprise, is actually a darn good pop single...

FAVORITE THROWBACK TRACK OF 2021: Cold Heart by Elton John and Dua Lipa
Some songs will never get old. A great many tracks by Elton John fall into this category, and when he dusts them off for a modern take like this, I'm all ears...

FAVORITE PREVIEW OF 2022: 23 by Sam Hunt
My fifth favorite album of 2020 was a rare Country artist who knows how to craft some really nice songs. This September he dropped a preview track from his upcoming album and it's exactly the kind of thing that makes me love his music.
Posted on October 23rd, 2015

It's been a fairly stress-filled week.
I don't know that my weekend will be any easier, but at least I have a quick trip to look forward to on Monday.
And now? Nachos!
Posted on September 20th, 2015

Every little thing the reflex does leaves you answered with a question mark, because Bullet Sunday starts... now...
• Red! "Attend a live concert by a band I love at Red Rocks Amphitheater" has been on my bucket list for a very, very long time. So long, in fact, that I was ready to compromise and go see ANY live concert at Red Rocks the next time I was in Denver. "Even Nickelback?" you may be thinking. Yes. Even Nickelback. Fortunately, long-time blogging friend Howard let me know that Duran Duran was going to be playing tonight, so I got to fulfill my original bucket list item the way it was meant to be fulfilled.
• Rocks! And let me tell you, Red Rocks is a frickin' amazing place to see a concert. I only had my iPhone, so any photos I post can't really do it justice, but here you go...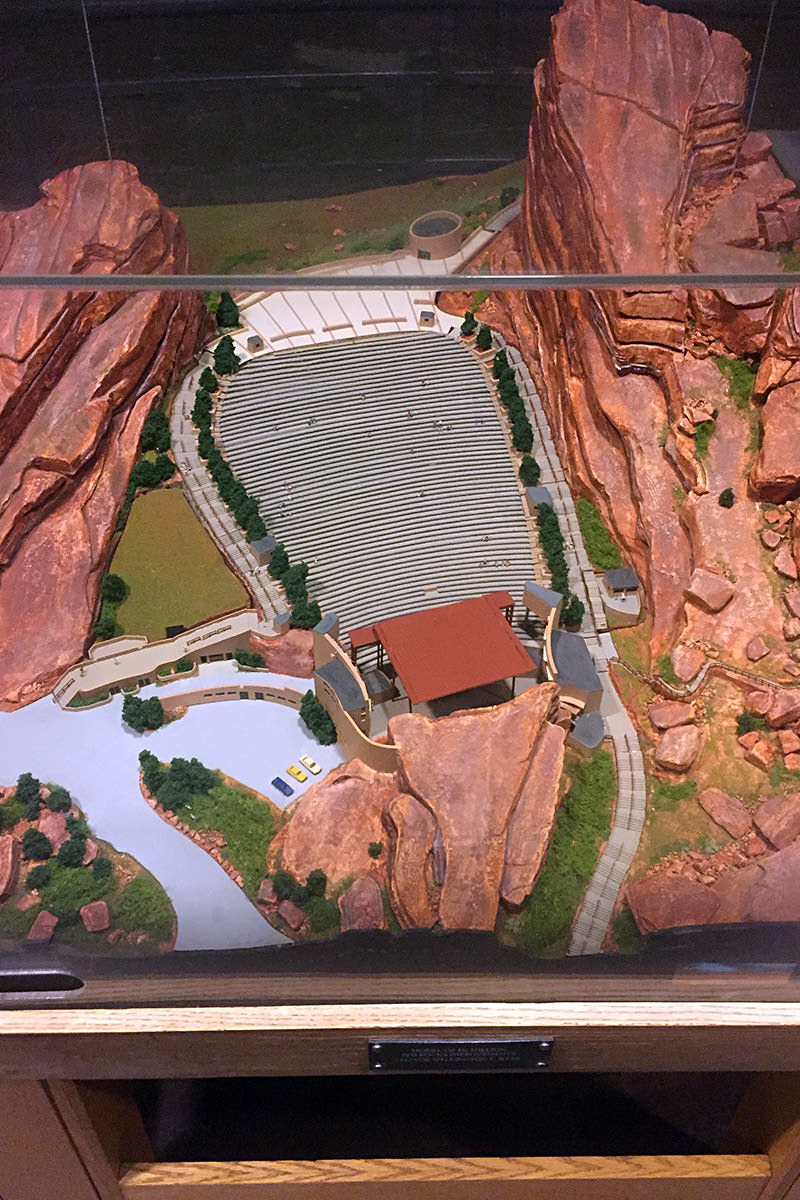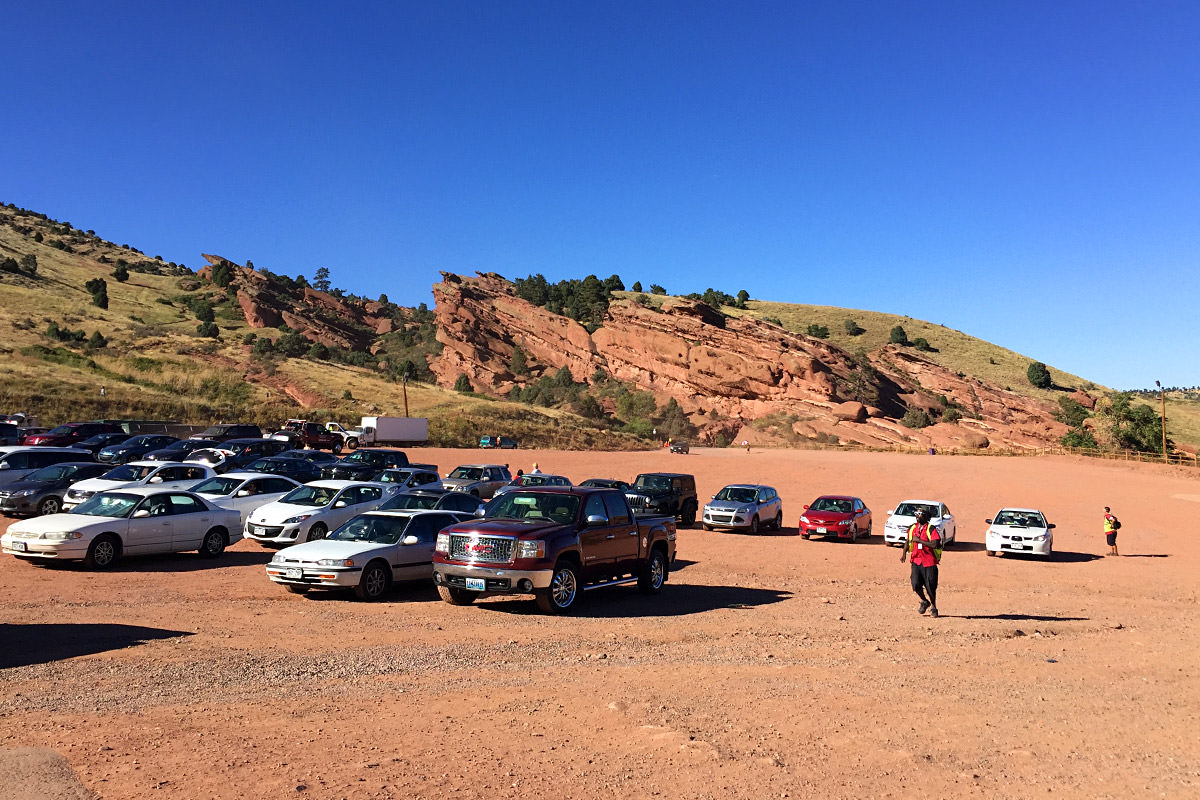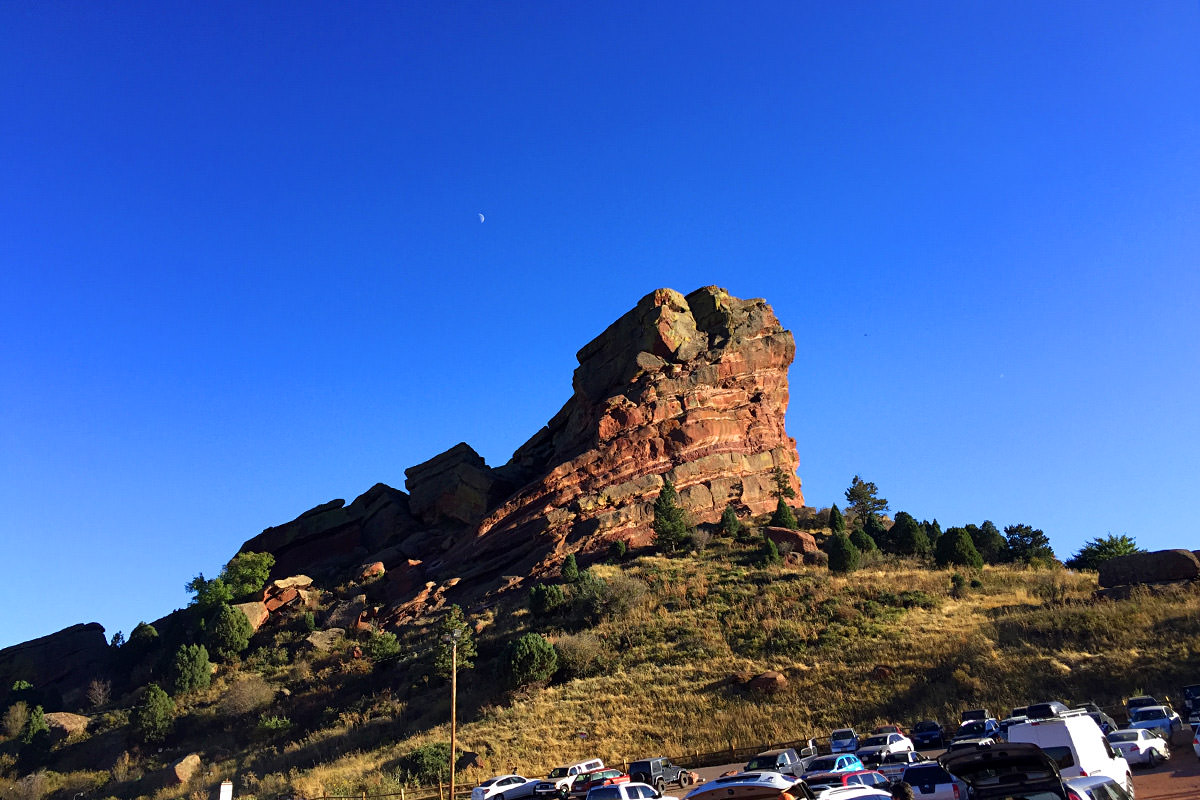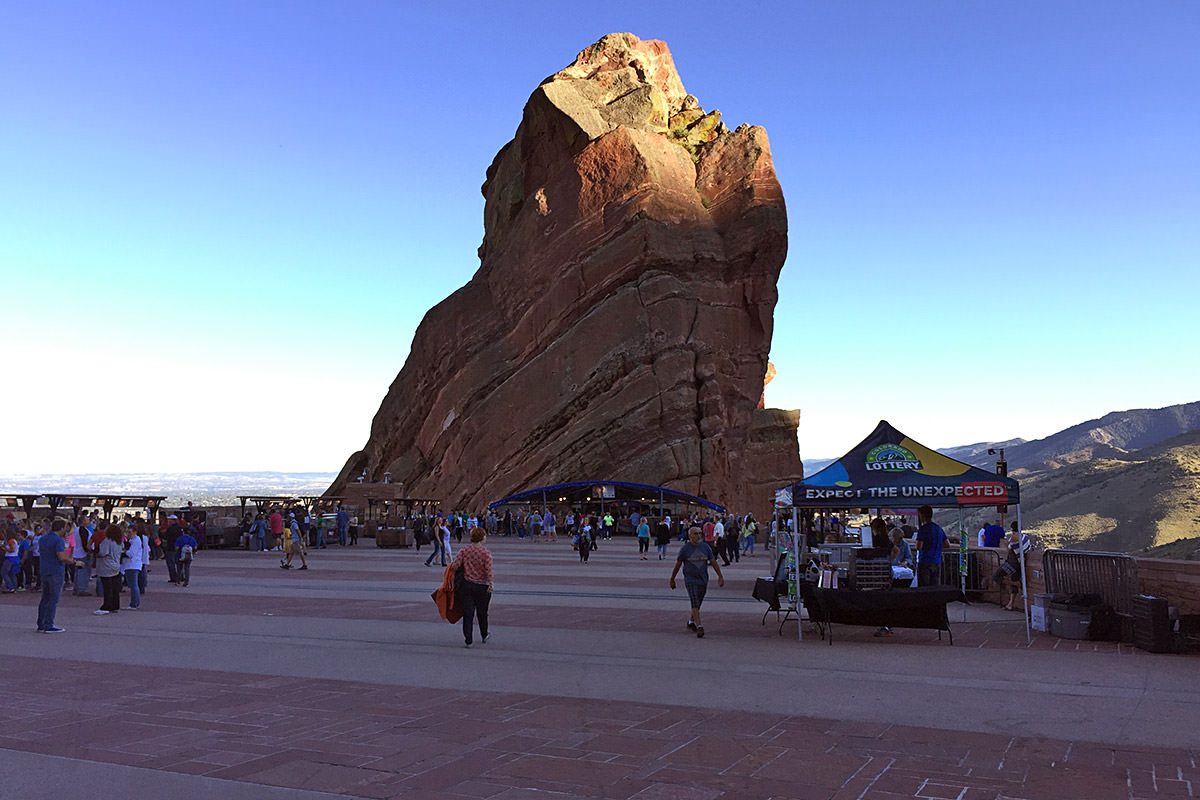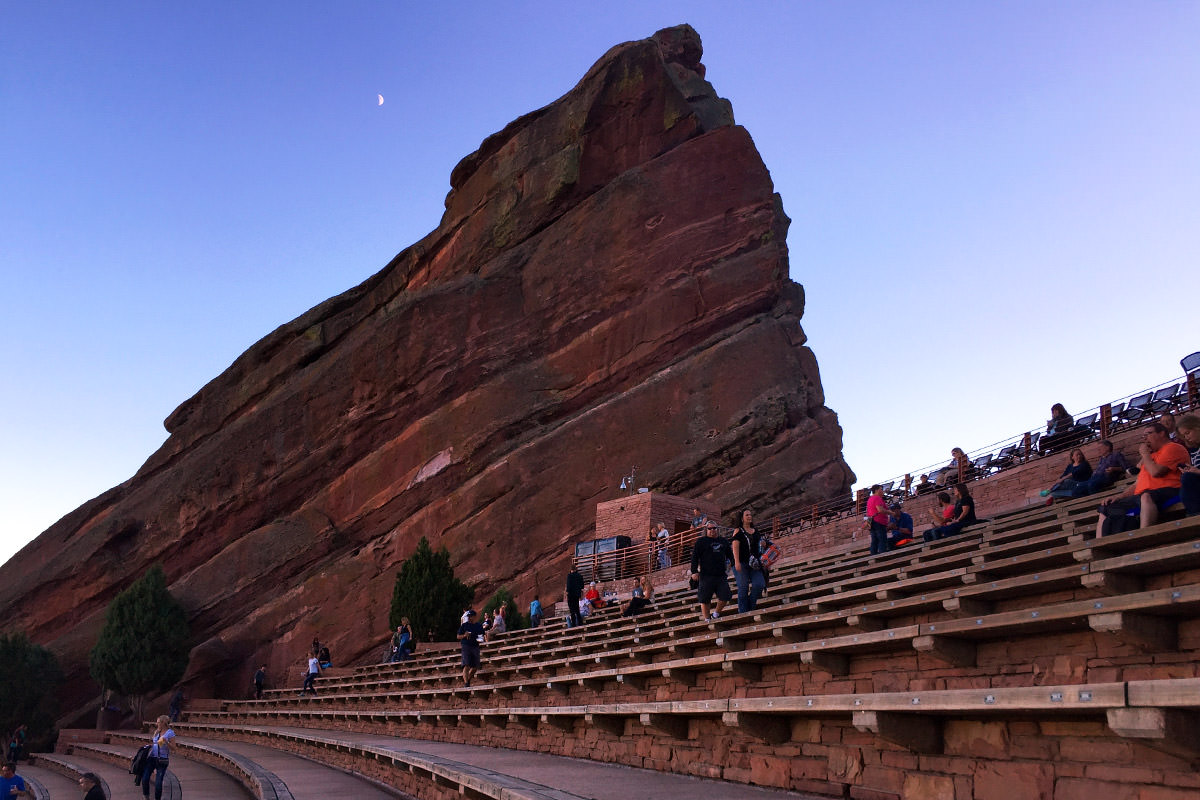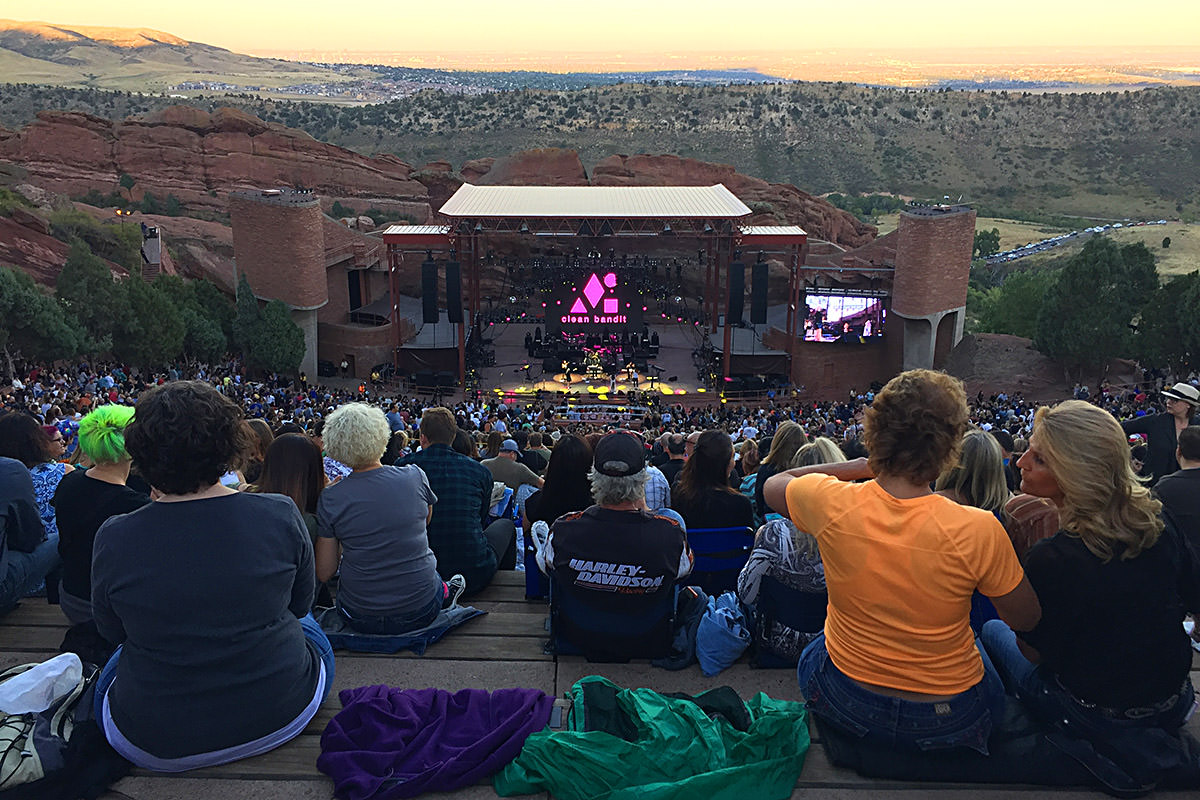 For much, much better images of this breathtaking venue, a Google search is a good place to start...
• Clean! The first opening act was Clean Bandit, a group I've never heard of before...
Not bad at all.
• Chic! The second opening act was Nile Rodgers and Chic. This could have been a bit of a snooze, but Nile Rogers pulled from the unfathomably huge stable of artists he's worked with to unleash a truly amazing set. I'm Coming Out, Upside Down, We Are Family, and even a brilliant rendition of David Bowie's Let's Dance were all there and just amazing. They even did Daft Punk's Get Lucky! Wrapping up with La Freak and Rapper's Delight didn't hurt. Fantastic performance.
• Durans! And then it was time for Duran Duran and they were amazing. Simon Le Bon has lost absolutely nothing over the years, and the show was everything you could hope for... including a setlist that had them playing a great mix of new stuff along with the hits everybody wanted to hear...
Paper Gods. Title track off their latest album.
Hungry Like the Wolf. One of their most well-known songs.
A View to a Kill. The band's James Bond effort from the movie of the same name (and one of my favorite D2 songs).
The Reflex. A long-time popular cut for live shows that works perfectly every time.
Come Undone. The first track of three taken from "The Wedding Album" and one of my favorite songs... not just for Duran Duran, but ever.
Last Night in the City. Not the strongest track from Paper Gods, but it was well-received.
What Are the Chances? A beautiful, haunting song off Paper Gods that I was very happy to hear, as I thought for sure it wouldn't make the cut. If only we could have gotten Butterfly Girl and Face for Today. as well.
Notorious. Not one of my favorites, but it always plays really well live.
Pressure Off. My favorite track off of their latest album.
Planet Earth. One of their first hits and best songs.
Ordinary World. One of the incredible tracks off "The Wedding Album" that rejuvenated the band for the masses.
(Reach Up for the) Sunrise. A lone contribution from Astronaut, a seriously underrated album.
The Wild Boys. Classic song for sing-along that I'd just as soon have them skip in favor of another song, but there's not denying it was a fun addition to the set.
Danceophobia. An okay track off Paper Gods, but no guest appearance by Lindsay Lohan, sadly.
Too Much Information. Another wonderful track off "The Wedding Album" that killed it live.
Girls on Film. My favorite of their earliest work.
White Lines (Don't Don't Do It). Goes over really well live thanks to a good crowd participation hook.
Save a Prayer. Another sing-along favorite that was very well received.
Rio. Arguable the most popular song from "classic" era Duran Duran, it was a really nice close to the show...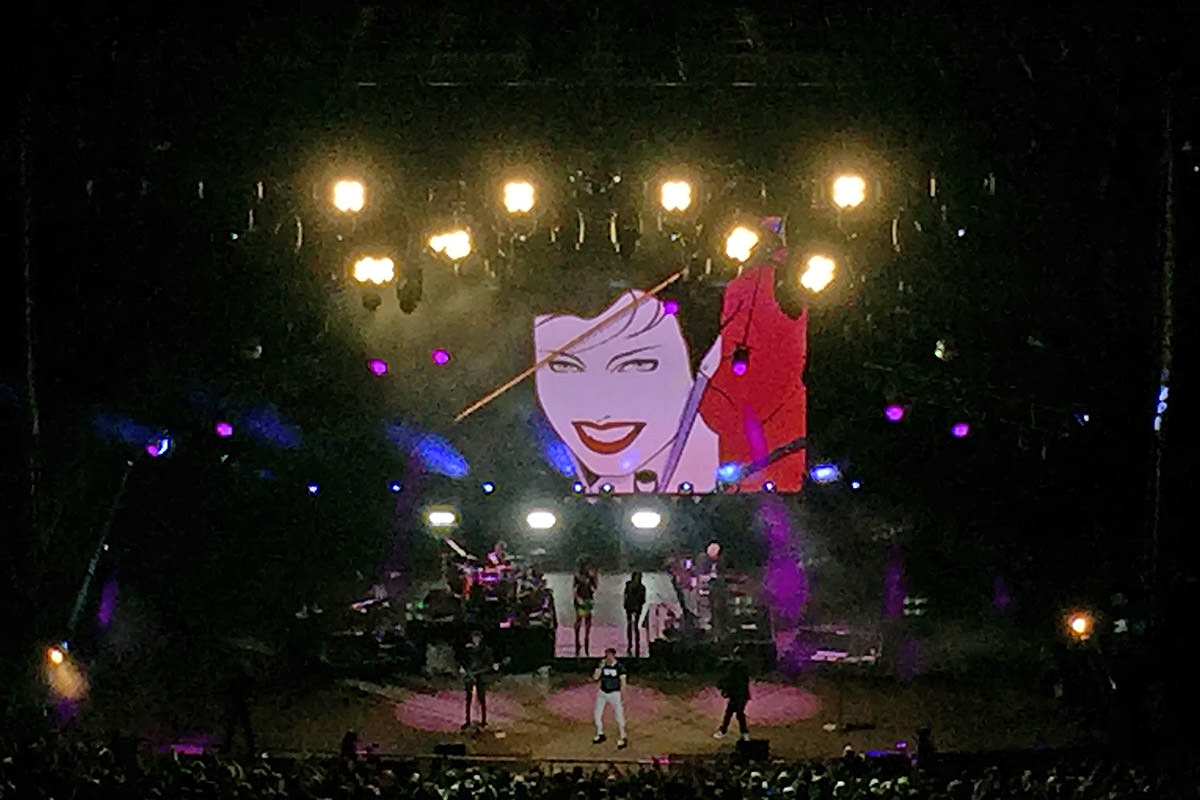 All in all, and amazing night by one of my favorite bands!
• Off! If you haven't run out and purchased Paper Gods yet, it's an album well worth your time. Half the tracks I love, and the remainder aren't terrible. My favorite track, Pressure Off, is now stuck in my head...
So, yeah... if you have the chance to see Duran Duran live in concert, I'd definitely do that.
• Blergh! All was not perfect at Red Rocks, however. The sound, which was awesome for Clean Bandit and Chic, kept muffling in and out throughout Duran Duran's entire set. It was very frustrating given just how amazing Simon Le Bon was belting out the tracks.
And, oh yeah... whomever designed the lighting for Duran Duran's stage show should be shot. Half of their set was spent staring not at the band... but at a huge fucking bank of lights that blinded everybody trying to see the show. THIS is what I was staring at for way too long...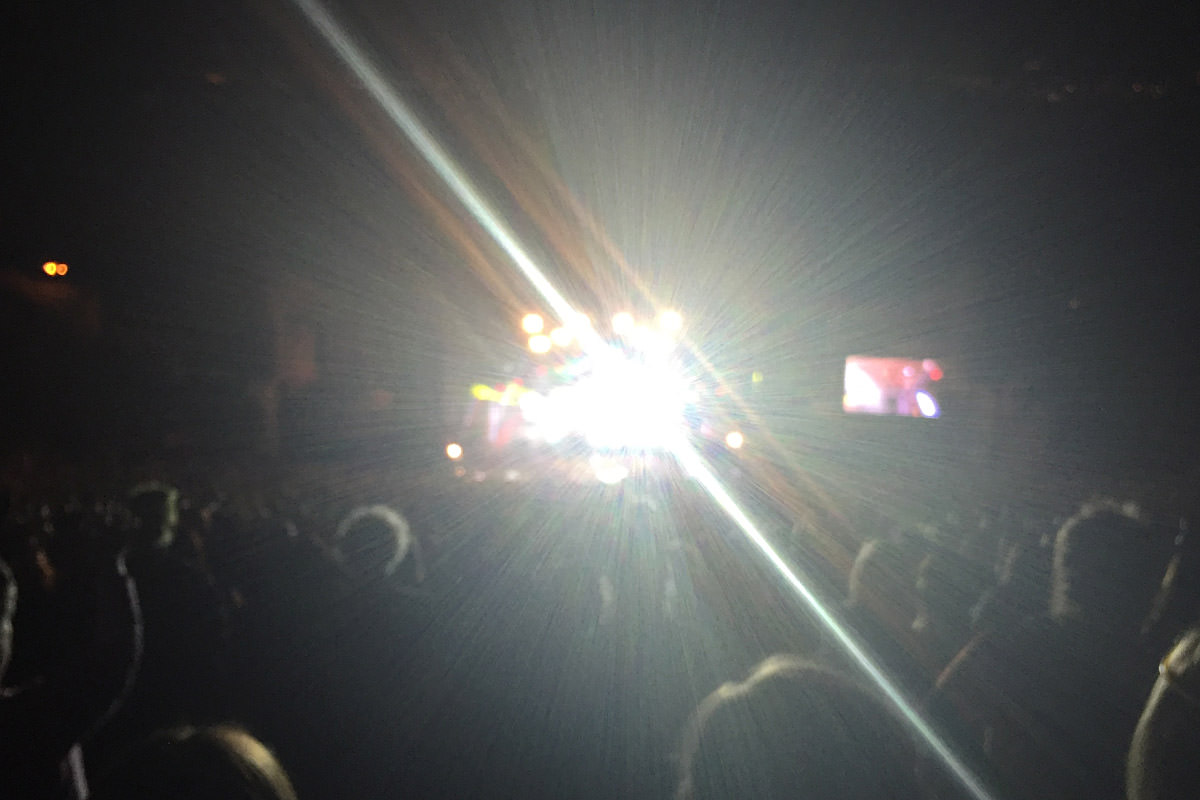 Incredibly annoying, and I wish bands would be more mindful of BLINDING THE FUCKING AUDIENCE, because this is not the first time this has happened to me.

And... that's a wrap!
Posted on March 27th, 2015

It happens all the time.
Find a band you like one minute and they drop off the face of the earth the next. I can find no word from Father Tiger since December (their website hasn't been updated in almost a year).
Kind of sad about that, as I thought for sure 2015 would be when we finally get a first full album out of the band...
Hopefully they're just busy in the studio and haven't had time to post updates?
Oh well.
In other music news... the best news I heard all day... Duran Duran has an album coming out in September through Warner Bros. Records that will reunite them with genius producer Nile Rodgers!
Few bands have remained as consistently good with their music than Duran Duran. Their last release (way back in 2010), All You Need is Now, was as amazing as anything they've ever released. If we'll be getting more of the same this time around, I'll be very happy to add them to my Best Of 2015 list.
Posted on December 29th, 2010

2010 -> AUDIO -> VIDEO -> DAVE
All things considered, 2010 was a bitchin' year for 80's music whores like myself because OMD, a-ha, and Duran Duran all came out with awesome new albums. Then 80's throwback Goldfrapp dropped an album straight out of Xanadu. Two of my indie favorites, The Weepies and Matt & Kim came out with some great new stuff. And I discovered an amazing band (new to me!), Mackintosh Braun, thanks to Grey's Anatomy (of all places). As if that wasn't enough, Daft Punk managed to put out a soundtrack for TRON that didn't suck. It all added up to a lot of music purchases for me this year.
Here is a list of my favorite albums from 2010: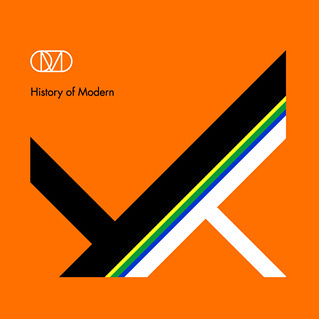 #1 History of Modern by Orchestral Manoeuvres in the Dark.
As a long-time fan of OMD who was overwhelmingly underwhelmed by their "last" album back in 1996 (titled Universal), I was almost dreading the announcement that a new album was coming out. The last thing I wanted after 14 years was another disappointment. But a part of me was hopeful, and that hope was rewarded in spades with History of Modern. Easily one of their best albums, it's a return to glorious form for original members Andy McCluskey and Paul Humphreys. Each song feels like a love-letter to their fans and serves as a reminder as to just how good OMD's music is. I love every track save one (the badly misplaced New Holy Ground) and would be hard-pressed to pick a favorite, as it changes with each listen. Right now I'm in love with Green and History of Modern, Pt. 2, both complex and haunting tracks that stick in your head. Last week it was Sometimes and Sister Marie Says. All I can do is hope that they tour the USA and bless us with an equally-awesome follow-up album in 2012.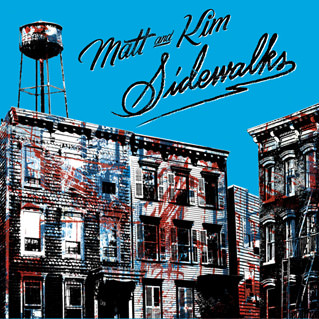 #2 Sidewalks by Matt and Kim.
When I first heard Matt and Kim's debut album, I remarked that it was if I had discovered music again for the first time. Then they broke into mainstream with their brilliant follow-up, Grand, and my love for Matt and Kim was sealed. They have a... joy... for music that you just can't find anywhere else. When I heard they were coming out with something new, Sidewalks, I was prepared to be blown away once again. Oddly enough, that didn't happen. The once raw and unrefined sound that made Matt and Kim be Matt and Kim had been replaced with something more polished which had worn away all the rough edges I came to love in their sound. Kim's wildly unapologetic brashness when banging on those drums had been subdued to levels so small that it was almost as if her kit had been put on half-mute or something. And so I spent the first week being mildly disappointed. But I never stopped listening. I played it again and again and again. And fell in love with Matt and Kim all over again. From the minute I hear the opening bars of Block After Block, I'm hooked. This is an amazing album in its own right, even if it deviates from the Matt and Kim sound I had grown accustomed to. For their next effort, I'm hoping they take a half-step backwards while they're moving forward.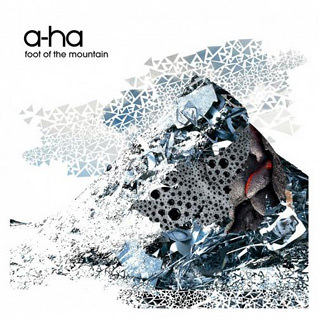 #3 Foot of the Mountain by a-ha.
For reasons I cannot understand, a-ha is relegated to one-hit-wonder status here in the USA (they're the Take On Me guys!), even though they went on to create some of the most amazing music I've ever heard. So when the boys announced they'd be breaking up after their Foot of the Mountain album and tour, I was more than a little upset. The first thing I did was get my hands on the CD as an import since a-ha doesn't get their stuff released here in the US. The next thing I did was buy a flight to New York and tickets to their farewell show. All I can say is that if the band simply had to retire, they couldn't have picked a better album or tour to go out on. Much like OMD's effort, Foot of the Mountain is a true return to the sound that made everybody fall in love with a-ha. With the exception of the mind-bogglingly bad final song Start the Simulator (WTF?!?), every track is gold. My favorite song is Mother Nature Go to Heaven which has the band firing on all cylinders... Morten Harket's haunting vocals being lovingly tempered with Magne Furuholmen's keyboards and Pål Waaktaar's guitar and lyrics. It's everything I love about the band summed up in 4 minutes, 9 seconds. Add the beautiful title track and seven other amazing songs and you're left with my third favorite album of 2010, but it's probably the one I'll remember the most since it's their last.
#4 Where We Are by Mackintosh Braun.
This album came out of nowhere from a band I had never heard of. I was watching an episode of Grey's Anatomy and, not for the first time, found myself Googling to find out what the awesome song was that was playing. Turns out it was Could it Be by Mackintosh Braun. A quick trip to the iTunes Store and I was running through the tracks like mad, floored by the dreamy sound that was oozing out of my speakers. I bought the album without hesitation, and it's been in heavy rotation ever since. The following week, Grey's featured another track Made For Us, which is yet another winner. Hell, every track is a winner. My favorite is Familiar which is not only plays like something out of a dream, but has a stunning musical progression that builds and falls like waves cresting in your mind. I kept hoping that I'd get tired of Where We Are so I'd be moved to purchase their debut album The Sound from 2007. Mostly because I wanted to appreciate each work separately. But I never got tired of it, and ended up buying The Sound anyway. It's a less mature album (and surprisingly simple in parts), but still an enchanting listen. Where We Are one-ups it, and I expect great things from the band in the future.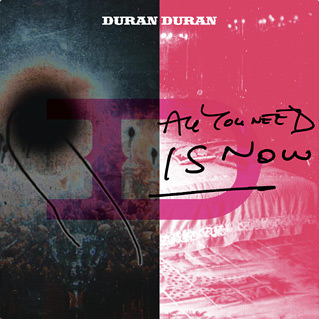 #5 All You Need is Now by Duran Duran
Back in 1985 Arcadia dropped "the best album Duran Duran never made" with So Red the Rose... 25 years later, Duran Duran is back, and managed to come up with a last-minute 2010 miracle: All You Need is Now... easily their best effort in 17 years. With this release Duran Duran is back in full-form, giving us a great title track plus gems like Leave the Light On and Being Followed. It's no Rio or Seven and the Ragged Tiger, but it made this fan very happy that it wasn't another Liberty or Thank You either.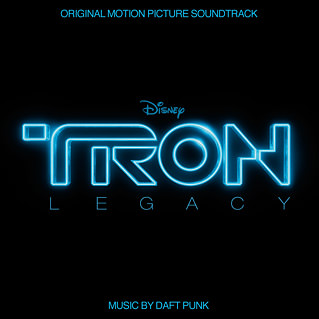 (Honorable Mention) Tron: Legacy (Soundtrack) by Daft Punk.
While electronica house music has never been a favorite genre, it would be hard to ignore the works of the French duo Daft Punk. They're crossover success on YouTube with Harder, Better, Faster, Stronger made them an overnight sensation back in 2007. Even so, I had serious reservations about them doing the soundtrack for Tron: Legacy. The last thing I wanted was some house dance music fucking up an otherwise amazing film. Turns out I had nothing to worry about. From the moment the first track Derezzed was leaked, I knew in my gut that Daft Punk was a truly inspired choice to score the movie. Turns out that was only the tip of the iceberg, and the entire album was filled with mind-bending electronica that listens like nuclear-infused ear candy. While I may not listen to it often, Tron: Legacy makes my "honorable mention" for having the good sense not to fuck up the movie it supports (any problems that movie had were not due to the soundtrack).
It's not over yet! Albums 6-10 are in an extended entry...
→ Click here to continue reading this entry...
Posted on July 6th, 2009

Duran Duran is one of the few of my favorite 80's bands that I haven't seen live. So when my sister told me they'd be playing at Marymoor Park on Independence Day weekend, it was an opportunity too good to pass up (even if you do get gouged by TicketMeister). It was particularly decent of her to go, because she's not the big Duran Duran fan that I am.
Now, for whatever reason, I was not expecting much out of the concert. Perhaps it's because Duran Duran's sound always seems so polished that I just assumed it all came from the studio.
I could not have been more wrong.
Simon Le Bon and company tore through 19 of their biggest hits in one of the best live performances I have ever seen. They over-delivered with a flawless set that gave the crowd exactly what they wanted to hear. It made me curse all the times I passed at seeing them in concert before, and has me looking forward to the next time they come to town.
Ooh... and I shot my very first video on my new iPhone! Sound is kind of blown out (I don't think the iPhone microphone expects the audio source to be so loud) but the quality is still pretty good video-wise. Unfortunately, they compress the hell out of things when you upload it to Mobile.Me or YouTube. Doesn't look too horrible if you play it small though...
All in all, a pretty fantastic weekend.
I've gone through the set-list song-by-song in an extended entry, if you're so inclined.
UPDATE: The YouTube version has finished processing, so I swapped it for the QuickTime version since people were having problems with it. Also, there are a number of much better iPhone videos posted to YouTube of the concert.
→ Click here to continue reading this entry...