Posted on June 17th, 2012

Put that Father's Day barbecue on hold... because Bullet Sunday starts... now...

• Meh-crosoft. The big news in technology is that Microsoft will be making a major announcement tomorrow... probably some kind of tablet... and nobody cares! Tablets have been done. So unless they've got a tablet with a 3-D holographic display and free unlimited satellite internet connectivity, stop wasting our time! You want to really impress me? I'm still waiting for my flying car. Why not announce that shit tomorrow?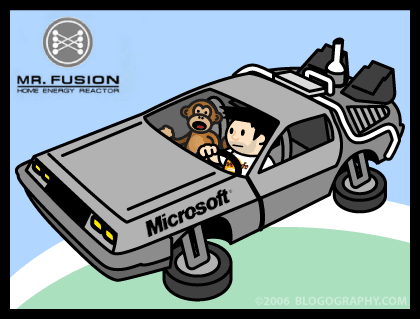 But noooooo... odds are we get yet another tablet. Which probably won't be as good as an iPad anyway. Yawn.

• Glass According to the Seattle PI Blog, The Space Needle is getting "glass window box" upgrades. As if it wasn't already scary enough...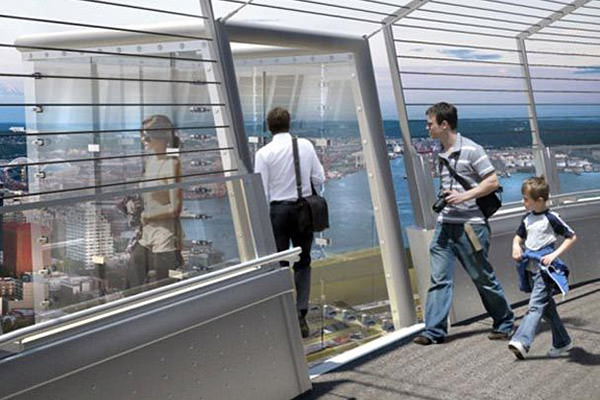 The glass window boxes at Chicago's Willis Tower, known as "The Ledge," were enough to make me nearly wet myself. And they were on a building. These are going to be on a frickin' tower. Guess it's still not as bad as The Grand Canyon Skywalk though.

• Holes The movie Prometheus was a beautiful disaster that looked stunning (especial in IMAX 3D) but, unfortunately, had so many story problems that I had a hard time enjoying it. Red Letter Media has encapsulated many of those problems in an amusing, SPOILER-FILLED, chat...
If you haven't listened to the amazing "Mr. Plinkett Reviews" of such films as the Star Wars prequels, and various Star Trek films, and other flicks like Avatar and Indiana Jones and the Kingdom of the Crystal Skull... you're really missing out. Yes, they're meant to be funny, but the insight Red Letter Media has into the art of filmmaking is brilliant.

• Nowalla So much for Gowalla's promises of being able to download your check-in data and stamp collection from their now-dead service... Gowalla.com is down and the domain doesn't even resolve any more. So glad that I spent huge chunks of my time adding spot data, correcting spot errors, and spending my money buying custom stamps. But, hey, they got bought out by Facebook and got paid... so screw all the people who helped build their service! You'd think they'd AT LEAST allow you to import your check-ins and stamps into Facebook or something.

And... I'm prematurely out of bullets. I'd be embarrassed, but I hear it happens to every guy from time to time.
Posted on December 5th, 2011

Technical difficulties dictated that this edition of Bullet Sunday air on Monday. Now it's Tuesday morning where I pretend that it's still Monday. And since YouTube has been in "Read Only Mode" ever since I filmed it this morning, maybe it's actually Wednesday and I'm pretending it's Monday pretending it's Sunday? Sheesh.

• Winner! A huge "thank you" to everybody who donated to The Muskrat's Movember campaign. I appreciate it more than I can say.
Originally, I had filmed a video of me cutting up the names and putting them in the container on Sunday night. Then I had a dramatic "TO BE CONTINUED" come up so I had time to verify everybody's entries before drawing. But since I couldn't upload that video (thanks, YouTube!), I'm just going to skip to the drawing I had with the verified tickets (Monday Tuesday morning)... and hope that I can upload it...
Oog. I'm backwards! Congratulations, Remled Delmer! I'll get an email to you so we can get your AvitaToon and DaveToon under way!

• Martians. The Martian Tales of Edgar Rice Burroughs are among my favorite sci-fi books of all time. That's pretty amazing considering the first book, A Princess of Mars was published in 1917. Needless to say, I've been anxiously awaiting the big-screen adaptation by Andrew Stanton called John Carter. The new trailer for the film looks promising...
It's especially nice that Woola makes an appearance. He's as ugly-cute as I always imagined..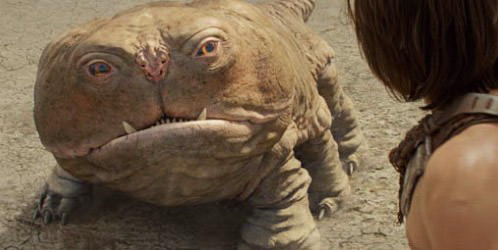 Here's hoping the movie doesn't suck. Given Stanton's incredible resume at Pixar, it shouldn't.

• Goose! Well, the geese are back again. Yesterday morning I got rushed in the parking lot while trying to get to my car. The vicious little bastards are fearless. When I got home they were gone from the parking lot, but a quick look out my back window AND THERE THEY WERE...
Look at them... out there plotting their next move. If you never hear from me again, alert the authorities. Or the Fish & Wildlife Department.

• Nowalla. And so Facebook bought out Gowalla. I've been using Gowalla to keep track of my travels for quite a while, but that's not the worst part. I invested a lot of time creating/updating/managing checkin spots for the service so, needless to say, this kind of sucks ass. Though, to be honest, it's not as devastating to me as it should be. They gutted all the things that made Gowalla so cool over the past couple months, so it's more of a relief than anything else. After shitting all over their users with unwelcome changes that nobody asked for or wanted, then ignoring people's pleas to fix major problems, I guess the writing was on the wall that they'd turn around and sell us out in the end...
=sigh= I will miss my custom spots for Blogography and Artificial Duck Co. though.

Annnnd... that's all she wrote this fine Sunday Monday Tuesday!
Posted on May 7th, 2010

I've had several perfect days in New York City. It's not terribly difficult, because the entire world is at your feet the moment you arrive. But, in all the years I've been coming here, this is going to be the day to top.
It started with an evacuation at Times Square.
It ended with an amazing dream concert I've waited half a lifetime to see.
That concert would be a-ha's Ending on a High Note farewell tour. For better or worse, a-ha will forever be known as the "Take on Me Guys" here because they're pretty much a one-hit-wonder in the USA. Probably because most of their follow-up albums were never released here, which is a damn shame because they had some amazing music in the years that followed.
The show was, as expected, flawless. Morton Harket's stunning vocals were as good as ever as they tore through a catalog of the band's hits. Sure there were some tracks I wanted to hear that were left out, but if they had put in everything I wanted the concert would have lasted five hours.
Still, it was a brilliant performance, and made me sadder than ever that the band is breaking up...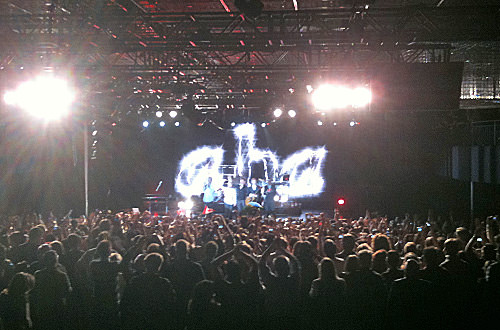 Good bye and thanks, guys.
That's the last of my favorite 80's bands that I needed to see in concert*, so I guess my life is complete now.
Going back to the beginning, my day started in Times Square... just as they decided to evacuate it. A cooler was left at West 46th Street, and the police (wisely) decided it's better to be safe than sorry...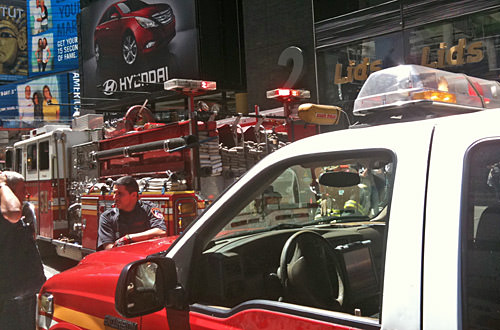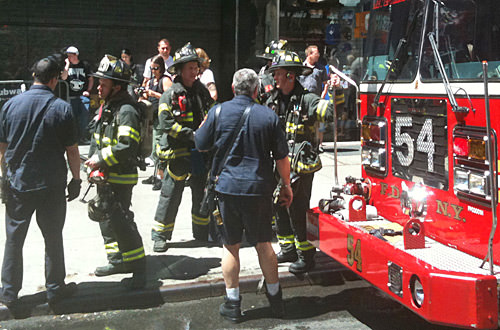 Things ended up being a false alarm, but it's comforting to know that the NYPD is taking no chances. I must have gotten a dozen tweets, emails, and texts from people saying things like "ARE YOU CRAZY?" and "BET YOU WISH YOU WEREN'T IN NEW YORK NOW!" or whatever. I ended up ignoring all of them because (no offense) I just don't give a crap. Travel is ALWAYS dangerous... and, yes, New York is probably more dangerous than other places I could go just this moment. But that's not going to stop me from coming back. If my options are to stop traveling to amazing places like this... or to sit in my house for the rest of my life and fret about how dangerous the world is... I'll take my chances out in the world. Because I'd rather die doing what I want to do than doing nothing at all.
Anyway, the weather was absolutely fantastic, so I scuttled my plans to visit galleries all afternoon and decided to instead just ** be ** in New York. But where to begin? Ultimately, I decided to visit all of the Gowalla "Featured Spots" in Manhattan. It took several hours, but I made it (and even added Yankee Stadium in The Bronx!)...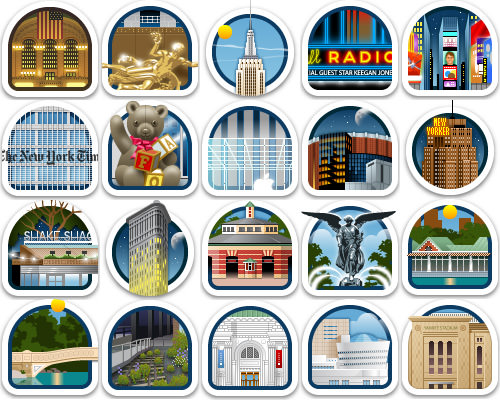 What a great tour! Starting in the upper-left, that would be Grand Central Terminal, Rockefeller Center, Empire State Building, Radio City Music Hall, Times Square, The New York Times, FAO Schwartz, Apple Store Fifth Avenue, Madison Square Garden, New Yorker Hotel, Shake Shack, Flatiron Building, Central Park Carousel, Bethesda Terrace Landscape, The Loeb Boathouse, Bow Bridge, The High Line, Metropolitan Museum of Art, Guggenheim Museum, and Yankee Stadium. Whew... that's a lot of New York City! And I actually walked most of that, only taking the subway four times when the walk would have killed me...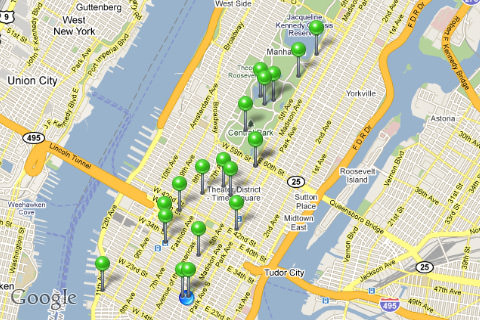 The final stop of my Gowalla Tour... the Shake Shack!
The last cool thing of my day was after I had dinner following the a-ha concert. Dozens of police cars and motorcycles lined up to zoom through Times Square. It was darn impressive, and a great way to end my evening...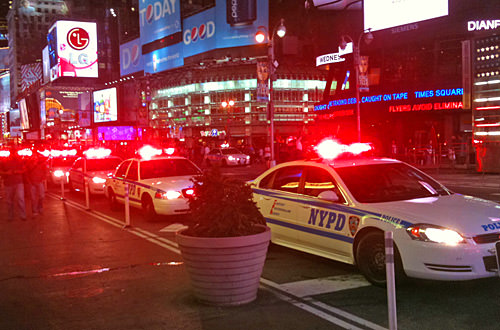 And tomorrow is another day.

*Unless New Order decides to get back together and tour, in which case I have one more band to go.
Posted on January 11th, 2010

And so I had an unexpected day-trip to Chicago come up. But it's not really a day-trip when it takes a day to get there and a day to get back. And, when you have to start your day at 3:30am after staying up past midnight, it feels very much like a four-day trip.
So yes, it sucks... and yes, I feel like death... and yes, I know I promised myself I'd stay home the month of January... but we don't always get what we want, do we?
But there was something to look forward to. New stamps to add to my Gowalla Passport!
Or so I thought.
Between the weak GPS in my iPhone and the shitty state of wireless service from AT&T, using Gowalla is more a frustration than a fun scavenger hunt...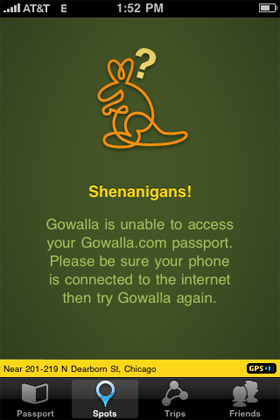 Yes, I can't get a 3G signal IN THE MIDDLE OF FUCKING CHICAGO!
And even though I get EDGE with full bars, there's NO data connection! AT&T FAIL!
And it seems like just yesterday that I was bragging that I had only had one bad experience with AT&T's wireless. It was when I was in Las Vegas calling Jenny. And now I'm in Chicago, and it's WORSE. Coverage SUCKS! My iPhone gears down from 3G to EDGE so often that you'd think Chicago didn't even have 3G. And even when you DO manage to get online, you've got a very real chance of not getting any data linkage AT ALL.
So this is what everybody has been bitching about!
Though, I am now thinking that it's not AT&T's fault. Because Jenny lives in Chicago. And the last time I had problems in Las Vegas, Jenny was in Las Vegas. And since I haven't had problems anywhere else on earth, I'm thinking that clearly the problem here... is Jenny!
Though that doesn't explain the myriad of problems I've had with my iPhone GPS lately. Like trying to check in at a Chicago Landmark, The Bean, only to find the GPS has me outside of check-in range...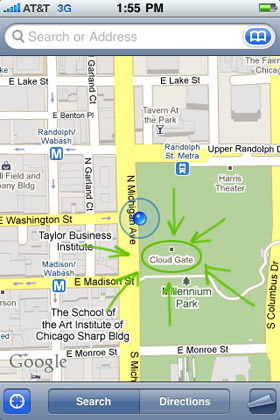 When clearly I am there. What do I have to do, sit on top of it? I mean, I understand that sometimes tall buildings and trees can obstruct GPS signal... BUT I'M IN THE MIDDLE OF OPEN SPACE!! WTF?!? It leaves me standing in Milennium Park wanting to scream NO! I'M HERE YOU MORON!!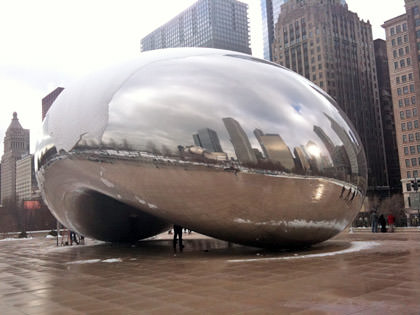 Oh well. Tomorrow after work Jenny and I are going to go see Avatar in 3D IMAX over at Navy Pier. It's apparently so good that people are becoming depressed when they wake up the next day and find out that the world is not a beautiful as the fictional world of "Pandora" in the movie...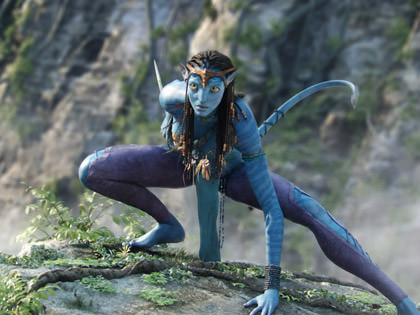 Heaven only knows I need more depression in my life!
Posted on December 23rd, 2009

I'm not much into social network gaming because I just can't find the time to keep up with them. But then along comes Gowalla, which is a location-based travel game. Now that's something I can get into! Basically, people use their GPS-enabled iPhone to create locations which other people can then "check-in" to and get a stamp on their virtual passport (apparently other mobile phones, like Droid, are in the pipeline soon). If that were the end of it, Gowalla wouldn't be much of a game. But there's more.
In addition to collecting passport stamps, you're also looking for achievement pins and collectible icons.
The pins are added automatically when you do things like complete a pre-existing trip... or check-in to a certain number of locations... or do some other task, like visiting 10 different coffee shops or something.
The icons are a little different. Some are permanently awarded for visiting specific places, like Powell's Books in Portland, The Space Needle in Seattle, or The White House in DC...

Others are found at random. You can drop these items somewhere so somebody else can trade their items with them... or you can put them in your Vault, where they will be stuck forever...


Unfortunately, once you drop an item somewhere, it's pretty much GONE until you find another one. It's not like the Pokemon Pokedex which keeps track of the items you've found. Sure you can put it in your Vault, but then you can't trade for other items. This seems to be a disappointing flaw, but I guess that's what makes some icons more rare than others.
Locations are created by Gowalla users. If you create a spot then drop an item there, you get credited as the spot's "founder." You can create all kinds of spots for all kinds of locations. As an example, here's a church, museum, and a grocery store...

It was fun wandering around town so I could create spots and drop items for fellow Gowalla users to collect and trade. Kind of like geocaching taken to the next level, I suppose. Though it's a quasi-virtual level which is still fun, but lacking the tactile thrill of uncovering a treasure.
In any event, if you have an iPhone and like to wander, it might be worth checking out...
NOTE: Gowalla abandoned its users (plus all the work we did) and closed up shop in 2011.