I've had several perfect days in New York City. It's not terribly difficult, because the entire world is at your feet the moment you arrive. But, in all the years I've been coming here, this is going to be the day to top.
It started with an evacuation at Times Square.
It ended with an amazing dream concert I've waited half a lifetime to see.
That concert would be a-ha's Ending on a High Note farewell tour. For better or worse, a-ha will forever be known as the "Take on Me Guys" here because they're pretty much a one-hit-wonder in the USA. Probably because most of their follow-up albums were never released here, which is a damn shame because they had some amazing music in the years that followed.
The show was, as expected, flawless. Morton Harket's stunning vocals were as good as ever as they tore through a catalog of the band's hits. Sure there were some tracks I wanted to hear that were left out, but if they had put in everything I wanted the concert would have lasted five hours.
Still, it was a brilliant performance, and made me sadder than ever that the band is breaking up...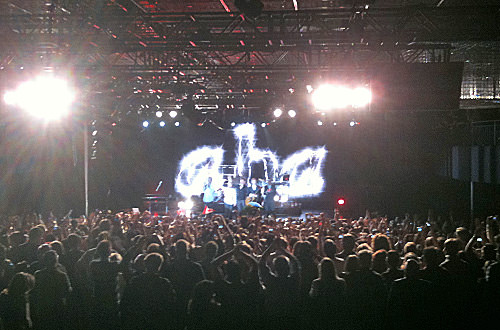 Good bye and thanks, guys.
That's the last of my favorite 80's bands that I needed to see in concert*, so I guess my life is complete now.
Going back to the beginning, my day started in Times Square... just as they decided to evacuate it. A cooler was left at West 46th Street, and the police (wisely) decided it's better to be safe than sorry...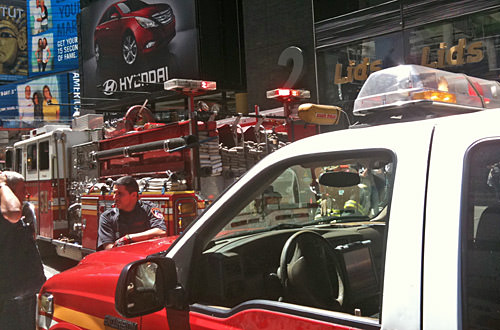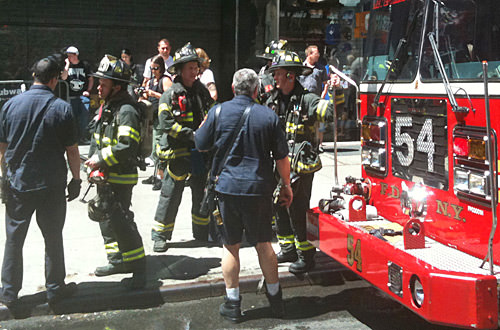 Things ended up being a false alarm, but it's comforting to know that the NYPD is taking no chances. I must have gotten a dozen tweets, emails, and texts from people saying things like "ARE YOU CRAZY?" and "BET YOU WISH YOU WEREN'T IN NEW YORK NOW!" or whatever. I ended up ignoring all of them because (no offense) I just don't give a crap. Travel is ALWAYS dangerous... and, yes, New York is probably more dangerous than other places I could go just this moment. But that's not going to stop me from coming back. If my options are to stop traveling to amazing places like this... or to sit in my house for the rest of my life and fret about how dangerous the world is... I'll take my chances out in the world. Because I'd rather die doing what I want to do than doing nothing at all.
Anyway, the weather was absolutely fantastic, so I scuttled my plans to visit galleries all afternoon and decided to instead just ** be ** in New York. But where to begin? Ultimately, I decided to visit all of the Gowalla "Featured Spots" in Manhattan. It took several hours, but I made it (and even added Yankee Stadium in The Bronx!)...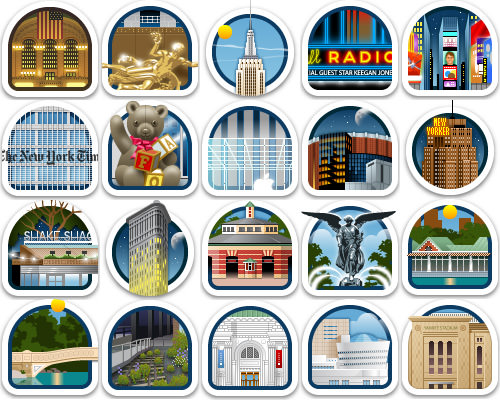 What a great tour! Starting in the upper-left, that would be Grand Central Terminal, Rockefeller Center, Empire State Building, Radio City Music Hall, Times Square, The New York Times, FAO Schwartz, Apple Store Fifth Avenue, Madison Square Garden, New Yorker Hotel, Shake Shack, Flatiron Building, Central Park Carousel, Bethesda Terrace Landscape, The Loeb Boathouse, Bow Bridge, The High Line, Metropolitan Museum of Art, Guggenheim Museum, and Yankee Stadium. Whew... that's a lot of New York City! And I actually walked most of that, only taking the subway four times when the walk would have killed me...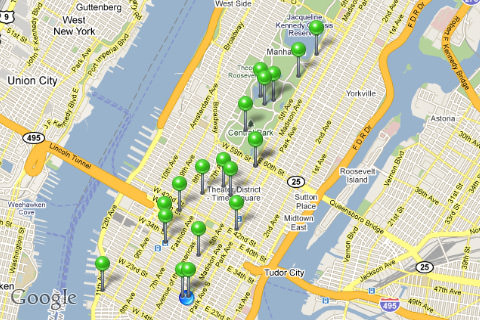 The final stop of my Gowalla Tour... the Shake Shack!
The last cool thing of my day was after I had dinner following the a-ha concert. Dozens of police cars and motorcycles lined up to zoom through Times Square. It was darn impressive, and a great way to end my evening...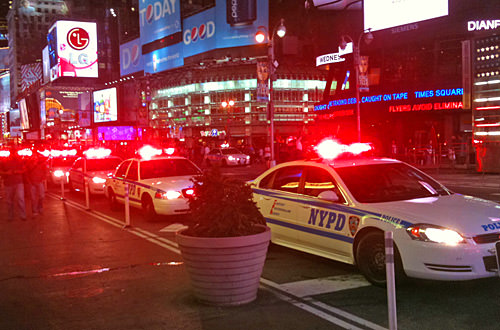 And tomorrow is another day.

*Unless New Order decides to get back together and tour, in which case I have one more band to go.