I just paid $4.00 for a bottle of Italian Spring Water at my hotel.
I wish I could say that when I close my eyes and drink it, the taste is evocative of Italy... but all I taste is wet. That's a darn shame.
So here I am in San Diego. It's a wonderful place that everybody should visit at least once in their life. If, for no other reason, to make a pilgrimage to the city of my birth. There isn't a temple here in honor of the occasion, but there really should be. Or maybe instead of a temple there could be a statue of me standing in Balboa Park. I dunno. There just needs to be someplace my worshippers can go to go pay their respects and place flowers to celebrate my greatness. And make a donation to the Dave Monument I'm planning to build in the land formerly occupied by Mt. Ranier National Park.
Hmmm... I don't know why it didn't occur to me before, but San Diego would be the perfect place to put my Daveland amusement park! I will convince the city to plow under the San Diego Zoo and put Daveland there instead! What a great location!
Boy, being back to the city of my birth really has me firing on all cylinders tonight.
And speaking of San Diego... there's a few people in town wanting to meet up for dinner on Friday night, if you're in the area and would like to come along, please send me an email ASAP so we can make plans. My email address is at the top of the sidebar on every page.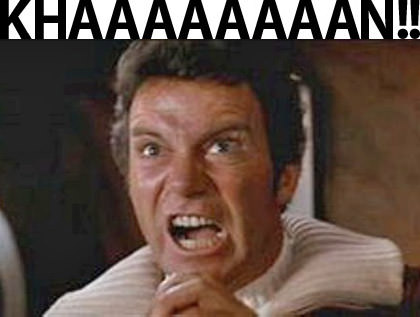 Unfortunately, I landed to learn of the terrible news that Ricardo Montalban had died.
I, of course, loved him as Mr. Roarke on the show Fantasy Island. Every kid growing up in the late 70's did, because he was the epitome of coolness. He'd walk around in those flawless white suits being all friendly and good-natured and "Welcome to Fantasy Island" and stuff. But then he'd occasionally show his darker side... proving that he could be a total badass as well. It's unthinkable to envision anybody else playing the character except Mr. Montalban (indeed, even the brilliant Malcolm McDowell couldn't manage it when there was a failed revival series twenty years later).
But, to me and so many others, Ricardo Montalban will forever be Khan...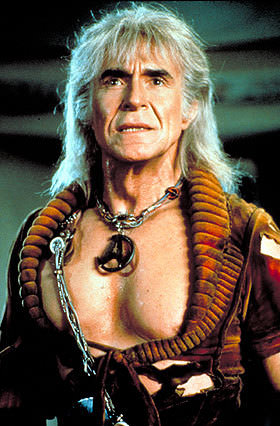 The role of the maniacal villain in the second Star Trek film was not an easy one to play. Indeed, I'd say it was a thankless and impossible role to play. As written, the part was so badly over-the-top... almost to the point of being comical.
Until it was performed by Ricardo Montalban.
He played the character deadly-serious, and turned in a performance so riveting that it cemented Khan as one of the greatest movie villains of all time (indeed, even the brilliant Malcolm McDowell couldn't top it in a follow-up film, Star Trek: Generations). After watching Star Trek II, I fell in love with all things Trek again, and I really have Ricardo Montalban to thank for it. He will definitely be missed.
Even if you don't like Star Trek, you should absolutely check out Wrath of Khan. Montalban's performance is totally worth it. Oh, and don't forget his masterful performance in the first The Naked Gun movie as well!
Lastly, I urge you to read a fantastic blog entry about what it was like working with Mr. Montalban over at Mark Evanier's News From Me site. He was truly an amazing guy and a class-act.
P.S. All my best wishes to my personal hero, Steve Jobs, for a speedy and full recovery.