Posted on Tuesday, March 3rd, 2020

If you need any more evidence that the Democrat National Committee is totally in the tank for Joe Biden to be the democratic presidential nominee... look no further than Buttigieg and Klobuchar immediately throwing their endorsements to Uncle Joe the minute they dropped out of the race. I have no idea what the DNC offered Pete and Amy, but I know what they likely did not offer them... cash to continue their campaigns.
And this, as we know, is exactly how the DNC puppet masters operate. They don't give a fuck what the voters want, it's what they want. They are the party. Last time they wanted Hillary Clinton (we all know how that turned out), and the shady shit that went into getting her on the ballot is still being sorted out. Apparently the DNC is filled with dumber piles of shit than I had guessed, because they learned absolutely nothing.
And so... here we go again.
Be good to each other. Peace.
Posted on Monday, March 2nd, 2020

It's interesting to note how quickly the organization I work with started canceling our travel due to the Coronavirus. Apparently the deciding factor was a Chinese tourist dying in France on Friday, February 14th (Valentine's Day) which showed that people were traveling with the virus, and flying on a plane with them could result in us being infected. This precipitated a discussion over that weekend, and word was handed down the following Monday, February 17th (President's Day) that all non-essential travel was effectively canceled.
For me this meant everything in March and April...
Honolulu on March 10th
Las Vegas on March 19th
Las Vegas on April 6th
Los Angeles on April 22nd
Honolulu on April 28th
At the time, I had people saying "THAT SEEMS ALARMIST! YOU'RE NOT TRAVELING TO CHINA!" But since we're volunteers, I think the organization prefers to err on the side of caution. If any of us get infected, our livelihoods and family could be in jeopardy.
Of course now that people are dying here in the US and we're on the verge of a pandemic, nobody thinks it's quite so alarmist.
Then last Friday my May trips were canceled and all travel for June and July was removed from being scheduled...
San Francisco on May 11th
San Diego on May 27th
Las Vegas (June)
Las Vegas (July)
Los Angeles (July)
No idea what this will mean for my other work travel, but the bulk of my flying is gone from the first half of the year. This will be weird for a number of reasons... not the least of which will be losing my frequent flier status! Which means no more free upgrades to First Class and a bowl of warm nuts after take-off. Not that flying coach has ever bothered me, but after having a really good chance of being upgraded for the past 25 years it will definitely be a change...
But the weirdest thing? Just being at home so darn much. My cats will likely be thrilled.
Sure my trips only last a couple days, but it all adds up. As does the exhaustion. Flying to Honolulu on a Monday then flying back home on Tuesday night or Wednesday morning is a routine that I'm used to, but it doesn't make it any less tiring.
And those warm nuts were a great consolation prize.
Though not for long, I'd imagine. Cue the world's tiniest violin.
And now, before I go, here's John Oliver and a sensible take on the Coronavirus from Last Week Tonight...
Wash your hands, everybody.
Posted on Sunday, March 1st, 2020

We may be at the beginning of a pandemic, but the bullets are still flying... because an all new Bullet Sunday starts... now...

• Hertz! Michael Hertz has passed away. He is largely responsible for one of the most beautiful and elegant map designs you'll find. It's the New York City subway map, which sought to simplify and clarify the depiction of the various lines by making them easier to understand...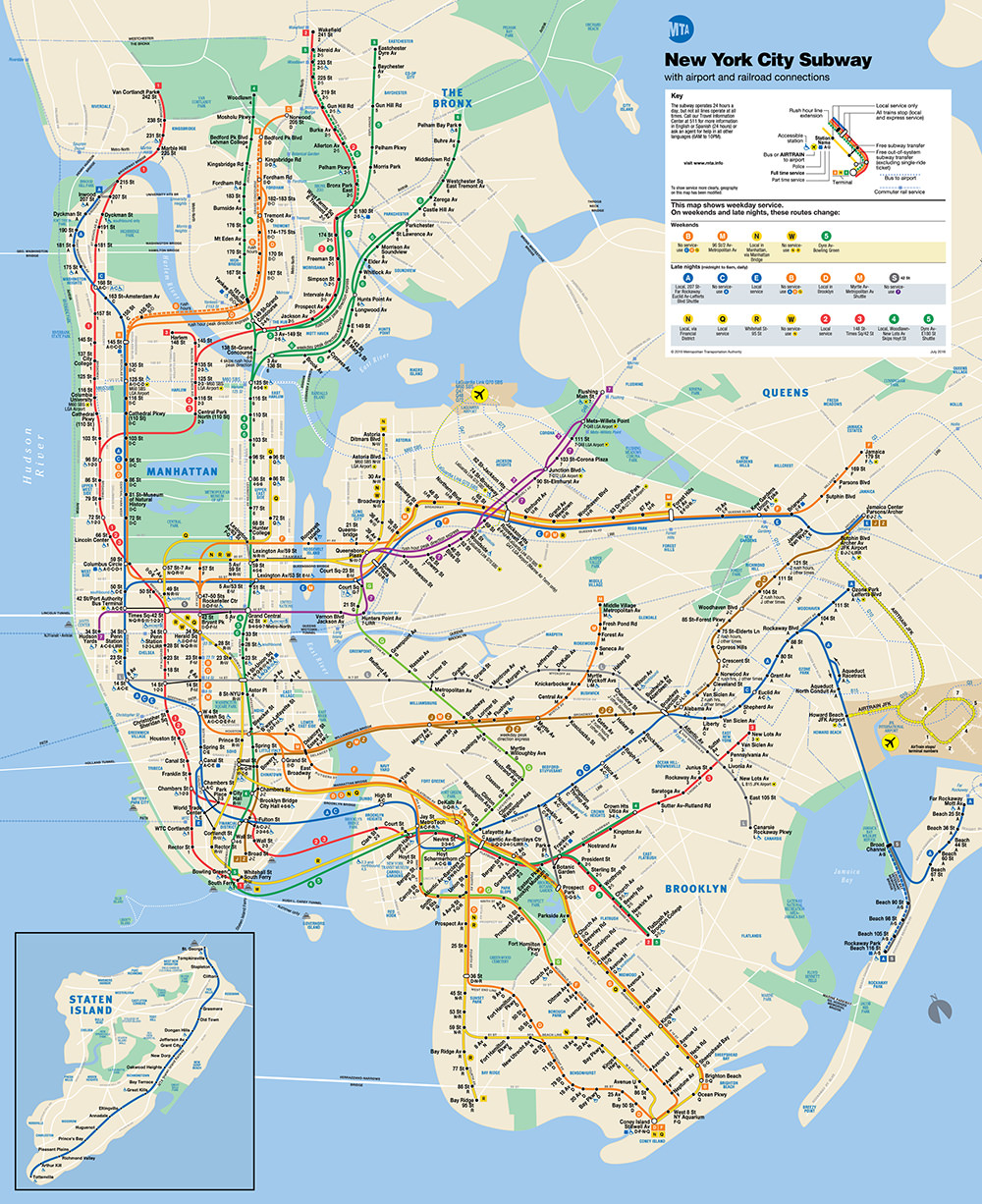 There were other versions of this map over the decades, but this modern version from 1978 is the one most people today are familiar with. It was proceeded by an equally beautiful (yet slightly more confusing) version by Massimo Vignelli...
My first dozen times visiting New York City I ended up buying a new fold-out pocket subway map each time because I always forgot to bring an old one with me. Now, of course, I've just got the map on my iPhone. But I'll always have a place in my heart for the map I used for decades to get me around the city.

• Nygaard! Another designer who passed away that's definitely worth noting? Jens Nygaard, the guy who created the LEGO minifigs...
As somebody who started with LEGO before the minifig was introduced, this was absolutely a game changer. Prior to the minifies, which I believe I first got in the LEGO Space sets, we just drew a face on a stack of bricks. The "official" people of the LEGO Universe were a fantastic addition to the toy which took it in a fantastic direction that continues to this day.

• Dyson! Completing the trifecta of those who passed away this past week... Freeman Dyson. This brilliant mathematician, physicist, and astronomer (among other things) was such a huge influence on me that my pen-name, Maach Allon Dyson, was in honor of him. Because, seriously, just look at some of his accomplishments from his Wikipedia page. Though the thing that he's likely best known for... especially by me... is the Dyson sphere...
The idea is that a technologically advanced civilization would have the ability to maximize use of energy from their sun... by surrounding it with a sphere or a sphere of rings or a sphere of panels or something like that. It's a mind-blowing idea that would require mining materials from a huge number of celestial bodies (such as comets and asteroids) in order to construct. Pretty fantastic stuff.

• Apps on Parade! I ran across this video and had to laugh at just how frickin' brilliant it is at showing the sheer absurdity of Adobe's "Creative Cloud." I pay $57.34 per month to use exactly four of them... Photoshop, Illustrator, InDesign, and Acrobat. I also use Lightroom Classic to catalog my photos, but it's not something I need to have. Which means I essentially use less than 1/10th of the apps I have to pay for...
I would be willing to bet that this is the case for at least half of the people paying for Creative Cloud. Hardly getting our money's worth here, but that's what happens when you've got a lock on the industry. My only hope is that eventually another developer... most likely Affinity... will get to the point where Adobe will not be the only option for me. But until then? Blergh.

• Manga Mac! Apple released a clever new commercial which shows various times that Macs have appeared in Japanese manga animation. It's pretty great...
Just makes me want to rewatch the hundreds of manga that I've loved over the years.

• New Horizons! And speaking of ads in Japan... Nintendo really knows how to hit all the feels in their advertising...
The new version of Animal Crossing called Animal Crossing: New Horizons drops on March 20. It's one of those games that always starts out interesting, but I grow bored with fairly quickly. There's only so many fish and bugs you can catch before it gets old. Though maybe the online collaboration will keep it interesting for longer? I don't know that I want to spend $60 to find out.

And with that, bullets have come to a close this fine Sunday. Wash your hands!
Tags:
Apple
,
Bullet Sunday
,
Design
,
LEGO
,
Macintosh
,
Maps
,
News
,
Nintendo
,
Video Games
Categories:
Apple Stuff 2020
,
Bullet Sunday 2020
,
LEGO
,
News – Politics 2020
—
Click To It:
Permalink
—
0 Comments: Click To Add Yours!
Posted on Saturday, February 29th, 2020

Another Saturday... another Caturday.
Jake has been acting pretty weird lately, which is to say that he's acting more like a cat. I thought his skittish and erratic behavior was due to the Feliway diffuser running out, but it's still half-full. Which means he's being totally weird all on his own.
For whatever reason, he will run around the house... climb the cat tree... run around the house... climb the cat tree... run around the house... climb up the cat tree...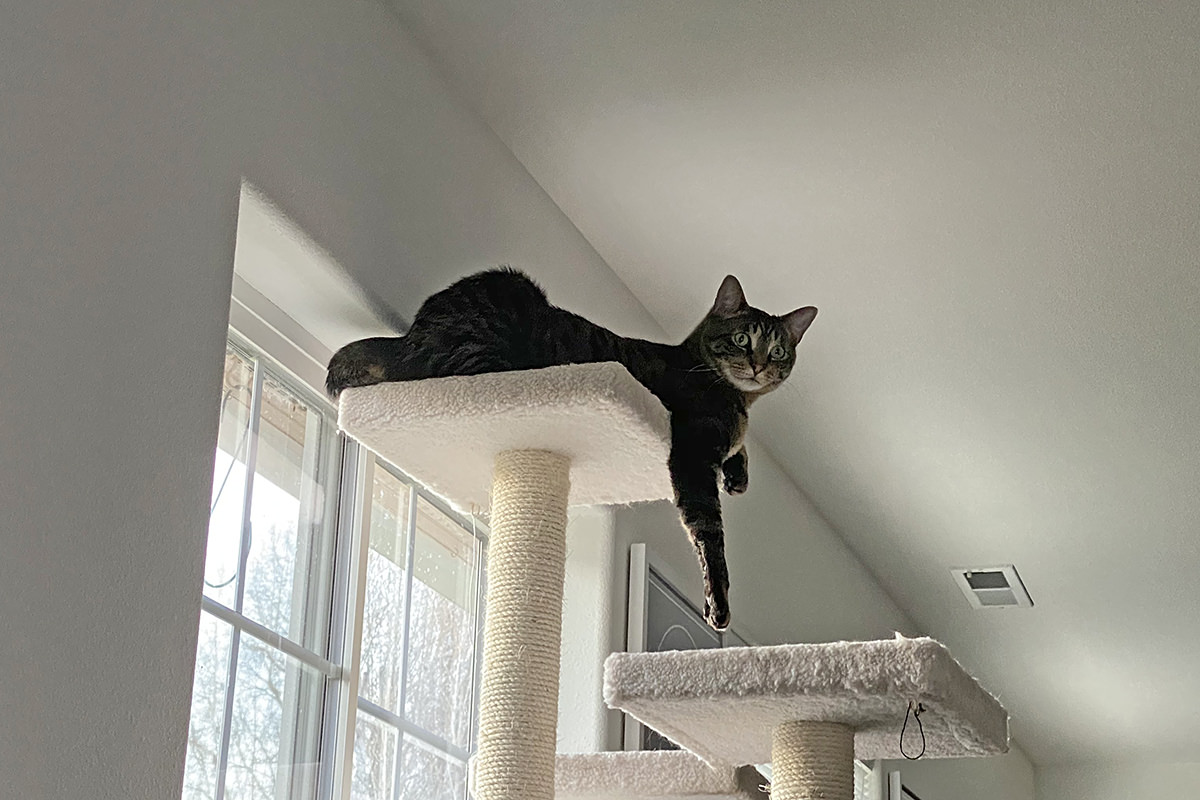 And this goes on from the minute I get home until dinner time. He used to just sleep.
Still makes time for chin scratches though...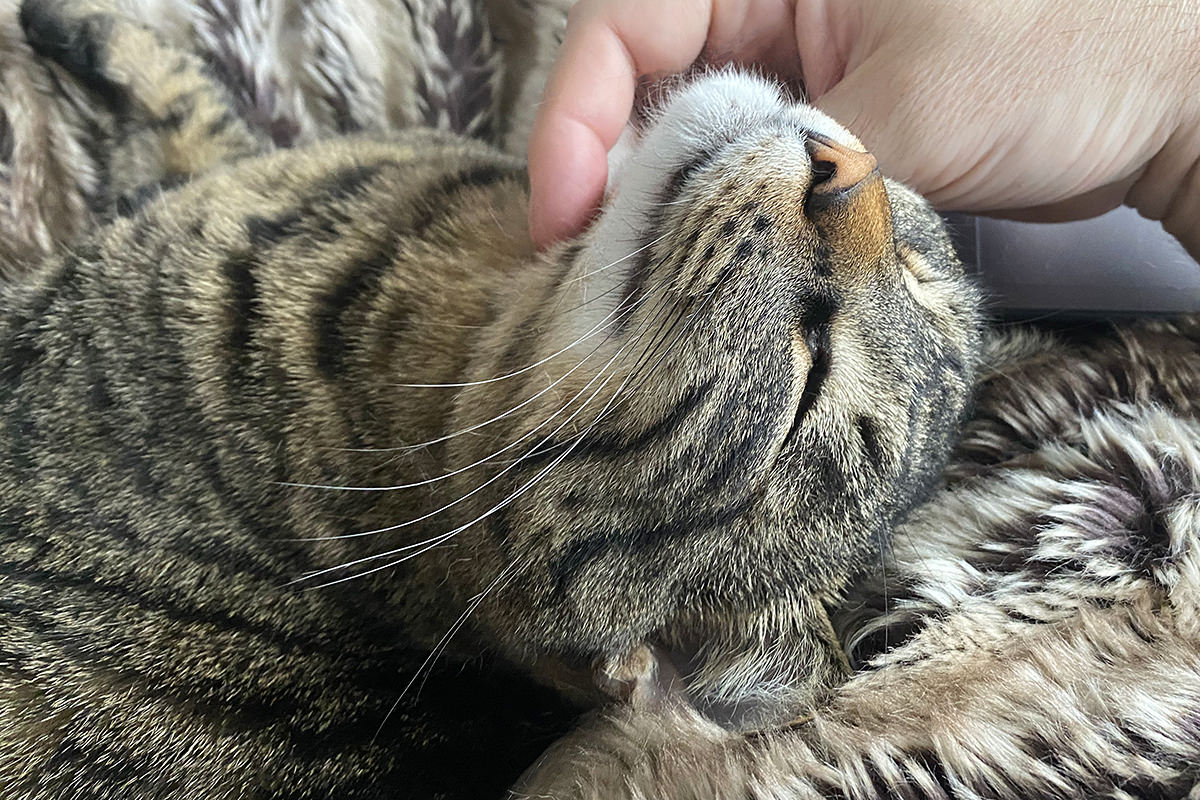 And butt scratches, of course...
I don't know what has him all riled up, but it's bound to be good exercise, so I'm not complaining.
I wish I could find motivation like that.
Posted on Friday, February 28th, 2020

When it comes to my own death, I'm completely at peace. I've been on this earth 53 years... almost 54 years now. I've done my best to better my world with my time, money, and heart. I've explored the planet and fell in love with its peoples. If my number comes up tomorrow, I am fine with it. I am sick at the thought of my cats not having me around to take care of them, but I am fine with it.
I've had friends and family in my life that mean everything to me and have given my existence meaning, so I'm good to go.
But when it comes to those same friends and family dying? Not so much.
A year ago today, I lost one of my oldest, dearest friends. It destroyed me. It continues to destroy me. So many days I think back to the insane stuff we did... the many, many great times we had... the adventures that defined our relationship... those moments that he and I shared which only we two can ever understand... and the weight of it all crushes me. I want to scream at the world what an amazing person he was so they remember him like I do and they know what we've lost. I want everybody to hurt like I hurt.
But all I can do is walk through my memories of him, share sorrow with friends who knew him, and keep him alive in my heart.
And on my arm...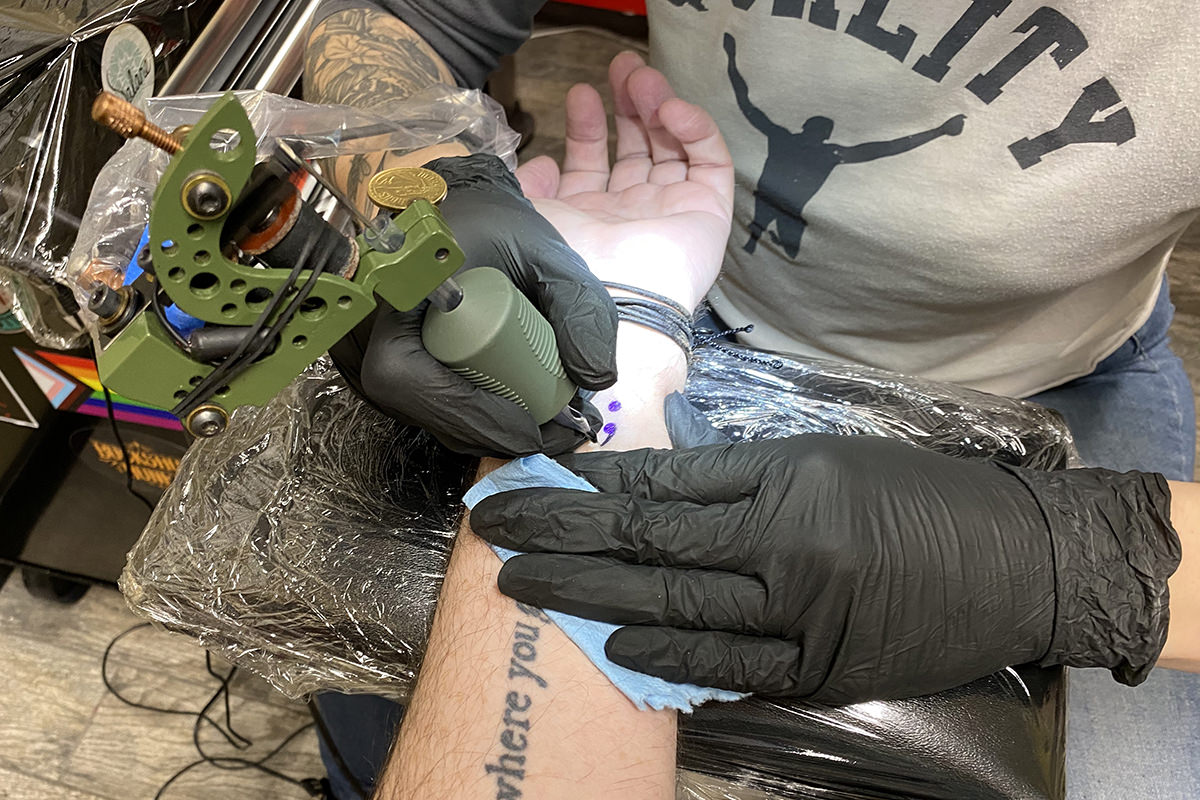 I don't know that seeing this every day will make things better or worse, but it will definitely bring a smile to my face when I remember him, so there's that.
And I'm in good company...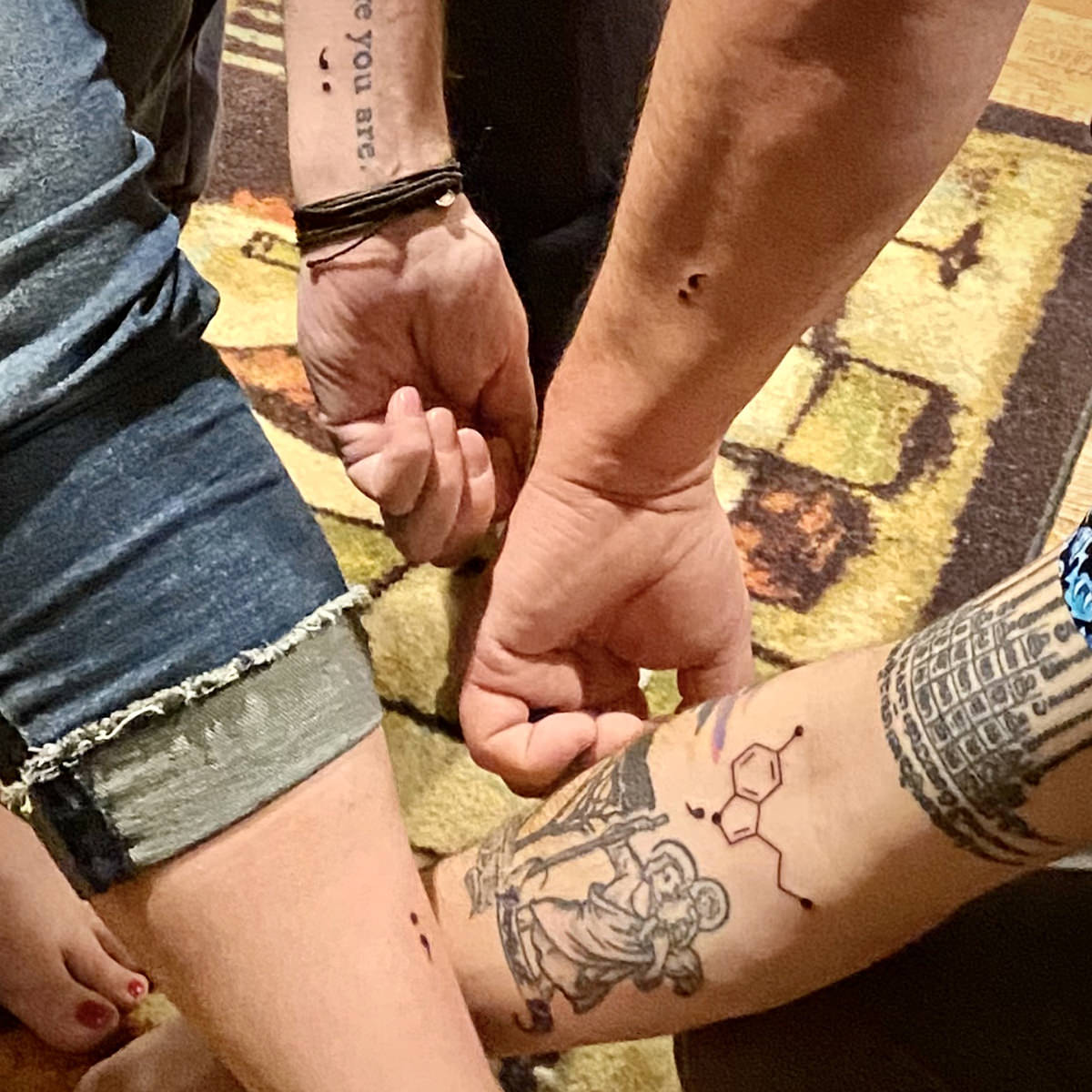 Project Semicolon was started by Amy Bleuel and is explained on their site thusly: "A semicolon is used when an author could've chosen to end their sentence, but chose not to. The author is you, and the sentence is your life." In later years it has become a symbol of solidarity for those who have survived the loss of someone due to depression, suicide, and other mental health issues.
For both my life and the life I've lost, it's sadly apt.
I wanted quite badly to end my life my sophomore year of high school, planned it down to the smallest detail, reached the day it was all going to end; I chose not to.
When I was caring for my mom in midst of her dementia I woke up every day wanting to escape, and was researching on the internet the best way to end it all in a way which would least impact my friends and family; I chose not to.
When I made the agonizing choice to move my mom into a care facility, failure consumed me and I sunk so low that I called a skydiving company to see if my certification was still good so I could take one final dive; I chose not to.
After my mom died I felt truly done with life and started getting my affairs in order so I could just make the pain finally, finally come to an end with the six bottles of sleeping pills I bought at six different stores two weeks after she passed; I chose not to.
Suicide has been living in my head and clawing at my soul for 38 years, 3 months, and 16 days; yet one day at a time I choose not to.
But I still struggle.
I think too many of us do.
After Robin Williams died I wrote about depression, a subject I am intimately familiar with, and have blogged about more times than I can count. It feels like my entire life has been spent battling depression, and those days before the battle started feel so distant and unnatural as to be unreal. I sometimes wonder if I dreamed my depression-free childhood because I wanted something to cling to when things are at their worst. It just seems impossible that there was ever a time when I wasn't struggling. When I wasn't broken. When I wasn't confronting the barrage of lies that depression whispers in my ear every waking hour of every day... and weighs on my mind all night, every night.
Depression has become such a part of me that, at times, it feels as though it defines me. I guess I'm lucky that it doesn't. Though I don't know that I would call myself "lucky" that I've managed to hold on this long. It feels more like work than luck. I've had to put serious work into the job of living.
Fortunately I've had help.
My family saved me. My friends saved me. Working for a charity which saves others saved me. Having to feed my cats each morning really saved me. And, because of all of them, I choose to save me and continue my life sentence.
And hold in my heart those whose pain cut so deep that they could not.
I love and miss you every day.
Posted on Thursday, February 27th, 2020

Today I got some rather bad news. A project I had been working hard to complete was outright canceled. But then, after giving it some thought, I decided it was actually good news. Sure it means I had been wasting my time these past three nights, but it also means I don't have to worry about it tonight or stress over tomorrow's deadline! Woo hoo!
In other news... it was announced that Vice President Pence was put in charge of the country's coronavirus response.
At first I was all "Well that's nice. It's terriffic that he has something to do with his time." But then I was like "Wait a second... isn't this the same Vice President Dumbass who said condoms don't work and smoking doesn't kill you? Holy shit!" And, sure enough, heeeeeere's Mikey!
The anti-science assholes running this country make me crazy.
But what doesn't now-a-days?
Posted on Wednesday, February 26th, 2020

I was told last week that all my travel for March and April has been canceled. Today I was told that I should fully expect May to be canceled as well, and nothing is being scheduled for June. And that's just domestically. International travel has been halted indefinitely.
As much as I love the idea of not having to travel for four months, I am mortified at the thought of having to make up all the trips I'm missing. If this runs into July, I don't even think it will be possible for me to make up what I missed.
Oh well.
It's not like I haven't got piles and piles of work right here at home to get through.
Posted on Tuesday, February 25th, 2020

Thanks to Martha Stewart's meal kit service I've been cooking a lot more often. Not just her recipes, but recipes off the internet, recipes friends give me, and recipes my mom collected. I don't necessarily like cooking... I certainly don't like the mess... but it's cheaper than frozen meals and tastes considerably better.
Problem is that my cookware is less than ideal and that makes cooking difficult.
All my pots and pans were inherited from my mom. They are a mish-mash of stuff... some of which was probably a wedding gift over 50 years ago... and some of it just random stuff she purchased as she needed it. The two best pieces are Revere Ware that's in great shape but seems to have problems on my glass cooktop. They don't boil water so much as dance when you attempt it. Likely because the bottom is never in full contact with the element so it never gets hot enough to boil stuff.
Ignore my filthy stove (I filmed this right after cooking lunches for the week)...
In order to boil water, I have to stand at the stove and press down on the handle so it stops dancing. Even then it seems to take forever. For the longest time I blamed my stove, even though I bought it new when I moved in.
And so... I really need new cookware.
But do you know how many different kinds there are? Cast Iron, Enameled Cast Iron, Ceramic, Stainless Steel, Nonstick, Copper, and Aluminum, to name a few. There are pros and cons to each and I spent more time than I'd care to admit trying to figure out which would be best for me.
On Sunday I sponged off a friend's Costco membership to buy a new set (a full set being the most economical way to replace my entire eclectic collection). Turns out I needn't have wasted my time since Costco only had one set I could afford (my budget was $100, the cheapest they had was $119).
Say hello to my Kirkland Signature brand 12-piece Hard Anodized Cookware Set...
I have to say... this is some really nice stuff. Probably not compared to the high-end cookware that's out there, but definitely compared to what I was working with before. It's heavy enough to sit flat when hot. It heats evenly (something I didn't even know was important until I cooked in it*). The surface is phenomenally non-stick. It's oven-safe so I can bake in it. There's a great variety of pieces, including a deep skillet which I love. The lids have a built-in strainer that's awesome.
The only down-side is that it's not recommended that you put them in the dishwasher, you're supposed to wash by hand. At first I was disappointed, but once I saw how mind-bogglingly non-stick these things are, it's actually easier to wash them by hand than trying to fit them in a dishwasher. Nice.
And, oh yeah... when it comes to boiling water? It happens SO DANG FAST that I was picking my jaw up off the floor. Turns out that having a good set of cookware is going to really up my cooking game.
I kept my mom's two Revere Ware pieces just to have them. Everything else I tossed. Usually I donate stuff I no longer need, but all the pans were Teflon (which will apparently kill you now) and the pots were banged up so badly that I'm guessing nobody would want them.
As I was going through my kitchen junk to see if there was anything else I could get rid of, I happened upon an enduring mystery... I have a missing bowl. Maybe a houseguest broke it and forgot to tell me or something, but there's one less than I purchased. It's not a big deal. It's not something I'm pining over even a little bit. But I would just like to know what happened to it, you know?
In the meanwhile I'm just going to blame the cats.
*Seriously. My old pots would bubble up in some spots but not others which causes scalding and burning. Even heating makes it so much easier to avoid this.
Posted on Monday, February 24th, 2020

I've been slowly gathering up my 2019 financials so I can get around to my taxes in a week or two. I'm in no hurry, because I am not anxious to see if my effective tax rate has gone up again. One thing I noticed just this evening is that I've gone from spending hundreds each year in credit card interest charges... to spending nothing in 2019.
That's a first.
And a far cry from 2015 where I averaged paying $45 in fees per month and getting nothing in return.
Money is expensive, y'all.
Turns out that paying off my credit cards and then working hard to keep them paid off month-to-month was worth the rather painful lifestyle changes it took to get here.
No idea where all the money I saved in credit card interest has gone... probably to my mortgage... but so long as it's going towards something instead of nothing, I'm happy.
I'd be a lot happier if I had that money in cash so I could roll around in it... but still...
Posted on Sunday, February 23rd, 2020

It's possible that I'm too busy to blog, but I just can't seem to say no, so welcome to a Very Special Edition of what I've been watching lately... because an all new Bullet Sunday starts... now...

• The Witcher! I actually watched this when it was released and, thanks to having played the video games, mostly knew what I was watching despite the confusing timelines. But I wanted to watch it again so I could just absorb it for the amazing Dungeon's & Dragons spectacle it is. Seriously... even better the second time around. The casting is sublimely perfect. Henry Cavill is doing an uncanny Geralt of Rivia impersonation and 100% looks the part. Anya Chalotra is an even better Yennefer, whose story is actually one that required the smarter acting chops. What's surprising is just how beautiful the series looks. No expense was spared because Netflix knew what they had... and also knew the show would be compared to Game of Thrones. They apparently didn't want to lose that contest. And so long as they don't fuck up the ending, they'll easily win. All in all... The Witcher is well worth your time.
Showing on Netflix.

• Avenue 5! Comedy in sci-fi is a tough nut to crack... despite what amazing television like Red Dwarf, and fantastic movies like Galaxy Quest, and phenemenal books like Hitchhiker's Guide to the Galaxy might lead one to believe. So I was understandably cautious when the promos for Avenue 5 started floating around, but it has Hugh Laurie in it, so why not? Turns out, it's one of the funniest things I've seen on my television in a while. When a pleasure cruise on a starship ends up falling into a course that will extend the journey by 3-1/2 years, a fake captain and a fake crew have to manage the very real crisis to hilarious effect. The jokes fly fast and furious and almost all of them land. If you have HBO and want to get your funny on, here's the show for you...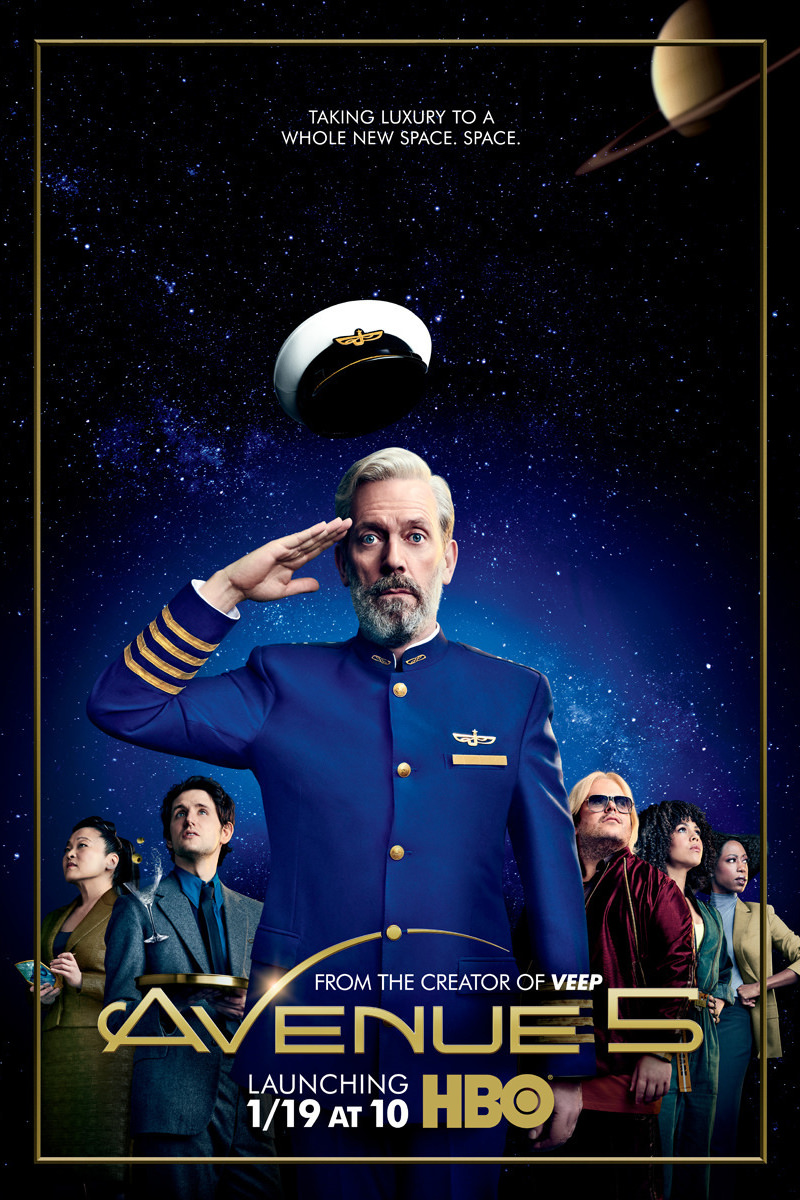 Showing on HBO.

• Ragnarok! The only Ragnarok I care about is the Marvel movie Thor: Ragnarok, so I was going to take a big ol' pass on this Norweigian high school drama built around characters from Norse mythology. The result is mixed. There's a good idea here... and it will be interesting to see where they go with it... but having the spirit of Thor land in a kid so he can battle a modern incarnation of immortal frost giants (who are not-so-giant) is a bit of a snooze, and it feels like they are building it up to be more than it actually is. But who knows? If they dump enough money into this thing, then maybe it can be salvaged as things heat up in a second season...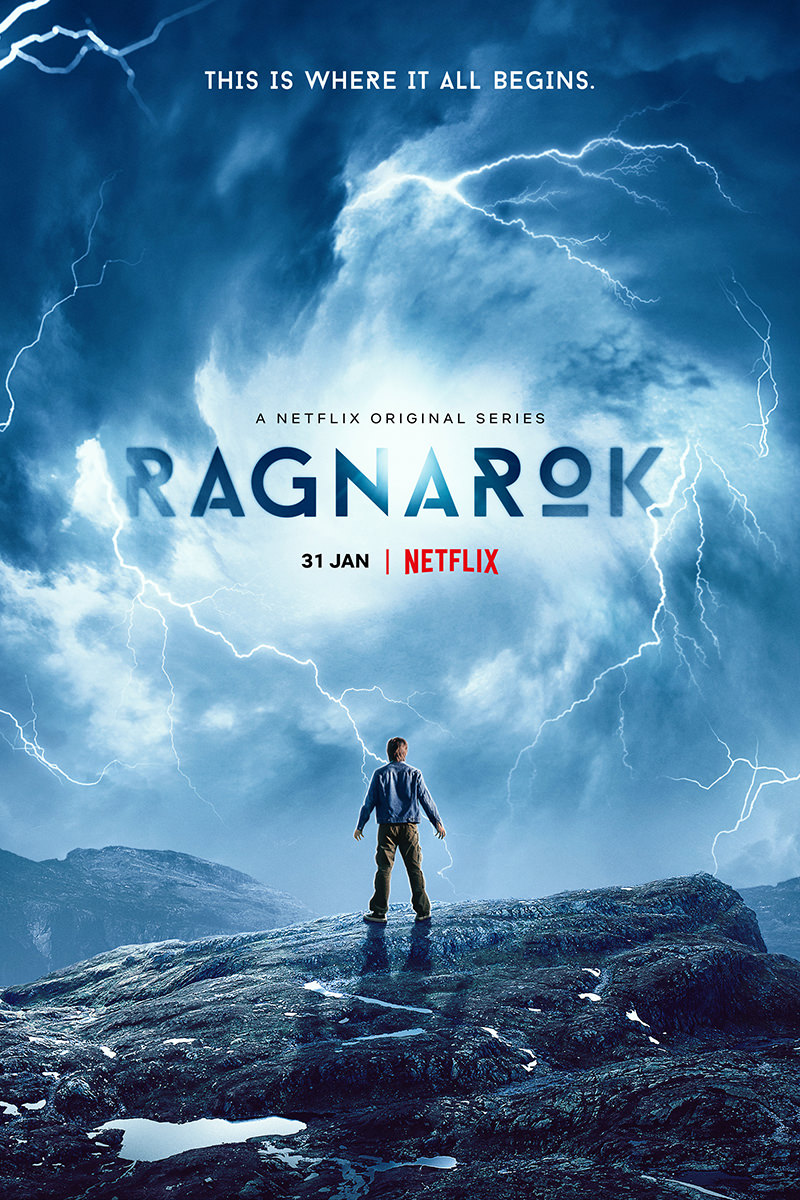 Showing on Netflix.

• Hunters! Like I would miss an Al Pacino series. This Jordan Peele series features Nazi hunters who track down hundreds of Nazi officers back in 1977 who are hiding in the USA and intent on starting a Fourth Reich. Obviously a highly-fictionized story, I found myself drawn to the characters (and a fantastic Pacino performance) but left a bit cold by the story. I've only seen the first episode, but will likely tune in as more are released. But if I want to watch a violent alternate history involving Nazi hunters, my first instinct will be to watch Quentin Tarantino's Inglourious Basterds again.
Showing on Amazon Prime.

• Twice Upon A Time! This French sci-fi series is about a man who gets a cube delivered to his home which somehow allows him to go back in time prior to his break-up with his girlfriend when he crawls through it. The concept is a good one... kind of a romance-oriented version of Primer... but profoundly plodding and boring. Not until the very last scene is there any sense of excitement, and it's the beat which leads to a cliffhanger. Which may or may not be resolved depending on whether or not they get a second season. Regardless, I'll likely take a pass. I just don't seem to care enough to tune in again...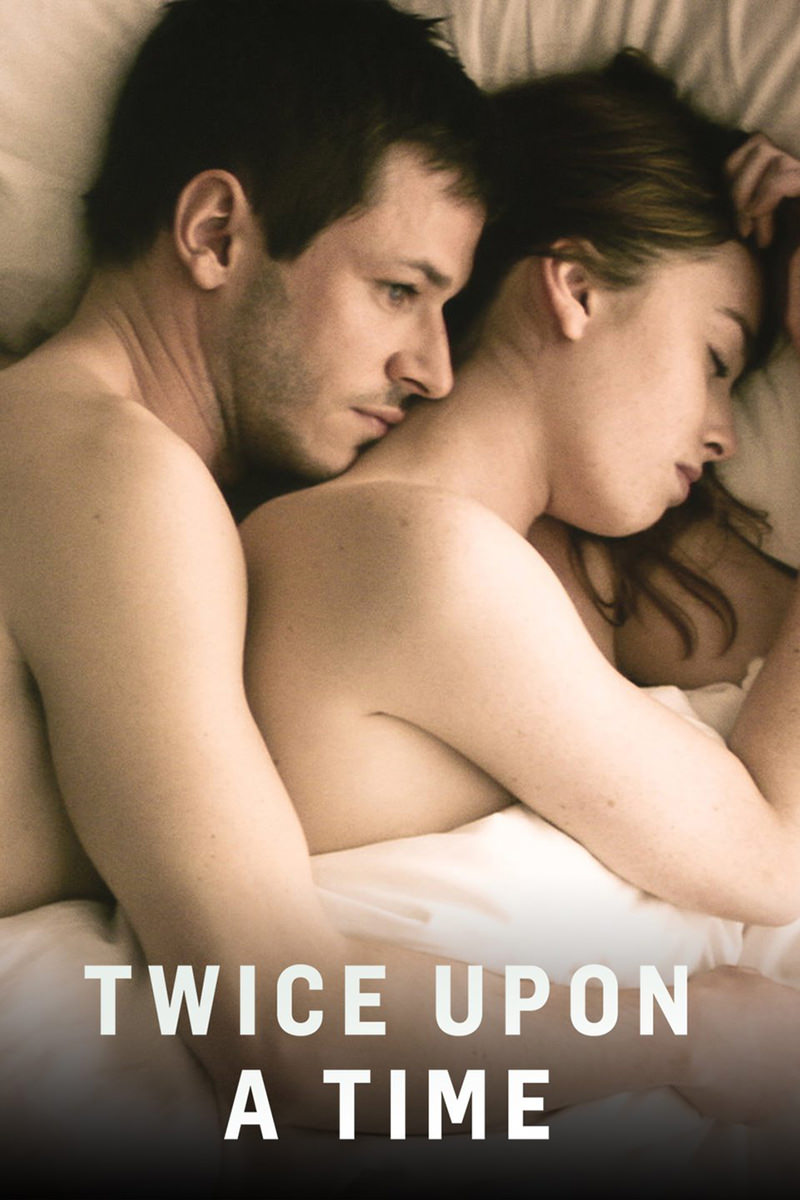 Showing on Netflix.

• Dracula! Steven Moffat forever became a favorite television creator thanks to the hilarious series Coupling for the BBC. He then sealed the deal with some really good episodes of Sherlock and Doctor Who. So when it was announced that he would be tackling Dracula in a three-episode series spanning olden days right up until modern times, I was intrigued. And today was the day. It's a fascinating series in the first and second episodes... building on all the myths that make up the legend... but ultimately falters a bit when Moffat jumps ahead in time to deconstruct all that. Still... there's some good stuff here, brilliantly anchored by performances from Claes Bang and Dolly Wells. Next up? Moffat is tackling Jekyll!
Showing on Netflix.

• Star Trek:Picard! I've already raved about how this show is defying my every expectation (and this coming from somebody who didn't like Star Trek: The Next Generation). But this latest episode where Jeri Ryan's Seven of Nine finally truly arrives just kicks things up to an entirely new level. Partly because she's just so dang good... but mostly because the surprising twist at the end which changes the lame-ass, pansy-ass boring "utopia" of the Next Generation universe that always bored me... into something really interesting and great to watch. Cannot wait to see where this is all going.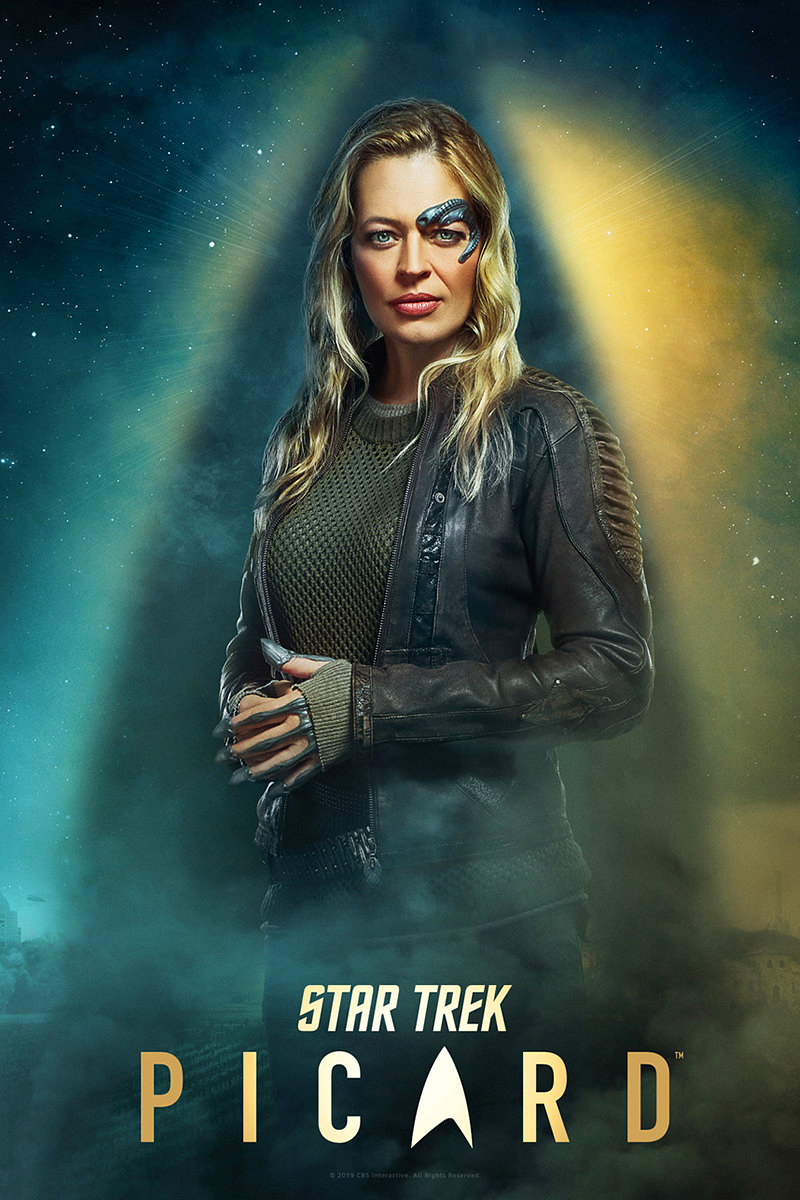 Showing on CBS All Access.

• Visible: Out on Television! This series about the history of LGBTQ characters on television was bound to be good just because it's a story that needs to be told. But Bruce Vilanch doing an impression of Paul Lynde was the best thing I saw all week. It's surprising... but not really surprising... just how recent LGBTQ characters are to television programming. Which makes this a fairly short but no less interesting series.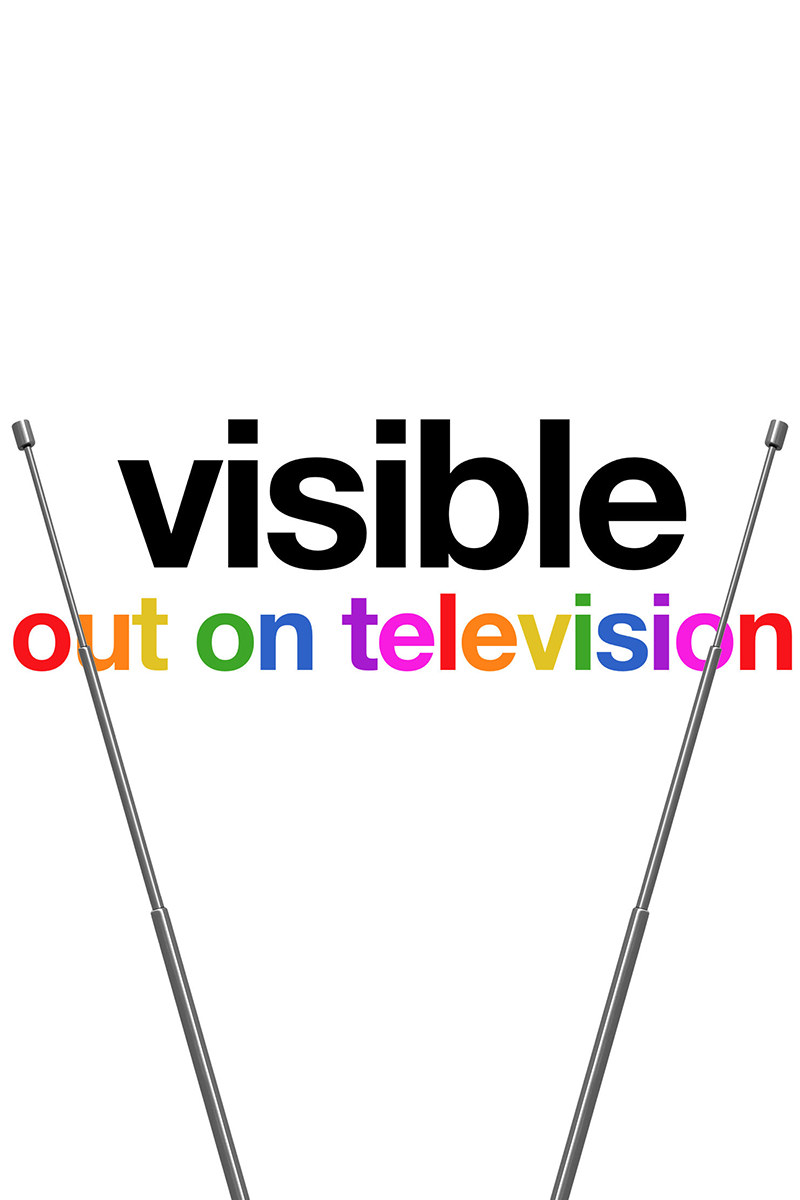 Showing on Apple TV+.

And that's what I've ebeen watching this week.