Posted on Sunday, August 28th, 2022

A time to be born, a time to die. A time to blog, a time to bullet... because an all new Bullet Sunday starts... now...

• Confess! I love the Fletch books. I love the Chevy Chase Fletch movies... even though they are a different take on the material than I would have gone with. And now we're getting a new Fletch played by... Jon Hamm?!?
Couldn't be happier. Hamm has proven over and over that he has some serious comedy chops, and I think he's a perfect fit for Fletch. Hopefully it will be priced reasonably given that it's day-and-date with the theatrical release. I guess we find out on September 16th.

• Murders! I finally got caught up enough that I could spare enough time to watch the final episode of Inly Murders in the Building...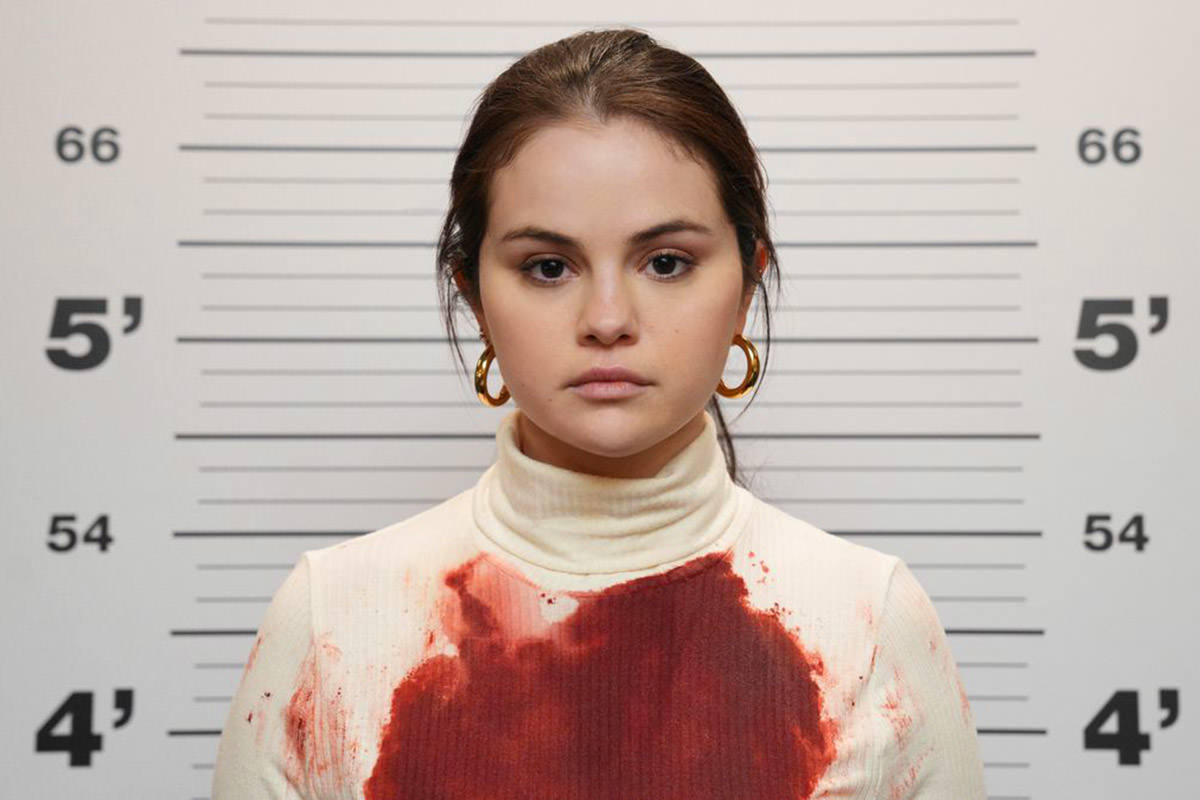 I didn't guess the killer, but I did enjoy how they wrapped it up. And that final star cameo? Brilliant!

• Alternative Facts! Do you know what makes for alternative eggs? POTATOES!
I don't know how accurate this is... but I do like me the potatoes.

• The Death of Streaming! As the whole Warner Bros. Discovery fiasco continues to implode... I find myself starting to not give a shit. At first I was outraged because shows like Infinity Train were being buried and movies like Batgirl were getting killed off during production. It just seems so incredibly disrespectful towards the people who work hard on these projects to have their efforts be shit on. And all to save a few bucks on taxes and residual payments. But now I am to the point where I'm just saying "good." That's two less streaming services I have to pay for. About the only thing left on Discovery I give a shit about is Bargain Block, and if HBO is going to waste away to a few shows I watch, then what's the point? I'll discontinue my annual memberships and just pay for a month or two each month when there's something I want to watch. So thanks for saving me a bunch of money, LOL! Although... I can only hope that this will actually improve the state of the DC Comics Cinematic Universe, which has been a festering pile of shit since the put all their eggs in a Snyderverse basket.

• Fake? As a long-time fan of Johnny Harris and his videos, I've had more than a few problems with his videos over the past year which tend to simplify things to the point of them sliding more towards fiction than fact. Now I'm a lot more selective about which of his videos I watch and how much credence I give to his thoughts (which is why I haven't been featuring his content on this blog as of late). And then I ran across this, which perfectly encapsulates where I'm at...
Like this guy, I don't want Johnny "canceled"... I just want him to do better. He's still a compelling video maker.

• EXCUSE ME! There's a lot of people who can do a President Trump impersonation. Jamie Foxx has a really good one...
Fun times. Fun times.

And now I must bid you (and my bullets) adieu.
Posted on Saturday, August 27th, 2022


Home again home again lickity kitty...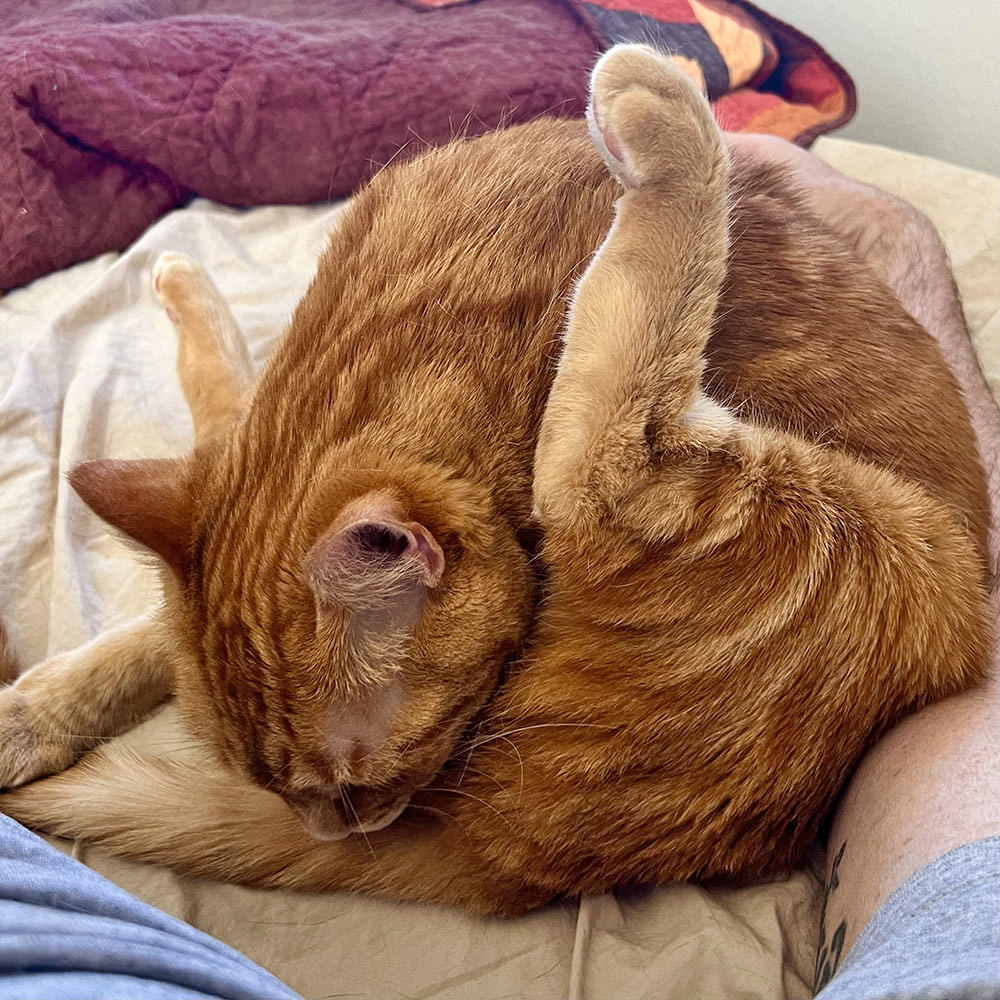 Posted on Friday, August 26th, 2022

I should just go home. That would be the smart thing to do.
But I think we all know that I am not a smart man. No... I'm going to stay here over the mountains where I can have another couple evenings without wildfire smoke in the air.
Posted on Thursday, August 25th, 2022

The drive over to Seattle was blissfully without incident. The worst part of the whole ordeal was having to say goodbye to my cats. They always know that something's up with I pack up a suitcase, and this time was no exception. As soon as I rolled it out, Jake was going bananas and Jenny tried to climb inside the minute I opened it. Assumably because she wanted to come with me.
Fortunately I'm still able to distract them long enough for me to sneak out of the house by giving them cat treats. One shake of the little bag, and everything else is forgotten.
Posted on Wednesday, August 24th, 2022

Tomorrow I have to go on a short work trip.
Today I have to clean my house. This is routine for me, because if something happens and I perish from this earth while away from home, I don't want people to think that I was a slob. And so... dusting furniture... vacuuming floors... cleaning countertops... clearing out the refrigerator... washing all my clothes... emptying all the trashcans... it goes on and on.
When I used to travel often, my house was kept a lot cleaner than it is now. But in pandemic times? Yeah, it's a mess more often than not.
Posted on Tuesday, August 23rd, 2022

A week-and-a-half ago I ordered a Sonos Arc using my "upgrade discount." The reason was two-fold... 1) I needed a flat speaker in front of my studio desk... and 2) I am really tired of having to use two separate remotes for the PlayBar in my living room (which, foolishly, doesn't use eARC, but instead clings to optical digital, which was outdated years before I bought the thing).
But heeeeere's the thing.
OF COURSE Sonos made it so that the PlayBar wall-mount doesn't work with the Arc so you have to buy a new one. OF COURSE they didn't put the cable hole in the same place. Because OF COURSE. So my first order of business was to move the hole in my wall 1-1/2-inches lower. Fortunately, that's fairly easy. You just flip the piece that you cut out of the new location and put it up top like so...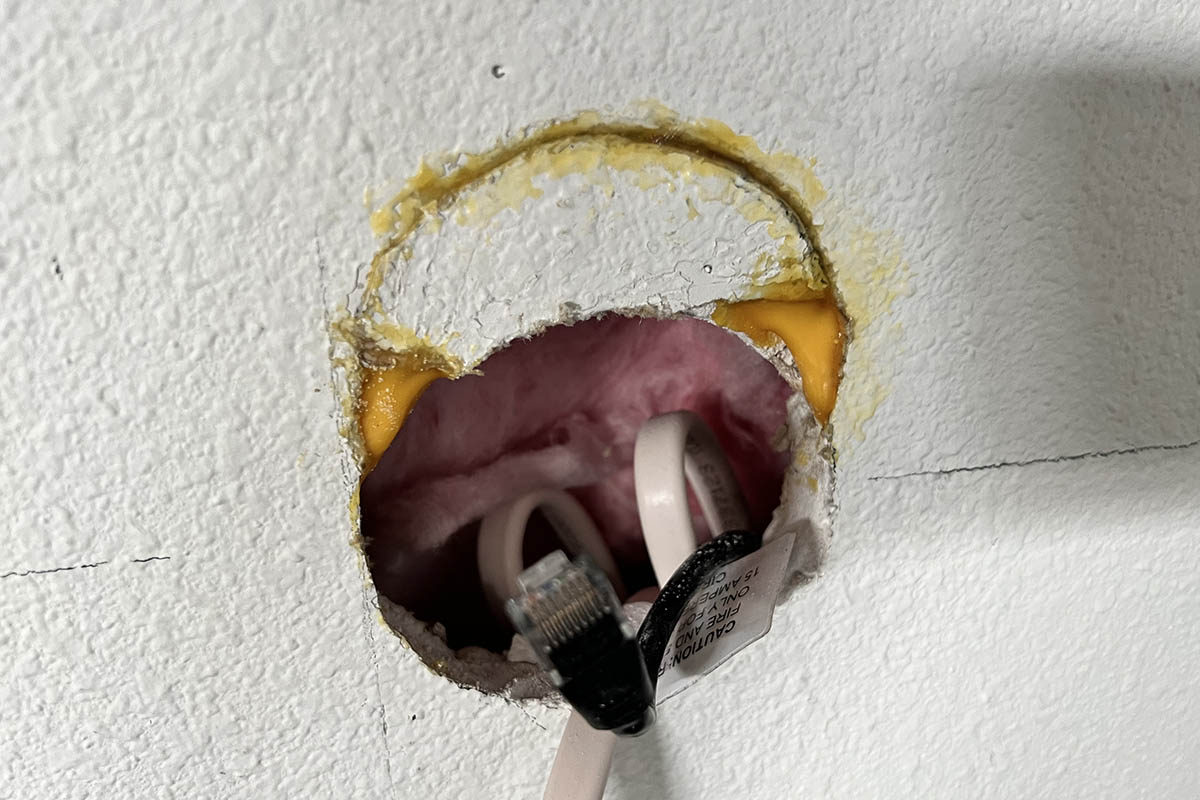 And, yes, I cover everything with plastic, because it's all too easy to accidentally spray where you don't want to spray, and I can't afford a new television or furniture...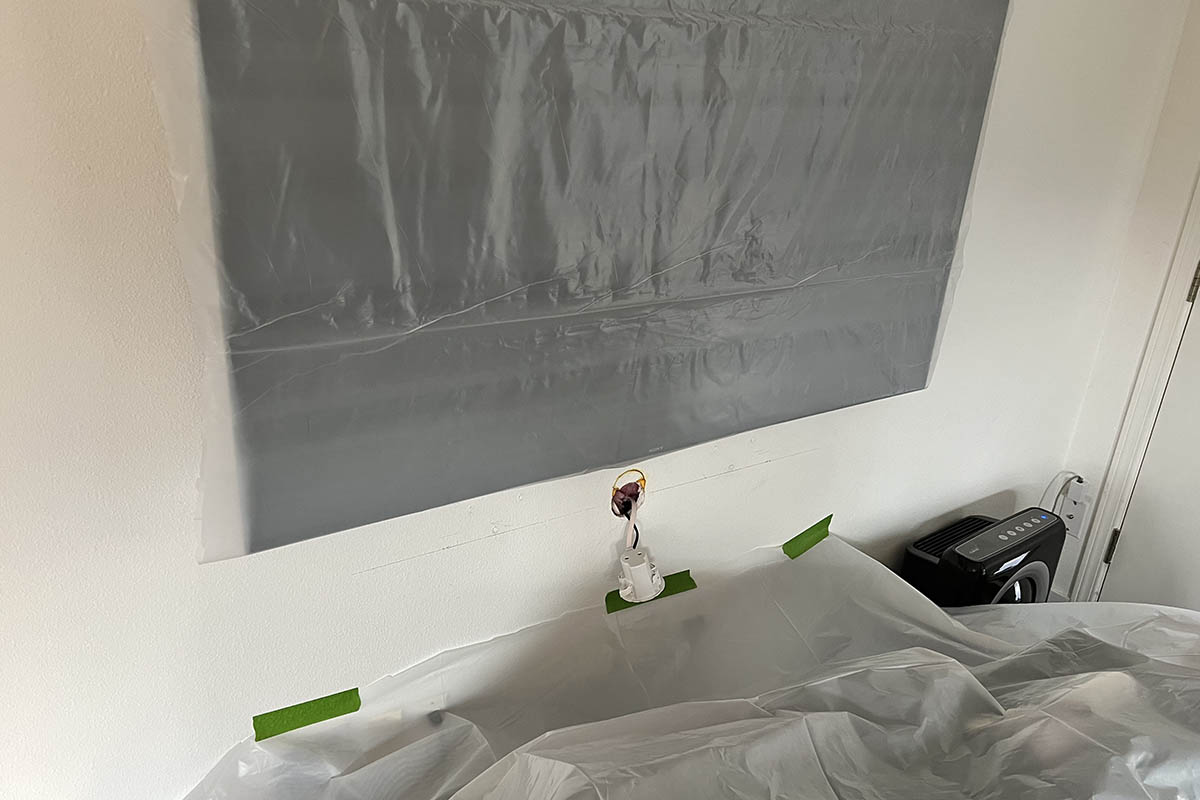 Next I had to sand and spray texture to cover not only the patch... but the six holes that I had to make for the PlayBar mount...
After that, it's just a matter of installing the wall plug and painting the wall. Yeah, yeah, I know that it would be easier to just run the power cable through the wall, but I really can't afford a new house if an electrical fire burns mine down, so I did everything by the book...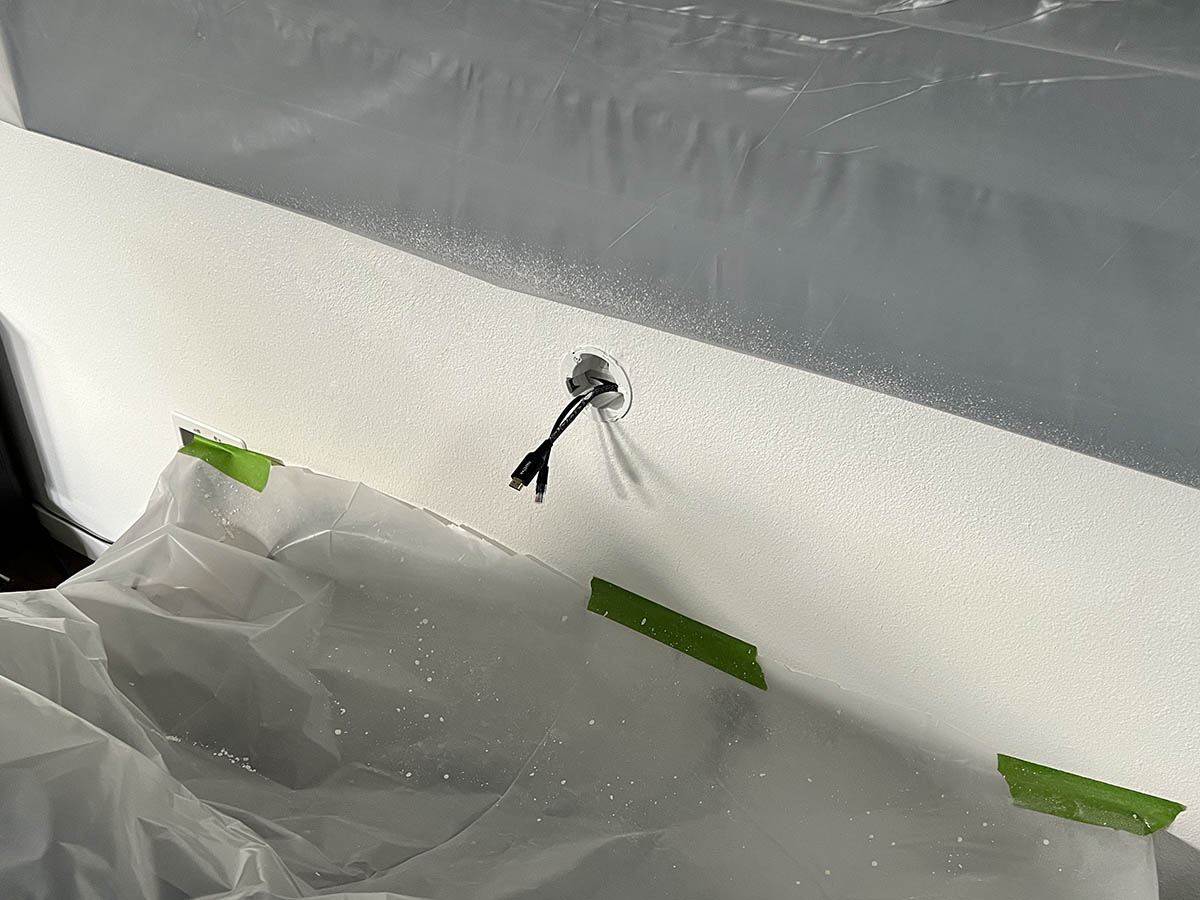 Interesting to note... the PlayBar wall mount was shitty and stupid if you wanted your cables to come through the wall. It is perfectly flat, so if you use a wall port (AS YOU SHOULD!) then you have to shim the bar out with washers (or whatever) until it's flush with the port plate. The Arc wall mount bends outward, so no shimming is needed if you're using a wall port (AS YOU SHOULD!)...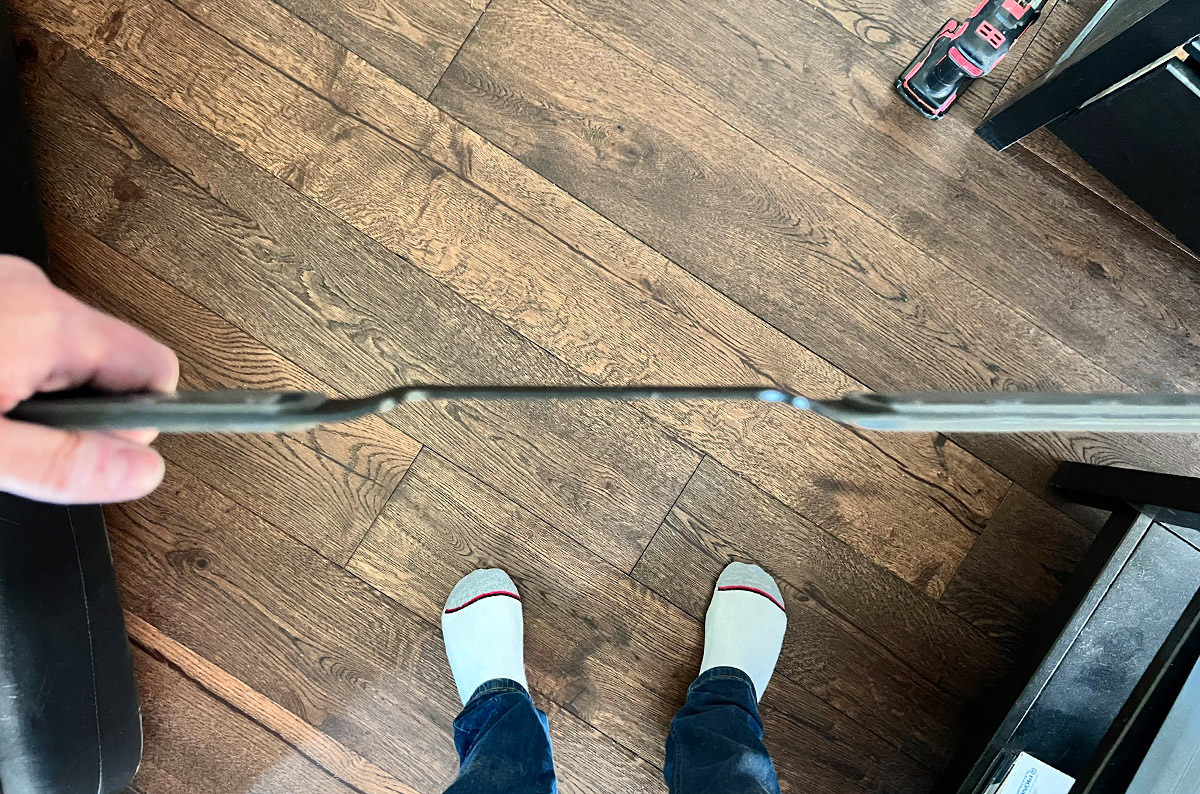 A drill, a spirit level, and a shiny new HDMI cable pulled through the wall, and voilà... Arc installed...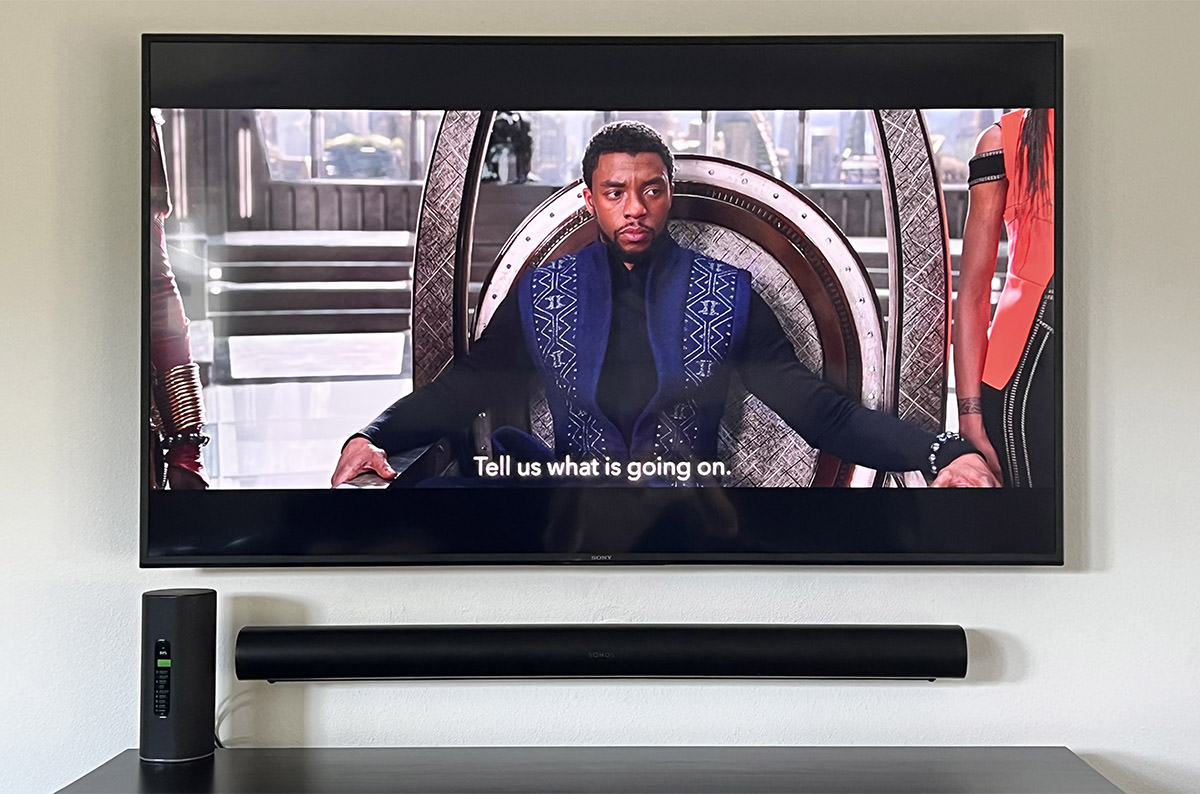 It's pretty good. For one thing, the stereo separation is better than it was on the PlayBar. For another thing, this new sound bar has upward-firing speakers to bounce off the ceiling and provide sound from above the television. This isn't terribly effective... there are some Atoms-enabled movies that I can kinda get the effect. But it will never going to be the same as having an actual Atmos speaker setup. BUT THE BEST THING?!? Because HDMI-ARC allows the television to control the volume of the Arc, I can just use one remote control for everything. Yay!
And then there's the PlayBar...
The thing I hated about using the regular ol' Sonos One speakers in my studio is that I wasn't able to put them in front and to the side of my chair so that the separated sound is coming from in front of me as God intended. Instead they are off-center at different places on the side of me because of the way the room is configured.
But PlayBar is flat and has stereo separation in one spot so it can be directly in front of my desk, like this...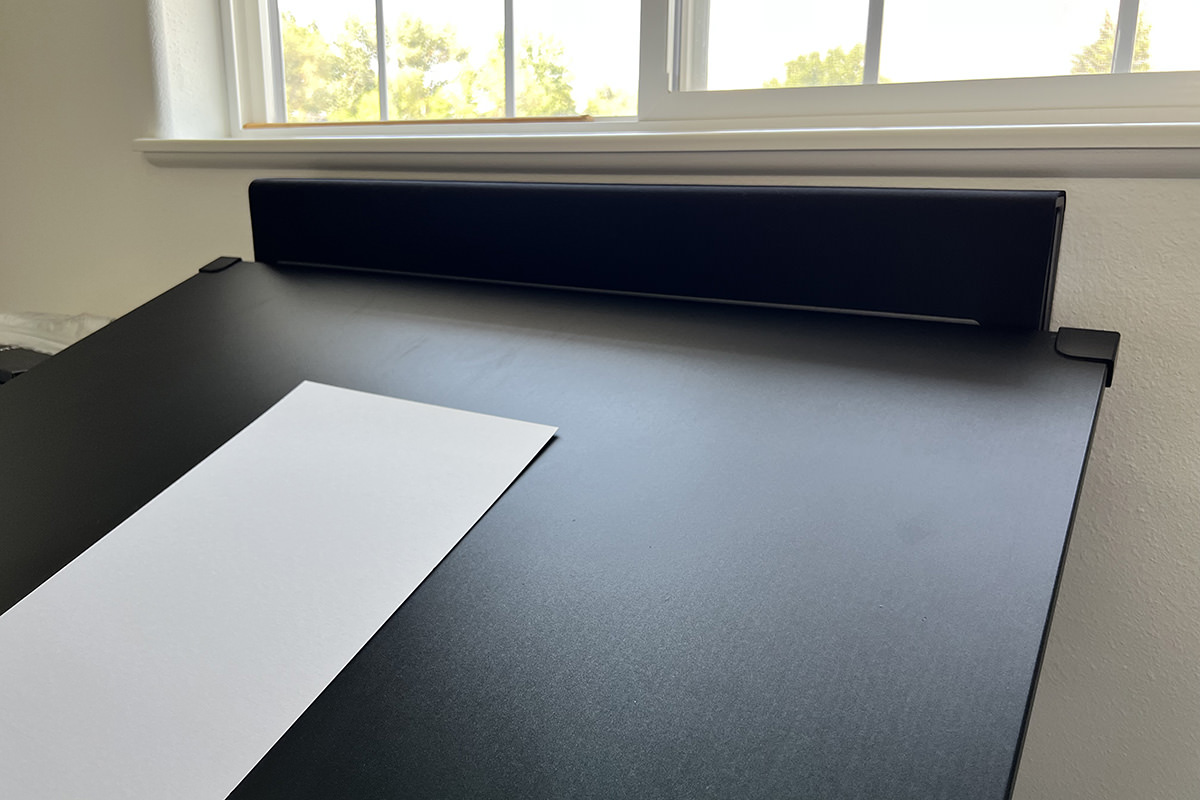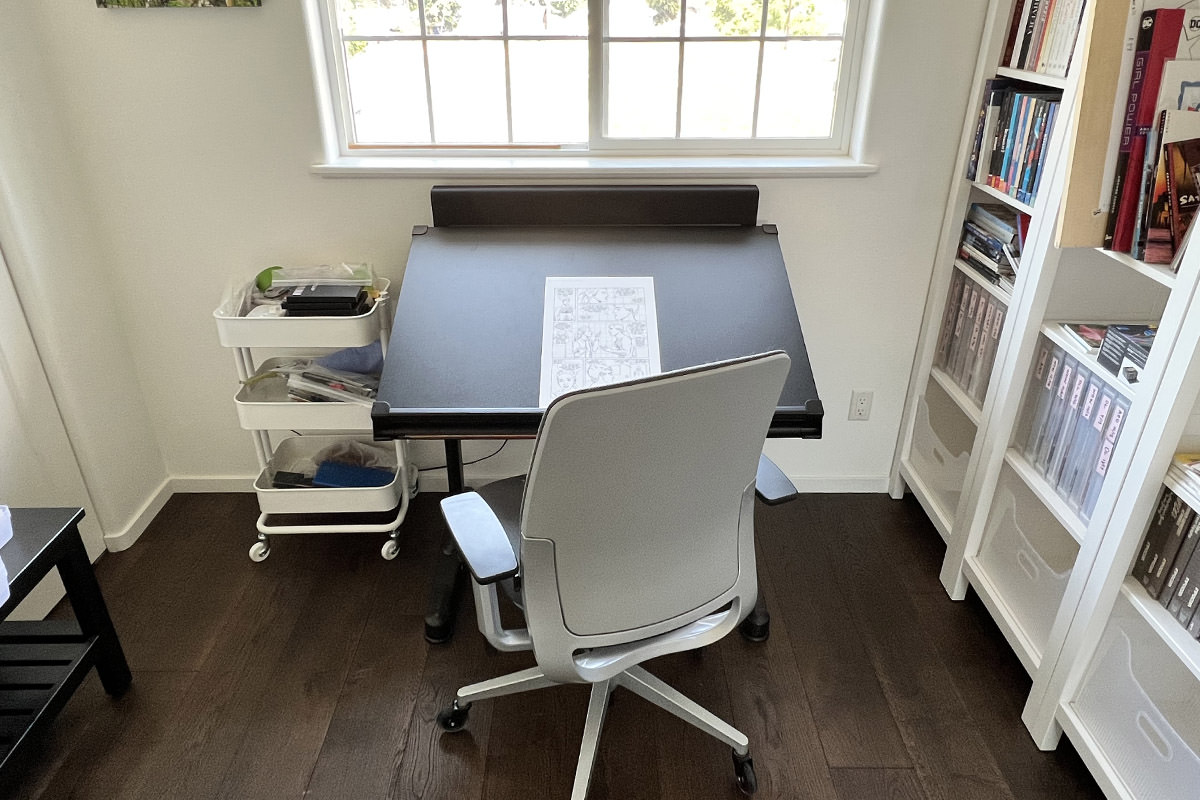 Piece-o-cake.
I was worried that sitting far closer than intended would screw up the sound, but that wasn't the case at all. There's pretty good separation, the sound comes from in front of me, and the quality is pretty impressive. It's actually a better fit for this than it was a TV sound bar.
And so... a lot of money well-spent, I suppose.
Posted on Monday, August 22nd, 2022

Getting old sucks.
It's like something is hurting all the time... and even a minor activity can be recipe for disaster if something strange happens. I try to just take it in stride and be careful with myself... but shit can still happen from time to time, so I end up reaching for the Ibuprofen so I can deal. Yesterday as I was pulling the bottle out of the cabinet, my inner voice was all "Little! Yellow! Different! from those Nuprin commercials in the 1980's. It was just Ibuprofen, so I don't know what was "different" about it, but those commercials are still burned into my brain somehow...
I thought Ibuprofen had been around forever, but maybe it hasn't been? I suppose it's possible that Ibuprofen wasn't over-the-counter until the 1980's, so it truly was different at the time? Who knows. I'm too lazy to Google that shit.
Posted on Sunday, August 21st, 2022

It's a bizarre situation when you have to figure out how to blog, but no worries... because an all new Bullet Sunday starts... now...

• One Step Beyond! Ever since Marvel Studios announced that Secret Wars was happening, I've been a bit obsessed about who Marvel Studios will get to play The Beyonder. I think it's really important that they not make him be overly "cosmic"... instead he needs to be played a little funny and with a child-like wonder to belie his unlimited powers. And the person who could pull that off beautifully is Jake McDorman (who was exactly what The Beyonder needed to be in Limitless (the TV series, not the movie)...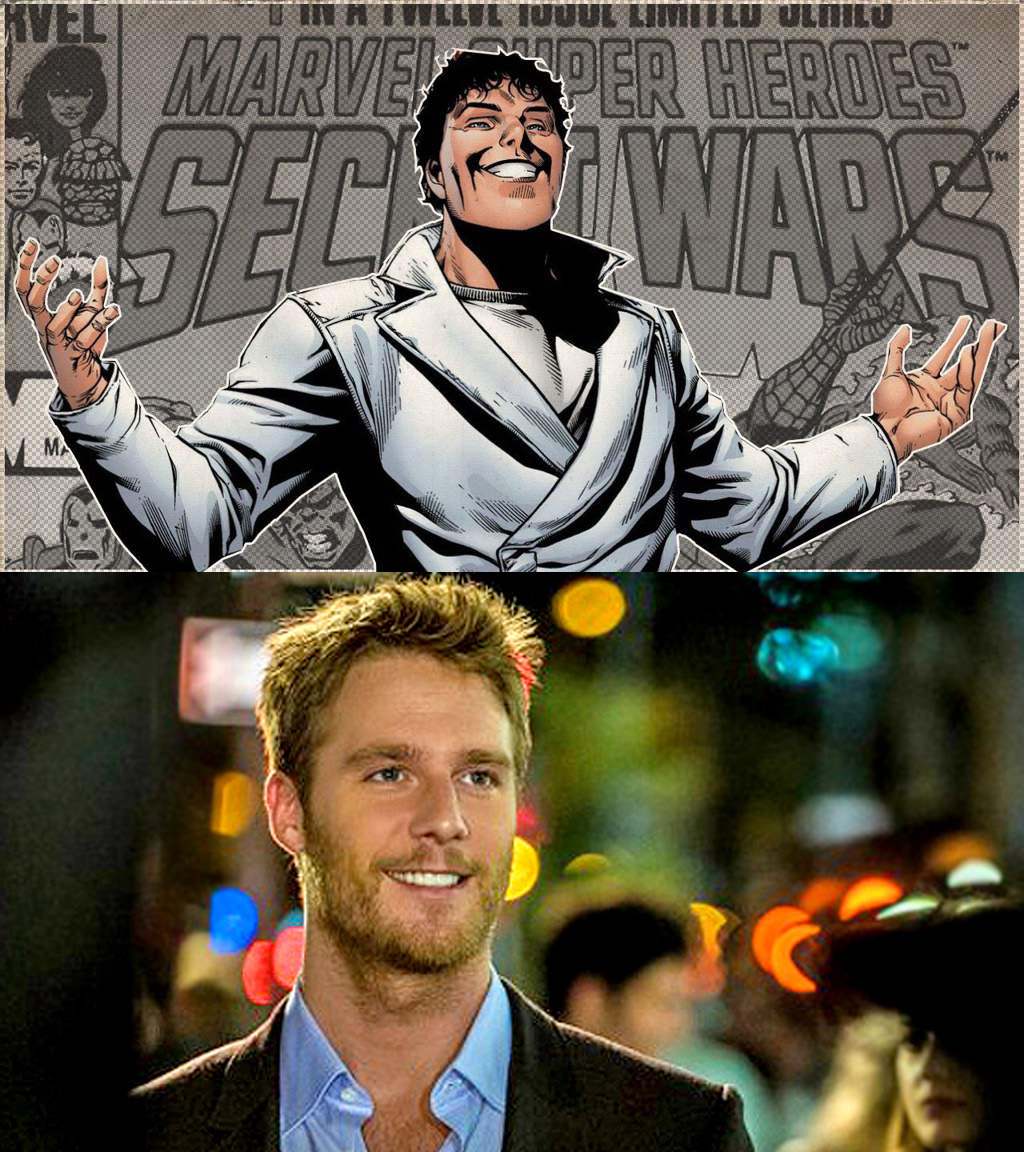 Or somebody like him. It would be a mistake to go with somebody with too much seriousness and gravitas. That's just not going to play well in a movie like this.

• Sandy! I saw this incredible demonstration of sand art for The Sandman then spent a good chunk of time going through their Twitter feed to look at all the other amazing stuff they've done...
Here's the Twitter feed if you've got time to spare.

• TREK! This just slays me: "Strange New Worlds Showrunner Says Series Pitch Was "What If We Just Did Star Trek?" Such a novel concept!
I do not mind AT ALL doing something new and different within the Star Trek universe... I loved the new JJ Abrams Star Trek movies (for the most part)... but the way that they took the amazing first season of Star Trek: Discovery and just flushed it down the toilet with subsequent seasons drives me crazy. I am really, really hoping that future seasons of Strange New Worlds hangs on to what makes the show so great.

• TANOOOOOOO! I'm more than a little anxious every time there is news "from the production" of Asohka...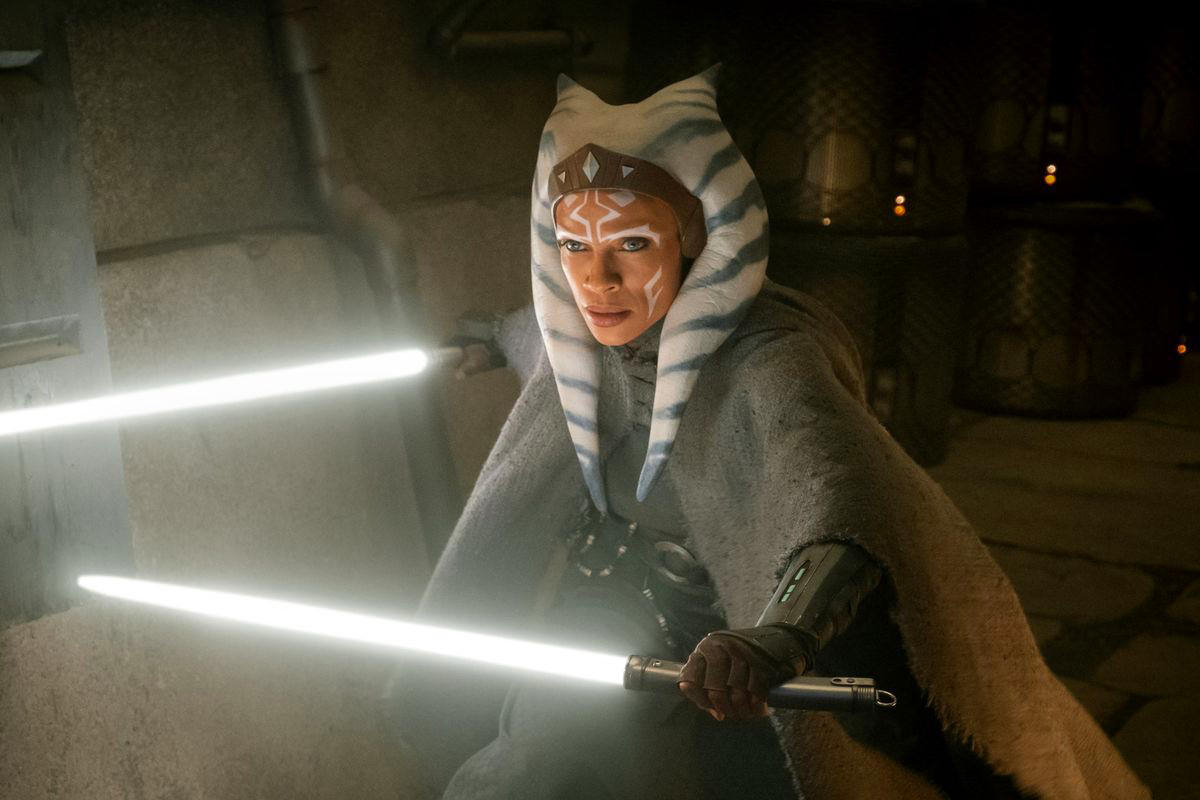 I thought it finished filming back in May, so I was expecting it would be released by the end of the year. But if this keeps up, it won't be until 2023! Bigly sad!

• My Modern Consumer Life! Tell me if this sounds familiar...
"wE'Ve SHipPed YoUR oRder!"
"Oh, great! Can I get a tracking number?"
"nO!"
"How do I know you shipped it then?"
"TRusT uS! wE'Ve SHipPed YoUR oRder!"

The fact that it's urgent is not as concerning as the fact that my credit card has been charged.

• My Valentine! Maybe one day I'll be able to clean my home without running across stuff like this. Valentine's Day was a holiday I went all out for with my grandma and mom. I'd order interesting flowers from around the country and always bought their cards the minute they were put out for sale so I had the best selection...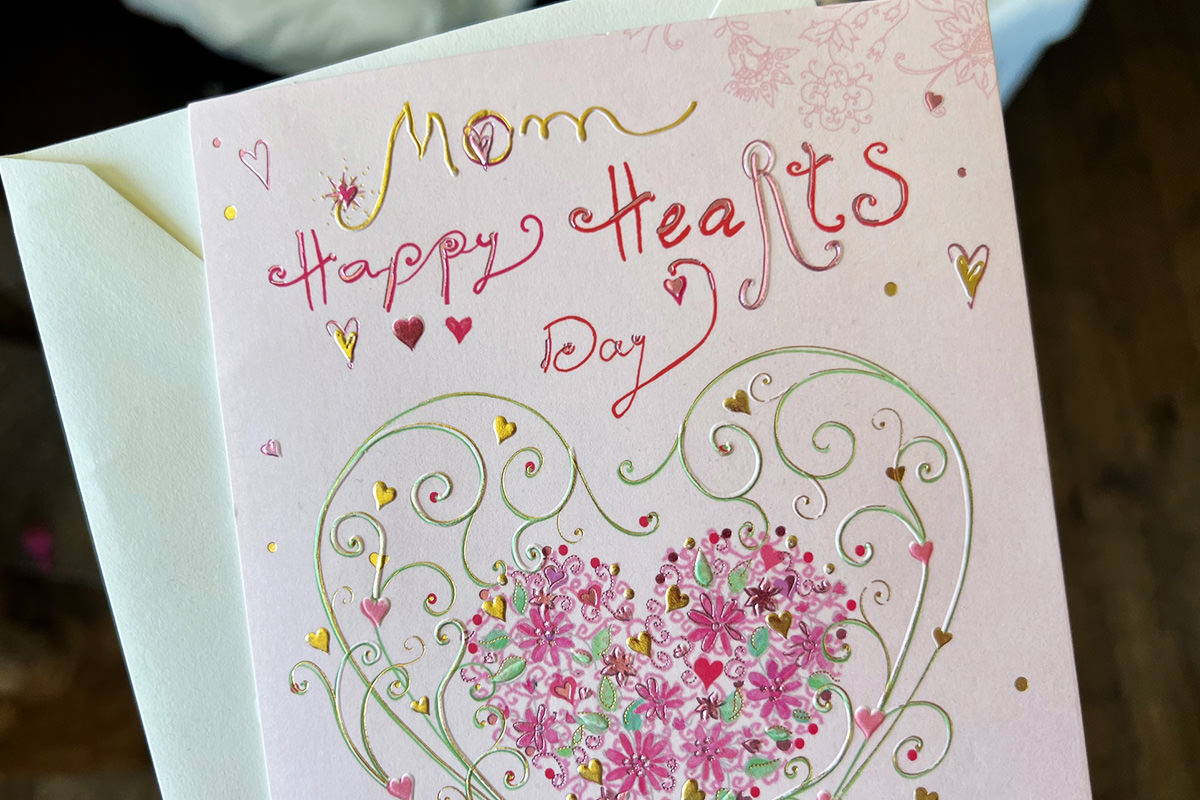 Once I started taking my mom on vacations to give her something to look forward to after her abusive boyfriend was carted off to prison, she asked me to stop spending money on flowers and put it towards her next vacation instead. Still bought her a card though.

• Blue! I finally finished the final episode of the Viagra documentary on discovery+. It's kinda fascinating, kinda impressive, and kinda thought-provoking. The "boner-pill" was discovered by accident when its primary function ended up being a side-effect for a different drug they were developing. That Pfizer took it and ran with it is a testament to the pharmaceutical industry. There's two things that this documentary series dismantles. The first is that Pfizer put huge amounts of time and money into R&D so that men could have erections... all while there's still not cure for cancer. Except it was discovered by accident. Erections are not what they were trying to do at all. The second is that the pill was designed so rich old men could have a sex life long after nature has taken its course and denied it to them. But the truth is that there are many young men in their sexual prime who can't have a sex life due to erectile disfunction, and Viagra completely changed their lives. Sex is a big part of the human condition, and to not be able to have sex is a serious point of suffering that can now be alleviated. So make fun of the little blue pill all you want, but for many people it's no laughing matter.

May the remainder of your Sunday be smooth sailing. Mine won't! I am fixing my deep fryer (or trying to).
Posted on Saturday, August 20th, 2022

My cats have been a little crazy since I got back from my work trip. I think they must have gotten into some catnip while I was gone. As I type this, they are chasing each other around the house at top speed... and I think it's because Jenny smacked Jake while he was getting a drink of water. It's like she wanted a little excitement in her life, and this was her solution.
Let's see... time to catch up on cat business after the big Blog Outage of 2022 situation.
Did I mention there was a SQUIRREL out on the patio? Boy did that cause a commotion. Jake ran right out to the catio to stalk it...
After the danger had passed, Jenny went out to patrol the catio to make sure that our territory wasn't invaded again. But then she got tired of patrolling and decided to take a nap...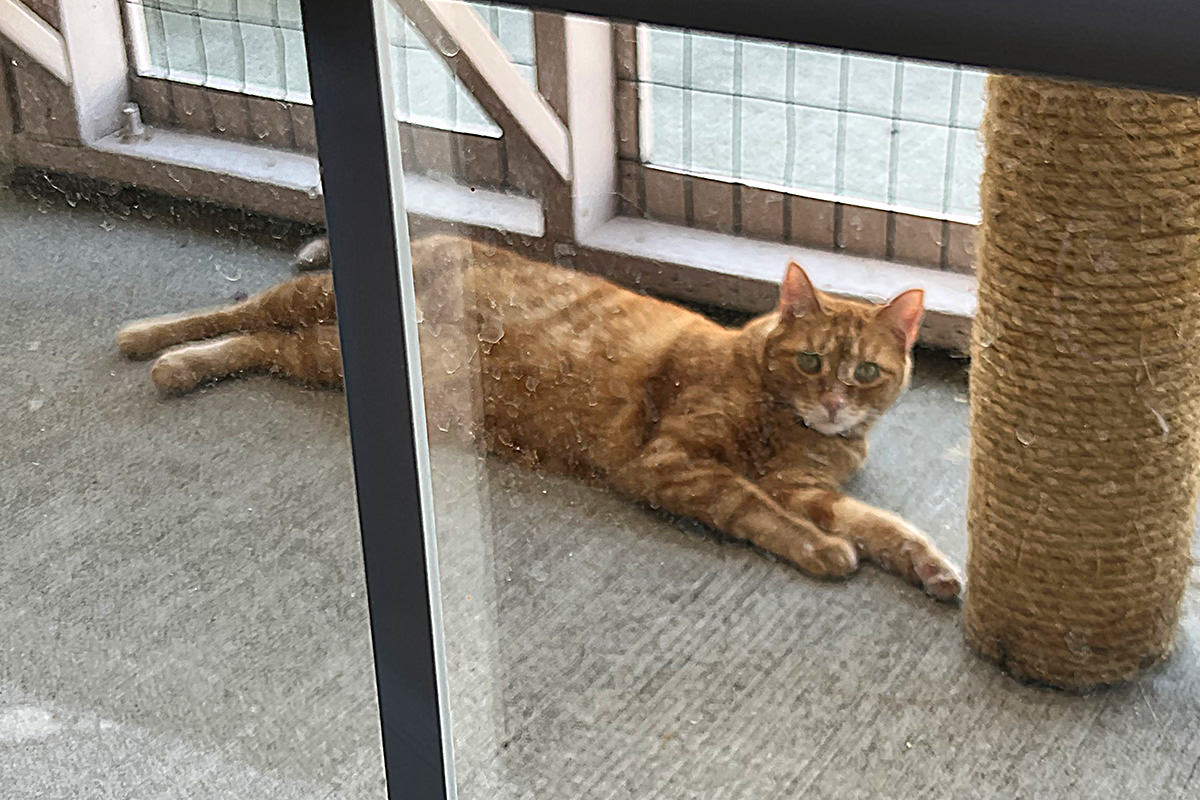 A couple weeks ago I caught Jake sleeping in the chairs that I put upside-down on the table. I thought it looked uncomfortable, so I put a blanket in one of them. Now it's his most favorite spot to hang out...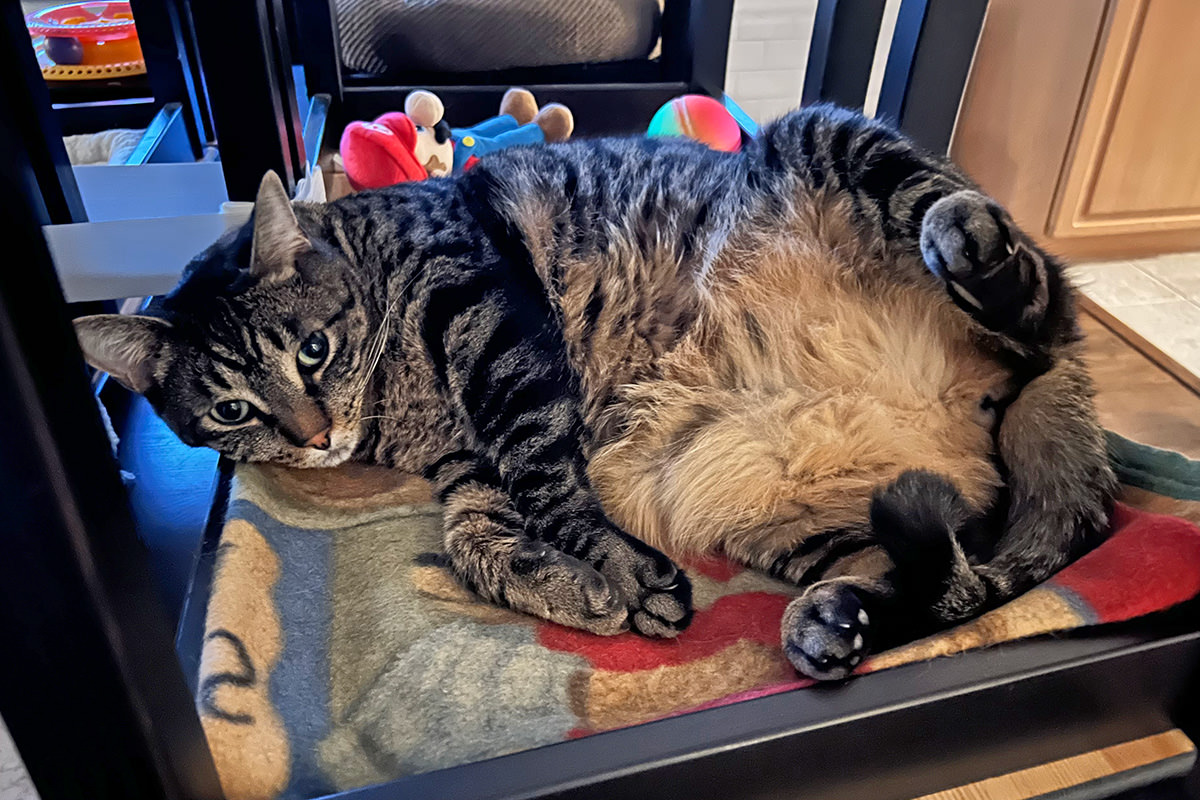 He especially likes it because he can wander around the table and look down to see what's new on the floor...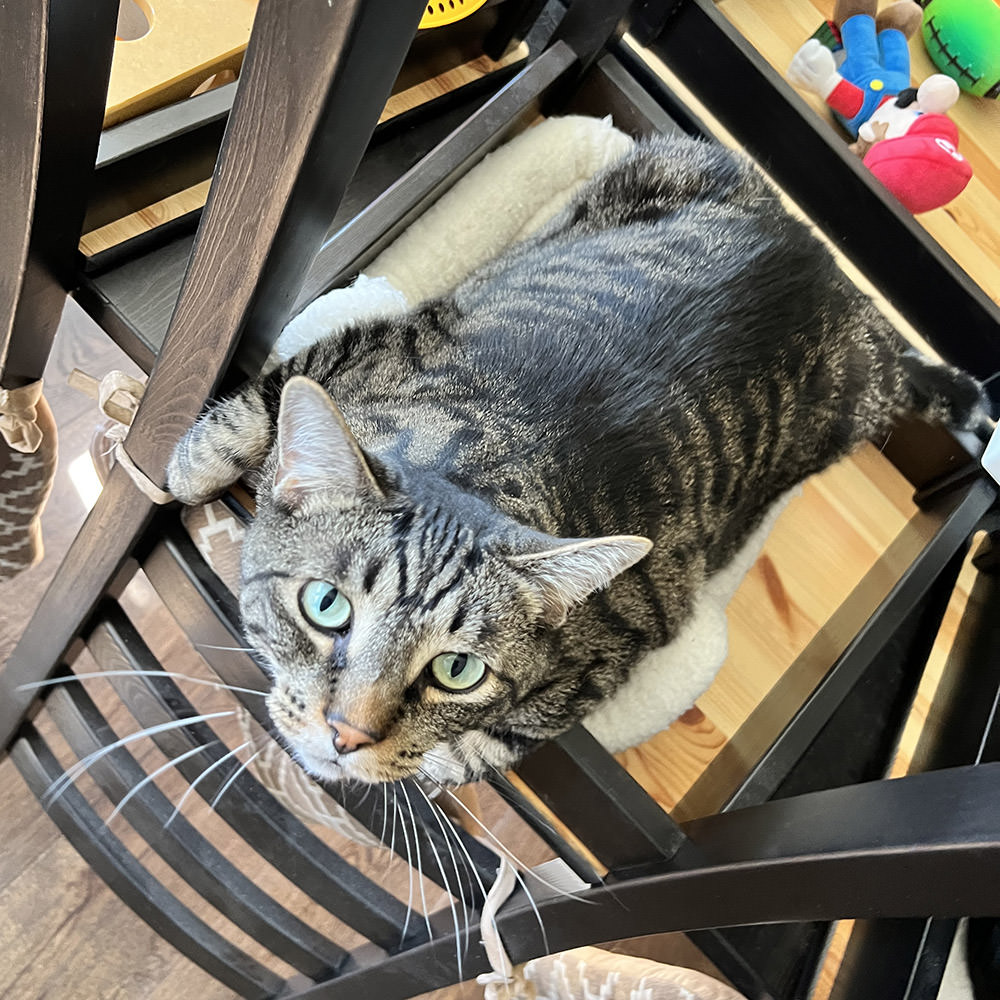 But don't worry... Jake still sleeps in his normal spread-eagle configuration even if he's not in his chair bed...
Jake's a little more attentive when watching TV with me though...
While watching the underwhelming new Netflix documentary, Inside the Mind of a Cat, Jake was more intense than usual when he watches TV, so I left it running even though I wasn't interested in watching it...
And now I get to go clean my garage. Or start cleaning my garage. That's a job that will never be done in one day.
Posted on Friday, August 19th, 2022

Last night I was in a movie chat room where the topic of discussion was Spielberg films. Not something I'm incredibly passionate about, even though he's made a dozen films I've really enjoyed.
Eventually talk turned to which of his films were our favorites, at which point I was mentally ranking them in my head. But them I decided to rank them in my computer when I couldn't think of more than a dozen.
Luckily I have a blog where I can dump things like this...
Raiders of the Lost Ark
Minority Report
Jurassic Park
Close Encounters of the Third Kind
Schindler's List
Indiana Jones and the Last Crusade
Saving Private Ryan
Jaws
Catch Me if You Can
Always
The Terminal
E.T. The Extra-Terrestrial
Munich
Lincoln
The Color Purple
A.I. Artificial Intelligence
Indiana Jones and the Temple of Doom
War of the Worlds
Bridge of Spies
The Post
The Lost World: Jurassic Park
The Sugarland Express
Amistad
War Horse
Empire of the Sun
The BFG
Hook
1941
West Side Story
The Adventures of TinTin
Indiana Jones and the Kingdom of the Crystal Skull
Ready Player One