Breakfast was leftover pizza. Lunch... was also leftover pizza. For dinner there was no more leftovers to be had, so I decided I'd wait 3 or 4 hours, put down my laptop, and venture out for a late supper. But then I heard thunder booming around 4:00, and decided I would rush out to eat before a torrential flood of rain unleashed like it did yesterday.
Dinner was uneventful... thank heavens.
The walk back from dinner? Mostly uneventful...
• There was a scuffle in the parking lot between two guys whom, it would seem, arrived together in the same car. It was more verbal than physical... except for one poorly-timed slap that landed badly and a spit-response. Then one of them ran off while the other got in the car. Apparently to give chase and run him down.
• Whenever I come to the Auburn/Lewiston Area, I note that the Androscoggin River (which divides the two cities) is bordered by "Great Falls Boulevard" on the Auburn side. Problem is... in the years I've been coming here, I've never seen the "Great Falls" be that great. I'm guessing it's great in the Spring, but I'm here in the Summer and Winter when it's just rocks. Today I finally asked about it. "Well, it's not really that great most years any more."
• Today I finally decided to make a quick stop at Veteran's Park next to the above-said-not-so-great-falls. I knew it was here... never stopped. It's dedicated with a marker, which I sadly noted didn't have any women in service on it (sorry for the glare)...
Until I took a closer look(?)...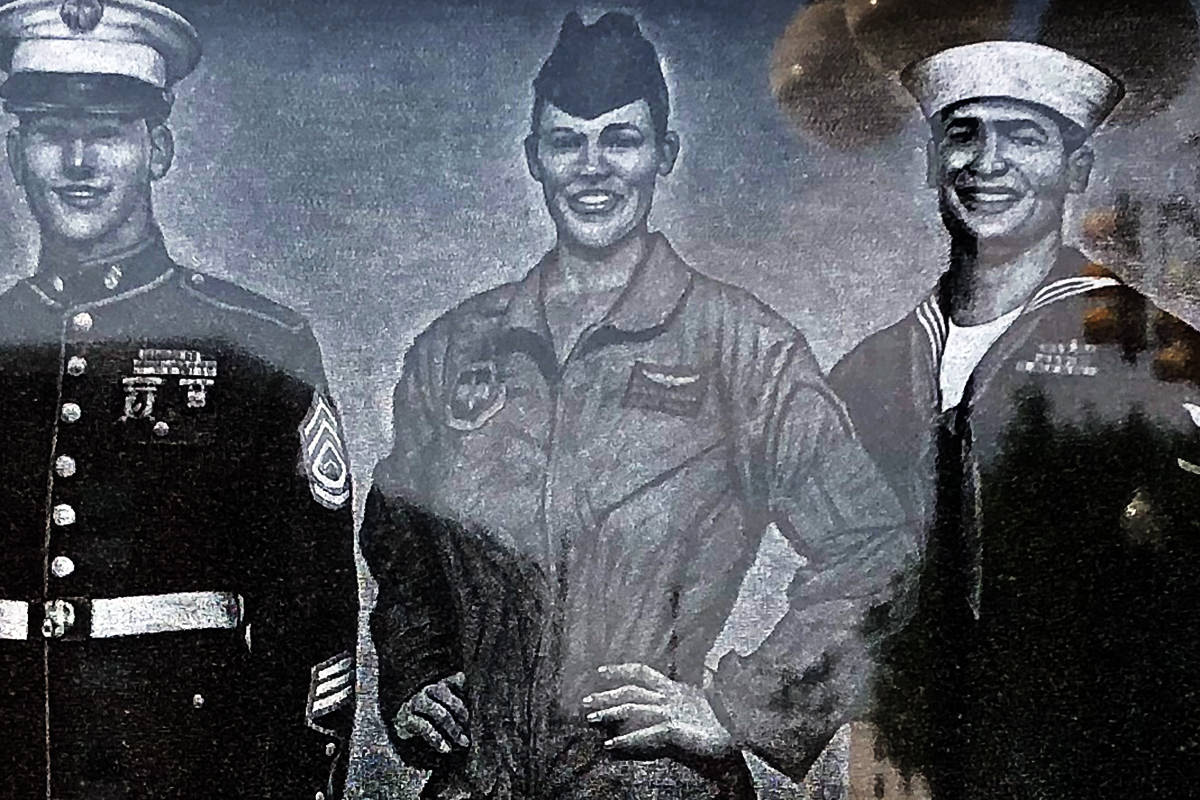 The hands-on-hips should have given her away.
• Other than the odd choice to have a gun firing at a jeep(?) it's actually a nice little park...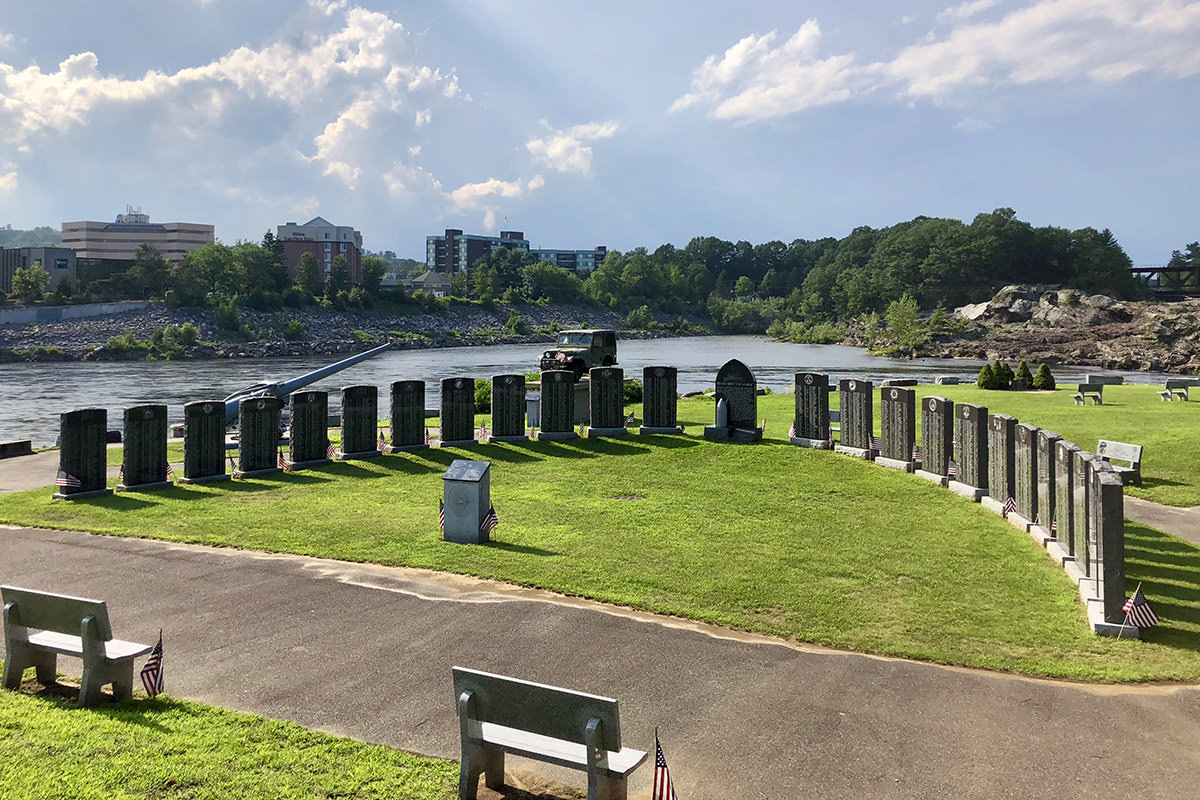 In case you are wondering... off to the right there are the Great Falls.
• As I was nearing the end of the bridge, I noticed that there was a Trump Protest going on across the street, almost all of them (I'm guessing) being senior citizens. They were calling for his impeachment...
Maine, like my home state of Washington, is a Blue State. But Androscoggin County, like my home county of Chelan, is a Red County. Meaning more than 50% of the people voting voted for President Trump. Don't know if that would be the case today.
• As I walked up to my hotel, the thunder was growing in intensity, but there was still no rain. As I walked in the sliding doors to the glass-enclosed vestibule, I saw a poor little bird flying back and forth. He was smashing into the windows from one side to the other, and I felt terrible about it. And so... I spent the next five minutes corralling the little fellow until I could shoo him out the front door. Time well spent, even though everybody in the lobby thought I had gone insane.
• When I got back to my hotel room, I noticed that there was a photo of the Great Falls (where there were actually falls) hanging in the bathroom (sorry again for the glare)...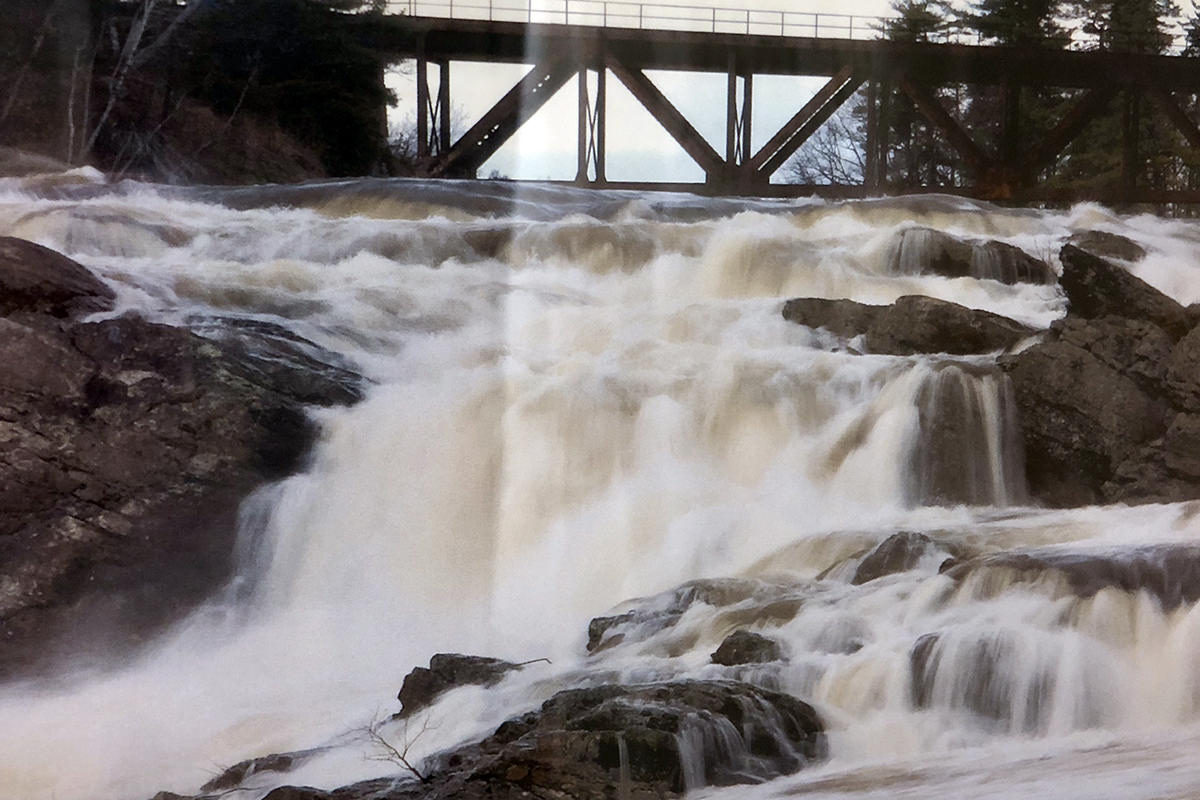 Okay, I have to admit that this does look pretty great!

And thus ends my big day. Tomorrow it's back to work again.