Posted on May 9th, 2017

A while ago, I saw this amazing BuddhaCat statue at Pier One. I wanted it immediately so I could add it to my Buddha statue collection, but it was $40 and I couldn't justify the cost.
Then today I got a 25% Off coupon in a Pier One email and decided to run and get it... even though I still couldn't really afford it. But let's face it, the thing would look great on my new desk.
And so...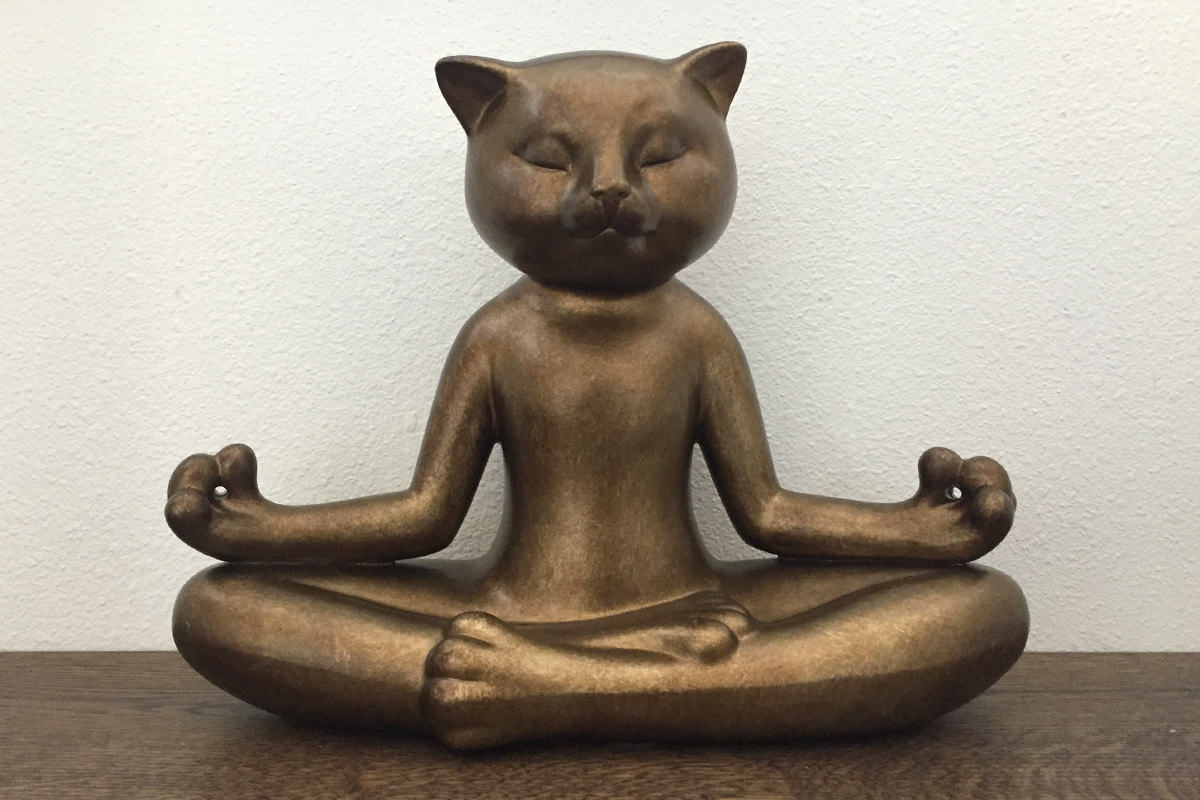 My desk is just across from a part of my collection, so BuddhaCat is right at home...
He's kind of big, but still fit easily behind the desk pad I got at IKEA on Friday...
The cats wasted absolutely no time investigating their new cat companion...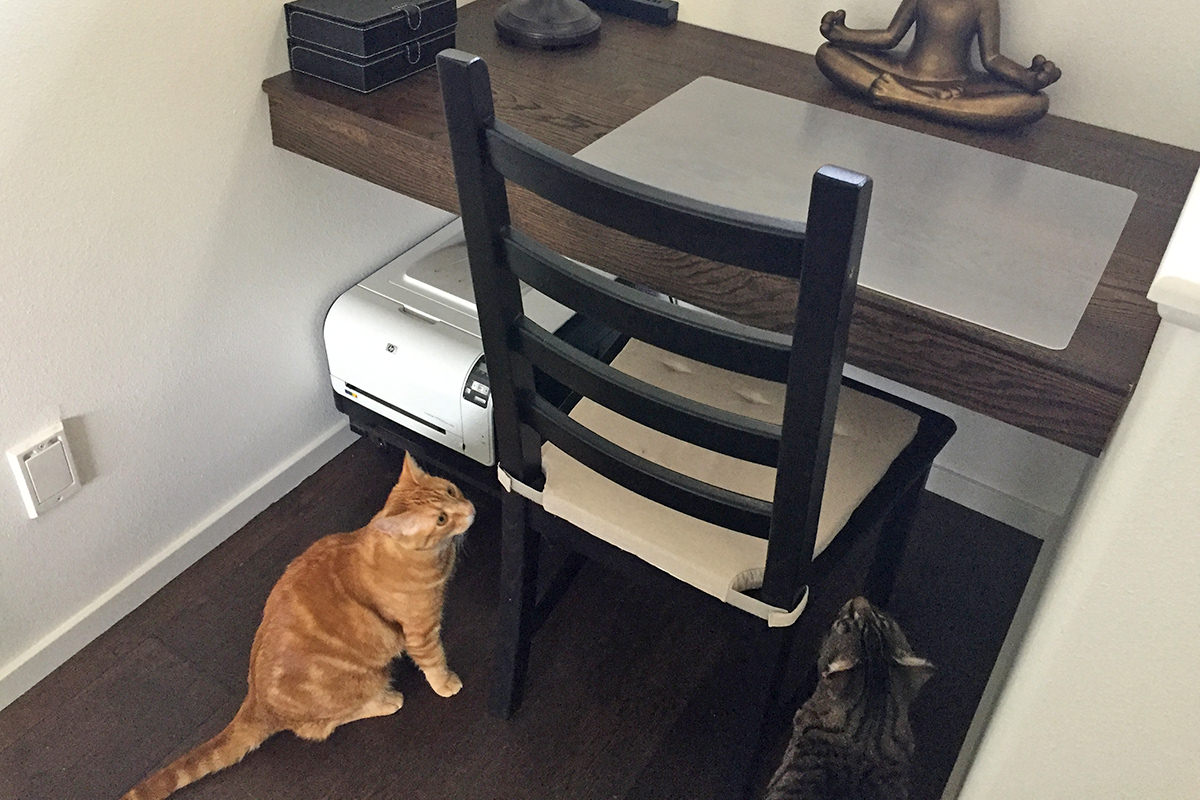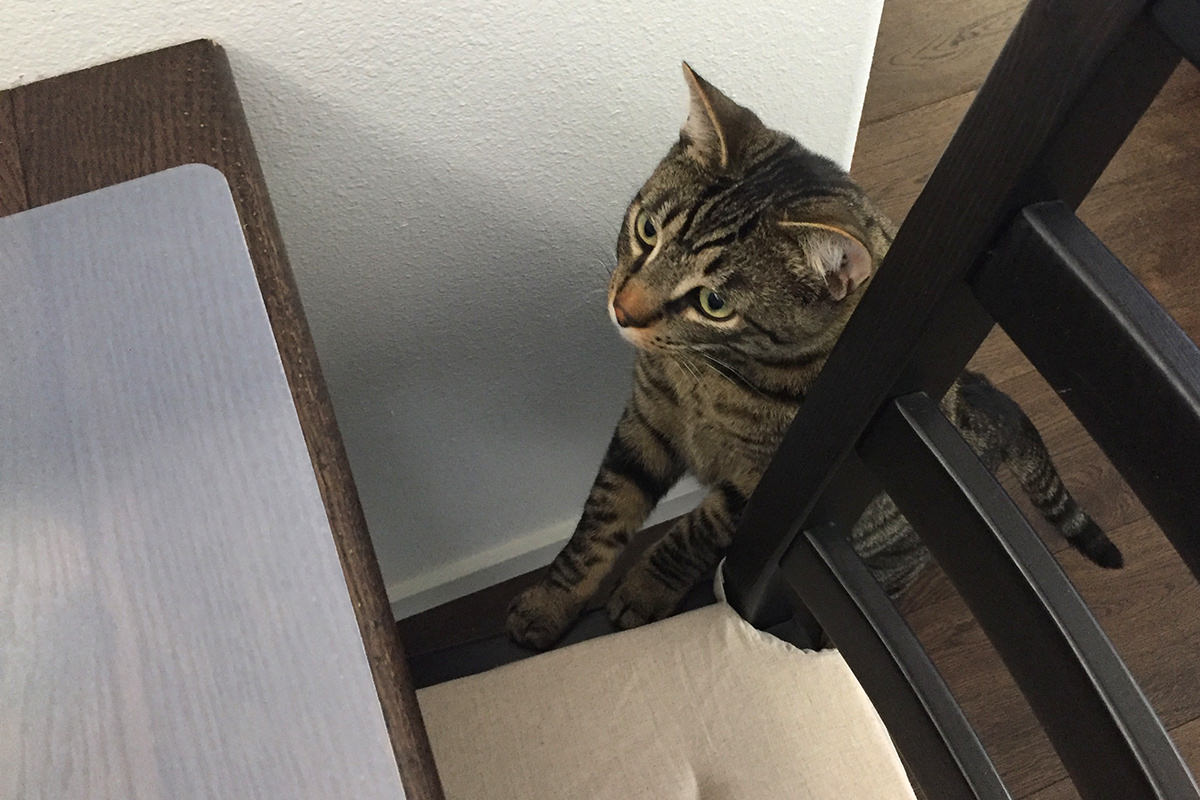 I must admit that I'll kind of miss having BuddhaCat as my co-pilot though...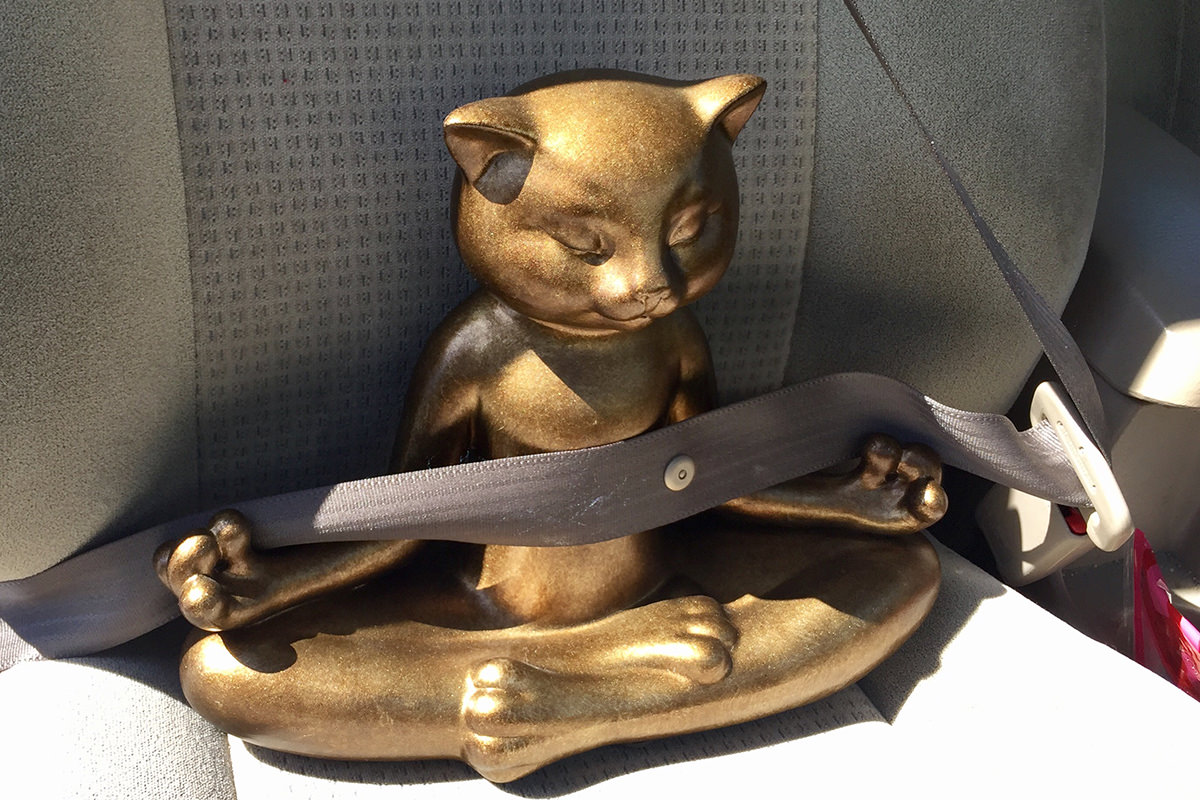 So pretty in sunlight.
Okay then... just so long as I don't run into BuddhaKitten somewhere, I should remain financially stable through the end of the month.
Assuming I eat nothing but peanut butter sandwiches and ramen noodles until then, of course.
Posted on March 27th, 2017

Call me paranoid, but home security is something that I take very seriously. In addition to having electronic door locks, motion sensors, breakage sensors, trip sensors, and three sets of security cameras, I've got a very cool system that ties it all together with a redundant processor and independent power supply.
One set of cameras has battery backup and records to a secure local location. That way, if the power gets cut or the internet is down, I still have recordings of everything that goes on. The other two sets of cameras record to separate locations in "The Cloud" and are far more fun. The NestCams are my favorite, having really good optics and the best-of-class online storage. I pay for the 10-day option... which is more than I need, but the least you can get... which does have the side-benefit of browsing backwards in time.
This morning as I left for work I noticed that the snow had completely melted from my yard, and made a GIF from snapshots of the past ten days...
Pretty amazing given that this shot of my yard was taken on February 8th where the snow was over 6-feet tall and piled out into the street...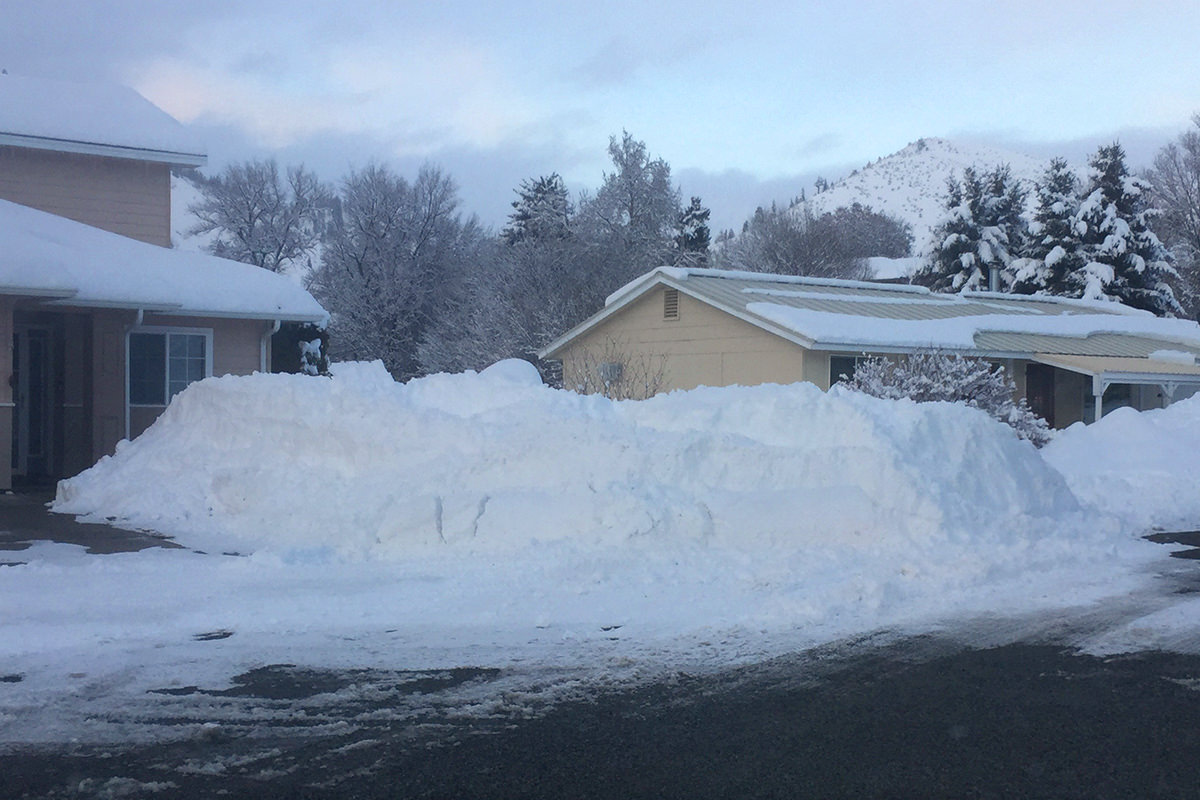 Now that the snow has gone, I'm excited to turn my garage into a wood shop once again. In addition to building Catio Phase Two, making my own cat furniture to replace the carpeted monstrosities I have now, and building new kitchen cabinet doors... I also want to rebuild my closet to make use of every bit of available space. I can't believe how inefficient stock closets are. It's like they are built to intentionally waste space and be as inconvenient as possible.
I'm finding a lot of ideas online, but what I really need is a "Pimp My Closet" show on HGTV. Closets are some serious business, yo.
Posted on November 23rd, 2016

I should have known better. I really should have.
Did I leave the television on? Has my dryer finished running? How much electricity am I using to heat my home? Good questions all.
These are things I'd like to know, so when I saw there was a new device was coming out called "Sense" that could answer these energy questions... and more... I was intrigued. And once I watched the promo video, I was completely onboard...
After a long wait my Sense ($250) finally arrived and I hired an electrician to install it ($120). Turns out I could have easily installed it myself, but the Sense instructions said I had to go online to get info if I didn't have a breaker free... then provided absolutely nothing online... so I took their suggestion to get a professional to do it.
Unfortunately, since my electrical panel was embedded in the wall and not surface-mounted, the electrician had to add a break-out box for the antennae. Not a big deal, but not exactly elegant. Would have been nicer if the antennae could have been inside the box, but I wasn't sure it could get signal there...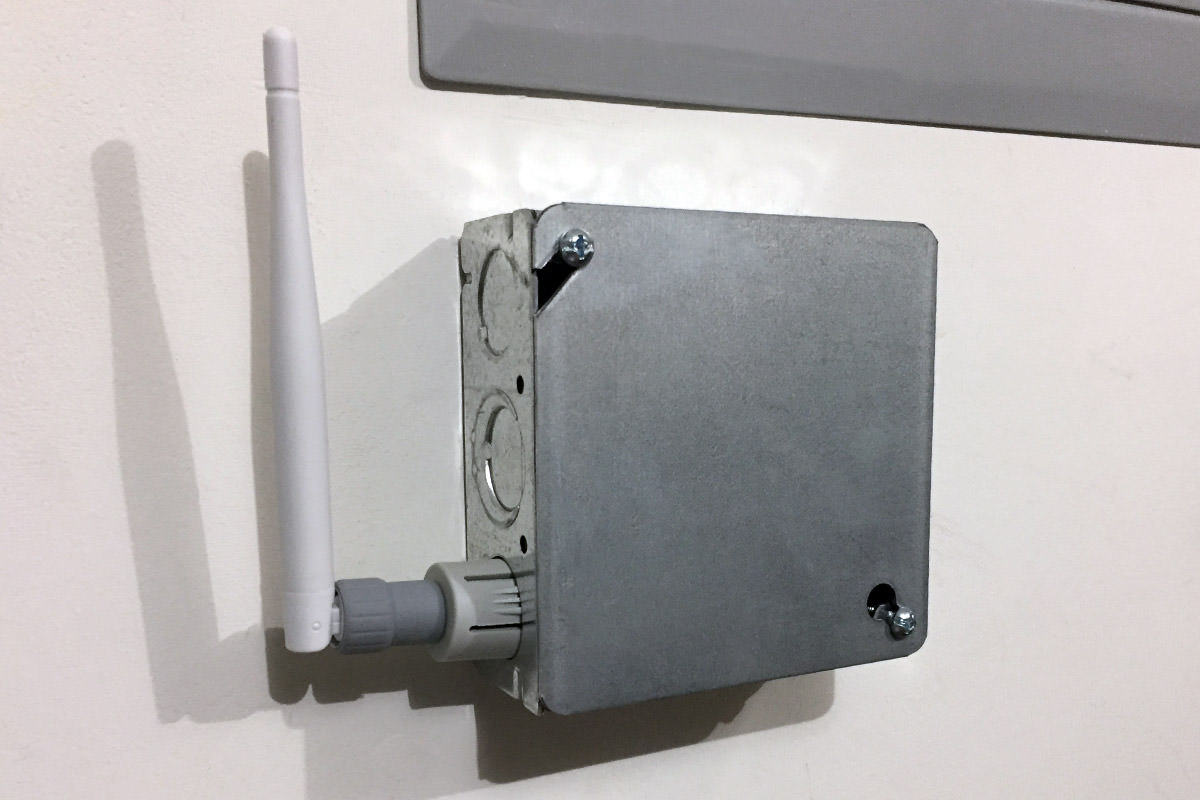 And so... all that was left to do after sinking $370 into this project was to download the Sense app which, fortunately, was free. And, oh yeah, there's one more thing you have to do... you have to wait. The idea is that Sense will "listen" to your electricity usage and eventually learn to recognize your various electrical devices by their "signature." The process takes days to weeks depending on whether Sense has your particular signatures on file.
After a week, my Sense was recognizing absolutely nothing, so I wrote to Sense Support to find out what was wrong. I was told I had to be patient. Eventually it will start to "get it" and devices will pop into place. Until then, I get to stare at two "usage bubbles" for "Always On" stuff (things like clocks and devices in "standby mode") and "Unknown" stuff (things that Sense doesn't yet recognize)...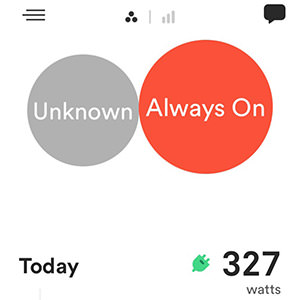 With nothing else I can do, I decided to be patient.
A month passes.
Now my Sense recognizes exactly three things: my microwave, my garage door opener, and my water heater. It thinks it recognizes other things, but it calls all of them "Unnamed Heat" even though none of them are my heater. I try to figure out what they actually are so I can inform Sense, but I can't for the life of me figure it out, even though Sense tells me what time they turned on and off...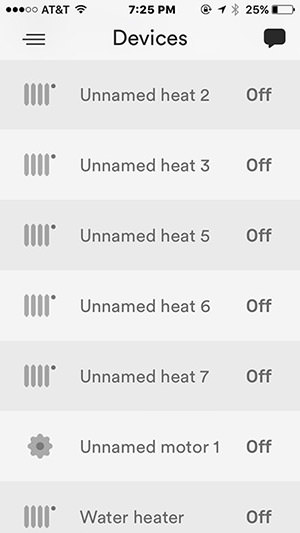 What's so fucking stupid here is that my ACTUAL HEATER should be dead-simple for Sense to figure out. It's the only thing in my home that causes the "Unknown" bubble to blow up like this...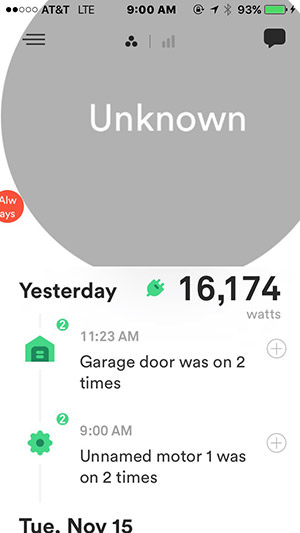 But no joy. It's the most obvious thing using electricity in my house, but Sense hasn't a fucking clue.
Needless to say, I'm pissed off. Partly because this is not what I was promised, and certainly not what I paid $370 for. But mostly because Sense is stupid as a box of rocks... and there's no way to train it to be smarter about what it's sensing.
Take this morning, for example.
I turn on the garbage disposal. On the Sense app, I can see that it has the same "signature" every time you turn it on. It's right there on the screen...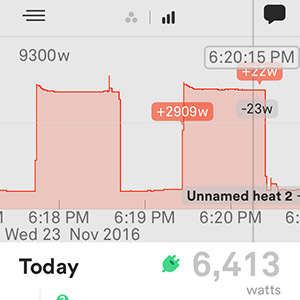 You would think that I could tap those spikes and tell Sense "Hey, that's my garbage disposal!" but you can't do that. All I can do is scream "IT'S MY FUCKING GARBAGE DISPOSAL, YOU PIECE OF SHIT!!!" at my iPhone because Sense has the garbage disposal lumped in with all the "Unknown" crap and there's no way to tell Sense anything about the "Unknown" crap. But what about those "Unknown Heat" devices?
I turn stuff off and on in an attempt to see which "Unknown Heat" it might be... but that doesn't help. My television? Lumped in with "Unknown." My oven? Lumped in with "Unknown." My washer and dryer? Lumped in with "Unknown." My stereo? Lumped in with "Unknown." My iron? Lumped in with "Unknown." My Litter Robot? Lumped in with "Unknown." Everything I could possibly want to know about is lumped in with "Unknown" which means it's useless.
And so... for now anyways... Sense is junk.
Unless I want to know if I left my microwave or garage door running.
And I really should have known better.
Just like the Kickstarter crap I've bought which turned out to be garbage, I should have waited for Sense reviews to come out before investing in it... even though I saved $50 by pre-ordering. Turns out the Sense I really needed was Common Sense. Typical.
Posted on April 16th, 2016

Welcome to Remodeling Week at Blogography!
After buying the furniture and textiles, then decorating the place, all I had left was to add all the things the room needed to feel like home for my guests.
I started with an alarm clock. I was going to go with white or blue to match everything else in the room, but the Diego Rivera print above the bed had some yellow in it, so I decided to mix things up a bit...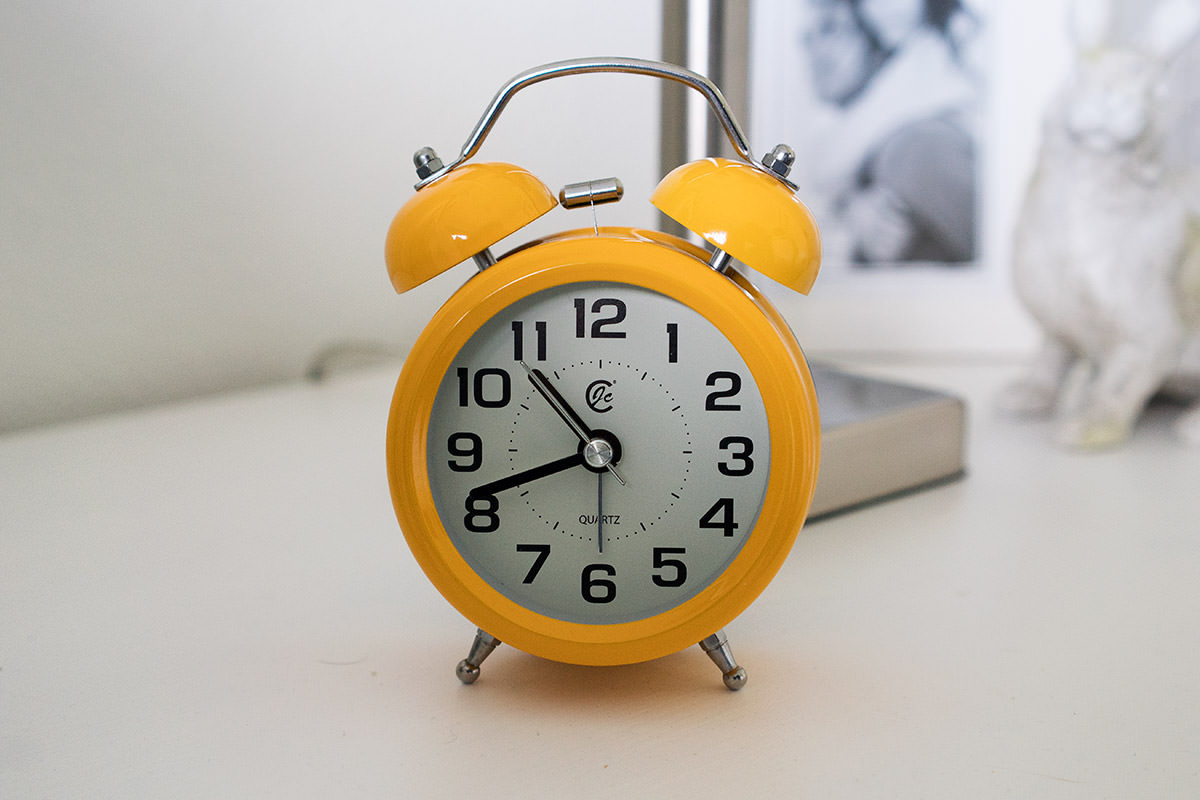 I live in a relatively quit neighborhood, but there's barking dogs and other distractions on occasion, so I got a Marpac white noise machine in case a guest needs a way to block sounds so they can sleep...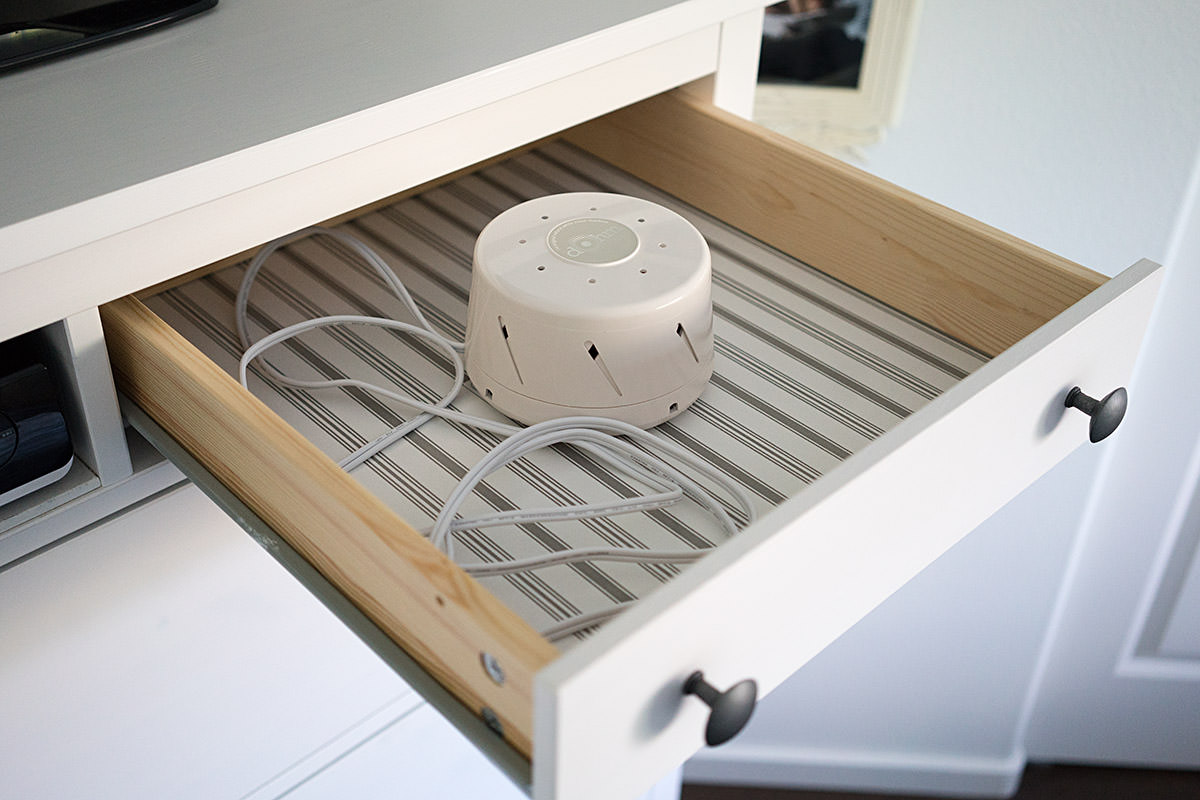 Nightstand lights are simple chrome models with white shades...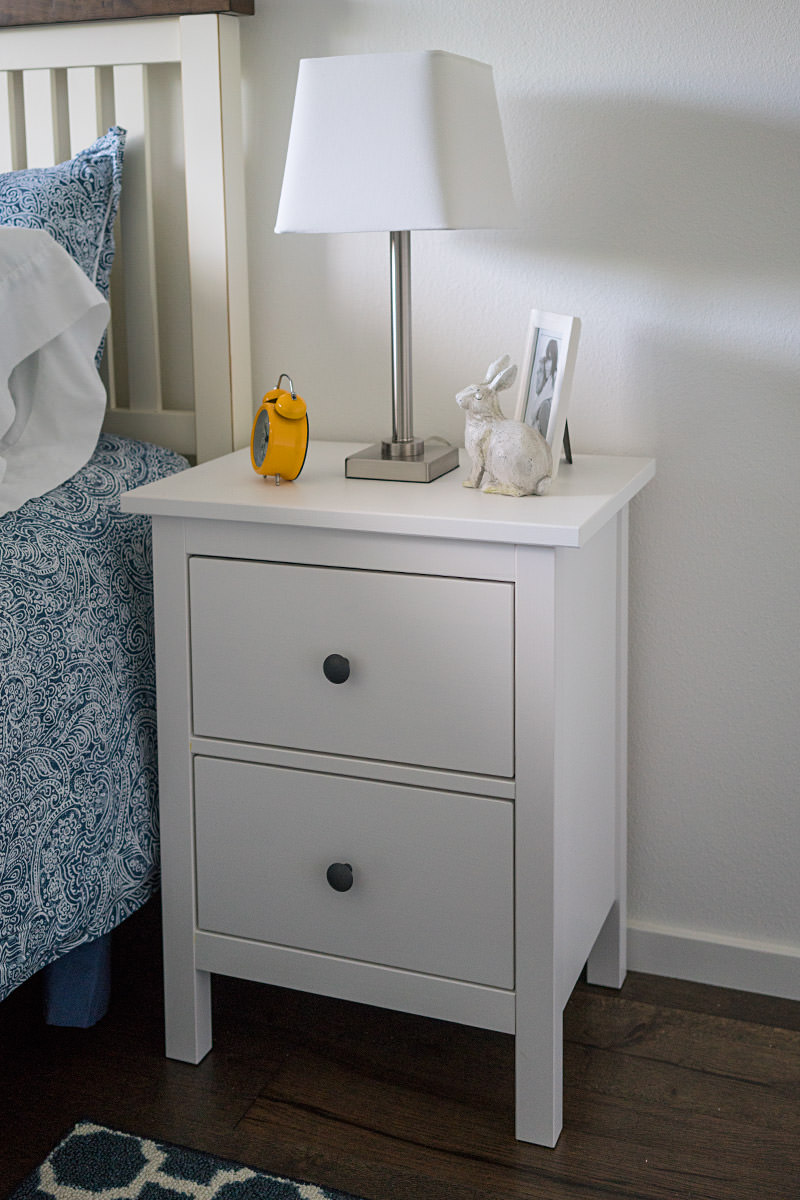 To camouflage the screws I used to secure the DVD player shelf in the dresser, I bought a chrome hook bar that guests can hang their keys and stuff on...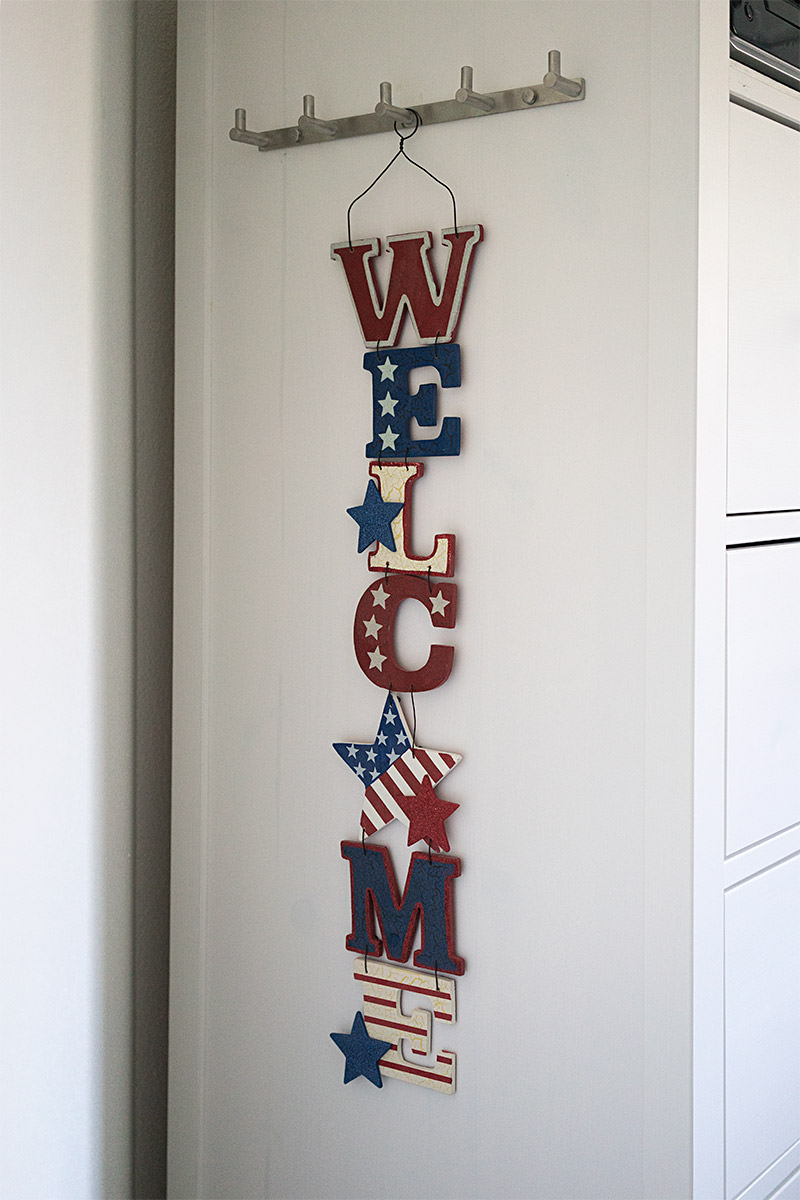 The top drawer is for guests to use, but the bottom three I used for a selection of DVDs... divided into Action/Drama, Comedy, and Kids. If a guest can't find something they want to watch, they can go to the main collection in the garage...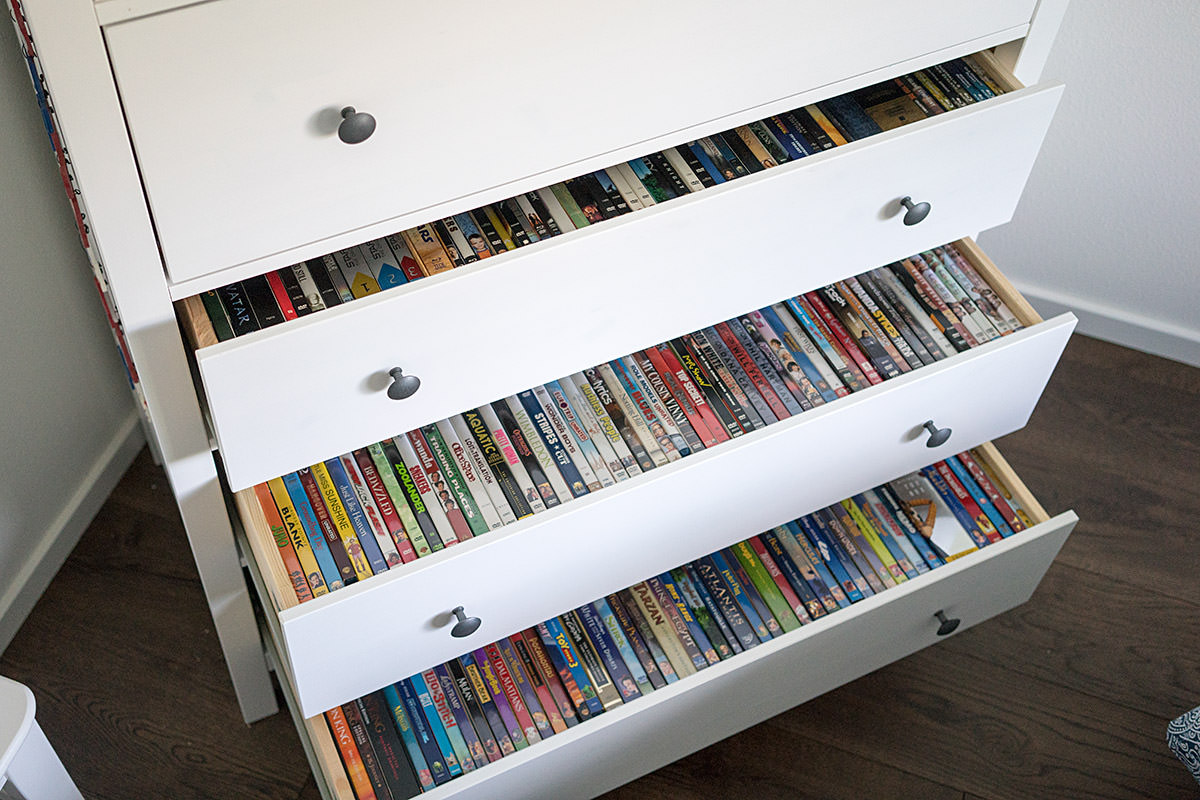 For fun-time reading, I bought some antique magazines. I also found some inspirational phrase books in my collection from Richard Bach and Deepak Chopra...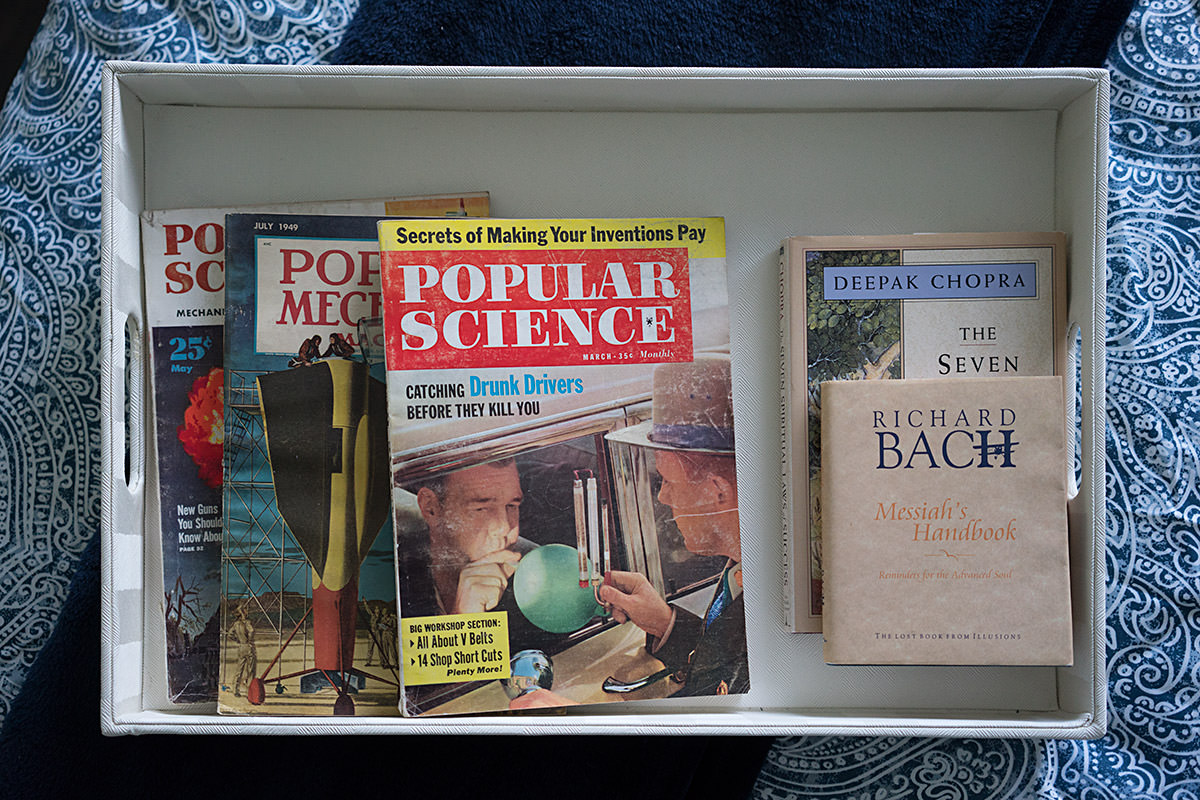 And thus ends Remodeling Week at Blogography!
Posted on April 15th, 2016

Welcome to Remodeling Week at Blogography!
After jamming bunnies everywhere, I considered getting bunny pictures to add to the walls, but that seemed like entirely too much rabbit.
After tossing around ideas for a couple weeks, I was at an antique mall when the solution jumped out at me... vintage license plates!
Not only are they very cool-looking, but they are available in dark blue to tie into the textiles I bought. I found five great ones for above the closet...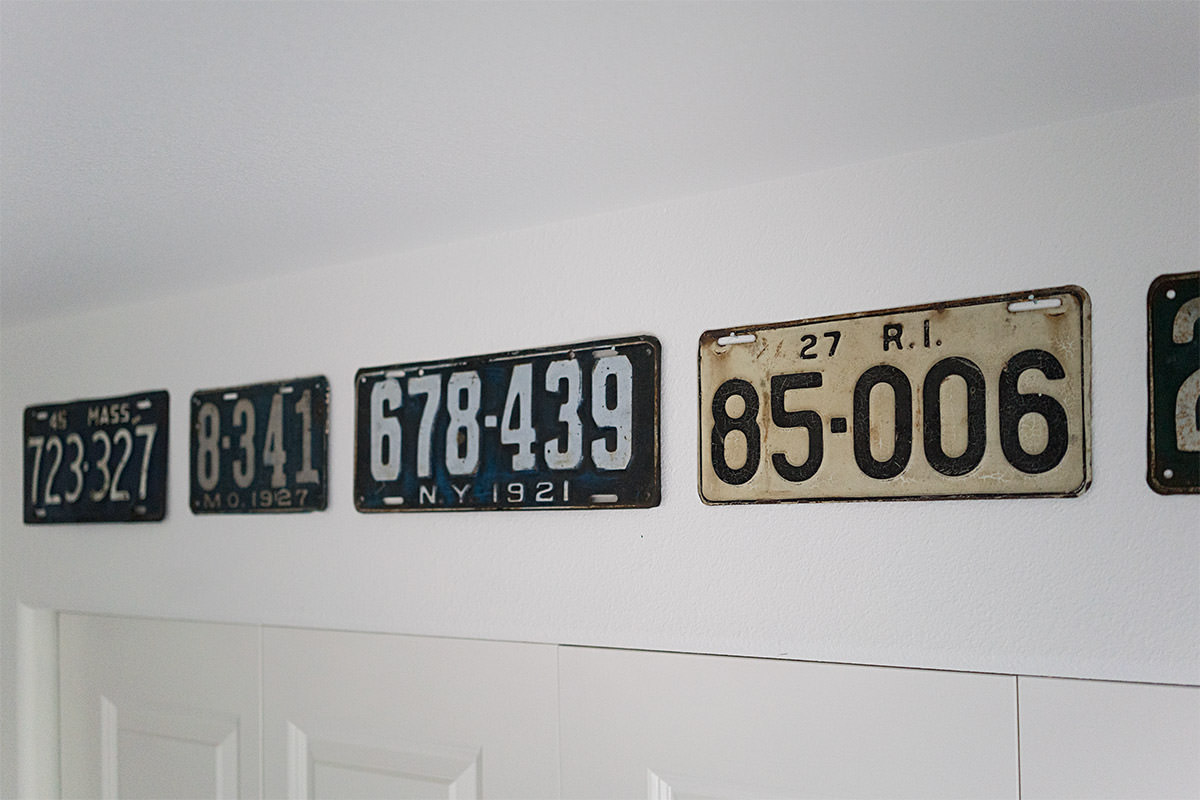 One of the plates I bought was so worn there were no letters left on it... and it was pre-embossing... so I could barely make out that it was an Ohio plate from 1914. I wanted a companion plate, so I went hunting on the internet and found that the 1915 Ohio plates were dark blue... perfect!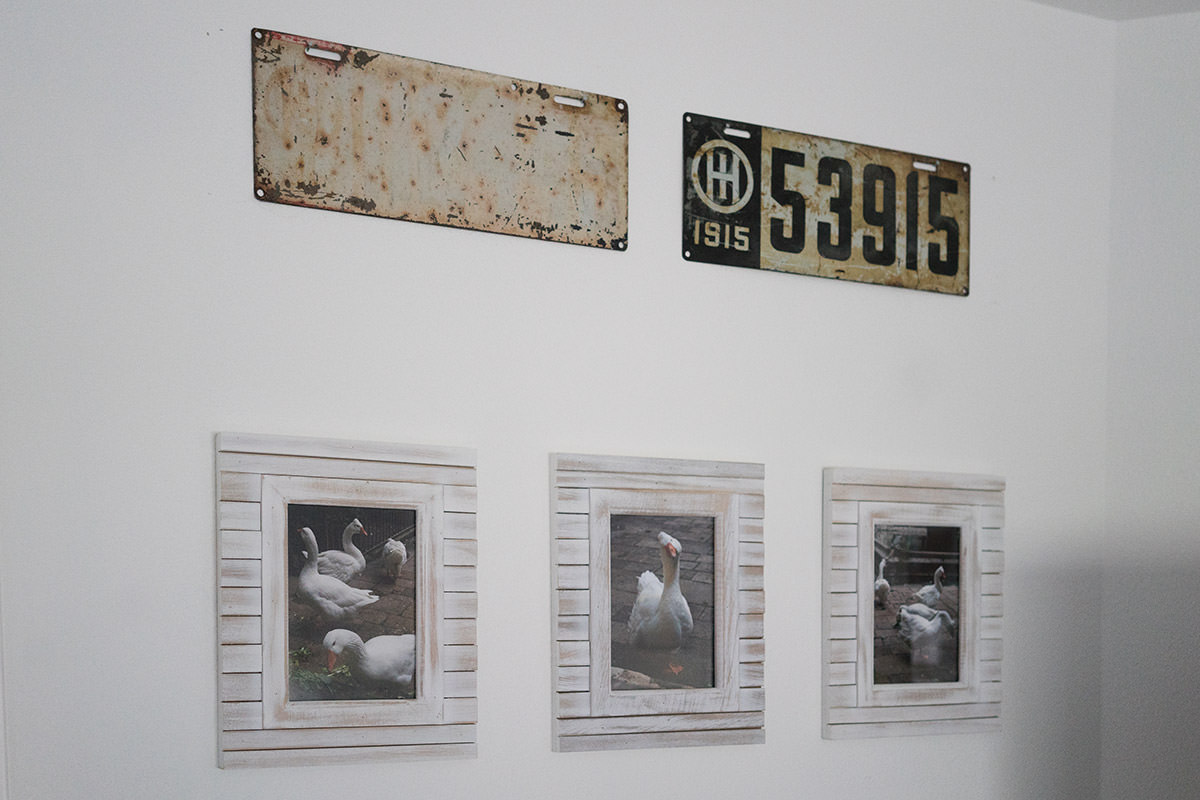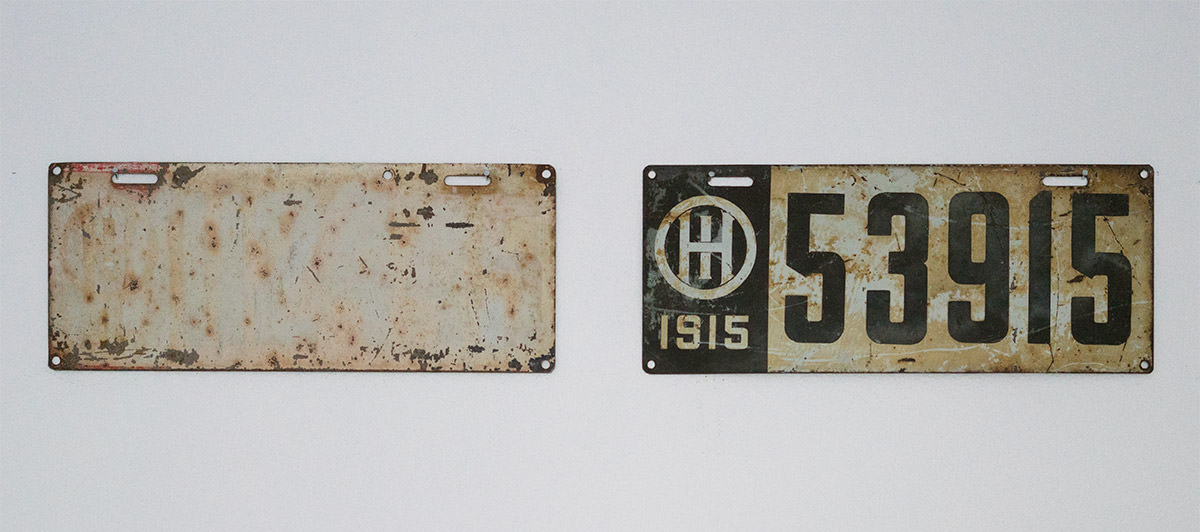 The main wall has my Diego Rivera print on it, which has rich reds in it, so I found a license plate to match that I could put it above the mirror on the same wall...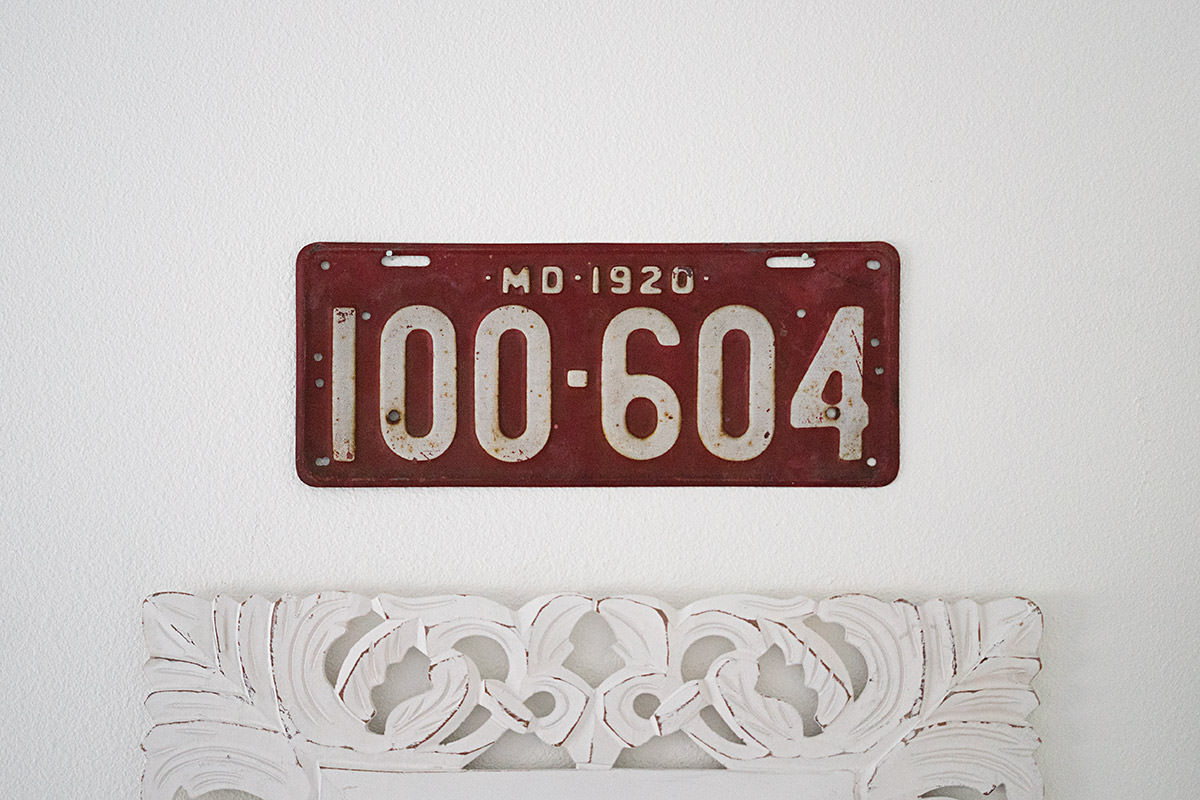 Overall, I'm really happy with the license plates. The only down-side to acquiring them is that all the coolest ones are also the most expensive.
Posted on April 14th, 2016

Welcome to Remodeling Week at Blogography!
I wanted some kind of "theme" with the decorative junk I wanted to add to my guest room, but no idea what that might be. Then, while trying to find the right rabbit for an image I was working on for Thrice Fiction magazine, I found myself knee-deep in bunnies and thought I'd give that a try.
Not bad at all.
I started on the nightstand with this cool ceramic bunny I found in Fred Meyer...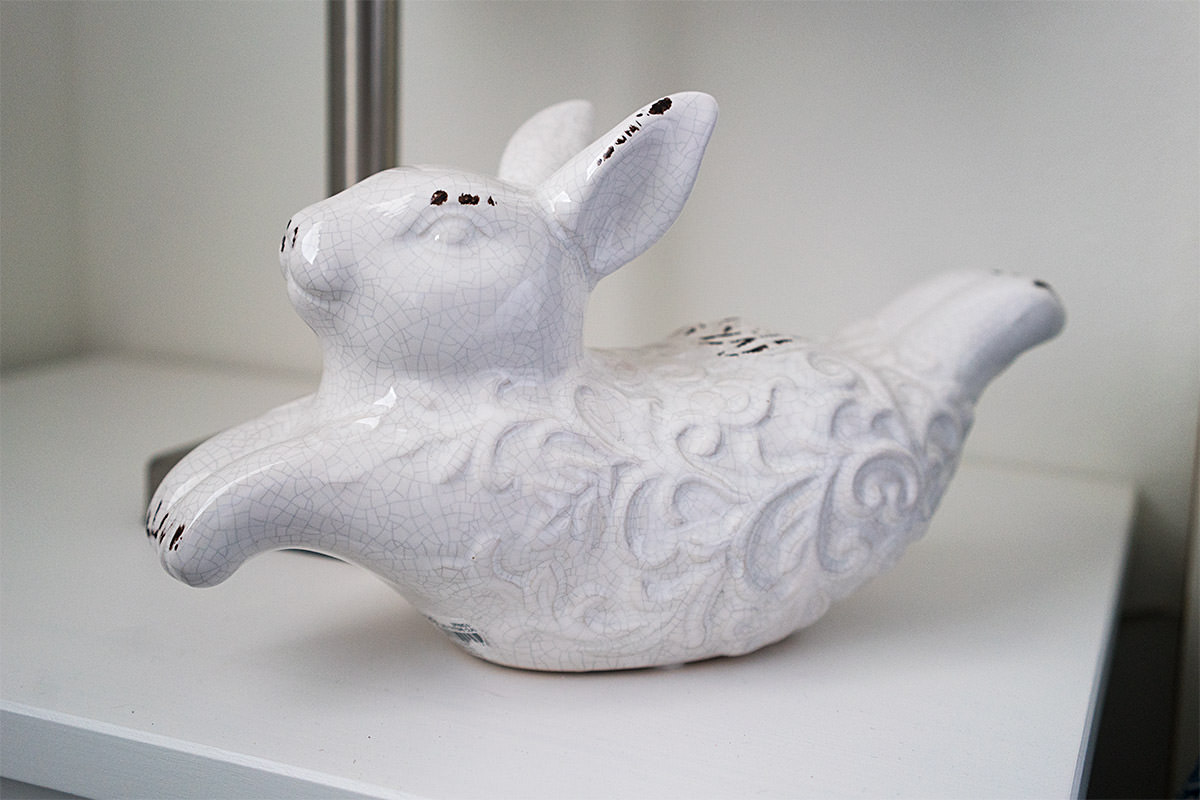 That didn't work for my Thrice project, so I found a smaller vintage bunny at an antique store which ended up on the opposite nightstand...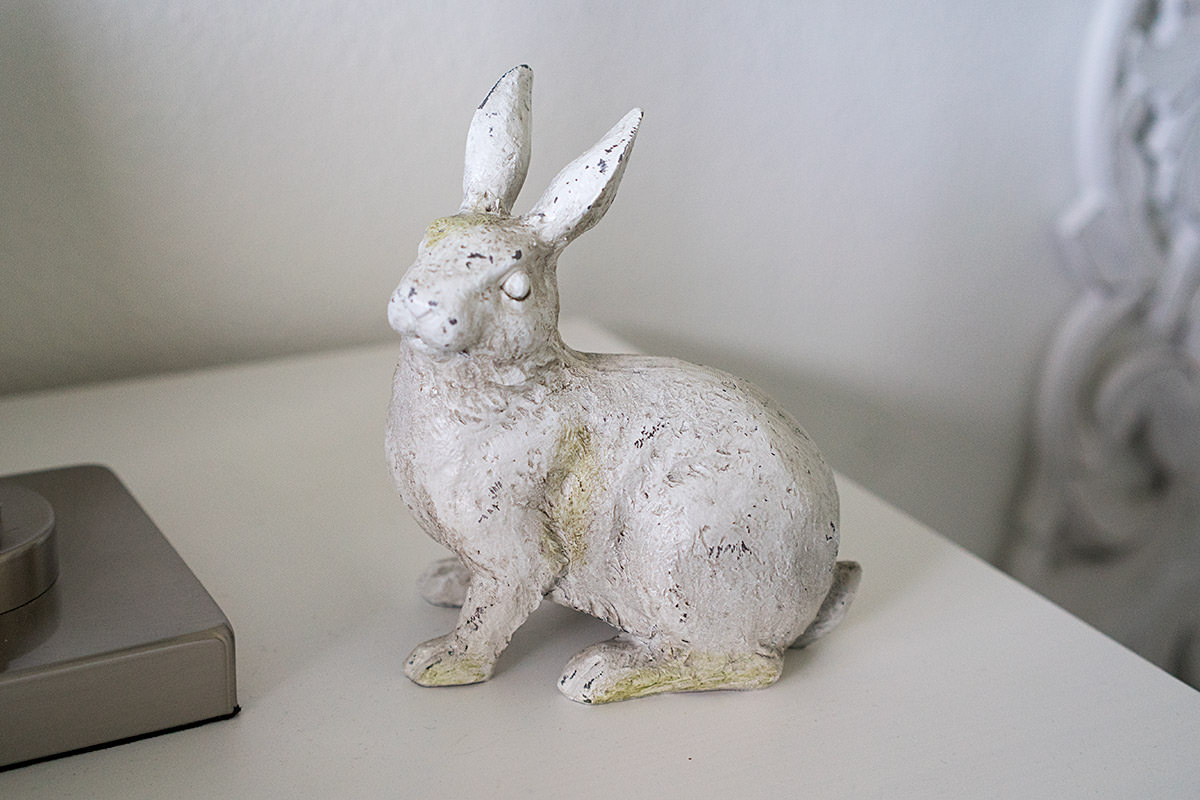 That rabbit didn't work either, so I found another antique store rabbit plus a tall fellow that was on sale at Pier One. They're on the dresser behind the television..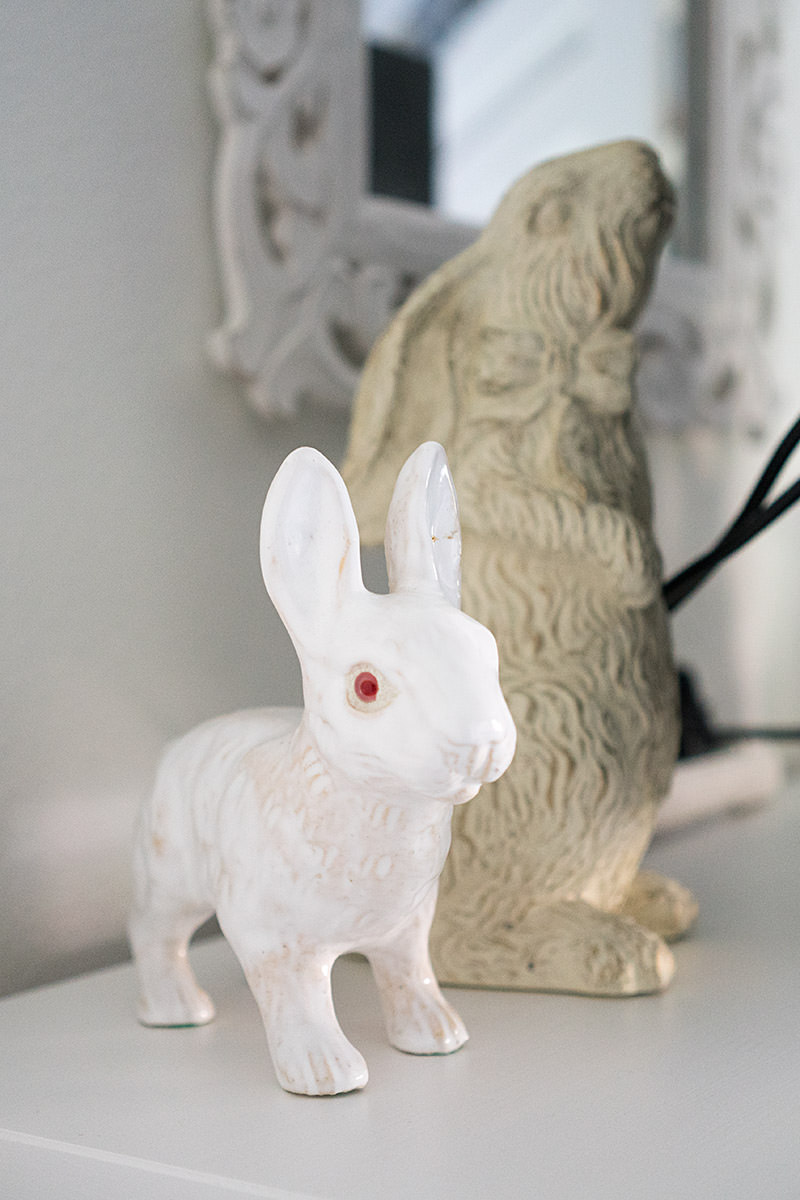 When neither of those rabbits worked, I finally struck gold with bunnies that did work. Those ended up on the other side of the television...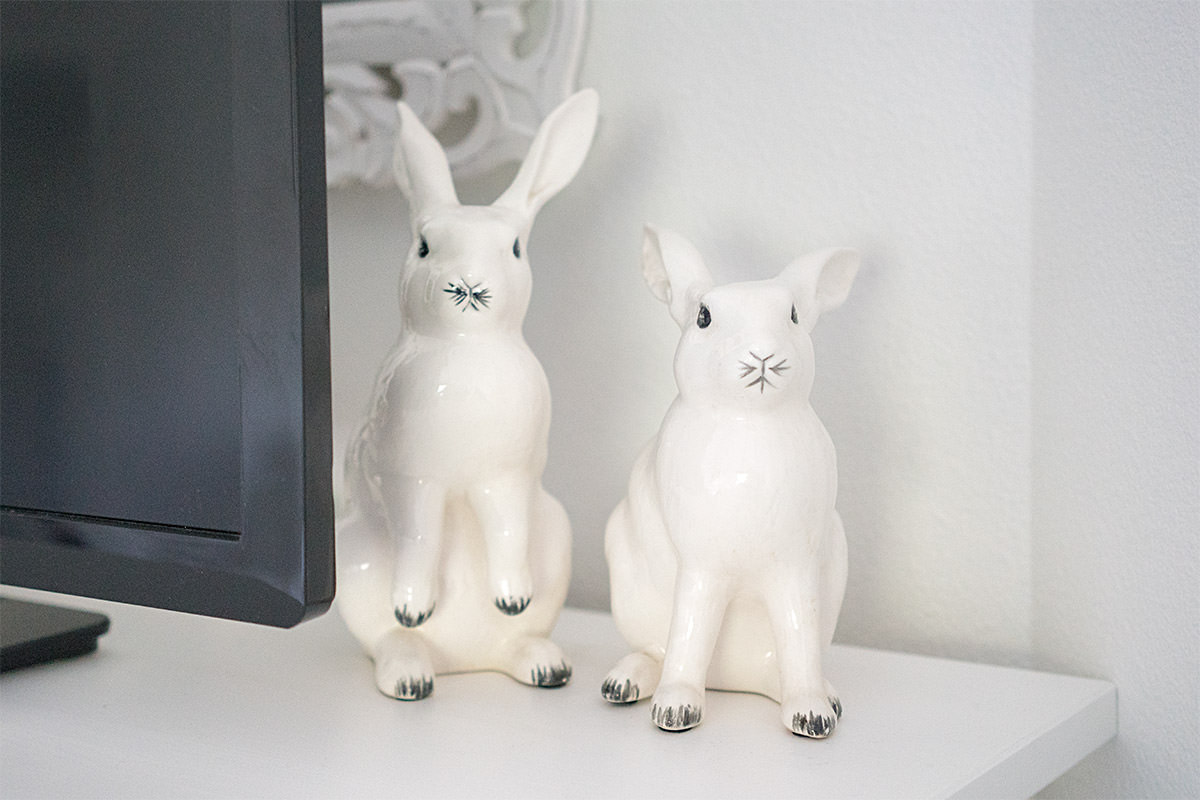 With all my rabbit decor needs met, I ended up buying a plush bunny for the bed to tie everything together...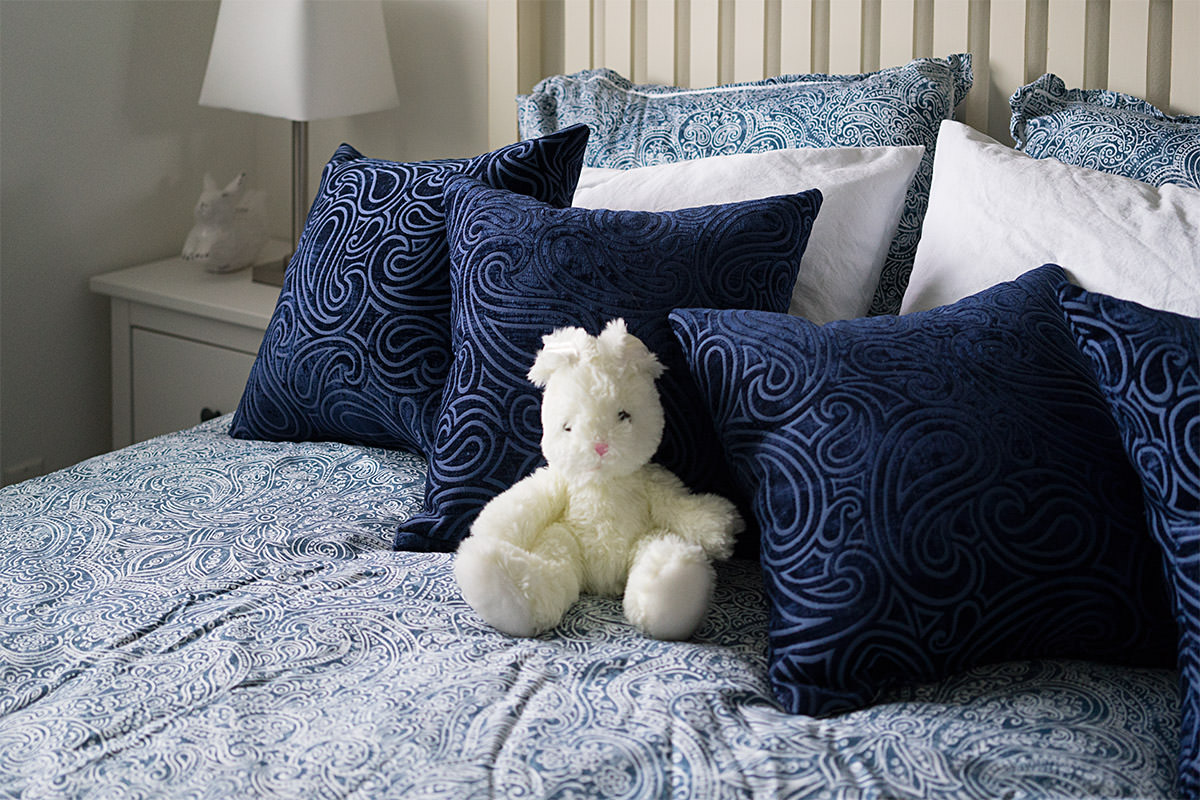 The cats like to attack the thing every chance they get...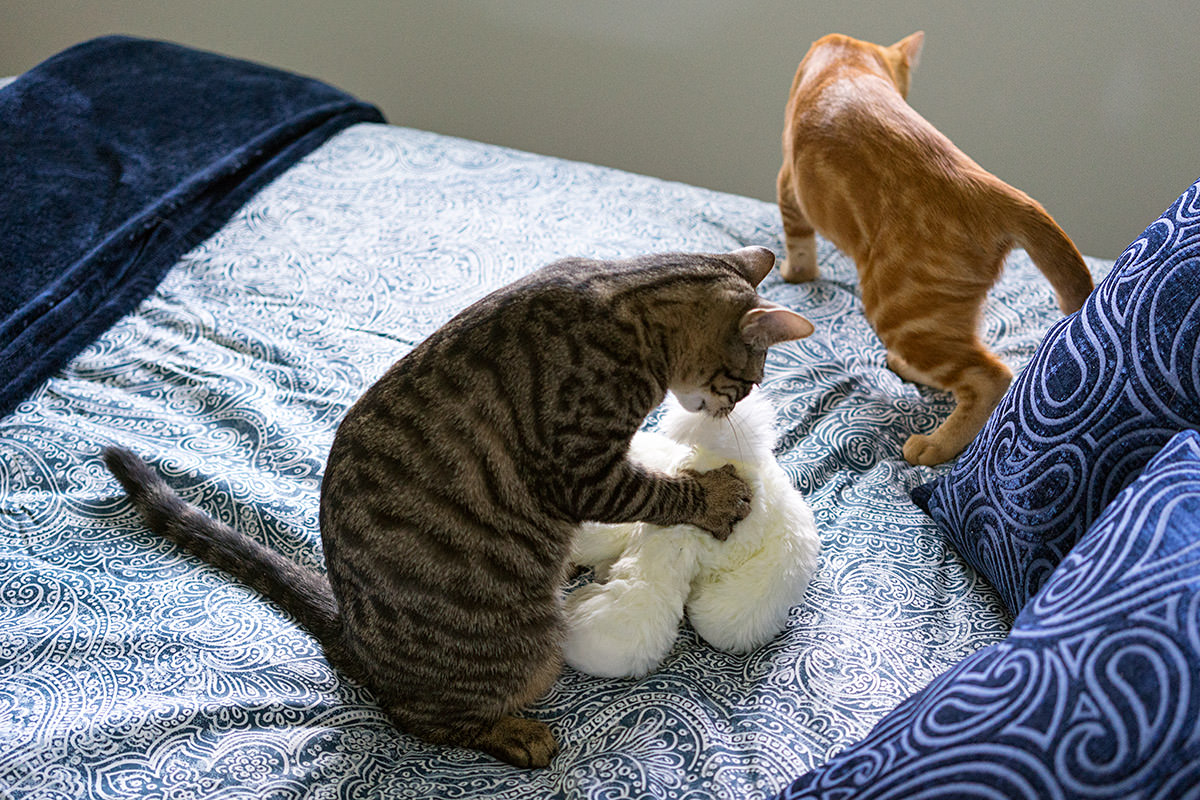 And that's it for bunny rabbits.
Posted on April 13th, 2016

Welcome to Remodeling Week at Blogography!
Rooms are made more homey and comfortable by adding some art and photos to the wall, so I worked hard to find picture frames that were interesting, but not overpowering. Shades of white that would work with the walls and furniture seemed the way to go.
I started with a vertical frame to fill the space between the dresser and the closet. Pier One (my favorite place for frames) had an option in cream that was perfect. I filled it with pictures of my kittens...
The centerpiece of the room is one of my favorite paintings, The Flower Bearer by Diego Rivera. It has a black frame, so it stands out from everything else in the room...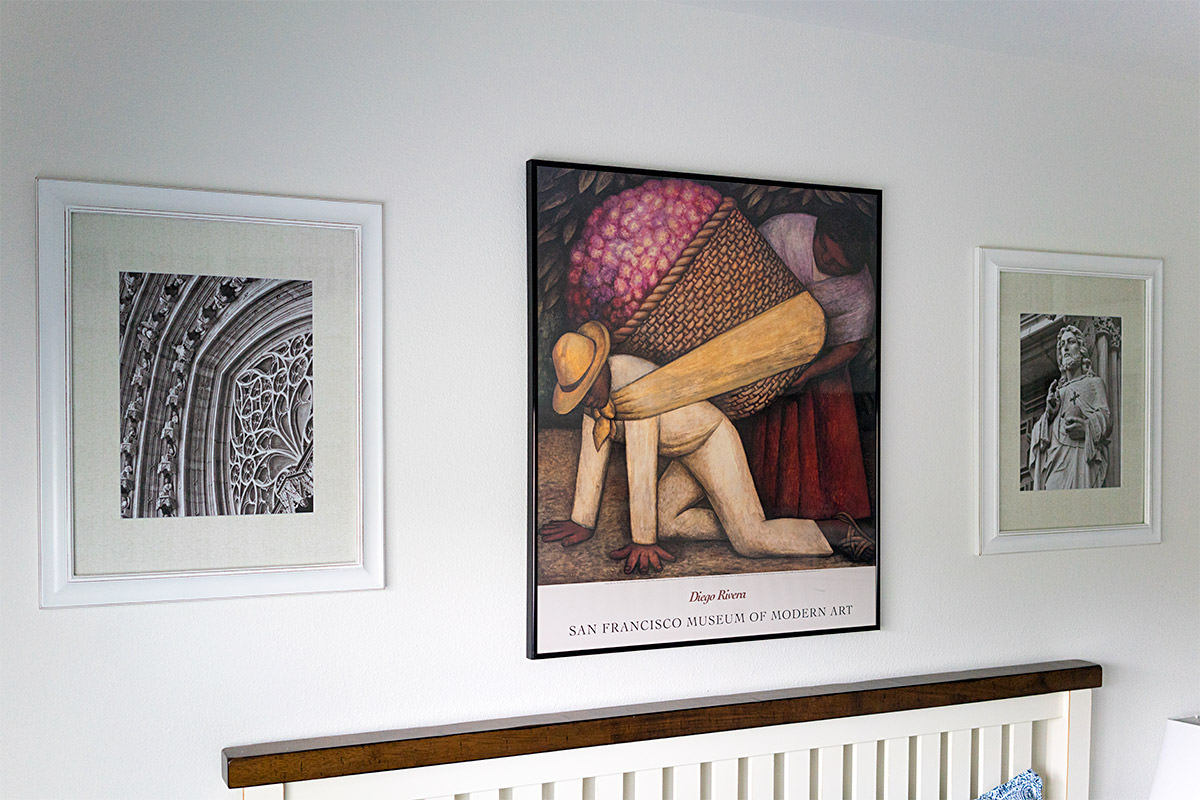 The two photos on the sides I took while visiting Barcelona Cathedral in Spain. The frames I found at Fred Meyer had cream mats to play off the cream vertical frame on the opposite wall...
To tie into the Diego Rivera, I had two postcards also by Rivera framed on both sides of the window. I think they came from Pier One as well...
To tie into the photos of Barcelona Cathedral, I framed photos of the geese in their courtyard on the opposite wall...

The frames I found at Target, and are my favorite in the room...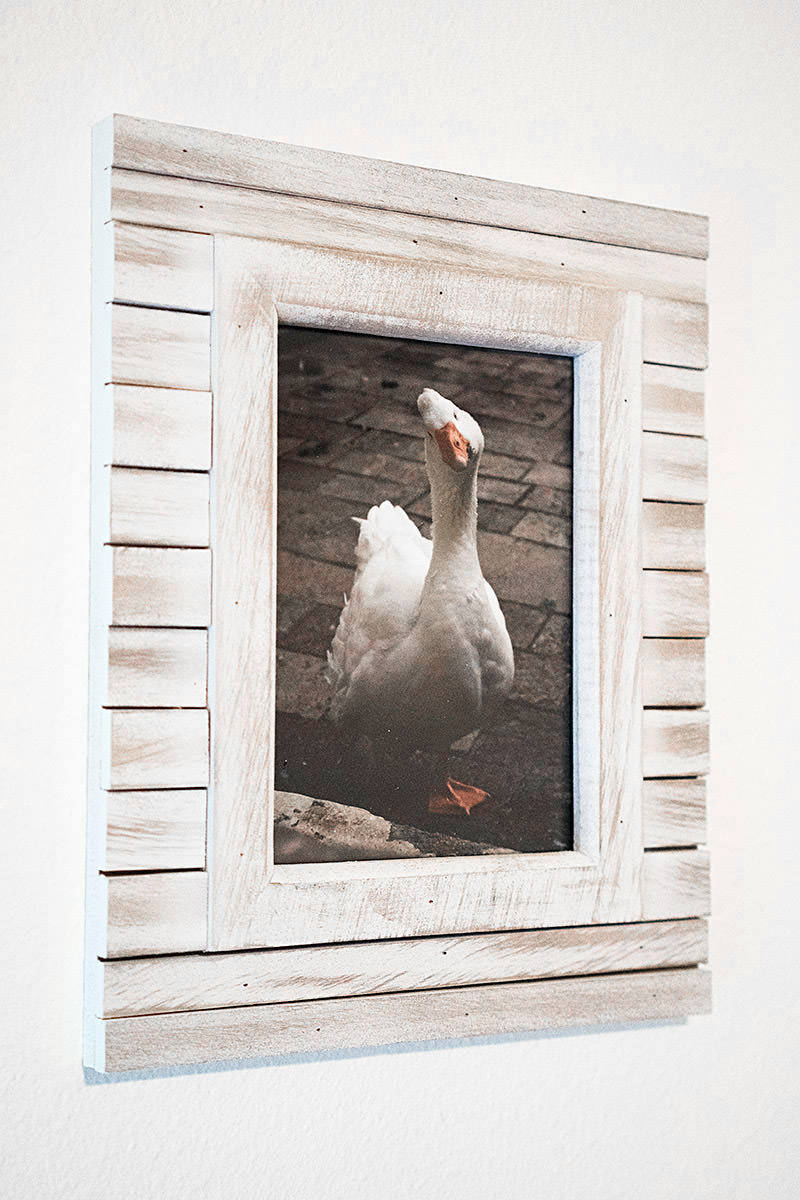 I needed a full-length mirror for my guests to get dressed in, and I found an interesting one at Fred Meyer. It was pricey, but the detail was pretty cool...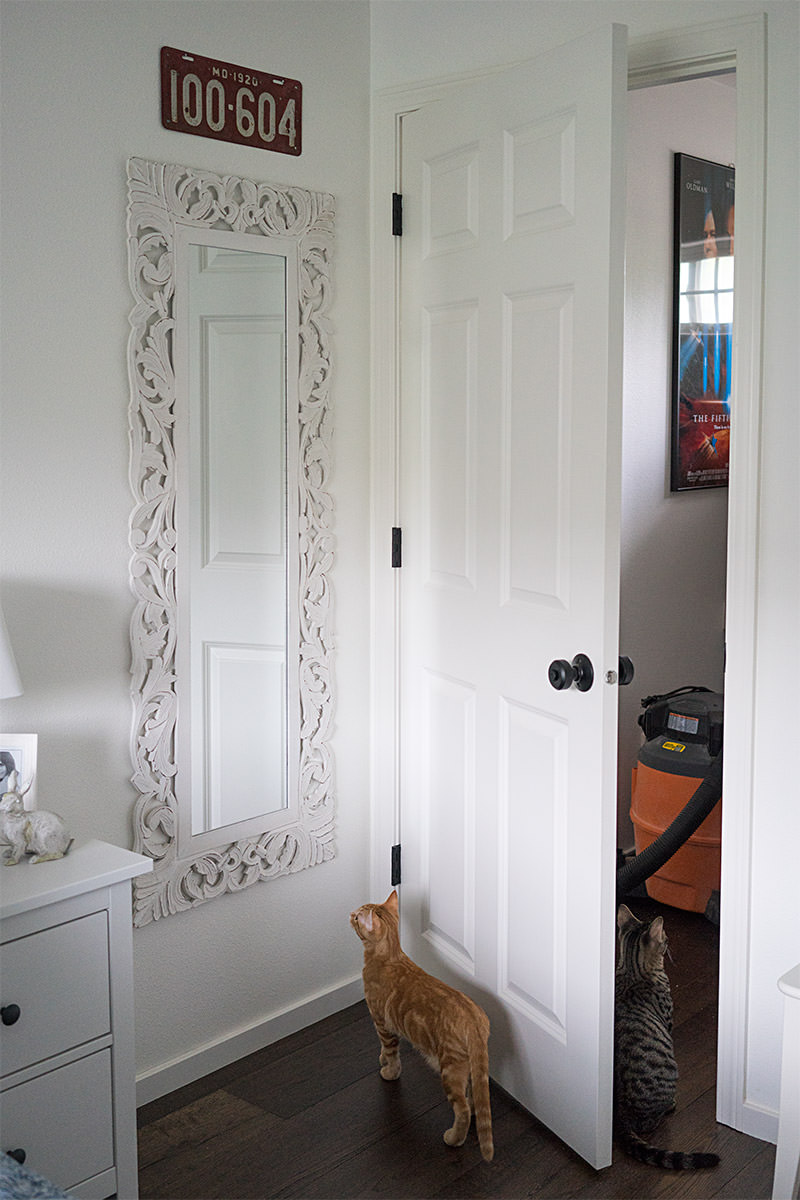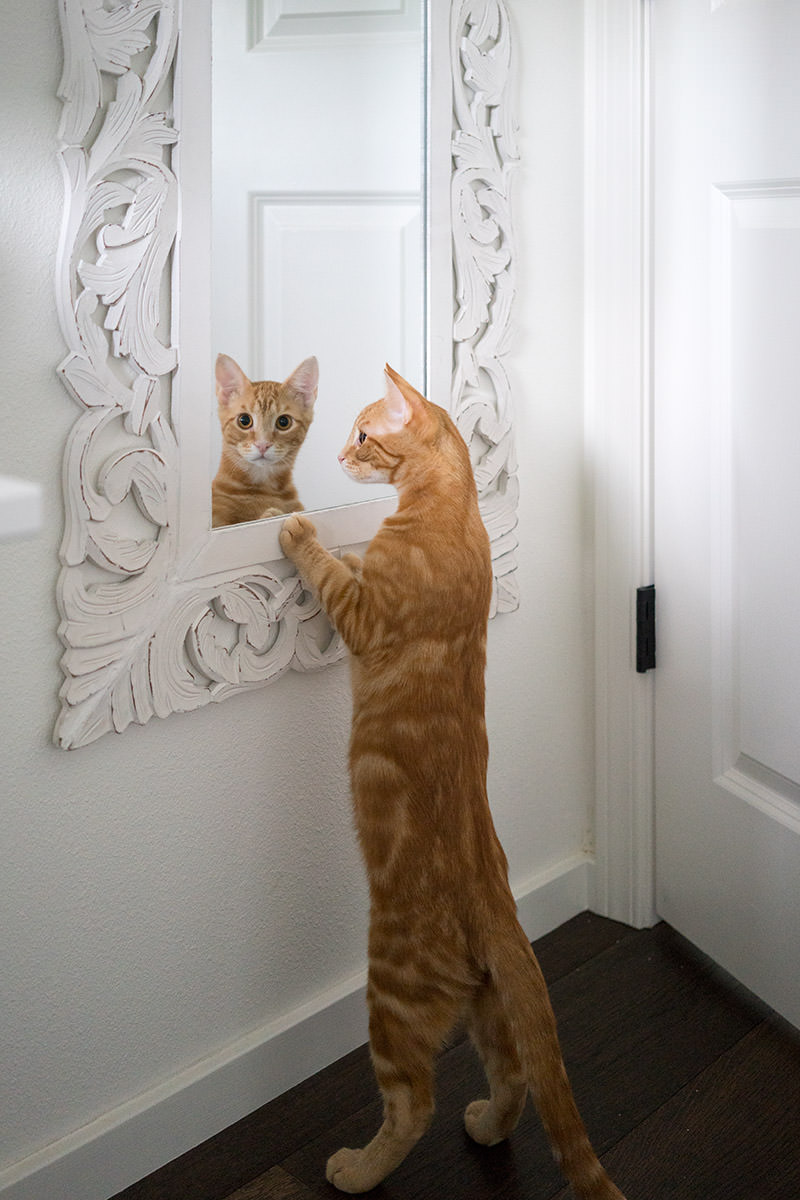 The wall with the TV was boring and needed something, but I didn't want anything too distracting, so I got the matching mirror from Freddy's to stick back there...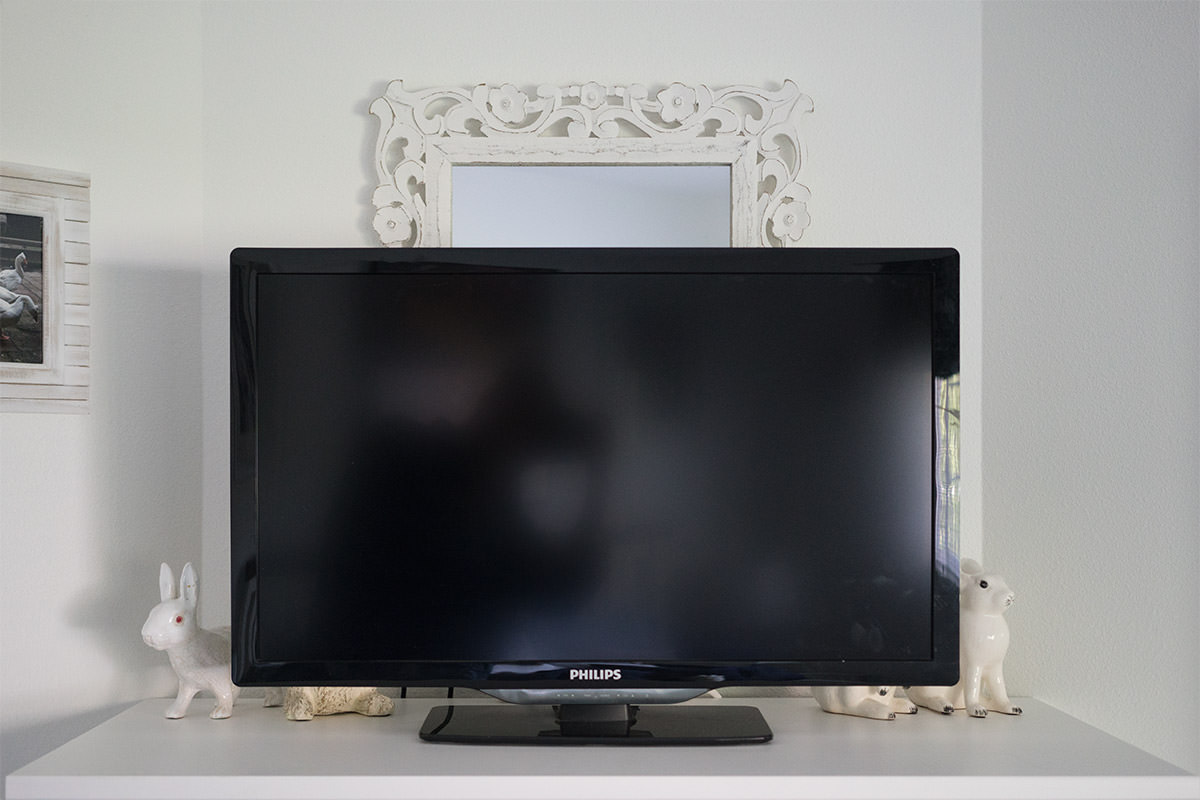 And... enough with the expensive wall decorations.
Posted on April 12th, 2016

Welcome to Remodeling Week at Blogography!
After the guest room furniture had been purchased, the next step was to figure out what I wanted to do for the textiles. Eventually I settled on a Liz Claiborne bed set that had a pattern I didn't hate. The matching window valance was incredibly expensive, so I found a Liz Claiborne solid that matched (I needed two because the window is apparently wider than average)...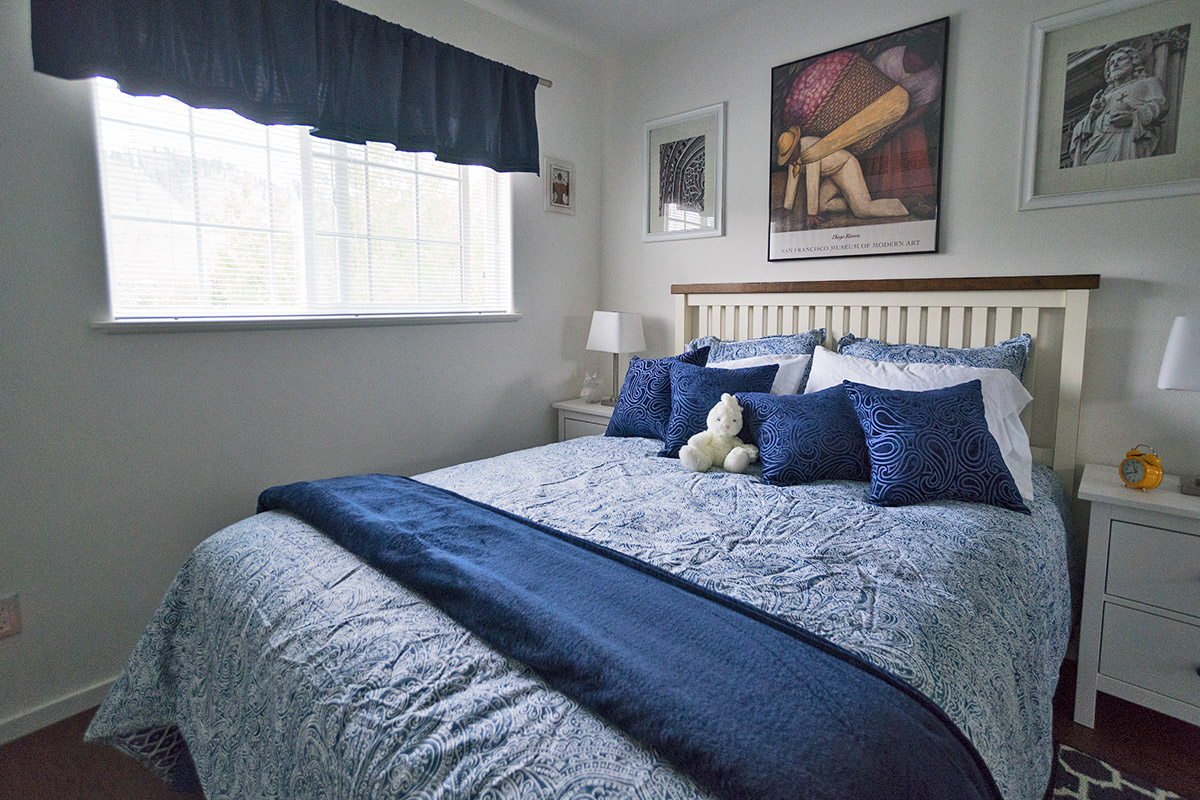 The pattern on the bed cover is called "Arabesque" but it's reversible to a paisley kind of design I liked better...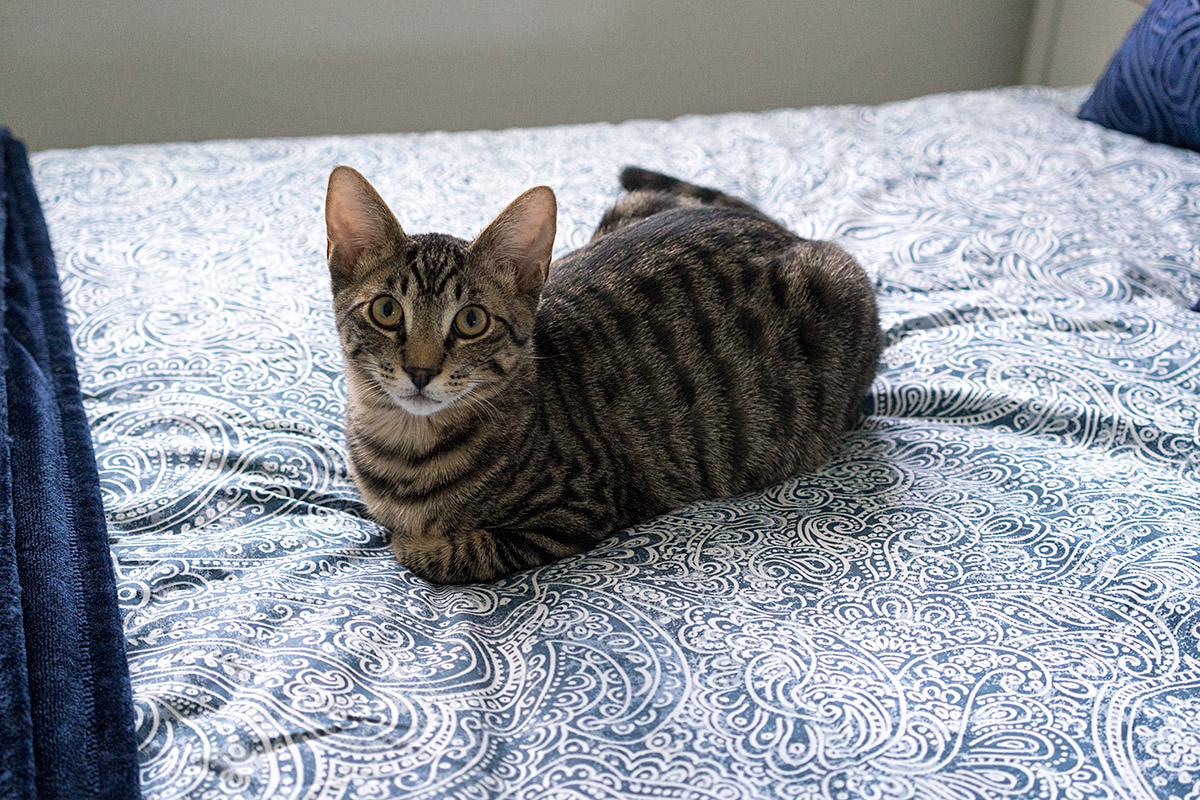 The bed looked a little plain, so I took a cue from my sister's guest room and added pillows. I found them on close-out at Fred Meyer, and they worked perfectly...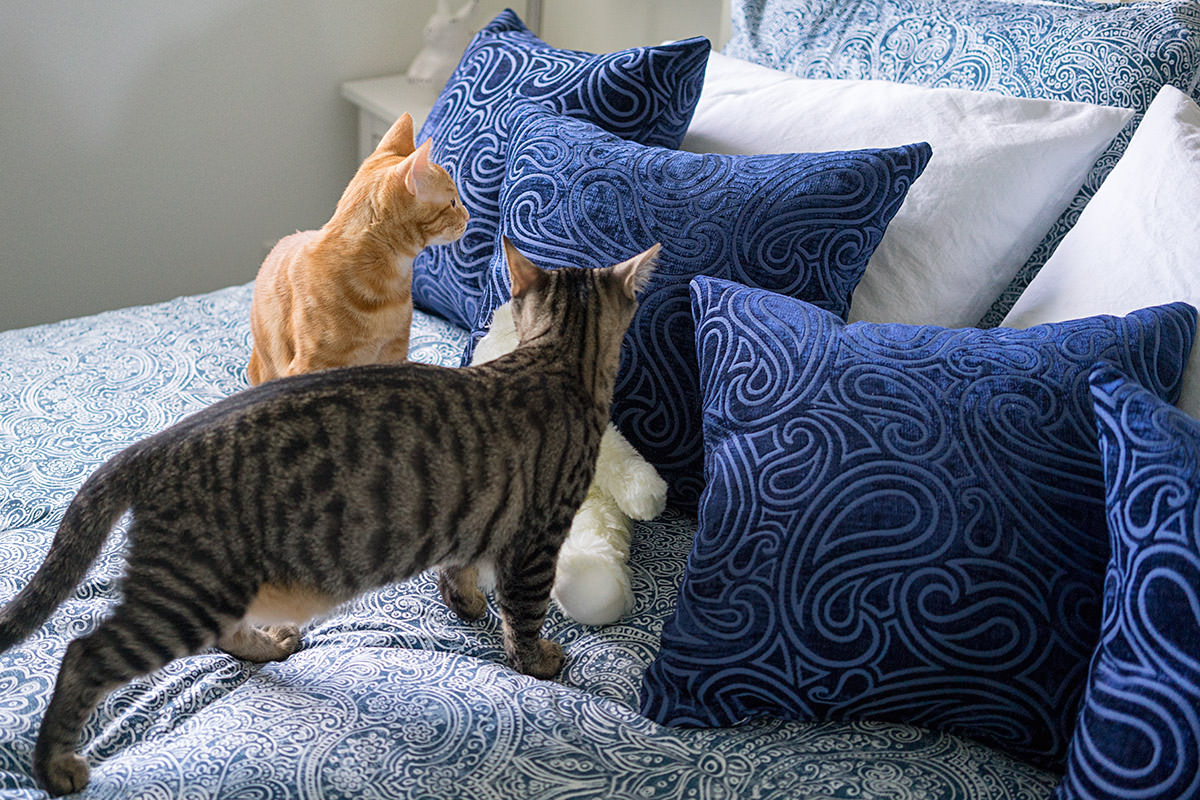 When it came to the rugs, this time I went back to the "Arabesque" pattern for inspiration and found some nice-looking options at Shopko that weren't matchy-matchy blue, but a darker grey-blue...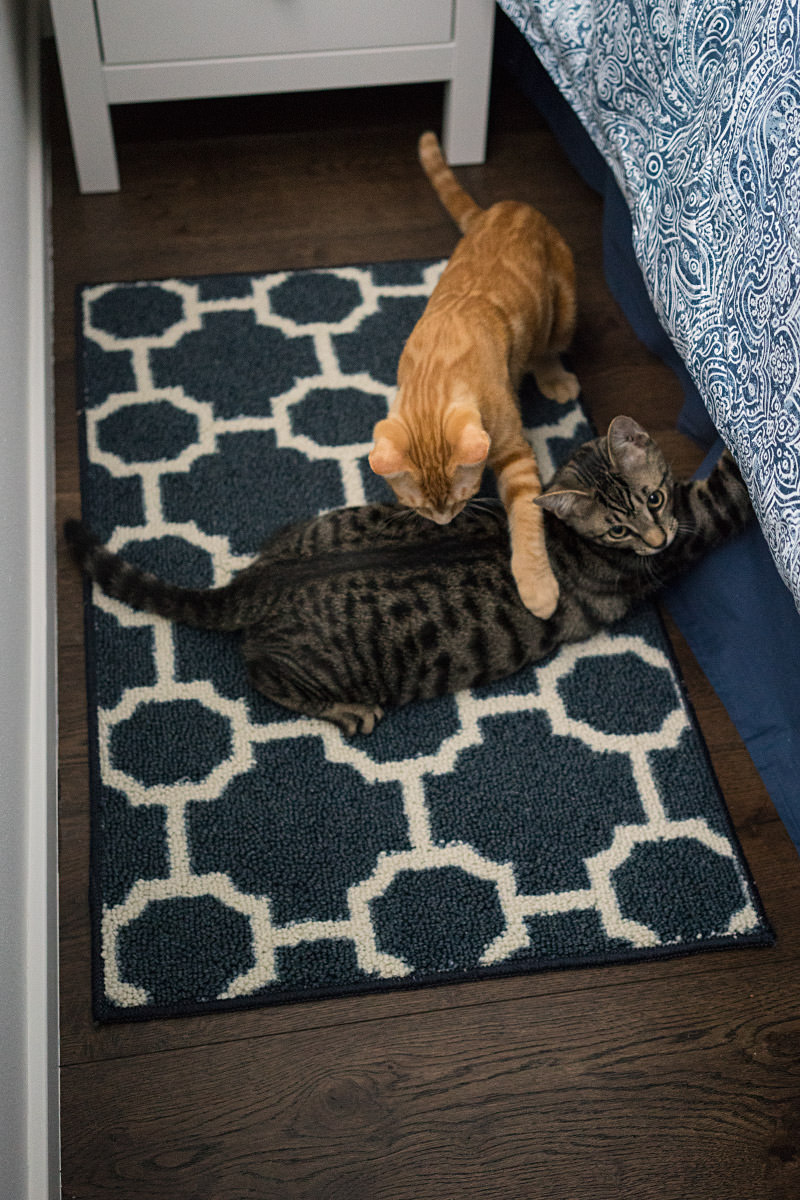 Yes, the cats decided to get in the way everywhere I pointed the camera. The hams.
In addition to the blanket across the base of the bed, I bought a comforter and some cotton blankets in case my guests get cold. IKEA has nice "under-bed" scooters that work perfectly to store them...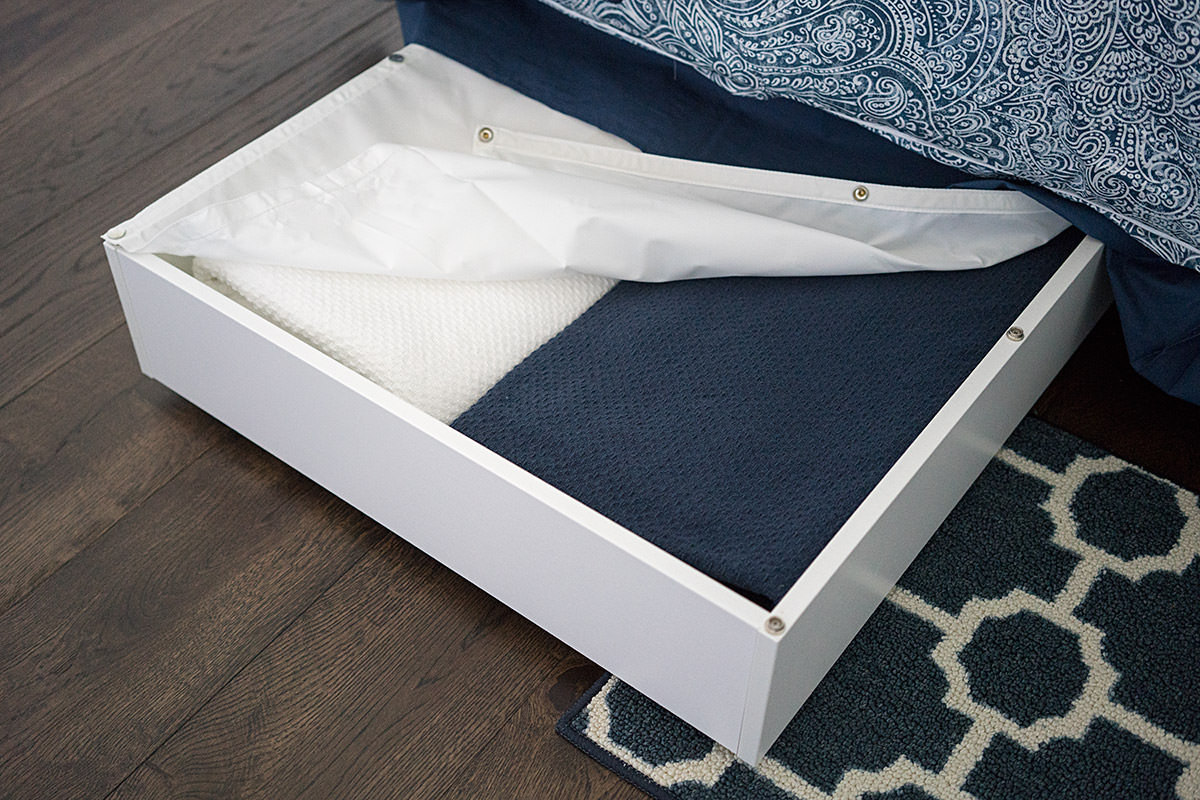 And that's that for textiles.
Posted on April 11th, 2016

Welcome to Remodeling Week at Blogography!
This time, we'll be taking a look at my guest-room remodel, which didn't require moving walls or tearing anything apart or anything extreme like that, so it was actually the easiest to work through. Kinda. The problem being that I've never had a guest room before, so it required all new furniture and stuff. In the end, the guest room actually ended up being one of the pricier expenditures I had.
The room itself is oddly-shaped, has one off-center window, and is kinda small, which left me limited options. I wanted a queen-sized bed, and it couldn't go under the window because I'd only have room for one nightstand, and I wanted two. So here we are...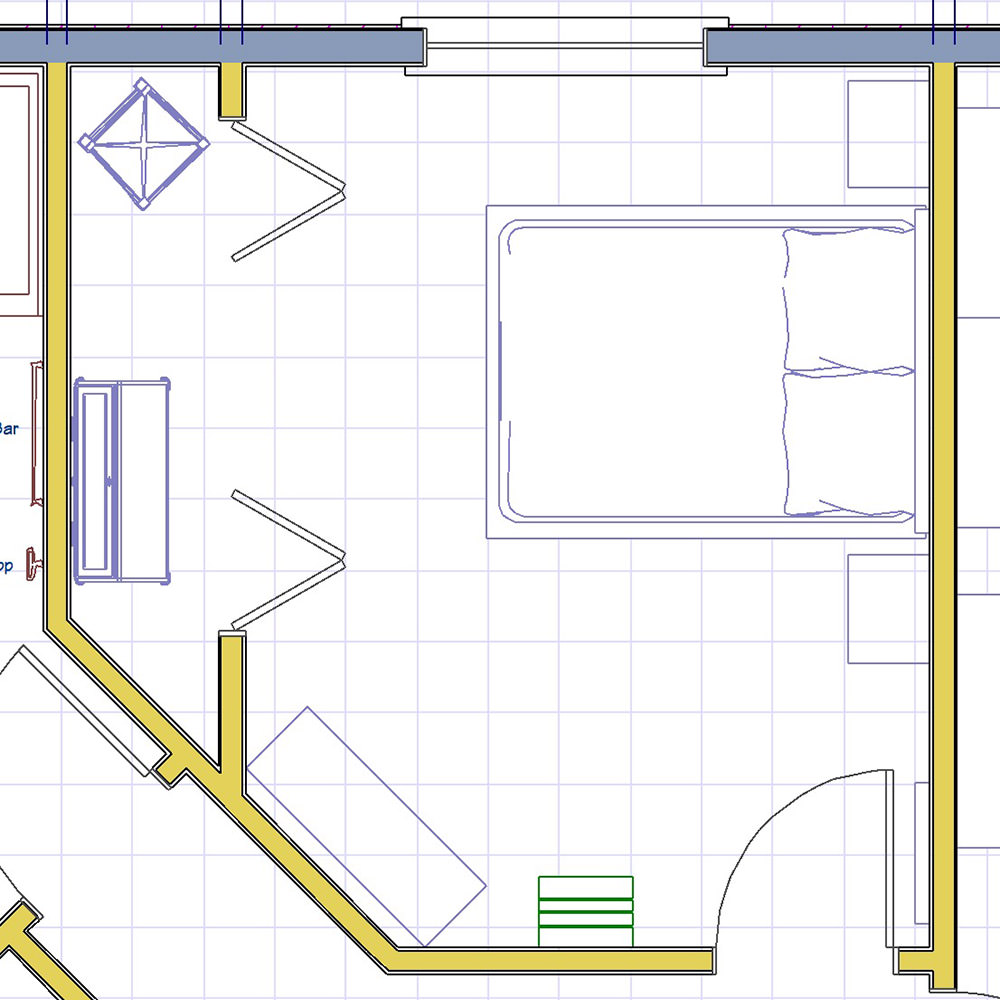 The overall color theme for the room is white. In order to make things interesting, I went with as many shades and style of white as I could find. Then added dark blue to keep it from looking stark.
And now... on to the furniture...
The bed is just a metal frame because I didn't have room for anything extravagant... also, I wanted to put the money where it counted by getting a great mattress (Bellagio at Home by Serta). I did try and dress it up a bit with a pricey headboard from Target though...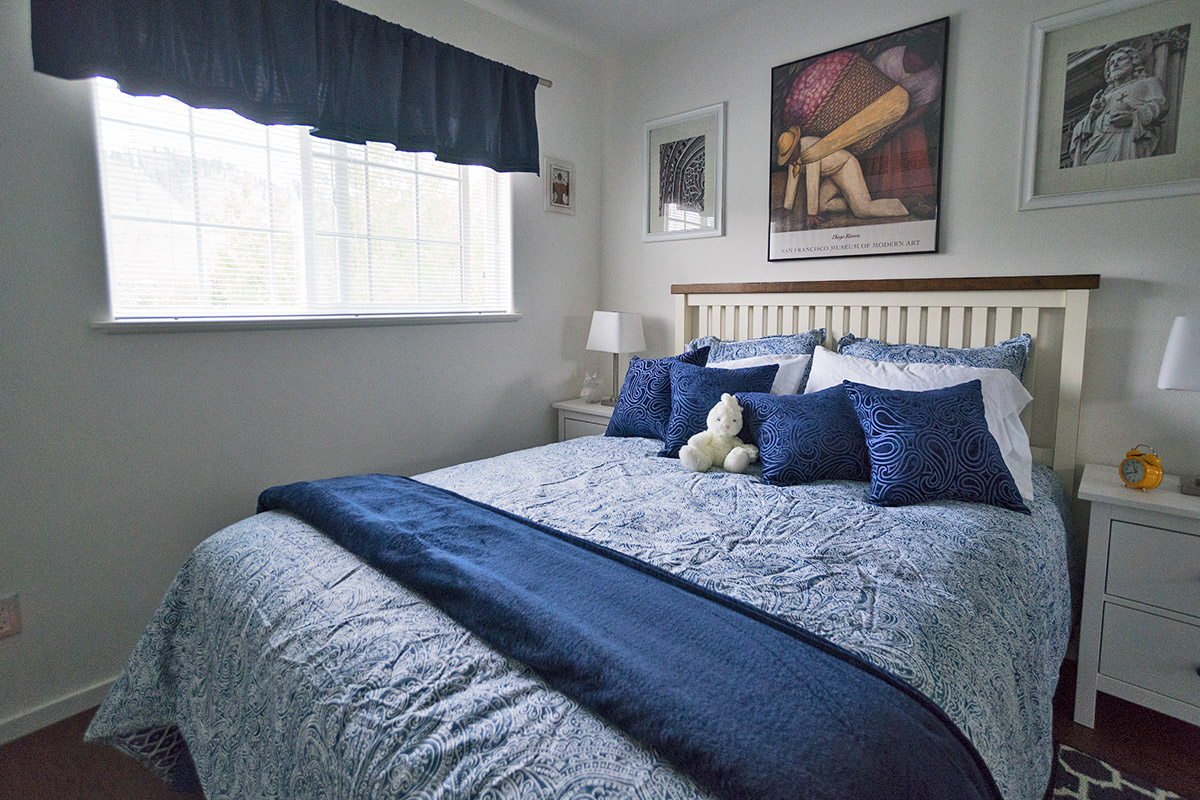 Nightstands are IKEA. Originally I didn't want drawers, but ultimately thought they'd be less effort to dust than shelves...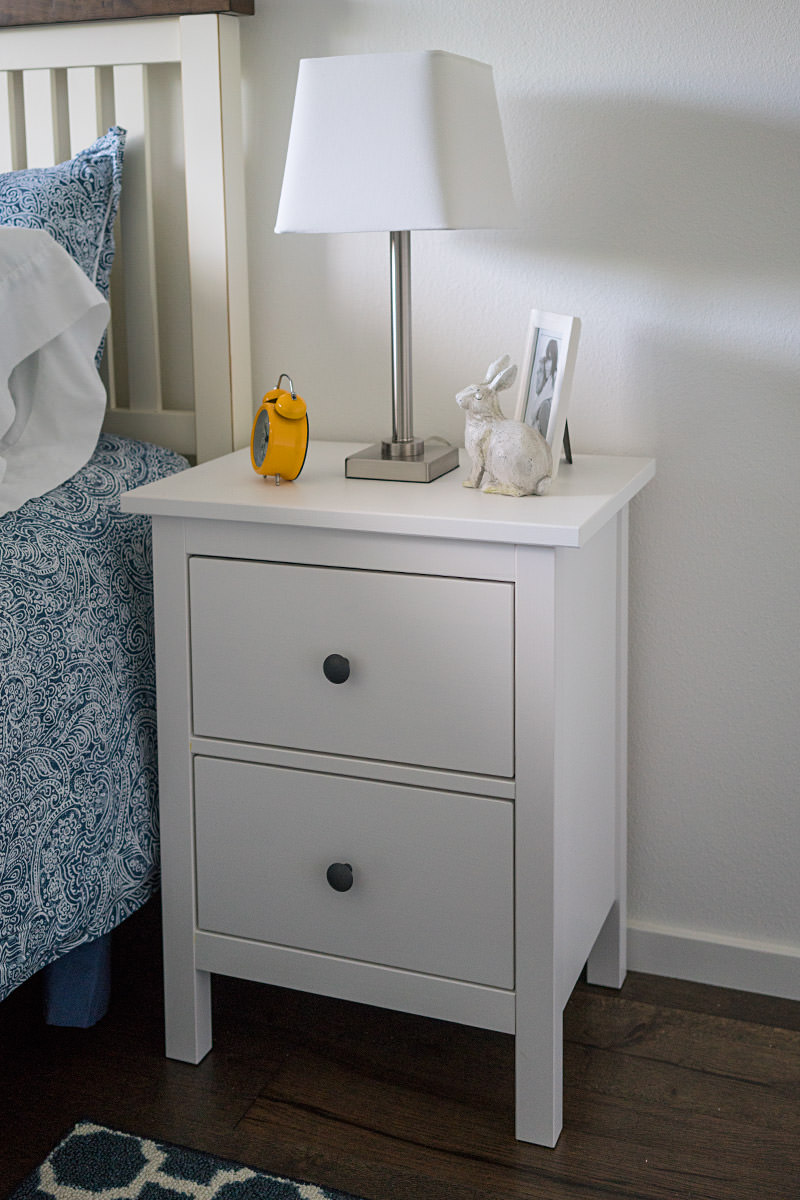 Originally, I wanted to have a desk and chair in the room with the dresser in the closet. But the desk wasn't tall enough that both people could see the television while laying in bed, so I swapped them around, which works really great. Except there's no outlet in the closet, so I mounted an extension cord to a hook on the side of the desk. Both desk and chair are IKEA...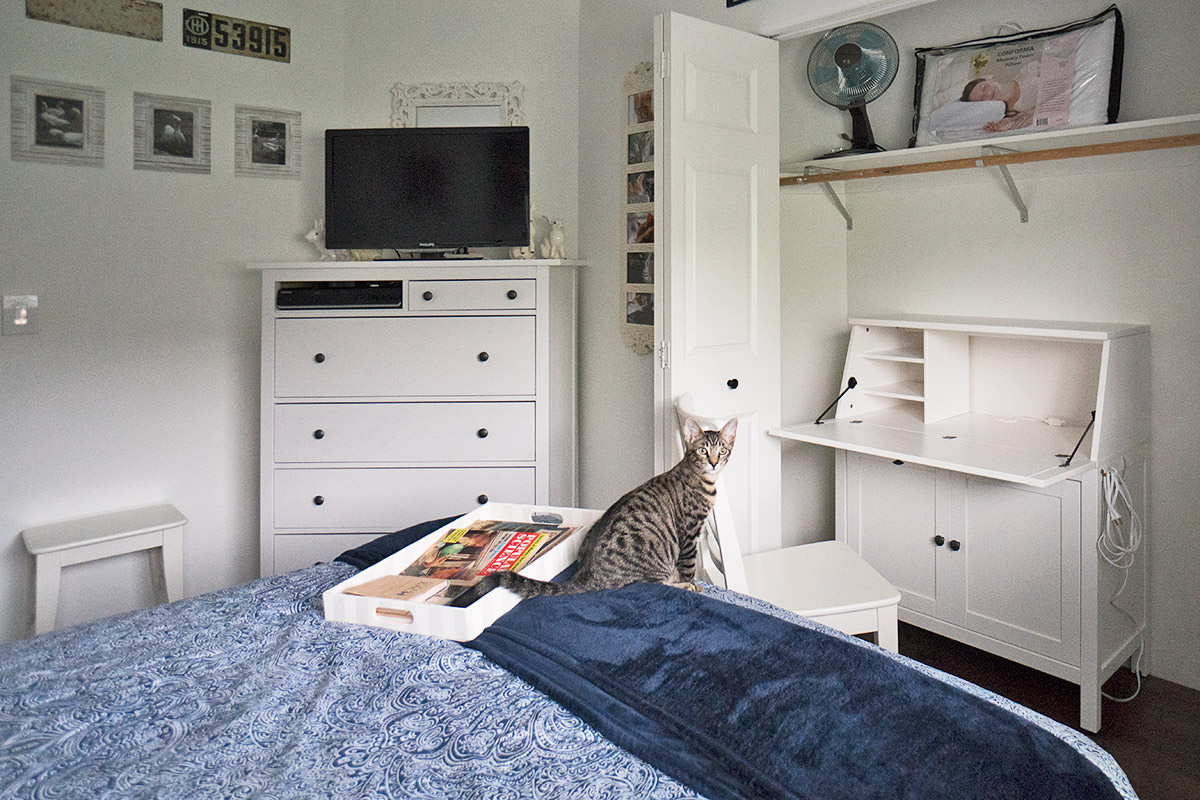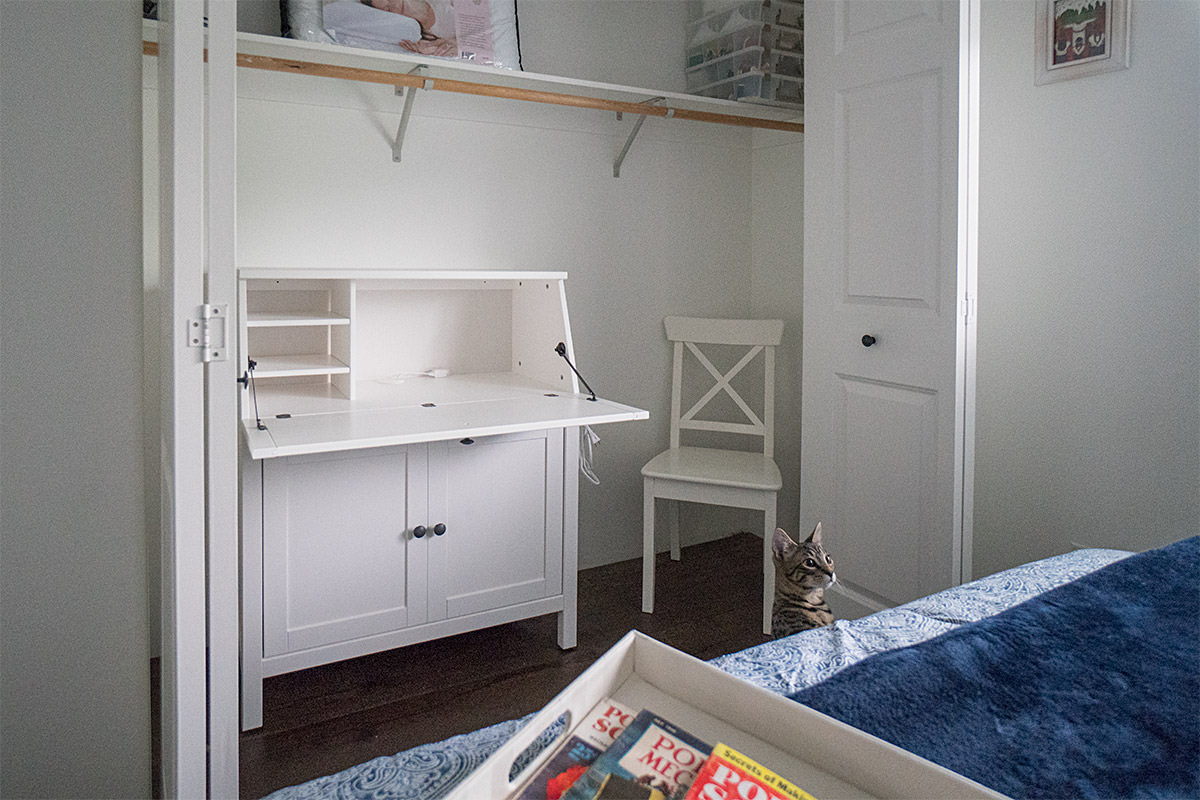 I had the chair by the door, but it looked like it would be easily tripped over, so I put it with the desk in the closet and bought an IKEA stool there...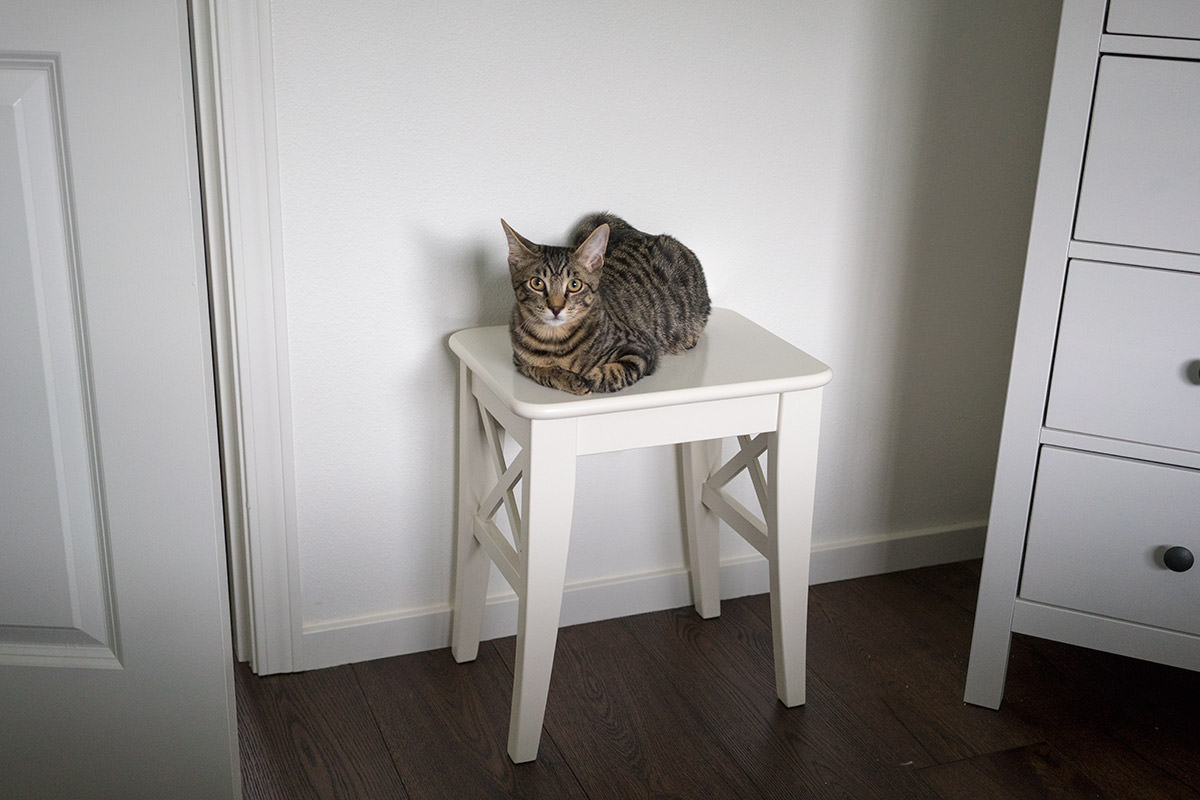 I should mention that I don't usually allow cats in this room in case my guests have allergies or something... but the minute they hear the door open, they run to get in. It's apparently their favorite room in the house. Probably because it's the one place they can't normally go.
Meanwhile, back at the dresser...
The television is at the perfect height on top of the dresser, so adding the DVD player underneath wasn't working. I decided to remove one of the small drawers and see if I could make a space. I started by attaching some wood strips to the center support, then secured them to the side of the dresser...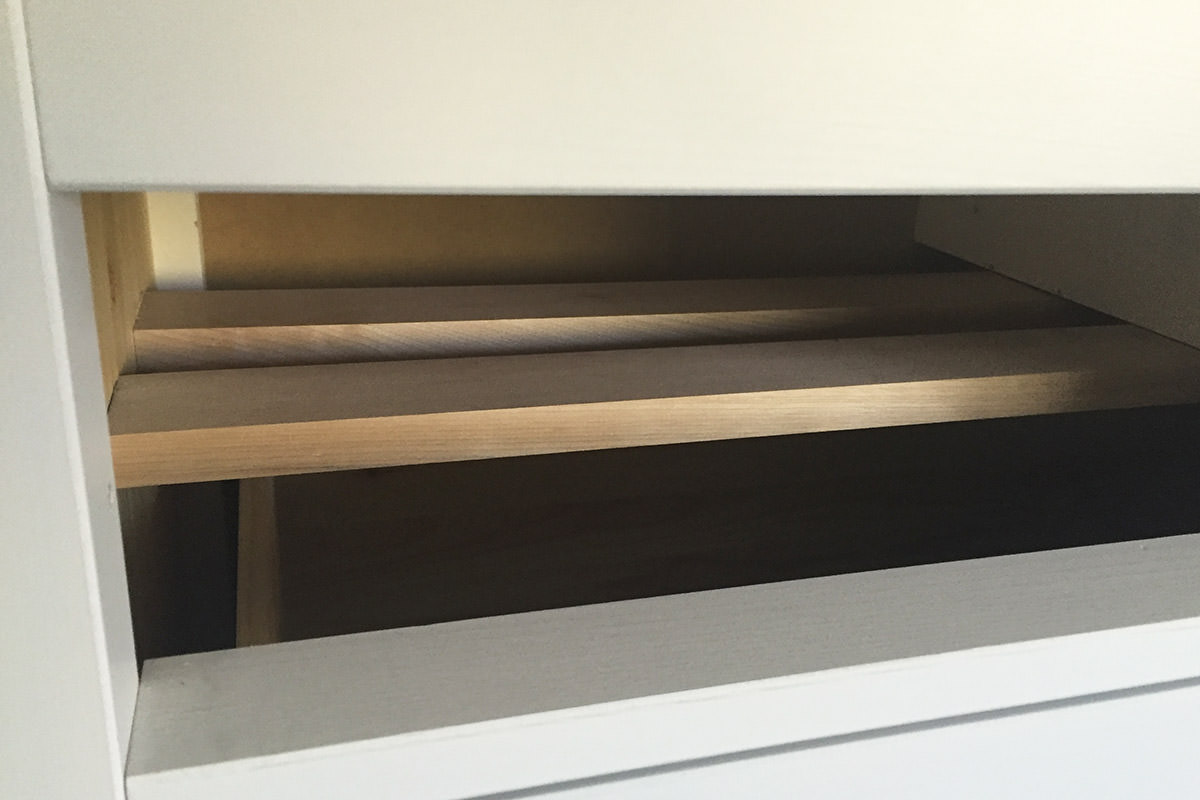 Then I whitewashed a thin piece of wood to match and secured it to the strips with carpet tape...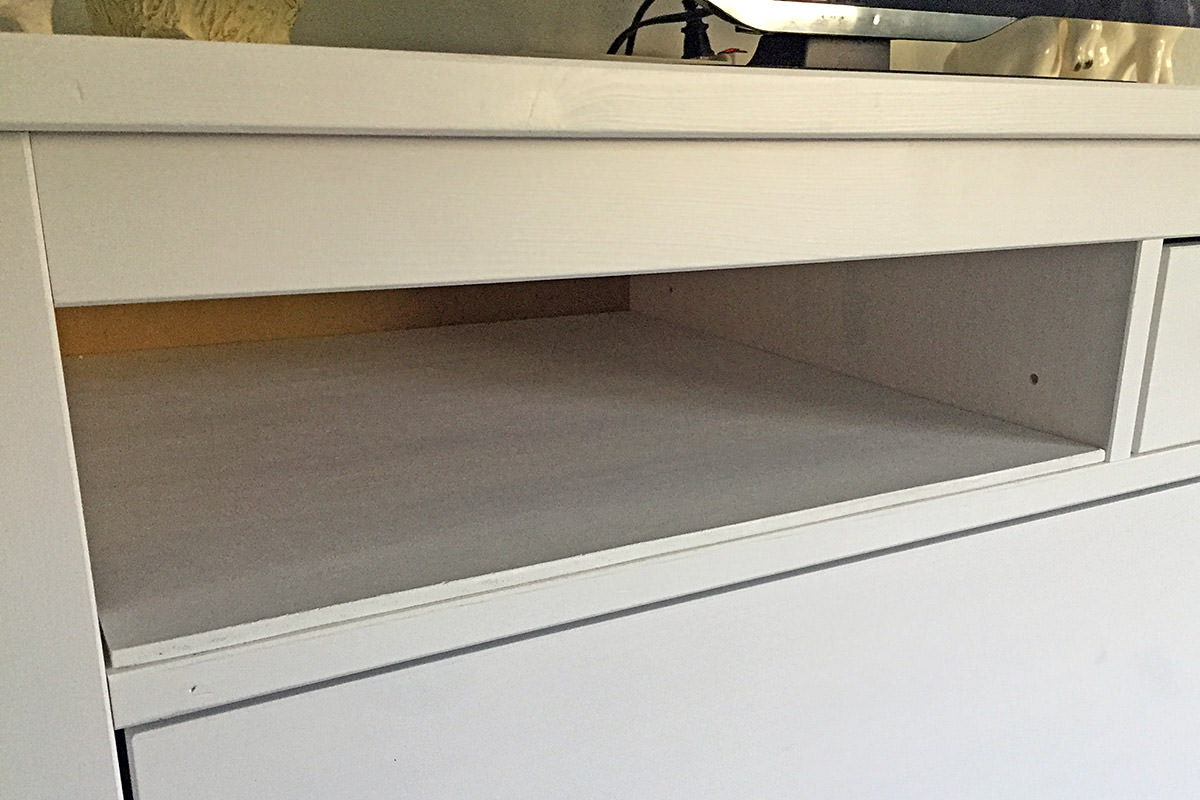 After drilling a hole in the back of the dresser for the cords to pass through, the DVD player (and AppleTV) fit perfectly...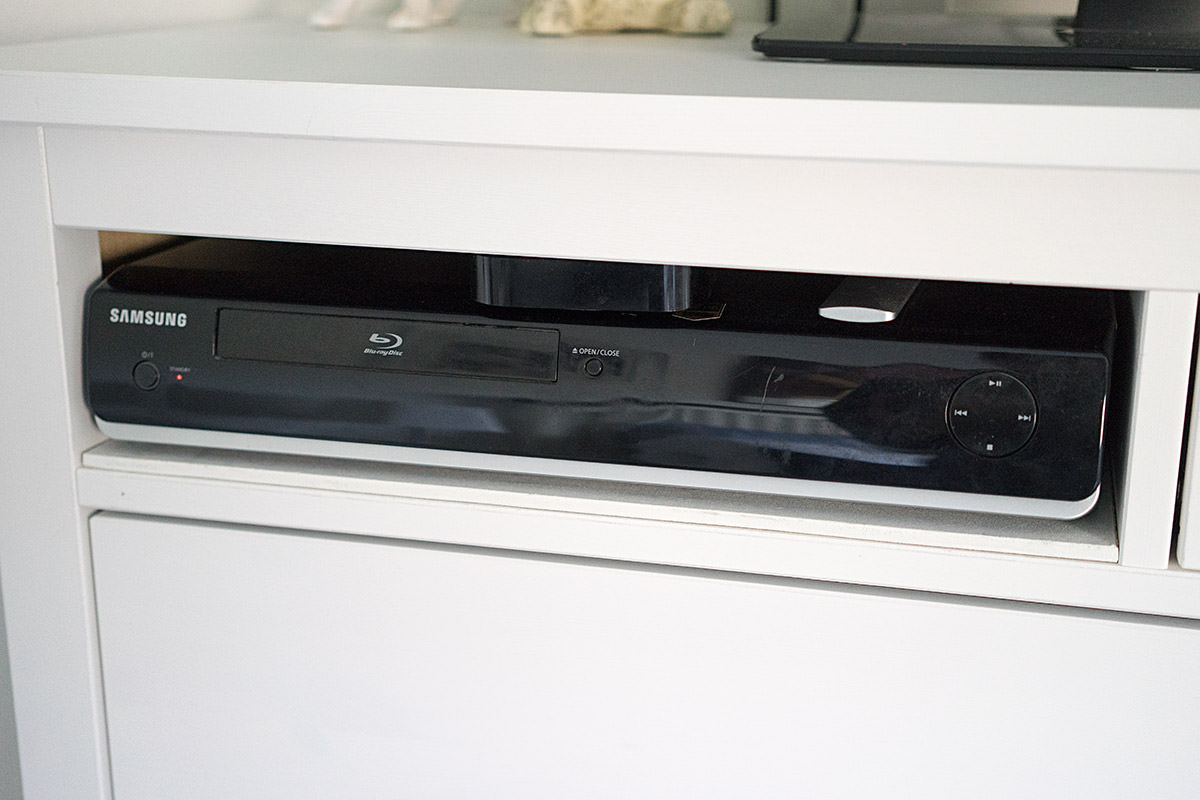 And... that's it for furniture. Thank you, IKEA.
Posted on January 8th, 2016

Welcome to the fourth installment of Things I Bought Week, showcasing stuff that I recently purchased and what I think of what I got for my hard earned money!
What did I buy this time? The Hunter 1.2 gal. Ultrasonic Cool Mist Humidifier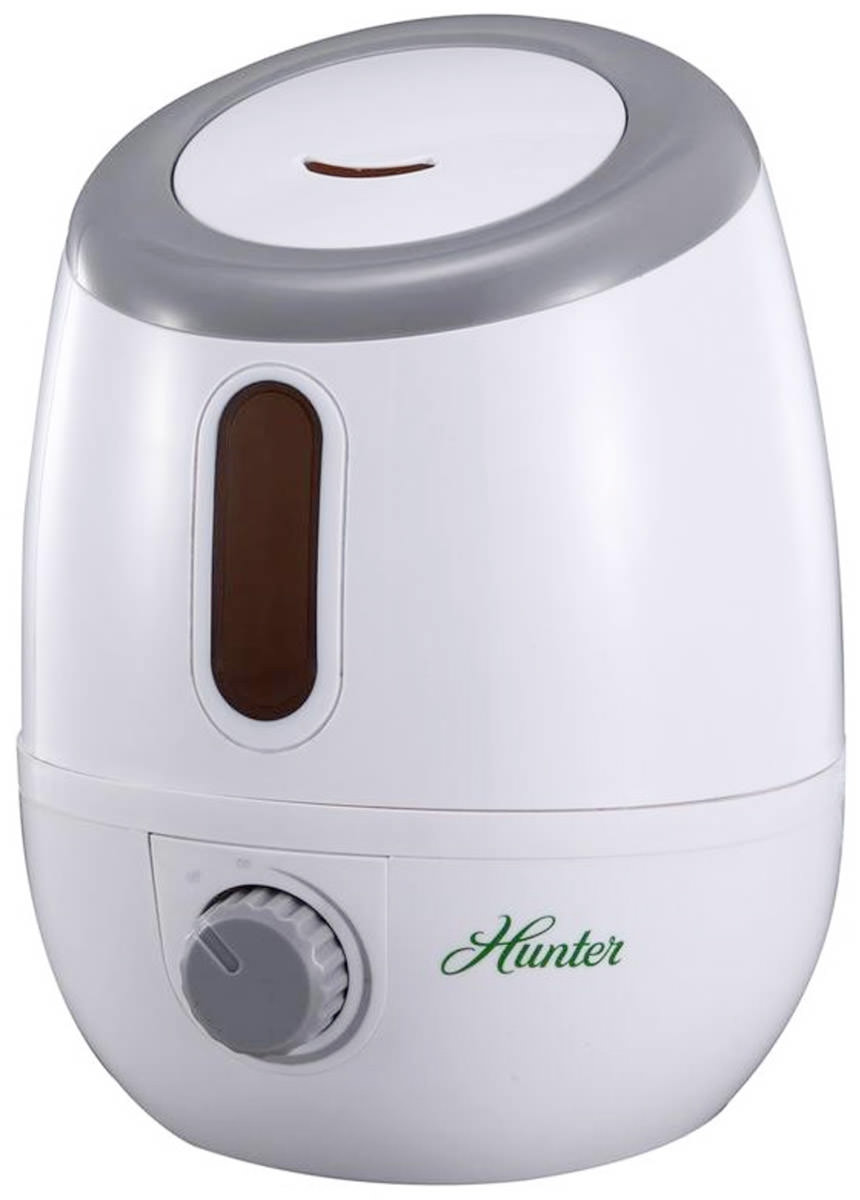 I needed a new humidifier. I wanted one that didn't use heat and had a large water reservoir. I saw this one at Home Depot for a reasonable $30 and bought two of them.
It's a hard-working, easy to maintain product and does a good job of adding moisture to the air. I'd rate it an "A" if not for one thing... IT'S A HUGE PAIN IN THE ASS TO FILL BECAUSE THE THREADS ON THE SCREW FOR THE CAP ON THE RESERVOIR ARE JACKED UP FOR NO GOOD REASON...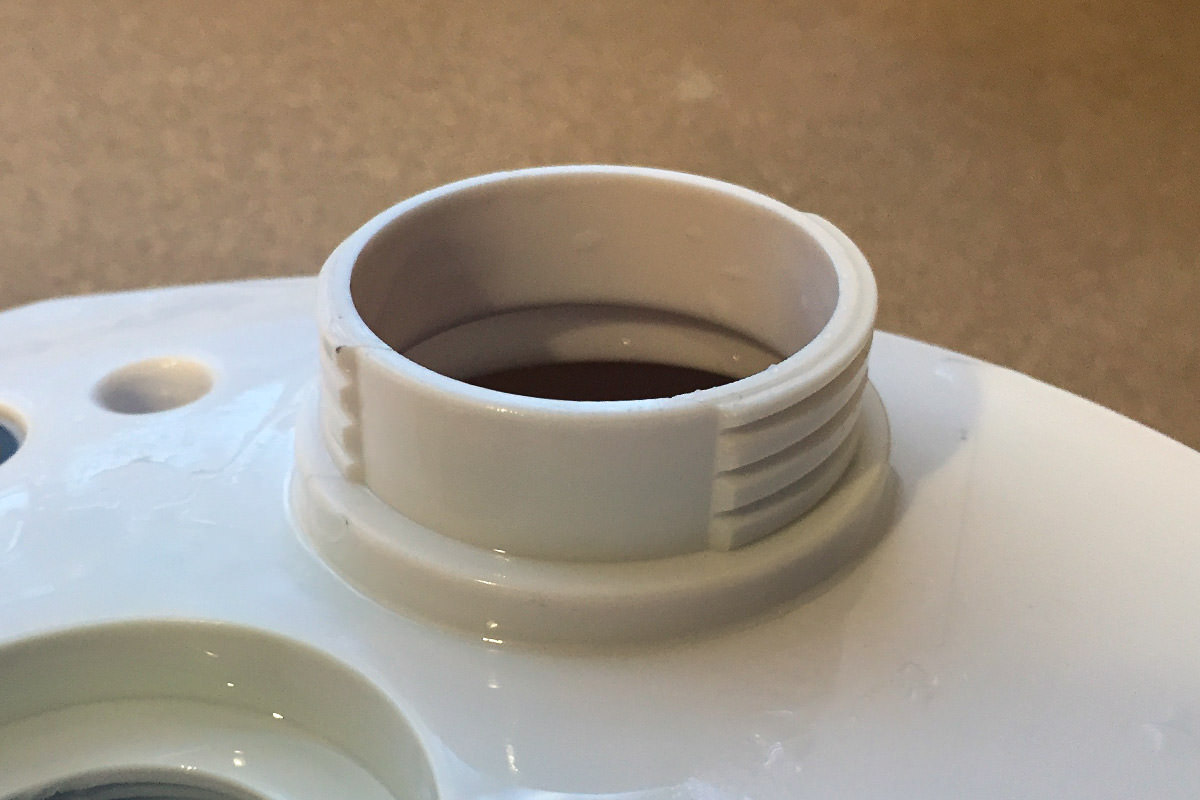 WHY DO THIS?!? Every other humidifier I've used knows how to thread a screw...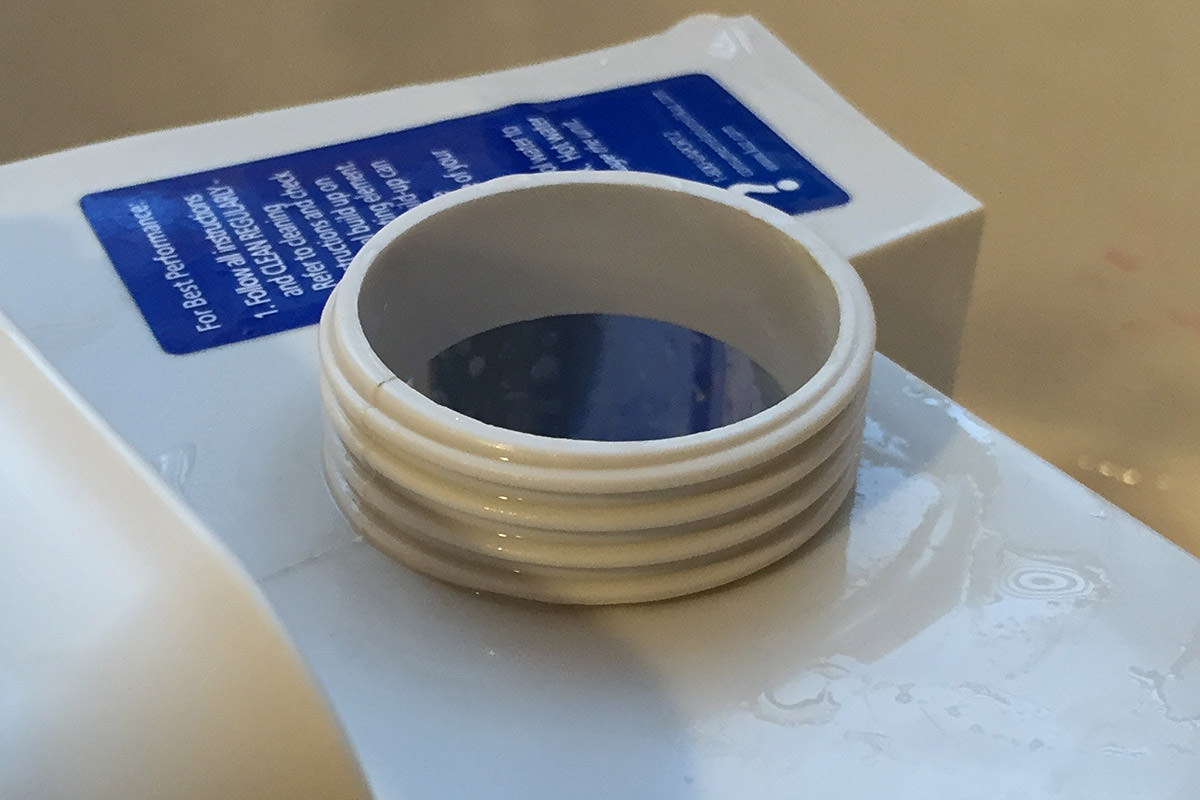 Sometime the cap for the Hunter unit goes on easy. Other times it takes try after try after try to get it to screw the cap on. AND IT DRIVES ME FRICKIN' INSANE!!! There's been more than one occasion when I've very nearly grabbed a hammer and beat the shit out of this stupid, stupid design.
If you don't mind having to fight a fucking screw cap every time you fill the damn thing, this could be the humidifier for you. It's cheap and works well.
But I would never purchase another one of these.
RATING: D+ • Currently selling for $30 at Home Depot.